The Army Painter Masterclass Drybrush Set Review
If someone were to ask what the single most impactful brush in a lineup is, I would say without hesitation: Dry brush. Don't get me wrong, other brushes are crucial for a quality paint job, but I honestly feel the dry brush can add a layer of natural depth that's quite difficult to replicate. Also, when The Army Painter Masterclass Drybrush set is used as shown by our friends over at Artis Opus, they can be a "one brush fits all" especially for terrain!
Click this link & buy your hobby stuff from Element Games for the UK & Europe to support FauxHammer.com – Use Code "FAUX2768" at the checkout for double reward points.




Our Affiliates / Hobby Stores
Seeing the importance and impact of this amazing tool, the crew over at The Army Painter decided to get in the game with their own lineup.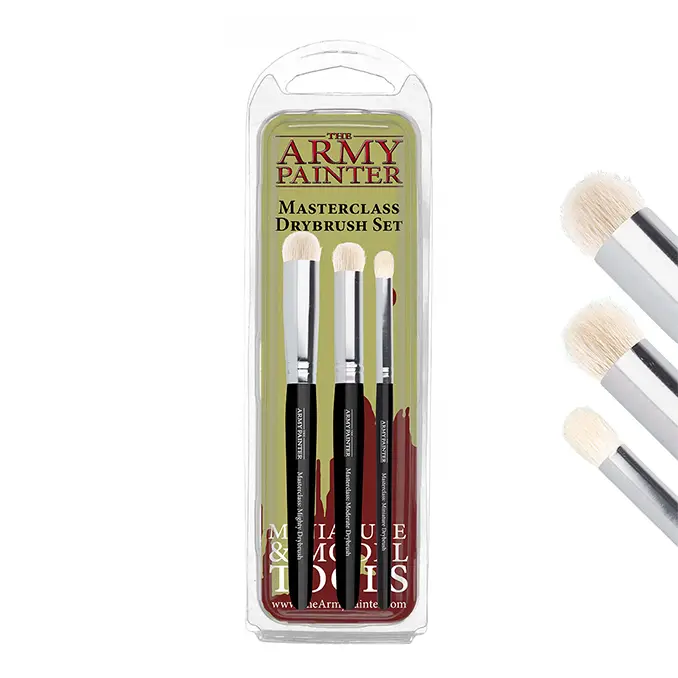 The Army Painter Masterclass Drybrush set has 3 sizes, the Miniature, Moderate and Mighty. As a true fan of alliteration, I knew I was going to love working with these brushes!
At $19.99 USD (£15.02 GBP) this three-pack of dry brushes is an excellent value, especially when you consider some big companies charge this per brush! I would consider this a terrific starter to mid-level set. The price you pay will be more than worth the value these tools bring to your collection.
I think the one major drawback I experienced with these brushes might have to do with the materials of the brush. I noticed the brushes were VERY thirsty, and there would often be concentrated "hot spots" where the paint would essentially gather in the center of the brush, and it wouldn't spread out very evenly. Understand, this might be due to inexperience, but I found this to be the only real complaint about the brush.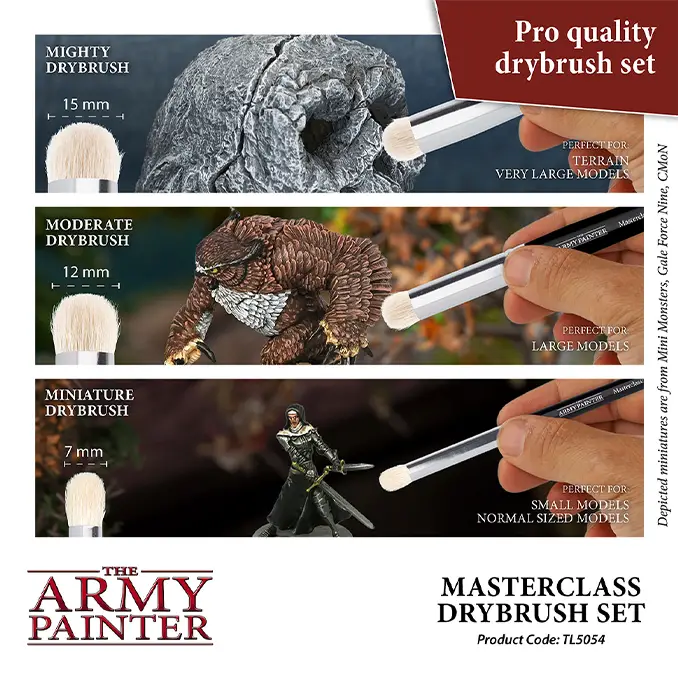 These brushes are made of extra fine goat's hair bristles. The natural hairs react well to acrylic paint, giving an even application. One thing I noticed was, and perhaps it's because they were brand new or maybe it has something to do with the goat's hair, but they DRANK the paint. I found I was returning to the paint quite often, more so than with other competitor's brushes.
Something else along this same line, I found the brushes dried very quickly, meaning their length of viable paint time was very limited. It almost felt like I went from too wet to use, then 3 or 4 passes later and the paint had dried to a point where nothing was being left on the model.
One positive about this issue, I never noticed any dusting or powdering effect. This was a TERRIBLE "feature" of the straight-edged brushes. Once they dried, they covered the model in a light dusting of the paint. If you got lucky, it came right off. If you weren't lucky…. your entire model just received a pretty sweet dust covering.
One of the biggest boons of this brush is the round, domed head. The rounded shape of the brush allows you to have complete control of where you want the paint to go. This also lends itself well to smooth transitions and feathering techniques.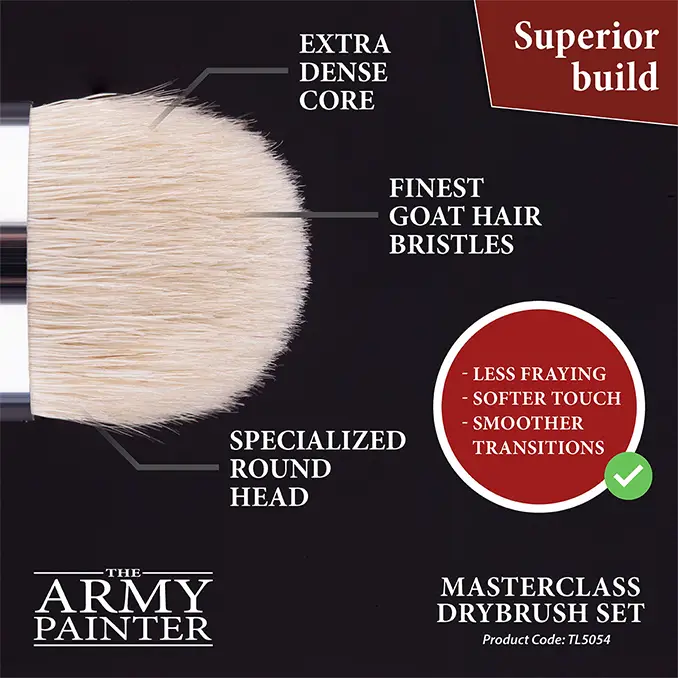 I spent the first year of my hobby experience using the Games Workshop flat dry brushes, and I thought they were great… until I learned about these bad boys.
The main disadvantage of the straight, flat brushes is the uneven application of paint, and the harsh lines left by the edge of the brush. I often complained about how difficult it was to get a natural gradient. One caveat, when using these brushes for straight edged buildings or terrains, it gives a crisp, saturated line.
Next, I'd like to discuss the sizes. These brushes are PERFECTLY sized for their intended uses. I used all three brushes on a current commission. I felt one of the best ways to put them to the test was to put them through the rigors of terrain and base painting. I used my standard method of breaking up cork and painting it like a rock.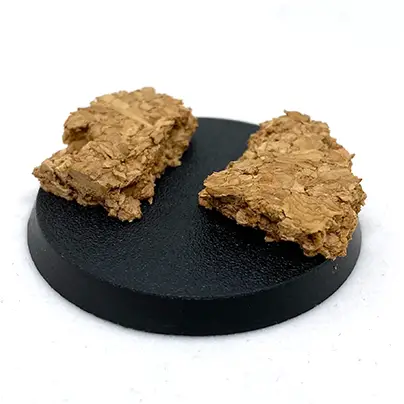 I used the Mighty Brush first to apply the base color of Eshin Grey. I found stippling it on gave it the best coverage, combined with a somewhat uneven and textured finish. The large brush made quick work of the 26 bases.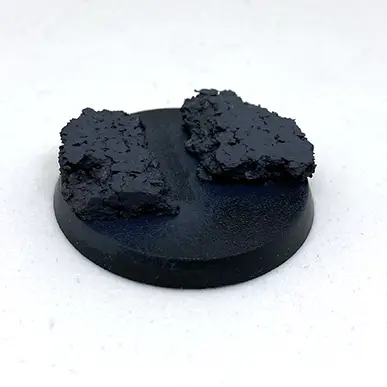 Before the bases dried, I used the Miniature brush to get the edges and nooks and crannies of the rocks. (this was when I noticed how thirsty the brushes were).
Once these bases dried, I mixed a tiny drop of white with the grey and stippled on another very light application using the Moderate brush. The slightly smaller diameter added a layer of intrigue.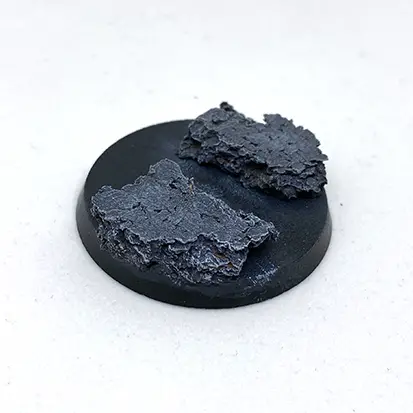 After this dried, I then used White Scars white with the Moderate brush and added a final dry brush, picking out all the raised details. I used the Miniature brush to pick out the details on the edge of the rock platforms.
This entire process took roughly 3 minutes of actual brushing. The part that took the most time was actually cleaning the brushes between colors. The beauty of batch painting is the ability to use the same color on all models during your current stage before you need to clean the brush and prepare for the next stage.
Something I remarked on while using these brushes was how well they held together. I noticed SIGNIFICANTLY less shedding than others brushes. I only noticed probably 4 or 5 hairs from each brush throughout my entire basing process.
PROS
CONS
1. AMAZING Price for the Set!
2. Sizes perfectly suited for their purpose
3. Brush size fits nicely in the hand, allowing for expert control
4. Holds together well, minimal shedding
5. Rounded shape offers smooth gradients
6. Goat Hair fibers hold shape well after cleaning.
7. No dry powder dust!  
1. Light paints dry very quickly, requiring lots of trips to the palette
2. Light paints cause a bit of brush curl when the brushes dry
3. Requires a bit of work to get them completely clean
For a final review, I thought these brushes did exactly as they were intended. As a writer for FauxHammer, I would be remiss if I forgot to provide a pro-con table!
Click this link & buy your hobby stuff from Element Games for the UK & Europe to support FauxHammer.com – Use Code "FAUX2768" at the checkout for double reward points.




Our Affiliates / Hobby Stores
What did you think of this Review? Please let us know in the comments.
If you like what we're doing here you could really help encourage more content with a share on any social media platform.
Click the share links at the bottom of this screen (or on the left for computers and tablets)
Want to keep updated with the site? You can subscribe in the sidebar for RSS or by email below
(Sidebar is below the article on Mobile Devices)