PSA: Warhammer Conquest is about to charge you extra – again…
Last Updated on May 12, 2022 by FauxHammer
Last time we made a post advising that Warhammer Conquest is about to charge you extra, we did so with a little more (unnecessary) drama.
Back at the time, many people, myself included were shocked that there was a sudden letter in with our subscriptions advising of a Limited Edition Art Book coming in the next month. That we have been opted in, and will automatically be charged £14.99 (€19.99 for ROI) for it.
Join us on Facebook to talk about Warhammer 40,000 Conquest. Discuss the latest news, issues and share pics of your models to get community advice.
After a bit of further investigation (in hindsight I should have avoided the knee-jerk reaction in the first place) it turns out we all agreed to this kind of thing happening when we signed up.
Well, with Issues 39-42, it's happening again and this time it's £19.99 (€29.99 for ROI) for a Silver TemplarsSource Book.
Details below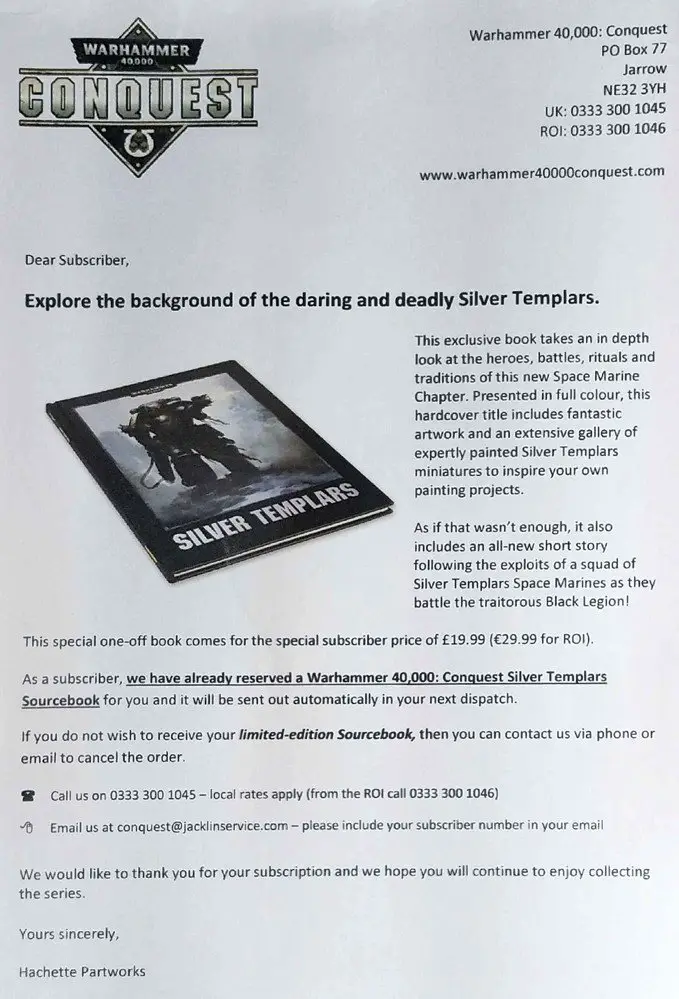 Dear Subscriber,

Explore the background of the daring and deadly Silver Templars.


This exclusive book takes an in depth look at the heroes, battles, rituals and traditions of this new Space Marine Chapter. Presented in full colour, this hardcover title includes fantastic artwork and an extensive gallery of expertly painted Silver Templars miniatures to inspire your own painting projects.


As if that wasn't enough, it also includes an all-new short story following the exploits of a squad of Silver Templars Space Marines as they battle the traitorous Black Legion!


This special one-off book comes for the special subscriber price of £19.99 (€29.99 for ROI).


As a subscriber, we have already reserved a Warhammer 40,000: Conquest Silver Templars Sourcebook for you and it will be sent out automatically in your next dispatch.


If you do not wish to receive your limited-edition Sourcebook, then you can contact us via phone or email to cancel the order.


Call us on 0333 300 1045 — local rates apply (from the ROI call 0333 300 1046)


Email us at conquest@jacklinservice.com — please include your subscriber number in your email


We would like to thank you for your subscription and we hope you will continue to enjoy collecting the series.


Yours sincerely,


Hachette Partworks

Hachette Partworks
Unlike last time when this letter came out of nowhere (and becasue many of us didn't read the fine print). This has been outright announced ahead of time. We obviously have this letter. I also had an email about this back on 22nd of May and they announced this back in February on their Facebook page.
Hachette is doing much better lately with their customer service too, I've had a couple of issues recently with my subscription, but one quick phone call later and everything is sorted. This is much better than the kind of service we had back during the earlier issues.
If you're not a subscriber but want to get your hands on this, many people will be putting them on eBay after receipt. Personally, I'll be putting mine in a giveaway (after writing my impressions) to one of my email subscribers, so if you want a chance to bag a free copy, just sign up below (UK only I'm afraid).
If you aren't a subscriber, remember to check out our full list of what's coming in each upcoming Warhammer Conquest issue and preorder the issues you desperately want from Forbidden Planet (before they go out of stock).
What do you think? are you looking forward to the new art book? let me know in the comments
What did you think of this article? please let me know in the comments.
If you like what I'm doing here you could really help encourage more content with a share on any social media platform.
Want to keep updated with the site? You can subscribe in the sidebar by email or RSS
(Sidebar is below the article on Mobile Devices)