Droptop by Dr Tabletop – Now on Kickstarter
Last Updated on January 5, 2020 by FauxHammer
Just a quick update for anyone who hasn't seen this. (so yeah, have a crack at me for regurgitating news from the internet with little added value if you want). This is a really cool product recently launched on Kickstarter which solves one of the most annoying problems we all have with Games Workshop paint pots.
The point of this article is just to get the word out to anyone who hasn't seen this Kickstarter Campaign. Since we're here to cover Hobby Hardware, we figured we need to help get the word out on this. Essentially these tops convert your existing Games Workshop pots into dropper bottles. Horray for progress.
Whilst the video above is a little JML on the approach, showing people covering their hands with multiple paints every time they open the bottle (a non-existent problem) it's obviously meant as a joke. We all know the various problems with GW's terrible pots. Paint drying around the rim does not make for an entertaining video.
What's really great is that the tops themselves are squeezable, which is really useful since the GW pots themselves aren't.
At the time of writing, these guys have already reached their Kickstarter goal! Well done Dr Tabletop!
My initial impressions are that this idea is incredible, but that price point. ouch!
I know they somewhat addressed this in the FAQ but at the lowest tiers (5 tops for $10 or 10 tops for $20), you're spending $2 per top (plus shipping). Ouch! And this is the MSRP! The best value (without Exclusive Kickstarter extras) is 100 tops for $145. That's still $1.45 per top. Although you also get 100 agitators too.
The cheapest these Drop Tops can go down to is $4000 for 4000 tops (for retailers). Which works out at $1 a top. But this also comes with a ton of agitators.
If you're looking to do your entire Citadel paint collection, it's going to cost around $300, which makes me wonder why they didn't have a tier which would cover one of each citadel paint…?
The only other way to deal with the Pot vs Dropper Bottle issue is to transfer the paints to dropper bottles – Shameless Plug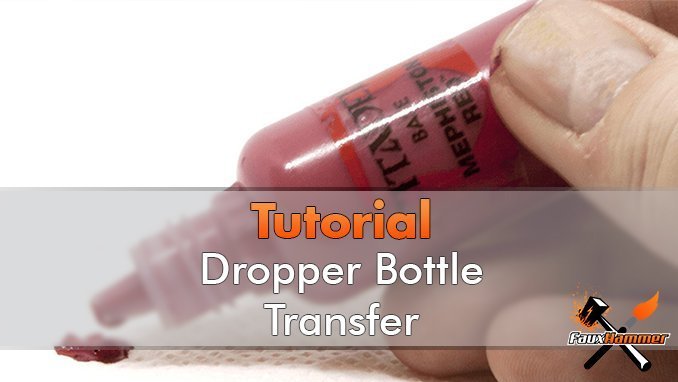 However, this process would still cost around $50 to $70 for an entire citadel collection. Whilst you only lose maybe 3% of the paint in the transfer process (still much less than you'd lose with it drying out on the pot rim), it takes time. A lot of time!
With the Droptop, you just clip off the old lid and snap on the new one. done!
So the decision here is simple if you want to turn Games Workshop paints into Dropper Bottles. Do you have the time to transfer them or do you have the money to buy the DropTops?

I've reached out to the team at Dr Tabletop to see if they can get us some early samples for hands-on impressions.
What did you think of this Article? Please let us know in the comments.
If you like what we're doing here you could really help encourage more content with a share on any social media platform.
Click the share links at the bottom of this screen (or on the left for computers and tablets)
Want to keep updated with the blog? You can subscribe in the sidebar for RSS or by email below
(Sidebar is below the article on Mobile Devices)