PRICE CONFIRMED -Warhammer 40,000 2022 Battleforce Boxes – Price & Savings Breakdown
Last Updated on November 28, 2022 by FauxHammer
It's that time of year again everyone. Grab some massive savings on the run-up to Christmas. Whilst Games Workshop is generally known not to do sales. Their equivalent system is to release yearly large forces of models with discount prices. What is in the Warhammer 40,000 2022 Battleboxes? When are they coming and how much can you save on each box? Well, That's what we're here to cover in our Warhammer 40,000 2022 battleforce breakdown. We'll look at the contents, price, value and savings expected from each 2022 40k Battlebox. – We've covered the 2022 Age of Sigmar battleboxes in a separate article.
Our Affiliates / Hobby Stores
If you are new to Battleforce boxes let me start with a warning you should probably heed. they sell out. FAST! FOMO is naturally true with these boxes. It's always been the case and I expect the same to be true this year.
You'll get the odd box that will be available for maybe a few days after the preorder date at some lesser-known stockists or your FLGS. But for GW.com specifically, the pre-order day is generally chaos. though this is calmed slightly in recent years when GW.com invokes the queueing system, simply due to consumer demand risking bringing the site down. Indomitus release day was the last time GW's servers were clearly impacted.
So here's a tip.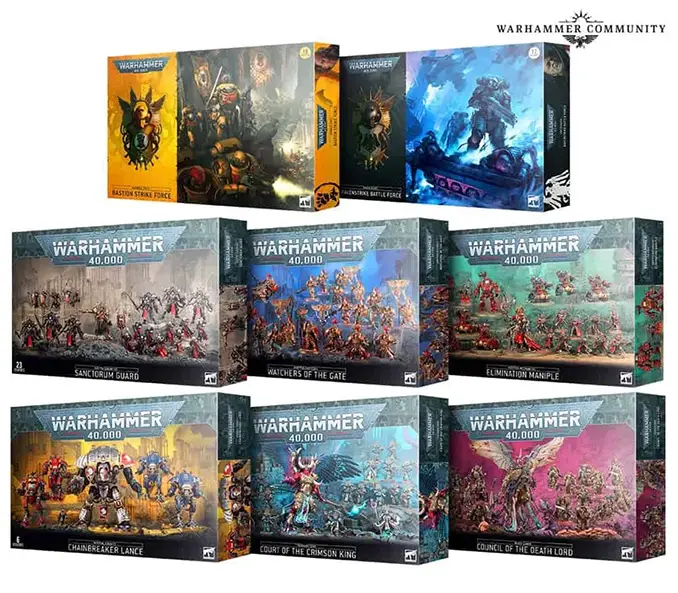 The releases, like every release, will go live at 10:00 am on the Saturday at both GW.com and your favourite online retailers.
So make sure you have a tab open for each retailer from at least 09:45 onwards and refresh each page regularly to make sure you see the bundles as soon as they come up. then get through that checkout process ASAP. ideally make sure you are logged in to your account for that site with your address and payment details updated before you even begin.
Webmasters will hate you for this and will hate me for recommending it, but this is the process I use and I haven't missed a product I've desperately wanted yet.
And if you are thankful for this advice, please click our affiliate links above before you begin so we can ket a kickback (with no charge to you) from those retailers. Helps us keep the site running and all that.
This one is guesswork like usual, with only a few weeks left until Xmas, there aren't many Saturdays left. Both the 19th and 26th of November. And then the 3rd, 12th and 19th of December.
Usually, these boxes drop at the end of November/beginning of December as one final push for Xmas sales from GW.
It's unlikely (but not impossible) for the preorder to go live on November 19th. But as I write this on November 16th, I suspect that, if this weekend were the preorder weekend, GW would have announced it in the last Sunday preview, and we would have seen the prices.
The earliest we would likely see them, is November 26th with the release the next week. These boxes don't warrant a 2-week preorder window as there's never enough of them historically. It could be that they do a "made-to-order", but I doubt this too. they never have with these – just like the army boxes.
I'll put my money on December 3rd for the preorder day with the release coming the following week, December 10th for anyone struggling to math right now.
This would closely mirror last year's Battleforce release date, which was December 4th 2021.
We don't know right now, and we probably won't know until the pre-order day. Last year's boxes cost £125-£130 ($210 USD across the board) This was a £5 ($10 bump on the previous year). So expect (hope) for the lowest price they offer these boxes for to have a similar increase. So
£130-£135 ($220 USD) ish. Especially with the state of the global economy right now. And with these models coming out of a post-Brexit UK.
Below is a summary of the value from each box, Which is on par with 2019 & 2020's boxes.
Update 21/11/22: We have confirmation of the UK Pricing for the Aos Boxed sets at £130 per box. Matching last year's top-end prices, as such we have assumed last year's top box price across the board.
2022 40k Battleforce Box Brice
Savings-wise, we're once again probably looking at last year for reference where we had anything from 30% – 37% in savings for these boxes versus buying the units individually at retail. That's Nothing to sniff at! it's a solid saving.
So let's take a look at the individual forces and break down the Value in each box.
So, no Ultramarines this year. Have games Workshop finally got the message that the only person who collects Ultramarines is Nick Bayton?
It is odd that our boys in blue are not even included? The Smurf poster-boys have been front-and-centre of pretty much every GW released since the Space Marine was invented!
Well, here we have a solid Raven Guard Force to get started with. Phobos Armoured Marines aplenty and 2 Invictor Warsuits.
Once again, No Ultramarines? Well, that's kinda smart because technically both this box and the box above can be used by any Space Marine Faction. Though the individual characters and the Chapter Specific Upgrades spure here, slightly deter anyone looking to simply bolster another Space Marine force on a budget.
Removing those models from your set significantly reduces any savings that people were looking to scalp both boxes for.
If only there were a global online marketplace where you could sell those unwanted components.
Seriously, Expect Tor Garadon eBay listings to increase for a bit from late December onwards
Thousand Sons were some of the best Chaotic Space Marine models release before the jump to primaris. and boy are they some cool detailed models.
I managed to ruin my set trying to paint them candy-blue. Long Story Short, don't ever buy Candy paints from Alclad in my opinion as they faded to a horrible washed-out purple. Over £80 in models ruined!

Maybe this is my chance to restart that force.
For anyone who was a fan of Warhammer Conquest, you probably have a large force of Plage Marines already. Moreso if you got last year's Nurgle-themed battleforce box.
This set goes hand-in-hand with that set and would be a great boost to your force,
Mortarion is also just one of the most exciting models GW have ever sculpted.
Look, I don;t get Knights. I like the scale of them and the idea of mini-titans. but I've just never been a fan of this aesthetic
if it's your thing. here are 5 of them.
Whilst the main model is intended to be built as Canis Rex, you can build it as pretty much any imperial knight variant you wish. Errant, Paladin, Crusader, Gallant or Warden
Well, I'm a Warhammer Imperium magazine collector, like most people who read this site. So i;ve had most of these models in the last year. Whilst Cawl was not part of the collection, having had so many other Admech this year, I couldn't help but buy him.
Still a good starting force with some varied and detailed units.
I know Custodes get a lot of hate, but I really love them, I really do.
it's one of those forces that just pops and the jetbikes for me are amongst the coolest vehicles GW have ever made. Some decent variety in the ways you can build the models here too.
Another force that was more popularised this year through Warhammer Imperium and this will help you double up on some of the units we got there.
I really love the style of the battlesuits here.
And with that said, I'm gonna stop talking.
Warhammer 40,000 2022 Battleforce Boxes Final Thoughts
Another year another set of battle boxes. this time with more boxes available than we've seen before. We usually see about 6 a year and this time we have 8.
It is interesting that the two space marine boxes have different artwork to the rest, does this suggest they are more than battle boxes? My hope is that they are part of an ongoing range. After all, each would be a great starting box for both Imperial Fists and Raven Guard.
It would be great to see boxes like this readily available for each faction. Like a Start Collecting / Combat patrol "plus" box. and it would be great if they give each set a points balance across the board!
But whilst we are on the subject of Combat Patrol Plus. I've got to note that based on the content of these boxes, that is kinda what they are starting to feel like. When you look at last year's boxes, they, at least visually, appear to house more miniatures per box.
It's just a sign of the times, unfortunately, with the GW price increase that came in March of 2022, we do get less for our money. Which is why I do hate comparing the boxes to previous years. prices of stuff go up every year and this one is no exception.
So look at it this way, prices will go up next year too. So get these boxes now because you are highly unlikely to get more for less in the future.
They are still solid deals!
Our Affiliates / Hobby Stores
What did you think of this Article? Please let us know in the comments.
If you like what we're doing here you could really help encourage more content with a share on any social media platform.
Click the share links at the bottom of this screen (or on the left for computers and tablets)
Want to keep updated with the blog? You can subscribe in the sidebar for RSS or by email below
(Sidebar is below the article on Mobile Devices)