Scale75 Fantasy and Games Collection: Unnatural Flesh Review
We're getting spooky in our latest paints review, where we take a close look at Scale75's Unnatural Flesh paints. Part of their popular Fantasy and Games paint collection, Scale75's Unnatural Flesh paints have an impressive pedigree to uphold.
Click this link & buy your hobby stuff from Element Games for the UK & Europe to support FauxHammer.com – Use Code "FAUX2768" at the checkout for double reward points.




Our Affiliates / Hobby Stores
Once again, Scale75 prove that they are they are just better at paint than pretty much everybody else.
Their Fantasy and Games Collection: Unnatural Flesh paint collection is the perfect set for building up a super realistic – or super unrealistic – flesh tone on your figures.
Whether it's the pale skin of a living character or the necromancy-warped flesh of an undead thrall, you can be sure that there's a mix, a tint or a tone in this box that's right for you. You really can't go far wrong with these.
I, like many hobbyists before me and many who shall follow, struggle with painting flesh. Whether it's pale flesh, dark flesh, living or dead flesh, getting the skin on your miniatures to look realistic is something that's notoriously difficult.
There are lots of reasons for this: traditional techniques don't work so well on areas of skin, as said areas are often hotspots for details. Getting your base colours to blend seamlessly and realistically into your highlight colours can be difficult to do on what are usually very small areas of a figure. Plus, getting a realistic skin colour straight out of a pot is almost impossible.
A few months ago I reviewed Scale75's fabulous Metal 'n' Alchemy range, paints that I found to be so good that they have since found permanent places in the "don't put these away, you're going to need them again really soon" pile of paints I keep on hand at all times. As such, I have very high expectations of these paints.
In this review, we're just going to be looking at the contents of the Unnatural Flesh paint set. That includes:
Misfits Green
Bloodfest Crimson
Braineater Azure
Undead Flesh
Resurrection Flesh
Harvester Flesh
Hellbound Flesh
Moonray Flesh
That's three pale skin tones (Resurrection Flesh, Moonray Flesh, and Harvester Flesh) two more "traditional" undead grey-green flesh colours (Hellbound Flesh and Undead Flesh) and then a dark green, dark red, and a gorgeous deep purple-blue (Misfits Green, Bloodfest Crimson and Braineater Azure respectively) to add hue and definition to the more regular flesh colours.
The box also comes with also comes with a small folded guide to using some of the paints to build up an example unnatural flesh tone. As I did with the previous Sacle75 review, I'll be basing my testing around this guide as far as I'm able to whilst simultaneously following the usual FauxHammer Testing criteria by putting the paints through an airbrush, then using some more traditional painting techniques.
I only had one figure in my collection suitable for testing out a heap of flesh-toned paints on, and that's the semi-nude Lord of Pain which originally came with the Shadow and Pain battlebox. With all that Chaos-tainted flesh and muscle texture – particularly on his back – he was the perfect candidate for testing some spooky skin colours on.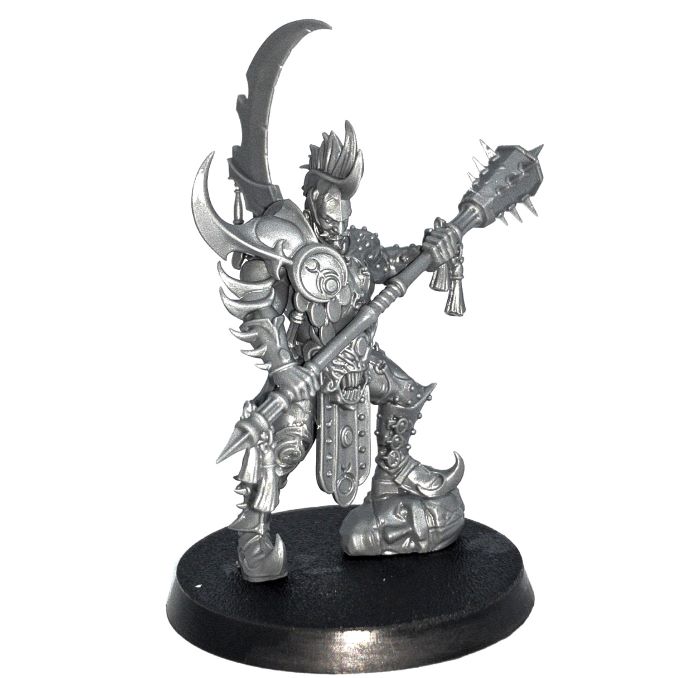 After having turned him black with a good layer of Vallejo Airbrush Primer, testing was ready to begin.
Let's cut to the chase: I really struggled to get these paints to come out of an airbrush.
I must have had four or five goes at it on this poor figure, starting with an all-over coat of Moonray Flesh, then an blast of Resurrection Flesh from underneath, followed by a smaller hit of Resurrection and Bloodfest Crimson to pick out some of the most raised areas. That the figure still retains most of its sculpted detail after being drenched in that many coats of paint speaks volumes about how fine the pigments on these Scale75 paints are.
I'm not totally sure where the problem lay: it was either the fault of my cheap-as-chips airbrush or the paints themselves and the consistency I was thinning them to (or, of course, me). Every time I thought I was getting somewhere after applying the basecoat, the airbrush would splutter out a few globules of paint that would splatter all over the figure, ruining the finish and taking me back to square one.
I've never had this issue to the same extent with any of the other paints I've put through this airbrush, be they Citadel Air, Vallejo Game, Model and their Metal Color, and Scale75's own Metal 'n' Alchemy paints – so I want to say this is an issue with this the paint. But, at the same time, given the hugely positive experience I had with the Scale75 Metal 'n' Alchemy paints, I'm not so sure.
Anywhere, here's where I got to: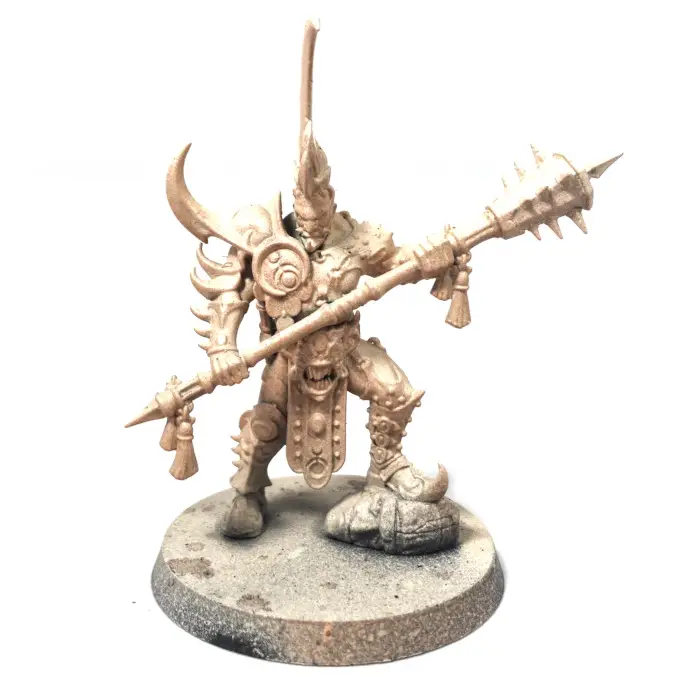 It took a lot of work and trial and error before I was able to get the effect I wanted on the figure. I imagine the paints would be better through a more reliable airbrush and in the hands of someone with far greater airbrushing experience than me.
So a word to the wise: if you're new to airbrushing, or have a budget setup, you may want to steer clear from these paints.
In order to try and tidy up some of the mess I had made in the previous stage of testing, I set aside my airbrush in favour of a regular brush.
Here's how our Lord of Pain was looking after being basecoated.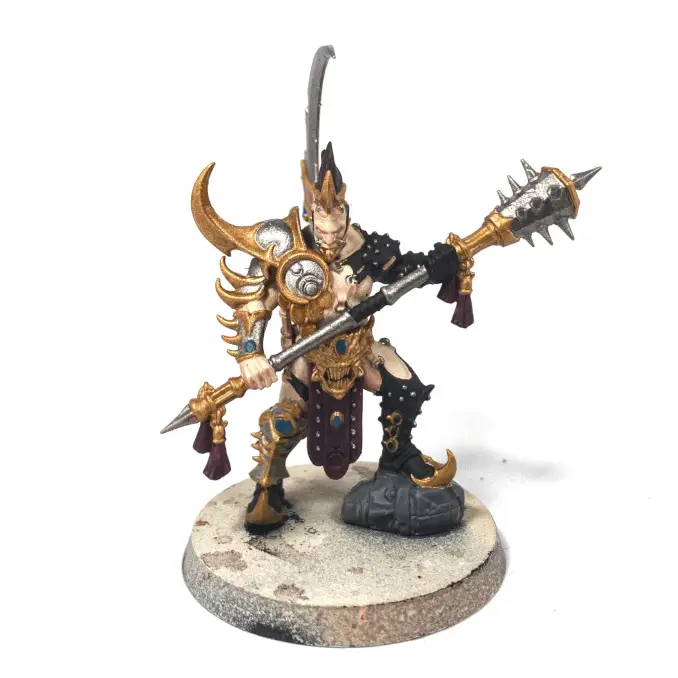 I re-applied a lot of various mixed of Moonray Flesh and Resurrection Flesh across a lot of his body to cover up some of the marks left during the airbrushing phase.
The Scale75 Unnatural Flesh paints have very thin pigments which essentially means two things: the first is that these paints spread like warm butter and are extremely satisfying to use. The second is that because the paints are naturally thin, you'll need to put plenty of layers on your figures in order to build up a strong, opaque texture.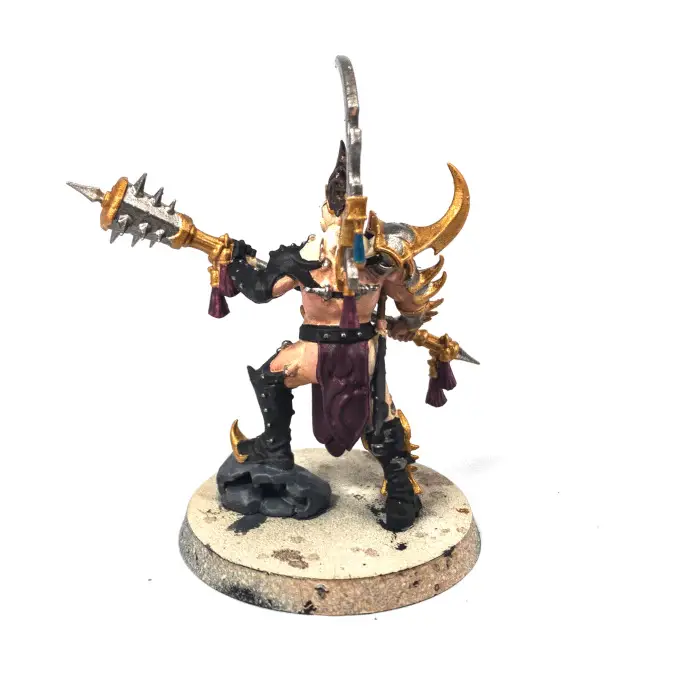 This isn't a bad thing though, as it makes it easier to blend between the paints on the surface of your figures. It also prevents you from lumping great dollops of paint into all the detail of your figure and outright ruining it. Sure, you'll have to be far more patient with your layers than you would with, say, a Citadel base paint, but the results from using a Scale75 paint as a base are excellent.
I had originally hoped I might be able to skip using any kind of shader on the Lord of Pain's flesh and just be able to use the paints in the box in order to build up a satisfying flesh colour, but after my dismal airbrushing and make-do-and-mend base layer, I felt the flesh on the figure was lacking a certain something, so I gave in and applied a little thinned-down reikland Fleshshade to all the skin areas.
This worked in my favour, though, as once I'd given the flesh areas a wash with some thinned Reikland Fleshshade the skin was ripe for drybrushing. Using that same Moonray Flesh/Resurrection Flesh mix that I had touched up some of the areas with during the basing step, using a very small drybrush I re-applied the paint to the skin textures.
It actually came out a lot better than I was anticipating. I had been concerned that the thinner, more watery Scale75 paints might not lend themselves to drybrushing so well, but with a little careful preparation, I found I was able to achieve a colour transition I was pleased with, and a suitable layer from which I could build on with further details.
This is where the Scale75 paints really come into their own.
Here's the finished model: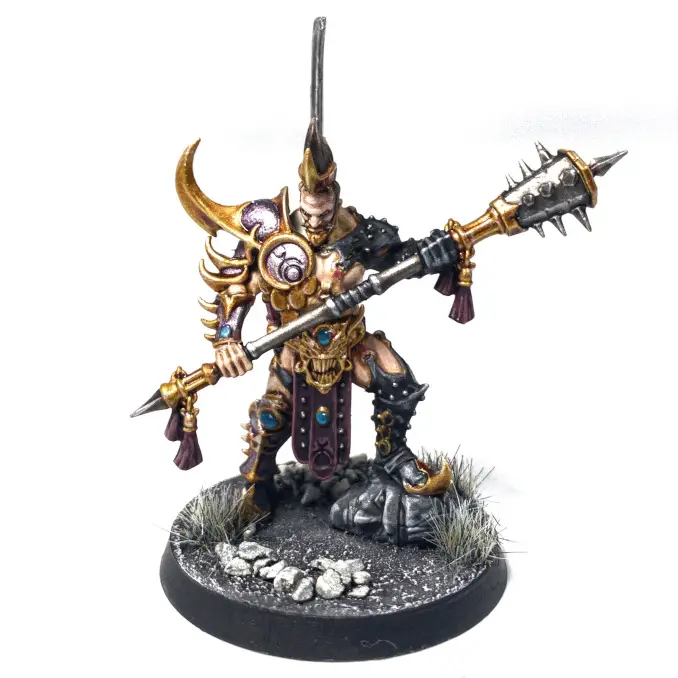 It's very easy to build up a satisfying level of colour across the flesh areas. For this, I used mainly Moonray Flesh, Resurrection Flesh, and a little Bloodfest Crimson on some of the darkest areas of skin to add a little depth.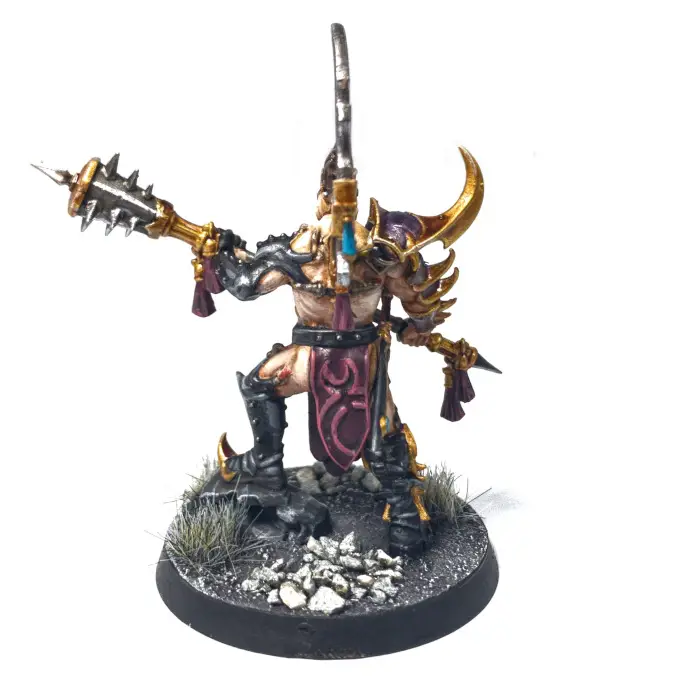 Slick, thin, and smooth as silk, the Scale75 Unnatural Flesh paints layered onto the figure like a dream. The natural thinness of the paints means they adhere to your brush nicely, and flow easily and evenly onto any surface you apply them to.
These are the paints for layering. They're absolutely fantastic.
Scale75's Fantasy and Games range will be available from most good online hobby retailers and can usually be picked up as individual paints or in their boxed sets. They usually clock in at around £25 for a box, which, as I said in our Metal 'n' Alchemy review and will reiterate here, is an absolute steal for eight superb paints.
Pros
Cons
Easy to use…
Paints are as delightfully smooth
Ultra-fine pigments and near-flawless consistencies
Good range of colour tones to build your perfect hue from
…difficult to master
Some paints are easier to use than others
Problematic with an airbrush
Once again, I feel myself quoting almost exactly what I said about Scale75's Metal 'n' Alchemy paints: these paints are, without doubt, easy to use but difficult to master. Sure, any rookie will be able to pick up any of the paints in the Unnatural Flesh box and make a good go of using them – and probably get some super pleasing results to boot – but in the hands of a pro these paints will veritably dance across your figures, and the results you get will be phenomenal.
I'm not going to mark these paints down too harshly for the issues I experienced as there's a good chance these were actually just Rob issues and not problems with Scale75's paints. But, at the same time, if I had problems with them, there's a good chance other beginner to intermediate-level painters might do too.
Still, airbrush troubles aside, these remain stand-out paints that are definitely worth a look.
Click this link & buy your hobby stuff from Element Games for the UK & Europe to support FauxHammer.com – Use Code "FAUX2768" at the checkout for double reward points.




Our Affiliates / Hobby Stores
What did you think of this Review? please let us know in the comments.
If you like what we're doing here you could really help encourage more content with a share on any social media platform.
Click the share links at the bottom of this screen (or on the left for computers and tablets)
Want to keep updated with the site? You can subscribe in the sidebar for RSS or by email below
(Sidebar is below the article on Mobile Devices)