Warhammer 40,000 Imperium Delivery 10: Issues 35-38 Review
Last Updated on June 8, 2022 by FauxHammer
We're back with another in-depth look at the Warhammer 40,000 Imperium partworks magazine from Hachette. This month's magazines get readers zipping around their battlefields with a new Necron on a hoverbike, fawning over a gorgeous AdMech miniature, and putting together some plumbing!
Click this link & buy your hobby stuff from Element Games for the UK & Europe to support FauxHammer.com – Use Code "FAUX2768" at the checkout for double reward points.




Our Affiliates / Hobby Stores
With Delivery 10, we're rapidly approaching the half-way point for Hachette's Warhammer Imperium partworks magazine subscription. The smattering of early-issues Space Marines have been heavily reinforced with a deluge of Adeptus Mechanicus models, and the drip-feed of Necrons ensures we can't forget about the other faction of Ninth Edition.
With us almost half way, what are you looking forward to seeing in future issues? What's been your favourite delivery so far? Let us know in the comments below!
As ever, we'll have a close-up look at everything that's come in Delivery 10, starting with the magazines themselves before looking at any models, paints, and other goodies that have arrived with each Issue.
We're still deep in AdMech territory in Issue 35, and the robed Tech-Priest Enginseer who graces the cover also comes in model form with this magazine. Nice.
Inside you'll find a host of new information about the Imperium, including more lore surrounding the Mechanicum. There's also a section of the Age of Darkness which, given the current hype surrounding the new Horus Heresy stuff, is very appropriately timed.
We're taking to the skies in Issue 36. Or, in the case of the Tomb Blade on the cover, a couple of metres above ground level at the very least.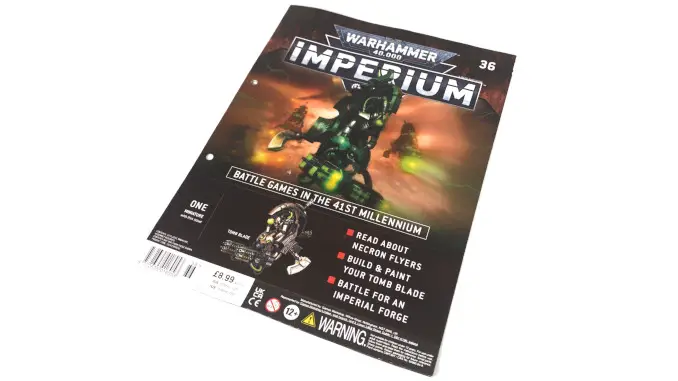 Inside there's background information Necron spaceships as well as a little number surrounding Aeldari ships too just to spice things up. There are also new rules on how to use the flying unit that comes with this magazine.
Issue 37 introduces readers to the T'au Empire – for a bit, at least, until the Mechanicum takes over again.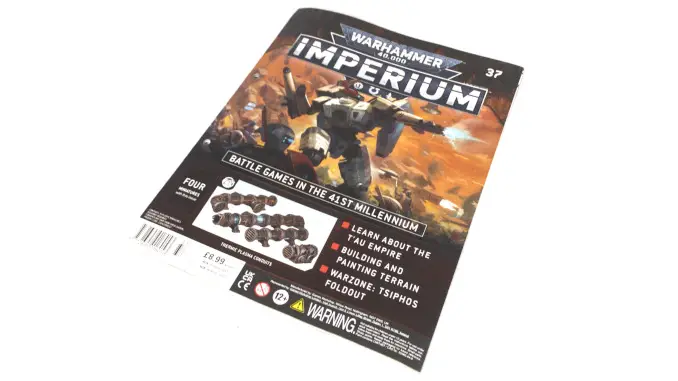 There are also new rules included in Issue 37, and they're pretty important ones too as they're all about charging.
Issue 37 also comes with a fold-out containing yet more information on the AdMech and a healthy splash of details on Necrons – just in case you'd forgotten there was another faction of robo-weirdos in the 41st Millennium.
Finally, we arrive at Issue 38. Fans of futuristic interdimensional space vikings rejoice, because this one's for you.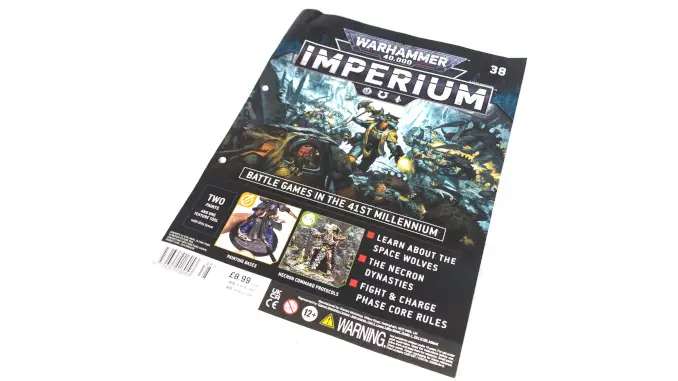 Issue 38 focuses on providing lots of new lore for the Imperium, with a focus in particular on the Space Wolves chapter. There's also an entry for the Mephrit Necron Dynasty for any xenos-lovers in the audience.
And that's that! Now, onto the good stuff.
Miniatures
Things get off to a very good start this month with Issue 35's miniature: the Adeptus Mechanicus Tech Priest Enginseer.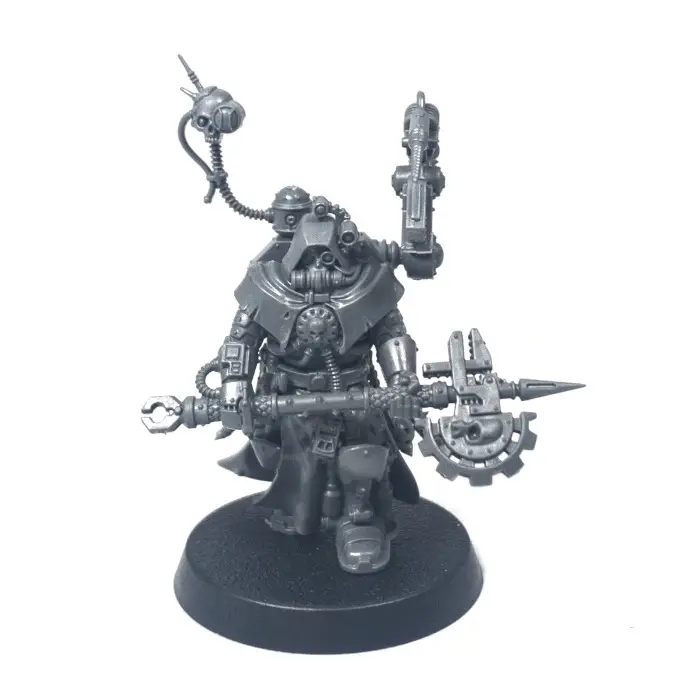 This little chap may be somewhat diminutive in side when placed alongside his Astartes allies, but he's a spectacular model. The level of detail across his sculpt is phenomenal – and he's also extremely easy to assemble!
After the Enginseer, though, things take a turn for the worse. Issue 36 comes with a single Necron Tomb Blade. This robo-skeleton on heavily weaponised hoverbike may look the part, but he's a nightmare to assemble.
There are dozens of components making up this model, and the figure isn't even that big. The model is assembled around a crescent moon-shaped arc that's made up of two C-shaped halves. Various components are then slotted into gaps along the join line for these two parts. With each component inserted into the gap between the C-shaped components, these halves seemed determined to come apart. And that's not to mention the cascade of small, fiddly parts that need to be glued to each other as well.
In my most humble opinion, this chap takes the second place award for "Most Difficult Imperium Model to Assemble", beaten to the number one spot by the Necron Flayed Ones from Issue 15.
After the Tomb Blade, the pipes that come with Issue 37 were a dream to put together.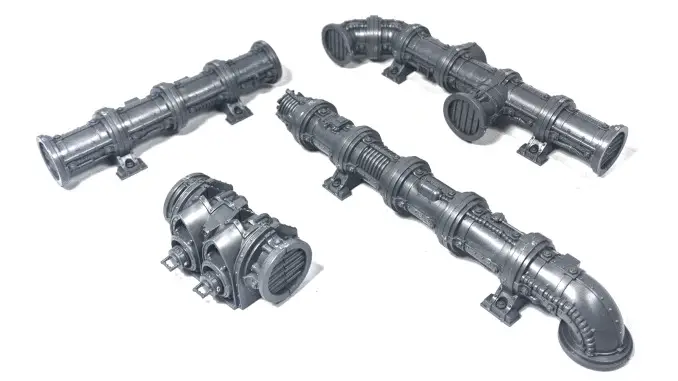 Each pipe is made of only a few large, easy-to-handle and well-socketed components that slot together with ease. In fact, these pipes were so easy to assemble it left me wondering whether the awful time I had with the Tomb Blade was some sort of strange fever-dream.
Paints and Hobby Tools
This month, subscribers will be furnished with two pots of paint.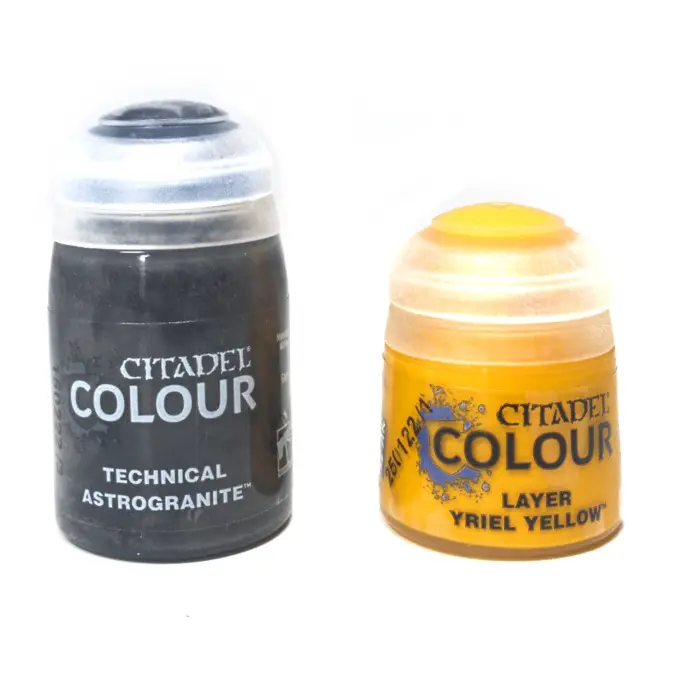 The first is Astrogranite, a Technical paint that's designed to be used on your bases. You can see some Astrogranite that's been washed with Agrax Earthshade and drybrushed with Tyrant Skull on the base of the Knight of Shrouds below.
Basing materials like Astrogranite are a must-have for any hobbyist. A straightforward, simple base with a tuft or two can help make a plain or mediocre paint job really come to life.
Of course, you won't want to be wrecking your nice brushes with sandy texture paint. Luckily for you, Issue 38 also comes with a Citadel Texture Spreader. This spatula-like tool is designed specifically to get texture paints onto the bases of miniatures.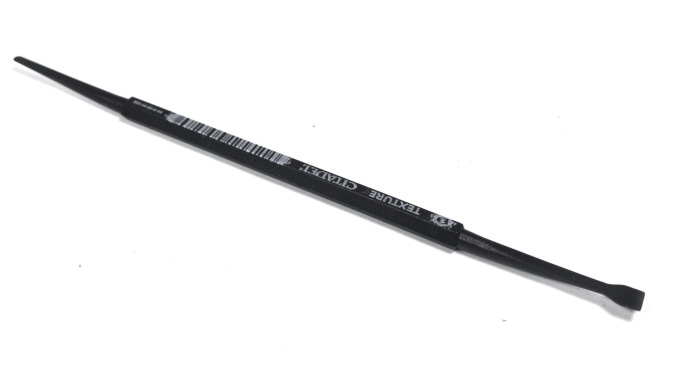 The second paint is Yriel Yellow. As a general rule, yellow acrylic paints can be a bit hit and miss. The reason behind this is scientific: basically, there are no pigments that are both a bright yellow and also have a good level of opacity. As such, yellow paints tend to be either quite dark but have good coverage (such as Averland Sunset) or very bright and have much thinner coverage.
Yriel Yellow sits a little towards the bright-but-poor-coverage end of the spectrum. You can make out the Yriel Yellow highlight on the bandings going under the arms on the model below.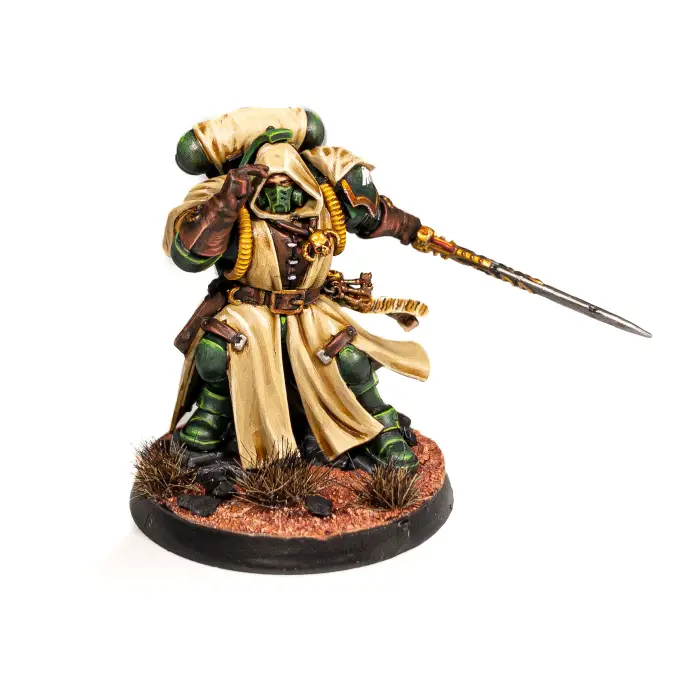 As a bright yellow colour, it's quite thin so will need to be applied with care. If you take your time, though, it can look great and can really help elevate those yellow areas on your figure.
Wargear
This month, we've got a couple of bits to get us playing. Along with the tutorials included in the magazines, we've also got a double-sided gaming mat.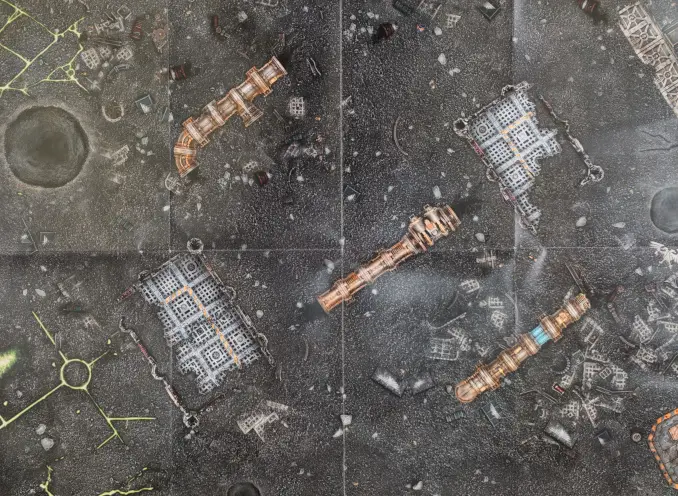 One side is printed to look like some Necron-blasted Mechanicum ruins. The other resembled an Imperial outpost on a desolate moon.
Although it's shame these are card mats, and thus sport some quite beefy fold lines, these are a nice resource for a player to have. The print quality is good and clear, and will help make your wargaming surface just that touch more immersive.
Warhammer 40,000 Imperium Delivery 10: Issues 35-38 Review – Price and Availability
So, now on to the big question: how much money are we all saving this month? With the help of some classic FaxuxHammer.com price breakdown tables, let's have a look.
| | | | |
| --- | --- | --- | --- |
| Issue no. | Issue Price (GBP) | Total Value (GBP) | Total Savings (GBP) |
| 35 | £8.99 | £21.00 | £12.01 |
| 36 | £8.99 | £10.84 | £1.85 |
| 37 | £8.99 | £8.21 | -£0.78 |
| 38 | £8.99 | £12.65 | £3.66 |
| TOTALS | £35.96 | £52.70 | £16.74 |
And once again for all our friends across the Pond.
| | | | |
| --- | --- | --- | --- |
| Issue no. | Issue Price (USD) | Total Value (USD) | Total Savings (USD) |
| 35 | $13.95 | $35.00 | $21.05 |
| 36 | $13.95 | $21.67 | $7.72 |
| 37 | $13.95 | $13.93 | -$0.02 |
| 38 | $13.95 | $20.85 | $6.90 |
| TOTALS | $47.80 | $91.45 | $43.65 |
So, some reasonable saving in this month's delivery, largely thanks to the inclusion of the Tech Priest Enginseer in Issue 35.
Don't forget to check out our Warhammer 40,000 Imperium Contents List page for more info, price breakdowns, and a peek at what's yet to come.
Warhammer 40,000 Imperium Delivery 10: Issues 35-38 Review – Final Thoughts
Pros
Cons
Cool AdMech Figure
Terrain is very easy to assemble
Lots of content across the magazines
Decent paints
Fiddly Necron figure
Another month gone and another delivery down. With only 42 magazines left to go, we're skirting around the halfway point for the subscription. We've still got lots of cool stuff to look forward to over the next few months: Calgar, Guilliman, and a metric ton of more creepy Necrons.
This month is a bit of a mixed bag. The Enginseer is an excellent model, and the scenery is so easy to put together it's difficult to fault. Whilst the Necron Tomb Blade is a real pain to assemble, it does look pretty cool once it's together, so it can be somewhat forgiven. The savings are pretty good, too – and more cash in your pocket is always a bonus.
All in all, a successful month. Perhaps not the most exciting of deliveries, but between a handful of new models and some really useful paints and tools, it's a tough one to fault.
Click this link & buy your hobby stuff from Element Games for the UK & Europe to support FauxHammer.com – Use Code "FAUX2768" at the checkout for double reward points.




Our Affiliates / Hobby Stores
Summary
Reviewer
Review Date
Reviewed Item
Warhammer 40,000 Imperium Delivery 10: Issues 35-38
Author Rating





Product Name
Warhammer 40,000 Imperium Delivery 10: Issues 35-38