Anycubic Stealth Releases the Photon Mono X2
Last Updated on September 30, 2022 by FauxHammer
Blink and you'll miss it or what?! I genuinely don't understand Anycubic's marketing team – it's probably an Eastern thing to do it in such a way, but once again they come along with a product refresh and hardly anyone knows about it. I didn't get an email and I subscribe to their mailing lists. I reached out to my Anycubic contact today just to check in and they said "oh, we have the Mono X 2 coming" "When's that coming" I ask. "mid to end of October they say". So I do some googling and, well. it's available to buy now for immediate shipping.
Click this link & buy your hobby stuff from Element Games for the UK & Europe to support FauxHammer.com – Use Code "FAUX2768" at the checkout for double reward points.



Our Affiliates / Hobby Stores
The mono X is an odd beast in Anycubi's lineup. Their highest resolution LCD printer at the moment is the Mono 4k with it's 35μm XY pixel size. Though arguably the Mono X 6K 34 μm, like a micron is going to matter between LCD screens.
The X series are Anycubic's Mid-Size printers. With Screen Sizes between 8″ & 10″
So what has changed with the Mono X2 when compared to the Mono X?
First, there is a noticeable change in form factor, The Mono X2 boasts more futuristic lines in its chassis, I can't imagine any function purpose with this change. aesthetically we are looking at the difference between an Alienware laptop and a Dell. Kind of, Almost, maybe.
Inside though, there have been a few small changes
| | Mono X | Mono X 2 |
| --- | --- | --- |
| Screen Size | 8.9″ | 9.1″ |
| Screen Resolution | 3840 x 2400 px | 4096 x 2560 px |
| Pixel Size | 0.050 mm (50µm) | 0.048mm (48µm) |
| Build Volume (XYZ) | 192 x120 x 245 mm (WDH) | 196 x 122 x 200 mm (WDH) |
So, if you are currently a Mono X owner you can probably tell that there's little need to upgrade.
Whilst the screen resolution has now improved to what is generally coined "Ultra 4k", (4096x2560px). Which is a 4% increase from the previous generations, slightly above standard, 3840×2400 (Standard is 3840×2160 at 21:9). The screen size is also larger. 3.8% larger, So the improvement difference in resolution, is 0.2%
Oh and with the new reduction in both depth (2mm) and height (45mm), you are looking at an overall 15% reduction in build volume over its predecessor.
Anycubic advises it's faster and more stable, but until we see hands-on, this is an arbitrary metric of comparison.
No wonder we haven't seen any of the usual suspects getting advanced copies of the printer to review. There's nothing new or exciting here. But its release does benefit many of us considering a new printer.
Well, If you don't know already, let me tell you again, I'm a miniature painter. So my focus when reviewing 3D Printers is it's performance when printing miniatures. Occasionally I'll print a bust or something larger just because the printer can, and the models look cool. But when printing miniatures, Pretty much one thing matters to me. The Pixel Size on the LCD.
And this, well it's a bit below what I would consider being standard by offering only 48µm.
Better choices for resolution include the Anycubic Mono 4k as mentioned above offering 35µm resolution. However, with those printers, I do often feel somewhat limited by the size of the 6.23″ build plate.
Here you are getting half again on XY area over those printers, but at the cost of resolution.
I personally wouldn't choose one of these for miniatures, not right now anyway. I'd take advantage of the fact that Anycubic has slashed the price of their original Mono X to $349 to sell off old stock. Right now, for the difference, that's still the better buying choice.
But if you are ok with spending the $429.00 for the Mono X2 there is a bonus option if you can reach just a little deeper into your pockets.
Whilst the Mono X2 is no showstopper, and I'd argue a somewhat pointless upgrade over the Mono X for the consumer. With the release of this new printer. Anycubic has also slashed the prices on another X series printer.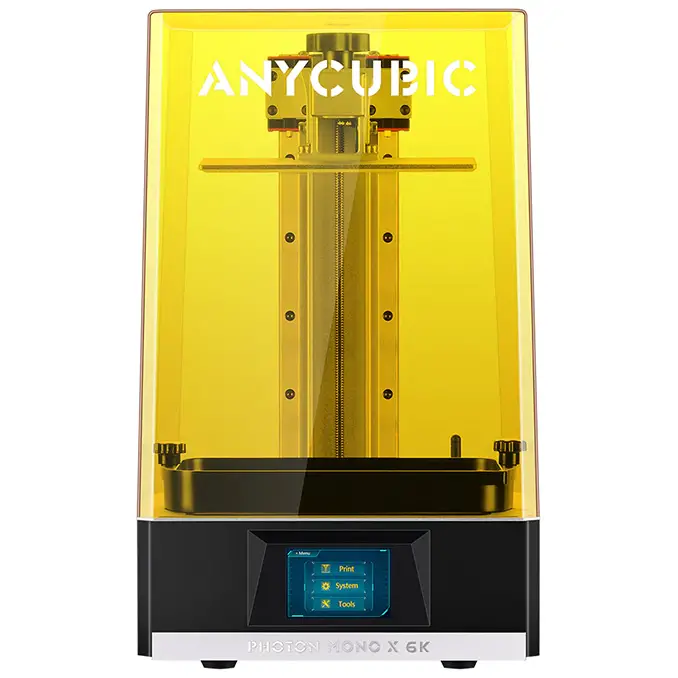 The Mono X 6k has a 9.23″ screen, lklarger than the Mono X2
An XY resolution of 34 μm, rivalling the Mono 4k, the Elegoo Mars 3 Pro and the Phrozen Sonic Mini 4k. Though this is by 1 micron.
And! The Mono 6k has a larger build resolution than any of the above with 290 x 270 x 475mm, over double the Mono x 2's height!
So if you are happy with the current standard of 35μm printers, which I have already said is the sweet spot for miniature printers. Then here you get that resolution and the benefit of a much larger print volume.
That's more than worth another $70 on top of the current Mono X2 price, you'll regret not spending the extra. And that makes the Mono X2 a hard sell until we see some discounts.
So yeah, get a Mono 6k, but get them before they sell out!
Click this link & buy your hobby stuff from Element Games for the UK & Europe to support FauxHammer.com – Use Code "FAUX2768" at the checkout for double reward points.



Our Affiliates / Hobby Stores
What did you think of this Article? Please let us know in the comments.
If you like what we're doing here you could really help encourage more content with a share on any social media platform.
Click the share links at the bottom of this screen (or on the left for computers and tablets)
Want to keep updated with the blog? You can subscribe in the sidebar for RSS or by email below
(Sidebar is below the article on Mobile Devices)