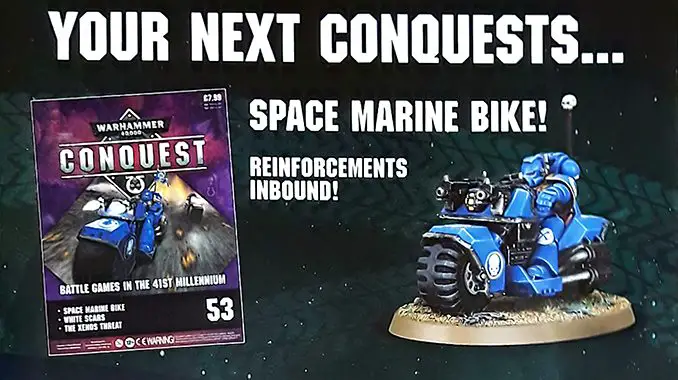 Ok, this feels a little redundant now as we have already had the contents of all the remaining issues confirmed. But I've stated So I'll Finish. Here we are with the Contents of Warhammer Conquest Issues 53 & 54.
Just a heads up (or a warning to some) Hachette just announced a partworks magazine for Warhammer Age of Sigmar too. It's Called Mortal Realms and you can find out more about it here.
It appears to just be in a localised trial state at present (like Warhammer Conquest was) so the first 4 to 6 issues whilst Hachette understands the potential uptake. after that, expect it to go on a break for a few months before it comes back. The last thing I want is both of these coming out of my bank at the same time each month.
Don't forget, we have a growing Facebook group for Warhammer Conquest
Come and join us, show off your models, ask questions and get the latest news from the community itself.
So, set's see what we are getting. Once again, Thanks to Mark in our Facebook group for sharing the images. (I don't get my next issues until my sub arrives).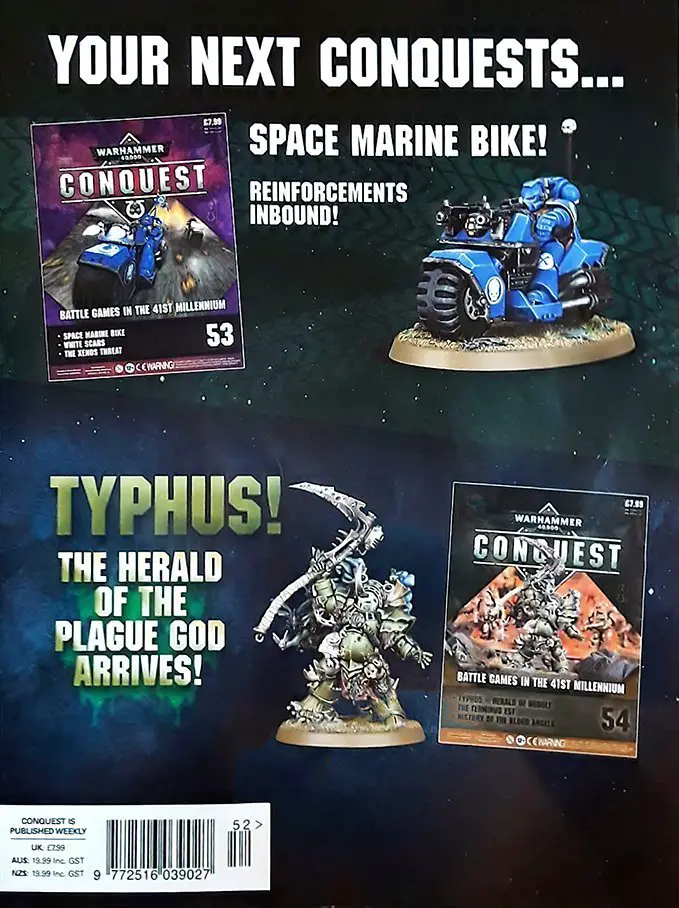 Don't let the image below fool you, It was just a stock image I pulled online. you aren't getting 3 bikes, you are only getting. Issue 48 gave us two bikes so if you aren't a subscriber. maybe try to hunt down a copy of that issue. Unfortunately though. Everyone's favourite go-to place Forbidden Planet no longer has Issue 48 in stock. But keep checking, they often have surprise re-supplies
Issue Price £7.99
Total Value £6.66
Total Saving -£1.33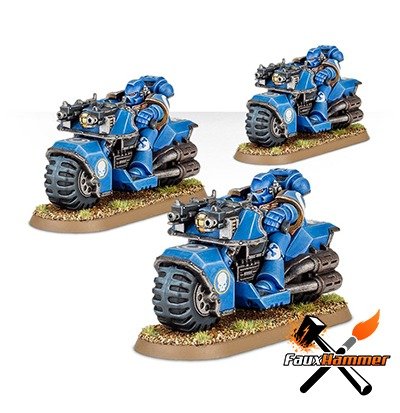 Finally! What an issue! Right, the saving alone is enough for many scalpers to buy multiple copies just to sell Typhus on eBay. If you want to secure this issue go to Forbidden Planet and pre-order it.
Even then, This is one of those issues which is likely to sell out the pre-order allocation. Just as we saw with the Apothecary or the Warhammer Conquest exclusive Ultramarines Lieutenant Calsius.
Issue Price £7.99
Total Value £25.00
Total Saving £17.01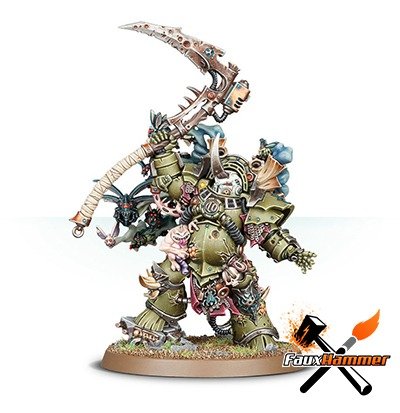 I doubt we'll see any changes to the upcoming releases now. But Keep an eye on the full lineup article for any changes. Let us know what you're working on in the comments or by joining our Facebook Group.
Follow FauxHammer by subscribing to the site (below). You can also follow on Twitter or Facebook for the latest updates.
What do you think of the upcoming goodies? let us know in the comments.