How to paint Space Wolves Armour Tutorial – 2019
Last Updated on September 23, 2019 by FauxHammer
Brushstroke back with another Space Marine Armour Tutorial. This time we're going to covering everyone's favourite Vikings of the Future, with my How to Paint Space Wolves Guide
To see my latest guides, find me on Facebook & Instagram
How to paint Space Wolf Armour – Paints & Tools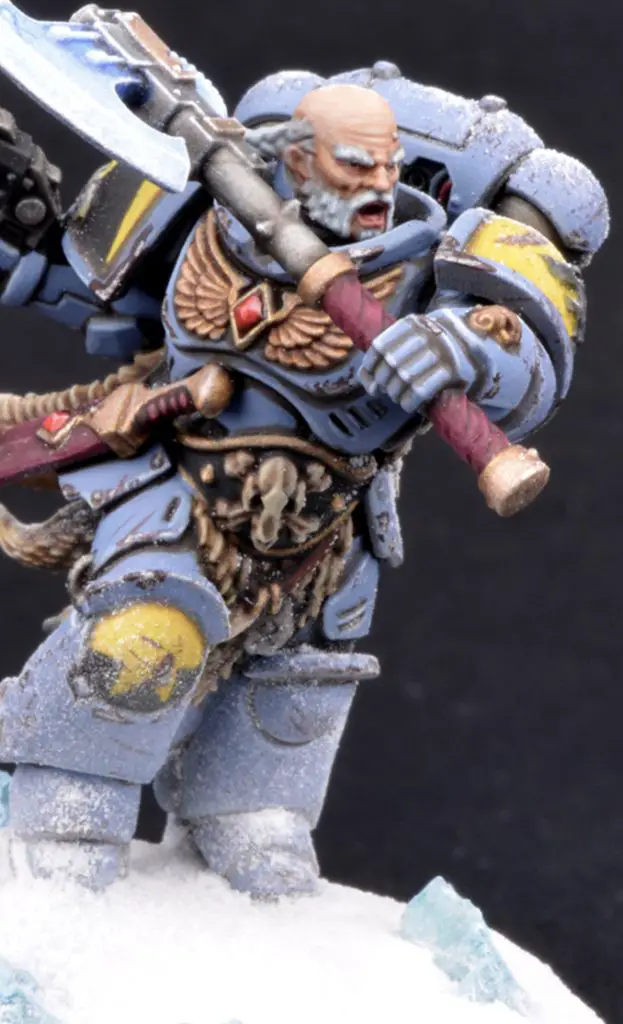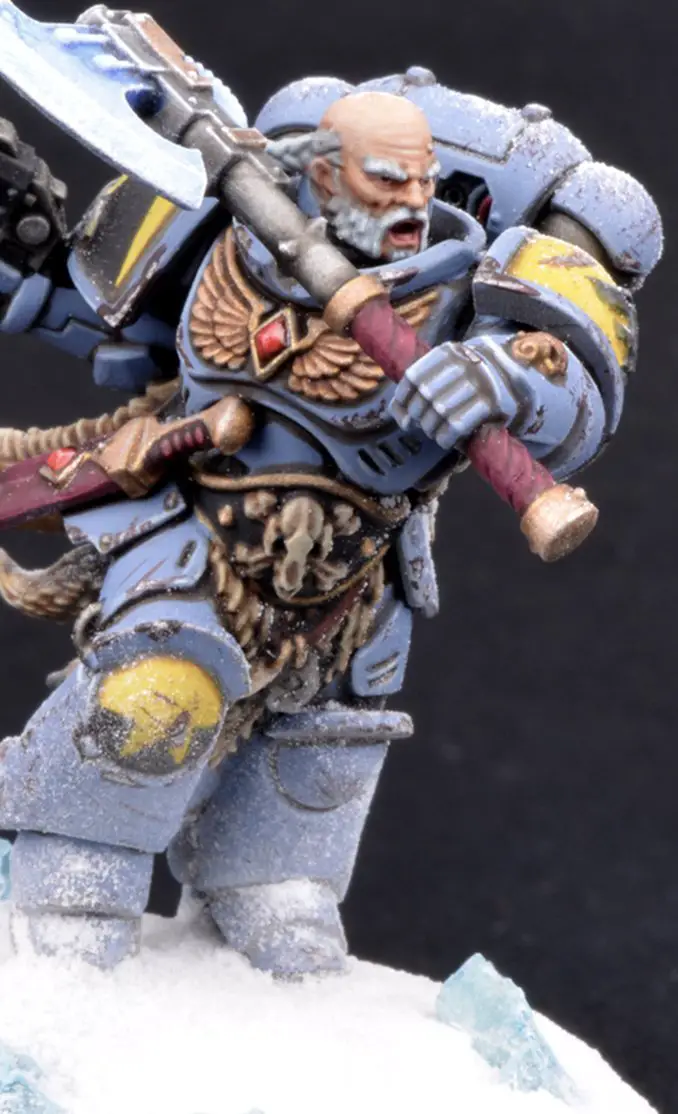 Brushes
Paints
How to paint Space Wolf Armour – Tutorial
Step 1 – Apply Armour Base Colours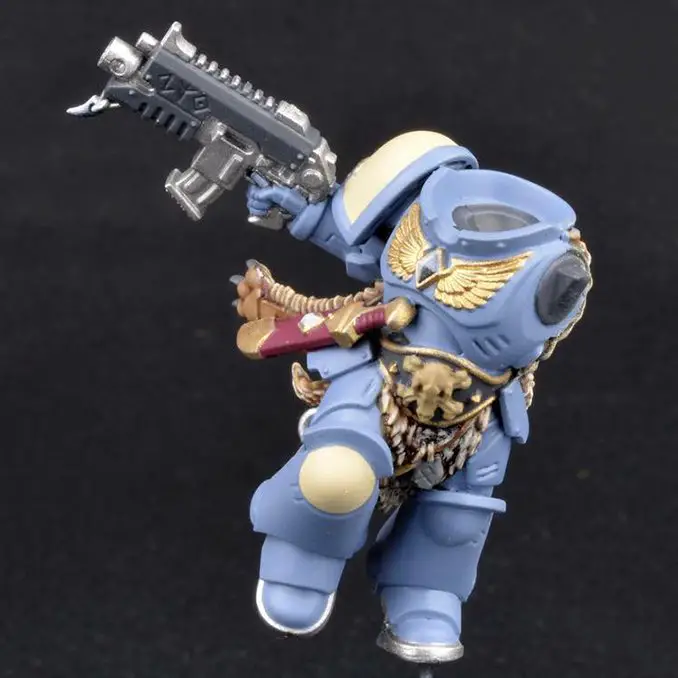 Over a light grey primer paint in the following base colours:
The pelts (front & back) will be detailed next …
Step 2 – Apply Pelt Base Colours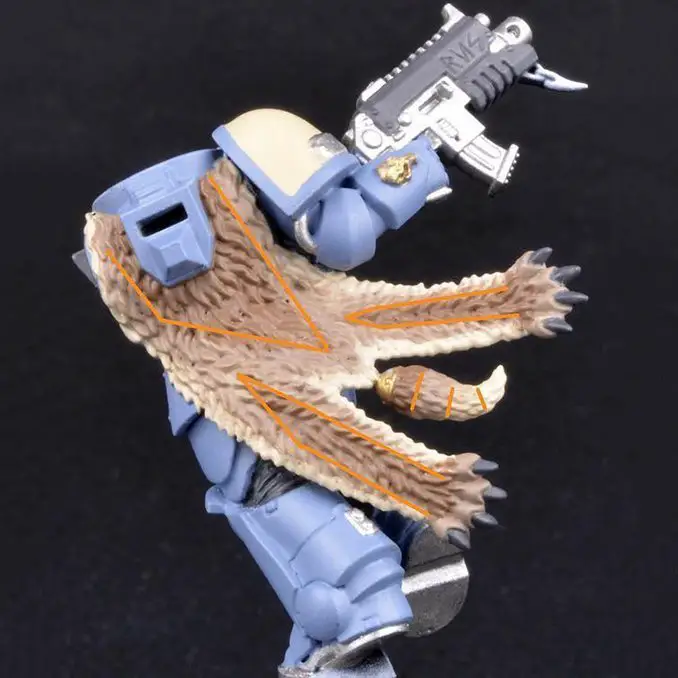 Because messy drybrushing is needed to paint the pelts, I suggest finishing them before continuing with the rest of the model.
So, base coat the whole of the pelt (inside and out) with Baneblade Brown.
Then paint in dark shapes (as outlined in orange on the pic) with Steel Legion Drab. Then paint a border around the edges of the pelt with Karak Stone.
For the tail, it's stripes of the same colours. From the base; Steel Legion Drab, Baneblade Brown, Karak Stone, and finally on the very tip, Screaming Skull
Any claws should be painted with Eshin Grey
Step 3 – Apply Pelt Shades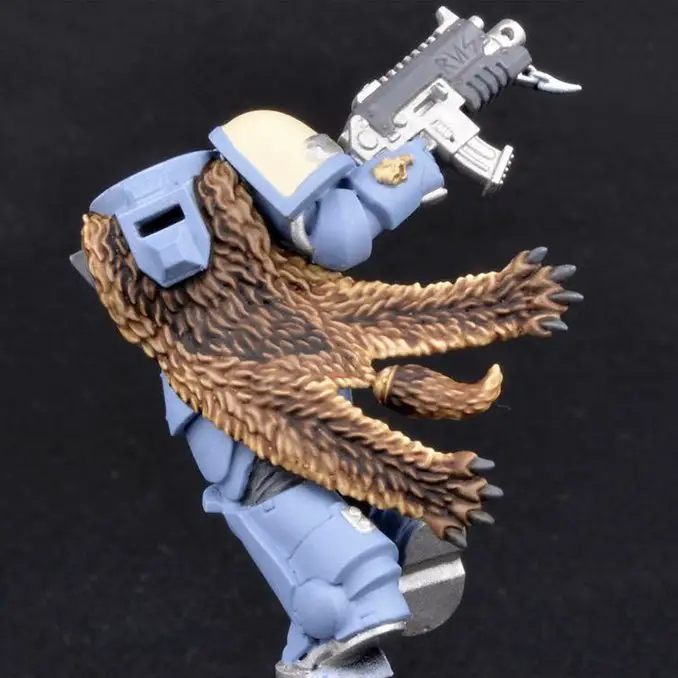 There are two stages to shading the pelts.
Firstly shade the whole pelt (inside and out) with Seraphim Sepia.
When that is COMPLETELY dry, re-establish the darker shapes from before with Agrax Earthshade.
Step 4 – Highlight the Pelt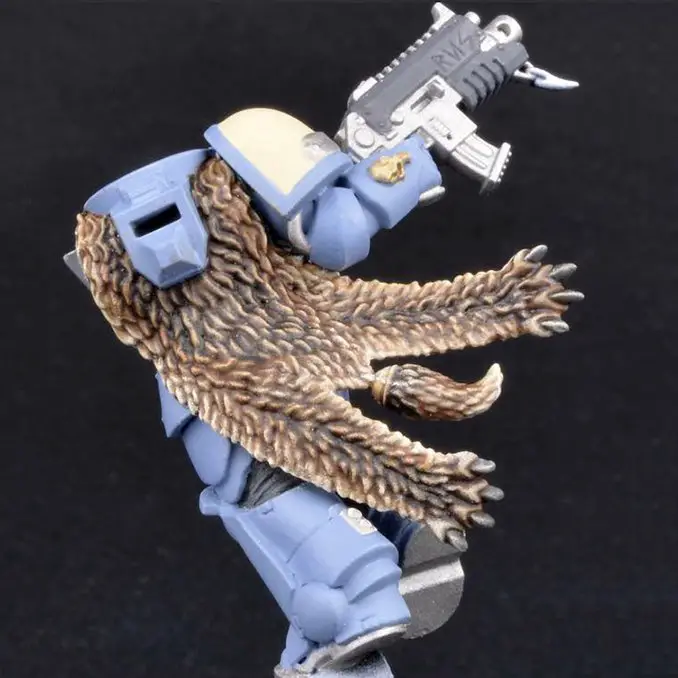 Drybrush all the fur of the pelt with Karak Stone.
Then drybrush just the lighter edges with Screaming Skull.
At this point, you'll probably find paint from the drybrushing has gotten onto the armour. Simply neaten everything up with Russ Grey before continuing.
Step 5 – Apply Armour Shading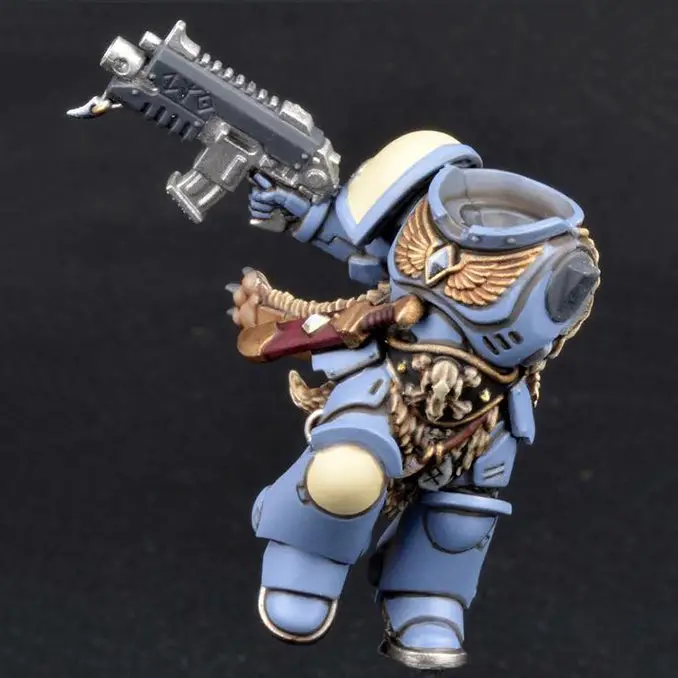 Recess shade all the armour panels with Agrax Earthshade.
This means you just want to run the shade into the grooves and edges of the armour and not all over the model. If you make a mistake, simply let it dry and tidy up with some Russ Grey.
Shade all the Eshin Grey joint areas of the armour with NuIn Oil. Take care to keep it off the Russ Grey coloured armour. Again, if you make a mistake, just let it dry fully and tidy up with some Russ Grey.
Step 6 – Highlight the Armour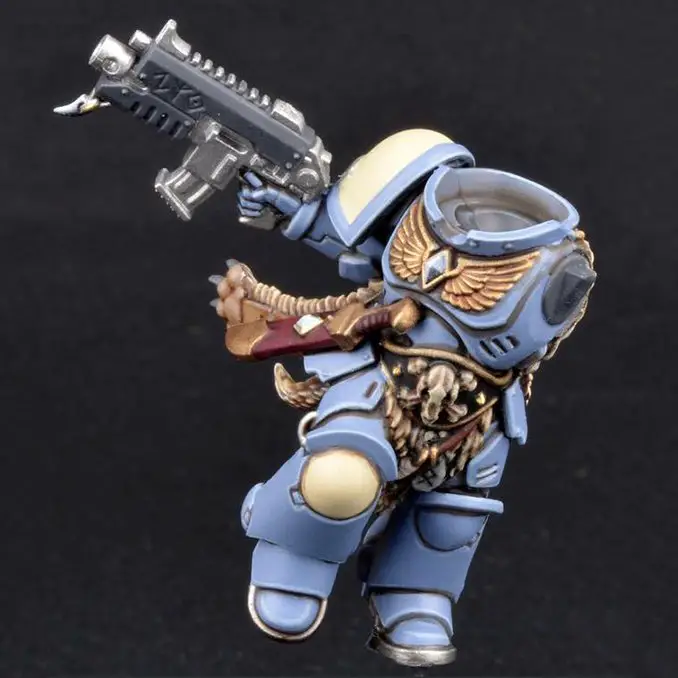 Using the edge of your paintbrush apply an edge highlight of Fenrisian Grey around all the armour panels.
The important thing to remember when edge highlighting, is you want the paint to be thinned so it flows easily from the brush but not so much that it will run everywhere.
This step does take a bit of patience but try and keep the lines smooth and even.
Don't worry if you make any mistakes. Just let it dry and tidy up with Russ Grey.
Step 7 – Apply Edge Highlights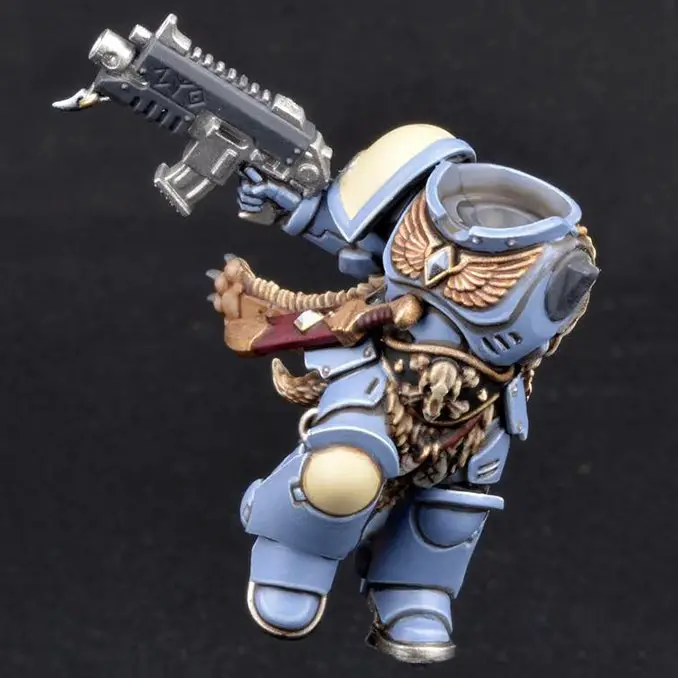 Apply a final highlight of Ulthuan Grey to the corners and focus points on the armour.
As before, any mistakes can just be corrected with some Russ Grey.
Step 8 – Paint the Details
Face & Beard – Paint the whole face Cadian Fleshtone. Layer with Kislev Flesh. Highlight with Flayed One Flesh.
Full guide to painting faces coming soon
Base beard with Dawnstone, layer with Celestra Grey and highlight with Ulthuan Grey.
Bolter – Base the metal areas in Ironbreaker, the black casing in Eshin Grey. Wash with NuIn Oil and highlight with Ironbreaker and Eshin Grey.
Shoulder Pads – Glaze the Ushabti Bone with Sigismund Yellow (This used to be Lamenters Yellow, but GW Don't make it anymore). Base the wolf symbol with Eshin Grey, highlight with Administratum Grey and wash with NuIn Oil.
Axe Head – Base with Stormhost Silver, glaze with thinned Calth Blue (This used to be Guilliman Blue, but GW Don't make it anymore), stipple White Scar as frosting and edge highlight with White Scar.
Aquila & Gold Details – Base with Retributor Armour, wash with Agrax Earthshade and highlight with Liberator Gold.
Scabbard & Weapon Handles – Base with Screamer Pink, wash with Agrax Earthshade and highlight with Screamer Pink.
Skull & Crossbones – Base Zandri Dust, wash with Seraphim Sepia, layer with Ushabti Bone and highlight with Screaming Skull.
Step 9- Weathering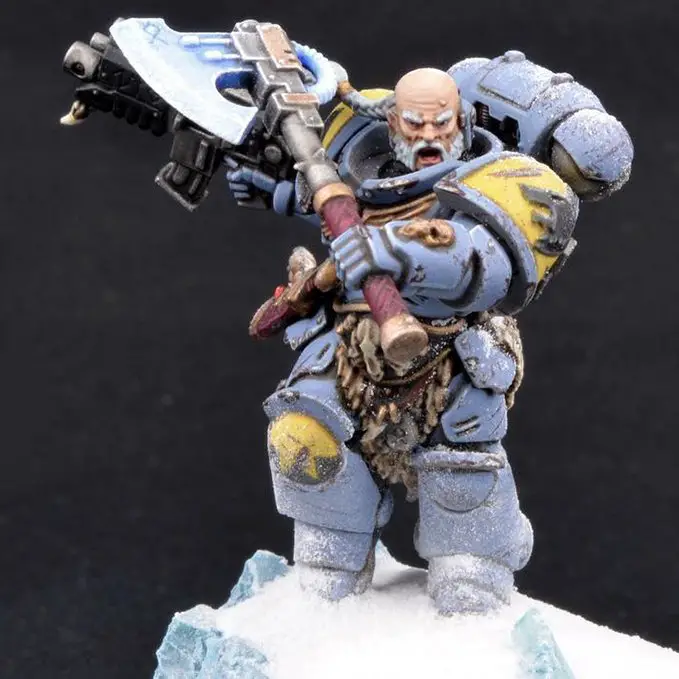 At this point, the marine is finished and you can base it however you like. If you want to see how to get started with making a realistic Ice Base, See my Ice Basing Tutorial.
You can, however, decide to go on and add some battle damage to your mini by following these steps.
Using a small piece of sponge dab on Rhinox Hide to form a pattern of random dots over the armour panels. Similar to drybrushing, you want to remove almost all the paint from the sponge before dabbing on the mini.
The scratches and chips are done by painting an area with Rhinox Hide and then painting Ironbreaker on top. Be sure to leave Rhinox Hide showing around the silver to give the impression of worn paint.
You can add as much or little damage as you like.
How to paint Space Wolf Armour Complete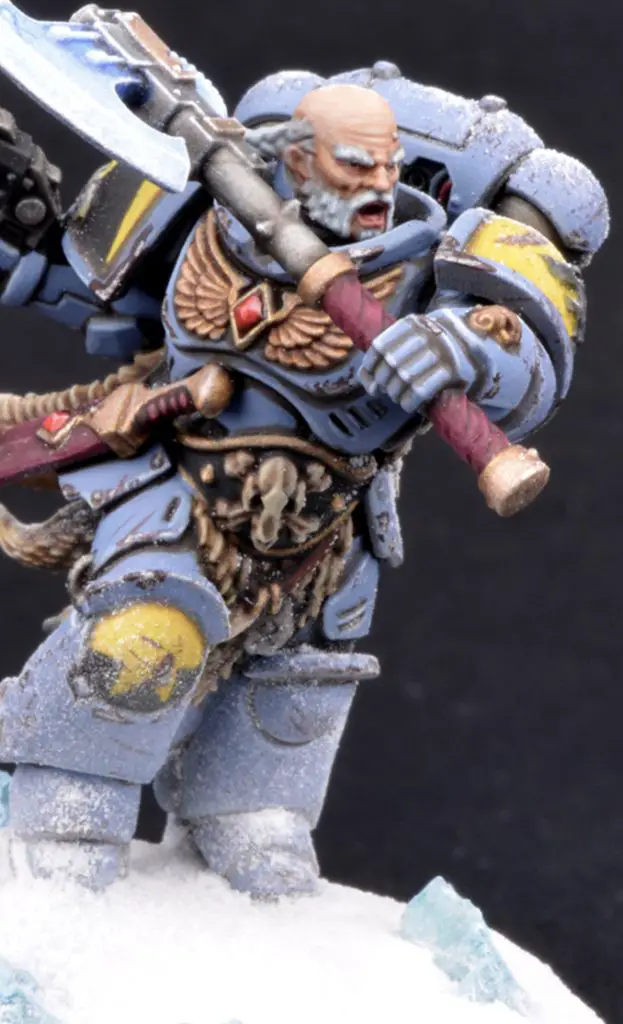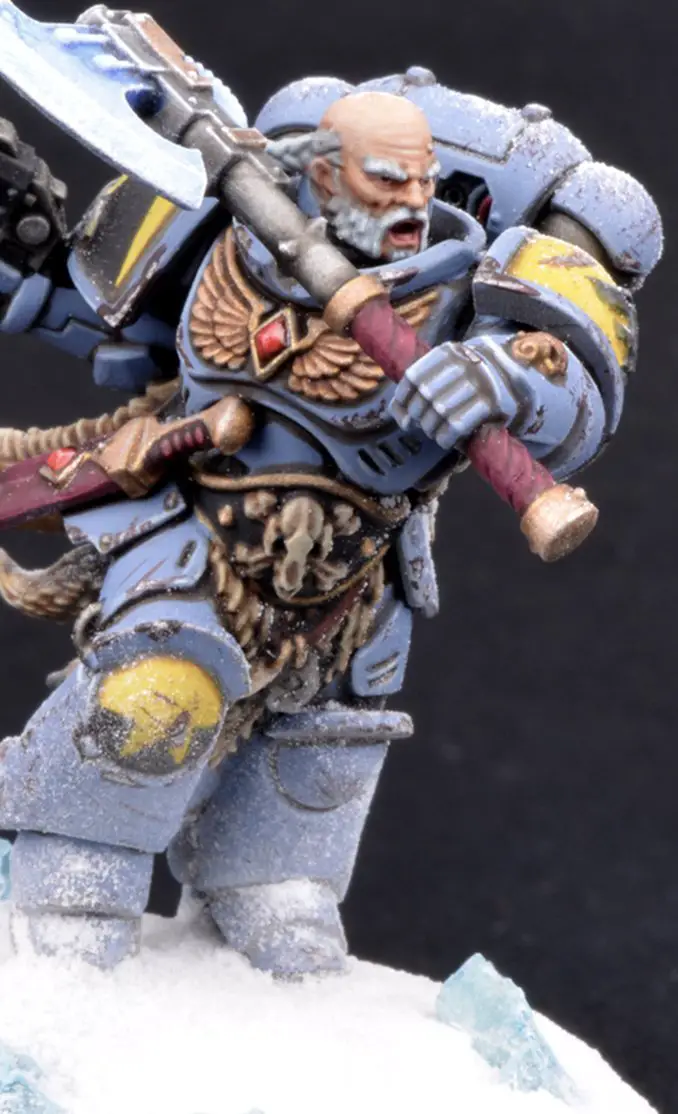 Thank You
I hope you find this guide useful.
If you do have any questions or suggestions on how to improve it for others, then please do let me know.
More Tutorials From Brushstroke
Got any questions? Want to see more tutorials like this, or what I'm working on next? Follow me on Instagram by clicking any of the images in this post.
I'm now on YouTube, Subscribe to my channel and see my video guides by clicking here.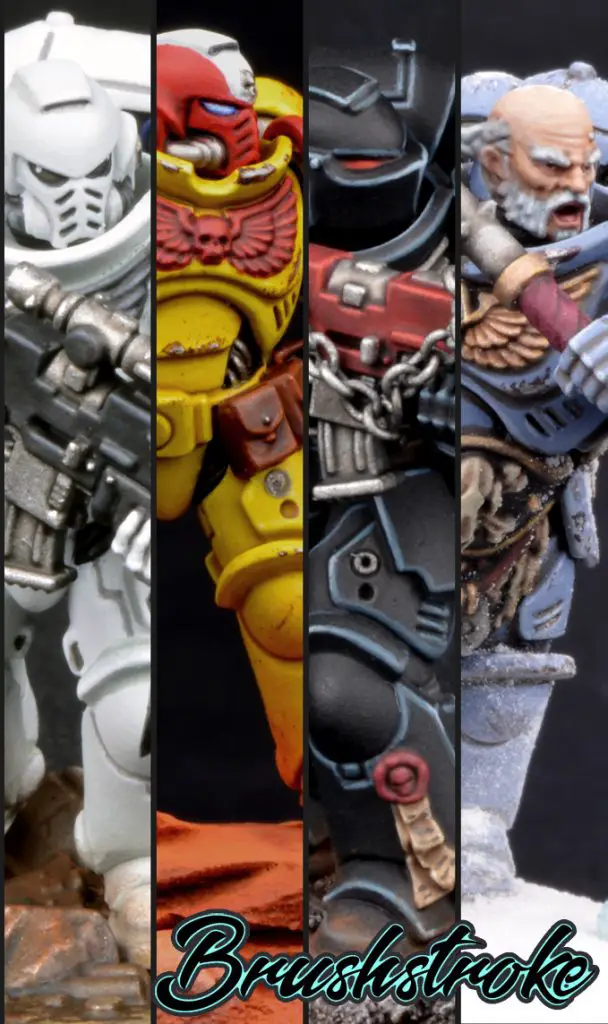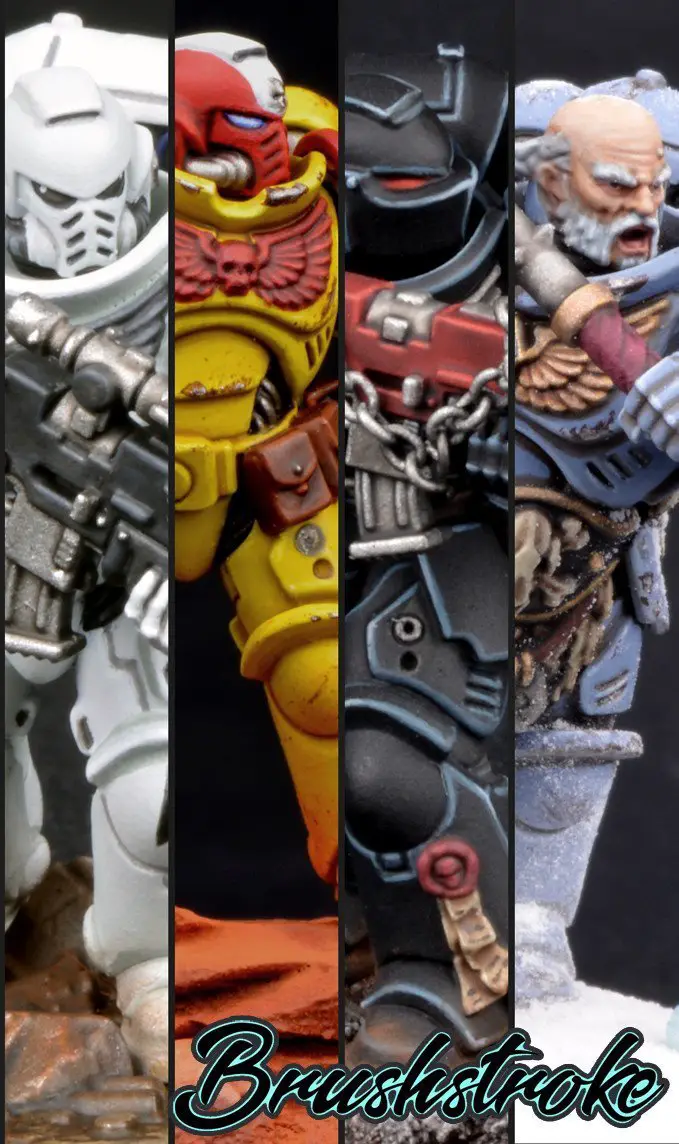 See this full tutorial and more, directly on my Instagram & Facebook pages. Don't forget to LIKE and FOLLOW for more tips and guides.
What did you think of this Tutorial? please let us know in the comments.
If you like what we're doing here you could really help encourage more content with a share on any social media platform.
Click the share links at the bottom of this screen (or on the left for computers and tablets)
Want to keep updated with the blog? You can subscribe in the sidebar for RSS or by email below
(Sidebar is below the article on Mobile Devices)
Summary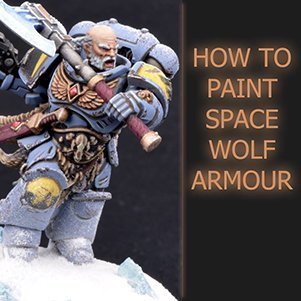 Article Name
How to paint Space Wolves Armour Tutorial
Description
We're going to covering everyone's favourite Vikings of the Future, with my How to Paint Space Wolves Guide
Author
Publisher Name
Publisher Logo