Warcry: Hunter & Hunted Review
Two new warbands take to the field in the latest Warcry box from Games Workshop. Take a closer look at the contents of this new set in our Warcry: Hunter & Hunted Review. Oh, and brace yourself: the "a hoonter must hoont" jokes are coming.
Click this link & buy your hobby stuff from Element Games for the UK & Europe to support FauxHammer.com – Use Code "FAUX2768" at the checkout for double reward points.




Our Affiliates / Hobby Stores
Warcry: Hunter & Hunted Review – Summary
Hunted & Hunted has all the hallmarks of a great boxed game, with magnificent miniatures and good-quality components. It is, however, let down by a handful of tricky and dubious builds that might leave buyers frustrated and disappointed with their end product.
Warcry: Hunter & Hunted Review – Introduction
Pretty hot on the heels of the Crypt of Blood Starter Set comes the next entry in Games Worlshop's Age of Sigmar-set dark fantasy miniatures skirmish game, Warcry.
Originally announced at the NOVA Open on the 31st August, Warcry: Hunter & Hunted sees the return of the Ogor Mawtribes to centre stage, as well as a selection of brand-new Cities of Sigmar miniatures for the universe's newest faction. Take control of the stalwart Wildercorps or the hunger-maddened Gorger Mawpwack – do you wish to save your world or (very literally) consume it?
We'd like to say a huge thanks to the folks at Games Workshop for sending us this box for the purpose of this review. Cheers guys!
Warcry: Hunter & Hunted Review – Contents
We'll kick off our review of this box with a look at, well, the box.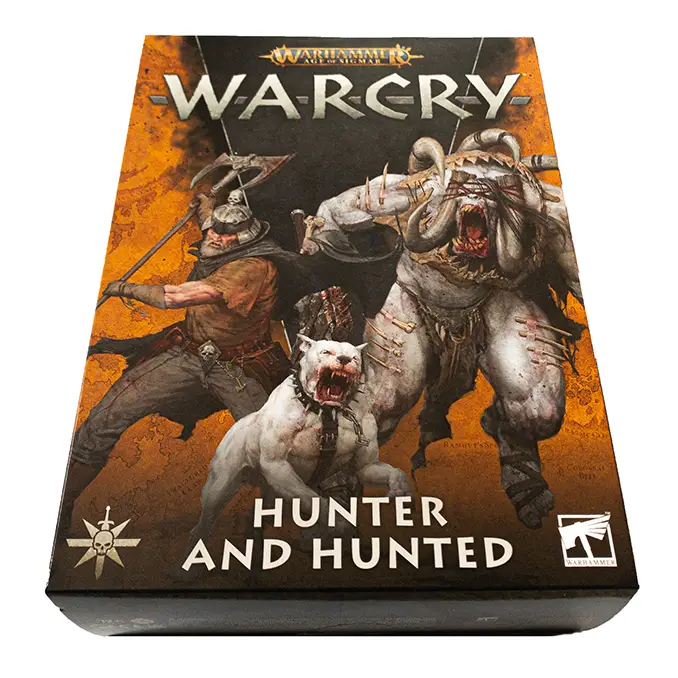 Since Crypt of Blood, Warcry boxes have been downsized. Now arriving in an A4-sixed container as oppose to the far larger boxes with similar dimensions to those we usually see new editions or army boxes launching in. This isn't an unwelcome change, as they're easier to store (if you keep the boxes, that is).
Here's everything you get inside the Hunter & Hunted box (minus the miniatures, which we'll look at separately shortly).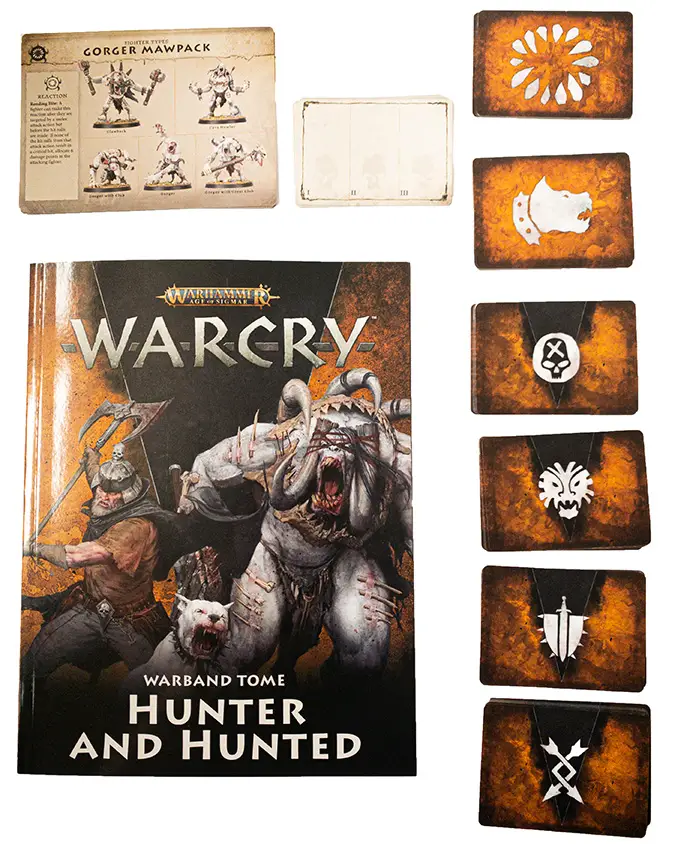 This is:
The 64-page Hunter & Hunted Warband Tome
64 cards

16 fighter cards
3 ability cards
3 dfivider cards
42 battleplan cards
Unlike Crypt of Blood before it, Hunter & Hunter is not a starter set. This is essentially "expansion" content to your Warcry games, and won't teach you how to get started with the system. If you're new to Warcry, you'll need to make sure you have a decent understanding of the rules before you're able to make head or tail of what's going on in this box.
Games Workshop have a habit of creating excellent books like those you can find in any Kill Team or Warcry box set. These attractive tomes are always filled with all the rules, lore and background you need to start playing with your new miniatures and have a good understanding of what the setting for their conflict.
Of course, there are also plenty of pages of painted miniatures (usually against some stunning cinematic backgrounds) to inspire you to grab your brushes and get some colour on your new figures and really make them your own.
The cards tell a similar story. Succinct, easy to read and understand (as long as you've played Warcry before and have a grasp of the rules – remember, as we said above, this is not a starter set), these cards take you through everything from the stats for your individual miniatures, the set up of your battle, your mission objectives, as well as any "twists" that happen in order to keep the game replayable and interesting.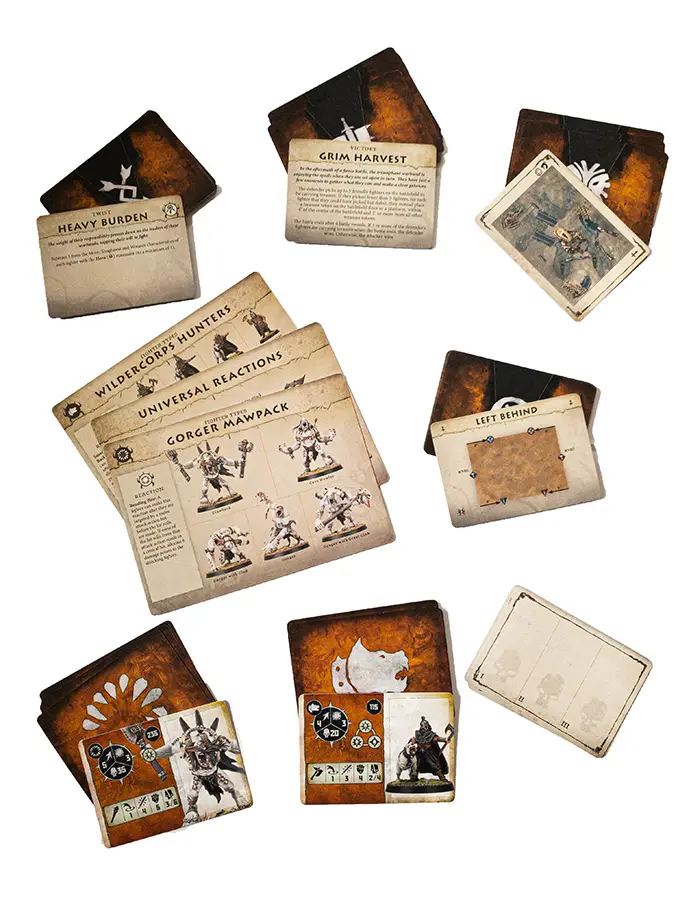 All the different cards are marked with different symbols on their reverse sides so you're able to tell them apart at a glance. Whilst they all come packaged as one "deck", they're easy to sort and seperate out if you wish to do so.
Warcry: Hunter & Hunted Review – Miniatures
With the books and cards of Hunter & Hunted out of the way, we can turn our collective attentions to the miniatures in this set. There are 16 models in all, 11 making up the Wildercorps side of the box, and 5 much larger models constituting the Gorger Mawpack. There is also one large terrain piece that we'll also have a look at.
Wildercorps
Everyone's gone a bit Cities of Sigmar mad over the last few weeks since the Warhammer Age of Sigmar: Cities of Sigmar Army Set was released. As such, the deluge of brand-new Cities fans will be wanting to see what the new Cities-centred warband looks like. Well, wait no longer.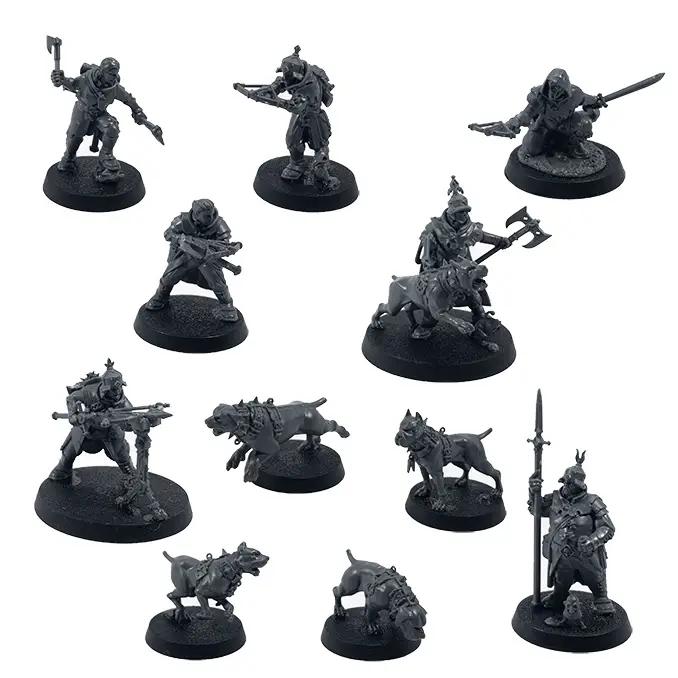 An impressive and variable range of models, with all manner of interchangeable heads, weapons, and other pieces of equipment, you'll be able to get your Wildercorps looking exactly how you want them to. The inclusion of the hounds is nice, too – though I'm not sure about the cropped ears on a couple of the models.
A fair few of them, however, are quite fiddly to build. Whilst everything eventually goes together, some of the miniatures – particularly the three in the top left of the photo above – are made up some quite tiny parts. Make sure you take your time dry fitting everything before you start using glue.
Oh, there are also three of the ever-popular gargoylians included in this set: a large-headed, vaguely humanoid thing, a walking fish, and a thing wearing a bird-like skull on its head. Wild.
Gorger Mawpack
We're big Cities of Sigmar fans here at FauxHammer.com, so it was going to take something quite special for any warband opposing a Cities-based team to have a hope of coming out as our favourite, but the Gorger Mawpack have clinched it.
These impressive and terrifying miniatures are the first new Mawtribes miniatures we've seen in, well, forever – though they could easily be mistaken for something from the Flesh-eater Courts range.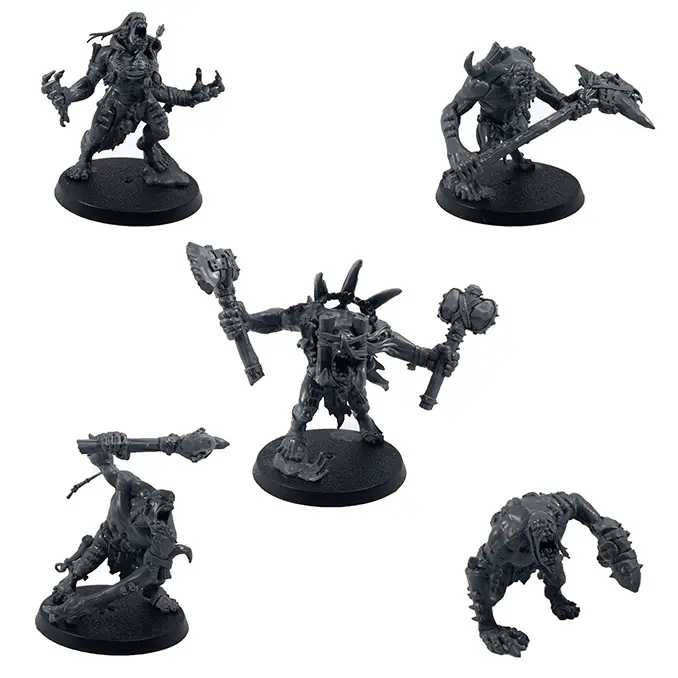 There are a variety of heads and weapons you can choose to equip them with should you so wish – including one head with a skull in its mouth, which is pretty fitting. Again, though, they're made up of a surprisingly large number of components and there are one or two fiddly bits that might leave builders frustrated ( such as toes, a few horn details, getting some of the legs to sit on small contact points). Just like the Wildercorps before them, the Mawpack are ultimately saved by just how good the end result is – because the models look smashing.
It's a shame, then, that our copy didn't come with enough bases for us to outfit all five of our models.
Terrain and Scenery
Whilst it certainly looks impressive (and it pretty big too), I had no end of issues trying to get the Mawpit to go together – and they all spawned from two components.
Both issues we encountered were remarkably similar. The first was with the big, circular "Mawpit" itself. This is made of two large semi-circular components that should, in theory, just sort of slot together without too much issue. There are plenty of obvious slotting points on each edge, as well as a larger slot on one side of the component.
But ours did not want to go together. No matter how much pushing and shoving, jigging and re-rigging we did, we could not get get two halves of the pit to sit comfortably together. Whilst you can't see it in the image below, there's about a 1.5mm gap on the far side of the model where the two halves would not go together.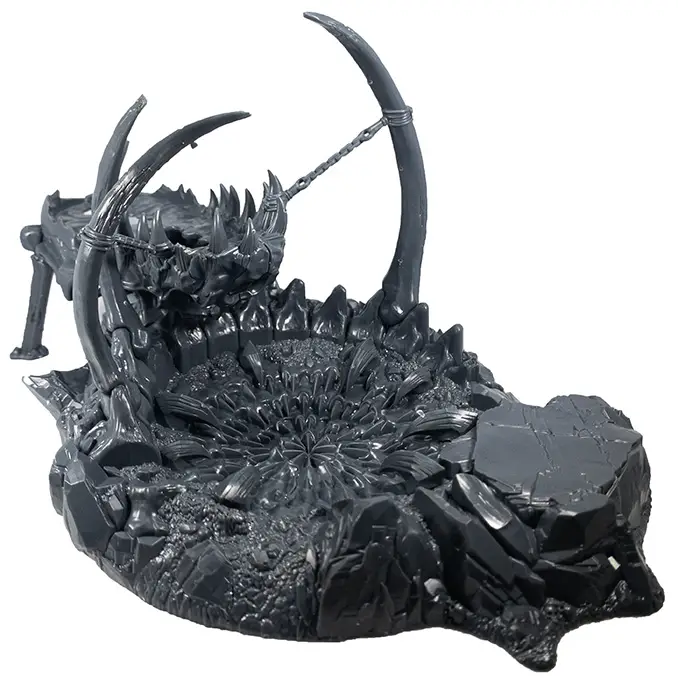 And that's not all. You see at the rear of the model, there's a platform made of a gigantic upturned skull? This skull is made of two halves that, according to the construction guide, need to be pressed together along a contact point that runs the entire length of the skull – as if you were pressing together two halves of an apple, for example.
Except, once again ours just didn't want to go together.
We could not get the rear of the skull – the bit where the "brain" would be – to be in contact with its opposite edge whilst the nose section was. The two edges on the model we received were not flat, and did not slot together properly. You can make out some of the compromise we had to settle with by way of the beastly gap running between the upturned skull's front teeth on the image above.
It's really disappointing. The Mawpit looks like a really impressive bit of scenery, and given the relatively few number of components it's made from, it looks like it's going to be an easy build. But it isn't.
Warcry: Hunter & Hunted Review- Price and Availability
Hunter & Hunted is going to cost you £80GBP/ $130USD/€105, which is something of a new price point for these boxes. The last Warcry release before this one that we looked at was Nightmare Quest, which cost £110 – but did contain significant more models and a lot more scenery.
Given that most Warcry Warbands are usually priced at £35GBP/$60USD/€45EUR when released, you're likely making something of a saving on this box. With the miniatures having a combined value of £70GBP/$120USD/€90EUR, that means the additional 10 units of whatever currency you buy in accounts for the large terrain piece and a bunch of cards and a books.
Warcry: Hunter & Hunted Review – Conclusion
The Good
The Bad
Once assembled, the miniatures in this set are of singularly spectacular quality
As ever, Games Workshop deliver a selection of high-quality gaming aids, such as cards and books.
Tricky builds on a few of the miniatures
Frustrating scenery
Whilst we're ultimately fans of the new Warcry: Hunter & Hunted box, there's no hiding from the fact that this box is a little bit let down by its builds. Both the Wildercorps and the Gorger Mawpack are at times quite fiddly and can be frustrating to put together, with confusing contact points and a few tiny components, but are ultimately saved by just how nice the models are once together. If you can stick out the journey, you will be rewarded.
The terrain piece, however, does not quite save itself. Whilst the Warbands are at times a pain to fit together, they do at least fit together. As we said, we had some big issues getting some of the crucial parts of our Mawpit to fit together that ultimately left it with some horrendous gaps around the model.
But, as we said, once your models are together you'll be chuffed – both the Wildercorps and the Mawpack are magnificent figures and will look awesome on the tabletop. What's more, the rest of the gaming gear in Hunter & Hunted is also of utmost quality, with a nice book and good cards. This is one Warcry fans won't want to miss.
Click this link & buy your hobby stuff from Element Games for the UK & Europe to support FauxHammer.com – Use Code "FAUX2768" at the checkout for double reward points.




Our Affiliates / Hobby Stores
Summary
Reviewer
Review Date
Reviewed Item
Author Rating





Product Name