Warhammer 40,000 Imperium Delivery 3: Issues 7-10 Review
Last Updated on November 11, 2021 by VoltorRWH
Is it's that time of the month already? Imperium supply drops are hitting doorsteps across the globe reinforcing our collections of Space Marines, Necrons, and more than likely several thousand piles of unpainted plastic.
Click this link & buy your hobby stuff from Element Games for the UK & Europe to support FauxHammer.com – Use Code "FAUX2768" at the checkout for double reward points.




Our Affiliates / Hobby Stores
Warhammer 40,000 Imperium Delivery 3: Issues 7-10 Review – Introduction
In a week that has demanded coverage of an entire range of Citadel hobby products and is sandwiched at either end with a boxed release – first Kill Team: Chalnath, and this weekend (as I'm writing this on the 8th November) and the new Warcry set on the 13th – it's been a busy one for us here at FauxHammer.com. We've also got all sorts of things going on behind the scenes as well, so it's all systems go at the moment.
On Monday morning, mid-conversation with King BossHammer himself, we were deliberating over just how busy we were going to be this week and meticulously planning how we would deal with our upcoming busy period.
Then my Imperium delivery arrived a week earlier than anticipated.
And now here we are!
Warhammer 40,000 Imperium Delivery 3: Issues 7-10 Review: Contents
There's not much range or diversity in delivery 3. If you're a fan of Necrons or short on paint, though, this one will be right up your street!
Let's get into it.
The Magazines: Issues 7-10
Delivery 3 will arrive on your doorstep in a cardboard box as opposed to those plastic packaging bags that the prior two deliveries arrived in. This is because Delivery 3 contains this bad boy: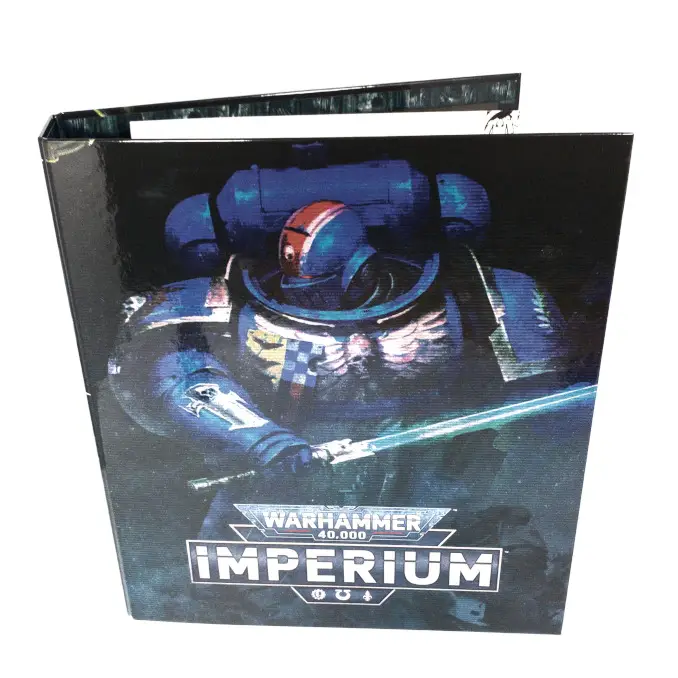 The first of four folders that you'll receive over the course of the next couple of years, the Warhammer 40,000 Imperium folder in this delivery is included so you can start sorting your magazines into them. Yes. Magazines. Those paper things you flick through to find the building instructions for your figures and never look at again. Yes, they have other stuff in them.
Are you even reading these?!
In fact, there's so much other stuff in the magazines that each file comes with a number of tabs to help you better organise the content that comes in each issue. Broken into five sections, Collect, Read, Build, Paint and Play, each heading is designed to correspond to an icon in the upper corner of each magazine page. Using the tabs in the file and the filing system outlined on each tab sheet, you'll soon find yourself with a veritable treasure trove of information relating to all things Imperium.
Speaking of information, there's plenty of it across issues 7-10.
Issue 7 comes with a few pages dedicated to naming your Space Marine and Necrons and then a single double-sided spread on the Era Indomitus (the overarching setting to Ninth Edition).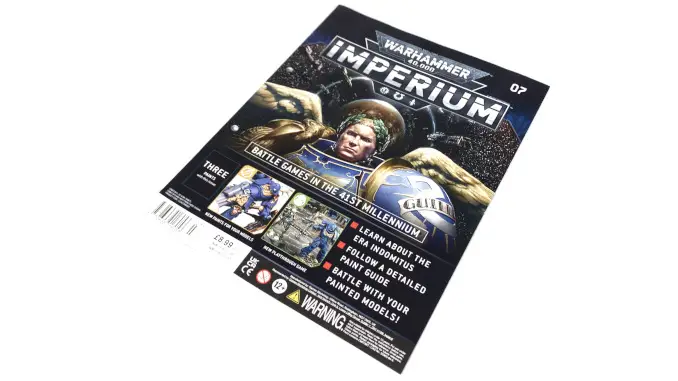 A sizeable chunk of the rest of the issue is then given over to painting details on Space Marines, and is then rounded off with a few sides of how to play guides.
Like Issue 7 before it, Issue 8 is mostly painting guide, giving you all the steps you need to make a start on your Necrons. There's very little sci-fi reading in Issue 8, so lore buffs will be left disappointed.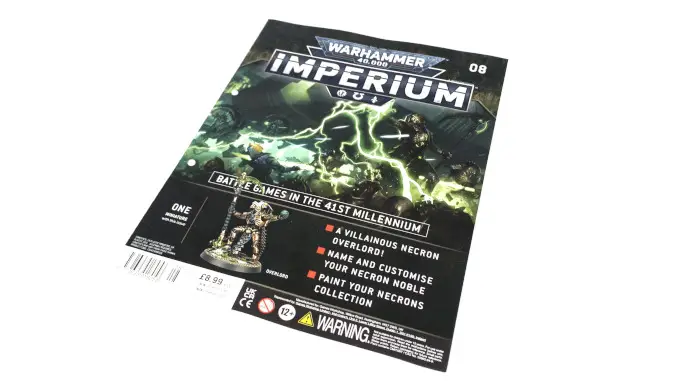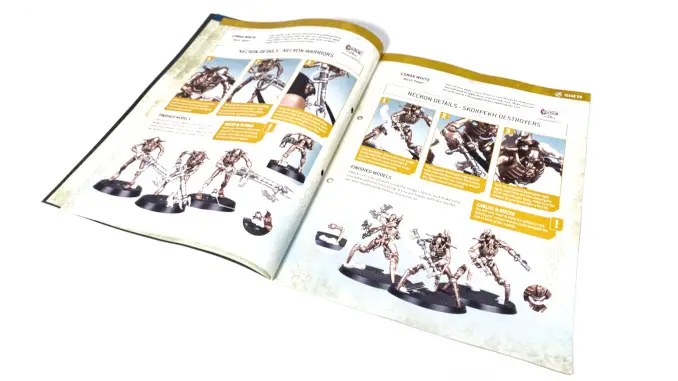 In spite of the fact Issue 9 teaching you how to make ten Necron Warriors within its pages, the guide is spread across only four sides, which attests to the straightforward (albeit occasionally fiddly) design of the Necron Warriors.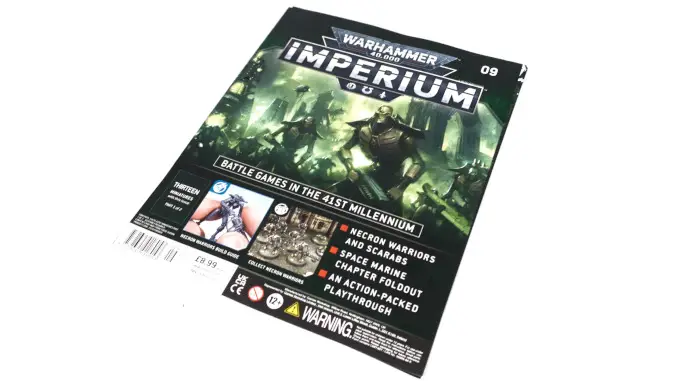 If you were worried you might be left feeling unfulfilled, with your lore-itch unscratched after Issue 8, you'll be pleased to know there's plenty of info on the Warhammer 40,000 setting spread out across Issue 9's pages.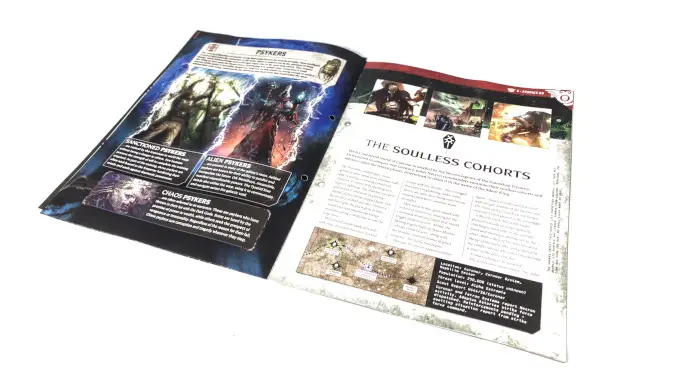 It also comes with a big ol' foldout showing off just how blue Ultramarines are.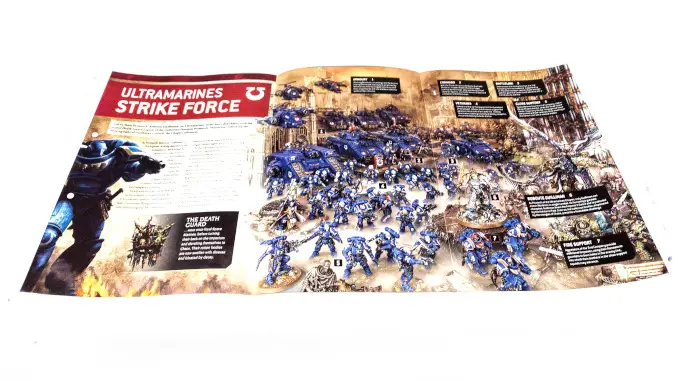 Last but not least, Issue 10 sources you with all the info you could ever possibly need on Space Marine guns before taking you on a crash course through a heap of new rules so you can start playing with even more of your new collection.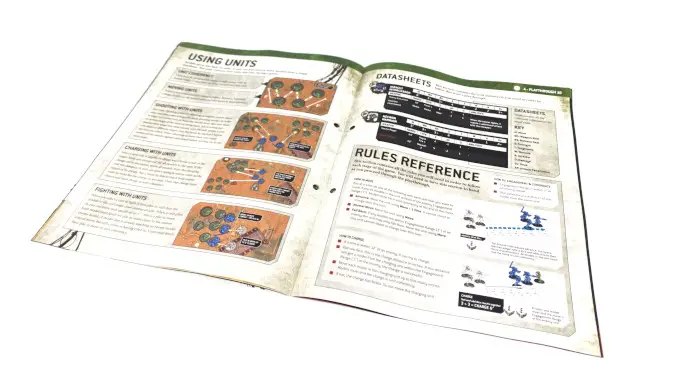 And that's that!
Miniatures
Issue 8 comes with the Necron Overlord, whilst issues 9 and 10 each come with one half of a sprue that allows you to build a total of ten Necron Warriors and three Canoptek Scarab Swarms.
Here's the happily family.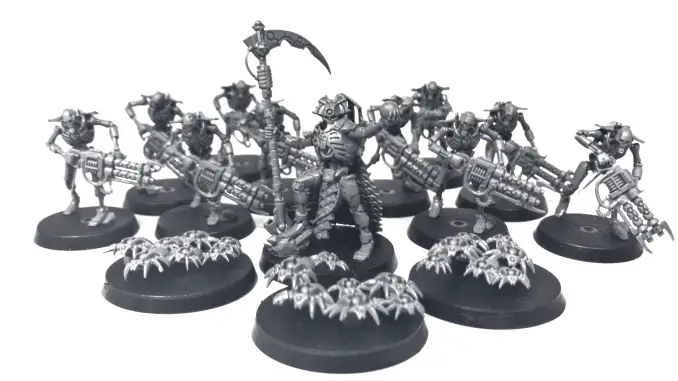 The Overlord is a straightforward build – albeit that he comes with a surprising number of components.
The Canoptek Scarab Swarms are super easy to build. Each is made up of one or two components: the Scarabs themselves, and a rock on which they sit (or not, in the case of one of them). They are a bit flimsy in places, though, so be careful when pushing them onto their bases.
Necron Warriors are notoriously fiddly to put together, so make sure you take your time and pay attention to the instructions. All the instructions for the Warriors can be found in Issue 9 and will refer to both the sprue that comes with that issue and the one in Issue 10.
The Necron Warriors' saving grace is that they are made of the same five parts: first, there's the body, back and legs components, then there's the gun with arm component, next is another separate arm, followed by a chest and head component and, finally, a face. By the time you've put your tenth Necron Warrior together, you'll have figure out which are the tricky bits and what to look out for.
Paints and Hobby Tools
There are three paints included in Issue 7 of this delivery. They are: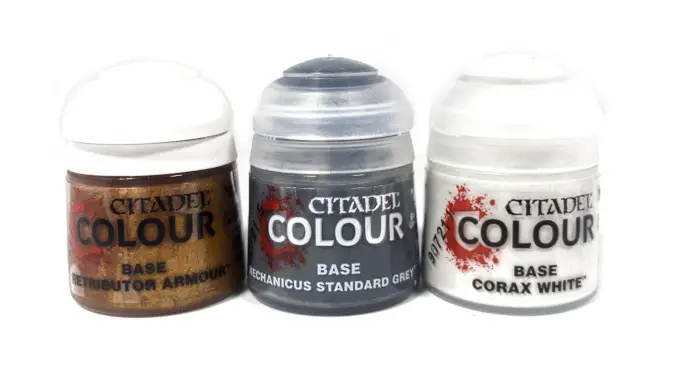 Retributor Armour is easily one of the best gold paints around. Smooth in texture and sporting a wonderful, deep vibrant gold colour, it's my go-to for any gold basing.
Mechanicus Standard grey is also a solid addition to any painter's arsenal. An excellent colour for any stone or debris, you can be sure you'll get use out of this paint across the Imperium collection alone.
Finally, Corax White. I used Corax White for a long time before eventually switching to Vallejo's Game Colour paints for whites and light greys, simply because I find them slightly easier to use. This isn't to say Corax White is a bad paint – it'll do you right for a long time.
As a general rule, white paints can be a bit difficult to use, so it's important to find one that works for you. Corax White is a good starting point, but don't be afraid to out some others from other ranges.
Wargear
Turns out Issue 8 comes with a packet of six dice. That is all.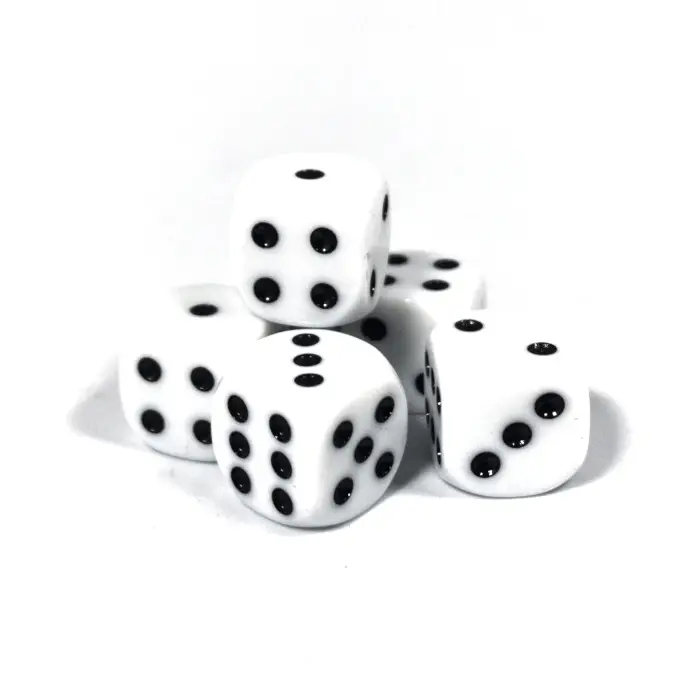 Dice for the dice god, I guess?
Warhammer 40,000 Imperium Delivery 3: Issues 7-10 Review – Price and Availability
The value of this delivery is a bit of a difficult one. Have a look at the tables below. All this info and more can be found on our Warhammer 40,000: Imperium Magazine Contents List.
| | | | |
| --- | --- | --- | --- |
| Issue no. | Issue Price (GBP) | Total Value (GBP) | Total Savings |
| 7 | £8.99 | £9.20 | £0.21 |
| 8 | £8.99 | £17.50 | £8.51 |
| 9 | £8.99 | £5.42 – £14.50 | -£3.57 – £5.51 |
| 10 | £8.99 | £5.42 – £14.50 | -£3.57 – £5.51 |
| TOTALS | £35.96 | £37.54-£55.70 | £1.58–£19.74 |
| | | | |
| --- | --- | --- | --- |
| Issue no. | Issue Price (USD) | Total Value (USD) | Total Savings |
| 7 | $11.95 | $15.20 | $3.25 |
| 8 | $11.95 | $28 | $16.05 |
| 9 | $11.95 | $8.30 – $22.50 | -$3.65 – $10.55 |
| 10 | $11.95 | $8.30 – $22.50 | -$3.65 – $10.55 |
| TOTALS | $47.80 | $59.80-$88.20 | $12.00-$40.40 |
As FauxHammer points out in his phenomenal contents list, value for some of these issues is difficult to ascertain due to where else certain units are available. Basically, because Necron Warriors are available for so little in the Recruit Edition Starter Set, it has the potential to bring the overall value of issues 9 and 10 down quite significantly.
Still, the overall value of the delivery is rescued almost single-handedly by the inclusion of the retail-only Necron Overlord. A sweet model and a sweet saving on that one.
Warhammer 40,000 Imperium Delivery 3: Issues 7-10 Review – Final Thoughts
Pros
Cons
Loads of figures in this delivery
Some good fundamental paints for any collection
Savings are a bit iffy
It's all just Necrons, innit?
Delivery 3 doesn't fare so well in the shadow of its predecessor. Delivery 2 was so good, with such a fantastic array of figures and other paraphernalia and some incredible savings to go with it, following up was always going to be hard.
But it's not all bad news. Sure, the Necron Warriors may be a little dull, but you can't argue with the Overlord, and the trio of base paints in the delivery are good 'uns.
Click this link & buy your hobby stuff from Element Games for the UK & Europe to support FauxHammer.com – Use Code "FAUX2768" at the checkout for double reward points.




Our Affiliates / Hobby Stores
What did you think of this Review? please let us know in the comments.
If you like what we're doing here you could really help encourage more content with a share on any social media platform.
Click the share links at the bottom of this screen (or on the left for computers and tablets)
Want to keep updated with the site? You can subscribe in the sidebar for RSS or by email below
(Sidebar is below the article on Mobile Devices)