Cult of Paint Infinity Airbrush Review for Miniatures & Models
If you're an avid reader of FauxHammer.com, you probably already know how much we love this Airbrush. Winning the Best Airbrush for Miniature painters award from us. but why? Below I'll go through the details of this incredible too and explain exactly why this unit is unrivalled. Come along and check out our Cult of Paint Infinity Airbrush Review for Miniatures & Models.
Click this link & buy your hobby stuff from Element Games for the UK & Europe to support FauxHammer.com – Use Code "FAUX2768" at the checkout for double reward points.



Our Affiliates / Hobby Stores
This Review is part of our Best Airbrushes for Miniature Painters and Wargames models.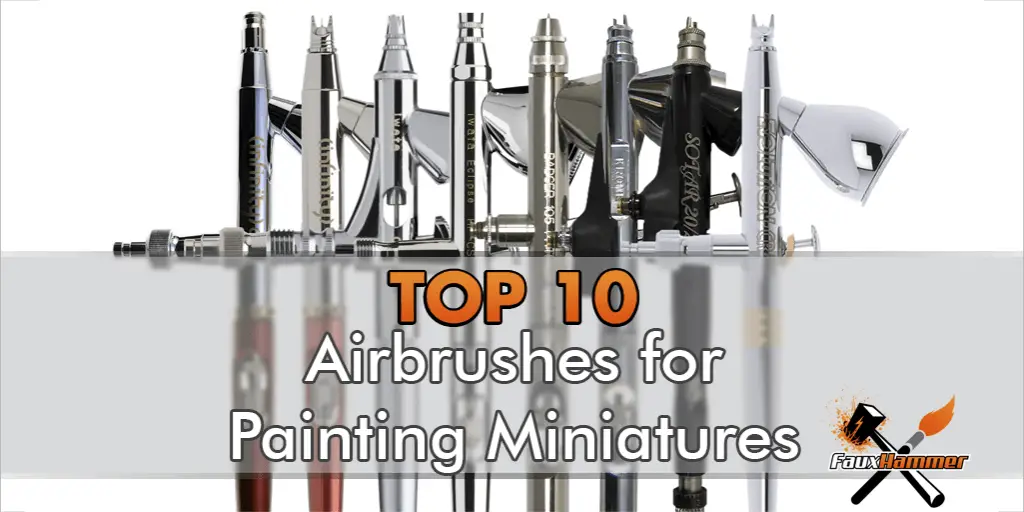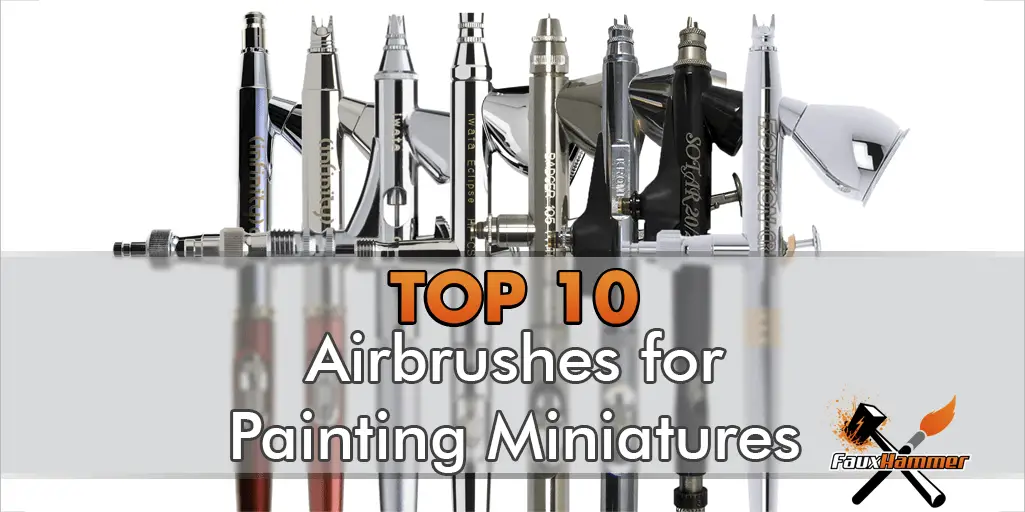 See our other reviews and the complete list of the best Airbrushes.
High-quality German engineering coupled ideas and direction of some of Miniature Painting's best artisans. The Cult of paint Infinity is the only airbrush made with miniature painters in mind.
Using a needle designed to provide pinpoint accuracy all the way up to a wide base coating aperture makes it a versatile tool for every type of airbrushing job you do.
All that comes before the benefits of having unrivalled features such as the quick-release- needle-stop, adjustable trigger tension and a compression fit needle-nozzle and guard.
Oh and the aluminium body makes it super light.
And…. it comes with different sizes of paint hopper….
And… the price is incredibly competitive when you compare it to several top-end airbrushes.
Why would you not want this?
The unit comes in the exact same box as the Harder & Steenbeck Infinity CR Plus but the box-art this time is focussed less on the airbrush and much more on the Cult of paint Logo and Andy pretending to use it.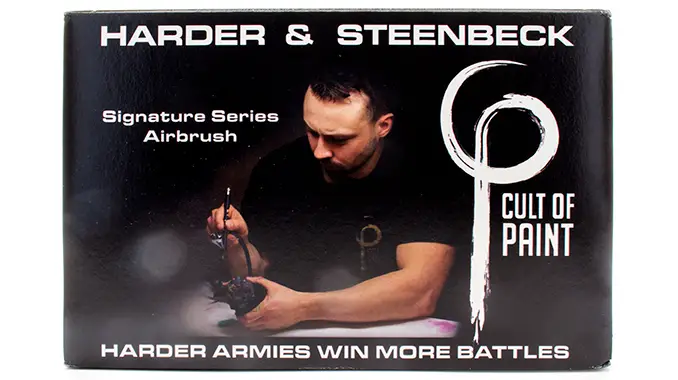 Meh, it's the front of a box. do you care? 90% of you are buying it online anyway, I doubt very much this stands out on the shelf.
As with the standard Infinity and Evolution, you get a black plastic case, inlaid with a flocked effect liner.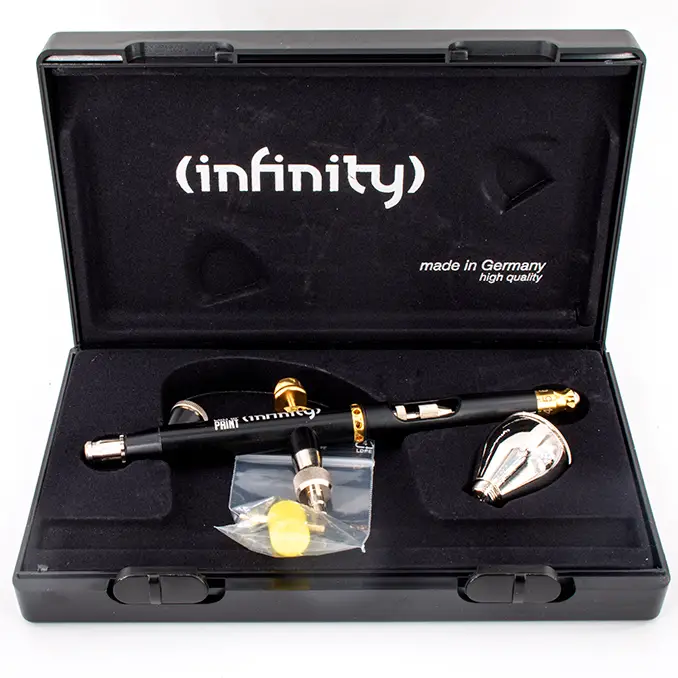 Speaking of the manual. the below comes sandwiched between the plastic case and the outer packaging box.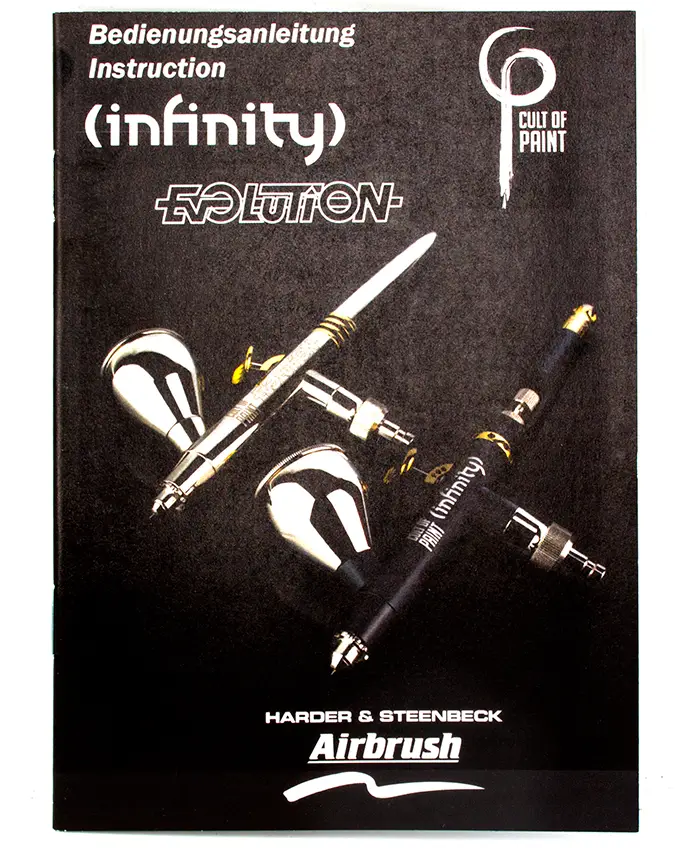 Identical in every way to the standard Infinity CRplus manual – just with the Cult of paint branding on the cover.
The airbrush itself is a really nice design, echoing Cult of paint's own Black & Gold theme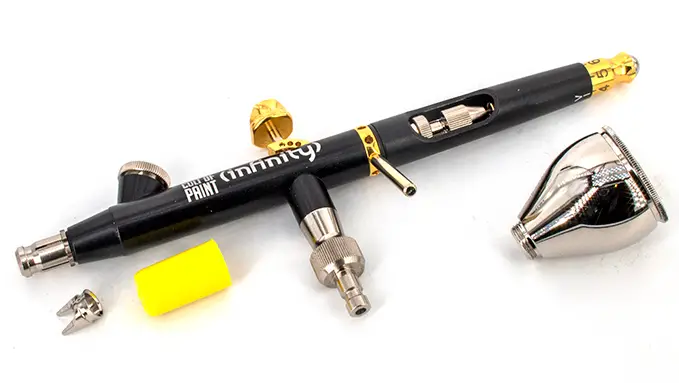 The airbrush comes ready for various configurations. even the needle guard has the optional (compression-fit_ crown cap)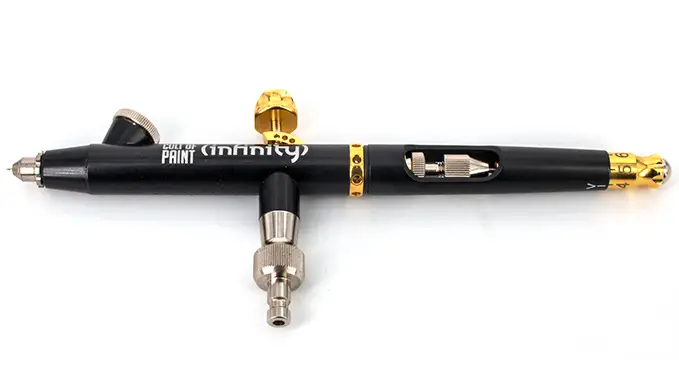 The air inlet is ready to work with a quick-release hose. however, this can easily be unscrewed so that the brush can be used with a standard 1/4″ thread.
If you are new to airbrushing then the number of parts below may scare you – to be fair, this is actually quite conservative when compared to other brands.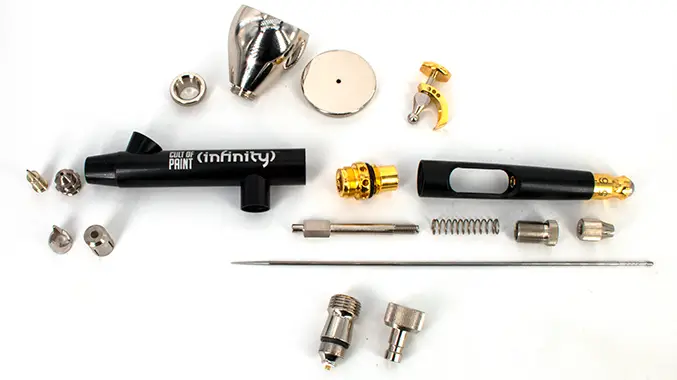 It's worth noting that this is a full teardown (bar one little unscrewable piece which is still in the body here, and I only realised existed after I broke my airbrush after not correctly cleaning enamel pains out of it.)
In reality, you only really need to unscrew the rear case and then the needle.
In addition, the nozzle on this brush is one large unit that is once again compression fit when the nose is screwed on. The main reason I like this is that for maintenance. It's a lot easier (and safer) to remove and clean this larger piece than the tiny little nozzles on competitor brands.
On close inspection, these 2 models look nigh-on identical bar a slight colour change. So let me point them out so you can understand the extra value in the Cult of Paint model.
Colours: Obviously we have a colour scheme change, with the front Chrome and Rear Red (MkV Iron Man) scheme on the CRplus, replaced with matte black on the CoP model.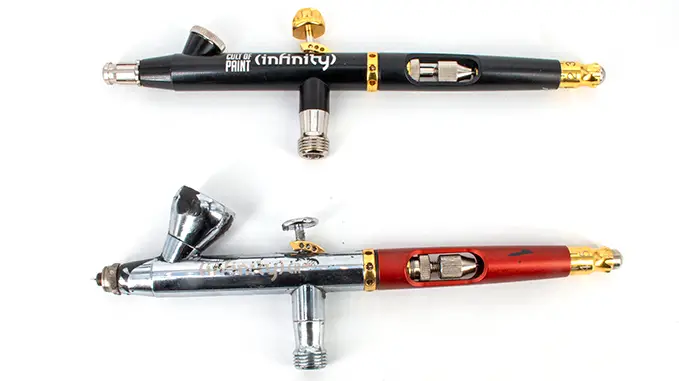 Needle/Nozzle: ok, ignore the image above here. the nose on the Crplus I've shown is actually from my Evolution Airbrush and I swapped it out to get me out of a jam. The actual nose is identical on both units. However.
On the Cult of Paint infinity, as standard, you with getting the 4mm needle/nozzle/nose. less of a big deal now, but this airbrush was the first to use Harder and Steenbeck's twin-tapered needle (more on this below). Now all 0.4mm needles for the Infinity/Evolution/Grafo use this needle design.
Colour Cup: Shown above the Cult of Paint airbrush has a colour cap attaches. This is for using only the most minute amount of paint. as stated above, the set also comes with a 5mm colour cup. (honestly, I feel these are both, too small and too large respectively). The CRplus comes with the 3mm colour cup as standard which is just right.
Aluminium Body: Impossible to see in the image (as they are both covered in either chrome or paint), but the front housing on the Cult of Paint airbrush is made from aluminium which is far lighter than the CRplus.
Custom Trigger: I'll go into more detail on this in a sec, but the main feature of this trigger is that it is both taller allowing a greater range of motion and a reversible lip to encourage precision.
I never realised how much I wanted this until the first time I used it.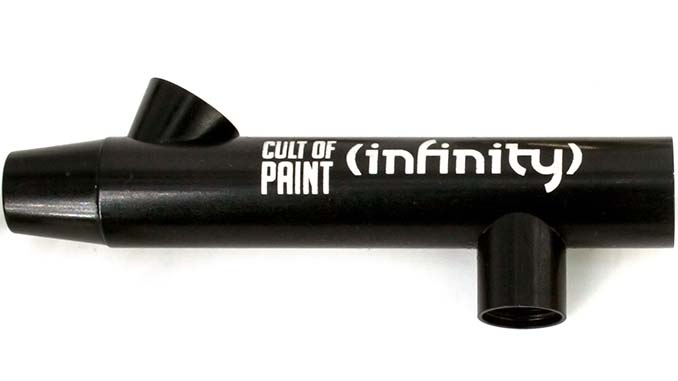 Airbrushes aren't really that heavy, but the awkward position you hold your hand in whilst using them can cause rapid fatigue. Any weight reduction is welcome as it means you can paint for longer.
Here is a stand out feature of this brush making it the perfect choice for miniature painters.
You'll soon find when airbrushing miniatures that it's less about spraying straight lines and swooshes than you'll find typical airbrush artists use. Instead, you're really just spraying variable sized circles at your models over and over to build up small areas of colour.
In order to get the best results, you need a good level of precision with your trigger finger making minute alterations, whilst being positioned at an unnatural angle
First of all, this trigger is taller than the standard infinity trigger. Thanks to the lever mechanism airbrushes use on their triggers. This wider arc allows the needle to retract a smaller distance with a larger more trigger pull.
If you are familiar with the analogy, consider the Xbox Pro controller which offers taller thumbsticks for more accurate control.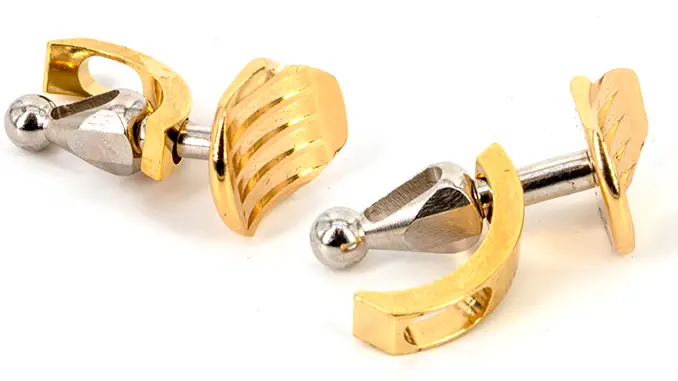 The other addition that this airbrush trigger has is the curved edge. This simple addition is incredible. Not only in how it helps you control the needle better even though you may naturally apply more force. But once you use it, this change (which is only available on this airbrush) is so deviously obvious.
Using an airbrush can be quite tricky. It's not about having the strength to pull back the trigger, or even to hold it in a specific place for a set time. It's often in stopping yourself from applying too much force and pulling the trigger back too far.
Where this lip helps is that it allows you to exert some of your extra force horizontally without affecting the needle retraction.
If that's not clear, the best analogy I can make here is; You know when you're on your phone and you're scrolling through a video or moving a cursor across some text. You'll find you have more accurate control if you then slide your finger down the screen and drag somewhat diagonally rather than straight across.
It's kinda like that. Look, it just works and if that's not a clear enough explanation then… It's done with magic
yep, magic. ok?
The next rather unique feature (though less-so now) is the dual taper of the needle.
A lot of people will look at buying a new airbrush and compare various brands by looking at the nozzle size. Typically for miniature painters, it will go from 0.05mm to 0.6mm. The view is that a smaller nozzle will produce a finer spray.
But the fact is that this is only half of the equation. it's also the taper of the needle which defines how wide or fine your spray is.
This extended taper of this needle initially delivers a very fine spray on your model. But once you pull the needle back beyond the initial cone, the spray opens up really wide so you can cover a much larger surface area.
This is great when painting miniatures as the one airbrush, without swapping needles, you can go from priming and base coating to fine details with ease.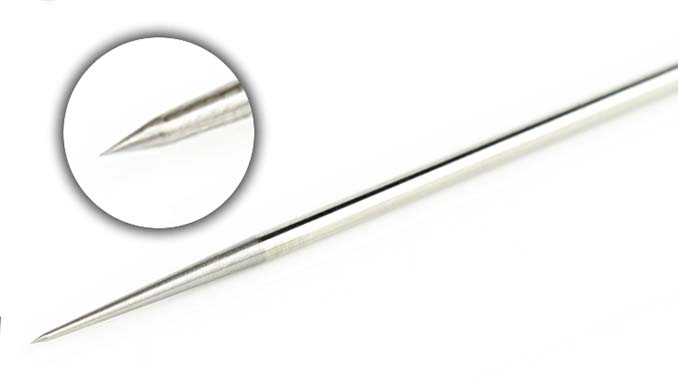 Unfortunately, this feature is somewhat of a double-edged sword. Thankfully it's a simple one you can overcome with a little trick and some acceptance.
For anyone with an airbrush who has ever bent or even just slightly forked, you'll quickly get annoyed when the paint starts to dry on the tip during a painting session. Well, with this needle, you get that as standard. Sorry.
You can always use a drying retarder to reduce this, but you'll also transfer the properties of extra wet paint onto your model making the overall drying time longer.
If you can first of all just accept that this is the nature of the needle design you're in good standing.
If you find the tip clogging with paint, first of all, try to give it a full trigger pull away from your model and it should blast off the drying paint on the needle. But failing this, all you need to do is just keep a small swab of tissue nearby with some airbrush cleaner on it. every so often, just pinch the needle with it and give a gentle twist.
Dry paint be gone.
The final feature I want to highlight is present on both Cult of paint infinity and the CRplus, and that is the Quick release needle stop.
This feature allows you to prevent the needle from retracting too far and causing too wide a spray. Simply set the dial to the desired point so you can ensure maintain paint flow control. Great for beginners especially. But after 4 years of airbrushing, I still use it now when I want to ensure I'm only gradually adding colour to a model. (not because I have ham-fingers).
Whilst there are other airbrushes with similar dial-stop features, it's the quick-release that makes this an absolute winner.
As mentioned above, the drawback of the needle is that paint tends to clog up a bit on the tip. The more air that is passed over the needle the faster it dries. And so, when you are spraying minute amounts of paint, the needle doesn't retract as far so you get more air over a smaller amount of paint – so, faster drying.
Unlike other airbrushes. A quick pull on the gold part and the stop is fully released. This allows you (as I said above) to give a full-power paint blast which is usually more than enough to free up the flow. A quick press on the silver nub and you are immediately back to your previous restrictive setting.
Whilst its £250 RRP price tag is nothing to be sniffed at, for a top-end airbrush this is a more than reasonable price. The only other way to get this configuration would be to build a custom model from Harder & Steenbecks online configurator, as the aluminium body is from the ALpus and the rear quick release needle stop is from the infinity. so chopping and changing is needed to get this otherwise.
The trigger however is exclusive to Cult of Paint, and it's an important difference.
Availability wise, this was a Kickstarter product initially and is now distributed through Element Games in the UK. oh and did we mention they have 15% off. Along with rewarding you double points when you use our referral code FAUX2768. Which is about £4.25 back in English monies!
If that's still too expensive for you still, a more entry-level version is the Cult of Paint Evolution airbrush. the Evolution is the brush Squidmar used and had etched in gold recently.
The only differences in the Cult of Paint Evolution over the infinity is that the Quick stop is gone and the whole rear case is now a closed unit. The front body is no longer aluminium on the Evo, so it's a bit heavier too. otherwise, same airbrush.
To put it simply, this is the airbrush I always go back to. it does have the annoyance (and it is annoying) to have the paint constantly stick on the end of the needle at times. Far more so than any other airbrush.
But with the level of control, this offers on the trigger to the ease of maintenance. It's a no-brainer for me to pick this up over any other.
Click this link & buy your hobby stuff from Element Games for the UK & Europe to support FauxHammer.com – Use Code "FAUX2768" at the checkout for double reward points.



Our Affiliates / Hobby Stores
What did you think of this Review? please let us know in the comments.
If you like what we're doing here you could really help encourage more content with a share on any social media platform.
Click the share links at the bottom of this screen (or on the left for computers and tablets)
Want to keep updated with the site? You can subscribe in the sidebar for RSS or by email below
(Sidebar is below the article on Mobile Devices)