RedGrass Games Everlasting Wet Palette Painter 2 Review
Last Updated on August 23, 2022 by FauxHammer
How do you improve on perfection? RedGrass Games' original Everlasting Wet Palette was widely hailed as one of – if not the – best wet palette on the market. Cleverly designed to facilitate every kind of painting technique one could need, easy to assemble, and cheap to maintain, is it possible to do better than RedGrass Games originally did? Let's find out together in our RedGrass Games Everlasting Wet Palette Painter 2 Review!
Our Affiliates / Hobby Stores
Whether or not RedGrass Games' Everlasting Wet Palette Painter 2 can be considered "better" than the original is a difficult question to answer. Serious creative and scientific thought has been spent trying to improve some of the perceived shortcomings of the previous palette, and these (tiny) annoyances have been duly addressed. The Painter 2 feels more honed, more refined, ever-so-slightly more complete and coherent a product.
But the fundamental purpose of the wet palette – to preserve paints and aid painting – remains largely unchanged. This reads like a negative, but it is not. RGG's previous Everlasting Wet Palette was so good, that given version 2.0 hits this same target dead-on with the same force and velocity as its predecessor speaks volumes about just how good this palette is.
Has it really been almost two years since I first reviewed RedGrass Games' Everlasting Wet Palette?
Reading back over the original review I did has been something of a nostalgia trip. I painted my first-ever Space Marine for that review: a Dark Angels Assault Intercessor from the Indomitus (or Command Edition) box. Here it is side-by-side with the last Dark Angels model I painted – a Redemptor Dreadnought – for which I used the same wet palette.
Looking at these two pictures, I'd say there's been some improvement – both in painting ability and photography setup!
I can't deny that my painting has improved in no small part due to RGG's superb Everlasting Wet Palette 1.0. The palette pushed me to try new things like edge highlighting and blending. It's also saved me a ton of paint and helped me keep my brushes nice. It is, however, now starting to look a little bit like the underside of an early Noughties Linkin Park fan's skateboard…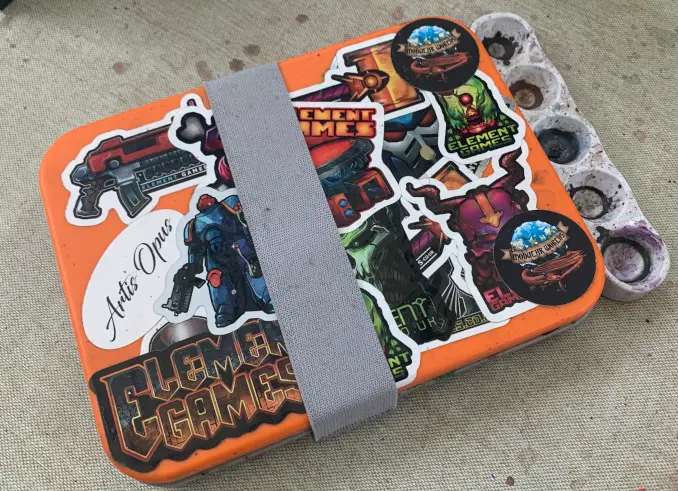 …And stands as testament to the amount of stuff I receive from Element Games!
The release of RedGrass Games' Everlasting Wet Palette 2.0 is, then, quite well timed (for me at least!). I'd also just used my last sheet of Hydration Paper, so the arrival of this palette on the doorstep of Castle FauxHammer was like an act of divine intervention.
But how do you improve a product that was already so good? In releasing a version 2.0 of their Everlasting Wet Palette, RedGrass Games have set themselves quite the precedent. A new, updated version should surely be better than the original, right? But the original was a phenomenal piece of kit, so how can the new one possibly be better?
Here's the bright but minimalist box that the new RedGrass Games Everlasting Wet Palette Painter 2 arrives in.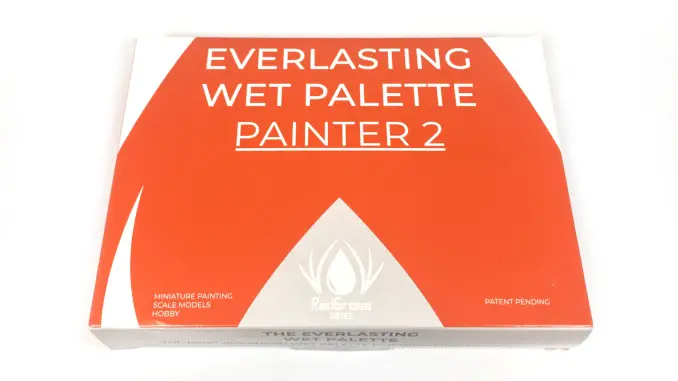 Simply open one end of the box and pull the contents out. You'll find all this stuff within.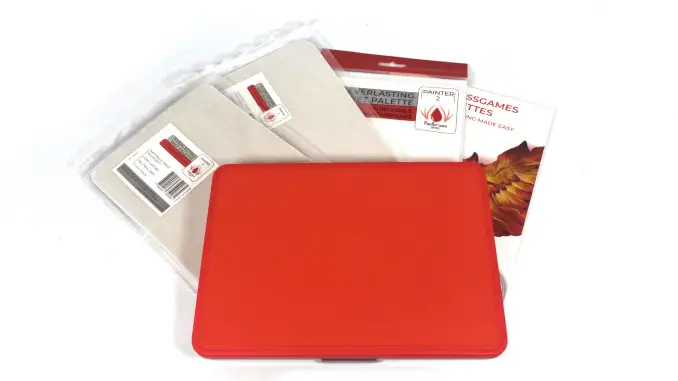 Let's take a closer look at it all now.
So, an Everlasting Wet Palette Painter 2 comes with more than just a plastic palette. In fact, there are a few bits included in the box to get you painting.
1 x Everlasting Wet Palette Painter 2 plastic palette
2 x Hydration Foam
1 x Packet of 15 Reusable Hydration Membranes
1 x RedGrass Games Painting Made Easy book
We'll have a look at each part of the set in turn now – and discover together just how many times we can read the word "membrane" before beginning to feel uncomfortable.
This is the big question. What are the fundamental differences between the Painter 2 and the original Everlasting Wet Palette?
We'll have a look at each part of the new palette now and see what – if anything – is different.
First off, the new palette is 20% bigger than the old one, which means more room for paints. Kind of.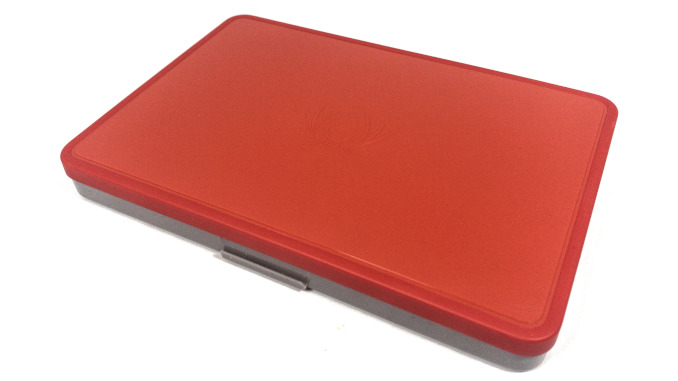 At first, this seems great, as you've got more room to mix and master your blends. You'll be able to get that perfect shade and ensure smooth colour transition across your miniature with the help of the palette's larger surface area.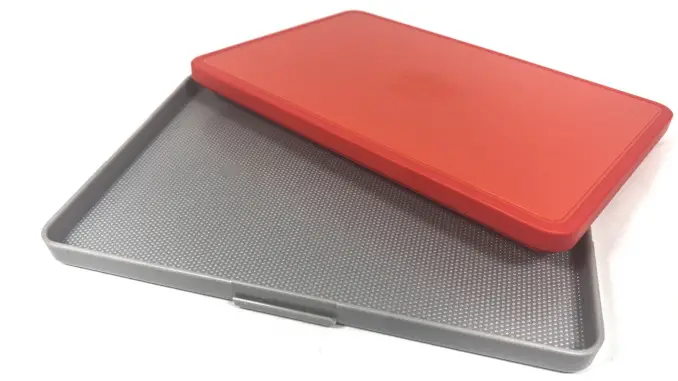 In reality, though, this increase in size doesn't actually afford you that much extra room. The palette is about an inch longer and a centimetre wider. If more space is what you're after, you'll want the Studio v2 Wet Palette, which is significantly bigger than this.
The overall shape and design of the plastic part of the palette isn't all that changed, though: it's still a plastic disk with a lid – though the palette no-longer requires a band in order for its lid to stay put. In fact, the seal is so secure that when I first tried to open the palette, I was certain I was doing something wrong and that the palette was locked closed somehow.
Whilst the change in size is fairly easy to miss, the new seal is not. This is a huge improvement on the previous model, and one that will make the palette easier to use. You'll be able to transport it more securely, and the tighter seal will keep your paints fresh for longer.
Moving on, we find some more quite big changes. With the Painter 2, RGG have done away with single-use sheets of Hydration Paper. These have been replaced with new Hydration Membranes. In spite of the super un-sexy name, some serious science has gone into these.
The membrane has been designed specifically to ensure paints and mixes stay wet for longer. This means no drying out between painting sessions, so you can really take your time on your model. In addition to this, the smooth surface is easy to mix paints on, making blends are easier to achieve, and the membrane is formulated to prevent paints seeping through the surface.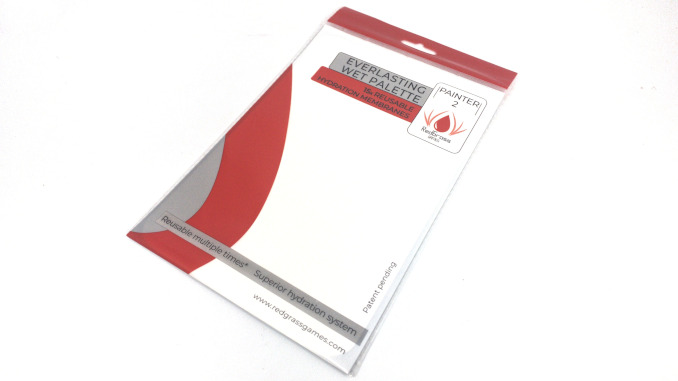 The biggest selling point of the membrane, though, is that it can be used over and over again (unlike the word "membrane", the constant use of which makes everyone in a room uncomfortable). The membrane is designed to be washed and used again "at least 4 times". We'll see how this holds up a little later in the review.
So, another welcome change – aside from the horrible name!
The Hydration Foam is, as far as we can tell, largely unchanged. Aside from being larger so as to fit in the new, bigger Painter 2, the foam is otherwise the same as before.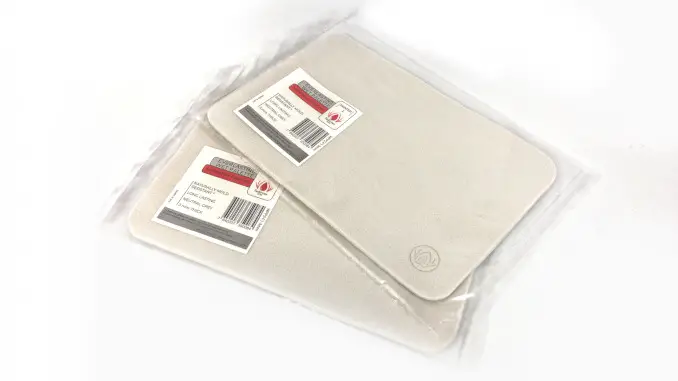 There's nothing wrong with this. RGG's Hydration Foam works a treat. You simply saturate it with water and leave it under either the Hydration Paper or Hydration Membrane. It then keeps your paints atop wet and prevents them from drying out.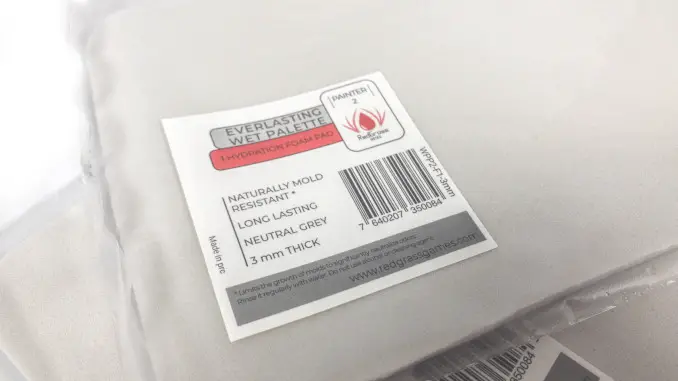 They do last for ages, too. Simply ensure you regularly rinse and wring out the foam between uses and it'll keep going on and on and on. Since reviewing the Everlasting Wet Palette 1.0, I've changed the foam in mine twice, maybe three times, in almost two years. At no point did either go mouldy, which stands testament to the fact that if you take care of your hobby supplies they will last.
Two years ago when I first reviewed RedGrass Games' original Everlasting Wet Palette, I actually wrote a companion analysis of this book. You'd think that any resource written by painting royalty such as Angel Giraldez would be worth its weight in gold.
However, the book was truly dreadful. Riddled with awful formatting errors, spelling and grammar mistakes, and in places so poorly written that it was almost impossible to understand, we wrote the book off. The review we put together was so negative that Ross and I ultimately decided that publishing it was a bad idea.
We have a pretty good relationship with RGG here at FauxHammer.com – I've even done a little ghostwriting for them in the past. We sent our negative review to our contacts there with some additional feedback, and it seems some of what we said was taken on board.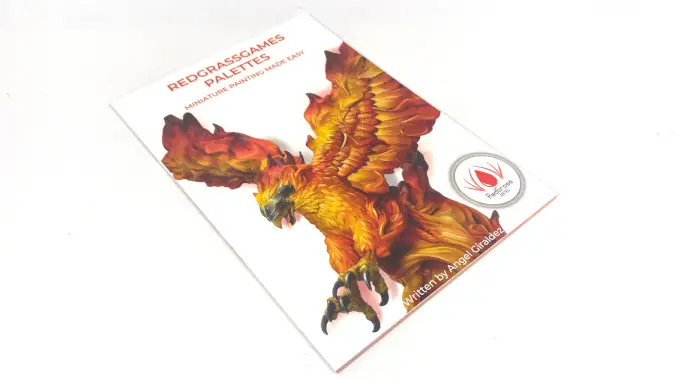 The book is a vast – and I mean vast – improvement on its previous iteration. Someone has sat down with the (previously appalling) Spanish to English translation and has spent a great deal of time and effort getting it up to snuff. Information is now clear and accessible – if a little basic. It has also been updated with all the latest RGG products to keep the catalogue info up-to-date.
A sure-fire improvement, and a very welcome one that painters will be able to take full advantage of.
With the previous version of RGG's wet palettes, you had the option of attaching various extras to the sides of your palette via magnets. These worked kind of okay. Whilst they stayed in place on your hobby desk, one accidental knock with them and they'd come flying off – not so great if you're taking your palette to the kitchen or the bathroom for a wash.
RGG have done away with magnets on the Painter 2. Instead, they've introduced a slide-on system.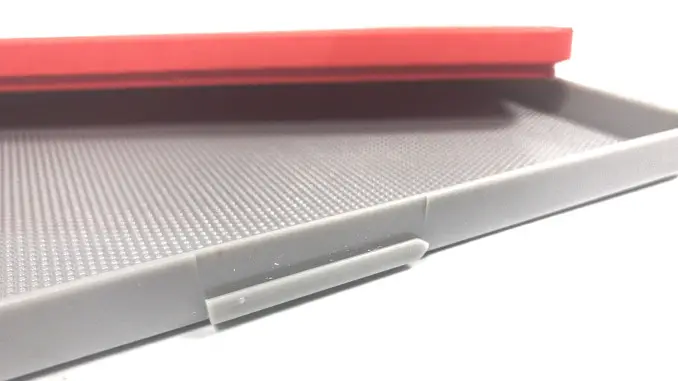 These plastic bars on the sides of the palette are designed to have extras slotted on to them. The extras have teeth-like nodules on one side that allow extras to be slid on with ease.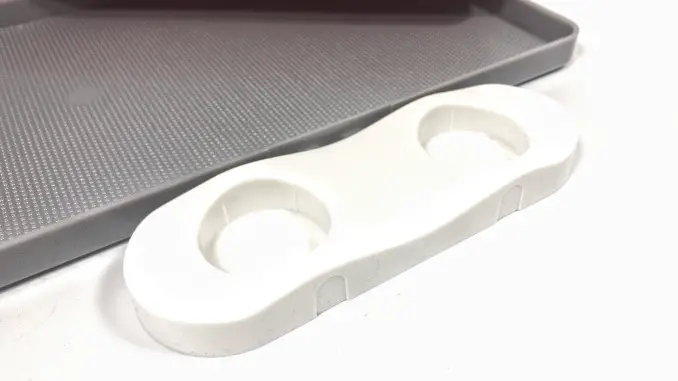 They clip in place with a little snap so you know when they're home.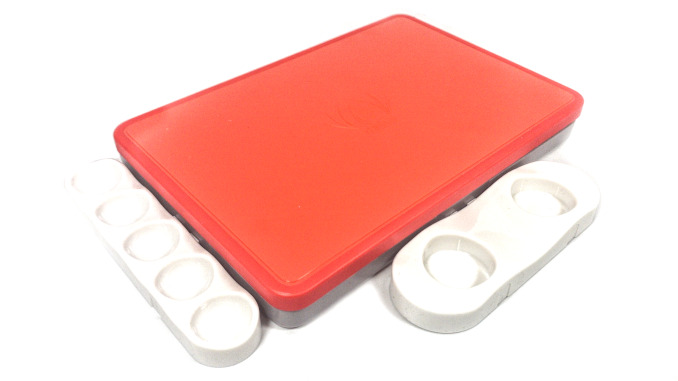 I was never a huge fan of the previous wet palette's magnetic system. As I said above, it was prone to coming detached should it get caught, which isn't something you want to have happen if you're using the extras to mix washes or glazes. As such, the locking system is a welcome change. Extras are far more securely attached, so you're far less likely to have any accidents.
So, having ascertained that the new Painter 2 has been in receipt of some changes to its genetic makeup, what is it actually like to use?
Setting up your RedGrass Games Everlasting Wet Palette Painter 2 is very easy. We'll take you through the steps now.
First off, you'll need the plastic palette, a piece of Hydration Foam and your Hydration Membranes.
Remove the Hydration Foam from its packet and place it in the plastic palette like so.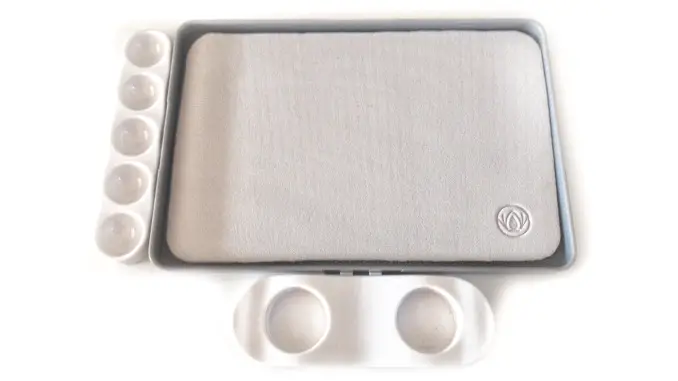 Next, get the Hydration Foam really wet. I mean really wet. Run it under a tap, making sure that it's absolutely soaked through by the time you're done. Then, tip off any excess water in the plastic palette. You want the foam to be wet. You don't want the foam to be sitting in a puddle of water, as this will likely flow onto the top of the Hydration Membrane and interfere with your paints.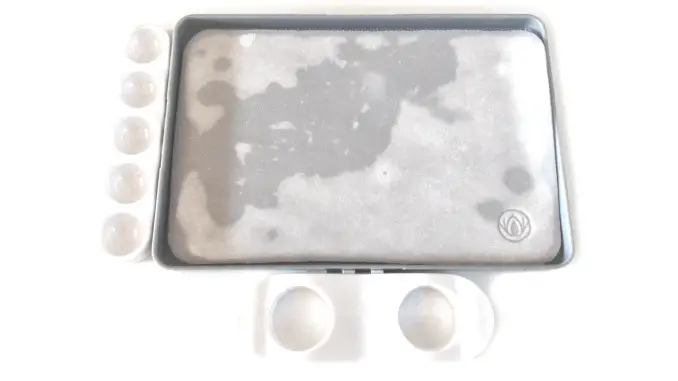 Next, remove a single Hydration Membrane from the packet and place it face-up on top of the Hydration Foam. The Hydration Membranes are single sided, ergo you can only apply paint to one side of it. You want the blank side of the Hydration Membrane to be face-up. The back of the Hydration Membrane has "RedGrass Games" printed on it – this is the side you want in contact with the foam.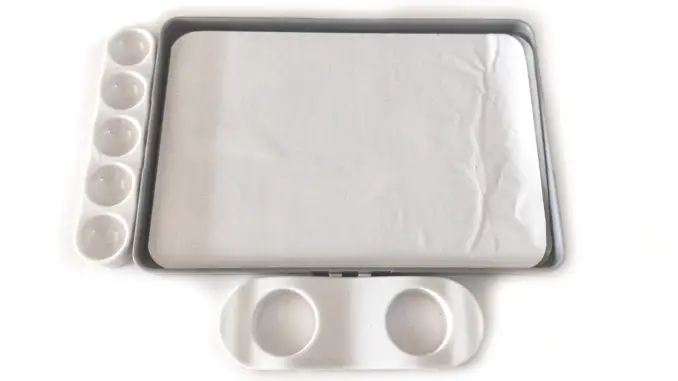 With that, you're ready to start painting!
Make sure you've got the lid for the palette to hand. Your paints will only stay nice between sessions if the palette is sealed.
With everything set up, it was time to do some painting and see just how good this new wet palette is.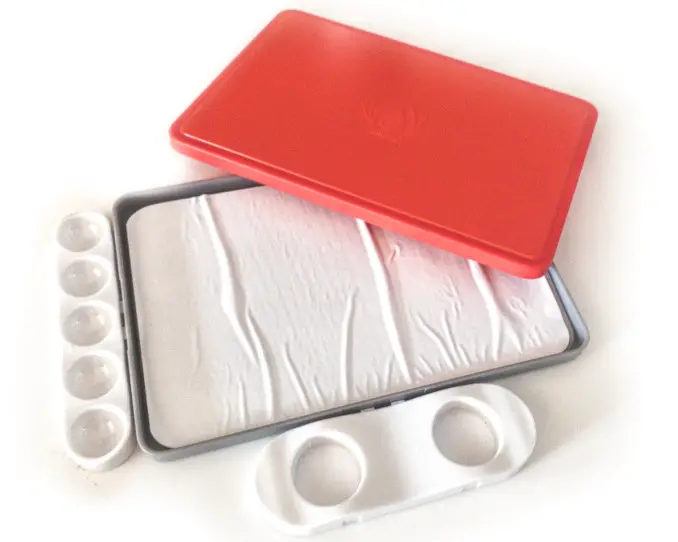 Now, before we begin, there is something I must mention: the heat.
Here in the UK, it is very hot at the moment. This is made worse for my paints and I, as I live in a rented house where space is at something of a premium. As such, the only place I've been able to set myself up for painting is the conservatory. On the one hand, this is great as there's plenty of room and it's very well-lit. In the autumn and winter, it's nice and cool and paints stay wet for longer, rarely drying out on a wet palette. These are the conditions under which I tested the Original RedGrass Games' Everlasting Wet Palette in October of 2020.
This time around, though, it's the beginning of August. It's scorching hot outside, and the windows of the conservatory serve only to magnify the sun's rays. I'm like an ant under a magnifying glass in there most days. To give you a sense of just how hot it gets, on the hottest day of the heatwave in July, where between the 16th and 19th we had crazy high temperatures in the UK, the hottest place in the UK was recorded as being Coningsby in Lincolnshire, where the temperate was 40.3°C.
On that same day, according to the temperate readout on my exercise bike which is set up in the same room, it was a flesh-melting 46°C in my conservatory.
So, it gets really hot in my painting chamber. Why is this important? Well, no matter how good your wet palette, if you're using it in direct sunlight or in a hot climate, it's going to dry out. The water in the hydration foam will evaporate, and your paints will solidify.
As such, we may need to take some of the results of this test with a pinch of salt. Things will be drying out much faster than they would at room temperature. This, then, is something of an extreme test of RGG's new wet palette – just how good at remaining wet and preserving your paints is it?
Anyway, miniature acquired (we'll be painting the Praetor with Power Sword from the Horus Heresy: Age of Darkness box) and appropriately primed, we were ready to start.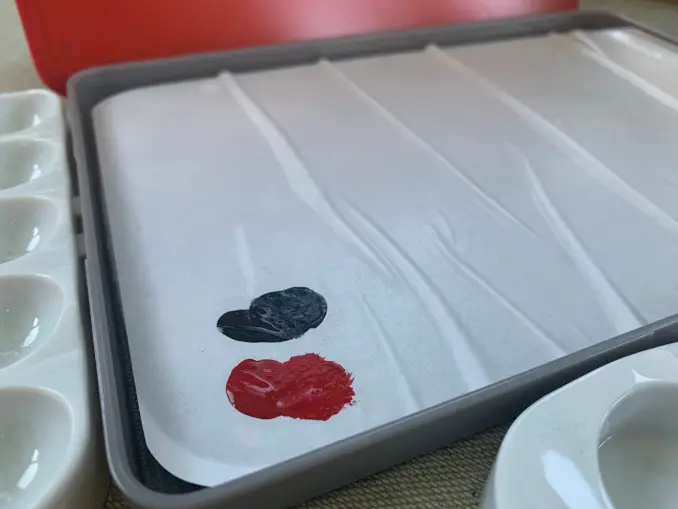 The first two colours that went onto the palette were Corvus Black and Mephiston Red – black for the miniature's cape, red for the rest of him. As promised, the smooth texture of the Hydration Membrane makes it very easy to move paints around on.
The paints seem to take on less water from the surface of the palette than they did with the original RGG Everlasting Wet Palette. I noted in my review of the original that I found the amount of wetness the paints picked up from the palette actually helped me ensure my paints were the right consistency. This time around, though, I did not feel this was happening.
This isn't a bad thing. That the surface of the palette isn't applying excess water to your paints to the extent that its notably altering their consistency means you can maintain control over the thickness of your paints. Whilst newer painters (as I was back when I reviewed the original) may need a little encouragement to thin their paints, more experienced painters will not, and will want their paints to retain the consistency they've worked them to on the palette. If anything, the Painter 2 does a better job of this than the original.
One thing to note is the Anti-Spill Pot Holder (below). These are designed to work with a certain type of paint pot that people have a habit of knocking over. The Anti-Spill Pot Holder clasps the pot very tightly, so you're very unlikely to knock it over by accident.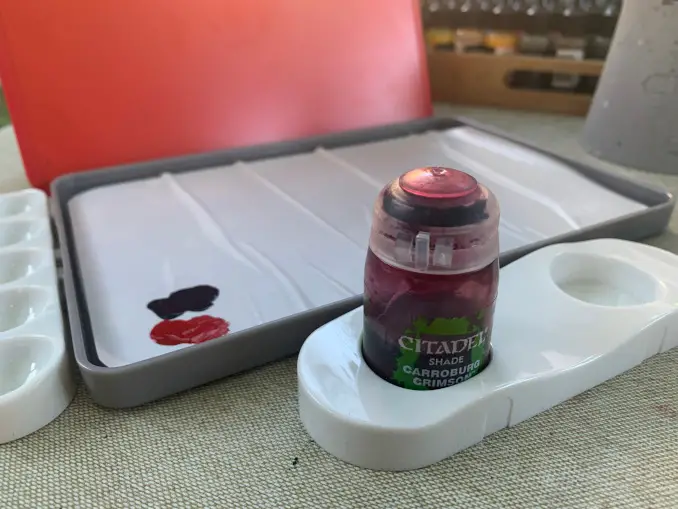 At 11:48, the temperature readout in the conservatory was 30°C, so I called it there for the day. I'd had a good few hours painting and had made some reasonable progress. Here's how both the Praetor and the wet palette were looking.
In spite of the heat, the only paint that appears to have suffered is Corvus Black (second from the bottom). I didn't have much Corvus Black on the palette to start with, and by the time the wet palette was sealed up, what was left of it was starting to go a bit gummy. Everything else was fine.
I found the palette good for blending, too. In the image above, you can see I've worked up from Mephiston Red, through Evil Sunz Scarlet and to Wild Rider Red for highlights on the miniature's armour. The ultra-smooth surface of the Hydration Membrane made it really easy to move the paints around and mix them together to get the shades I wanted.
The paints on the palette when it was sealed, as in the image above, from bottom to top are the Mephiston Red/Evil Sunz Scarlet/Wild Rider Red blend, and some neat Wild Rider Red. Above is Corvus Black. Above that is Vallejo Model Color Matt Black. We then have Scale75 Metal 'N' Alchemy Necro Gold and Black Metal.
One of the most important features of any wet palette is ensuring that it keeps paints good between painting sessions. The previous RedGrass Games Everlasting Wet Palette was followed by stories of people who had sealed up their wet palettes during house moves or other tumultuous life events and come back to them months later to find their paints still usable.
Once, I left my palette for just shy of two weeks during a particularly busy period at work and a weekend away from home. This was about a 10-12 day period. I returned to find my paints in a still workable condition; there is definitely credence to the rumours.
So, the Painter 2 has quite the task ahead of itself.
As I said above, at 11:48 it was 30°C in the hobby chamber and I wanted out. I sealed up the RGG Everlasting Wet Palette Painter 2 and abandoned the sweat parlour for the day. At the hottest point in the afternoon, the temperate in the conservatory reached a wet palette-killing 35°C.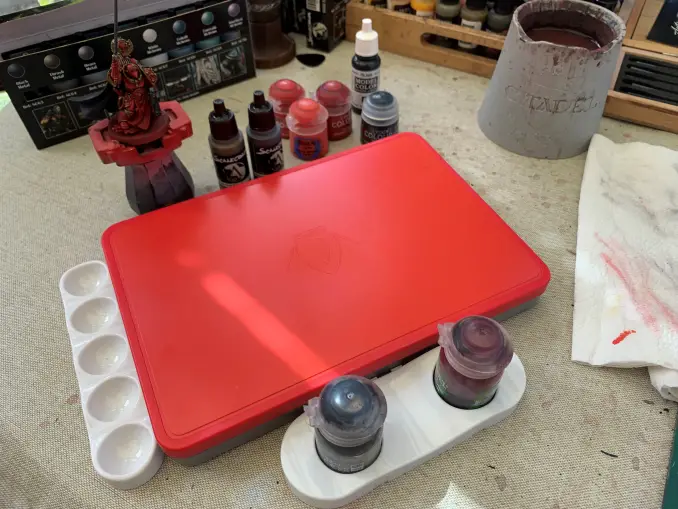 With it getting so hot, I half expected to find the palette bone dry the following morning, the Hydration Foam having shrivelled up like a dead plant. At 09:28 the next day, with the temperate at a much more reasonable 18°C, 21 hours and 40 minutes after it was closed up, I opened the palette up again.
Here's what I found…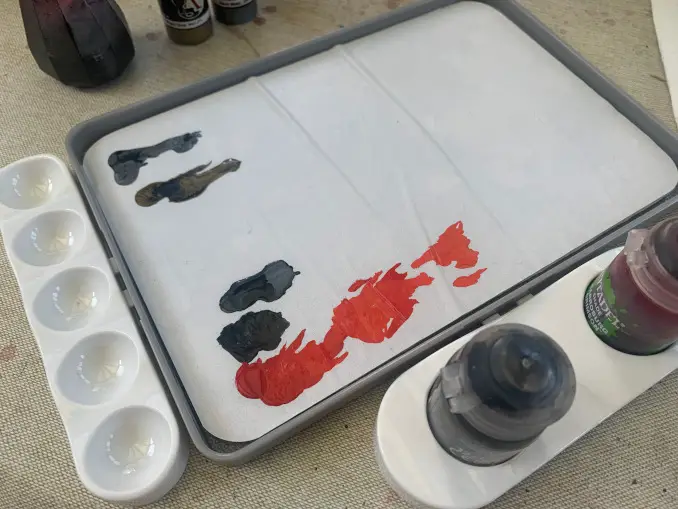 No, ladies and gentlemen, I assure you this is not the same picture as the one above. In fact, to prove it, here are both pictures again side-by-side. How it was on the Saturday is on the left. Sunday morning is on the right.
You can see that the paints have separated slightly – but that is all. You'd expect this to happen after leaving them for any period of time in a damp environment. Metallic paints separate quite quickly on a wet palette anyway, so this was no surprise at all.
All you need to do to bring the paints back to their usual consistency and colour is give them a little swirl with an old brush, as I have done in the pictures below.
Once mixed, there was no noticeable change in colour, texture or consistency across any of the paints. My little bit of blended red was still usable as well, which was great as I had a few areas on my Praetor I wanted to correct. The Corvus Black, however, actually looked better for a night on the wet palette.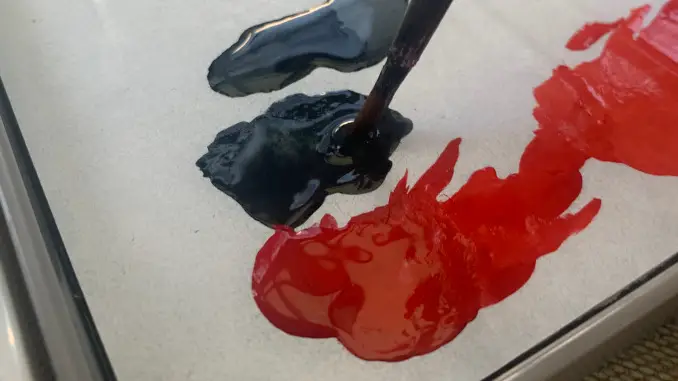 Presumably, overnight my sad little dollop of Corvus Black, that had been completely used up the previous day, had absorbed just the right amount of water to make it usable again. This was a very welcome surprise, as I noticed a small spot on the inside of my model's cape that I had previously missed.
The Hydration Membrane is the big selling point of the Painter 2. In order to combat waste, RGG have designed their Membrane so you can both apply your paints to it easily, and wash it clean and re-use it.
For the sake of the review, I got to a good cut-off point with my painting (majority of base colours down, and with no further need for the basic bit of blending I had done) and decided to toss the Hydration Membrane into the sink for a wash.
On paper (pun only intended retrospectively), a washable Hydration Membrane sounds like a bit of a gimmick, so I was interested to see just how easily the Membrane could be washed and used again afterwards.
Almost the moment the water from the kitchen tap hit the membrane, the paint started sliding off. Because the paints were still wet thanks to their time on the wet palette, they didn't come off in great boogery lumps and clumps. Instead, they diluted with the water and were washed away.
It takes very little agitation to get the paint off the membrane. I first used my fingers to wipe some of the more stubborn bits off, then used a brush for some of the most resilient bits of left-over paint. To be honest, I'd have been better off using something like a wipe or a sponge, as these would slide over the surface of the Membrane and would be less likely to get caught or cause damage to the surface.
With the Membrane as clean as it was going to get, here's how it looked: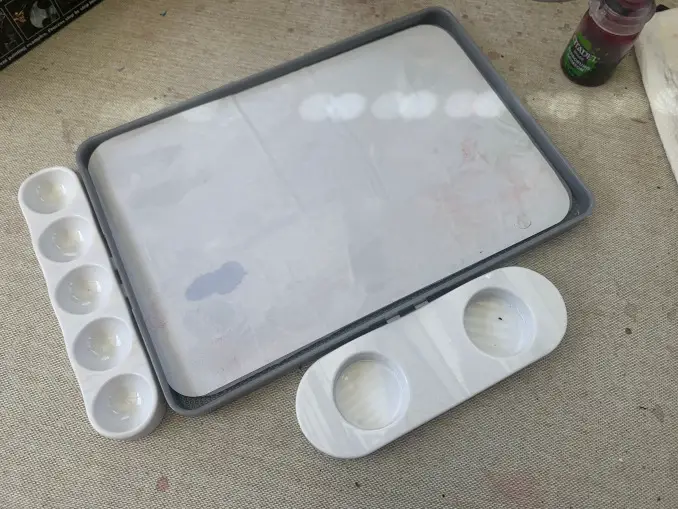 The paints have gone, though they have left marks where they were. You can very clearly see where the Scale75 paints and the Vallejo Model Color black spent the night. The Citadel paints have left less marks. Interestingly, Corvus Black, which was directly below Vallejo Model Color's black, has left very little trace it was ever there. This is likely down to the chemical composition of the paints and how dark they each are.
And the Membrane is still perfectly usable. Aside from the stains, the surface of the Membrane feels exactly as it did when it first came out of the packet. The stains also don't seem to interact with any paints put on top of them, but I wonder if they were left there longer whether or not they might. It's definitely something to be aware of, particularly with darker colours. If you've used an area of the Membrane for a black before, maybe don't go putting a white or other bright-toned colour on that part of the palette.
Here's the finished model.
So, what have we learned?
At its most basic level, RGG's new Everlasting Wet Palette Painter 2 performs more or less exactly as one would expect it to. There's not much difference in the overall performance between the Painter 2 and the original.
This reads like a criticism, but it isn't. RedGrass Games' original wet palette was so good that just being able to create another product that performs its most basic function (to be a wet palette) to the same level is no small feat.
The new stuff is also good, and shows that RGG are trying to improve instead of simply resting on their laurels. Whilst the majority of changes probably won't make a huge difference to your day-to-day painting, the fact that the palette's seal has been much improved scores some serious bonus points. The lid now stays in place very firmly without need for the elasticated band that the original sported.
I must admit, the 20% larger size is pretty much unnoticeable. There's about an extra inch in the length of the palette and maybe a centimetre in its width. You'll be able to fit more paints on the palette, sure, but the difference is fairly unnoticable.
The Hydration Membrane is another interesting – and, I think, welcome – change to the makeup of the Everlasting Wet Palette. The texture is definitely nicer for paints, and that it can be washed is an inspired idea. I do, however, want to note to readers that acrylic paints are chemical, and washing them down the sink may cause them to build up in your pipes if you aren't careful.
No matter your painting ability, if you aren't using a wet palette already, you should be.
If you're a beginner, then using a wet palette will unlock a whole world of painting potential for you. You'll find yourself encouraged to take bigger risks with your styles and techniques, and the fact your paints aren't drying out on a hard palette will mean you won't feel so inclined to rush, and you'll reduce the speed at which you're getting through your paints.
If you're a more experienced painter and you aren't already using a wet palette, you're making a huge mistake. You'll severely limit your ability to continue to progress towards your painting goals, and you'll find the speed at which you progress severely limited as a result.
As such, any wet palette will improve your hobby. However, RedGrass Games' Everlasting Wet Palette Painter 2 will do so in supreme style. Serious care and attention is given to your ability to hobby, to the longevity of your paints, the ease of which you can mix your paints, and so on. That the palette also looks pretty swish will also add some panache your hobby space.
The Everlasting Wet Palette Painter 2 is available straight from RedGrass Games' online webstore for £32.90GBP/$42.90USD/€35.90EUR.
It's not necessarily the cheapest bit of equipment, but it's certainly a worthwhile purchase. The benefits to using RedGrass Games' palette outweigh the financial costs. You'll be able to take your painting to a whole new level – and the product will last for a long time as long as you take good care of it.
And before you say anything: yes, you can make your own wet palette with a wet bit of kitchen roll and a scrappy sliver of baking paper. We know. Everyone knows. We even made a guide on how to make your own. Stop going on about it, and stop bashing on people who choose to just buy something infinitely better and far easier to use than making their own sad amalgam of leftover Chinese takeaway pot and wet bits of paper.
The big question posed by RGG's Everlasting Wet Palette Painter 2 was "how can it possibly be better than the previous one?"
The Everlasting Wet Palette 1.0 was a phenomenal piece of kit. It changed how thousands of people painted. It opened up the advanced-tier levels of the global hobbyverse to many decidedly average painters like me.
Following in its footsteps was always going to be an extraordinarily difficult task because, ultimately, there's no need to change the actual wet palette bit of the wet palette. Very wisely, then, RedGrass Games have not done this. Instead, they've ensured their Hydration Foam and new Hydration Membrane work just as well as the old system, and then focused on improving some of the other bits of the palette.
The Painter 2 can do more. Its slide-on extras system is a big improvement over the previous magnetic arrangement. Attached extras feel much more secure. The seal on the lid is infinitely better than the one on the old palette, and no longer requires an elasticated band to hold it in place. The washable aspect of the Hydration Membrane is a really nice touch.
The changes that have been made aren't huge, but they are very much welcome. They are small tweaks to the overall usability of RGG's signature palette that just give it the slightest of edges over its original. It's more polished, more refined, and just that little bit better. As I've said, though, that's no small feat: the original wet palette was a phenomenal piece of kit. That this one is even just slightly better is a mammoth achievement.
Congratulations, RedGrass Games. You've done it again.
And once again I've managed to write another wet palette review without using the word "moist" at any point. I think we've all discovered, however, that the word "membrane" is just as bad.
Our Affiliates / Hobby Stores
What did you think of this Review? please let us know in the comments.
If you like what we're doing here you could really help encourage more content with a share on any social media platform.
Click the share links at the bottom of this screen (or on the left for computers and tablets)
Want to keep updated with the site? You can subscribe in the sidebar for RSS or by email below
(Sidebar is below the article on Mobile Devices)