Games Workshop announced Warhammer Credit – to Investors
Ok, this is the weirdest news, something I never expected from a company that makes little plastic models. But Games Workshop has just been outed at a Monzo Bank investors briefing – where they advised of the pending partnership backing GW's latest initiative. A Credit Card! Like they don't take up enough space in our finances.
Click this link & buy your hobby stuff from Element Games for the UK & Europe to support FauxHammer.com – Use Code "FAUX2768" at the checkout for double reward points.



Our Affiliates / Hobby Stores
It's expected to be known as Warhammer Credit, this new initiative is more to hobbyists than just a card. From the actual Credit Card side, this is expected to operate as a normal credit card when you are out and about.
No details yet on typical spend APR rates or anything like that, I expect it will be in-line with their standard Credit Cards. But so far it appears like you are getting just a normal Monzo Credit Card, but with Warhammer artwork on it.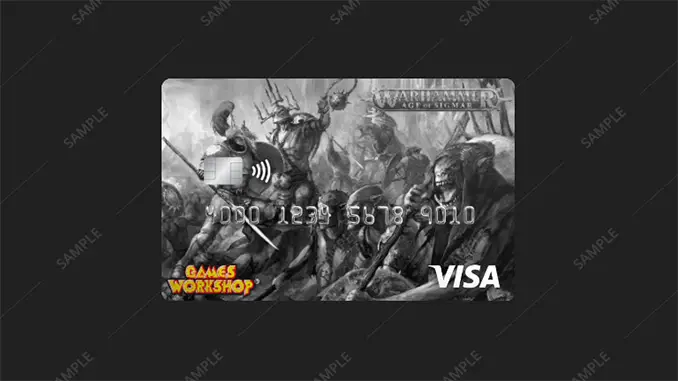 The 3 images shown, only indicate initial artwork of the Warhammer 40k or Age of Sigmar varieties. but the brief went on to state that anyone who signs up can choose artwork from any of their favourite armies and factions in the app.
By app, we mean the Monzo app, which many readers will already be familiar with, this is where the account will be managed.
This isn't the only partnership credit/store card that Monzo has announced. But it is the main one we care about.
Games Workshop has had a ton of partnerships and licencing agreements in the last few years. Sensible things like action Figures and Clothing. But some of the weirder ones include Warhammer Scented Candles and now, a Credit Card.
Where this comes in useful for us are the benefits that come along with it. The partnership is targeting existing Hobbyists – this is great for Monzo, because there are a ton of us and we love spending money.
But the benefits to us are listed to include. 1-month 0% interest on all purchases made in Warhammer stores. A flat 10% discount on all individual purchases over £65 (an odd number!) in-store, or £25 online (£5 more than the minimum amount for free shipping?
And free access to Warhammer+!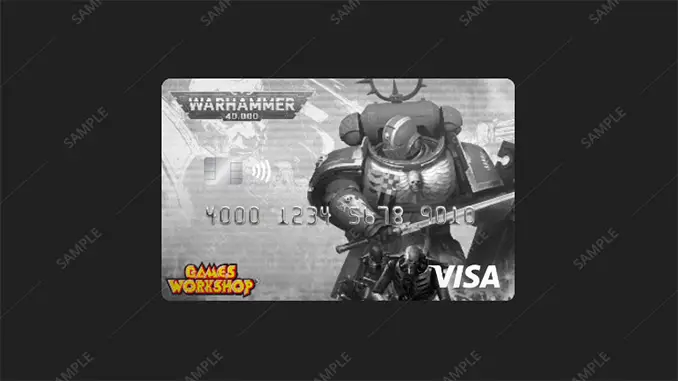 I don't know about you, but I'd get one for the free Warhammer+ access, even if I don't use the card.
Whilst the 10% discount is nice and will certainly encourage more people to shop directly in Warhammer stores, we can already get an average 20% off at most hobby stores. check our affiliate links. any of them will likely offer whatever you want with a 20% discount and no minimum spend.
The Credit Card programme is expected to launch in June 2022. (Just in time for Horus Heresy then)
Games Workshop Credit Card – Final Thoughts
Well, honestly I'd like to know what you think more than anything, t me it seems a bit weird for GW to try to manage something like this, but it looks (based on this being leaked at the Bank's investor meeting rather than from GW themselves). that all the management of this will be managed by the Crediting bank themselves, and I assume that in order to get the card you'll first need a personal account. so it's a win-win for them.
I'm honestly not sure what GW is getting from this. giving away 10%, free warhammer+. I suppose the 1-month 0% APR will greatly encourage sales as we all spend money we don't have with the intent to pay it back the next month.
But in all honesty, this entire post is absolute BS, (did you fall for it at all?) and I'd like to wish you all a happy April Fools day. Why not share this and trick your friends!
On a serious note, Monzo is a great bank, (personal recommendation) I've been using them for years. and GW is a great company (who has more of my money than Monzo ever had). I've been using them for many more years!
But hey, at least I didn't do GW to re-release paints in dropper bottles again – Though that's now a real rumour, along with an upcoming new Space Hulk in 2022!
Click this link & buy your hobby stuff from Element Games for the UK & Europe to support FauxHammer.com – Use Code "FAUX2768" at the checkout for double reward points.



Our Affiliates / Hobby Stores
What did you think of this Article? Please let us know in the comments.
If you like what we're doing here you could really help encourage more content with a share on any social media platform.
Click the share links at the bottom of this screen (or on the left for computers and tablets)
Want to keep updated with the blog? You can subscribe in the sidebar for RSS or by email below
(Sidebar is below the article on Mobile Devices)