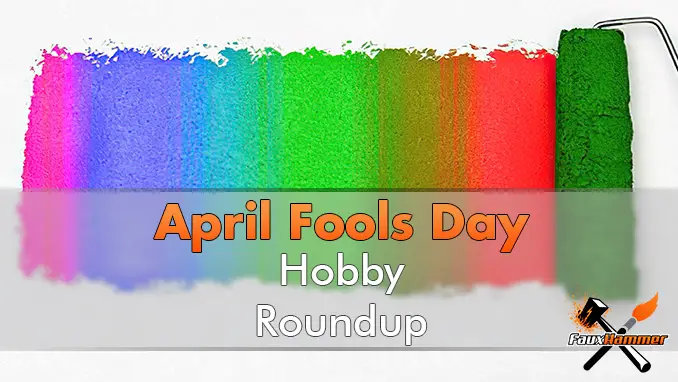 Looking at the last couple of years of April Fools news, it's been a bit quiet in the Hobby Space. But coming out of the world's focus on nothing but Covid. But this year we've at least had a few decent ones this year. I honestly think I've seen more than shown here, so if you know of any others, let me know and I'll add them below.
Click this link & buy your hobby stuff from Element Games for the UK & Europe to support FauxHammer.com – Use Code "FAUX2768" at the checkout for double reward points.


15% off Phrozen with code: "22PRFHDP15"

Our Affiliates / Hobby Stores
April Fools Day 2022 – Hobby Round-Up
Personally, I think a good April fools joke is one that really has you going, "Is this legit?". Ideally, one that has your full attention and concern until you realise what day it is and self-administer a well-deserved facepalm.
In our post, we just out and out told you at the end, but I'd love to know how many people actually started to believe it at any point?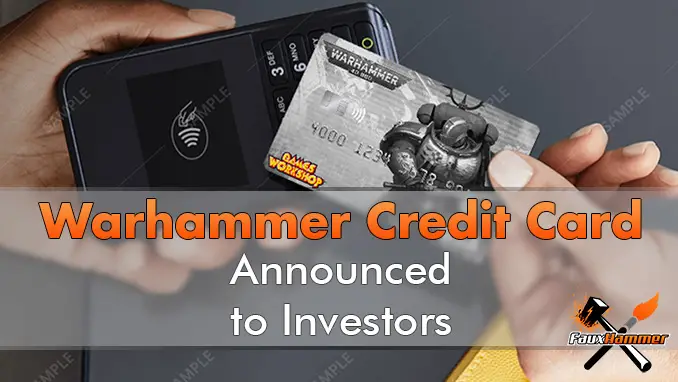 All I did was upload some existing Warhammer artwork to Visa Card Designer website and it output the above concept photo as the result. I added some somewhat realistic sounding words and with unrealistic parts, I even gave some "eh" reactions as though I was as perplexed by the crazy details as the reader. But it's all BS.
I have some experience in lying to the internet, When I previously had a PC repair company I wrote an article about the Volat Araneus (a flying spider) coming to the UK, it was BS, but the point was to advise people, back then, that their PC is slow because of the crap they click online (such as this article). The website no longer exists, but you can see the article using the way-back machine, sans some images which you can see on Snopes.com – who actually covered our article!).
I'm still so proud of that article which had over half-a-million views in a day. The (missing) picture of Carrie Henn (Newt from Aliens, now grown up), with a detailed quote below it ending with "they mostly come at night, mostly."
But the best bit is that to this day, people still refer to the "Flying Spider" as the "Volat Araneus" (Google it). I just made that up by Google Translating "Flying" and "Spider"
Anyway, that's enough about my small viral exposure, wish I could hit those numbers again with FauxHammer.com (though we did get 2.5 million views last year). Anyway, April Fools…
Warhammer Community
This one is great because it still has many of us guessing. Teased yesterday on Twitter with a 10-second clip. Dropping before April fools day (30 minutes before the day starts in Australia) kind of throws us off the scent. Even Spikey Bits Reacted, suggesting (like I really want to believe) this is teasing a new Space Hulk.
God, I want a new Space Hulk so bad!
Today GW dropped this.
I'm completely sold on this, the production quality of this animation is true to the level they have provided in the Indomitus and Horus Heresy Cinematoiic Trailers. But then at the end they have this little cinematic where the camera pans left and right, then down to reveal….
a Squat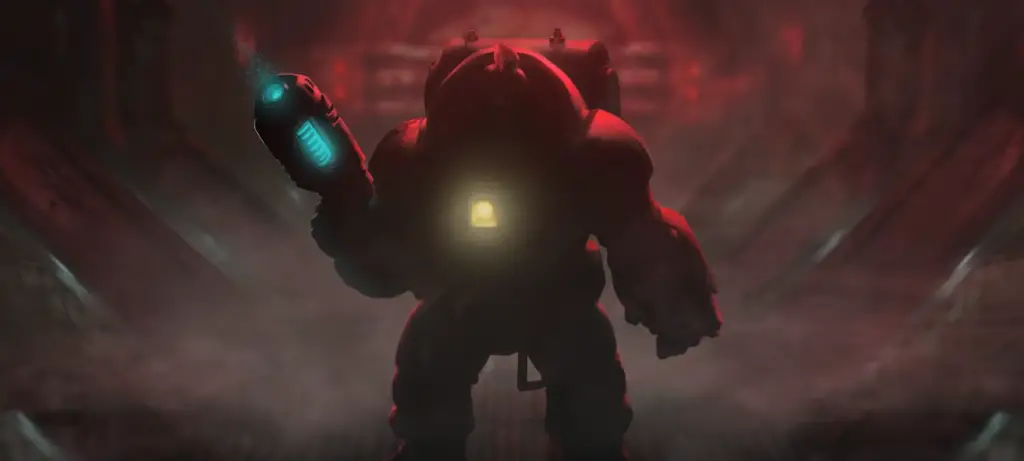 For those unaware, Squats were Space Dwarves but the faction had been expunged from the Games Workshop lineup, in the lore they were wiped out by Tyranids.
What do you think? Watching the trailer, the animation is so fluid, then the end scene just seems a bit – tacked on. I don't know, maybe that style is intentionally part of the rug pull? But the rest of the video is far too high quality for this to be nothing more than an April Fools Joke. Even with GW's many dollar-pounds.

The reactions to this are mad, and the top liked reaction comment is from someone you all know well
Nope, not Fair, I honestly believed this was a new Space Hulk coming as you teased it before April 1st!

I'm in my car, on the way to Warhammer World now. We're gonna have words.

As soon as I finish crying

— FauxHammer (@FauxHammerBlog) April 1, 2022
I genuinely think that this cinematic is for a "real thing" they are releasing. But what. Space Hulk? Battlefleet Gothic? Are Squats really coming back?
Tale of Painters
My good friends Garfy and Stahly over at Tale of Painters did a double-whammy today by dropping back to back April fools jokes.
Garfy
First, Garfy with his Get a Grip – Grip. The perfect holder for holding your hobby holders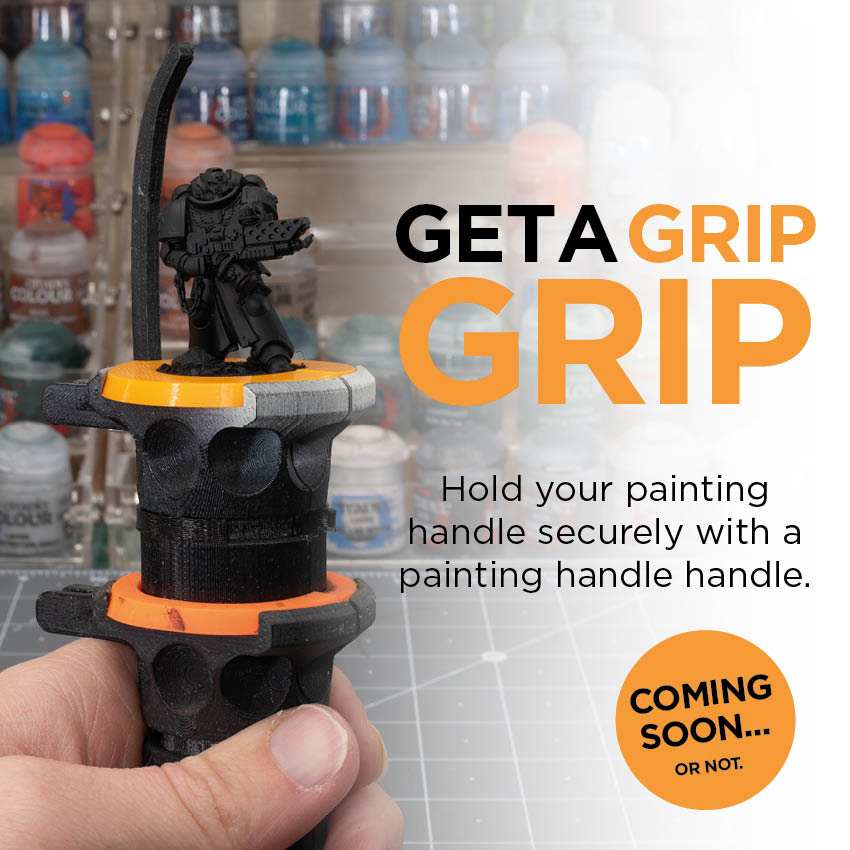 The best thing is, you can actually buy it. Not as an actual product on Garfy's store, but with the right shims, this is just a grip in a grip. So go and check them out and buy yourself 2 holders.
Stahly
Stahly was up shortly after, advertising Tale of painters NFT's where you can purchase the digital rights to their photos.
The thing is, Garfy and Stahly's Photos are so good that they would actually be worth owning!
The grotesque award this year goes to The Army Painter, with their completely over the top and unbelievable reveal of the day. Scents of War
Similar to the (still unbelievable) Games Workshop Candles. The Army Painter is releasing a series of Anti-Persperants in scents matching your favourite wargames colours. Check it out, the video is so appropriately creepy.
Wargamer.com
As I didn't read this until April 2nd, it had me going. the publication date was at the bottom of the article too.
According to Wargamer.com, Games Workshop has announced a new Warhammer videogame by From Software (developers of Dark Souls, Sekiro, Bloodborne and recently Elden Ring).
As I said I didn't read this until April 2nd, and it was part of my morning ritual to roll over in bed, grab my phone and check socials for news. So I was fully into this, even as it announced that the Emperor of Mankind is to be voiced by none other than Henry Cavill himself! Well, We know he was at Warhammer World Recently.
The article rather intelligently set out the story and everything seemed real, right up until the announcement that your characters will travel aboard the starship "Henrius Cavillium".
Well done guys, well done.
Click this link & buy your hobby stuff from Element Games for the UK & Europe to support FauxHammer.com – Use Code "FAUX2768" at the checkout for double reward points.


15% off Phrozen with code: "22PRFHDP15"

Our Affiliates / Hobby Stores
What did you think of this Article? please let us know in the comments.
If you like what we're doing here you could really help encourage more content with a share on any social media platform.
Click the share links at the bottom of this screen (or on the left for computers and tablets)
Want to keep updated with the blog? You can subscribe in the sidebar for RSS or by email below
(Sidebar is below the article on Mobile Devices)