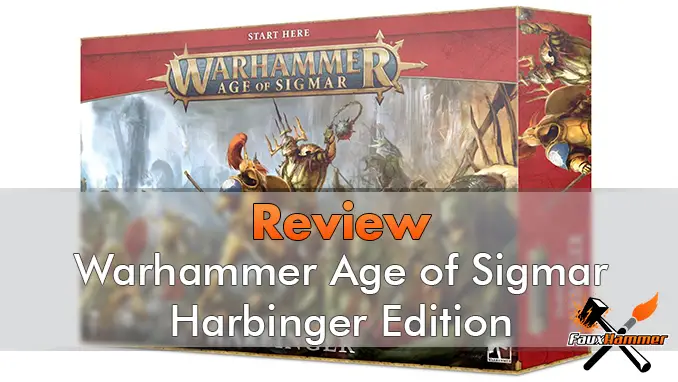 Age of Sigmar's Third Edition is well underway. Heralded first by the incredible Herrschaft box set, Spiele-Workshop has now released three Starter Sets to help ease the community into the newest iteration of its neo-classic Warhammer Fantasy tabletop game.
Klicken Sie auf diesen Link und kaufen Sie Ihre Hobbyartikel bei Element Games für Großbritannien und Europa zur Unterstützung von FauxHammer.com - Code verwenden "FAUX2768"An der Kasse für doppelte Belohnungspunkte.

Unsere Partner / Hobby Stores
Warhammer Age of Sigmar: Harbinger Starter Set Review – Dramatic Reading
By Drama I mean, I was so tired and in a rush when recording this brief unboxing and impressions. Check out the video for this article below.
Don't forget to click all the buttons, the Like button, the subscribe button, the notification be button and leave a comment too!
Warhammer Age of Sigmar 3. Edition Herrschaft Startersets im Vergleich
Wenn Sie sich bei den verschiedenen Startersets für Age of Sigmar beim Eintritt in sein drittes Zeitalter (Iteration) nicht sicher sind schau dir unseren Artikel an Unten vergleichen Sie die 3 Editionen direkt.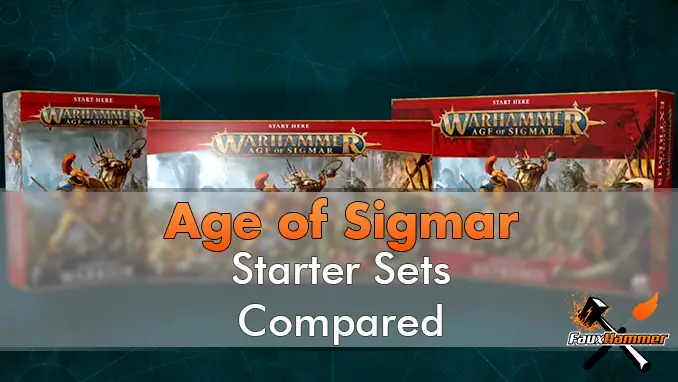 Welche Edition sieht für Sie wie der Sweet Spot aus?
Warhammer Age of Sigmar: Harbinger Starter Set Review – Summary
Whilst the quantity of miniatures available in the Harbinger Starter Set is a significant step up from those in the Warrior Starter Set, there's little else to set the Harbinger Starter Set apart from its smaller sibling. It nestles comfortably between the Warrior and the Extremis boxes, sporting an equally impressive array of miniatures as the larger box, but lacking the fancy plastic terrain – which may be a blessing in disguise for those people who hate painting terrain pieces.
Warhammer Age of Sigmar: Harbinger Starter Set Review – Introduction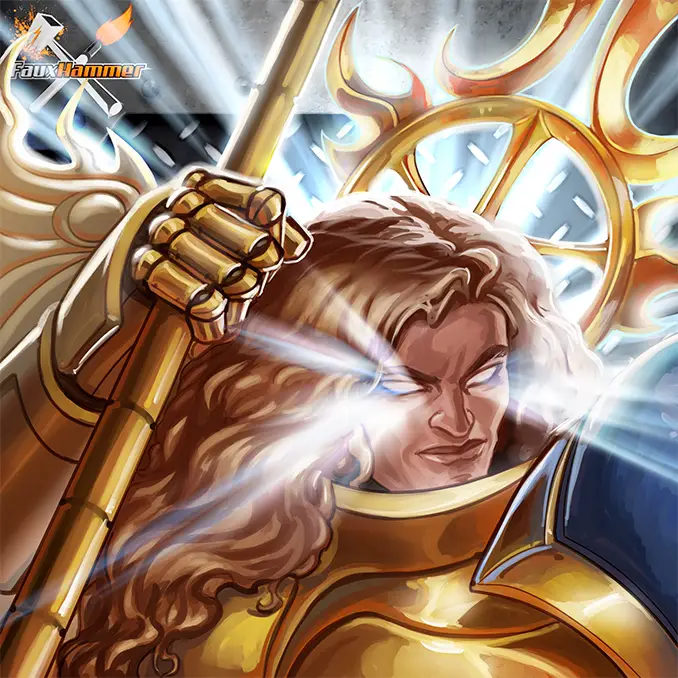 With the Warrior Set out of the way and the Extremis Set remaining, the Harbinger review marks the (rough) half-way point through our crash-course in the new Age of Sigmar Starter Sets.
The Harbinger set is a bit of an interesting one. It's the middle child, neither the largest nor smaller, nor the most expensive nor dearest. To look at, it's trying to be the Extremis starter set, as it its array of figures is much more impressive than those found in the Warrior Set.
In fact, it boasts the exact same figures as the Extremis Set, it is yet still not grown enough to shed the trappings of its bit of cardboard scenery and graduate to something greater.
But enough postulating. Let's get into it and see what the Harbinger Set is all about.
Who is Warhammer Age of Sigmar: Harbinger Starter Set for?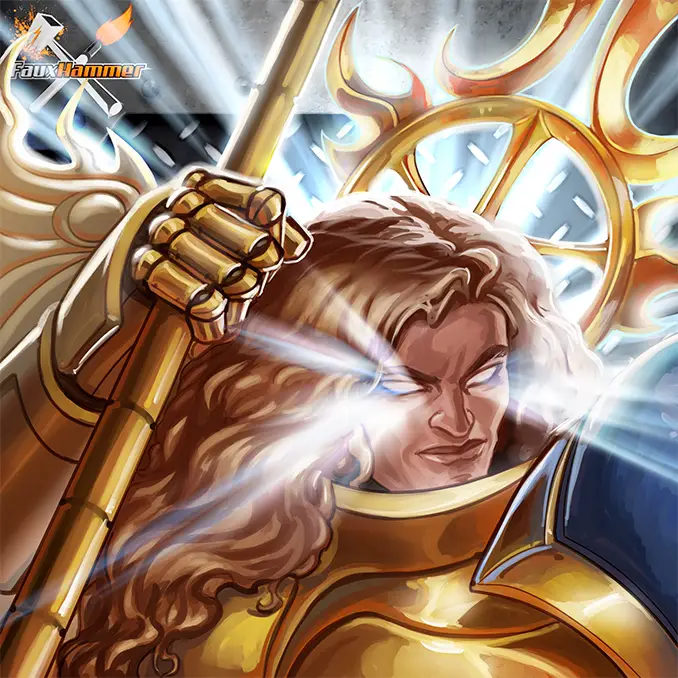 Not fans of the original Mass Effect trilogy, for whom the name "Harbinger" holds nothing but fear.
The Harbinger Starter Set had me puzzled for a little while. Whilst the Extremis set is very obviously aimed at just about anyone with an interest in AoS – modelers, painters, players – with money burning a hole in their pocket, and the Warrior Set is very succinctly aimed at beginners, the Harbinger set, therefore, has to nestle somewhere between the two.
The increased volume of figures is more likely to put off the absolutely green gamer or painter. Whilst it doesn't have the fancy scenery of the Extremis Set (which may be a good thing if you're like me and can't stand painting scenery), it does have all the same figures. It's more of an investment and a promise of commitment into Age of Sigmar than the Warrior Starter Set.
The inclusion of range rulers and dice, along with the books, cards, papers, and the folding mat are a gentle reminder to the hobby-inclined that the figures können be used to play with, whilst simultaneously not being such an eclipsing part of the set to put off people who are just interested in bagging some bargain plastic.
It is, perhaps, quite a good set for those people who recently started getting into the hobby with a Stormcast or Orruk army. If you started collecting Stormcast Eternals or Orruks towards the end of AoS 2.0, and are interested in getting into the hobby some more, this would be a good set for you. The units would be a good boost to a pre-existing but smaller army, or a great kick-start to a new army.
It's also the ideal set for the painter or modeler not interested in scenery: maximum figures, minimum fluff.
At the end of the day, if you're after figures, this box is the one that's going to get you just that, and for the best value.
Warhammer Age of Sigmar: Harbinger Starter Set Review – Contents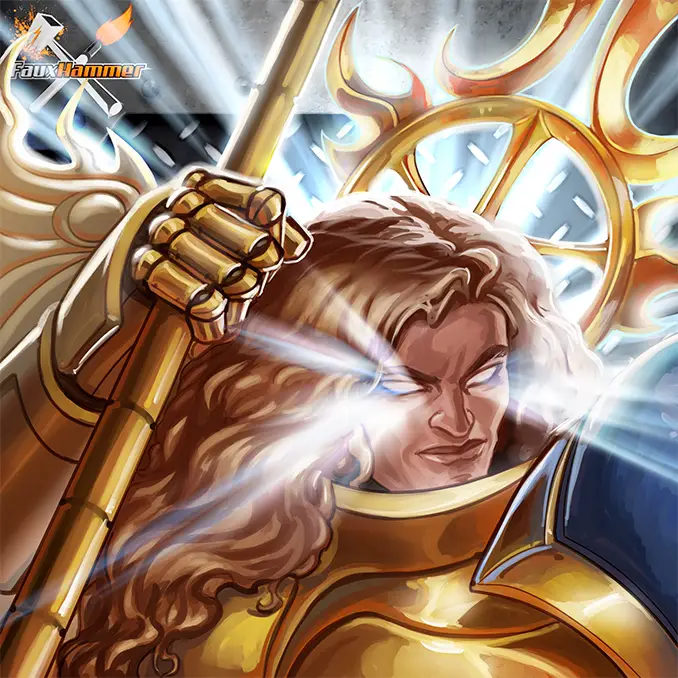 As I've mentioned already, there's a great deal of similarity between the Harbinger Set and the Extremis Set, give or take the inclusion of certain pieces of scenery. You'll still find the same books, cards, and other paper-based bits and pieces you'll need to take your figures from your painting table and onto the battlefield, and whilst the included figures are different and more plentiful than those in the Warrior Set, they are identical to those in the Extremis box.
So, as before, here are the contents of the box more-or-less as listed on Spiele-Workshop's webstore:
1 x 80-seitiges Softcover Vorbote-Edition Buch
1 x Softback Core Rules Book
6x Warscroll-Karten
2x Treuefähigkeitskarten
Eine doppelseitige Spielmatte von 30″ x 22,4″
2x Entfernungslineale
10x Würfel
32x Plastic Push-fit Citadel Miniatures
Jeder Leser mit Adleraugen wird feststellen, dass es zwischen den Regeln, Karten usw. einige beträchtliche Überschneidungen von Box zu Box gibt. Alle neuen Starter-Sets enthalten ein 80-seitiges Buch, ein Grundregelbuch, die Fähigkeitenkarten Warscroll und Treue, ein Paar Entfernungslineale und zehn Würfel. Die Krieger- und Vorboten-Sets kommen mit Gaming Matten, während das Extremis Set mit einer dicken Karte geliefert wird Planke der gleichen Abmessungen.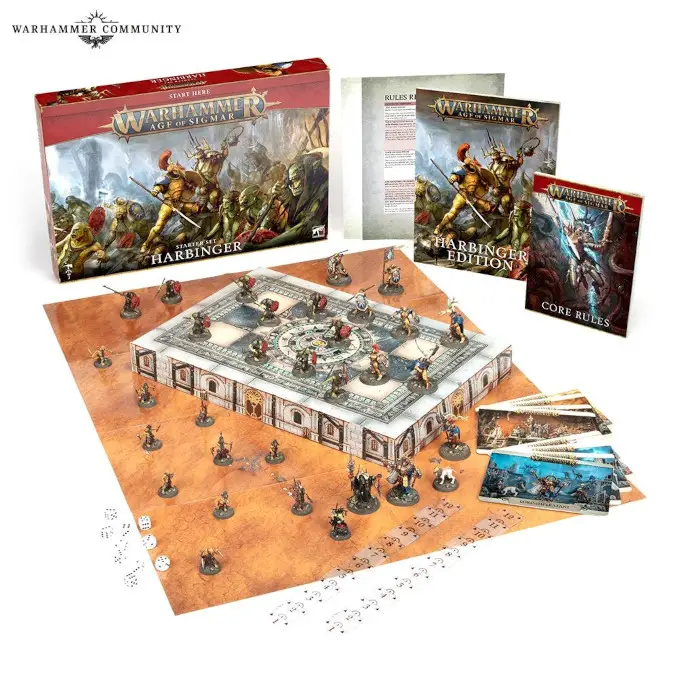 Now, for the plastic-minded amongst you, here's a more detailed breakdown of the figures awaiting within the Harbinger Starter Set:
10 x Stormcast Eternals
1 x Lord-Imperantant mit 1x Gryph-Hound
3 x Prätoren
5 x Verleumder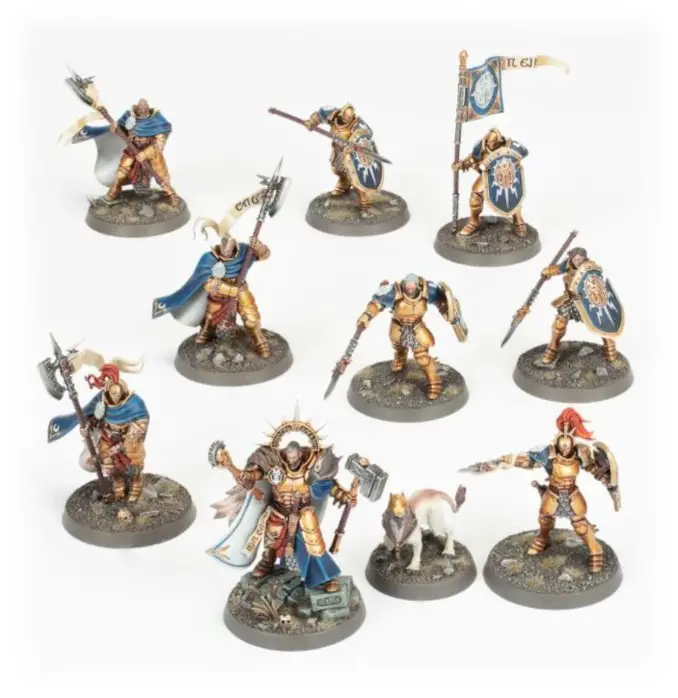 22 x Kruleboyz
1 x Swampcalla Schamane mit 1x Topfgrotte
10 x Gutrippaz
10 x Hobgrot Slittaz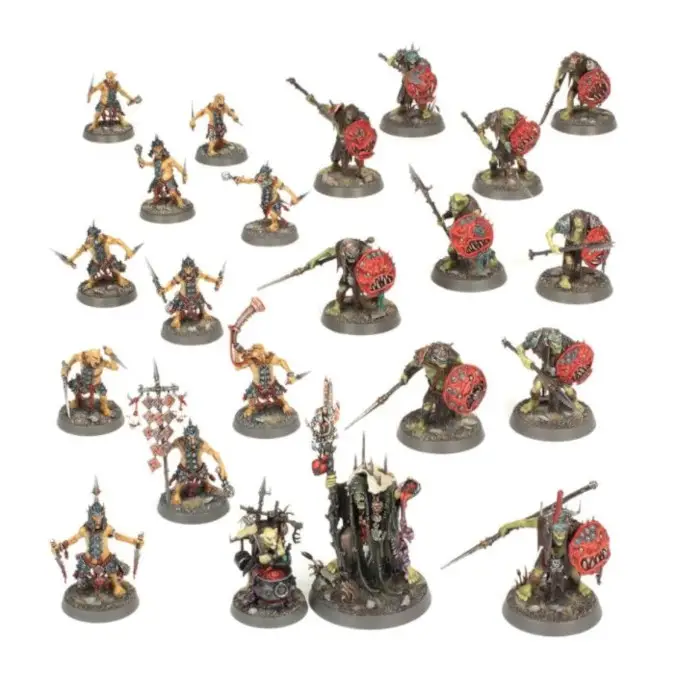 1 x Umgedrehter Karton Entschuldigung, ein "Dawnbringer Bastion Cardboard Terrain Feature"
It's worth noting here that, aside from the terrain features, all the Stormcast Eternals and Orruk figures that you'd find in the Harbinger box are genauso as those you'd find in the Extremis box. If you're just after some figures and don't care about scenery, save yourself some cash and grab the Harbinger box.
Warhammer Age of Sigmar: Harbinger Starter Set Review – Unboxing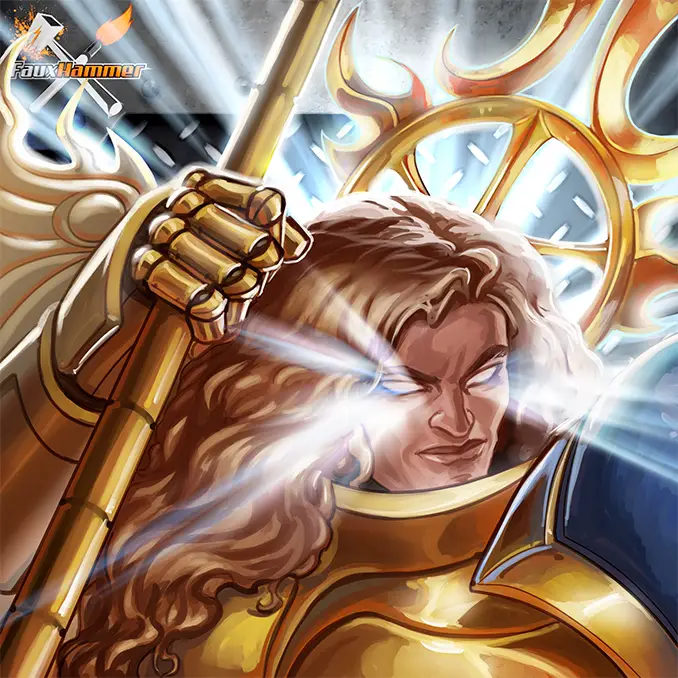 With the preview done, it's time to move on to the FauxHammer.com unboxing to get a good look at what this box is really like. As we all well know, these figures don't arrive looking as beautiful as they do in all of GW's preview pictures. It's up to us to make that happen.
The Harbinger box is larger than the Warrior box, as you'd expect, but not as fat as the Extremis box, which contains a few extra beefy sprues for scenery and a thicker gaming board.
So, let's crack open the Harbinger Starter Set and see what's waiting beneath the lid.
Here's the box as you'd find it on the shelf in your local gaming store – or, if you buy online, your doorstep.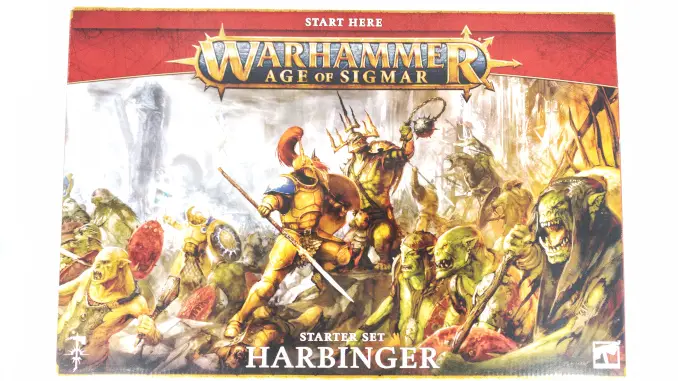 Pulling out the interior, you'll find the sprues, books, gaming mat, dice and range rulers all contained in a printed tray which is designed to be used as scenery.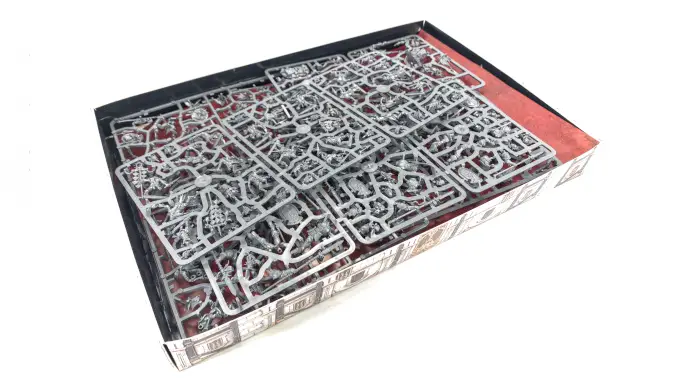 Es gibt fünf sprues in this box, all of which can be seen in the photo below.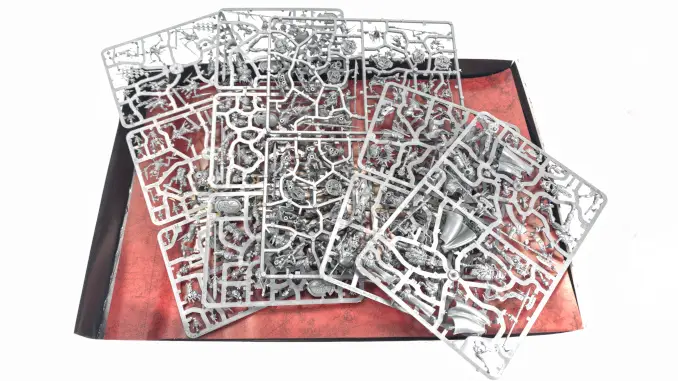 These sprues are separated from your paper goods below by a divider. Once side is printed with the Age of Sigmar logo, the other with the iconic Vindictor-Prime versus Killaboss artwork.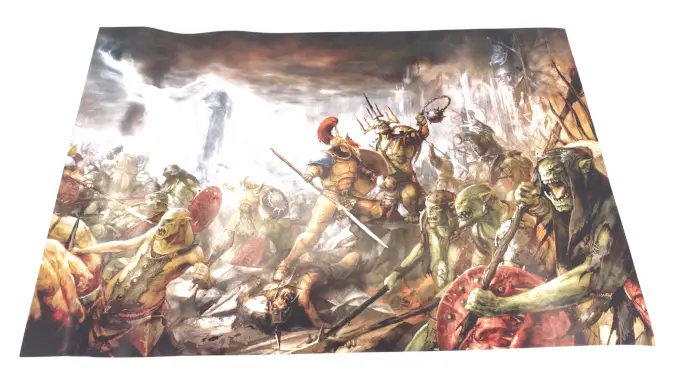 The divider would look great framed, and would make excellent additions to anyone's studio wall or gaming cave – provided it's survived transit. Because these are included in the sets to prevent the hard sprue plastic from wrecking the books and cards beneath, their primary purpose is defence. As such, there's always a chance they may arrive punctured or torn – as mine did.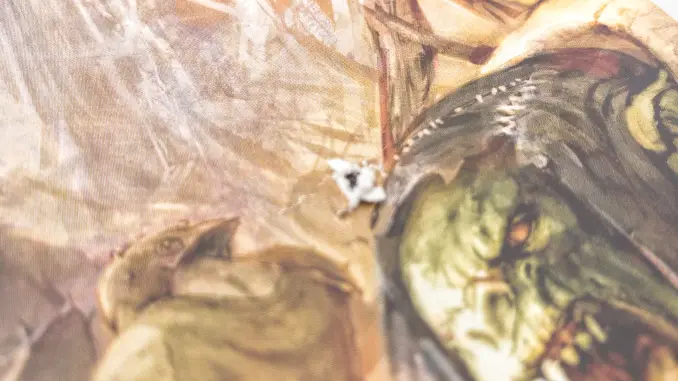 A shame, but not the end of the world.
Anyway, beneath the divider resides everything else: the mat, the books, the cards, the bases and the dice.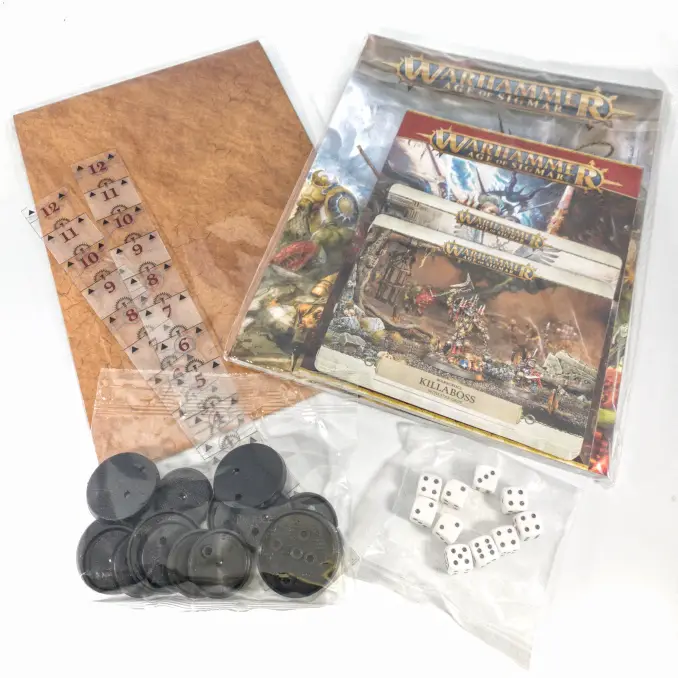 Der Papierkram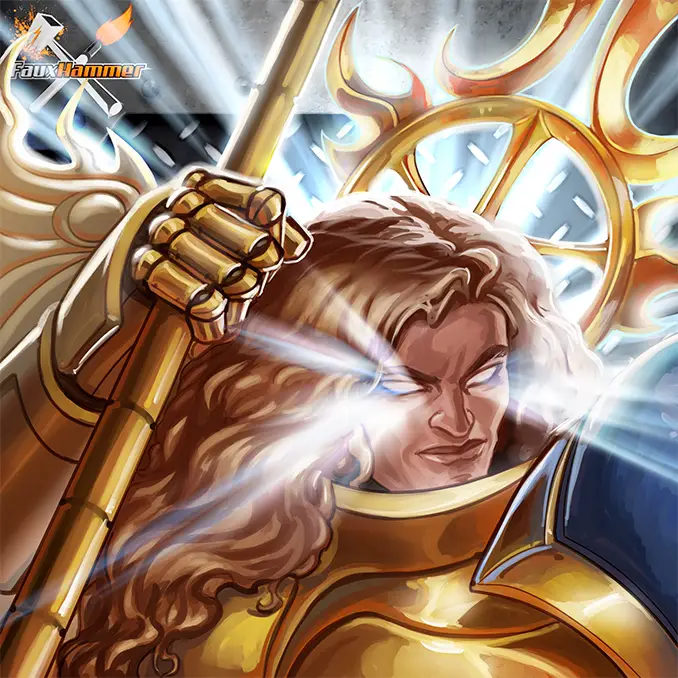 Now that we've had a look at how the Harbinger box is put together, we need to have a closer look at the books, cards, and other bits and pieces you'll need to play a game of Age of Sigmar using the new Starter Set. If this doesn't interest you, and you know you're only in it for the models, you'll want to skip ahead and dive on in to the sections below where FauxHammer gets into the miniatures.
Es ist erwähnenswert, dass es in Bezug auf die Bücher, Karten und andere papierbasierte Teile, die in allen drei Starter-Sets enthalten sind, eine enorme Ähnlichkeit zwischen den drei Sets gibt. Wenn Sie vorhaben, alle drei unserer Starter-Set-Rezensionen zu lesen, werden einige dieser Abschnitte möglicherweise ein wenig bekannt vorkommen.
Grundbuch von Warhammer Age of Sigmar
Deutlich kleiner und bei weitem nicht so beeindruckend wie der beiliegende monströse Wälzer Herrschaft, the Core Book included in the Harbinger Starter Set is a thinned-down, pocket-sized version of its hardbacked forebear – and is identical to the Core Book you'll find in the Warrior and Extremis sets.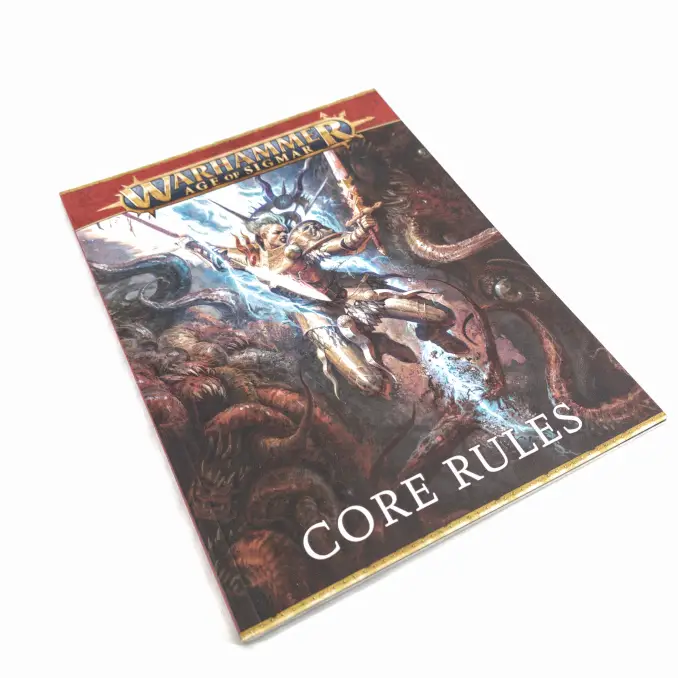 Es ist ein gutes kleines Buch. Es gibt nur minimale Flusen darin: Es gibt Ihnen die Regeln und sonst wenig. Natürlich gibt es noch einige Bilder von Modellen in Studioqualität im Inneren, um die Abschnitte des Lehrtextes aufzubrechen und Sie zu inspirieren, Farbe auf Ihre Figuren zu schleudern, aber das Buch konzentriert sich auf die Kernregeln – und nur die Kernregeln.
Regelreferenzblätter
Die Box enthält wie die anderen Starter Sets zwei Referenzblätter. Diese nehmen die wichtigsten Konzepte und wichtigsten Funktionen eines Spiels von Age of Sigmar auf und reduzieren sie noch weiter, damit Sie sie während eines Spiels zur Hand haben können.
Diese sind aus ordentlich dickem Karton, damit sie nicht so leicht reißen. Es sind zwei in der Box – genug für dich und deinen Feind. Die Anweisungen sind gut geschrieben und klar und beziehen sich eindeutig auf Konzepte, die im Buch "Grundregeln" zu finden sind.
This is the epitome of the Harbinger Starter Set. This is the book meant to grab you and drag you deeper into the hobby and the universe of Warhammer Fantasy. In its content, it's very similar to both the Warrior and Extremis books, with a couple of edits made here and there to make it more relevant to whichever set it comes with.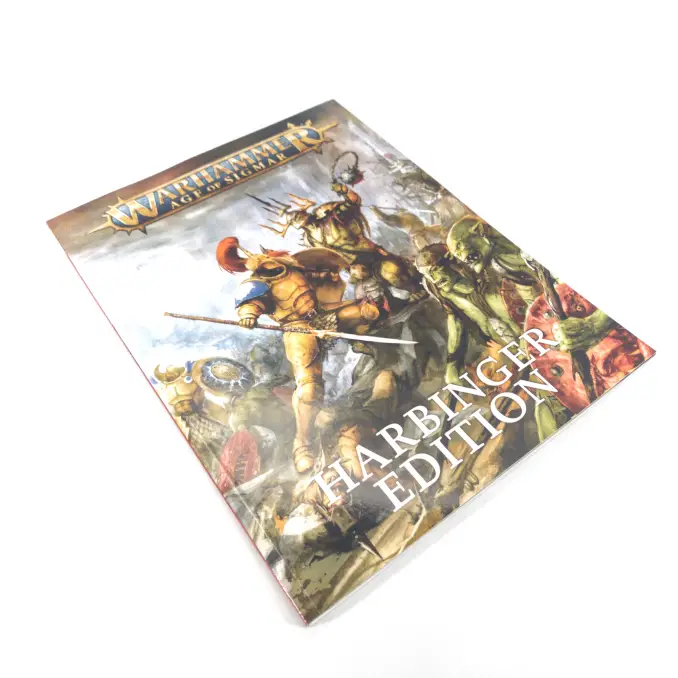 It has everything you need to make the most out of the Harbinger set.
Das Buch ist in mehrere Abschnitte unterteilt, von denen einige ein wenig an die Überlieferungen erinnern, die Sie in der Herrschaft Kernbuch: Eine Reihe von Kapiteln widmen sich der umfangreichen Überlieferung von AoS und den Ereignissen, die zu AoS Version 3.0 führten das Spiel, das wir später genauer betrachten werden.
Es ist eigentlich ein wirklich schönes Buch. Gut zusammengestellt und mit all dem Artwork und vielen Fotos von Miniaturen in Display-Qualität, um jeden Neuling oder Veteranen, der wieder in Age of Sigmar zurückkehren möchte, zu locken.
Es ist erwähnenswert, dass es nur sehr wenige Unterschiede zwischen den Versionen Warrior, Harbinger und Extremis dieses Buches gibt. In einigen Abschnitten wurden eine Handvoll Änderungen vorgenommen, um Informationen über die Figuren in jedem Set aufzunehmen, und es wurden ein paar kleine Änderungen an den Schlachtplänen vorgenommen, um die in jedem Set enthaltenen Figuren zu vereinfachen.
Warscroll- und Allianz-Fähigkeitskarten
Ähnlich wie die Referenzblätter sind die Warscroll- und Allianzfähigkeitskarten einfache Referenzen für die Figuren im Set.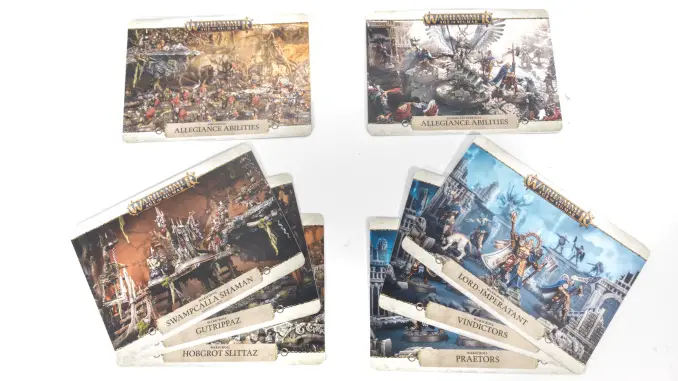 Entwickelt, um während des Spiels auf dem Tisch verwendet zu werden, sind diese hübschen Karten mit epischen Fotos der Figuren geschmückt, zu denen sie gehören, und auf der Rückseite sind alle entsprechenden Statistiken aufgedruckt.
Sie sind klein, handlich und schön anzusehen. Eine weitere hervorragende Aufnahme.
Landschafts-/Tragetablett
As I said regarding its smaller sibling in the Warrior Starter Set review, as far as innovative and thoughtful ways to cut down on packaging waste goes, the idea to print part of the Warrior Starter Set packaging as if it were a piece of scenery is quite a clever little idea.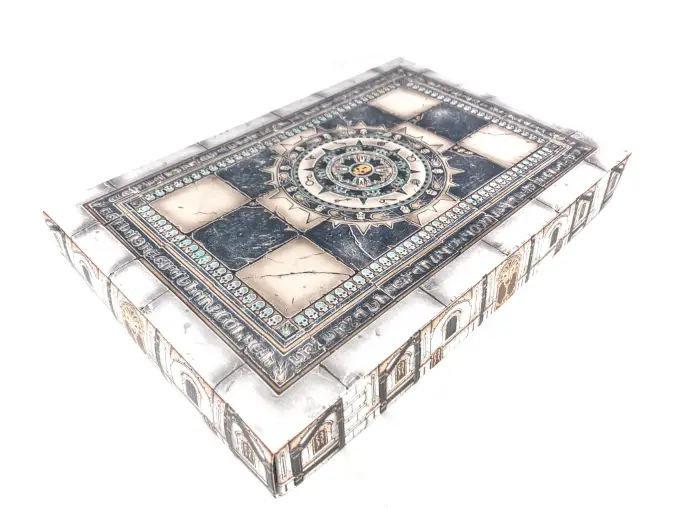 Es ist perfekt für Anfänger. Plastikkulissen sind teuer, umständlich und oft schwer zu lagern und zu transportieren, und wenn man einfach nur irgendwo ein gutes, schnelles Spiel spielen möchte, ist es nicht unbedingt am einfachsten einzurichten. In der Lage zu sein, Ihre Armee in einem bedruckten Kartontablett zu tragen und dieses Tablett in ein einigermaßen immersives Gelände zu verwandeln, ist jedoch großartig.
Das Problem ist, es ist einfach nicht so beeindruckend. Spiele-Workshop produzieren einige unglaubliche und detaillierte Landschaften für ihre Spiele, und am Ende des Tages ist es so gerade a cardboard box. And, in the case of the Harbinger Starter Set, quite a groß cardboard box. It's twice the size of the one you'll find in the Warrior Starter Set – which, if you happen to have both, could make for some creative stacked scenery for your games and displays
Die Mat
Zunächst einmal kann ich trotz eines tollen Leuchtkastens die vollständig ausgeklappte Spielmatte nicht hineinpassen, also entschuldige ich mich, dass das Bild unten zusammengeklappt ist.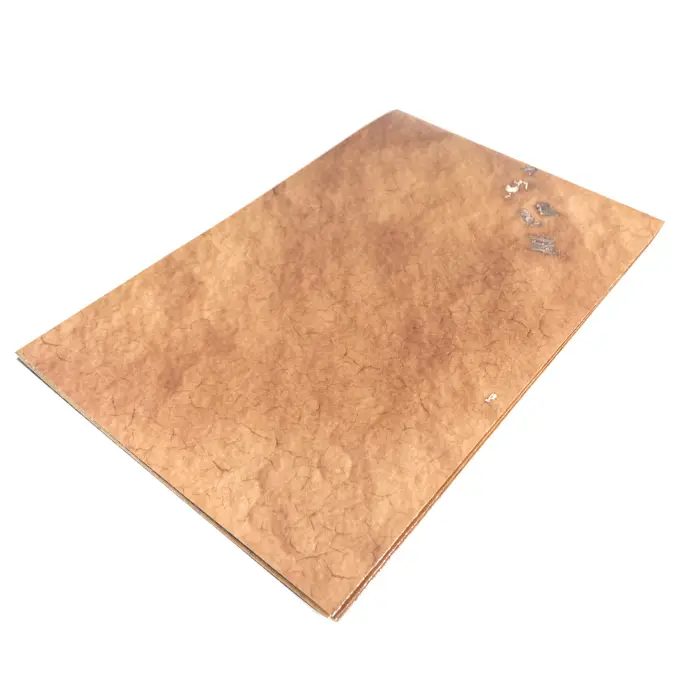 Die Matte ist bedruckt, eine Seite mit trockenem Wüstenlook, die andere mit grüner, sumpfiger Textur. Der Druck ist schön und detailliert, aber das Problem, das ich mit der Matte habe, ist das Material. Da es sich nur um glänzendes Papier handelt, gibt es einige böse Faltlinien, die es beim Auslegen kreuz und quer durchziehen, und kein Glätten wird sie loswerden.
Die Gussrahmen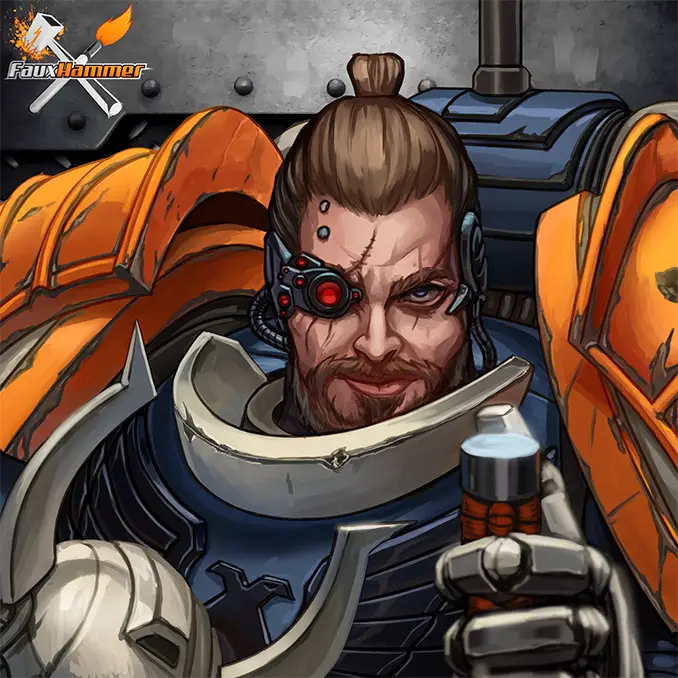 Alle Gussrahmen, die Sie in jedem der neuen Age of Sigmar Starter Sets finden, stammen also aus dem Herrschaft Kasten. Wie jeder, der unsere gelesen hat Herrschaft Wie die Überprüfung erkennen kann, haben die unten stehenden Angüsse alle einen Buchstabenwert – A bis J. Alle Angüsse, die Sie unten sehen, haben den gleichen Buchstabenwert wie ihre Herrschaft Vorfahren, weshalb Sie möglicherweise Lücken in der folgenden Nummerierung finden.
Um Ihnen bei Ihrer Nummernsuche zu helfen, habe ich die Modelle unten aufgeteilt, damit Sie die Teile für jedes Modell leicht finden können.
Als allgemeine Anmerkung, im Gegensatz zu Indomitus, wo die Steckmodelle geschickt zusammengestellt wurden, so dass Sie die Space Marines in einfachen Unterbaugruppen bauen und bemalen können und die Stifte und Aussparungen für eine perfekte Passform perfekt dimensioniert waren. Wir sind mit diesen Angüssen einen Schritt zurückgegangen und ich empfehle, die Länge und Breite jedes Stifts auszulösen.
Warhammer Age of Sigmar: Harbinger Starter Set – Anguss A – Gutrippaz
Ein toller Gussrahmen aus 10 verschiedenen Modellen. toll aussehende Bestien mit sehr wenig Aufräumarbeiten
Hier die Modelle am Gussrahmen
Gutrippa-Boss (J) – 1, 2, 4, 5, 6, 8

Gutrippa (J) – 1, 3, 4, 5, 7, 9

Gutrippa (F) – 10, 11, 12
Gutrippa (G) – 13, 14, 15, 16, 17
Gutrippa (E) – 18, 19, 20, 21, 22
Gutrippa (I) – 23, 24, 25, 26, 27, 28
Gutrippa (B) – 29, 30, 31, 32, 33, 34
Gutrippa (D) – 35, 36, 37
Gutrippa (C) – 38, 39, 40, 41, 42
Gutrippa (H) – 43, 44, 45, 46, 47
Gutrippa (A) – 48, 49, 50, 51, 52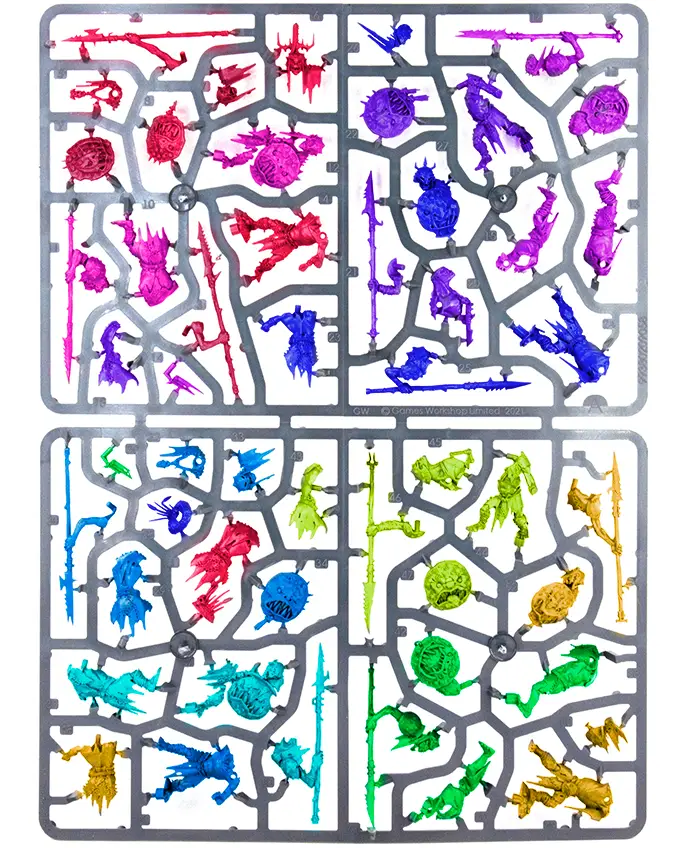 Die Teile auf diesem sind ziemlich auf die unterschiedlichen Angusssegmente verteilt, was es schwierig machte, die Dinge zu finden (außerhalb der Nummerierungskerfuffle).
Der einzige optionale Aufbau dieses Angusses ist das Modell J (Teile 1-9), das entweder als Gutrippa- oder Gutrippa-Boss gebaut werden kann
Warhammer Age of Sigmar: Harbinger Starter Set – Sprue B – Vindictors
Oft fälschlicherweise als Stormcast Vindicators bezeichnet (was etwas ganz anderes ist), ist dies ein weiterer relativ einfacher Anguss. nicht wie Herrschaft, wo du zwei dieser Angüsse in der Box bekommst, kommt jedes der Startersets mit nur 1 Anguß
In numerischer Reihenfolge
(1x) Vindictor Prime (E) – 1, 2, 3, 7, 8, 9, 12
(1/2x) Verteidiger (E) – 1, 2, 3, 4, 5, 6, 10, 11
2 x Verteidiger (D) – 13, 14, 15, 16, 17, 18, 19, 20, 21
2x Verteidiger (C) – 22, 23, 24, 25, 26, 27, 28
(1x) Vindictor Prime (F) – 7, 29, 30, 33, 36, 38
(1/2x) Verteidiger (F) – 29, 30, 31, 32, 34, 35, 37. 39
Verteidiger (B) – 40, 41, 42, 43, 44, 45, 46, 49
Verteidiger (A) – 40, 41, 42, 46, 47, 48, 49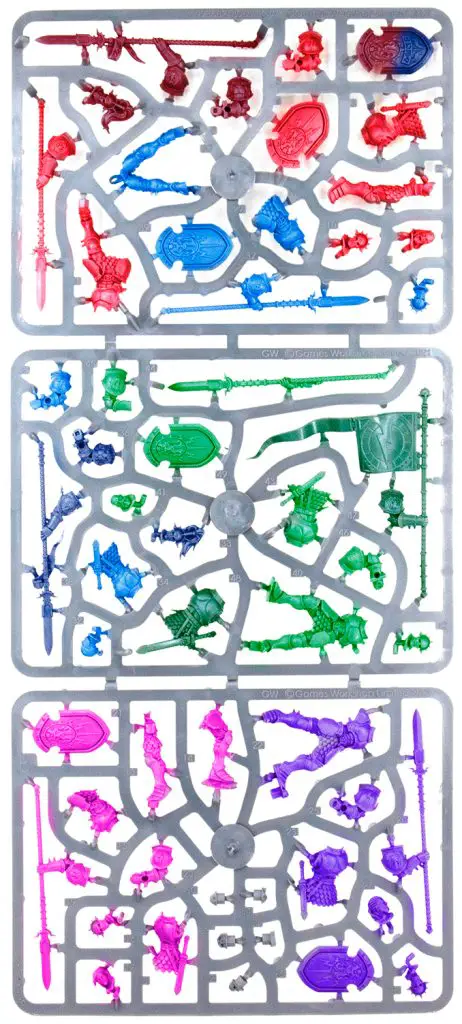 Für jedes der Modelle in diesem Gussrahmen erhalten Sie die Wahl zwischen einem fleischigen Kopf oder einem Metallhelm. Ein Modell kann mit einem Banner gebaut werden und 2 der gestellten Körper haben die Option, ein Vindictor prime zu sein – obwohl Sie nur einen bauen würden.
Warhammer Age of Sigmar: Harbinger Starter Set – Sprue E – Lord Imperatant with Gryph-hound
Anguss E wird an Anguss F angeschlossen.
Der Lord-Imperatant besteht aus den Teilen 1-11, wobei die Teile 5 und 6 optional behelmte und unbehelmte Köpfe sind. Teil 12 ist ein Basis-Feature.
Der Greifhund ist Teil 13-15.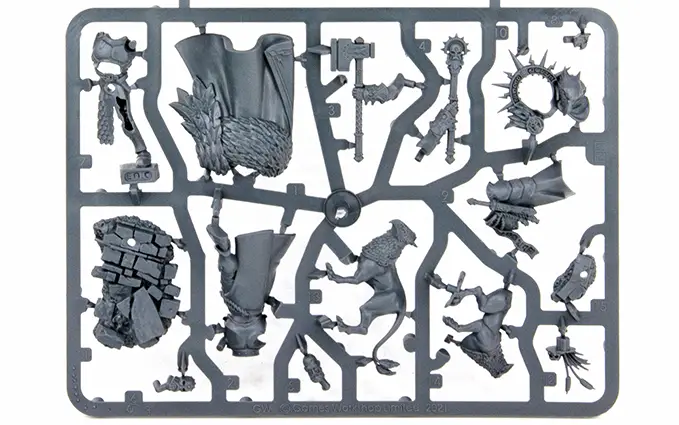 Selbst mit den fein detaillierten Teilen dieses Modells sollte es kein Problem sein, dies aus dem Gussrahmen zu schneiden.
Warhammer Age of Sigmar: Harbinger Starter Set – Sprue F – Swampcalla Shaman with Pot-grot
Wieder ein verbundener Anguss, (verbunden mit Anguss E). Die 2 Modelle auf diesem sind 2 der detailliertesten im gesamten Set.
Der Schamane ist Teil 1-7 mit Teil 8 als Basisdetail.
Die Topfgrotte ist Teil 9-13.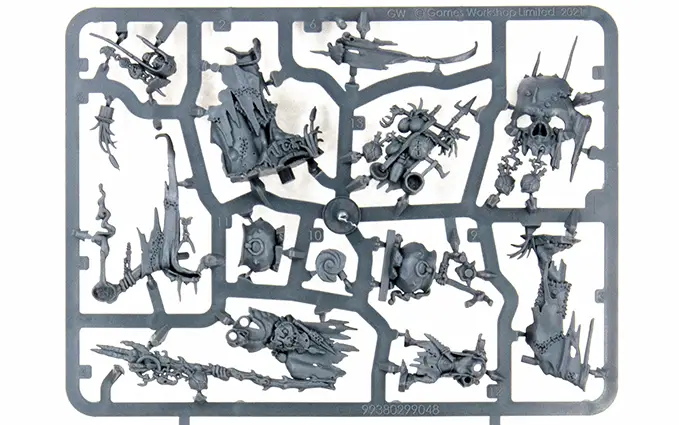 Ein unglaublich detailliertes Modellpaar. hier stehen jedoch keine Anpassungsoptionen zur Verfügung.
Warhammer Age of Sigmar: Harbinger Starter Set – Sprue G – Prätoren
ein weiterer schöner und unkomplizierter Anguss. Im Nachhinein ist dies wahrscheinlich der einfachste Gussrahmen im Set, mit nur wenigen Variationen bei einem Modell. Aber die Modelle werden in der Anleitung in der gleichen Reihenfolge gedruckt, in der sie nummeriert sind, mit einer kleinen Ausnahme ist die Praetor-Primzahl, die vor ihrem optionalen Gegenstück steht, obwohl die Zahlen größtenteils höher auf der Primzahl sind.
Die Aufteilung ist wie folgt;
Prätor (A) – 1, 2, 3, 4, 5, 6, 7
Prätor (B) – 9, 10, 11, 12, 13, 14, 15
Praetor Prime (C) – 22, 23, 24, 26, 27, 28, 29

Prätor (C) – 17, 18, 19, 20, 21, 22, 23, 24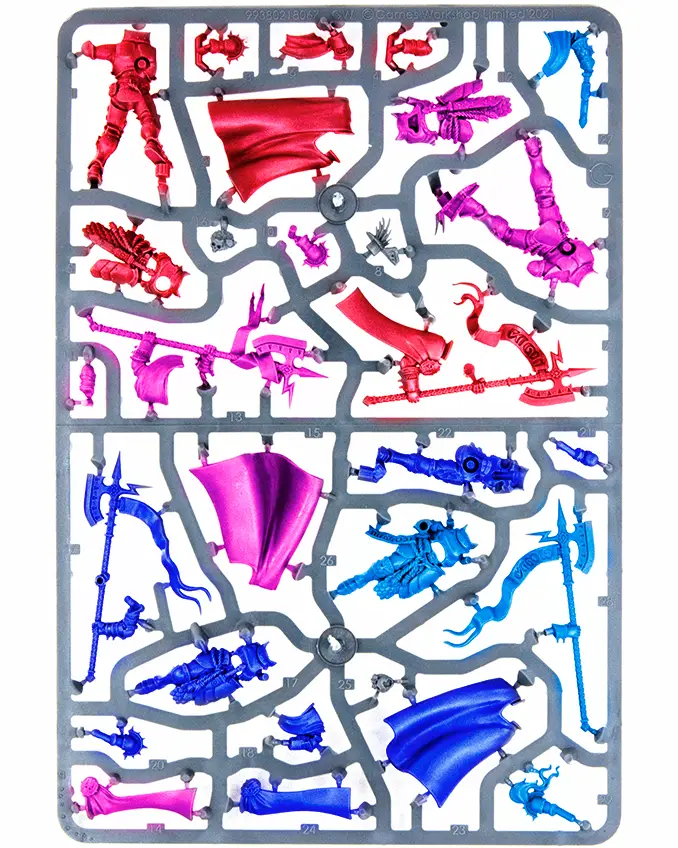 Die Option hier besteht also darin, Modell C als eines von beiden zu erstellen.
Warhammer Age of Sigmar: Harbinger Starter Set – Sprue H – Hobbrot Slittaz
Vom einfachsten Anguss bis zum nervigsten. Zwei davon kommen rein Herrschaft und kann ich nur sagen, das waren zu viele. Dieser Anguss hat mich irritiert. Alleine das Layout war einfach der Wahnsinn mit all den kleinen Teilen.
Die Art und Weise, wie Sie diese Modelle bauen können, ist auch mental. Sie können jedes Modell auf 2 Arten erstellen.
Mein Respekt an den Designer dieses Gussrahmens. Meistens werden Sie feststellen, dass Bildhauer einen Körper für ein Modell erstellen und ihn geringfügig von einem anderen Kopf oder einer anderen Waffe unterscheiden. hier haben sie uns mehrere Körper gegeben. wobei die Brustpanzerung gleich ist. Wir bekommen dann auch optionale Köpfe.
Die Anleitung erklärt jedoch, wie Sie diese Modelle bauen können, aber für Anfänger wird nicht empfohlen, welche Sie für Ihre Einführung in Warhammer bauen sollten. Es kann also passieren, dass Sie dem folgen und die coolsten Modelle erstellen, die Sie können, nur um später festzustellen, dass Sie eine ungültige Einheit erstellt haben.
Mein Rat hier ist, zu versuchen, sie so zu bauen, dass sie dem Einheitenbild am Ende dieses Abschnitts entsprechen.
Lassen Sie uns die Aufschlüsselung auf vernünftige Weise mit Zahlen durchführen:
Hobgrot Slitta (H) 1, 2, 3
Hobgrot-Schrott-Totemträger (B) - 1, 4, 5, 6
Hobgrot Slitta (I) 7, 8, 9
Hobgrot-Schrott-Totemträger (C) - 7, 10, 11
Hobgrot Slittaz (K) – 12, 13, 14, 15
Hobgrot Slittaz (I) – 16, 17, 18, 19
Hobgrot Slitta (G) – 20, 21, 22
Hobbrot-Geräuschmacher (E) – 21, 23, 24, 25
Hobgrot-Boss (A) – 26, 27, 28

Hobgrot-Boss (A) – 26, 29, 30

Hobgrot Slitta (J) – 26, 31, 32
Hobgrot Slittaz (M) – 33, 34, 35, 36
Hobgrot-Geräuschmacher (D) – 37, 38, 39,
Hobgrot Slitta (F) – 37, 40, 41
Hobgrot Slittaz (N) – 42, 43, 44, 45
Hobgrot Slittaz (O) – 46, 47, 48, 49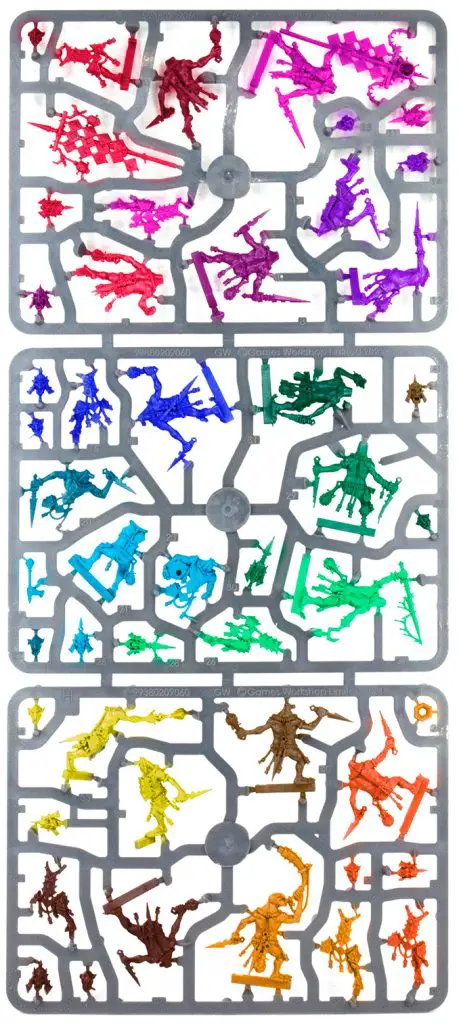 Das Aufschreiben war fast genauso mühsam wie der Aufbau. 49 Teile auf diesem Gussrahmen.
Zumindest die Teile liegen im Allgemeinen in der gleichen Nähe zueinander, obwohl es einige Nachzügler gibt.
Die Miniaturen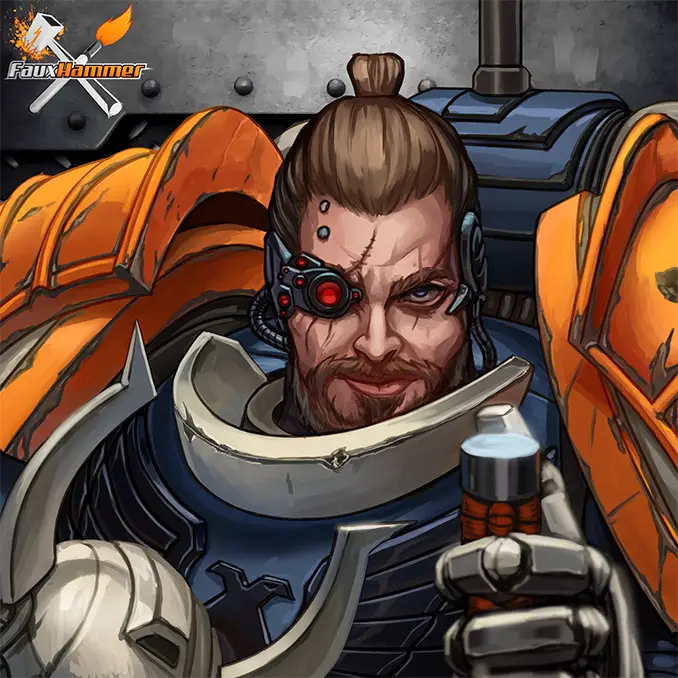 Denn die Angüsse in diesem Starter Set stammen direkt aus dem Herrschaft Box, vieles von dem, was Sie unten sehen werden, wird dem, was wir ursprünglich in unserem geschrieben haben, ziemlich ähnlich sein Dominion-Rezension – plus ein paar Einschübe im Nachhinein Jetzt haben sowohl Rob als auch ich alle unsere Figuren gebaut und angefangen sie zu bemalen.
Aufgrund der Ähnlichkeiten zwischen diesen Starter-Sets wird jeder, der alle drei Rezensionen liest, weitere Ähnlichkeiten zwischen ihnen feststellen. Wir haben dies getan, um sicherzustellen, dass die Angaben zu den Zahlen in jedem Testbericht gleich sind – wir möchten nichts zwischen den Artikeln verpassen!
Im Großen und Ganzen sind die Figuren, die Sie in den Starter-Sets finden, großartig. Ihre Builds sind dank des Steckformats einfach und intuitiv, sodass sie ideal für brandneue Bastler sind.
Stormcast Eternals
You'll find ten Stormcast Eternals figures in the Habringer Starter Set: five Vindictors, three Praetors, a Lord-Imperatant and his Gryph-hound. They're all great figures and will look awesome on your shelf, desk, tabletop, or wherever it is you decide to stash your (un)painted models.
Schauen wir genauer hin.
Verleumder
Du kriegst fünf Vindictors im Warrior-Set, aber jedes Modell kann auf zwei Arten zusammengebaut werden. Hier das Bild von unserem Herrschaft Überprüfung, die zeigt, dass jeder Vindictor mit seinem Varianten-Build zusammengearbeitet hat.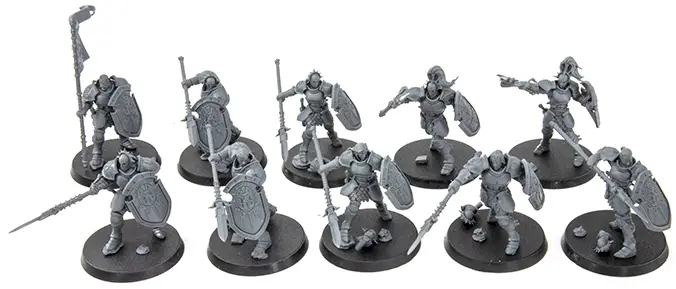 So kannst du bauen entweder die Figur in der oberen Reihe oder die direkt darunter. Das ist großartig, denn es gibt viel Spielraum, um Ihre neue Streitmacht zu personalisieren.
Diese Jungs zu bauen war einfach. Die Angussschleusen werden durchgängig an sensiblen Stellen angebracht. Während auf der seltsamen gewölbten Oberfläche aufgeräumt werden muss, verbinden sich alle Lücken, die von einer vernünftigen Panzerung bedeckt sind.
Lord-Imperatant mit Gryph-Hound
Der Lord-Imperatant ist mit Abstand einer der beeindruckendsten unter den neuen Stormcast Eternals-Figuren. Er ist mit tollen Details übersät – einschließlich eines Schulterumhangs, der ein Verwandter seines teilweise hundeartigen Begleiters zu sein scheint.
Hm. Seltsame Designwahl.
Im Vergleich zu vielen Figuren in diesem Set ist dies ein ziemlich komplexes Modell, aber es ist sehr gut zusammengestellt. Zu beachten ist, dass der Gryph-Hound eine Verbindungslinie über Brust und Wirbelsäule hat, die jedoch mit einem anständigen Plastikkleber und der anschließenden Reinigung, die nicht schwieriger sein sollte als das Entfernen einer Formlinie, verdeckt werden kann.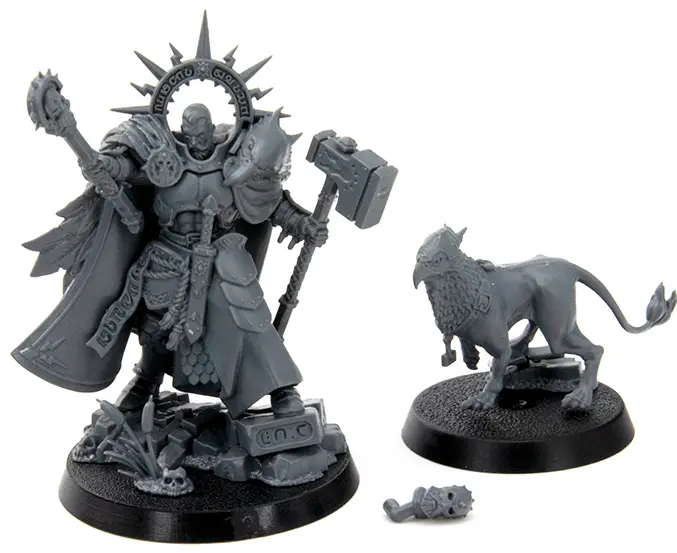 Das Bemalen der Innenseite der Robe mit der an der Basis befestigten Figur ist fast unmöglich. Achte darauf, dass du den Lord-Imperatant nicht an das Stück Stein klebst, auf dem er steht, damit du ihn entfernen kannst, um besser an das Innere der Robe zu gelangen.
Sowohl Rob als auch ich hatten ein großes Problem beim Bauen dieses Typen: die Lücke, um sich auf der linken Seite seines Umhangs aufzureihen, siehe unten.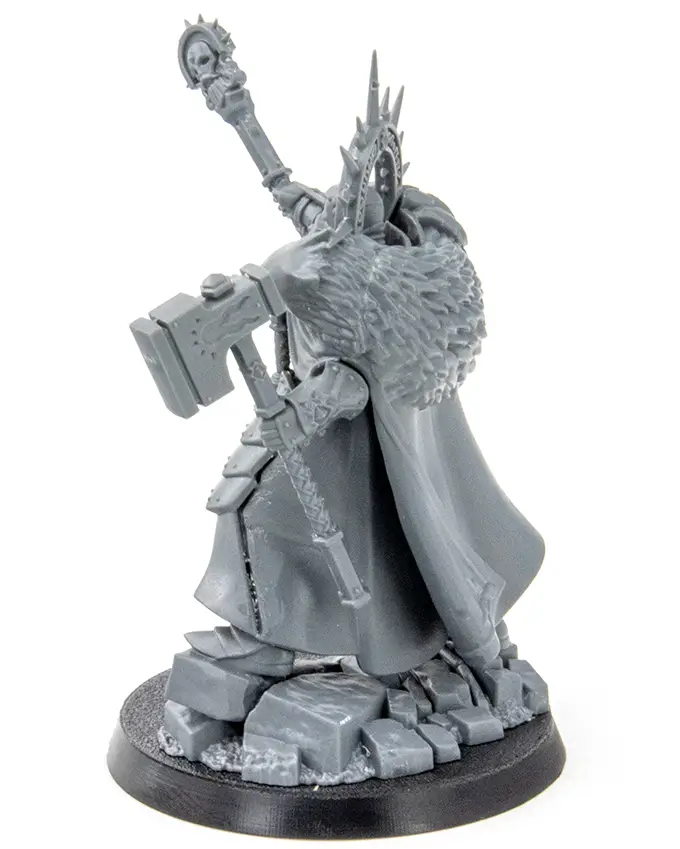 Prätoren
Die Prätoren sind eine großartige Ergänzung für jedes Starter-Set, da sie wirklich einfach zu bauen sind, aber nach Fertigstellung fantastisch aussehen.
Wie bei den Vindictors verfügt jedes Modell über mehrere Kopfoptionen, die Sie im Bild unten sehen können.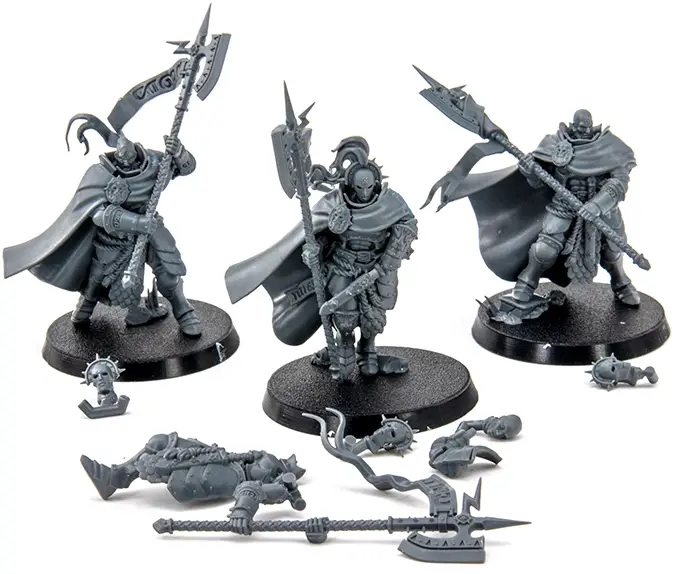 Eine Sache, die Sie bei diesen Figuren beachten sollten, ist die Verbindungslinie am Umhang auf jeder Seite. Noch einmal, etwas Angußkleber (das ist Kleber mit etwas altem Anguß, der zu einer geschmolzenen Plastikpaste gemischt wird) wird hier dein Freund sein und du kannst die Lücke verschwinden lassen, wie ich es auf dem Bild unten habe.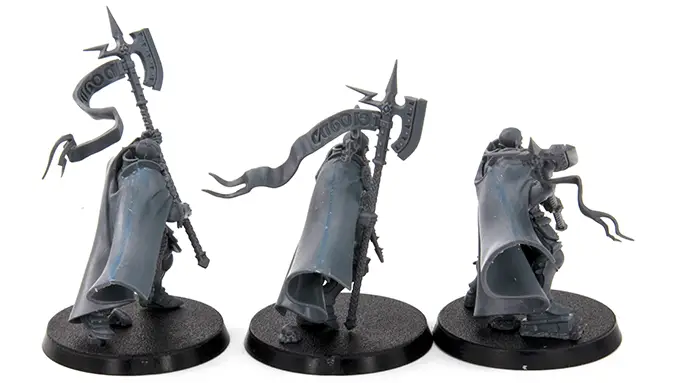 Die Innenseite des Capes ist über die Nahtlinie konvex, was das Aufräumen schwierig macht. Hier hilft nur ein dünnes, aber festes Schleifpapier und viel Geduld. Ich habe mich nicht darum gekümmert, das Innere zu machen.
Kleben Sie diese Figuren noch einmal nicht an ihre Basen. Sie möchten sie entfernen können, um die Innenseite ihrer Umhänge zu bemalen.
Kruleboyz Orruks
There are no less than twenty-two of the new Kruleboyz in the Harbinger Starter Set. There's a great selection of the new figures available in the box, and more than enough to kick-start – or, perhaps, reinforce – your Orruk army.
Gutrippaz
Dies sind entzückende Modelle, die sich leicht bauen und zusammenbauen lassen. Sie hatten nur die eine oder andere sichtbare Verbindungslinie, aber diese wurden alle sorgfältig entworfen, um sich sowieso in natürlichen Rüstungslücken zu verstecken.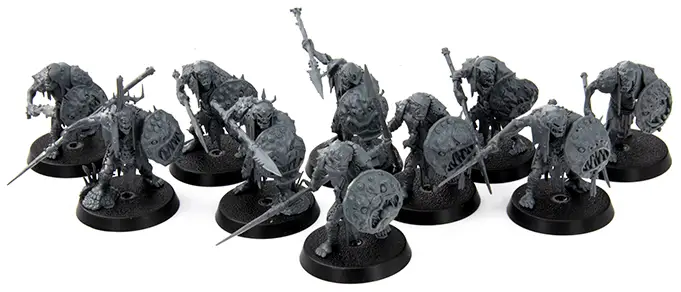 Das wirklich Tolle an diesem Set ist, dass jede Einheit in der Zehnergruppe unterschiedliche Skulpturen hat. Obwohl es Ähnlichkeiten von Figur zu Figur gibt – wie Sie es erwarten würden – sind keine zwei gleich.
Swampcalla-Schamane mit Pot-Grot
Der Swampcalla Shaman und sein rührseliger Landsmann sind vielleicht zwei der kultigsten und dynamischsten Figueres, die bisher in der AoS v. 3.0-Reihe veröffentlicht wurden. Ich meine, sieh sie dir an.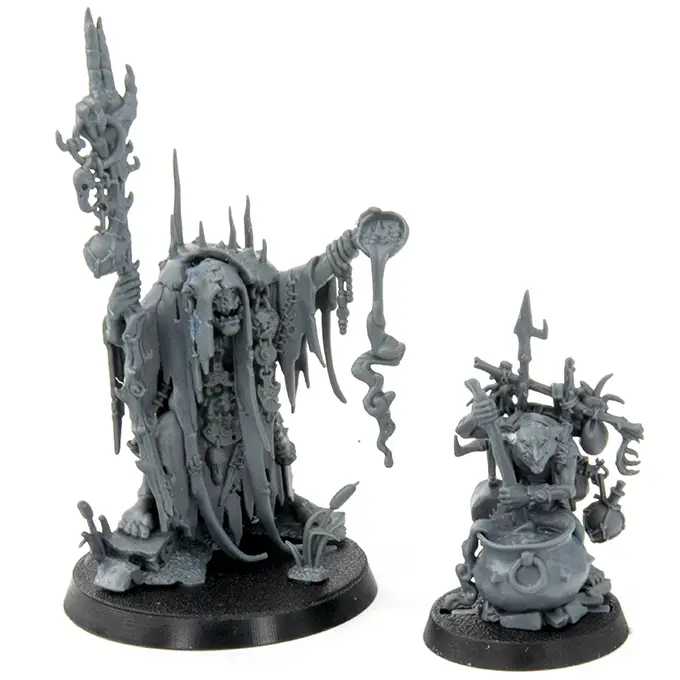 Leider ist der Schamane etwas schwieriger zu bauen. Im Nachhinein wünschte ich, ich hätte bei dieser Figur nur die Steckstifte entfernt und ihn an den Nähten zusammengeklebt. Viele der Steckteile fühlten sich etwas zu eng an, und bei den Teilen, die so zerbrechlich waren, war es schwer, keine großen Lücken zu haben. Wie zu erwarten, musste ich mich mit dem Angusskleber ganz schön amüsieren.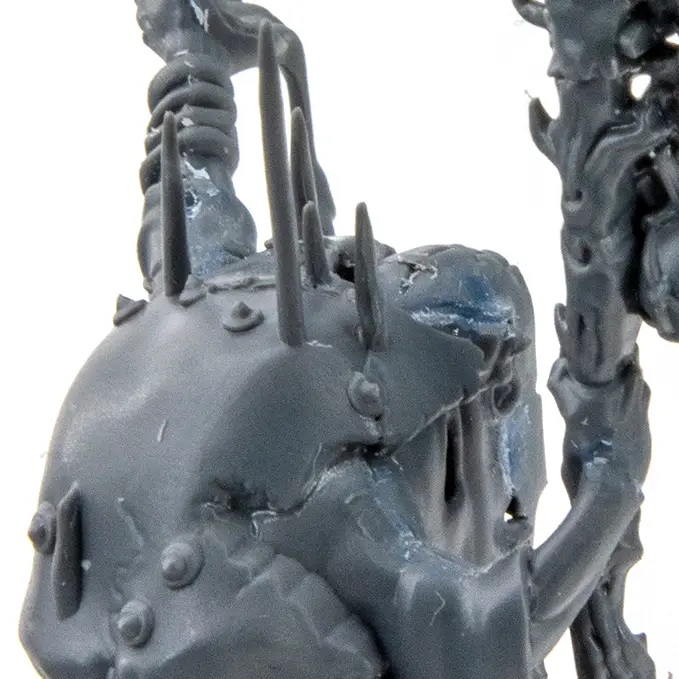 Das anschließende Aufräumen war jedoch eine echte Qual, da ich viele Bereiche, die ich brauchte, einfach nicht erreichen konnte. Am Arm hat es gut funktioniert, aber für seine Kapuze habe ich Lücken geglättet, die als Löcher hätten bleiben sollen.
Hobgrot Slittaz
Wie ich ursprünglich in unserem sagte Dominion-Rezension, Ich möchte dem Bildhauer, der diese entworfen hat, ein großes Lob aussprechen, weil sie unglaublich detailliert sind.
Aber ich hasse sie einfach. Und nachdem er jetzt alle seine gemalt hat, tut es auch Rob.
Es waren zwanzig davon in Herrschaft, which was far too many. Having ten of them in the Harbinger Starter Set still feels like a lot – but maybe that's an opinion coloured with a degree of hindsight. At the end of the day, I'm not a gamer: I paint, and I get bored painting 5 of the same units.
Ein weiteres Problem mit den Hobgrots (Hobgrotz?) Schaut euch an, sie sind nicht so unterschiedlich.
Hier sind die ersten fünf Figuren auf dem zehnstelligen Gussrahmen, die jeweils mit ihrem alternativen Aufbau übereinstimmen.

Und die zweiten fünf, wieder mit ihren Stellvertretern.

Viel Unterschied. Viel Abwechslung. Aber irgendwo ist das Funkeln verschwunden.
Perhaps it's their build guide. Their guide is a pain to follow, cleaning mould lines from them is incredibly tiresome, and many of the sprue gates sit on shoulders or chins which need shaving down and cutting off. My hands already hurt before I started these (as the last thing I built) and by the end, I was not happy. Should have done these crappy ones first.
Aber auch hier wieder wirklich detaillierte Modelle. Kreativ durchdacht am Gussrahmen und der Bildhauer darf stolz sein.
Warhammer Age of Sigmar: Warrior Starter Set Review – Spieltest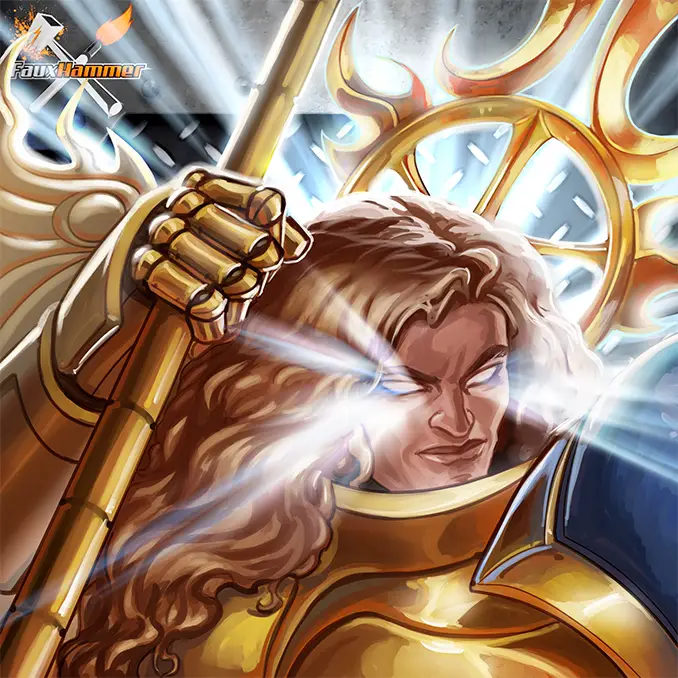 Right, here we are again.
Having playtested the Warrior Starter Set successfully in the previous review, it's time to move on to the Harbinger playtest.
Once again, you will notice some crossover. The five battleplans included in the Warrior, Harbinger and Extremis books are all the same – save that they have been appropriately tweaked to foster in the slight variation in units and terrain that you'd find from set to set.
This set, for example, does not have any cardboard scenery in it as the prior two do. This will affect the set up on certain missions. However, because all the figures in this set are also available either wholly or in part in the other two sets, some of the battle report below might look familiar.
Wie ich in der vorherigen Rezension sagte und dies jetzt wieder tun werde, werde ich die Spielmatte, die in dieser Box enthalten ist, nicht für diese Spieltests verwenden. Nachdem ich alle drei Starter-Sets überprüft habe, werde ich die Matte gegen das Board austauschen, das mit dem Extremis-Setm geliefert wird, da es viel schöner ist, darauf zu spielen und zu fotografieren.
Der Abschnitt "Wiedergabe starten" beginnt auf Seite 60 des Vorbote-Edition Regelbuch und enthält fünf Szenarien, die angehenden Spielern die grundlegenden Ins und Outs von Age of Sigmar beibringen sollen. Wir werden uns diese der Reihe nach ansehen, beginnend mit…
Tutorial Battleplan 1: Gestrandet
Der erste Battleplan wurde entwickelt, um Ihnen die Grundlagen des Aufladens und Kämpfens im Laufe eines Spiels von Age of Sigmar beizubringen. Es treten zwei Gutrippaz gegen eine lange Vindictor-Prime an. Nachdem die Platine gemäß den im Buch beschriebenen Spezifikationen eingerichtet war, konnten wir beginnen.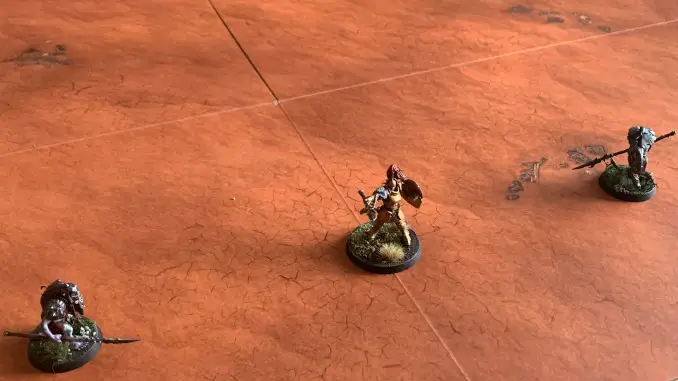 Just quickly, before we do, people who are more familiar with the rules of Age of Sigmar, or those who read our Warrior Starter Set review will notice a few 6s rolled throughout the earlier stages of these battleplans that are not allocated as Mortal Wounds. This is because the rule isn't introduced until a little later in the book, so we'll wait until then before we start doing that.
Nach dem Vorbote-Edition book, the Kruleboyz went first and charged. To charge, each unit (in this case, each Gutrippa on the field) rolls 2D6 to see if they can close the gap between them and their target – the sum-total of what is rolled on the dice is how many inches that can be charged. With some decent rolls, the Gutrippaz borth closed on the Vindictor-Prime.
Each Gutrippa has two attacks and hits on a 4+, so the next thing to do is roll four dice. Of the four rolled, only two were a 4 or higher, so those two dice are rolled again to see if the Gutrippaz' strikes cause wounds. Again, wounding on a 4+, the Gutrippaz had to roll a 4, 5 or 6 to wound – and possibly kill – the Vindictor-Prime.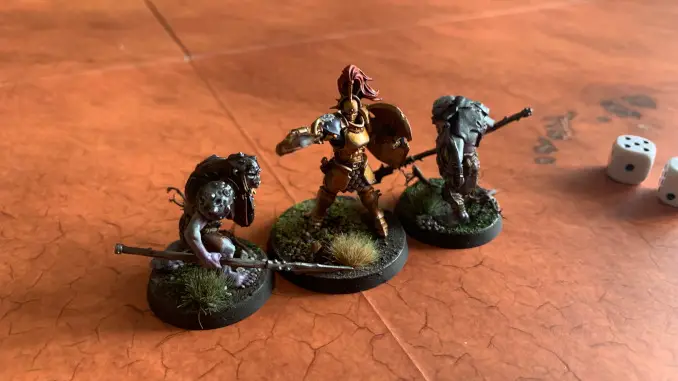 Alas, no such luck. Both hits failed to wound, and the Fight Phase passed to the Vindictor-Prime, who promptly rolled 3 successful Hits and 3 successful Wounds, leaving one Gutrippa to try and save against three potential Wounds. With a 5+ save, the Kruleboy only saved against one of the Wounds. Gutrippaz can only take two wounds before dying, and so one of the Gutrippaz was slain.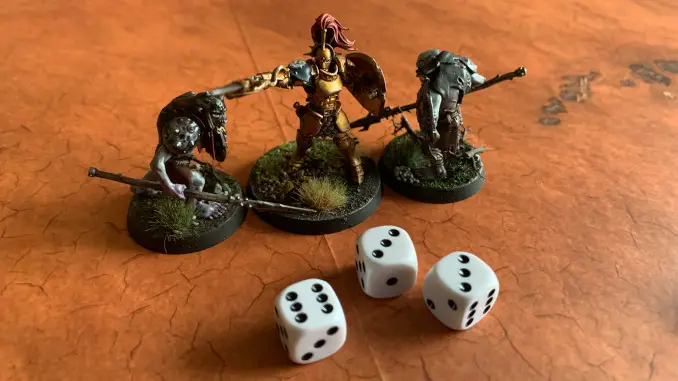 Turn priority passed to the Stormcast Eternals, but this time the Vindictor failed to cause any wounds to the remaining Gutrippa, so the Fight Phase passed back to the Kruleboyz (or, more accurately, Kruleboy).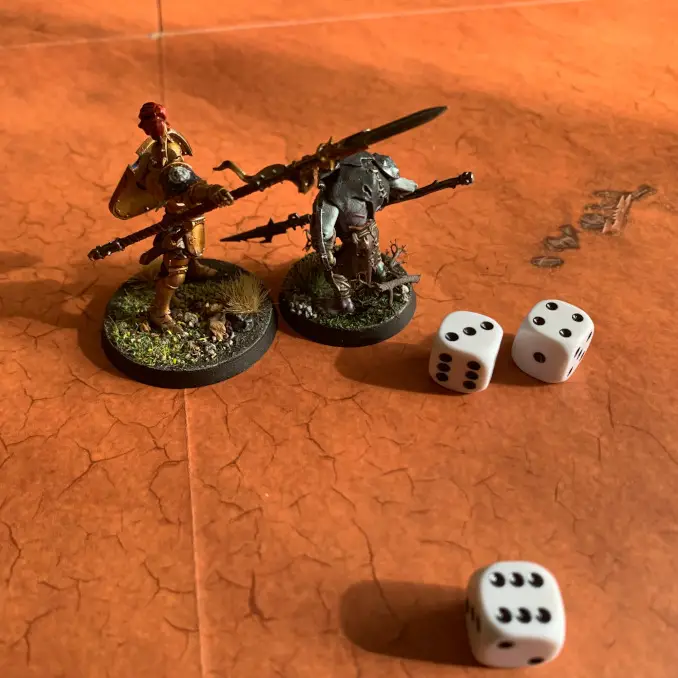 The Kruleboy came out fighting, inflicting a Wound on the Vindictor-Prime – one more and he wound be defeated and victory would pass to the orruks. But in his turn, the Kruleboy failed to get through the Vindictor-Prime's defences, and was slain in the Stormcast's part of the Fight Phase.
Tutorial Schlachtplan 2: Hochland
The second Battleplan in the sequence is designed to to teach players about moving around the battlefield and handling terrain. For this, we needed to set up the Cardboard Box of Destiny XL: the Dawnbringer Bastion (which is twice the size of the one in the Warrior Starter Set).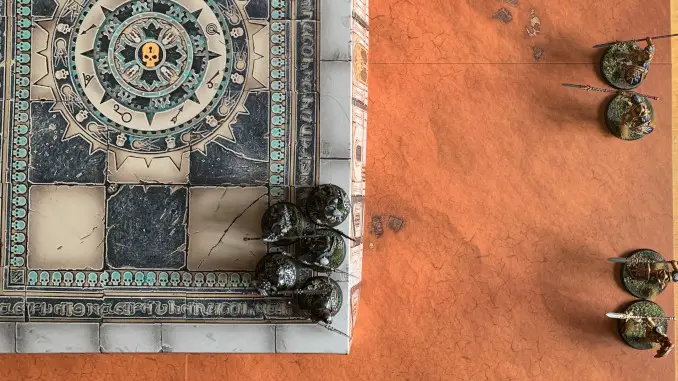 With everything set up, the rules dictate the Stormcast Eternals move first. Moving in tow units, the southernmost pair moved their maximum move distance of 5″ towards the pack of Gutrippaz, whilst the northernmost pair threw caution to the wind and, after their 5″ move, rolled to Run. To run, a movement rolls a d6 and adds the resulting number of inches to their standard move characteristic. In this instance, the Stormcasts rolled a 5, so were able to move an additional 5″ (as long as they didn't end within 3″ of the Gutrippaz), scaling the Bastion's wall.
Next, the Stormcast Eternals charged. Only the pair of Stormcast Eternals who had not run could charge this turn. With a successful roll, they closed on the Kruleboyz, though they couldn't move onto the structure. With a range of 2″ on their spears, the Stormcast Eternals could attack up at the Gutrippaz , but the Gutrippaz' elevated position meant they were in cover, giving them a +1 to their save.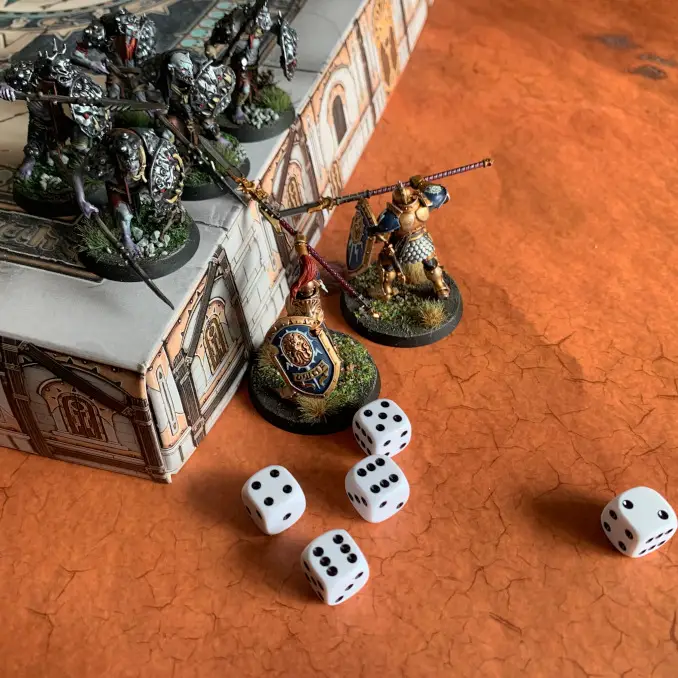 Still, following the Stormcast Eternals' Fight Phase, one Gutrippa was killed. Following a singularly dreadful orruk Fight Phase (only the front most pair of Gutrippaz could attack; of four dice rolled, one Hit and Wounded, but was saved with a roll of 6), it was time to introduce the Battleshock phase.
The Battleshock Phase is, essentially, a renamed Morale Phase. for each unit that has lost a model, roll a D6 and add the number of models killed in that turn. For every point by which the score exceeds the unit's bravery score, a model in the unit flees.
In this instance, a D6 + 1 was rolled, the +1 added for the single Gutrippa killed. With a roll of 4 and, therefore, a total of 5, the value matched the Gutrippaz' bravery characteristic, which means none of their number fled. Had it been 1 higher, a single Gutrippa would have fled. Had it been 2 higher, a pair would have fled and so on.
In the orruk turn, the remaining Gutrippaz piled in and rolled well to hit the Stormcast Eternals. Unfortunately, the Vindictors rolled better and, once again, saved all potential wounds.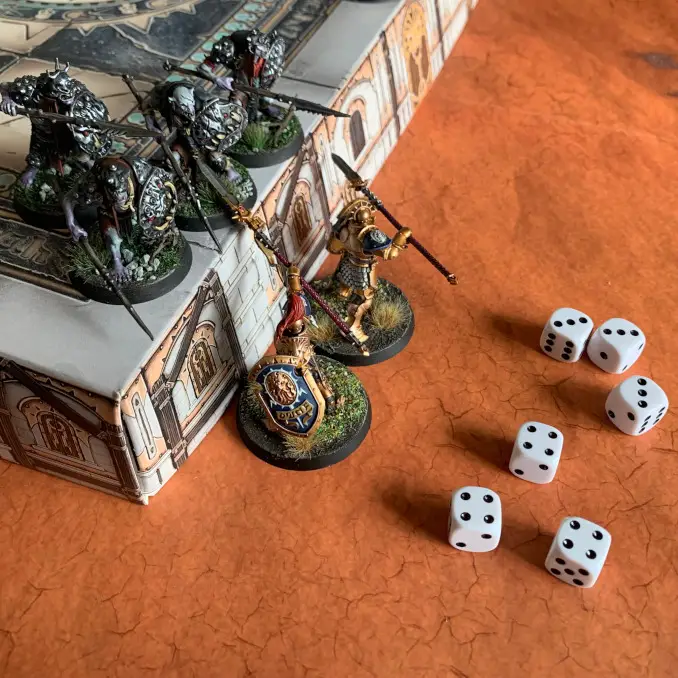 In response, the Vindictor and Vindictor-Prime struck back, killing a Gutrippa and wounding another. In their Battleshock phase, the orruks rolled a 6, adding 1 to make the value a 7. Two Gutrippaz fled the field, leaving only one remaining and the priority passing to the Stormcast Eternals.
The remaining Vindictors charged and the final Gutrippa was assaulted on all sides by stabbing Stormcast spears. However, the Vindicotrs could only score a single wound on the Gutrippa, who was unable to score any Wounds in his part of the Fight Phase.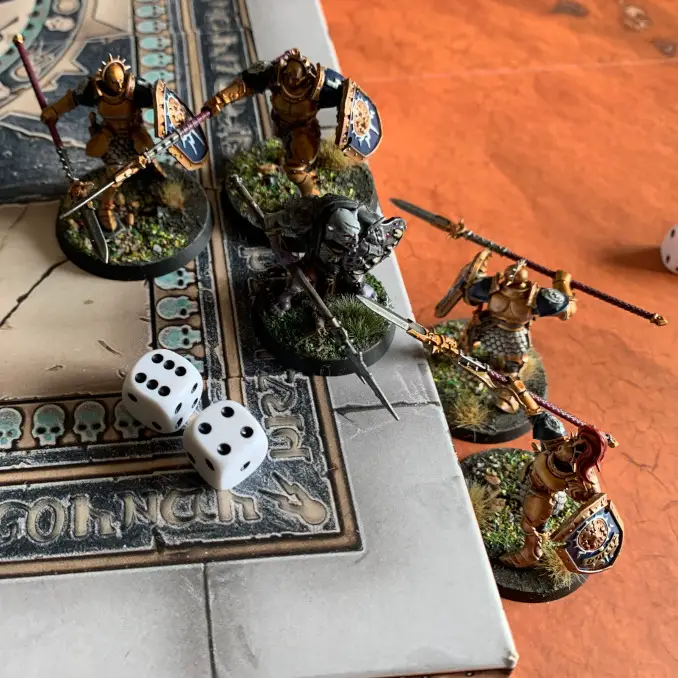 It was just a matter of time befoer the last Gutrippa was killed, and on the next Fight Phase the final Kruleboy was ousted following an eye-wateringly poor Save roll.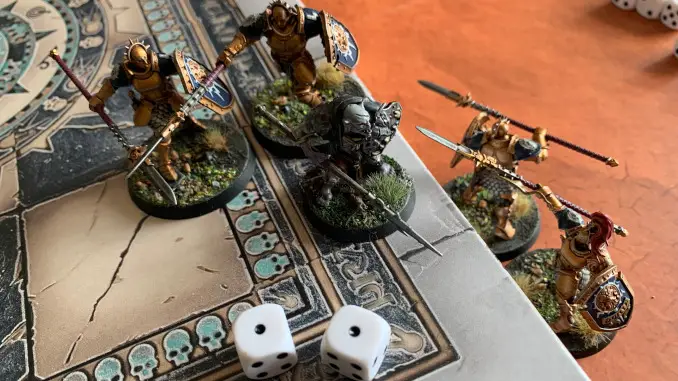 Oh well. Man of the match that guy.
Tutorial Battleplan 3: Zielen und schießen
As you might expect from its name, this Battleplan introduces the fundamentals of ranged attacks in a round of play. The Vindictors and Gutrippaz, neither of whom have ranged weapons as standard, are provided with these:
Hier ist der Statistikblock für jeden Müll, der den Kämpfern in die Hände fällt.
| | | | | | | |
| --- | --- | --- | --- | --- | --- | --- |
| RAKETENWAFFEN | Bereich | Anschläge | Schlagen | Verwunden | Zerreißen | Beschädigung |
| Geschleuderter Schutt | 9″ | 1 | 3+ | 4+ | - - | 1 |
Nice, eh?
It's interesting that the setup for this Battleplan don't utilise the Hobgrots, who actually have a ranged weapon on their warscroll. Either the Hobgrots' shrapnel grenades would totally unbalance the Battleplan, or Gee-Dubyah got a little happy with the copy-pasting (something I can understand having had to review three of these boxes!).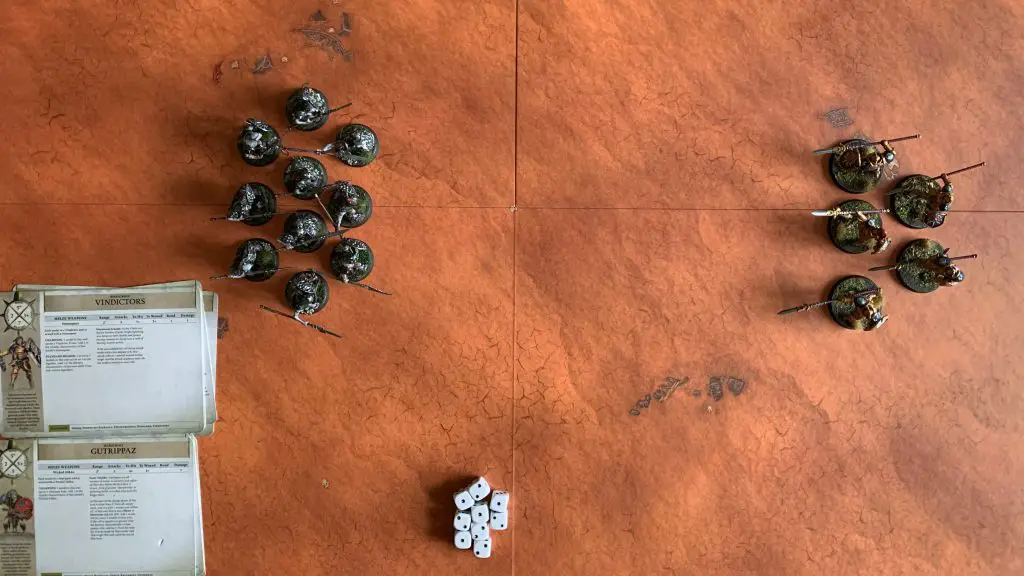 Wie auch immer, weiter.
The round begins with the Stormcasts moving into shooting range. With only the front trio able to throw stuff at the nearest Kruleboyz, the Stormcast Eternals were only able to inflict a single wound on the orruks. attempting to charge, the Vindictors only managed a 5 – not enough to move into range of the orruks, and thus the turn passed to them.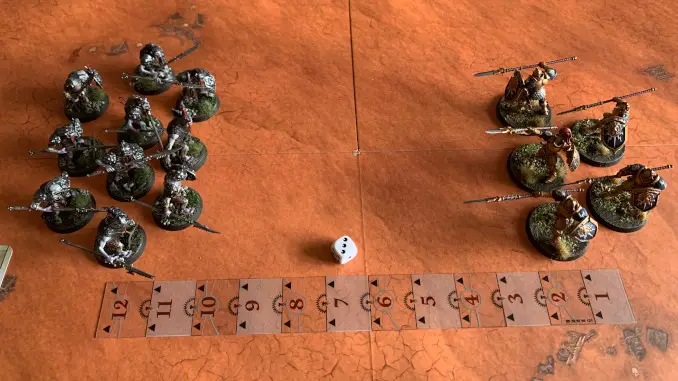 The orruks moved up, closing the gap on the Vindictors. Having managed to knock a chunk out of a Vindictor with some thrown missiles, the Gutrippaz charged.
With the Gutrippaz piling in and now well in range of the entire unit of Vindictors, and the reminder to check your Warscrolls for additional abilities outlined in this part of the Battleplan (okay, it was actually at the very end of the previous Battleplan but I missed it because I'm the worst), 6s now counted as Mortal Wounds for both sides.
The Kruleboyz delivered an absolutely devastating Fight phase and killed a pair of Vindictors – mostly thanks to the new 6s equals Mortal Wounds rule.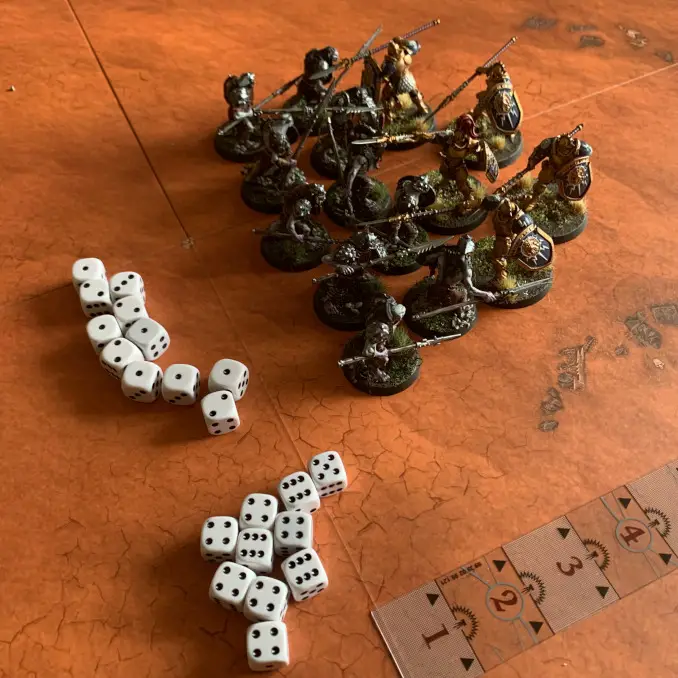 In their part of the Fight Phase, the Vindictors managed to prod a single Kruleboy down, but that was about it. With turn priority passing back to them, it wasn't looking good. Still, the resolute Sons of Sigmar passed their Battleshock phase, and the three remaining warriors stood resolute.
The Special Rules attached to this Battleplan state that at the start of each shooting phase, units can make ranged attacks. Its not clear if said units can make ranged attacks if they are in melee range of or are otherwise being attacked by another unit, but we decided to go with it – similar to how units with pistol-type weapons can shoot if in melee range in 40K.
Miraculously, the Vindictors thrown rocks managed to kill another Gutrippa, and followed this up with another kill and a wound in their Fight Phase, but the Gutrippaz were just as tenacious. Thanks to a handful of 6s, another Vindictor was slain and another wounded.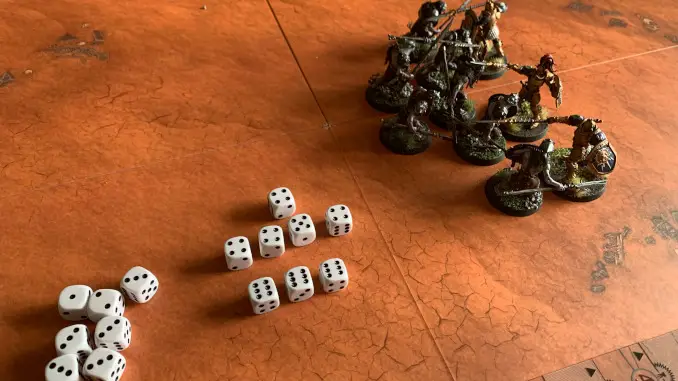 The resulting Battleshock phase, the Stormcast Eternals stood their ground, but a roll of 6+2 for the Gutrippaz saw three of their number flee the field. Who knew lobbed rocks were so terrifying?
The orruks began their turn by pelting the Stormcast Eternals with anything they could get their hands on, killing another and wounding the remaining Vindictor-Prime and reducing them to a single wound. Then, on the first roll of the Fight Phase, the Gutrippaz managed to roll a single 6 – one unsavable Mortal Wound, and enough to kill the Vindictor-Prime.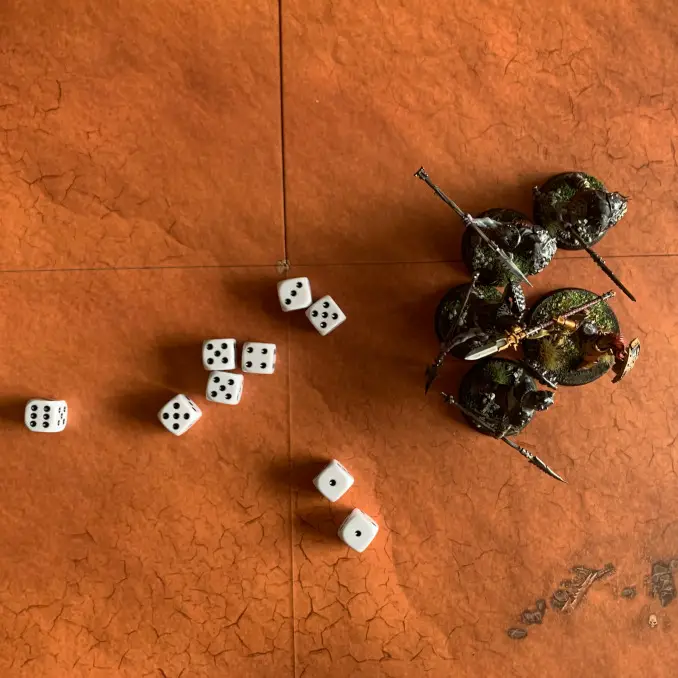 Victory Kruleboyz.
Tutorial Battleplan 4: Magie
Wieder einmal gibt es absolut keine Preise, um zu erraten, worum es in diesem Battleplan geht. Dieser Schlachtplan wurde entwickelt, um dir zu zeigen, wie Zauberer im Verlauf einer Schlacht Zauber wirken.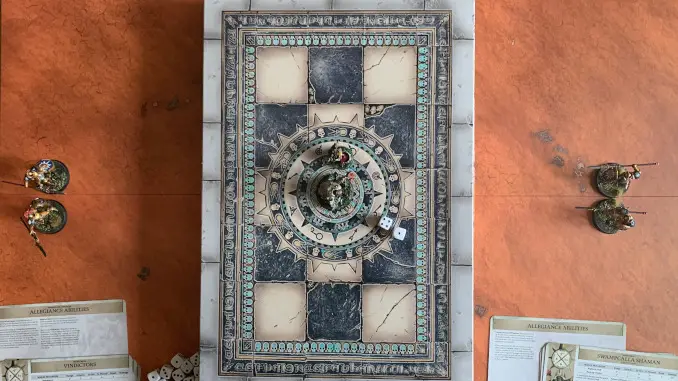 The game started with the Swampcall Shaman, who cast Arcane Missile on the pair of Vindicors on the eastern side of the board. With a casting value of 5, and 5 being rolled on two dice, one of the Vindictors suffered a Mortal Wound. The Shaman decided to stay put for the rest of the turn and wait for the Stormcasts to come to him.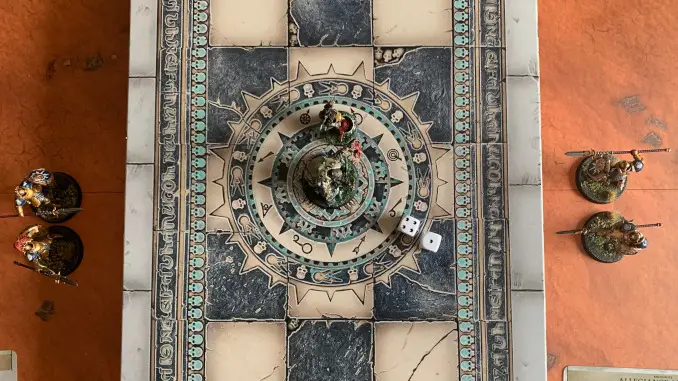 It was a good move. Following their maximum move of 5 inches, each pair of Vindictors would have to succeed on a charge roll of 8 in order to close to within half an inch of the shaman and succeed on the roll: 1″ to the wall, 2″ up the wall, and then 5″ to cross the Bastion and reach him. The eastern Vindictors failed their charge, but the western pair, which included the Vindictor-Prime, succeeded.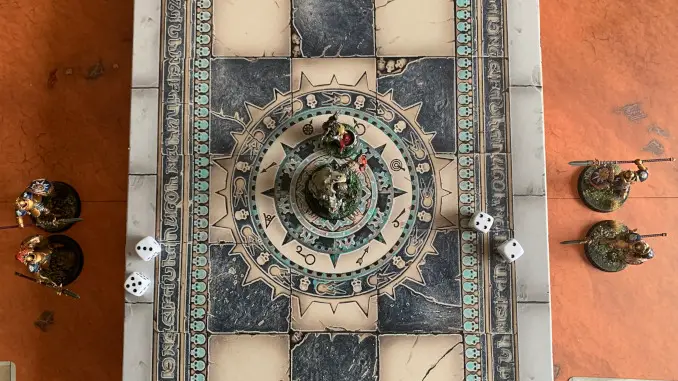 In the subsequent Fight Phase, the pair of attacking Vindictors struck the Swampcalla Shaman for no less than three Mortal Wounds in their To Hit phase, and a further Wound the Shaman failed to save against, reducing him and his Pot-grot from 6 wounds to 2.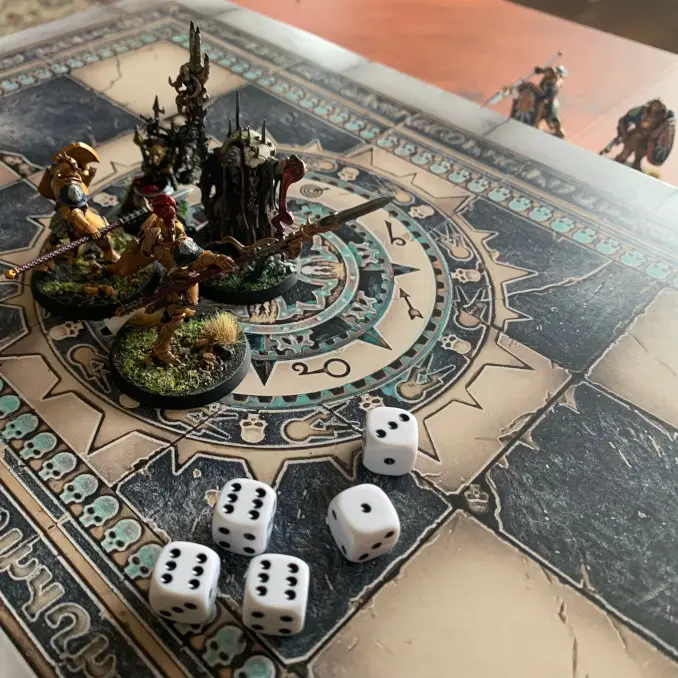 The Shaman and Grot responded with similar ferocity and managed to carve two Mortal Wounds onto a Vindictor, killing one. The Prime passed their Battleshock phase, and the turn passed back to the Swampcalla Shaman.
With the Vindictor Prime now within 3″ of the Shaman, the damage value on his Arcane Missile changed from 1 Mortal Wound to D3 Mortal Wounds (take a D6, 1-2 = 1 Wound; 3-4 = 2 Wounds; 5-6 = 3 Wounds). With a successful cast roll and a subsequent roll of 3 on a D6, the Vindictor-Prime was killed by the grinning Shaman.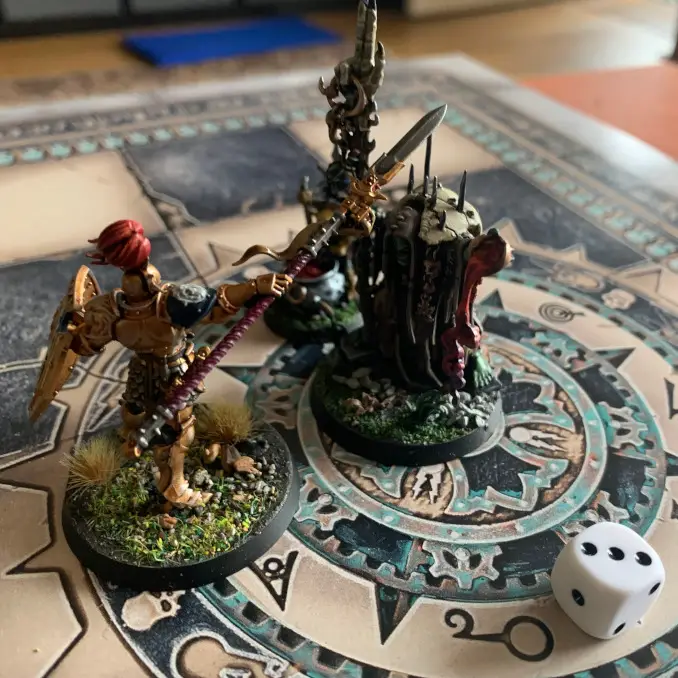 to try and make charging as difficult as possible for the remaining Vindictors, the Shaman and Pot-grot shuffled to the far side of the Bastion. With nothing left to do, the turn passed to the Stormcast Eternals, who moved their full 5″ onto the top of the Bastion and prepared to charge.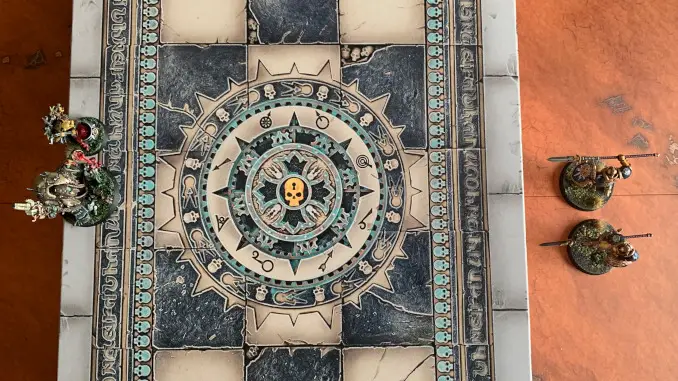 Again, needing a value of 8, the odds were against them, and with a roll of 7 they could not charge.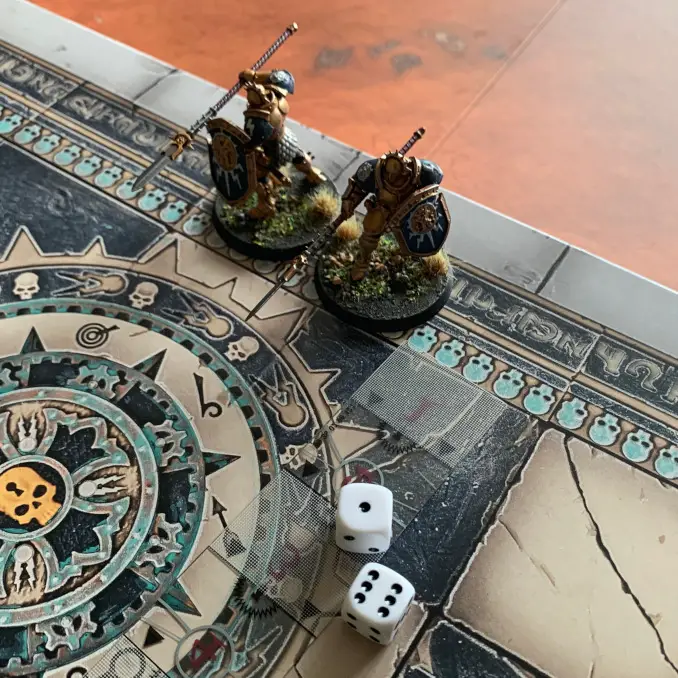 In the next Hero Phase, the Shaman blasted another single Mortal Wound out of the Stormcast Eternals before shuffling back again, keeping the distance between himself and the attacking Vindictors.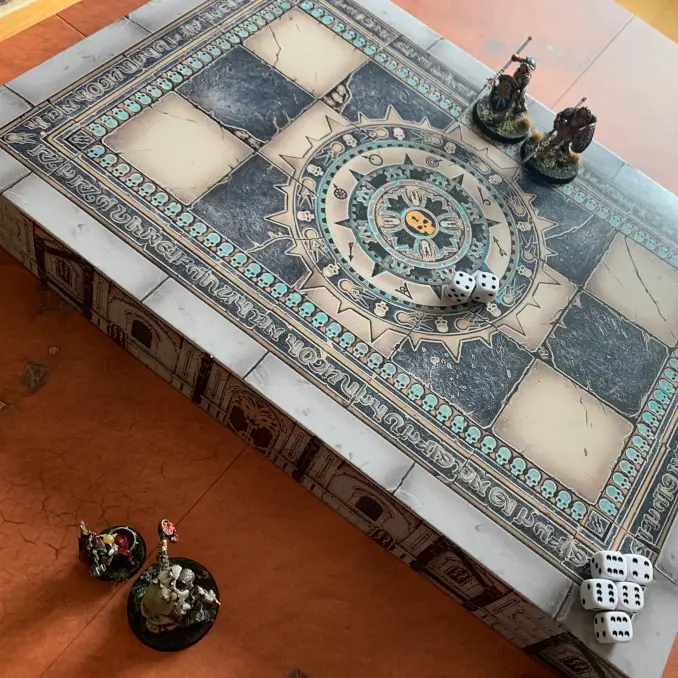 In their next turn, though, after moving their full 5″, the Vindictors rolled the necessary 8 required to close the gap between themselves and the Swampcalla Shaman.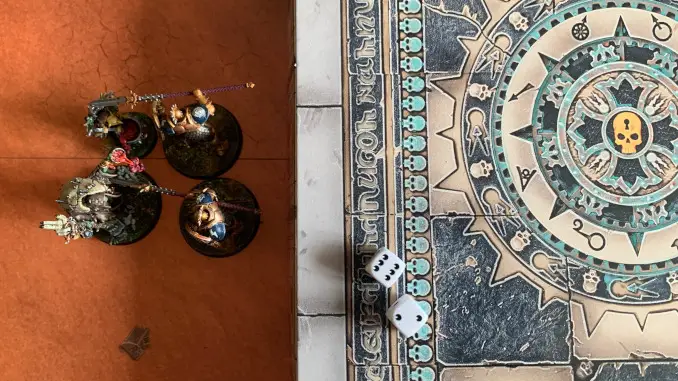 Then, their To Hit roll yieled a pair of unsavable Mortal Wounds, enough to kill the shaman.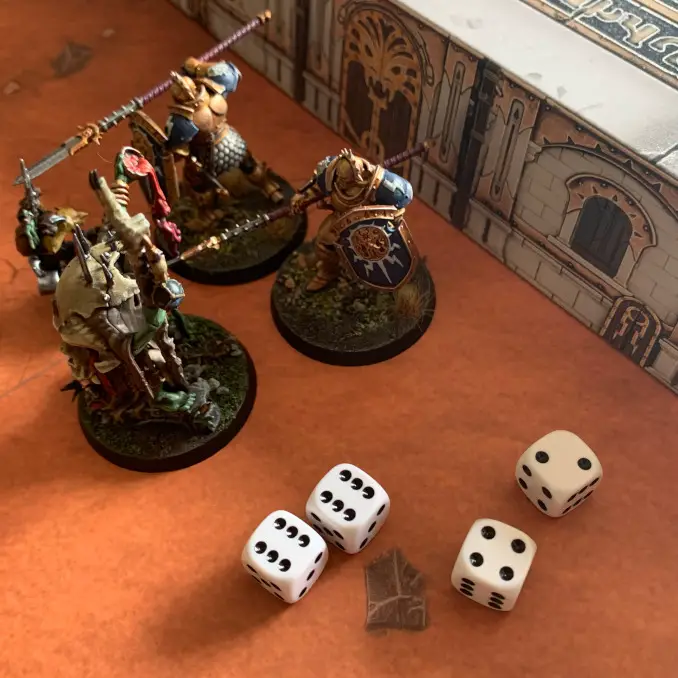 A close-fought thing, but victory to the Stormcast Eternals.
Tutorial Battleplan 5: Geheiligter Boden
Das ist es, der Große.
Dies ist der Schlachtplan, der alles, was Sie in den letzten vier Schlachten gelernt und getestet haben, in einem zusammenfasst. Mit allen Figuren und Ressourcen, die im Warrior Starter Set verfügbar sind, sind die Stützräder ausgeschaltet und es ist Zeit, Age of Sigmar wirklich zu spielen.
Aber es gibt eine klein Problem.
Als ich das Brett für dieses Spiel aufstellte, stieß ich auf einen Satz in dem Buch.
"Stellen Sie an den auf der Karte angezeigten Orten Zielmarkierungen auf."
Objektive Marker?
Es gibt keine Zielmarker – oder Dinge, die Sie als Zielmarker verwenden könnten – im Warrior-Starterset enthalten. Auch angesichts meiner Abneigung gegen das Malen von Landschaften und der Tatsache, dass meine Kopie von Verfluchte Stadt unberührt bleibt, habe ich festgestellt, dass ich auch nichts habe, was ich als Zielmarkierung verwenden könnte!
Nachdem ich in der letzten Woche so viel Zeit damit verbracht hatte, für dieses Review schöne bemalte Figuren zu haben, zögerte ich, so spät im Kampfbericht unbemaltes Plastik auf das Brett zu werfen. Aber dann hatte ich einen Geniestreich. Wenn ich ein Orruk wäre und ich gerne Fings brechen und Sachen von 'Umies knacken würde, was würde ich dann von einem Stormcast Eternal klauen wollen? Und wenn ich ein Son of Sigmar wäre, was würde ich wirklich? nicht Willst du, dass ein Orruk mich abklemmt?
Eine Celestar-Balliste.
With three Celestar Ballistae set up as objectives, we set up our armies. After some rolled dice, it was decided that the Stormcast Eternals would be getting the first turn.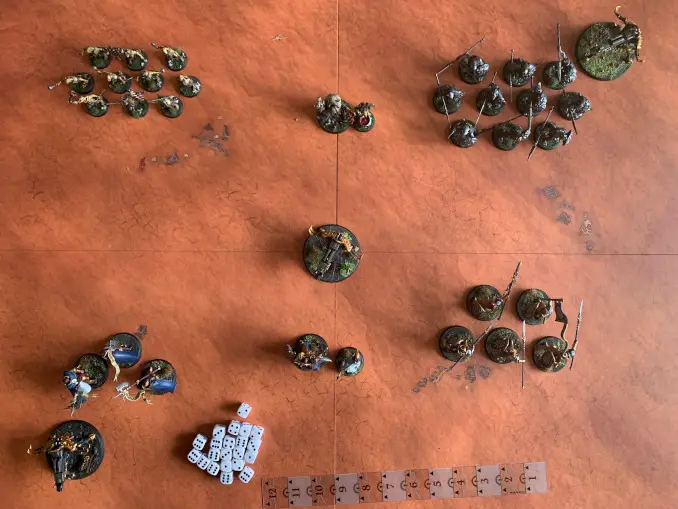 In the Movement Phase, the Stormcast Eternals advanced, hoping to secure victory by keeping the Kruleboyz away from the central objective and the one which they started closest to. The Lord-Imperatant tried to smite the Swampcalla Shaman with his Stormcaller Baton, but the cunning orruk resisted the attack.
Every Stormcast Eternal unit charged: the Lord-Imperatant leading the way into the Shaman, the Praetors piling into the Hobgrots, and the Vindictors into the Gutrippaz.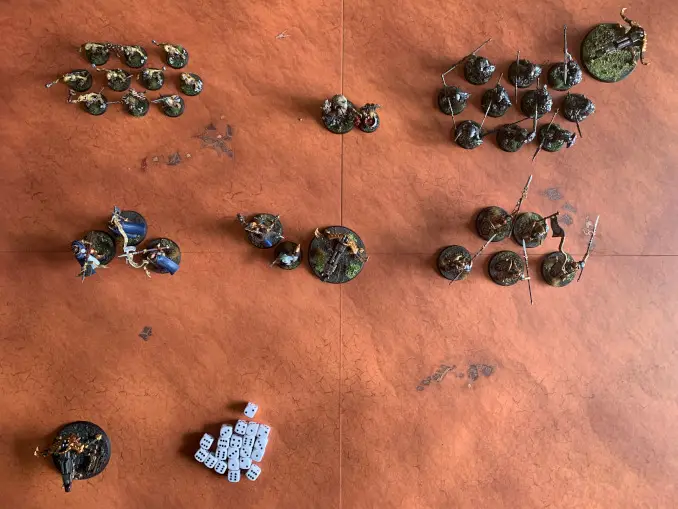 The Lord-Imperatant, swinging his mighty warhammer, struck two Wounds from the Shaman. His faithful Gryph-hound chewed another from the Shaman, reducing him from 6 wounds to 3. Meanwhile, on the left flank, the Praetors set into the Hobgrots. With a 6+ Save and a -1 inflicted by the Praetor's Rend on their weapons, three of their number fell.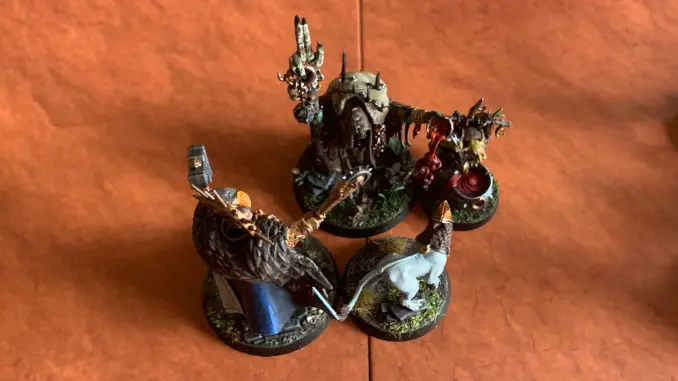 On the right flank, the Vindictors struck the Gutrippaz for two Mortal Wounds, killing one of their number, but managed to do nothing else.
The Hobgrots responded to the Praetors with particular venom. Their Stab 'Em Good characteristic allowing them to roll two To Wound dice for any To Hit roll that's an unmodified 6. In spite of some phenomenal rolls, the dice favoured the Praetors who survived, having taken two wounds.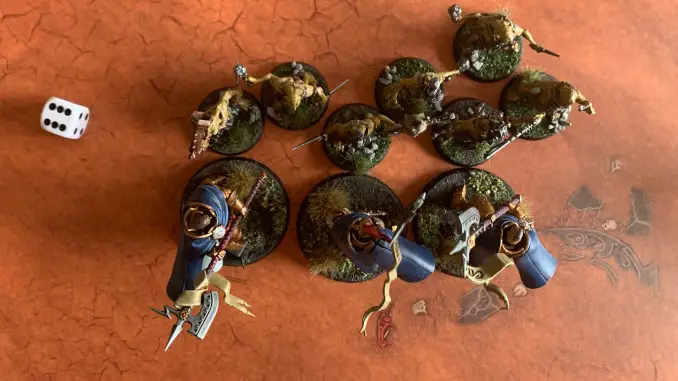 The Gutrippaz had more success. rolling well to Hit and Wound, two Vindictors fell, but the two slain Vindictors' Blaze of Glory characteristic struck hard into the Gutrippaz, killing one outright and wounding another.
Finally, the Swampcalla Shaman struck back against the Lord-Imperatant, inflicting two wounds against the Stormcast Eternal Hero and bringing him down to 5 wounds. His Pot-grot accomplice faired poorly: the one attack that landed being saved by the mighty warrior.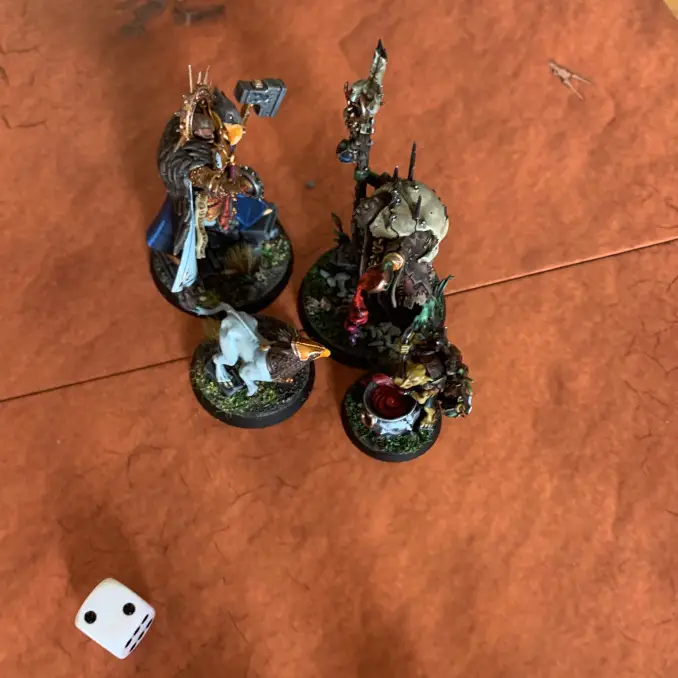 The Kruleboyz faired exceptionally poorly in the Battleshock phase. The Hobgrots, with three of their number slain, a subsequent roll of 6 on a D6, and a Bravery statistic of 4, saw five of their number fled the field in the face of the Praetors' swinging halberds. On the other flank, the Gutrippaz also rolled a 6. With a Bravery stat of 5 and two of their number dead, a further three of their number fled the field.
The Vindictors, with a Bravery stat of 7 (+1 thanks to the Banner Bearer), a roll of 2 remained resolute in spite of their two losses. With all the objectives contested – bar the one the Stormcast Eternals had abandoned – no-one was awarded any points.
Still, the turn passed to the orruks. In the Hero Phase, the Swampcalla Shaman blasted the Lord-Imperatant with an Arcane Missile, reducing him now to 4 wounds. In the Shooting Phase, the Hobgrots' grenades failed to wound the Praetors, as did their attacks in the Fight Phase – in spite of a roll of a 6 to double the Wound rolls made against the Stormcast Eternals.
The Gutrippaz fared better, causing two Mortal Wounds to the Vindictors and killing another of their number. But the Vindictor's Blaze of Glory ability killed another Gutrippa. The shaman and his Pot-grot managed to further injure the Lord-Imperatant, bringing him down to 2 Wounds.
In their ensuing Fight Phase, the Vindictors only managed to scrape a solitary Wound into the Gutrippaz. On the opposite flank, the Praetors despatched the remaining Hobgrots, and in the middle of the field the Lord-Imperatant lashed out at the Shaman.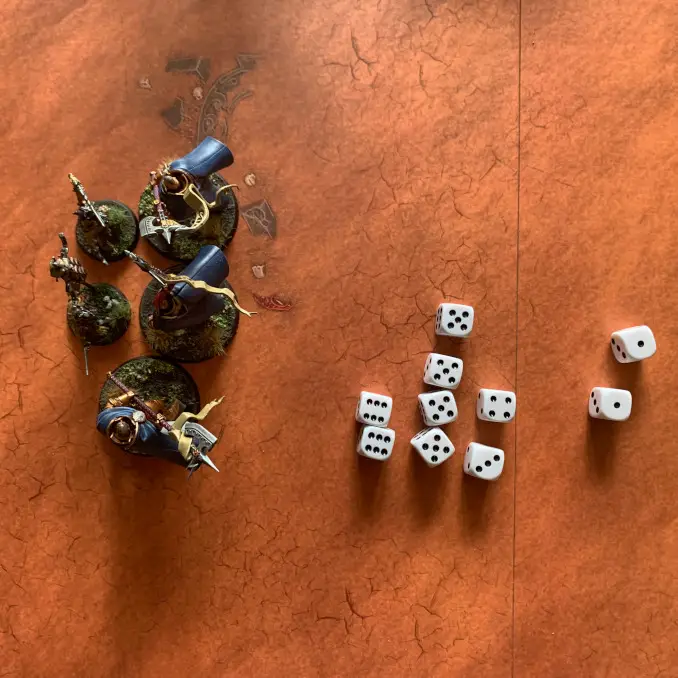 It's at this point I notice a little "2" written underneath the Damage characteristic on the Lord-Imperatant's warhammer. With that in mind, the Shaman should've been slain in his first turn, but never mind – it made the game more exciting!
This time, the Stormcast Hero only managed to make one blow connect with the Shaman, reducing him to a single wound. With the Shaman on his last legs, the door was open for the Gryph-hound to finish him off, but no such luck. Failing his To Wound roll with a pair of 1s, the Shaman lived to fight on.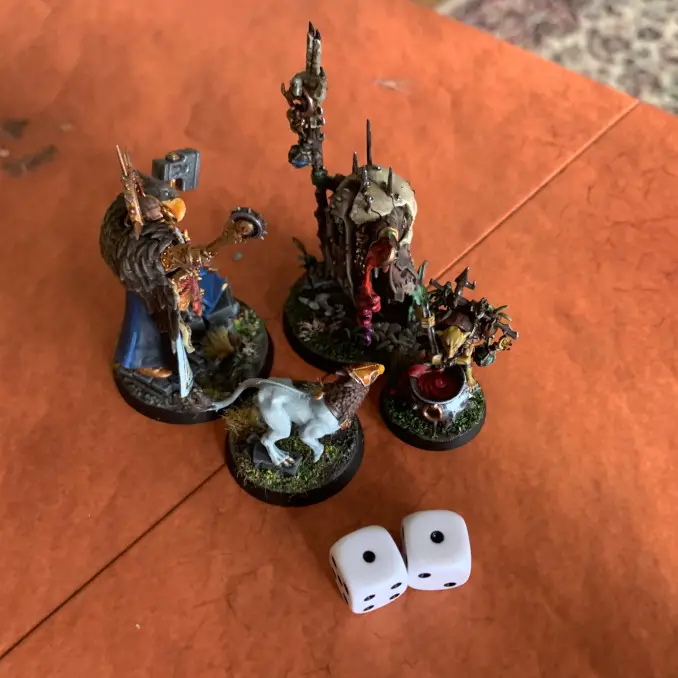 With the Vindictors and the Gutrippaz having lost a model each this turn, each rolled for Battleshock. The Vindictors passed easily, but with yet another 6 on the roll, a further trio of Gutrippaz fled the field – just as the turn passed back to the Stormcast Eternals.
Free from their skirmish with the Hobgrots, the Praetors charged into the Swampcalla Shaman. Two wounds made it all the way through the rolls, and the Shaman was slain at last.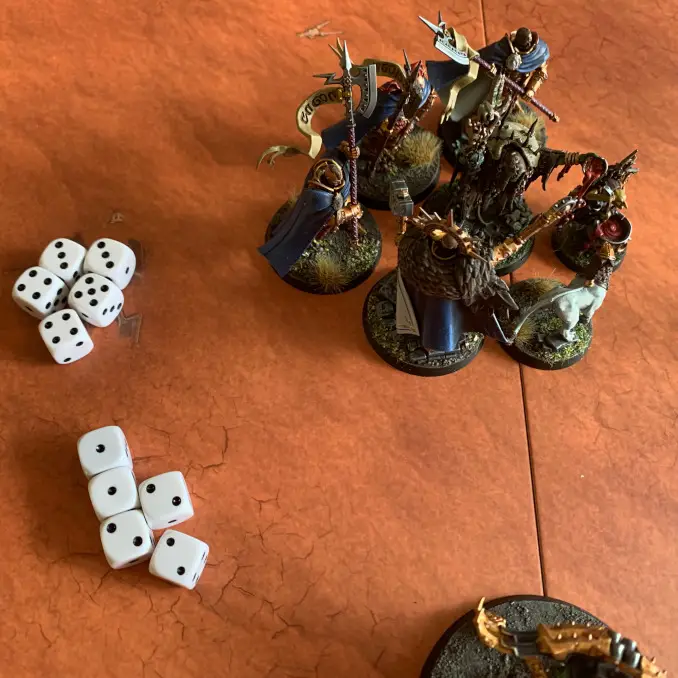 The beleaguered Vindictors managed to eke out one more Wound on the Gutrippaz, slaying one more of their unit and leaving only their leader standing. In his part of the Fight Phase, the Gutrippa leader failed to wound anyone. In spite of the crushing losses inflicted on his side, the lone Gutrippa passed his Battleshock test, and the turn passed back to the Kruleboyz.
In his final Fight Phase, the Gutrippa champsion almost killed another Vindictor, but no such luck thanks to a good saving throw. The Vindictors responded with force, inflicting a Mortal Wound in their To Hit roll, and sneaking another wound past the Gutrippa's Save, thus killing him.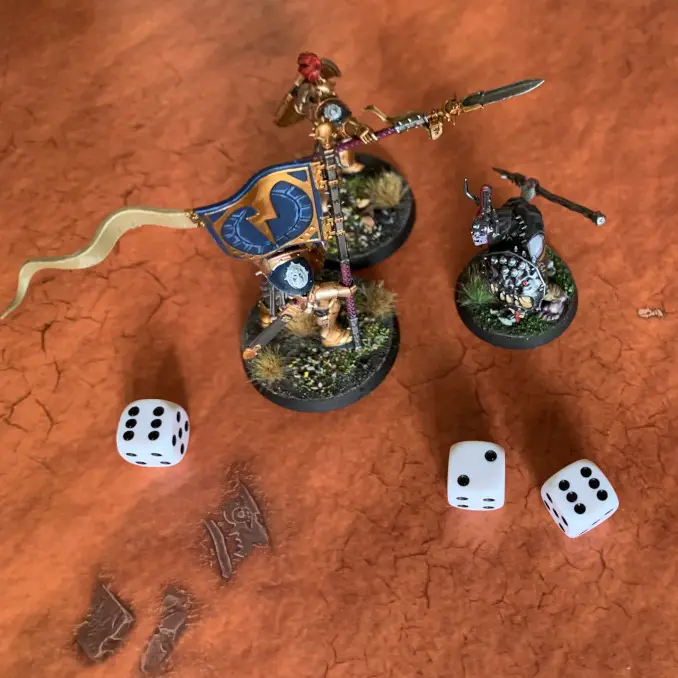 Victory to the Sons of Sigmar, who at the end of the turn held two uncontested Objectives.
Spieltest - Letzte Gedanken
Even after playing through all the Warrior Starter Set Battleplans, I enjoyed trying them out again with the Harbinger version.
Things still feel fairly well-balanced. Things could have gone either way in the final confrontation if the orruks had rolled a little better. Had the Gutrippaz been able to keep up their slaughter of the Vindictors as they did in their opening turns, things could have gone very differently.
That said, had I actually read the Lord-Imperatant's warscroll properly after his first attack round, the Shaman would've been toast before he'd had a chance to do anything. I imagine the game would've been over even quicker, as the Stormcast Hero would've been free to support the Vindictors and would've knocked some serious lumps out of the Gutrippaz with that mean hammer.
Oh well. Something to remember for the next one!
Warhammer Age of Sigmar: Harbinger Starter Set Review – Value Breakdown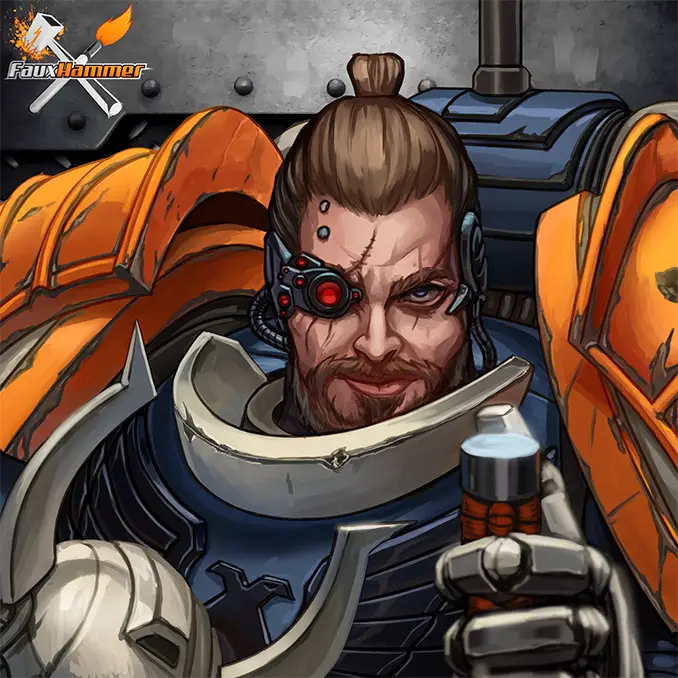 Im Folgenden möchte ich nur einen kurzen Blick darauf werfen, um Sie an den Wert in diesem Feld zu erinnern. Alle Editionen im Vergleich finden Sie ausführlicher auf unserer Age of Sigmar Starter Sets Vergleichsartikel
Bitte beachten Sie, dass sich alle Preisangaben auf die UVP von GW selbst beziehen. Beim Einkaufen finden Sie diese Kits und verschiedene andere Bits für rund 20% Rabatt.
Here's a quick breakdown of the cost per, sprue and model (note that sprue refers to the individual lettered sprues despite E & F being connected in the harbinger set.
Krieger
Vorbote
Extremis
Herrschaft
Box
£ 32,50
$50 (USD)
40 €
£ 65
$99 (USD)
80 €
£ 105
$165 (USD)
130 €
£ 125
$199 (USD)
155 €
Kosten pro Anguss
£ 10,83
$16.60 (USD)
13,34 €
£ 13
$19.8 (USD)
13 €
£ 8,75
$13.75 (USD)
11,67 €
£ 12,50
$19.90 (USD)
15,50 €
Kosten pro Modell
£ 1,63
$2.50 (USD)
2 €
£ 2.41
$3.67 (USD)
2,96 €
£ 2.41
$3.67 (USD)
2,96 €
£ 2.05
$3.26 (USD)
2,54 €
Der obige Vergleich ist ziemlich grob und als solcher unfair. Besonders in Bezug auf Herrschaft Wert. Aber das liegt daran, dass wir dies hier auf den geringsten Vergleich reduziert haben, ein einzelnes Modell geteilt durch die Kosten des Sets.
Der Wert dieser Modelle im Spiel oder der Wert eines äquivalenten Modells einzeln wird nicht berücksichtigt. Die fehlenden Angüsse dazwischen Vorbote/Extremis und Herrschaft enthalten einige der beeindruckenderen Einheiten. Einige dieser einzelnen Einheiten würden problemlos für jeweils 20 £ ($25 USD) – 35 £ ($35 USD) verkauft werden!
Einen kurzen Kostenvergleich haben wir bereits in unsere Dominion-Rezension, aber hier ist es noch einmal als Referenz
Eine gute Ersparnis für so viele Modelle! Das ist kein Witz, das sind die entsprechenden Preise, die Sie bezahlen könnten. Allein für Großbritannien zahlen Sie 60 £ und Sie sparen entsprechend 80 £!
Wenn Sie neu sind, werden Sie schnell merken, wie teuer Dinge sein können. Betrachten Sie dies als eine gute oder schlechte Sache, aber nachdem Sie dies gekauft haben, kann es Sie schockieren, wie viel so etwas wie ein Satz Vindictors allein wäre.
Warhammer Age of Sigmar: Harbinger Starter Set Review – Where to Next?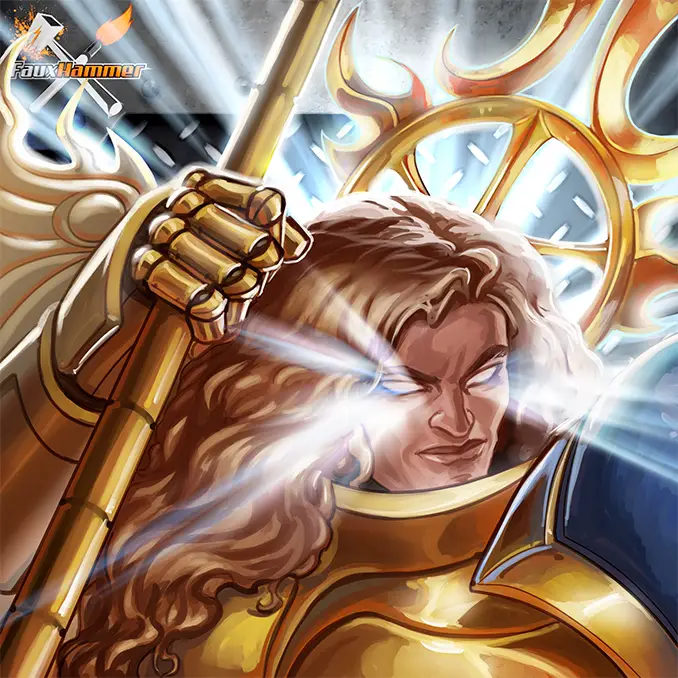 As I said at the start of this review, the Harbinger set occupies an odd space between the obviously beginner-oriented Warrior set and the pricier Extremis set. Whilst the Harbinger set is probably too expensive to appeal to a lot of completely new players, it'd be a good booster for any budding armies or beginner generals who started the hobby at the end of AoS 2.0.
You'll probably be keen to start expanding your new armies to make the wars you wage all the more epic. If you're particularly keen on the new look of the new Stormcast Eternals and Orruks and can't wait to start filling up your Kallax with dozens more minis, I have bad news. Currently, the new style of Orruk and Stormcast Eternal figures are only available in the Herrschaft release and the three new Starter Sets.
However, GW have teased several follow-up releases, some of which can be seen in Dieser Beitrag on Warhammer's community website. To tide you over until then, you may want to pick up the new Age of Sigmar anthology from Black Library, Donnerschlag und andere Geschichten.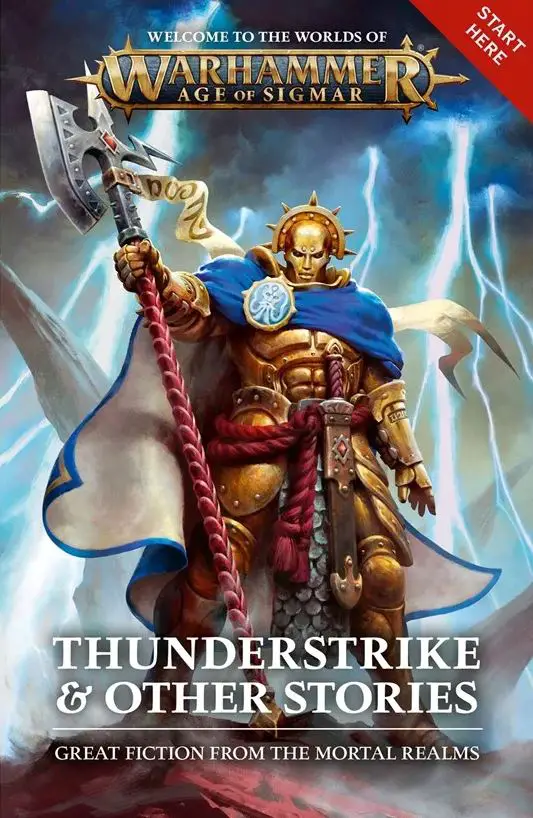 It's also very likely that once you've got a couple of armies at your fingertips and you've played through the introductory stuff in the Starter Set, you might want to wage wider war in the Mortal Realms. Once again, there is both good news and bad news: whilst GW recently have announced new Battletomes for both Orruks and Stormcast Eternals, they aren't out yet.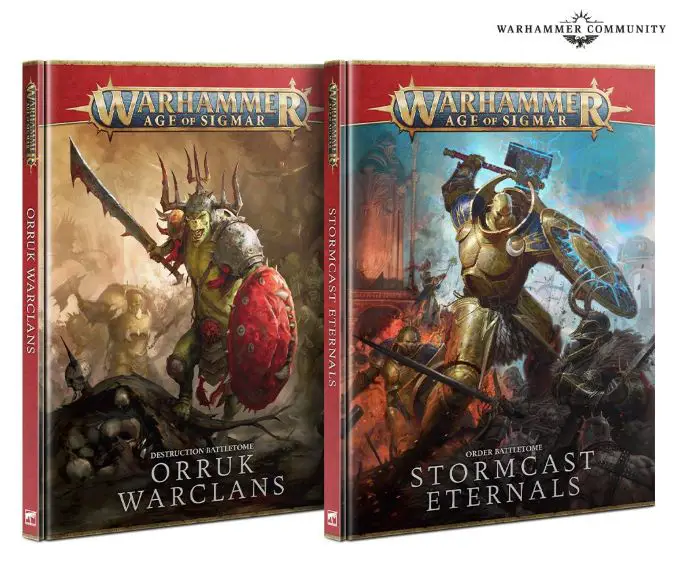 Alternatively, if you're a modeler or painter after as many minis for as little cash as possible, this is the set for you. As such, you might want to have a look at some of Best Of Hobby Tools lists and guides to ensure you're getting the most out of your figures.
Warhammer Age of Sigmar: Harbinger Starter Set Review – Price and Availability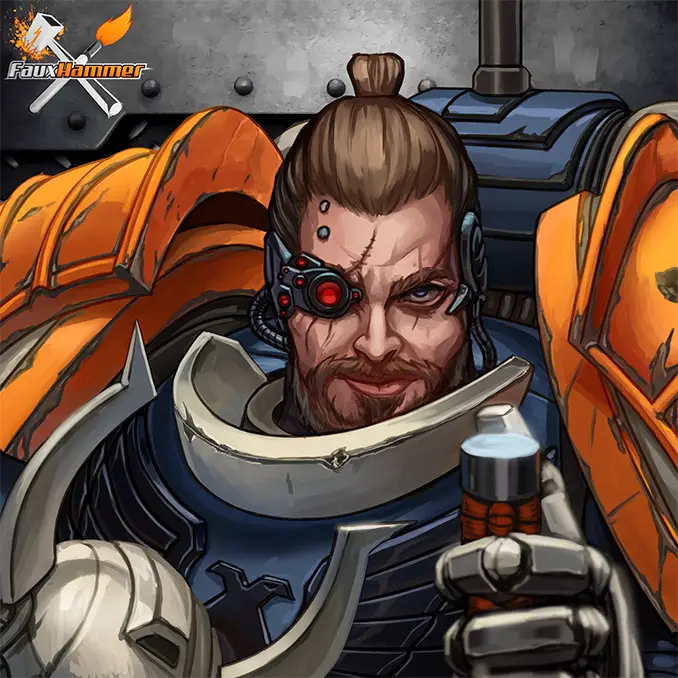 As we said in the breakdown above the savings here are incredible. This is certainly the sweet spot for the new starter sets. Spoiler Warning for the more expensive Extremis set. The only difference is that the play-mat is made of thick cardboard, which is nice. but the rest of it is just more plastic. which actually works out to be pointless in the scenarios they would have you play.
If you are an existing player, a painter or just someone interested in Stormcast or Kruleboys. if you missed Herrschaft, this is the box for you
price wise this is on par with (as it's clearly aimed to be) amongst other premium board games you can get your hands on right now.
Sie werden diese Box bald überall finden. und damit meinen wir in jedem Warhammer-Laden im ganzen Land, es ist jetzt da. Ihre FLGS muss diese lagern.
Schauen Sie sich unsere Affiliate-Links auch im Anzeigenbereich, sollten alle diese Partner mindestens 20% von diesen Boxen anbieten
Warhammer Age of Sigmar: Harbinger Starter Set Review – Final Thoughts
Vorteile
Nachteile
Excellent value
Fantastische Minis
Alles, was Sie brauchen, um mit dem Spielen zu beginnen
Great for established painters and tabletop generals
Die Landschaft"
Perhaps a little too big for absolute newbies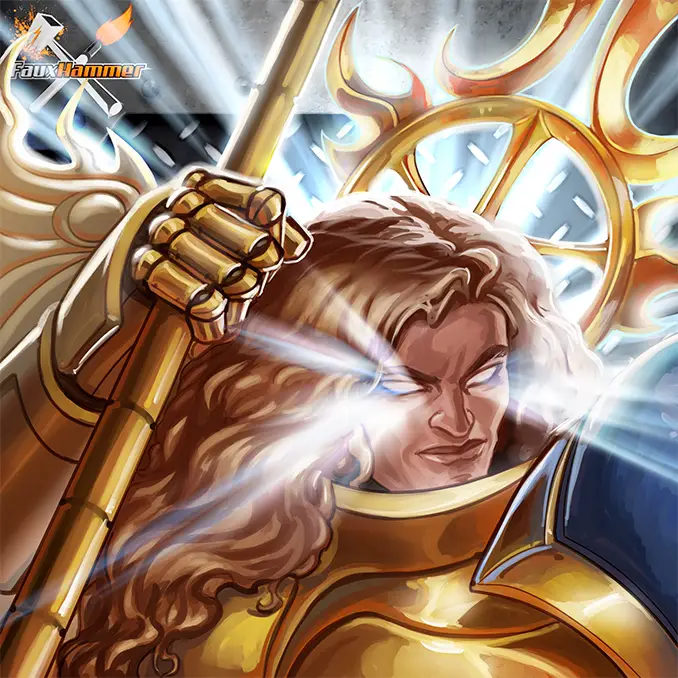 The Harbinger set is a difficult one to rate, I find. At the start of this review I outlined that I wasn't one-hundred percent sure just who, exactly, this set is for. It feels a bit too big and expensive to be aimed at true beginners, so we have to look further afield for its market.
This, then, is the set for the painters and budding collectors – people who maybe aren't so interested in waging tabletop warfare, but might one day be tempted to glance over the books and cards included in the pack. It is flush with dozens of excellent figures that will keep hobbyists hobbying for weeks to come
Marks against it are twofold: the first is the scenery tray thing. As I said in my summary of the Warrior review, printing the cardboard tray to look like scenery is a clever idea, but there remains something a bit weird about it. Perhaps it's the fact that the rest of the set is of such high quality – the excellent books, the wonderful miniatures – that playing on a wobbly card box just feels a bit wrong.
The other mark off, the fact that the Harbinger Starter Set doesn't feel as well-geared towards absolute beginners as the Warrior Starter Set. That feels like a strange thing to say given how similar so many of the contents are, but I can't escape the feeling that the Harbinger Set may be just a little too big for absolute beginners. As I've said above, though, for people with established collections already, or returning players who are already used to playing with larger armies and want to get into AoS 3.0, this'd be an excellent set.
But with those aside, this remains an excellent set. Still, if you are a complete beginner, I would recommend the Warrior Starter Set over the Harbinger Starter Set. But if you're a hobbyist after their painting fix, or a budding tabletop general looking for reinforcements, you can't go wrong with the Harbinger set.
Klicken Sie auf diesen Link und kaufen Sie Ihre Hobbyartikel bei Element Games für Großbritannien und Europa zur Unterstützung von FauxHammer.com - Code verwenden "FAUX2768"An der Kasse für doppelte Belohnungspunkte.

Unsere Partner / Hobby Stores
Was denkst du darüber? Rezension? Bitte lassen Sie es uns in den Kommentaren wissen.
Wenn Ihnen gefällt, was wir hier tun, können Sie wirklich dazu beitragen, mehr Inhalte mit einer Freigabe auf einer beliebigen Social-Media-Plattform zu fördern.
Klicken Sie unten auf diesem Bildschirm auf die Freigabelinks (oder links für Computer und Tablets).
Möchten Sie mit der Website auf dem Laufenden bleiben? Sie können RSS in der Seitenleiste oder unten per E-Mail abonnieren
(Die Seitenleiste befindet sich unter dem Artikel über mobile Geräte.)
Zusammenfassung
Gutachter
Prüfungsdatum
Überprüfter Artikel
Warhammer Age of Sigmar Harbinger Starter Set
Autorenbewertung