Black Friday Hobby-, Miniaturen- und Wargaming-Angebote 2022
Last Updated on November 22, 2022 by FauxHammer
Well, Black Friday is coming, again. I say Black Friday, but everywhere seems to have Black Friday week sales now. (because that makes sense). If you're in the HobbySphere, you could be somewhat dismissive of this day, because we normally feel a bit left out. But as the year's clock on, and more companies eke out of the woodwork – You'll start to find quite a bit up for grabs. Let's take a look at some highlights below. And if you know of any Black Friday Hobby Deals in 2022 – Please let us know in the comments.
Wenn du FauxHammer.com unterstützen möchtest, klicke auf diesen Link und bestelle deine Hobbyartikel bei Element Games für Großbritannien und Europa. Verwende den Code "FAUX2768" an der Kasse, für doppelte Belohnungspunkte.


15% aus Phrozen mit Code: "22PRFHDP15"

Unsere Partner / Hobby Stores
Während also alle Liebhaber elektronischer Geräte Echos und Nests kaufen, als ob sie aus der Mode kommen, um Fernseher usw. kämpfen, durchforsten Sie wahrscheinlich das Internet auf der Suche nach billigen Miniaturen, Werkzeugen und anderen Kleinigkeiten? Werfen wir also einen Blick auf die besten Orte, an denen Sie dieses Jahr einige Angebote abholen können.
Greifen Sie auf Ihre Klicker und seien Sie bereit, einige Webseiten zu aktualisieren.
If you do see any solid deals we haven't mentioned, PLEASE add them in the comments or on socials, and we'll update them throughout the week.
Black Friday Miniature Hobby Deals 2022 – What to look out for?
Games-Workshop as the most popular brand you all know, doesn't do Black Friday sales – they don't do "sales" in general. Instead, you have the Battleforce boxes, which is essentially GW's end-of-year discount. We just don't know when. It could be this Saturday.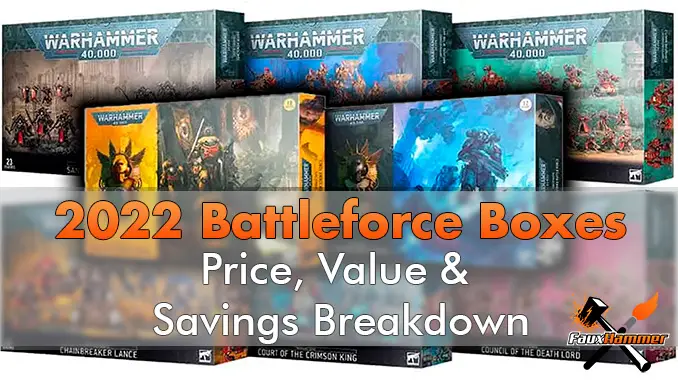 Instead of checking GW directly – Instead, you should follow your local games store or Online FLGS. Whilst these guys do not offer much in the way of deals – they can ship off some old stock for discounts. Always worth a look.
You could always help us out by clicking the links below before making a purchase – this is a list of our affiliate hobby stores along with generic stores like amazon and Ebay.
Wayland Games for example already have 30% off some cool GW models, (and up to 80% off other supplementary GW products) which as you may know is far more than the usual 20% offered by most FLGS
Where are we likely to make the biggest savings? In the hobby this is usually some top ticket items. Specifically Paint Brushes,- Airbrushes and more notably this year. 3D printers. below We'll give yo a quick guide on each product range so you can choose the best ones to keep an eye out for,
If you are new to 3D printing or want the latest entry-level, this is gonna be super easy. First of all, you want a resin printer for better detail. Ignore FDM printers unless you are printing larger things like props.
Entry Level 3D Resin printers
Read our Full guide on 3D printers here
If you just want to print miniatures and some terrain pieces. You want either the Elegoo Mars 3 Pro or the Anycubic Mono 4k.
Both of these printers have an XY resolution of 35 microns which is incredibly impressive and is also the reason 3D printing has taken off so much in the last 12 months. yes, with these printers you are capable of easily printing miniatures which will contend with GW's production.
Both printers are similar sized and as stated above produce 35 Micron prints on their 6″ 4k screens. The Mars 3 Pro has an ever so slightly larger screen at 6.66″ vs the Mono 4k's 6.23. And the 4k Resolution Boost from 3840×2400 (Mono 4K) to the 4098 x 2560 (Mars 3 Pro) is what helps the XY resolution stay the same.
The Elegoo printers usually get more of a following due to their competitive prices, but in this case, we are seeing discounted prices Sub £200 for the Mono 4k!!! and this is an incredible price for a 4k printer. But if you buy direct from Elegoo, you can get the Mars 3 Pro, for $209, which is definitely worth the slight price difference over a discounted Mono 4k
Despite the incredible impact that Elegoo made with their Mars Series of products, the Mono 4k is selling in droves – currently having over 13k members in the Facebook group, vs the 30k users across the whole Mars range – that's the original, Mars 2 and Mars 3!
Over £1000 difference in price makes the choice a no-brainer. especially with a larger community to support you throughout use. The Mono 4k also has a much better bed levelling system too.
Large 3D Resin printers
The next tier worth your consideration is quite a jump in price. Between 2-2.5x more in fact!
But if you want to dive in feet first with 3D printing, Then I'd highly recommend you look at either the Saturn 2 or Photon m3 Premium. And in direct contrast with the above section – I'd do it in that order too.
Just like the above section, 1 printer costs over £100 less than the other at the mo, despite an incredibly similar spec. Both printers are capable of an incredibly low 28 micron XY resolution, which does make a notable difference over the 35 microns of the entry-level models above.
But the key difference here is the 10″ screen on both printers. The convenience of this has had me putting them in use far more than even my Phrozen Sonic Mini 8k. because the difference between this and that is visibly negligible.
Now whilst there is a £100 difference between the two right now, the M3 Premium, really is premium. Coming with a Screen protector pre-installed, a Z rail that has rivalled any 2 spaces for internal carbon filters (to remove nasty smells). this is one of the highest-quality consumer printers I've ever seen, and is certainly worth the extra investment. You'll unlikely get better-printed quality, but you'll undoubtedly have fewer issues.
Ultimate Quality Resin Printer
It's still the Sonic Mini 8k, release at the beginning on the year, this powerhouse of resolution has an 8k screen across only a 7″ diagonal. This beast offers an XY resolution of only 22 microns!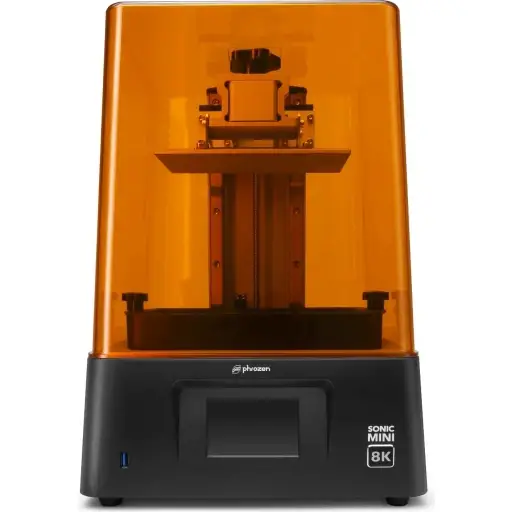 As I said above though, for the majority of models, the difference between 2.2 and 2.8 is barely distinguishable. it's there, but after paint will you be able to tell the difference? I doubt so. In the same price range, I'd opt for a larger printer. but if you absolutely MUST have the best print quality. this is the one you choose.
When it comes to brushes, once again it's simple, get Kolinsky Sable Brushes. and here are a few choices.
Read our Full guide on Brushes here
Rosemary & Co series 33 were the first Sable brushes I bought and they are still the biggest bargain Sable brushes for miniature painters. You really don't need every brush so My choice would be to get a 000, a 0 and/or 1 and a 3.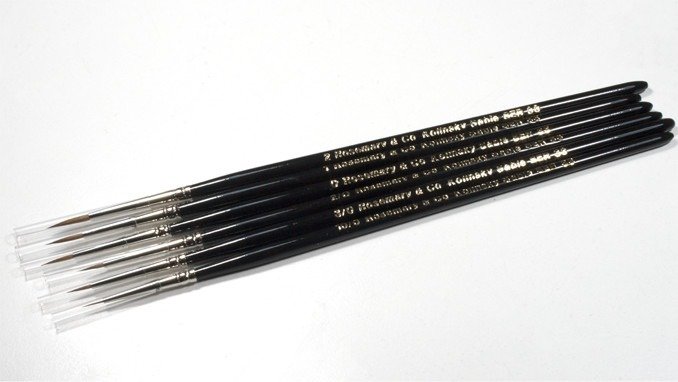 They also have a bonus choice as they sell the same drybrushes as Artis Opus too. So whilst/if you are shopping for pint brushes, wade in with a couple of drybrushes.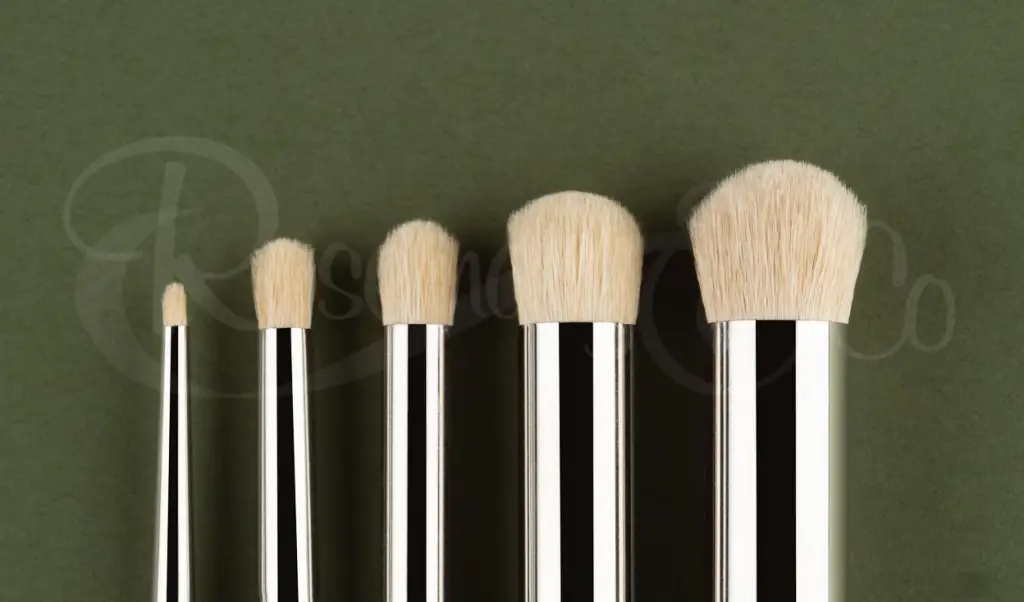 Here my choice would be the Medium for models (slapchop ahoy) and the X-Large for vehicles and general blending.
If you are a huge Games-Workshop fan and want to paint as good as the 'Eavy Metal team, then you should choose the brushes that they (unofficially but frequently rumoured) choose to use. And this is the Windsor and Newton Series 7 range of brushes.
Whilst some people have been harsh on this brand, claiming a quality from in the last half-decade. It may be a case of expectation vs delivery. With any Sable brush you can find yourself receiving a product with stray hairs or spli/warped tips. Just run them in the water and do a few strokes before you apply any paint. At least then you have the option to return any faulty ones.
But still, they are super sharp and have a nice body to hold plenty of moisture.
Just make sure you get the Series 7 without the "M" in the name, those are mini (short) tips and are specifically intended for detail work rather than basecoat and layers.
When you get into mini-painting, most people will have gone the Warhammer Route. So the first pro painters you encounter will be the afore mentioned 'Eavy Metal team. But then there are the golden Demon Winners, the God-Tier painters. The Angel Giraldez, David Sope, Richard Grey tier of paint-benders. And what do these guys use? they use Artis Opus Brushes.
And whilst there have been claims of Artis Opus simply rebranding Rosemary & Co Brushes. I've been directly informed that the AO brushes are a different configuration. the handle alone is much widers and noticeably more comfortable to hold and manoeuvre.
But Artis Opus also have the benefit that they are the only Hobby paintbrush brand who cater for standard brushwork with their Series S, Detail Work with their Series M. and Drybrush work with their Series D.
When it comes to buying at this time of year, most purchases are intended as gifts. so it's really great that these come in gorgeous display boxes.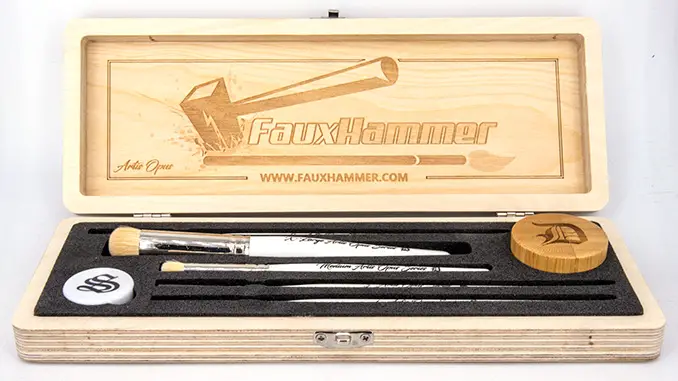 And if you're not sure where to start, what sizes and what ranges you can get. Then grab our very own "FauxHammer Branded" starter set which gives you a mix and taste of everything. and a perfect essential set for any miniature painter. Regardless of any other brushes, you feel you need. I'm confident these are the ones you'll use most frequently
Ok, So Airbrushes is also really simple and you can read our full guide for details of the best beginner airbrush and best specific airbrushes for miniature painters.
Read our Full guide on Airbrushes here
Read our Full guide on Compressors here
Best Beginner Airbrush Black Friday 2022
If you are just starting out, you need a Compressor and an airbrush. The simplest way to start is with a small compressor unit, either mains or battery-powered.
Now, to be honest, these are more for cakes than models but they do work. if you have a budget or space constraint, these (with your paints thinned) will do for primer, basecoat and some spot highlighting.
But if you are gonna consider seriously investing, then I strongly recommend you get a decent compressor up front. Specifically, one of these is shown below. (the one with the tank).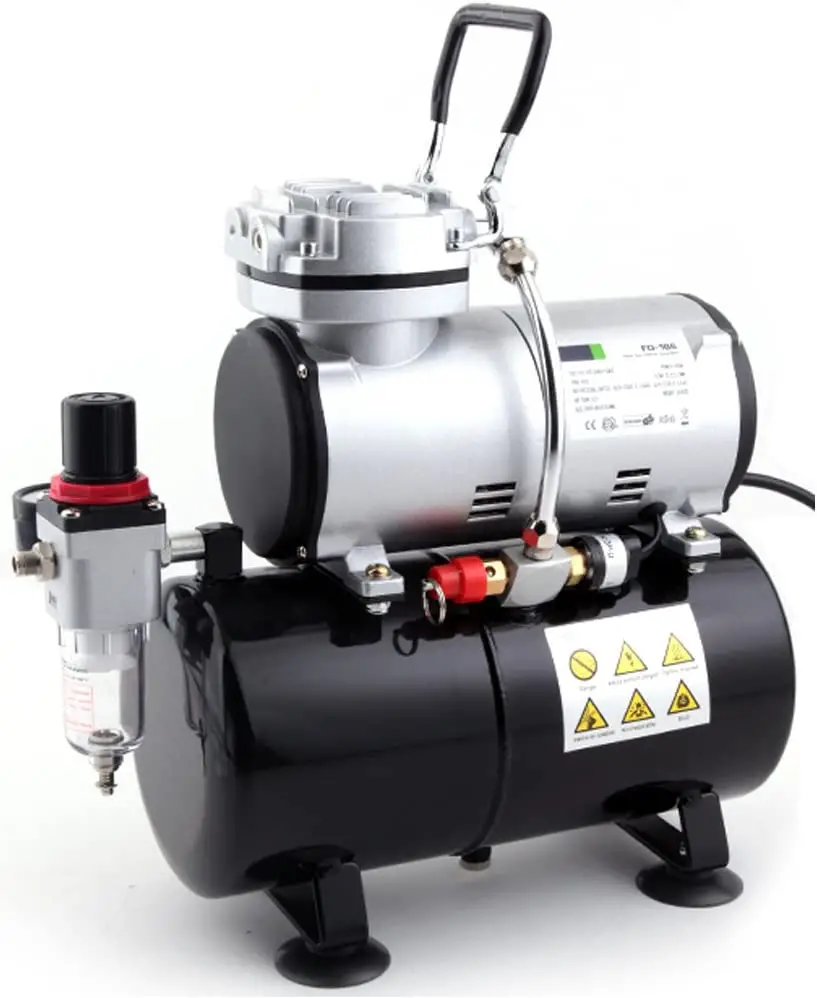 You'll find these under many brand names, but so long as it looks like this with a compressor on the top and a tank on the bottom, it will do the job, and it will do it for years. The only reason I ever even bothered to upgrade was so I could run 2 airbrushes at the same time – and to show off.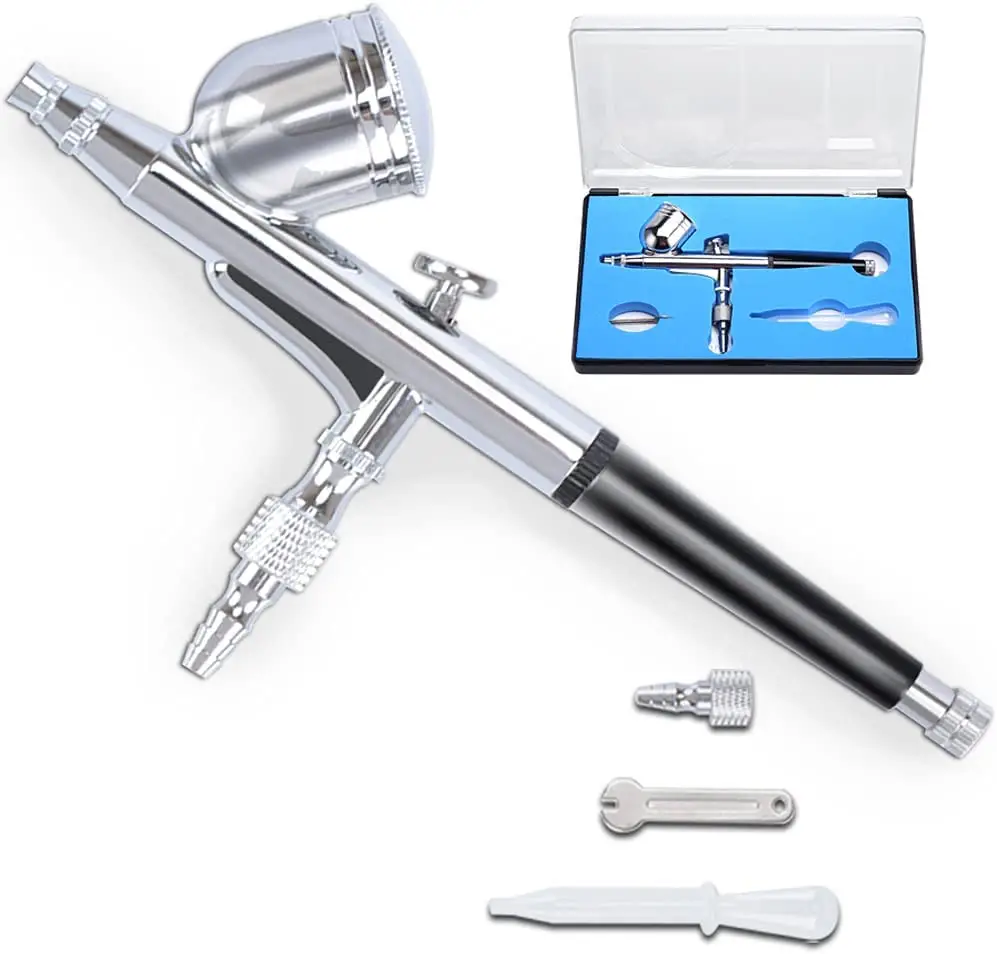 As for the airbrush itself, the one above costs less than £20. It was the cheapest I could find when searching Amazon for Gravity fed Airbrush. (gravity fed is the style with the cup on top) The best thing about the Compressor above is that for around £100 you should be able to pick one up with one of these cheap airbrushes included.
Are they good? no, but they work and are great to cut your teeth on before you dive into a more expensive airbrush.
Best Black Friday 2022 Airbrush – Beginner
If you want a basic airbrush, get the Badger 105 Patriot, Whilst badger Airbrushes have a proprietary connector, you can get an adapter cheap online.
Das Patriot 105 ist die am häufigsten gewählte Badger Airbrush für Miniaturen
Please avoid the Iwata Neo, it's ok but I find the quality on part with the likes of the cheapo brush shown in the section above.
The Patriot is as its name suggests a solid brush that will keep on going.
Best Black Friday 2022 Airbrush – Beginner-Intermediate
Honestly though, if your budget can stretch to it, get a Harder and Steenbeck Evolution CR+. This is used by so many miniature painters because the maintenance is simple and the twin-tapered 0.4 mm needles allow for both fine lines and wide sprays.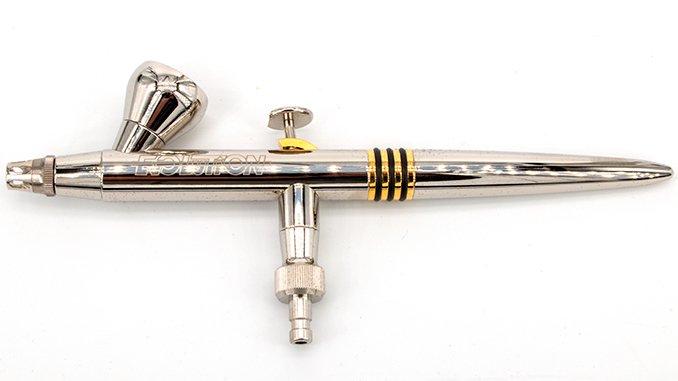 If you can stretch a touch further, the Cult of Paint variant features a much better trigger which allows far more control and precision. you'll pick up fine motor skills much faster. This Airbrush is exclusive to Element Spiele im Vereinigten Königreich.
Best Black Friday 2022 Airbrush – Beginner-Expert
I say Beginner to Expert because the harder and Steenbeck Infinity CR+ features all the same benefits of the Evolution CR+. Most of the body is identical except for the rear casing which now allows access to the needle to help clear blockages.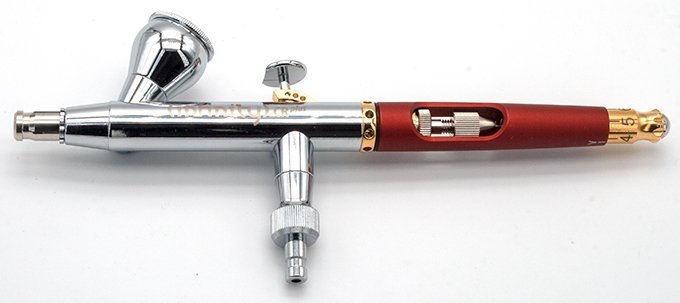 Lesen Sie unseren CRPlus-Test zu Harder & Steenbeck Infinity
The quick-release needle stop is a great beginner feature. you can dial it in to prevent expressing too much paint. then pull the gold ring to release it when you need to black paint through and clear clogs. Press the silver nub and go right back to the locked position.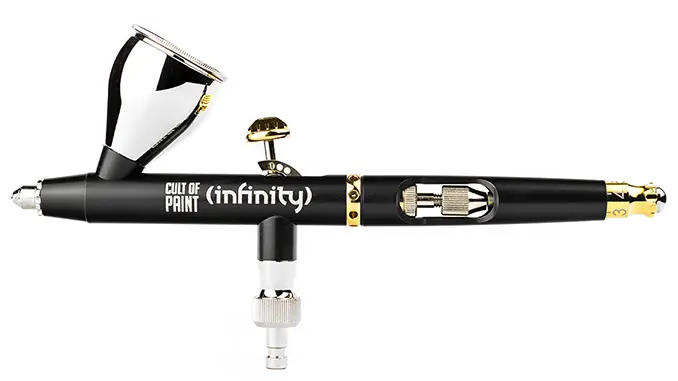 Als Kickstarted-Produkt von H & S in Deutschland hergestellt und von Cult of Paint in Großbritannien entworfen. Das ist verkauft und vertrieben von Element Games in Großbritannien Versand weltweit.
Again, for a few extra bucks you can get the Cult of Paint model, exclusive to Element Spiele. This again features the high-precision trigger but also has an aluminium rear casing – this makes a difference to arm-ache over a long airbrush session.
And just like the Batmobile – it comes in black…
Obwohl es der größte Online-Shop ist, den ich jedes Jahr aufs Neue überprüft habe, finden Sie hier in der Warhammer-Sphäre nur sehr wenig, was ermäßigt ist.

You can pick up a Mini Vortex Mixer mit 20% aus. Immer toll zu haben, aber the one I would recommend, See this video, doesn't appear to have a discount on it. Boooo. the other one (discounted) is still the next best model.
But honestly, just try searching for some of your favourite brands.
Kameras auch, wenn Sie wirklich gute Bilder von Ihren Minis haben möchten, schnappen Sie sich eine halbwegs anständige SLR-Kamera in einem Black Friday-Angebot, und zwar so eine billige tragbare Studio-Hintergründe.
"Boxed Brettspiele" Im Allgemeinen, ist eine andere Kategorie, die einige anständige Einsparungen erzielen könnte, gibt es mehr Miniaturen als Warhammer, den Sie kennen?
Fallout, Doom, Harry Potter, Resident Evil…. und jede Menge mehr alles mit tollen Miniaturen
Wie in den Vorjahren wird sich der Rabatt, den Sie am Black Friday sehen, nicht von dem am Vortag unterscheiden.
Wenn es sich um einen bestimmten "Black Friday"-Deal handelt, wird er in der Auflistung gekennzeichnet.
Persönlich ist das ungefähr so gut wie Amazon für Hobbykram, es sind alles Einzelverkäufer. Also es sei denn, es ist ein großes Ebay Geschäft, dann werden Sie wahrscheinlich genau die gleichen Rabatte sehen wie an jedem anderen Tag. Sicher eBay hat Black Friday-Angebote aber diese sind für große Unternehmen wie LG, Dyson usw.
Große Hersteller, die einen direkten haben Ebay Gegenwart.
Das haben wir bei unseren Lieblingsmarken nicht. Einen neugierigen Blick wert, wenn Sie herumstöbern, aber lass dich dort nicht zu lange aufhalten, es gibt andere Orte, die du überprüfen kannst.
Black Friday Hobby Deals 2022 – Check your Hobby Stores!!!
As above, Shops are back open now, (remember that covid lark?)… So maybe venture away from your computer or phone and head back out into the real world. And contact your FLGS to see if they are offering anything special.
Again though, check some online stores, a few will have some deals on hobby sundries.
Element Spiele hatte ein letztes Jahr, also wenn Sie in Großbritannien oder einem von Europa wohnen, dort drüben einen Blick wert. FAUX2768 sollten Sie trotzdem doppelte Belohnungspunkte zurückbekommen.
Hier ist noch einmal der Rest unserer Partner. Überprüfen Sie, ich werde es sein
VEREINIGTES KÖNIGREICH:Element Spiele, The Outpost, Wayland Games, Mighty Lancer, Goblin Gaming, Forbidden Planet, Model Scenery Supplies, Ebay, Amazon
USA / Kanada:MTechCave (Code "FAUXH" = 15% aus), GameKastle, eBay (USA), eBay (CA), Amazon
Europa:eBay (DE), eBay (FR), eBay (ES), eBay (IT), Amazon
Australien:Ebay, Amazon
Global: RedGrass Games, Warcolours
Black Friday Hobby Deals 2022 – Specific Brands
Right, this is where it actually gets fun! We know some brands are ready and geared up for Black Friday with pre-announced deals.
A couple of years ago they pre-announced 20% off everything! This year, they have some nice bundles for their Wet palette and Hobby Handle (which is great for airbrushing thanks to the removable tops. Regrass also sells one of the best precision Knipper/Sprue Cutter Sets out there..
Wenn Sie noch keine nasse Palette haben, haben Sie jetzt keine Entschuldigung.
If you don't buy one, then have a significant other or relative buy you one as a gift.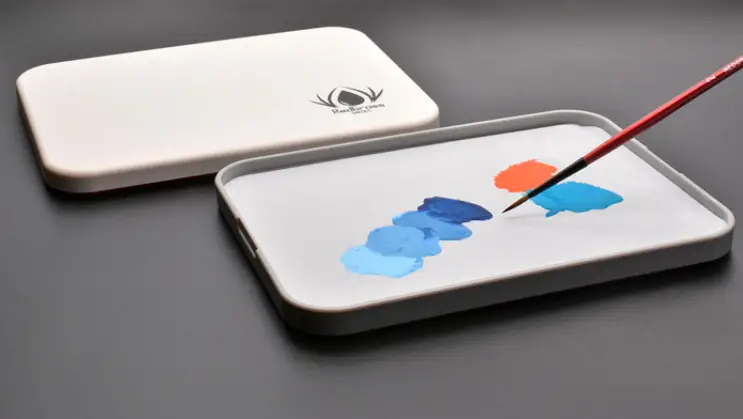 And as advised above, efinitely check out their Zangen, einige der besten in ihrer Preisklasse (die gerade gefallen ist) und die Handhaben is really useful too – It's truly my most commonly used handle when airbrushing.
bundle, of 208 paints has 20€ off, from 469.99€ to 449.99€.
Eveyone's Hobby hero Garfy has previously released an all-black Black Friday Edition of our favourite painting handle. Here's hoping he does so again.
Bearbeiten: Just spoke to Garfy – and he's confirmed that discounts are coming. So check sein eBay-Shop in the morning and grab some bargains. he also sent me the following pic!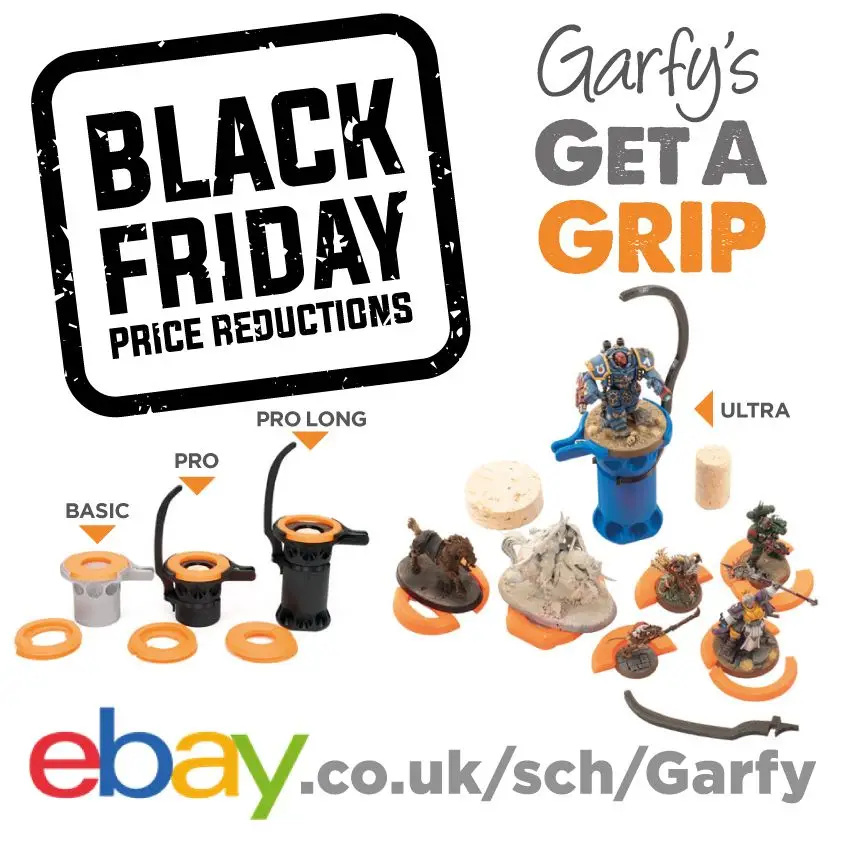 As you may know, I'm a huge fan of these, and for a 3D-printed product, they are super versatile with so many options.
My pick would be the pro as this has a large handle, allows you to paint models on huge bases, has a riser bar to protect your model from mid-paint fingers. and an opening for a standard bottle cork so you can pin your smaller components when detail painting. For the price, get a few of them!
The Ultra is great for even larger miniatures, And I'll try to claim some collab-credit on this, as I remember asking Garfy before this was released if he can make a wide handle. He sent one with my order before putting them up in the shop.
If he had this already in mind or not I don't know. But I'm a narcissist wanting recognition, even if I don't deserve any.
Everyone's fave "stuff" supplier is once again having a 15% off what appears to be everything this week, it's already live so grab a deal now with code "FRIDAY22"

One caveat is that you must spend over 30€ or the equivalent in your local currency. Again, just check your local hobby stores first for price+shipping as they may be already cheaper anyway.
Entwerfen und erhalten Sie Ihre ganz eigene Miniatur. Noch einmal Heldenschmiede are offering $5.00 off all physical miniatures when you use the code "LOOTDROP" during checkout!
And once again – all digital STL files are marked down to $3.99.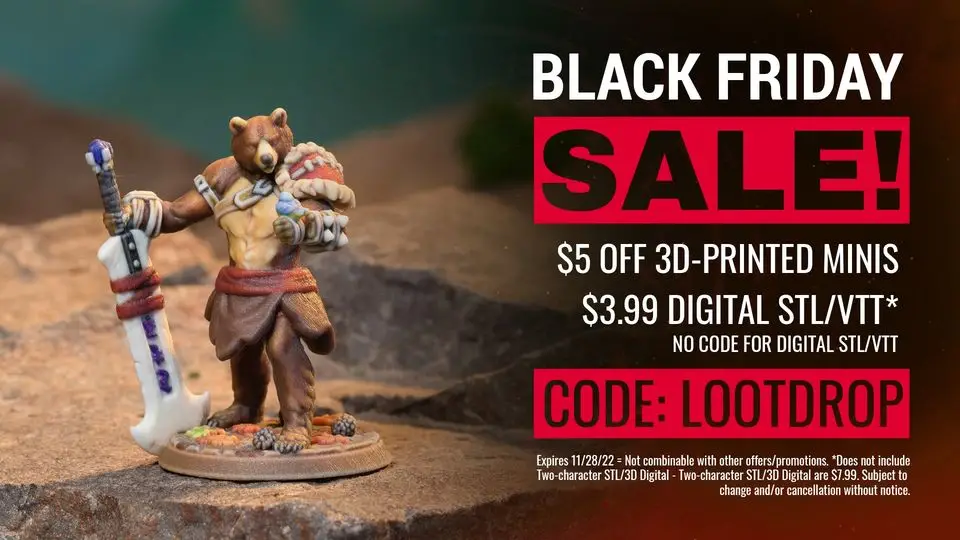 This is the same deal as last year, and the year before but it is a cool service and one worth checking out at a discount.
Black Friday Hobby Deals 2022 – Final Thoughts
Diese Liste wird im Laufe des Tages aktualisiert. Teilen Sie dies bitte mit Ihren Freunden und wenn Sie Angebote entdecken, die wir verpasst haben, posten Sie dies in den Kommentaren unten.
Wenn du FauxHammer.com unterstützen möchtest, klicke auf diesen Link und bestelle deine Hobbyartikel bei Element Games für Großbritannien und Europa. Verwende den Code "FAUX2768" an der Kasse, für doppelte Belohnungspunkte.


15% aus Phrozen mit Code: "22PRFHDP15"

Unsere Partner / Hobby Stores
Was denkst du über diesen Artikel? Bitte lass uns ein Kommentar da und lass es uns wissen!
Wenn euch gefällt was wir hier tun, dann teilt unsere Inhalte gerne auf sämtlichen Social Media Kanälen!
Klickt einfach auf die Teilen Links weiter unten (oder am linken Rand wenn ihr am PC oder am Tablet unterwegs seid)
Ihr möchtet immer auf dem laufenden bleiven? Dann abonniert den Blog gerne via RSS in der Sidebar oder per Email weiter unten
(Auf mobilen Geräten befindet sich die Sidebar weiter unten.)