HobbyZone Modular Workshop System Review for Miniature Painters
Last Updated on April 23, 2021 by FauxHammer
If you are looking for the ultimate in Hobby Storage for your workstation – See what we think of this set-up in the Hobbyzone Modular Workshop System Review
Click this link & buy your hobby stuff from Element Games for the UK & Europe to support FauxHammer.com – Use Code "FAUX2768" at the checkout for double reward points.




Our Affiliates / Hobby Stores
When I first started reviews on this blog – I'd just gotten some of the HobbyZone Modules – For some reason I decided to do individual reviews on each part. I got through the HobbyZone OM05s – 26mm Paints Module, HobbyZone OM07a – Brushes & Tools Module and the HobbyZone OM10 – Big Showcase WIP Module before I realised this was a dumb idea and gave up.
Those reviews were 90% identical to each other as they were mostly showing the build process for each set. with a summary about each module's function.
Instead, here, I'm going to look at the whole range and provide a summary of each set (the ones I bought anyway).
The Best Tools For Miniatures?
FauxHammer.com is dedicated to finding the best tools for your hobby. Start with our list of Essential Hobby Tools which will lead you to find the Top-10 tools for each category.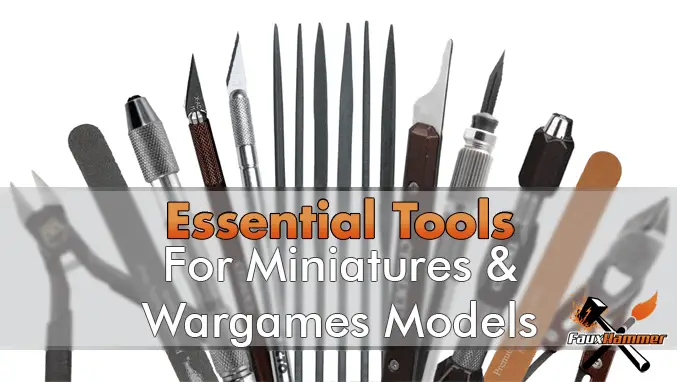 To see all of our guides to the Best Tools for Miniatures, click on the image above.
HobbyZone Modular Workshop – Summary
Whilst it's more expensive than most other products made from this material. The Modular nature of this system lends itself perfectly to your progression as a painter/hobbyist.
Start with just 1 Module and you can easily build outwards & upwards to make an incredible bespoke set-up for whatever your own requirements are.
All the modules work on a simple grid with dimensions generally set 30cm (width) by 15cm (height and depth). Though there are with the odd couple of units taking up 30cm in height and some smaller units you can use to fill gaps.
It's simple to build and creates a solid workplace which can be reconfigured on a whim and will last for years.
HobbyZone Modular Workshop – Packaging
Each individual module arrive in a similar-sized box with a few of the smaller modules arriving in boxes half this size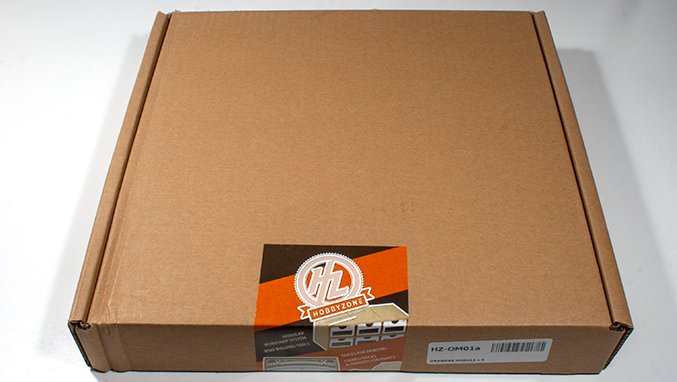 Within each box, the module components are well wrapped and wedged in place with bubble-wrap. Of all the modules received, I've had no damaged components – even in a couple of cases where the outer box was damaged.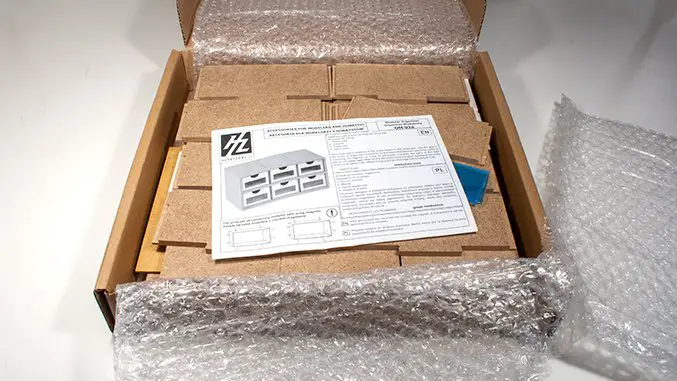 The module shown here is one which has the largest quantity of components. It has the frame, the compartments, then 6 individual drawers with separate windows.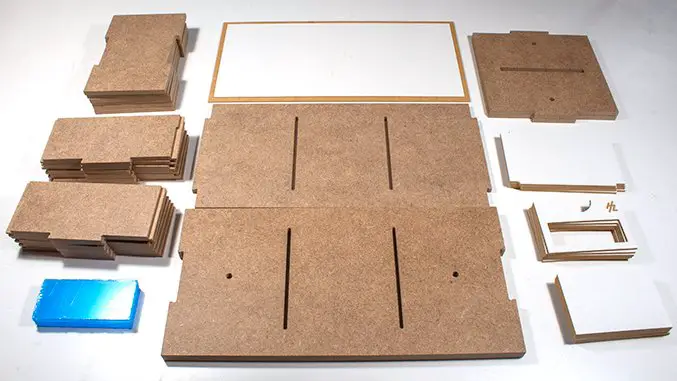 In summary the units are packed really well.
HobbyZone Modular Workshop – Building
The instructions for the modules all come on a small A5 two-sided slip.
Aside from the pictures of the different modules, the front side is generally the same. Advising the use of Wood Glue (I used Gorilla Wood Glue because it's ace), A Hammer, Paper Tape (which I generally ignored in place of clamps) and a Damp Cloth, which is absolutely Necessary!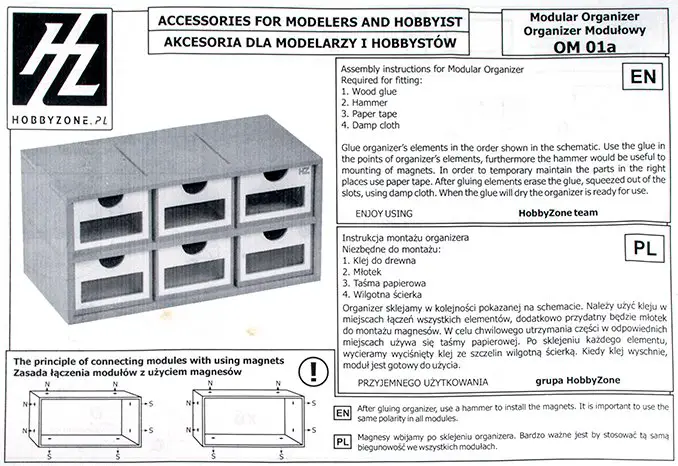 The rear-side has the build instructions, which depending on the set – ranges from useful to misleading. All of the modules being built in the most part consist of an outer frame acting as a box, then some parts inside it. There are no step-by-step instructions, i.e. Ikea guides. Just a suggested order in which to connect and glue the components.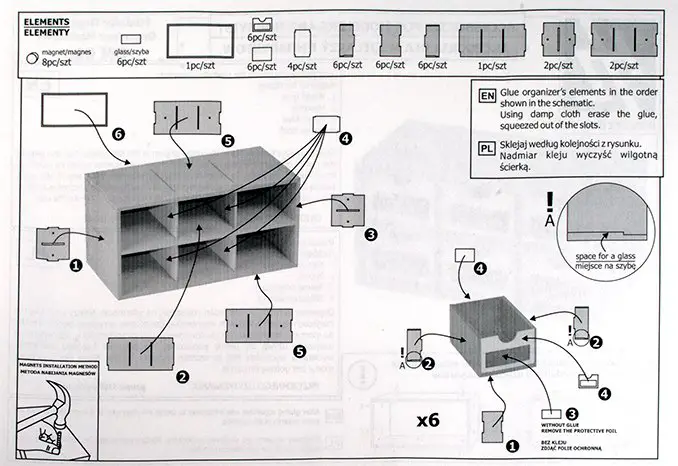 But with a few of these, there are some issues, even the example above where it suggests adding the centre shelf to the two ends first. Whilst this is not impossible, it's just terribly unwieldy. Add glue to the mix and its a complete mess in no time.
None of these modules are overly complex – I've found it's just better to practise to dry-fit the parts to get an idea of placement – then figure out the order in which to build them as you add glue to one component at a time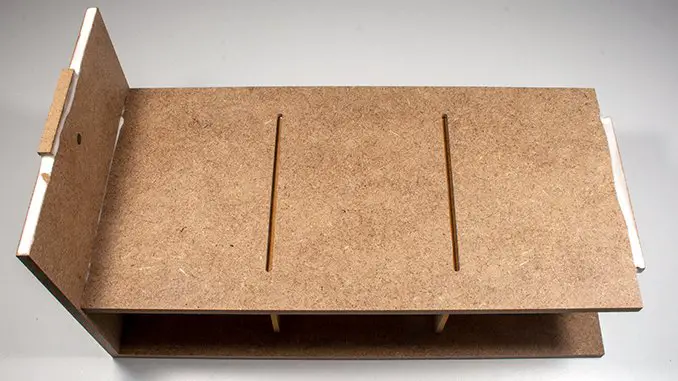 The glue will naturally spread as you push parts together. Your damp cloth is your best friend here. The glue will need to be mopped up lest the splodges dry and get in the way of things like the drawers closing.
The guide suggests paper tape for holding the parts together as they dry – But this pulled the surface away from the from the MDF board leaving a visible rough texture. I found that some large clamps were much better at persuading parts together – tape alone simply wont do this.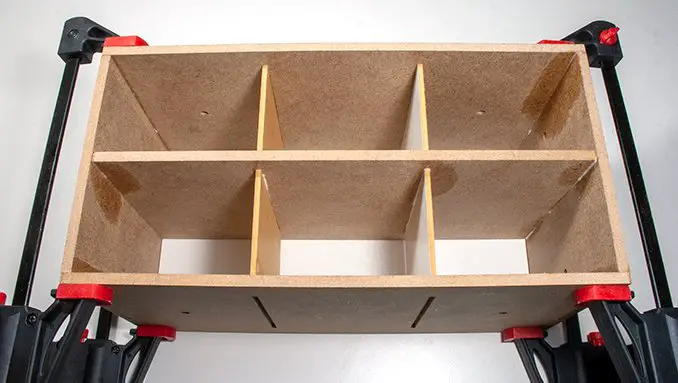 If things did need some extra persuasion, the hammer came in handy. A rubber mallet would be better – but I didn't have one.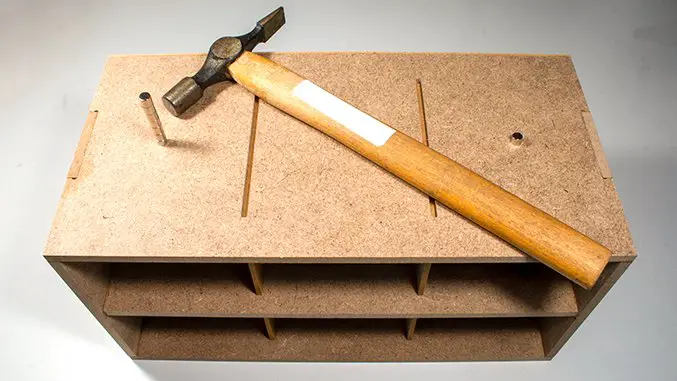 A rubber mallet would have been especially useful when putting the magnets in as the metal hammer kept sticking to them. It's important to get the polarization of the magnets correct so that they all line up right and attract the other modules. But once you have one box done. it's so easy to line-up the rest.
HobbyZone Modular Workshop – Modules
There are 30 modules available in the set and you can pretty much mix and match them as you like. A select few can only be used as the top pieces or end pieces – but it's clear which they are.
Below I'm checking out 15 of the 30 modules – though several of these are variants of the remaining sets. Many of the paint racks for example just have different size recesses for the various diameters of the paint pot.
HobbyZone Modular Workshop – HZ-OM01a – 6 x Drawers Module
This one of the better modules in the set though one of the most time -consuming to build. Especially awkward when you consider the order in which they suggest you build it (shown above).
The frame, the middle shelf & the slats are easy enough. But then you need to build the drawers which quite are small and all have a window to glue in (without any guides. The draws sides have decent guides though, for where you place the front and back panels. Having the window is really useful for seeing the contents without having to open the drawers up.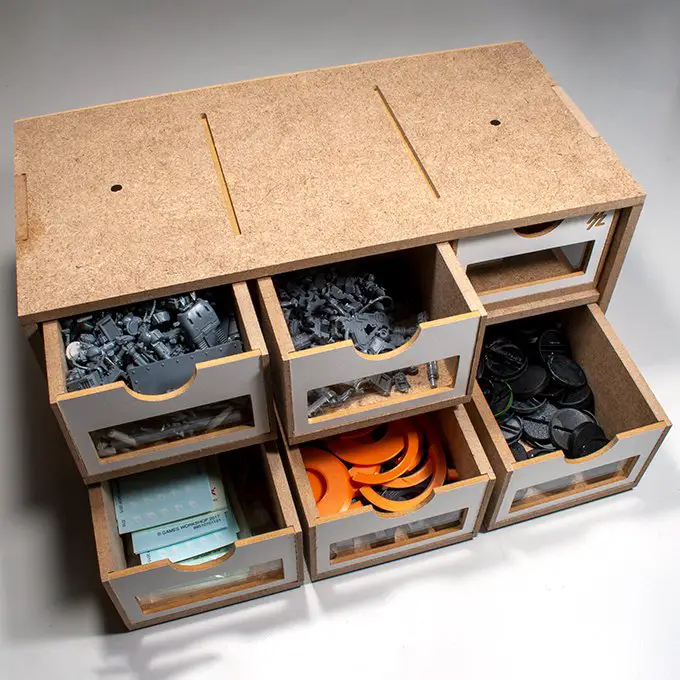 These are big enough to hold all manner of bits and bobs. As shown above I have a massive variety of bits in these containers.
HobbyZone Modular Workshop – HZ-OM02a – 3 x Drawers Module
Slightly simpler to build than the above module as there are only shelves to add to the box and no fiddly upright risers. There are only 3 drawers this time and no window to stick in.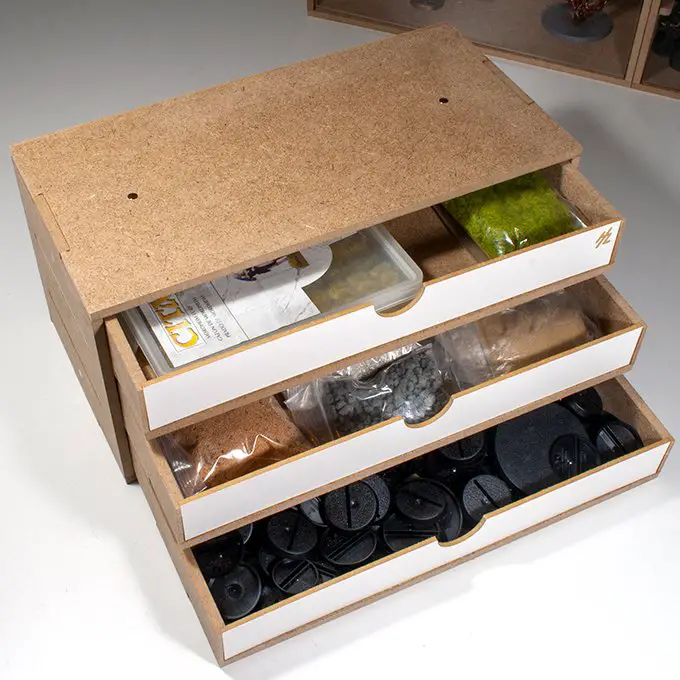 The draws here are quite shallow. Shallower than I realised before purchase. I can just about fit this box of GW grass tufts in them. But they have been relegated to storing basing materials.
Each drawer also comes with an optional divider (Not Pictured), which just slots together (no glue needed) and separates each drawer into 10 compartments. These are useful for bitz and individual models to sit in.
HobbyZone Modular Workshop – HZ-OM02b – 2 x Drawers Module
Essentially the same as the above but with 2 deeper drawers. Again easier to build but only due to it having fewer components. These hold much more per drawer than the ones above.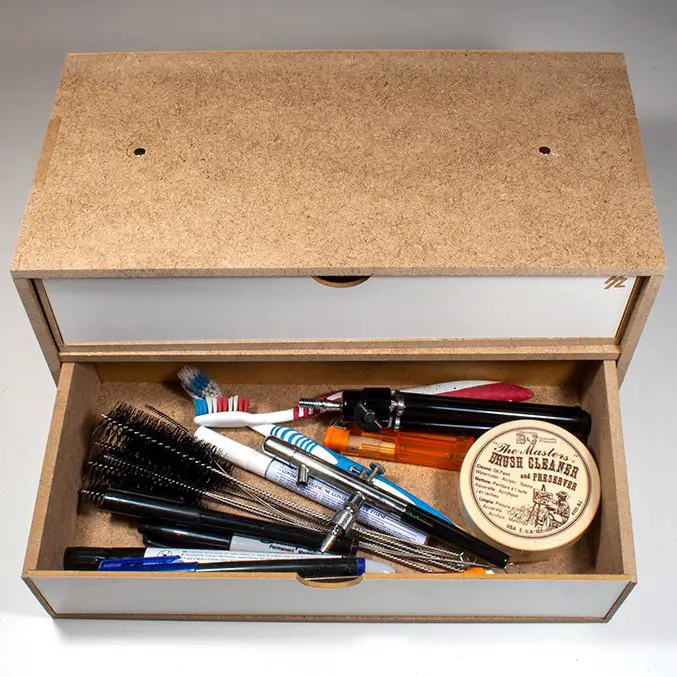 I tend to use these to store random large tools – I even fit a battery-powered Dremel tool in one of them. Again the optional inserts will split these down into 10 separate compartments.
HobbyZone Modular Workshop – HZ-OM03 – Corner Drawers Modue
The corner module is one of 2 components which neatly converts your whole workstation from a flat wall to a surrounding hub of hobby gear. One of the trickier builds as it is an odd shape and has both uprights and shelves. still not as bad as the 6 drawers module above. But again you have the small drawers to build.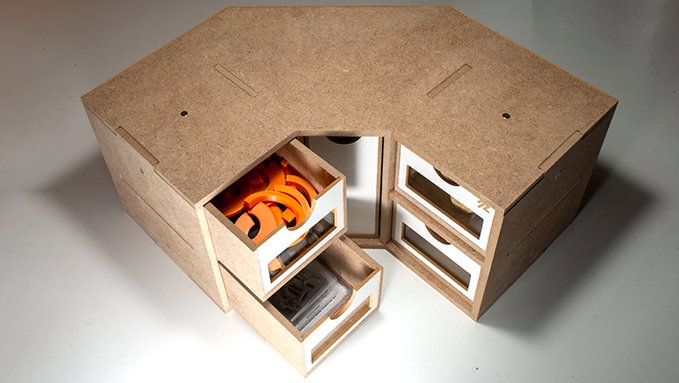 Just like with the 6 drawers module you have the little windowed drawers to build too.
The weird part of this set is the central drawer.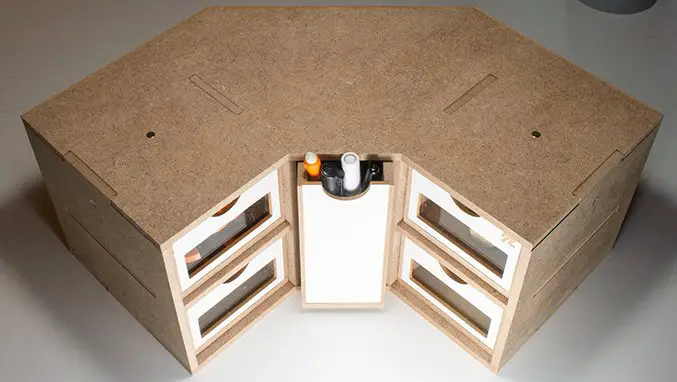 Other than wedging some larger bases in this, I'm yet to find a useful function for it. With the optional insert, you can separate this into 8 small compartments – I can't even fit pens in it as the unit is just to low at 15cm in height. If anyone has found a hobby use for this space, let me know in the comments.
HobbyZone Modular Workshop – HZ-OM04 – Corner Shelves Module
The corner Shelves module is one of the simpler builds. essentially just a frame with a shelf and 3 back panels.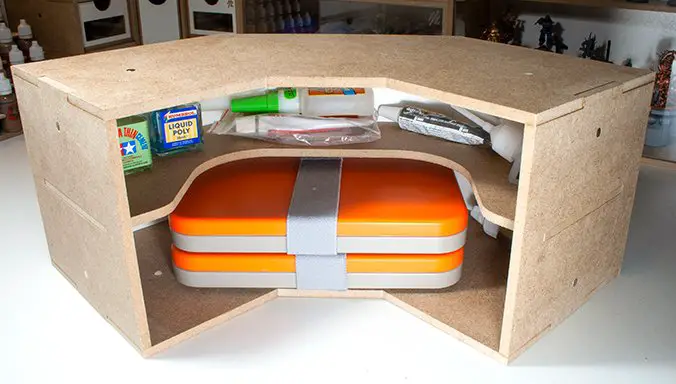 There's a load of storage space here and as you can see above it's great for my wet palette and some additional glues with room to spare.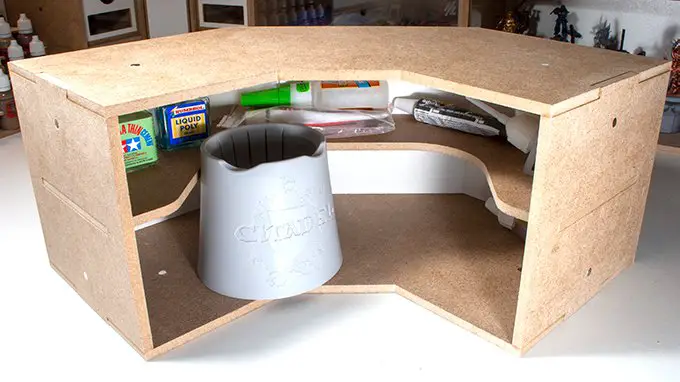 You can even fit in a couple of water pots thanks to the recess in the upper shelf. this is one of the cheaper modules too with a lot of function.
HobbyZone Modular Workshop – HZ-OM05s – 26mm Paints Module
Here's where we get on to some of the meat of this range.
I bought this set after looking for paint storage racks specifically. It was only when I found this set and realised I could store my paint and more that I was turned on to it. This was the one of the first modules I bought and one of the first I built.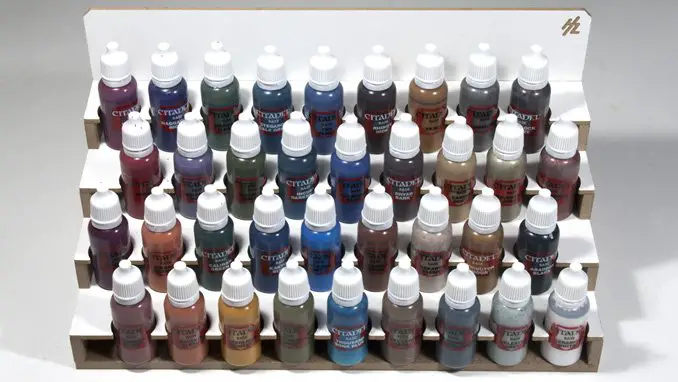 See our detailed review of this module here
These various paint holders are available in multiple configurations and the example shown here has 28mm holes for standard-sized miniature paint dropper bottles. However, the others can also support Citadel Pots, Tamiya Pots & even Oil Paints.
Each will keep even spacing between your pots and present them all organised and sexy. It's worth noting that the larger the pots the fewer you can store per unit. Which is why I transferred all my Games Workshop paints to dropper bottles.
There's also a bottles module with open shelves which will hold whatever variety of paints and bottles you require, it just looks less organised.
HobbyZone Modular Workshop – HZ-OM06s – 26mm Corner Paints Module
As with the above this is the corner variant of the same module above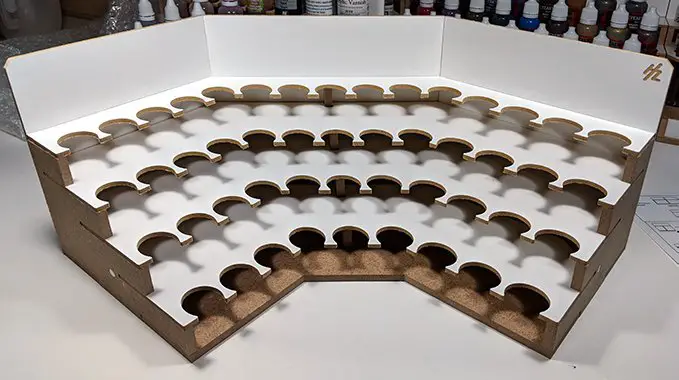 The benefit of the corner module is that they hold much more paint.
HobbyZone Modular Workshop – HZ-OM07a – Brushes & Tools Module
This is one of the better modules in the set, especially if you have an excess of brushes and similarly sized tools.
You can hold loads in here. Brushes, Files, Sanding Sticks, Hobby Knives, Pliers, Tweezers, Sprue-Cutters & More. You can even store a Hobby Drill and individual drill–bits. The rear holes will store the Winsor & Newton or GW Artificer brushes in their protective sleeves.
See our detailed review of this module here
A bit of a tricker one to build and it would have been better if the lower tool holder were raised a bit as the tools are forever falling out from these guide holes. A bit of height would prevent any slight bounce from knocking them off-angle.
HobbyZone Modular Workshop – HZ-OM08 – Paper Towel Module
One of the simplest modules yto build. it's just 4 walls, a back and 2 side plates.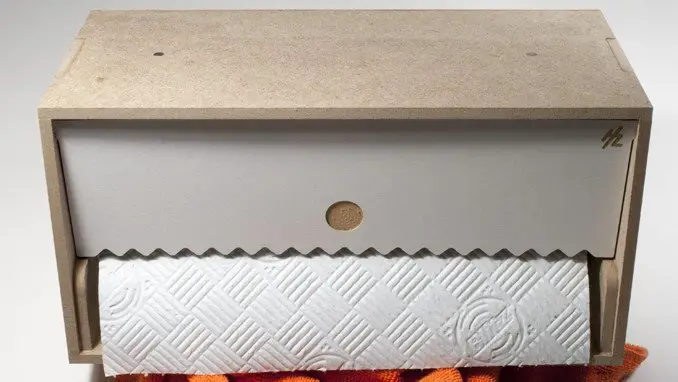 Your roll of tissue just sits on a rod which drops into the recesses on the side plates. The rod recess could do with being deeper as a slight nudge or pull can dislodge the whole roll at times. but it's good to have this available at a moments notice.
HobbyZone Modular Workshop – HZ-OM09 – Showcase WIP Module
Now, this was a module I really wanted, I ended up with a couple of them. By the time I came to build this, however, I became overconfident and because the module below (which I built before this one) came with an adjustable shelf I expected the same here. I glue the entire outer box together without realising that the frame needed to be glued in place during the build – loops.
I then needed to pull the whole thing apart again to get it in.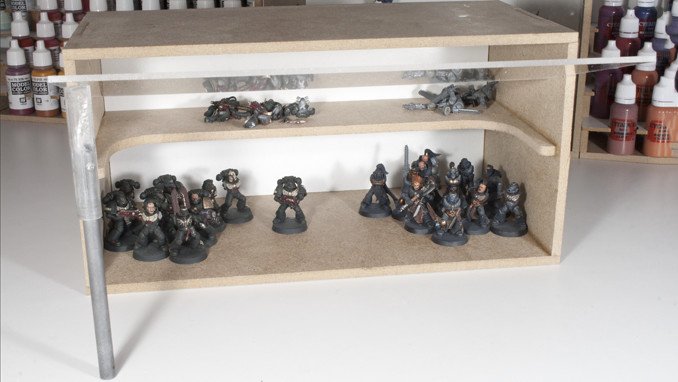 This is a really good module, as I jump from this project to that all the time and I'm forever leaving things in progress. having somewhere to store my in-progress minis is really useful.
The perspex window is super flush, it 's almost airtight.
The only thing I wish this had were some recesses where I could install some LED light strips, just to make the models stand out. At some point, I'll figure this out and just add some.
It's worth noting that you should really install this on at least the second tier of your set up. On the bottom level, the placement of the window hinges makes the top shelf almost inaccessible. Though if the hinge were higher it would make it much harder to open. Having put mine on the second level, it's more usable now
HobbyZone Modular Workshop – HZ-OM10 – Big Showcase WIP Module
This is one of the few modules which takes up two tiers of your HobbyZone workstation set-up. Despite its larger size, the build is so simple. It's just a box. The shelf is adjustable too and the window just flexes into place.
Again I need to figure out how to get an LED strip in here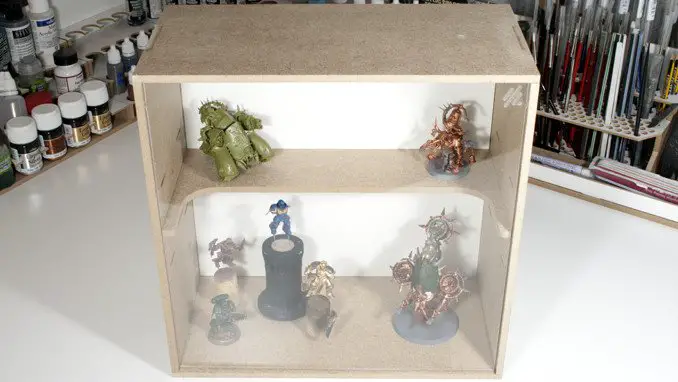 See our detailed review of this module here
This is much less awkward to put models in at any level. these units will store much taller and larger miniatures. Thanks to the gap in the upper shelf I am often able to store many of my more detailed miniatures which I tend to mount on Painting Handles.
HobbyZone Modular Workshop – HZ-OM11 – Ending Corner Drawers Module
This tiny inexpensive module is more filler than anything else. With the length width and height dimensions being set at 15cm and the drawers as shallow as the 3 drawer module above, there's not much you can fit in these.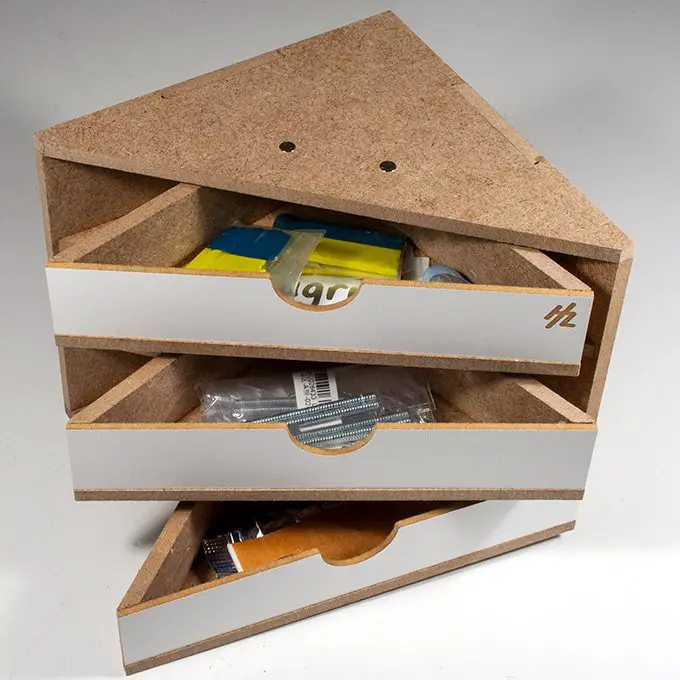 However, without these, the edges of your workshop setup are just dull MDF with 2 magnets in the side. They aren't entirely useless, they will hold small quantities of things like Knife blades, Green Stuff, Magnets and Paperclips etc.
HobbyZone Modular Workshop – HZ-OM12 Ending Corner Shelves Module
As a partner module to the above piece, this is again just a cheap simple end piece that goes alongside your paint racks.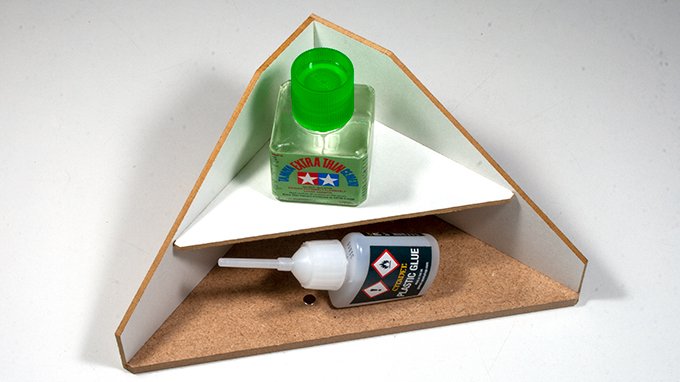 With just 2 shelves there's not much that will fit on these so I just use the bottom shelf for wine bottle corks and the upper shelf for a featured model. such as the POP figure Space Marines.
HobbyZone Modular Workshop – HZ-OM15 – Multimedia Module
And finally, a rather unique and strange module that's really helpful for when you are painting for endless hours. The multimedia module is perfect to sit a tablet or phone in. Whilst it looks complicated its actually quite easy to build – especially once you have some experience with the other sets.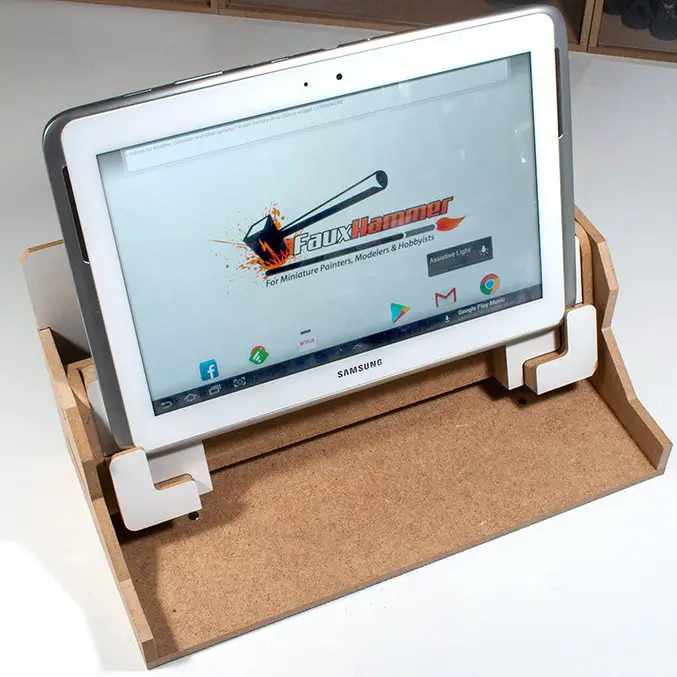 Once built you can adjust the width of the retaining clips for the size of your phone/tablet. You can also adjust the viewing angle depending on your position. it's a really clever little set.
However, just check the tablet dimensions you have before purchase – I didn't and my old Samsung 10.1″ Tab does not fit. This is made for tables of iPad2 size or smaller.
HobbyZone Modular Workshop – Availability
Whilst you can pick up the odd module from Amazon or some online hobby retailers – the place to go is HobbyZone.pl who offer worldwide shipping.
If you are looking at getting this set, you want to plan ahead. It's just easier to see all the modules in one place and plan out your desk area. Even if you are purchasing your whole collection over multiple periods.
But again, the beauty of this set is that you can build it up bit-by-bit – So if you see a deal on one odd module somewhere – grab it.
Will HobbyZone Modular Workshop Improve my Hobby?
When it comes to your hobby, real-estate comes at a premium – few people are lucky enough to have a dedicated desk – fewer still have enough disposable income to warrant such an expensive set.
But if you have a decent-sized desk and no more space anywhere else – this expense will help you maximise that area and the efficiency of your work by keeping everything at arms reach.

Personally I love having this and it really has made a difference to my hobby. Just the ability to sit down with everything organised and get on and paint removes so many mental blocks from making a little more progress on some work.
Though I'll be honest the above photo was taken when it was freshly set up – it's rarely looked that way since.
HobbyZone Modular Workshop – Final Thoughts
Pros
Cons
Modular
Highly Functional
Attractive
Tidy
Expensive
One source of Availability
It's a fantastic set with an almost unlimited scope however you obviously need the space and money for it. There are certainly cheaper storage options available, so buying depends on what you want. If you are just after some paint storage only, and will never need more. Then there's little need to spend this much (unless you like the style). But if you want the freedom of choice – maybe later down the line – then this is a great set to get started with.
Chances are you already know if you want this set or not just by being introduced to it so there's nothing this review can do to convince you. Either way, I think my role here is as I have said above just to show you the pro's and con's of each module – The detail of what to consider before you dive in.
But if you do dive in you will have something amazing which will certainly accelerate your progress in miniature painting just by making every task just that little bit easier to start.
Click this link & buy your hobby stuff from Element Games for the UK & Europe to support FauxHammer.com – Use Code "FAUX2768" at the checkout for double reward points.




Our Affiliates / Hobby Stores
What did you think of this Review? Please let us know in the comments.
If you like what we're doing here you could really help encourage more content with a share on any social media platform.
Click the share links at the bottom of this screen (or on the left for computers and tablets)
Want to keep updated with the site? You can subscribe in the sidebar for RSS or by email below
(Sidebar is below the article on Mobile Devices)
Summary
Reviewer
Review Date
Reviewed Item
HobbyZone Modular Workshop System
Author Rating





Product Name
HobbyZone Modular Workshop System