Battle Foam – P.A.C.K. 352 Figure Case and Magna Rack Review
Last Updated on October 21, 2022 by VoltorRWH
Today, we're taking another venture into transportation and storage for miniatures and models. There are hundreds of cases, boxes, and bags out there designed for the transportation and storage of miniatures and models. Picking the right one for you can be very difficult. Luckily, we at FauxHammer.com are here to cut through the noise and bring you all the info you need to make an informed purchase. See how the latest offering stacks up in our Battle Foam's P.A.C.K. 352 Figure Case and Magna Rack review.
Click this link & buy your hobby stuff from Element Games for the UK & Europe to support FauxHammer.com – Use Code "FAUX2768" at the checkout for double reward points.




Our Affiliates / Hobby Stores
Battle Foam's P.A.C.K. 352 Figure Case is a stylish and lightweight storage solution for any itinerant hobbyist. However, its real ingenuity lies in its compatible Magna Rack. These magnetic trays will keep your miniatures and models safe and secure in your case, and looking great when on display.
We're on a bit of a transportation and storage trip at the moment here at FauxHammer.com.
Two-and-a-half years into the hobby and writing for FauxHammer.com and I'm beginning to run out of space for all my painted plastic. Given all the awesome releases there have been recently, the need for storage in my home is becoming all the more desperate.
Further to this, the world is opening up and we're actually able to go places. This means at long last we can begin to meet up and play our favourite miniatures-based games again. Whoopee!
So, running into the awesome folks from Battle Foam at the UK Games Expo a few weeks back could not have come at a better time. They feature in our round up video, coming in at around the 09:37 mark.
Battle Foam offer something for everyone. Alongside storage solutions for miniatures and models, their range also offers containers and foam for golf clubs, cameras, and firearms (should you live in the U.S.).
Following meeting them at UKGE, we asked the folks at their UK distribution centre if they'd be interested in sending us anything to showcase and review here on FauxHammer.com. They very kindly sent us not only a P.A.C.K. 352 Figure Case with an assortment of foam trays, but also one of their Magna Racks to have a play with.
Battle Foam offer a vast range of storage cases, coming in all different shapes and sizes. For the purpose of this review, though, the good folks at Battle Foam's UK distribution centre kindly sent us their P.A.C.K. 352 Figure Case.
In spite of the bag still being a reasonable size, the P.A.C.K. 352 is by no means the largest bag they do. In fact, it probably sits somewhere towards the middle of their range. From the diddy P.A.C.K. Mini to the truly gargantuan P.A.C.K. 1520XL, there's something for any army in Battle Foam's range. Whether you're playing Underworlds with a warband of three models, or are taking 20,000 points of Astra Militarum to go and ruin someone's day, Battle Foam will have a case for you.
But they don't just do bags, oh no. Battle Foam also offer two distinct storage methods for use with their containers: foam, and magnetised racks (called Magna Racks). We'll have a look at both of these in a few moments.
Now, a note on the P.A.C.K. 352 before we go any further. See, so vast are the range of products on offer from Battle Foam, that there are actually a number of different buying options for the P.A.C.K. 352.
Now we're all on the same page, we can have a look at the P.A.C.K. 352 in all its glory.
As with our Tabletop Tyrant Dreadnought Backpack Figure Case review, the P.A.C.K. 352 is far too big to fit comfortably in my lightbox. This means we're going outside again and are utterly beholden unto the Norfolk weather (which was blazing hot on this particular day).
Anyway, here's the P.A.C.K. 352 in all its splendour.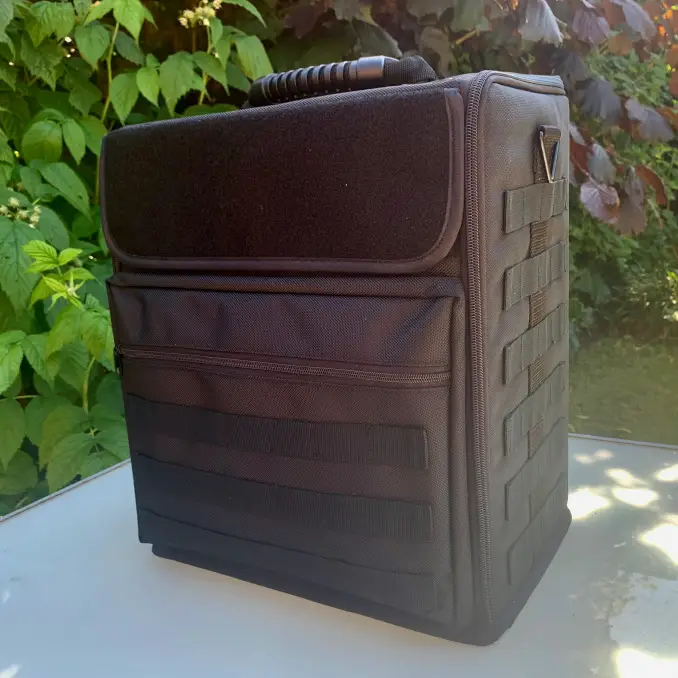 There's no argument: it's a good-looking piece of kit. Perhaps unsurprisingly given some of the other products that Battle Foam produce casing for, there's a distinct military feel to the look of the bag. It's smart, it's clean, and it looks tough.
It actually is pretty tough, too. The case has a Ballistic Nylon exterior over a hard plastic interior, which means it'll be resistant to all but the hardest knocks. Your miniatures will easily be safe in here.
Also, according to Battle Foam's website, the bag was designed to meet all FAA regulations for carryon luggage, so is completely flight-legal.
There are two pockets on the front exterior which can fit small books or other gaming accessories. The bag also comes with a strap (which, to be honest, isn't very special, nor well-padded – though you can buy padding for it), which can be stored in the front pocket when not in use. There is, of course, also a good solid handle on the top of the case.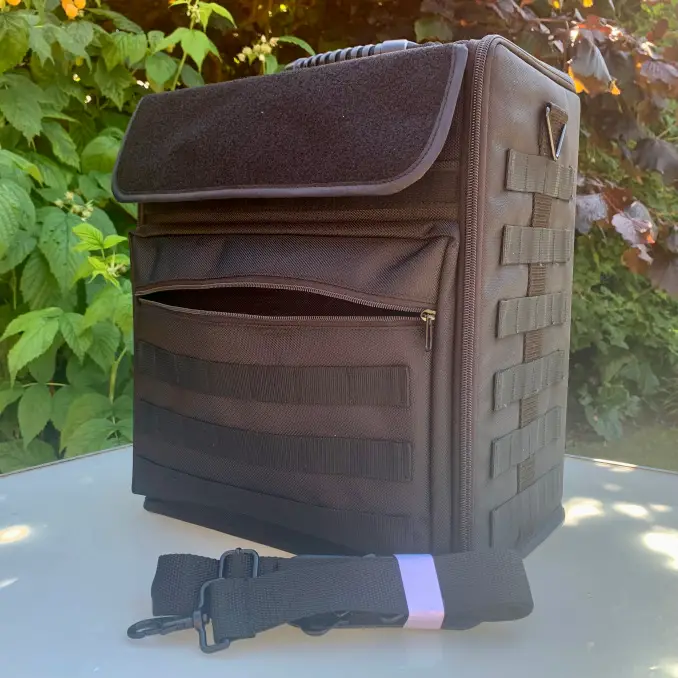 Battle Foam's P.A.C.K. 352 (or Personal Army Combat Kit to give it its full name), boasts a very reasonable 14.5″ height by 11.5″ width by 7.75″ length interior. It's a very handy size, neither too small to fit a good amount of miniature in, nor so large as to be difficult to carry.
The bag's main compartment is sealed by a zip which, when unzipped, allows you to open the bag like so.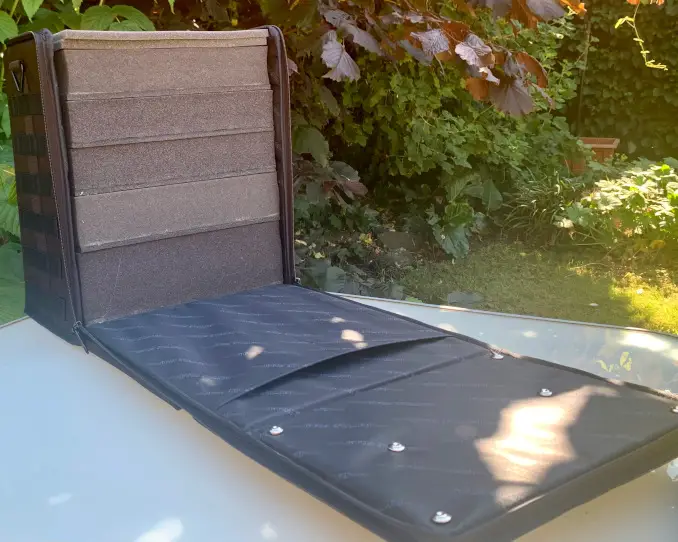 The P.A.C.K 352 is designed specifically to fit Battle Foam Small small-size foam trays (with 11.5″ width by 7.75″ length). The height dimensions of the foam inserts you require will dictate how many foam inserts you can fit in the case.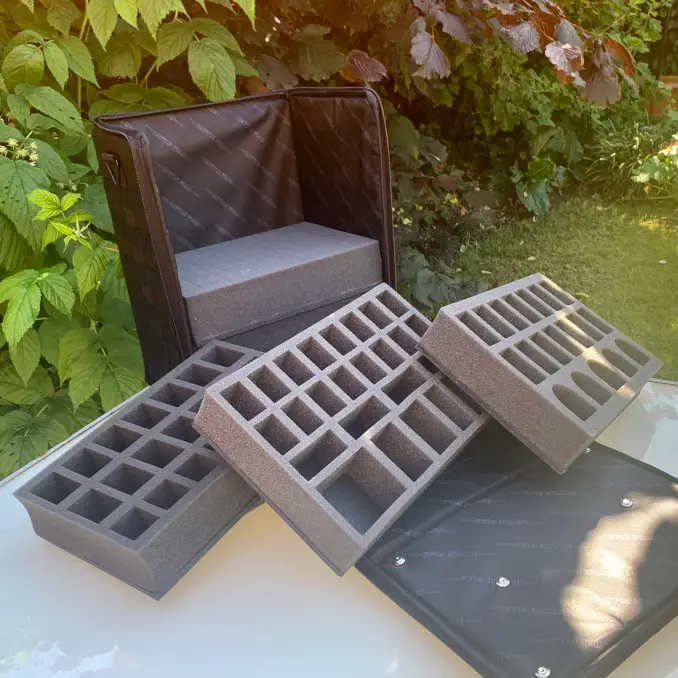 But foam isn't the only thing you can store in the P.A.C.K. 352. Battle Foam also offer an alternative way of storing your miniatures: their Magna Racks.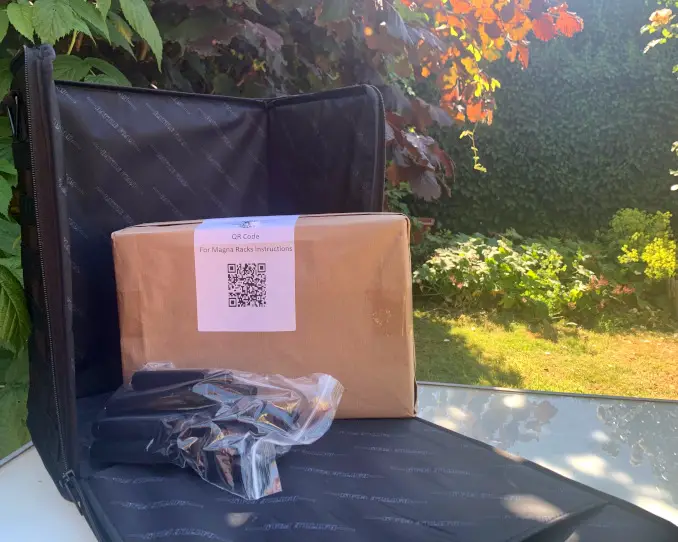 These need to be assembled, so we'll have a closer look at the Magna Rack in a moment.
With the foam removed, you can get a sense of how much space there is inside the case. The interior is printed with one of Battle Foam's logos, just in case you should forget where you bought it.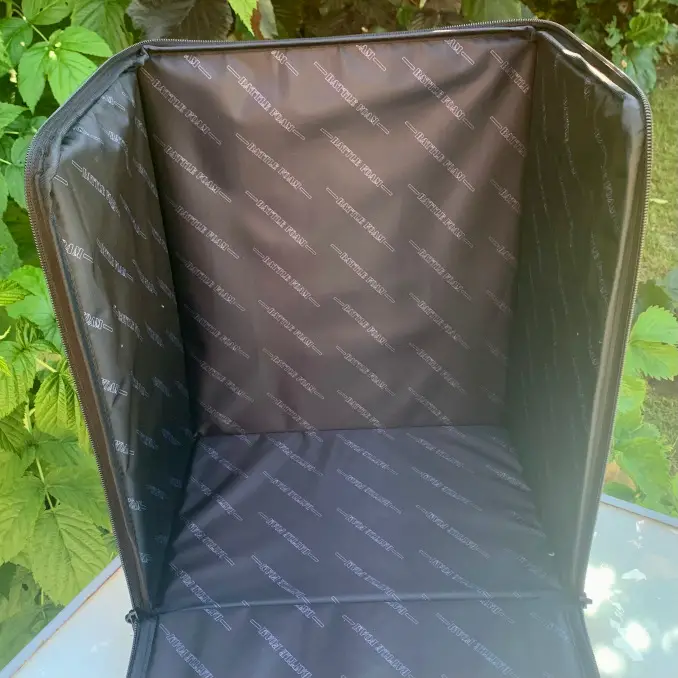 Remember those pockets we mentioned a minute ago? There's another inside.
On top of a handful of interior and exterior pockets , the P.A.C.K. 352 also offers a molle (Modular Lightweight Load-carrying Equipment) system. This means the bag offers a number of storage solutions for things such as tablets, books, dice and other gaming accessories. Battle Foam offer a number of accessories that you can attach to your bag by the strips on the exterior.
But first impressions of the case are extremely positive. The case is surprisingly light in spite of how reinforced it is. There are two methods for carrying it: the handle on the top and the attachable shoulder strap. There's plenty of space inside it, and it also looks great.
So far, so good.
The Foam
The sheer range of different foam trays available for purchase via Battle Foam's webstore is jaw-dropping. Battle Foam offer a huge range of trays designed to fit specific boxes, army loadouts, or warbands. For example, there's a tray catering to some of the parts of the new Echoes of Doom battlebox. There's another that will fit Helbrect, Grimaldus, and a couple of their buddies. Some of my favourites, though, are those specifically designed for Underworlds warbands and all the cards that can go with them.
Their range isn't just limited to Warhammer either. There are dozens of games on there that Battle Foam have produced trays for. No matter your system, there's likely something there that'll catch your eye.
Some of the purchase options from Battle Foam come with pre-selected foam trays, such as the one we were sent for this review. These are useful for people who are just starting out building an army, or perhaps aren't sure what exactly it is they need for their force.
Battle Foam do, however, have a Custom Tray Creator. This allows you to personalise your load out with not only whatever foam inserts you may need for your army, but also allows you to design your own bespoke trays exactly the way you want them.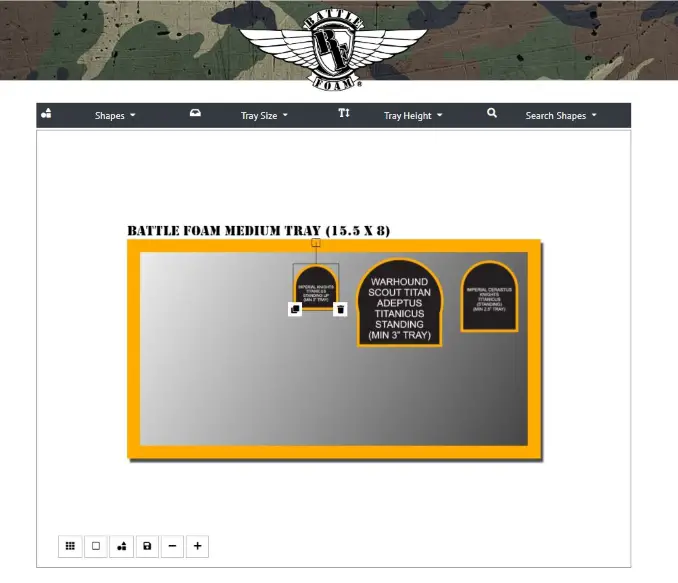 The tool allows you to drag and drop your own cutaways onto a tray size of your choosing and build your own bespoke layout.
Whilst this isn't something we're looking at specifically in this review, this is a really excellent resource. If you're looking for storage for a specific army, you must have a look at this. If you're after something a bit more general, then one of the pre-designed loadouts may appeal to you more.
As I said, though, for this review we were sent a pre-selected choice of foam trays. As such, the loadout that we were sent comes with the following foam options:
Source: Battle Foam
It's also worth mentioning that Battle Foam provide a lifetime warranty on all their foam. This warrant only covers glue separation and does not cover ripped or torn trays.  Defective foam trays can, however, be returned and exchanged for the exact same item.  Battle Foam will also ship the replacement foam to you at no extra cost. 
Starting with the Toppers, these are intended to, well, top things. Either used as lids on individual trays or as an extra layer of padding somewhere, these versatile bits of foam can slot in wherever they're most needed.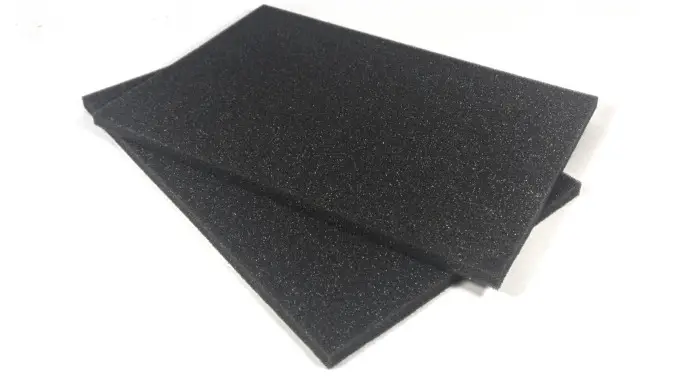 Next up is the 5 Terminator 14 Troop Tray. Designed to fit "average" sized miniatures, as well as a couple of those that are slightly wider (think Ogryns, some particularly wide-stance Duardin, or, as the name suggests, Terminators).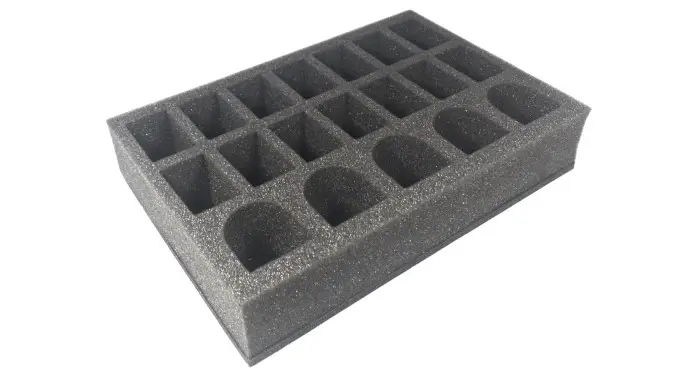 The Small 21 Necron Troop Tray follows on. The slots on this are, on the whole, smaller (aside from that beefy one closest to the camera) so will fit average-sized troops as well as some slightly larger foot soldiers.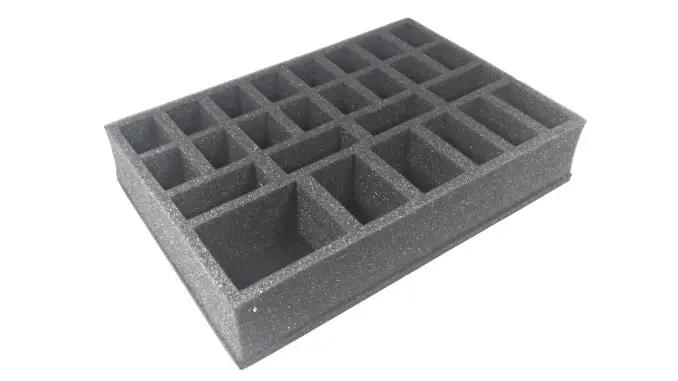 Next up is the much more standard Small Universal Troop Foam Tray. It is as it sounds. You'll be able to get most of your space marine-sized figures into this tray, provided they aren't waving their arms and legs around too much, or carrying any particularly huge weapons.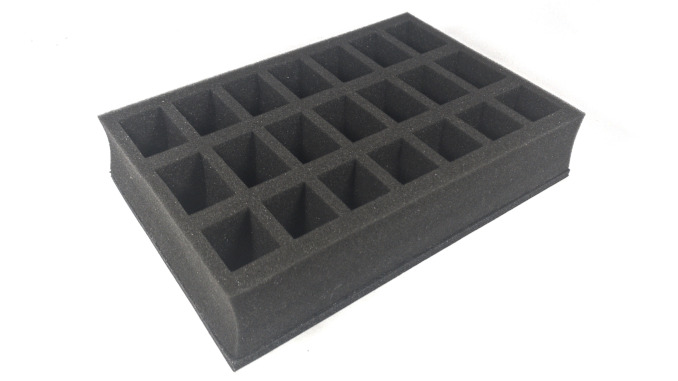 Next is the Small 2.5 Inch (63 mm) Pluck Foam Tray. These are excellent, versatile trays which you can shape to your needs. do this by picking out the little foam rectangles in each slot to create the space you require.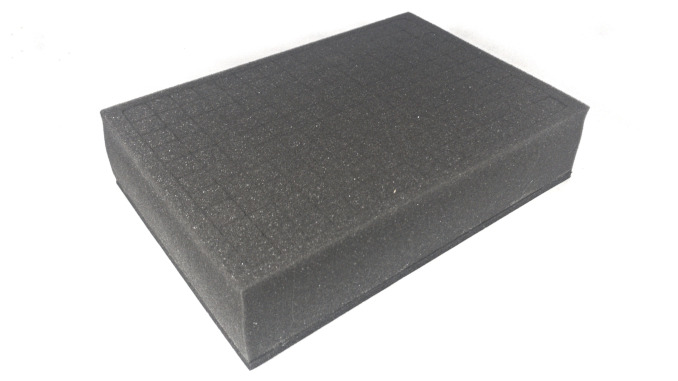 Finally, we arrive at the slightly larger Small 3.5 Inch (89 mm) Pluck Foam Tray. Just like the tray above, you can pick out sections to create the shapes you need. As this tray is slightly deeper, it'll be useful for smaller vehicles. Think Outriders, Rhinos, that sort of thing.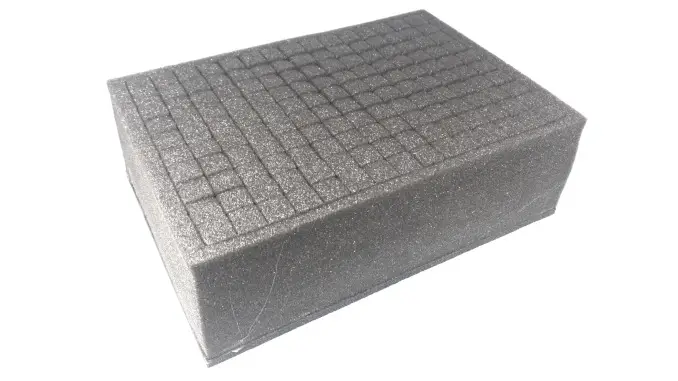 This sample, whilst one of the pre-selected options available when you purchase the P.A.C.K. 352, doesn't really do justice to just how many different trays Battle Foam has available. A quick glance at the Foam Trays section of the webstore shows that there are thousands of different combinations of single trays and bundles available.
Now, as I mentioned a moment ago, Battle Foam also offer an alternate way that doesn't involve any foam at all (in spite of their company name).
Ladies and gentlemen, allow me to introduce you to the Magna Rack.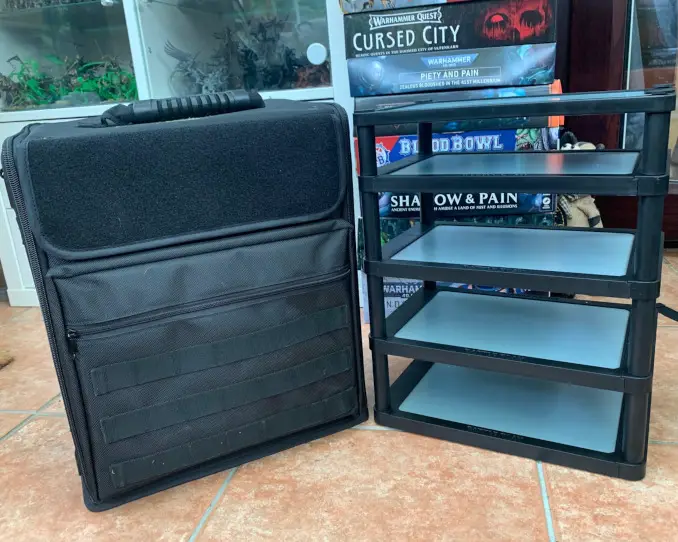 More specifically, the Magna Rack Slider Small Kit for the P.A.C.K. 352.
This shelf-like arrangement needs to be assembled, and comes in the following parts:
1x Small Magna Rack Original Tray.
4x Small Magna Rack Slider Trays
12x 3 inch (76 mm) Magna Rack Spacer Legs.
4x 2 inch (50 mm) short Magna Rack Spacer Legs.
4x Top Plugs
4x Bottom Plugs
4x Top Caps
It's not too difficult to put together, either. Here are all the bits that you need: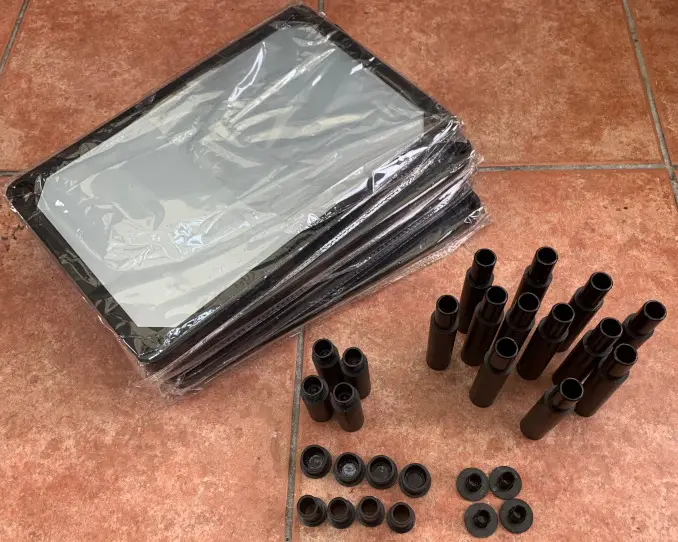 In order to assemble the Magna Rack, simply stick the four Bottom Plugs into the underside of one of the Small Magna Rack Slider Trays, like so.
Once you've done that, select four equal legs and slot them on to each of the corners.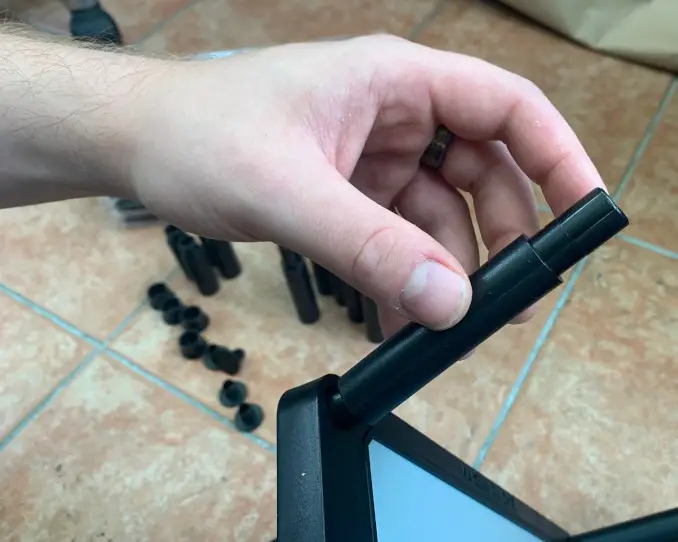 With four legs in place, put another of the Small Magna Rack Slider Trays on top and continue upwards.
Once you arrive at the top layer, you can either place the four top caps or top plugs on each of the exposed corners. The plugs will simply flatten the top of the tray, whilst the caps will offer a little clearance.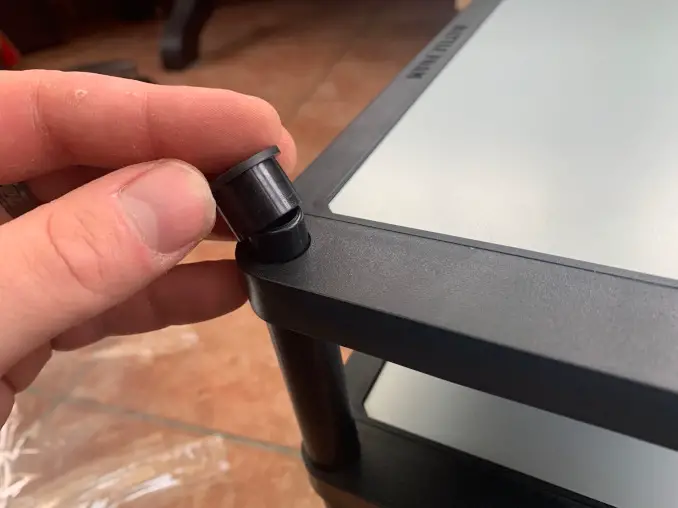 With the Magna Rack assembled, you can slot it safely away inside your case, or use it as a display rack.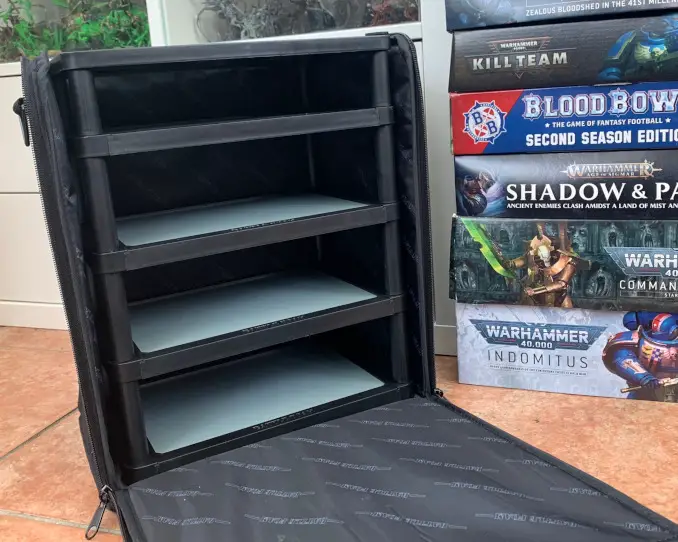 Once the parts are together, they're very difficult to separate. You must make sure you following the instructions for assembling the kit – these are available via a QR code printed on the packaging.
We'll return to the Magna Rack in a little while.
Battle Foam – P.A.C.K. 352 Figure Case and Magna Rack Review – Testing
Now, unlike in our Tabletop Tyrant review, where I was able top spend a good amount of time selecting the foam trays I wanted and planning my backpack, Battle Foam sent us a specific sample product. This product, as I've mentioned, came with a pre-selected foam loadout, likely designed to be versatile.
In order to really put the foam we had been sent through its paces, I decided to sic my Dark Angels upon it. Why? Well, dear reader, I've got a really weird Dark Angels collection.
1 x Chapter Master Lazarus
1 x Terminator Chaplain Tarentus
1 x Primaris Captain (Imperium Exclusive)
1 x Heavy Intercessor Space Marine Captain (Pariah Nexus)
1 x Bladeguard Ancient (Indomitus)
1 x Primaris Chaplain (Indomitus)
1 x Space Marine Captain in Terminator Armour
1 x Primaris Librarian in Phobos Armour
3 x Primaris Eradicators (Indomitus)
3 x Primaris Aggressors (Imperium)
5 x Space Marine Heavy Intercessors (Pariah Nexus)
2 x Primaris Lieutenant
2 x Primaris Captain
3 x Bladeguard Veterans (Indomitus)
3 x Bladeguard Veterans
15 x Primaris Assault Intercessors
10 x Space Marines
6 x Primaris Outriders
1 x Venerable Dreadnought
1 x Primaris Redemptor Dreadnought
Amassed over a copy of Indomitus, a Command Edition, a few impulse purchases, and several issues of Warhammer 40,000: Imperium, I've got a really odd selection of green Space Marines, selected almost at random and with no sense of army building in mind. There are a lot of single figures, figures that are different sizes, large squads, and a few vehicles too.
Let's see just how much of all of this stuff I could get into the foam trays.
The Foam: Filling and Storing
I started with the two Pluck Foam Trays, intending to use the more versatile, build-your-own-style space to harbour some of my larger figures. I planned on getting my Venerable and Redemptor Dreadnoughts, as well as my six Outriders, in these layers.
The Pluck Foam Trays are okay. They aren't as easy to use as I was expecting. For those who aren't familiar with the concept, you can pluck out little rectangles of foam to make a space to suit your needs.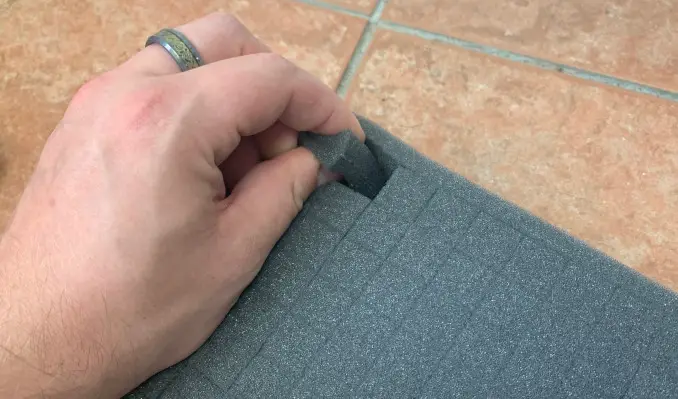 There were two issues with the Pluck Foam Trays. The first was that one of them wasn't cut properly. As you can see in the picture below, there was one non-cut section, which threw a spanner in my layout planning. Whilst I could still work around this, it didn't do much for the overall aesthetic of the tray. When buying a Pluck tray, Battle Foam do warn you that this may occasionally happen and advise you to use an exacto knife or other hobby/craft knife to cut sections as required.
The second issue with the Pluck Foam Trays was that they didn't pluck very easily. On quite a few occasions, instead of popping out with ease, the foam would give way with a rip and leave uneven edges like those below.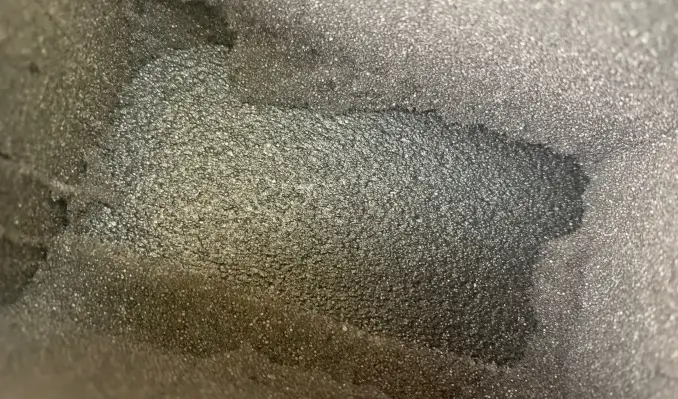 Again, this is more of an aesthetic thing and may not bother some people, but it's worth bearing in mind.
My Redemptor Dreadnought was ever so slightly too large to fit into the larger of the Pluck Foam Trays standing up, so he was slotted in lying down, not far from his much smaller Venerable Dreadnought buddy.
In spite of this handful of small issues, I was able to get all of the figures I wanted into the Pick and Pluck Trays with a reasonable amount of space to spare.
I then moved on to, well, everything else.
I didn't keep particularly good track of what I was putting where, I'm afraid to say. There was a lot of chopping and changing as I tried to fit the maximum number of figures into the cases.
The versatility of what was on offer across the trays made life a lot easier. With a mismatch of assorted troop units and single figures, finding a place where they would all fit whilst keeping them in units where possible proved to be surprisingly easy.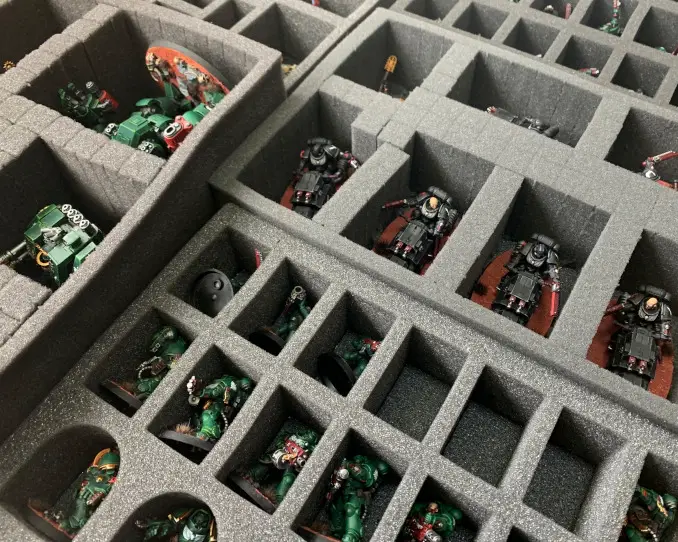 Anyway, a surprisingly short time later I was done.
More or less everything. See for yourself.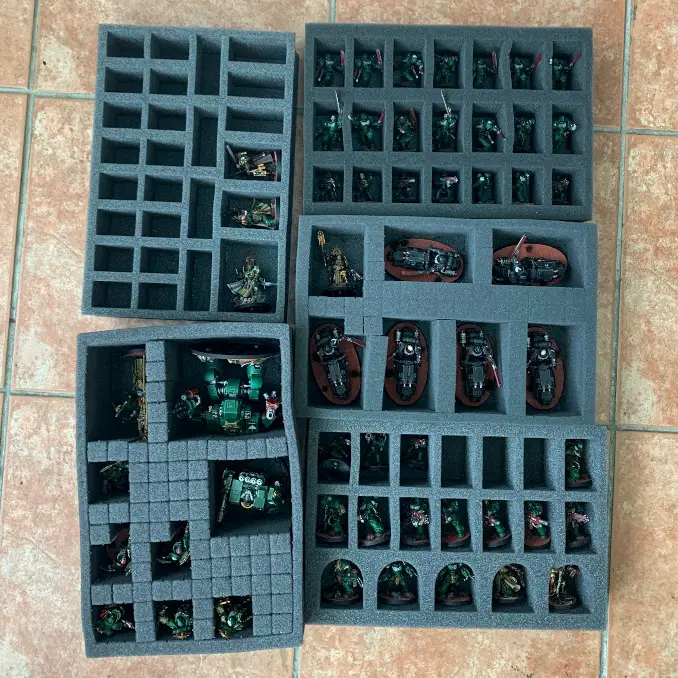 Considering the arrangement of foams I received had not been selected with my army in mind, I'm impressed I was able to get as many of my Dark Angels in without any issues. There are a couple of errant chainswords on the Assault Intercessors, but these don't extend far above the foam so they're in no real danger of being damaged.
There is a bit of wasted space, though.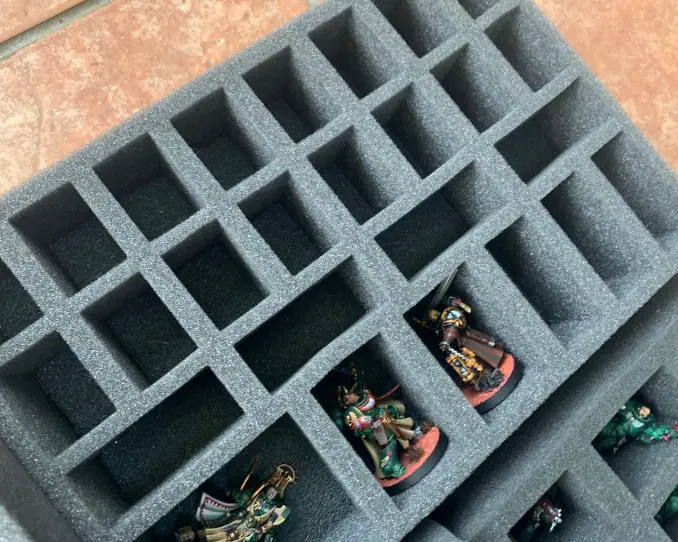 Unfortunately, none of the few Dark Angels models I had remaining would fit in any of these gaps. These spaces fit smaller models – such as the Death Korps of Krieg Kill Team squad – perfectly. There wasn't much chance of stuffing a Primaris Space Marine into any of these, though.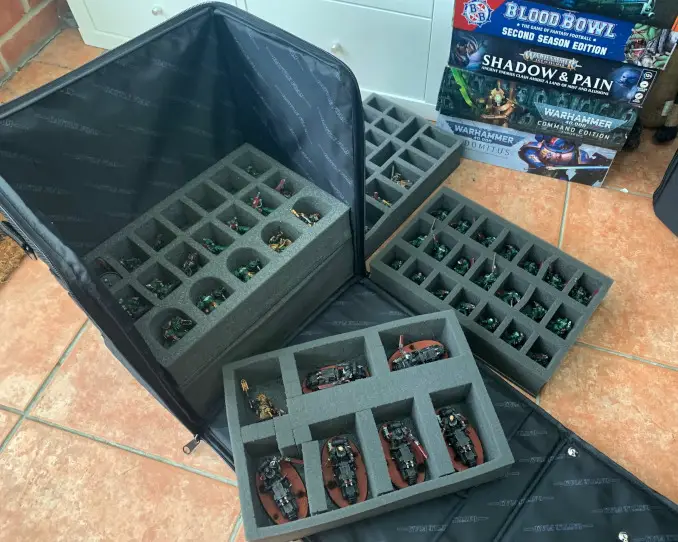 Everything then slotted very easily into the pack for transportation. Nothing was damaged at any point during the process, either.
The Foam: What Doesn't Fit?
Only six models were left in the Ikea Kallax by the time the foams were as filled as they could be.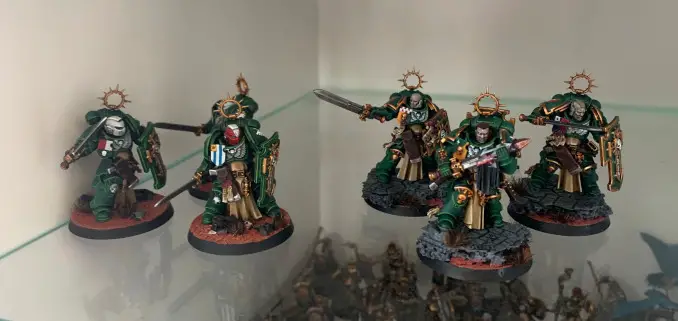 I simply ran out of space for the Bladeguard Veterans. Also, the models' wider stances and sticky-out swords made it almost impossible to fit them into any of the slots in the first place. Plus, the fact I've put three of them on elevated bases also made it more difficult to fit them into any of the available slots.
In all, I'd call that pretty successful. The vast majority of miniatures in my Dark Angels collection were stored. Looking at some of the space I had left over, I could easily take a pair of scissors or a hobby knife to some of the sections and make them wider. I'd then be able to fit the majority – if not all – of the Bladeguard Veterans in.
But, if I were really that bothered, I could always break out Battle Foam's Custom Tray Creator. This'd let me create a bespoke tray exactly to my liking and fit everything in without any issues whatsoever.
However, we aren't done yet.
Foam set to one side for now, let's return to the Magna Rack.
Once your Magna Rack is assembled, filling it is a simple enough process. The pull-out trays can simply be stacked with your chosen assortment of miniatures – provided they've got magnets on the bases.
I'd magnetized the bases of my Dark Angels some earth magnets that I had lying around ahead of time. Magnetising your miniatures' bases can be as easy as simply gluing or sticking a magnet in place with superglue or another strong adhesive (emphasis on "strong" – your magnets will want to be free of their bases).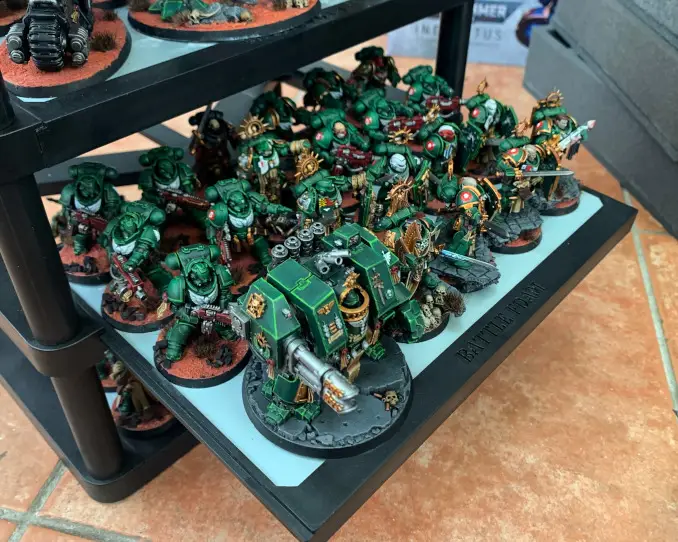 The trays slide out completely, which makes it easier to stack your assortment on miniatures on it. Provided the miniatures aren't too large, you should then be able to slide the tray back into its slot without any of them catching on the layer above.
I didn't have any issues fitting the majority of my miniatures onto the Magna Rack. However, the pesky Redemptor Dreadnought and Bladeguard Ancient caused some problems again. Both were too tall to fit on any of the layers by default, so I had to remove one of the trays in order to get them to fit.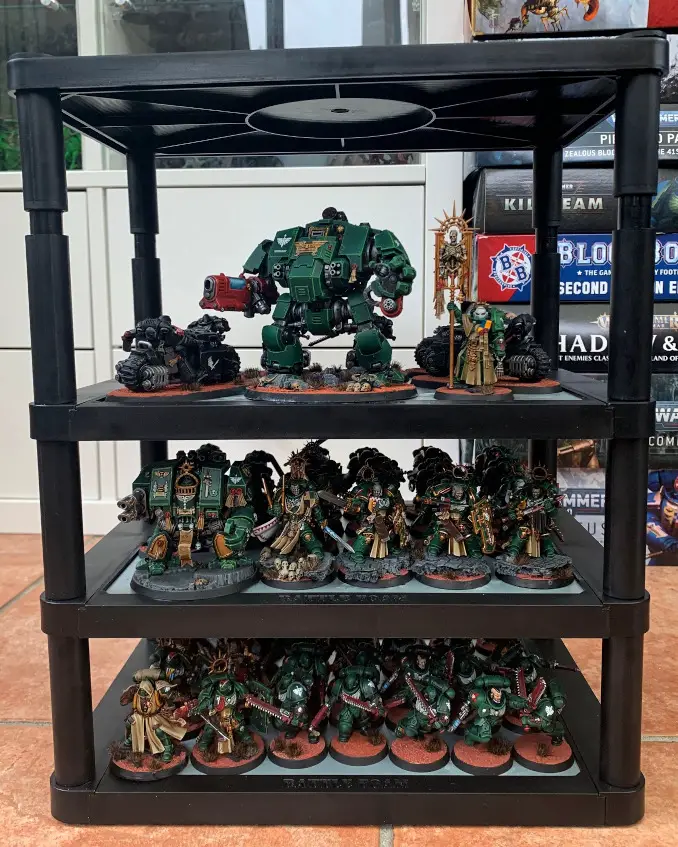 This was a bit irritating, as it limited the amount of space I could then use for the rest of my miniatures. With six Primaris Outriders on large, oval bases, I could have really done with the extra space.
Aside from the great deal of swapping and shuffling I had to do to try and fit as many of my miniatures on to the trays as I possibly could, it was a fairly painless process. Removing the extra tray was quite tough, as although the Magna Rack is assembled by slotting its components together, they're extremely difficult to separate again.
Everything.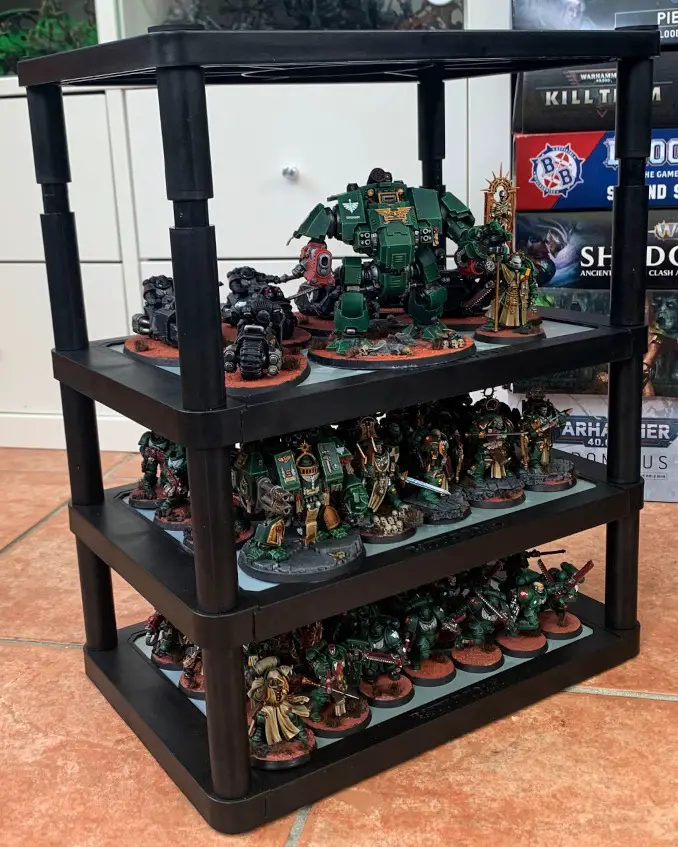 It's not neat and it's by no means pretty, but they all fit.
It took me a good hour of shuffling and re-shuffling, but I eventually managed to get every single Dark Angel model in my collection onto the Magna Rack somewhere.
As I said, I had to remove one of the shelves in order to fit in my Redemptor Dreadnought, which was once again ever so slightly too tall to fit between the shelves. The Primaris Ancient holding his banner was also a complicating factor, as the model is as tall as the Dreadnought.
To test how secure in the rack they were, and to prove that the magnets were all strong enough, I then did this.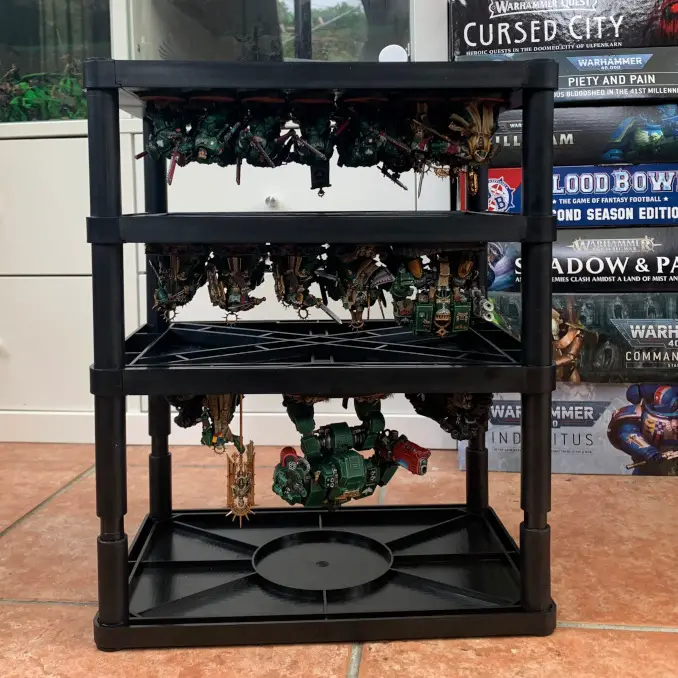 I have to admit, this ranks in the top five most stressful moments of my life, and just looking at this picture makes me feel queasy.
The Magna Rack: What Doesn't Fit?
Anything else.
Unless my Primaris Ancient and Redemptor Dreadnought sit down (which they can't do for obvious reasons) I can't fit the extra shelf into the Magna Rack. This means I can't fit any more models in with this loadout.
This has implications for me wanting to expand this part of my hobby. If I want any more Dark Angels (which I do – I have an unpainted Interrogator-Chaplain and Lieutenant Zakariah) I'll have to figure out an alternative storage and transportation solution for them. there is absoluetly no way I can fit more in this set up. Sure, I could buy myself some more Spacer Legs, but then I wouldn't be able to use this bag.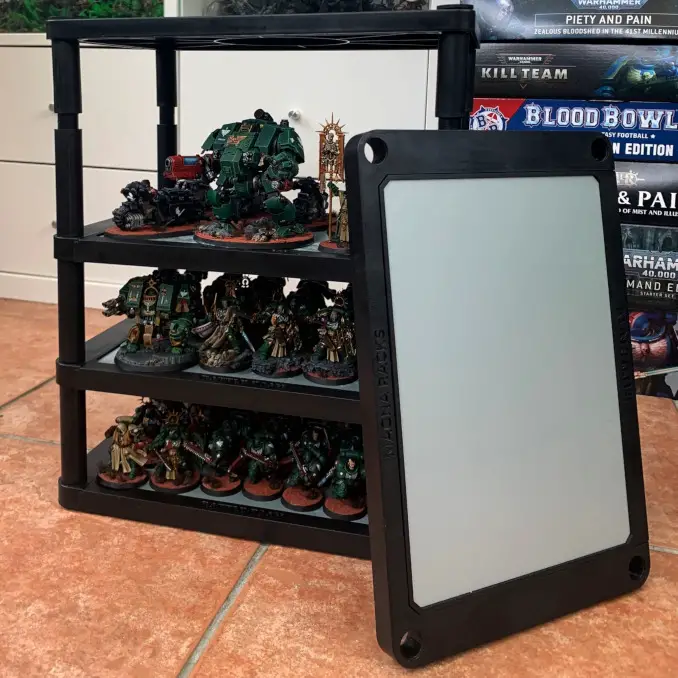 If I was buying something from Battle Foam's range knowing what I know now, I'd always go for the size up. Your collection is likely only going to grow, so factor this in to your purchase. Buy bigger, as this also gives you an excuse to then buy more miniatures.
And that's all any of us want, really.
I decided to take the P.A.C.K. 352 for a spin with the Magna Rack in it. This is the heavier of the two options, so this would put the case through its paces.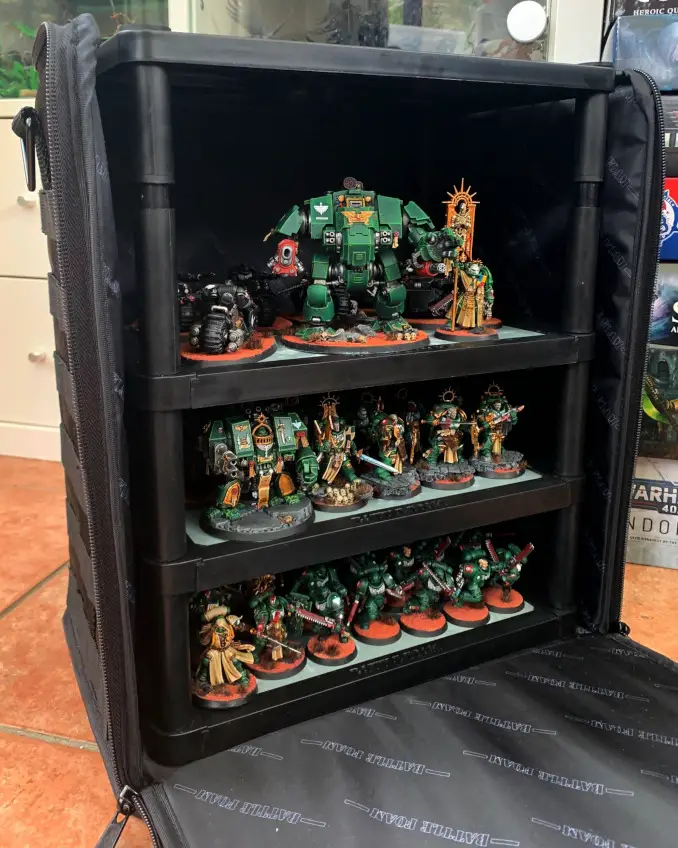 Still, even full of Fark Angels miniatures and a mostly metal-made tray, the P.A.C.K. 352 isn't unbearably heavy. There's weight to it, sure, but it's not exactly pulling your arm out of its socket.
I took the P.A.C.K. 352 and its precious cargo on the same mile-long spin that I took Tabletop Tyrant's Dreadnought Backpack Figure Case. I did initially set out with the shoulder strap, but it isn't for me. Whilst the bag is really well-made, the strap lacks a little in the way of padding (though, as I said, you can buy additional padding for it), so I didn't find it all that comfortable.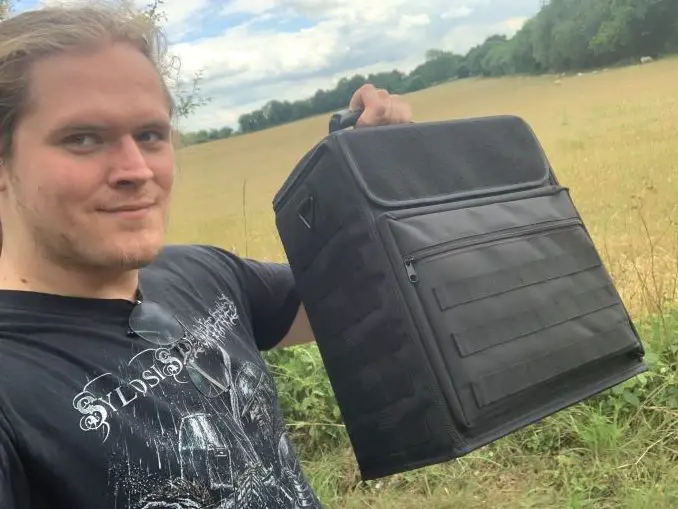 I also just don't like single-shoulder messenger bag-style straps, but that's a me thing.
The handle on top of the case is sturdy and secured with some big rivets, so it's extremely unlikely to break. You could stuff this full of your heaviest figures, and the P.A.C.K. 352 wouldn't flinch. Your hand might, though.
I also returned to the same sheep who chided me for collection Age of Sigmar miniatures in our Tabletop Tyrant Dreadnoough Backpack Figure Case Review and asked them if they'd rather a 40K throw-down. They took one look at my figures, scoffed, and said there's "absolutely no way they'd play that table".
Which I think is unfair. My figures look good. In fact, they look great in the P.A.C.K. 352.
The more I look at this bag, the more I love it. Sure, you might struggle to fit a really big army into it, but for 1,000-1,500 point games or Warhammer, or if you're a DM with lots of figures, you'd look the absolute business rocking up to game night with this bad boy.
The Battle Foam monogram on the top also adds a little pizzazz.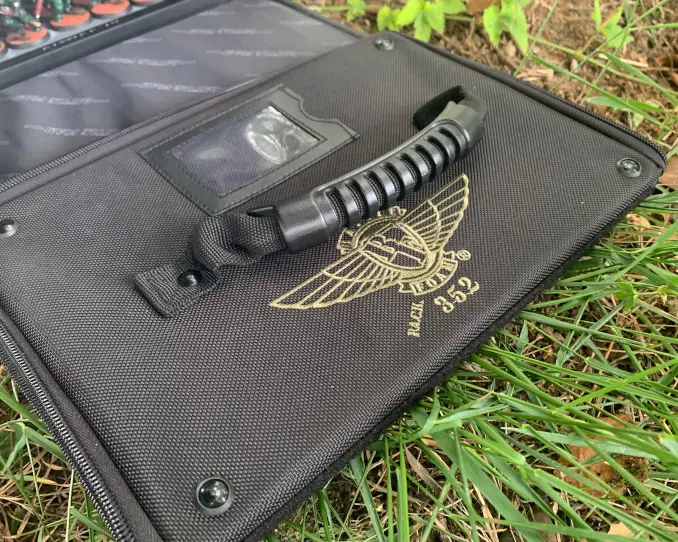 Given the amount of stuff I've managed to cram into it, the P.A.C.K. 352 is surprisingly small. It's not gaudy and garish like some cases are, and isn't so large as to be difficult to carry or unwieldy.
I even passed my neighbour whilst out walking, and they didn't ask me a single question about why I was out for a stroll with a suspicious bag. This is testament to the fact that whilst the bag looks swish and stylish, it doesn't scream "I'm a huge nerd carrying around a couple hundred quids' worth of plastic soldiers."
So, to recap: the foam is good and the rack is great. The bag is awesome: not only is it lightweight and easy to handle, it's also firm and secure – and looks great to boot.
We've looked at quite a few different bits and pieces in this review. Here are how much they all cost on Battle Foam's UK webstore.
In total, purchasing all the foam that comes with the P.A.C.K. 352 Molle Standard Load Out will cost you £92.40. Therefore, buying the P.A.C.K. 352 Molle Standard Load Out with the foam is the obvious option. At £109.20, it's only a few quid more – and you get the sweet bag.
The foam is definitely the traditional packing method, but foam does have its downsides. It can snag on spiky bits of figures and cause breakages, or can be abrasive to a painted texture. This means it can cause damage to paint jobs if your models aren't varnished. The likelihood of these happening is small if you're taking care of your figures, but there's always a chance – particularly if there are spears involved (looking at you, Deathrattle Skeletons).
In which case, the Magna Racks are the better option. Expensive, yes, but there's no risk of any sticky-out swords or spears getting caught and breaking off when models are placed and removed.
They also look super cool.
Buying an empty P.A.C.K. 352 and the appropriate Magna Rack will cost a £199.20, but this is certainly the more unique option and will appeal to die-hard hobbyists. If you're the sort of hobbyist who magnetises their models anyway, the Magna Rack is an excellent way of storing and protecting them. That it can be removed from the case and placed elsewhere in your home means it doubles as both a display unit and a means of transporting your miniatures.
Put it this way: compared to the Warhammer: The Horus Heresy – Age of Darkness, the P.A.C.K. 352 Molle Standard Load Out costs quite significantly less. Compared to the same box, the P.A.C.K. 352 Molle and a Magna Rack Slider Small Kit isn't that much more expensive.
It all comes down to how much your models mean to you, and how much cash you can spare to keep them perfect. Discounts are available, though. If you're tempted by anything you've seen today, mark your calendars: take advantage of the Battle Foam Online Summer Sale from August 4-8th.
If you're still unsure, or would like to see the products first-hand, you can also join Battle foam at Table Top Gaming Live, TTG Live in Manchester on September 17th.   Say hello, check out Magna Rack Sliders kits, place orders. There's also a great show discount, which you won't want to miss.
Also, from July 1st, you can place pre-orders with pick up at Table Top Gaming Live in Manchester on the day, using discount code PRETTGL22 at check out and selecting "Pick Up at Battle Foam attended Convention" to reverse shipping charge.
Pros
Cons
Looks super stylish
Backpack is very light in spite of how sturdy it is
Molle system is a great addition that allows customisation/personalisation of the case
Lots of buying options
Magna Racks are both effective storage and unique display method
Everything is expensive (but then again, what in this hobby isn't?)
Optional shoulder strap could be padded for comfort
Some of the foam isn't quite up to the super-high standard set by BF's other products
When I first started reviewing cases and storage for miniatures, I was shocked by how expensive they all are. My first experience of dedicated hobby storage and transportation solutions was the modular Crystal Fortress Hobby Display/Transport Case, which, whilst I understood the appeal, I wasn't a huge fan of. It didn't feel practical, nor very sensible.
Over the last couple of years of hobbying, though, I've come to realise that in the grand scheme of hobby-related things, these kind of purchases are, however, worth it.
I spend a lot of time on my figures. As I've become a better painter and more invested in playing the various games systems with which my miniatures are associated, I've had to travel with my figures. The struggle between wanting to keep my figures nice and safe, but also wanting to actually go out and show them off on a tabletop somewhere, has left me paralysed with indecision and not doing things I'd otherwise enjoy.
I wish I'd had something like the P.A.C.K. 352 in my life sooner.
It is, at its core extremely, practical. It's both lightweight and sturdy. It has additional storage options. It looks good without compromising on the protection it offers nor its size. If you're an itinerant hobbyist who has invested their time, effort, and money into curating their figures, purchasing a product like the P.A.C.K. 352 is a no-brainer.
It's tough to give this an overall star rating because we are looking at two sides of one product. The P.A.C.K. 352 is excellent, as is the Magna Rack. In fact, if I'd just been sent the P.A.C.K. 352 and the Magna Rack, I'd have gone with another five-star review.
But I do feel like Battle Foam's foam isn't quite up to the standard of their other products. That's not to say it's bad, oh no. The P.A.C.K. 352 is excellent; the Magna Rack is awesome. The foam is good.
Damn, who'd have thought saying something was "good" made it sound like it was bad? But when you're side-by-side with the P.A.C.K. 352 and its associated Magna Rack, you've got to be pretty much perfect in order to stand beside them.
Click this link & buy your hobby stuff from Element Games for the UK & Europe to support FauxHammer.com – Use Code "FAUX2768" at the checkout for double reward points.




Our Affiliates / Hobby Stores
What did you think of this Review? please let us know in the comments.
If you like what we're doing here you could really help encourage more content with a share on any social media platform.
Click the share links at the bottom of this screen (or on the left for computers and tablets)
Want to keep updated with the site? You can subscribe in the sidebar for RSS or by email below
(Sidebar is below the article on Mobile Devices)
Summary
Reviewer
Review Date
Reviewed Item
Battle Foam - P.A.C.K. 352 Figure Case and Magna Rack
Author Rating