Warcolours Review for Miniature Painters
Last Updated on April 23, 2021 by FauxHammer
Here we go then, today we're taking a look at another paint brand with our Warcolours Review for Miniature Painters.
Our Affiliates / Hobby Stores
The Best Paints for Miniatures & Wargames Models
This article is part of our series looking at The Best Paints for Miniatures & Wargames Models.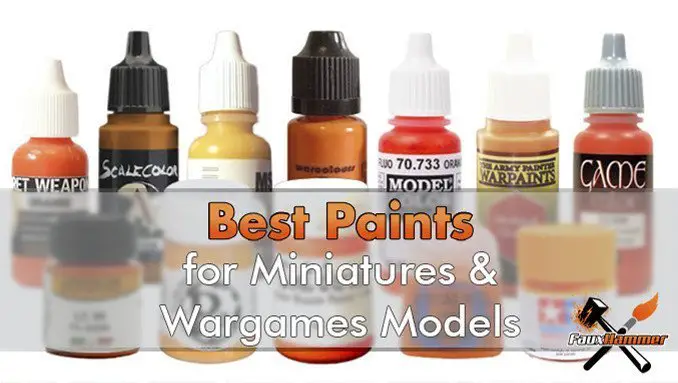 If you want to check out what the best paints are for your projects, please check out our Best Paints article by clicking the image above.
Warcolours is a solid competitor to brands like Army Painter & Citadel especially when you consider you are getting arguably better paint, cheaper. Whilst the One-coat paint's aren't exactly that – Once you get to grips with them you have incredibly fine pigmented paints which are ultra-smooth.
All-in-all this is presently the most intelligently produced range of paints available for your miniatures, With the layer paints consisting of all the main hues from a typical colour wheel to the clear indication of paint opacity marked on each bottle. Even the bottles style and available sizes themselves work in your favour as a miniature painter.
They essentially tick all of the boxes you want ticking when buying miniature paints and they do it out of the box.
Warcolours sent us the below colours to test out their range, we have a limited selection below which let us try out various types and colours across the whole product line, which is quite expansive and at the time of writing and includes the following;
And all that's before some of the technical paints – which unlike some brands, are the true use of this term. These work with the rest of the paint line (or other acrylic brands) and change the properties of the paint.
Everything from Primer to Varnish is available, with a plethora of medium types in-between. Want a Glossier Finish, add the medium, want to make a Glaze, add the medium, do you want to make your own Contrast Paints or Metallics? just add the appropriate medium. They even sell drying retarders, brush cleaner and demineralised water. That's not even half the list, see their Technical Paints page for even more
This range really is the complete miniature painters package!
I do need to make a few gripes about the website however, it's a little confusing – just to put that list above together, I struggled somewhat.
Generally speaking, all of their paints are available in 15ml & 250ml variants. With some also available at 30ml also – You select the bottle size you want on the same page as the colour you want, except;
The most common paints are the layer paints, which for some reason have the 15ml bottles on an entirely different page to the 230ml bottles? It's already odd that these are 230ml, not 250 ml like the rest, but the latter page even offers you 3 different versions of Orange 1?
Just to make it a bit more disorganised the Inks have you select the size of the bottle after you select the colour – the opposite of every other page. Even on the "Single paints" category page, it's hard to realise that you are looking at categories. The main image for each category is of a single colour instead of the picture of the range (A picture which for some categories is available once you then go into that category's page).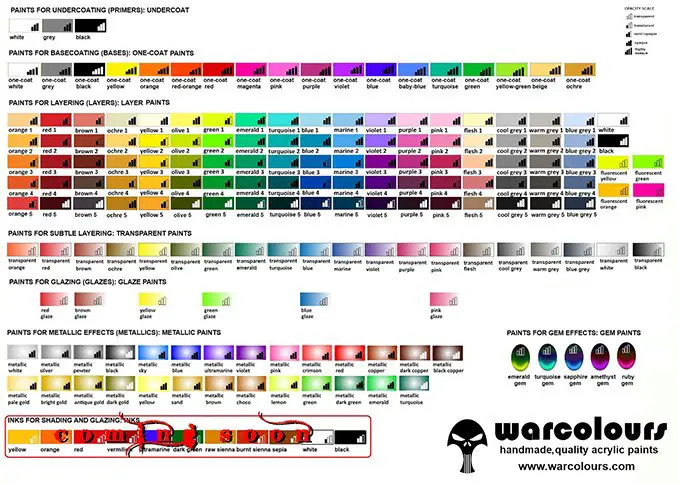 One item available in the shop (oddly in the Accessories section) is an e-chart with all the colours on. Although, now the Inks are available (and have been for at least a year), this is somewhat out-of-date.
If the devil is truly in the details, then Warcolours could do with some slight improvements to their site organisation.
Ok, so I know I'm nit-picking, but it's not a fair or balanced review if I can't point out some negatives. Otherwise, I'm clearly not being objective. But if this is the limit of the critique I have with the range – what does that say about the paints themselves? Let's have a look, shall we?
First of all, I just want to say how thankful I am that Warcolours is a European company (from Cyprus). You have no idea how happy I am to write a review using my native spelling of colour with "U". I've done too many now where I've had to recheck for uses of the product name so I can remove the U. So here's a Tick for Warcolours for having the "correct" spelling of colour!
Also, look how gorgeous these bottles are!
The above paints are from the Highly Opaque One-Coat range, 8 of the 20 colours available. These paints also include a glass-agitator. Though being as thin as they are, I wonder if they are even necessary? I'd rather it were the layer paints which include an agitator (they don't). Still, it's nice that they are included since there are so many other brands that clearly need them and charge you extra for the privilege.
Marking opacity on the bottles is an absolute genius idea. There are 5 opacity levels spread across the different ranges.
Highly Opaque
Opaque
Semi-Opaque
Translucent
Transparent
These opacity level names are written on the bottles. But the clearest indication, is how many of the 3 bars are filled in on the little graphic.
From empty (translucent) to 3 full bars (opaque) – that's the first 4 levels anyway.
The Highly Opaque One-Coat bottles have a fourth bar. This suggests that this One-Coat line came out after the original releases and Warcolours decided that going back and adding an extra empty bar to all their old labels was too much effort. Just like updating the e-chart on their website (oh yeah, I went there).
The artwork is clear without being intrusive and the thing you can see the most is the paint! Too many brands obscure the majority of the bottle with the label. Here you can see exactly how much paint you have remaining. Added points for the fact that they have added a black label on light colours and a white label on dark colours – simple, effective.
Whilst the paints above and below are all from the layer range – I've separated them as the bottles above are noted as Opaque and the bottles below are Semi-Opaque (we'll look at this in a mo).
The layer paints are really the genius part of this range, when I first looked at the bottles we received, I was put off by the naming convention.
Orange 3 isn't exactly creative. Firaga would have been a better name, but perhaps I'm still just not over the poor translation of Final Fantasy VII. Whilst other brands have gone to great lengths to come up with creative names for miniature paints, Warcolours have kept it simple.
And this simplicity actually makes more sense than any other range.
In it's simplest presentation, Warcolours offer paints in the form of 18 distinct hues (then a bottle of black and a bottle of white). Each hue offers 5 variants with 3 being the purest (central) colour. Then 2 & 1 being progressively lighter shades and 3 & 4 getting darker.
Mathematically these are not simply tonal shifts to the value of each hue, but lighter/darker attempts at each hue. After-all you can make your own tonal shifts by simply mixing in shades of grey.
Considering the average retail colour wheel (mine anyway) only shows 12 hues, we have an immense range of colour here with the included flesh and 3 different grey hues.
Even with those 4 off the table we still have 2 hues more than a 12 hue colour wheel. A direct comparison shows we have more greens and more purple/pink hues. Which makes sense as the human eye can see more shades of these than of any other colour (especially greens).
In summary, within this range, you have all the primary elements to make pretty much any colour you want. With the majority being readily available out of the bottle. When you get into miniature painting, Especially from a Warhammer angle you are given triads (aka the Citadel Colour System). Where each base colour has matching 2 levels of highlight. With Warcolours, if you treat each Colour 3 as the base colour, you now have 2 levels of highlight and 2 levels of shade, allowing you to easily define greater contrast on your miniatures – right out of the bottles.
No mucking about remembering colour names and recipes. You want that bit red? Start with red 3, shade with red 4 & 5 then highlight with red 2 & 1.
All of the above paints are classed as transparent but fit into 2 Warcolours Categories Shades and Inks.
The shades (20 colours) are directly complementary to the 18 available hues in the layers category, then with Transparent Black and Transparent White…
…wait, What?
Transparent white? Warcolours, if you're reading, please either go and look at your paint colours names again – slowly. Or send me a bottle of this ASAP! How can you have "transparent" – "white"… ?
Inks wise (11 colours) you have colour 9 hues, and again black & white.
The difference between the shades an inks is slight but significant. Shades, as you probably know, are generally used as washes. Inks are the other way and tend to be used for finely controlled details. Either can be used to make glazes for subtle colour shifts (but so can most acrylic paints for that matter).
They are both labelled as transparent, though on the e-chart the inks are listed as translucent (because it's out of date).
Now, I've never done opacity tests before for any review, there are so many reviews out there for miniature paints where people will slap some paints onto some paper or card and say – "hey we tested these and we think this."
And that's perfectly fine for a quick review, but I've always had the view that this isn't much of a fair use case. Nobody is painting paper or card with these paints – they are painting models. That's why I always paint models for reviews. (I'll get to that in a mo).
But Warcolours sent me 2 chequerboard cards with these paints. there was a simple instruction on the bottom "test the coverage of your paints!"
Ok then, I will…
So I pulled out the Highly Opaque One-Coat Red and slapped it down on one of the cards.
oh dear…
To show the purest form of this, the photo above is set so that the white part of the card shows pure white and the black part is pure black. Whilst it makes the true colour of the red slightly unrealistic it shows the coverage level perfectly.
But again, we are not painting bits of semi-gloss card with these paints are we? We are painting models, which have a primer on them. So I made my own test cards from some old plastic ID cards which I used to use to take the front glass off iPads to repair them (now they are mostly wet palette squeegees).
I just quickly airbrushed these with Black, Grey and White Stynylrez primer from a badger.
Below I applied 1 coat of each of the Highly Opaque One-Coat colours, these paints are very thin. I applied them via a dry-palette to start off with as I was also testing drying time (it's very fast). My brush was slightly damp, not wet. Having used paints with similar consistency before, I was already aware that it is important not to overdilute these paints
Essentially these layers are pretty much pure paint.
Ok so immediately off the bat, this is better than on the glossy card. Again I set the levels of the photo here so that White of the test card is pure (screen level) white and Black is pure black.
The coverage is much better than the test card above, immediate proof that testing paint on paper or card simply does not work?
But the "One-Coat" paint… Isn't…
…Covering in One-coat. It's incredibly thin and smooth though.
After a second coat (the new black line at the top is one "thick" layer of black to double-check the one-coatyness). We can see that the Black, Blue and Purple have covered well (these colours are known for better coverage across all ranges to be fair), but there is still some transparency.
White, Red, Orange Yellow and Green still need at least one more coat. Red and Yellow especially (again fairly common for these colours across numerous paint ranges).
Finally, after 3 coats we have complete coverage for all colours. The one thing I can't show on this card however is just how smooth these layers are, with very little effort. The most important thing to note here is that there are no visible brushstrokes – which is a testament to just how thin the medium for this paint is and how fine the pigment is.
Below we'll compare the Highly Opaque One-Coat paints to the Opaque and Semi-Opaque Colours. – I've applied 1 layer of each.
Both Black and White from the Layers Range are classed as Opaque (3 bars). When shown next to the Highly Opaque One-Coat versions we can see that opacity wise – it's actually pretty similar.
But we can also see just how smooth these One-Coat paints are! I immediately know which I'd rather be applying more layers with. I know I could have diluted the Opaque Black and White Layer Paints down more to get smoother coverage instead of showing brush strokes as it has – but then the colours would have been significantly more transparent than is shown.
With the Red 3 and Yellow 3, they are labelled as Semi-Opaque (2 bars). and this is where those One coat colours stand out the most. Of all the paint brands I've seen so far, only 1 brand has a base red which covers better than Red 3 here and I don't know of a brand with a better yellow (though some are on-par).
For all the layer paints in the Warcolours range, there's almost an even split between Opaque and Semi-Opaque colours with a scattering of translucent colours throughout. This is certainly no failure on Warcolours part – it's just down to how specific pigments act.
Lets take a look at some Translucent and Transparent colours now.
Warcolours sent 4 blue paints in the sample set, Above from left to right, we have. Blue Ink (Transparent), Turquoise Shade (Transparent), Blue 3 (Translucent) and One-Coat Blue (Highly Opaque). It's a pity they didn't send Marine 3 and Marine 2 (other blues) which are Semi-Opaque and Opaque respectively for a full comparison of shades.
As you can see here both the Ink and Shade are both transparent with the ink giving a richer result. Blue 3 (translucent) is still somewhat opaque but marginally less opaque than the Semi-Opaque Red 3 and Yellow 3 from the card above.
When I received the Warcolours test card instructing me to "test the coverage of your paints!" I'm not sure Warcolours intended me to go to this depth. But I think this is a much clearer comparison and will appropriately set your expectations for when you buy this range.
All in all (with the exception of the clear Marketing Term "One-Coat") the Opacity markings are fair and a fantastic addition which makes this range stand out from the crowd.
So it's time to get these paints on some models and see what they actually do. Like with the cards I started by airbrush priming the model using Black, Grey and White Stynylrez primer from Badger.
Airbrushing wise there are no issues – though I admit I only did this with the layer paints as the Highly Opaque Colours would have been way too harsh for the subtle transitions you aim to get with an airbrush. There are certainly use cases for that, but I'm not testing them here.
I needed a colour scheme for some Space Marines where I could test as many of these paints as possible in one project. After staring at them for a looooooong time (I've had these paints almost a year), I decided on the Salamanders Chapter, mainly because I haven't painted any yet.
Sure, these are a bit on the bright side for Salamanders but look, I had One-Coat Green (which is like the Old Citadel Goblin Green), Green 3 layer paint or Green Ink. The latter of the 3 would have been the better colour for Salamanders but left me nowhere to go with the other colours for highlights and shadows. So let's just roll-with-it.
With just a bit of Vallejo Airbrush thinner (though warcolours also sell one), Green 3 (Semi-Opaque) left a perfect coat across the base of this model allowing the pre-shading to show through nicely.
The same here with the translucent Blue Ink, with just a touch of airbrush thinner maybe 10:1 paint to thinner. I added some cool (temperature-wise) shading to the upper parts of the models and anywhere which would later be heavily highlighted (so we end up with more contrast in that area).
For the drybrushing I used the Artis Opus series D brushes, Initially with the Semi-Opaque Yellow 3. Which drybrushed ok, but due to the opaque nature it would have required a few coats to build up the intensity I wanted. So I switched out to One coat Yellow to get this all down in one go.
When drybrushing with these highly opaque colours, I became immediately aware of just how fast these One-Coat paints dry – too quick. I needed to reload my brush 3 times per mini where normal acrylics would only need to be loaded once – The paints react in an unexpected way when mixed with water as the slightest addition of H2O can turn quickly them from paints to washes – not what you need for a drybrush.
So I left the one-coat paint in its pure form. This generally caught the edges of the models quite well but left a classic drybrushed effect on flatter areas. Something I am not used to getting with these Series D brushes. They normally give really smooth transitions.
I'm sure that with time I can find the right balance, but it just forced me to realise that these one-coat paints are a different beast to your normal acrylics and need to be learned in order to master them – like with anything new really.
I finished up the base layers of the model using the One-Coat paints. During this I put them down on my wet palette and quickly realised that they absorb water like nothing else. Before I finished pouring out the last paint the first 2 had bled and merged together.
I went back to the dry palette with them but they were drying out super fast, in half the time than usual acrylics would.
I decided not to be beaten and rinsed out my wet palette to start again. Instead of wetting the wet-palette sponge I just left it damp (as I probably should anyway) and only applied a little paint, like 2 drops per colour.
A much better result this time as the paint generally stayed in place and it stayed wet.
This did still dilute the paint however and I needed several more coats than usual to brush on full layer. The One-Coat Yellow over the shoulder pads took 8 coats over the green.
But they are 8 incredibly thin and super-smooth coats.
The One-Coat paints are listed as matte/satin on the website, but all the ones I've used are very clearly satin.
Again, one thing you need to be aware of with these paints is how a little water has a big impact on the consistency. I had to be very aware to take almost all of the water off the brush before loading them with paint. Too wet and this paint would go everywhere.
Again, it's not an issue, it's just that these One-Coat paints are different to your normal acrylics, there are a lot of differences to them – not many of the online painting guides use these types of paints so you may not be aware how to use them the right way.
Washes work pretty much how you would expect though, for transparent colours they are still more opaque than shades from many other brands (Basically they are darker than Citadel shades)
I like this because it means I can get a darker colour when I want for deeper parts of recesses, but I can also thin it down more to make it lighter. If a shade is not dark to begin with, I can't make it darker if I need to. So this just means that less shade goes a longer way.
Below I've applied the flesh shade to the armour panel recesses
Here I've applied the Turquoise Shade.
There's not much to say here, they do what I expect a shade/wash would do. They flow well and darken more in the areas they settle down thicker. If you apply too much (as I did on the test card at the top) they will pool and make tide-marks.
I'm not going to wash the models with the Warcolours paints when I do the finished article anyway – I'll be giving them a gloss coat then applying oil-based washes. But that's just my preferred style.
Just to finish off the article and because I had so much fun with the layer paints I just wanted to show off the Semi-Opaque colours applied to the bases.
These bases are just cork and UV resin then primed in black. No need for pre-shading here as I want them dark to contrast with the bright armour of the Marines.
I applied several layers of Red 3 slowly increasing the intensity.
Then straight back at it with some Orange 3
Finally some Yellow 3
And then finished off with a little bit of Opaque White
I'll admit these were the first Lava style bases I did, so forgive me for making them look a little grilled cheese. But for about 40 minutes work – they'll do the job.
I bought some of the Nostalgia '88 paints for comparison in another review – I wanted to showcase them here against the claim that they are matches for the original citadel colours.
Well based on my thorough Analysis – I can confidently say… They might be.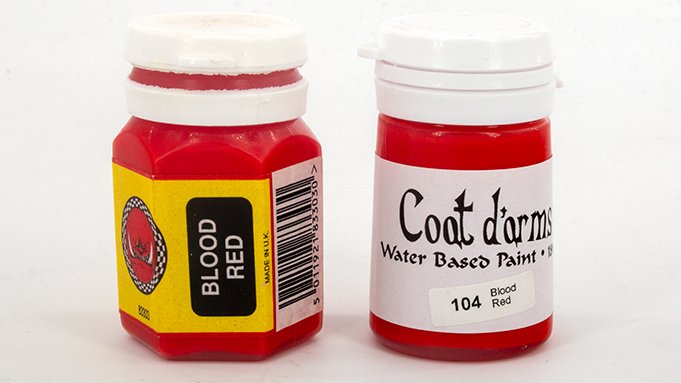 I had the two paints above for our Coat d'arms review as there are claims that these are the same paints (see that review for more details) – Looking into this review I purchased Warcolours Nostalgia '88 Blood Red for further comparison. Since I read on the Warcolours website that their Nostalgia range matches "the original Citadel Colours".
I'd also transferred my old Blood Red to a Dropper Bottle in the meantime
I sprayed up 3 models (swipe the pic above to see the models) to see if there was any difference and I noticed immediately that the Warcolours Blood Red was nothing like the other two (stick with me though). I did a more direct comparison 0- and there may be a good reason these differ.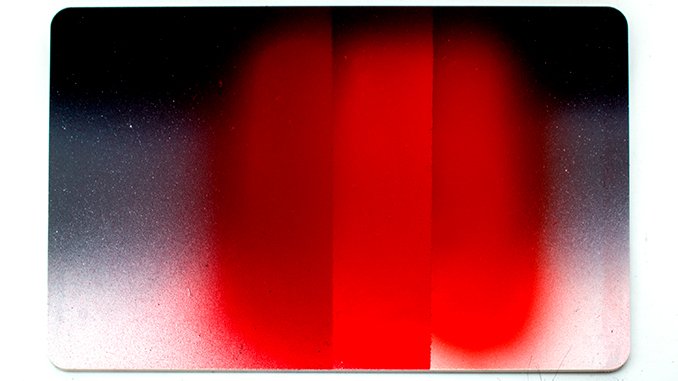 When I posted the above Instagram Picture, Warcolours themselves actually commented to advise that I had used a Citadel Paint released from 1994 onwards. Their paints were only matches to the original 1988 Citadel paints.
They're Different?
Now, I grew up with Warhammer in the 1990s, (specifically 1994/1995) like many people my introduction to Warhammer was only after they released those Hexagonal Pots.
Whilst I was aware of their earlier circular pots – the same pots as those shown above for both Nostalgia '88 & Coat d'arms. I'd never owned any and I didn't know that the paint colours were at all different between the 2 different types of bottles (since both were made by HMG anyway).
After how much it cost on eBay or me to buy a Hexagonal Citadel Blood Red, I dread to think what one of the original pots would cost. I also have no idea where I could even source the old round pot of Citadel Blood Red to do this test.
I suppose the takeaway here is that the Warcolours Nostalgia '88 paints, aren't matches for the hexagonal pot colours from Citadel.
But they may as they claim, be matches for the original paints released in 1988. If anyone can get hold of an original pot, let me know – I'd love to compare them directly.
I don't normally include third party comments in my reviews – however shortly after posting this to social channels, one of my personal favourite miniature painters chimed up with the following comment;
I have a lot of Warcolours and they're great paint but there's 1-2 major gripes with them:

1. The colors often look absolutely nothing like the colors on the website. (The flesh set for example).

2. The colors in given range are often too close for there to be a practical difference. Yellow 1-5 is incredibly close to the same shade and in reality you just need yellow 1 and 5. There's absolutely no need for so many intermediate. You legitimately can't tell a difference in person.

That said, they're some of my favorite colors. The Olive set is a stunning green transition and the transparent flesh feels like cheating when you airbrush it to get smooth skin tones.

Chris – AKA: The Spotted Painter
I'll admit that Warcolours did not send us a full range of any colour from 1-5 and we only had 1 of each. I believe the above is valuable to know if you are heading into this range,
I trust Chris's comments completely. To see his credentials – check out his Facebook Page and Youtube Videos. You see – he knows what he's talking about.
Warcolours Paint Sets are available on Amazon for the US (just remember there's a U in Watercolour) which is a tick because we've seen the majority of US wargames will make their purchases from Amazon rather than hunt down a few smaller specialist (possibly unknown/untrusted) stockists.
I personally haven't seen any in a Friendly Local Game Stores and if I search Warcolours UK to find any suppliers, the main result is the Warcolours website.
And that's fine, Warcolours offer global shipping and at a fair price. When I ordered two of their Nostalgia '88 paints for comparison in another review (which I swear will be made by HMG in the UK – we'll see) and the shipping was comparable to outlets within my own country.
You can buy individual paints in various sizes or in sets for better value.
I just wish they would sort out the website organisation a bit better and make it more professional – it's not "bad" it just hits me right in my OCD.
Well, it depends on what you want.
I'll get it out of the way right now, these aren't magical paints that will instantly make you a better painter. But they are good paints on-par with any of the major miniature brands.
If we take that basis then look at the real strengths of this line then we instantly see that these are much more intelligent paints than any other brand.
You can clearly see how much paint is in them, you know the opacity without having to remember which paint acts like x or y. Even the colour names are just so much better. Each hue has 5 differing tones. Simple!
The One-Coat paints are quite different from your usual acrylics and can take some learning. There are a few brands now with this type of paint and there really should be a whole new category for them. My advice here is to give them a go, then another go, and then another. You may hate them, but you may also have that "eureka!" moment that all us minis painters are searching for.
As a beginner, many painters follow online guides and pick the colours they see painters use. But once you step out of that beginner zone and start making your own paint schemes you quickly realise that Red is Red and Yellow is Yellow. You don't need Caliban Green to Paint a Dark Angel you just need Dark Green – So why add the complexity of all these colour names and indirect variants when you can easily get 5 Complimentary Greens here, along with a hue to the left and a hue to the right. Add some Black and White to that and you pretty much have the whole spectrum you could need.
Had I known as a beginner what I know now as a Miniature Painter? I'd probably have started with this brand and not gone elsewhere. End-to-end it's the complete package.
All the hues you need with 5 (6 if you include the shades) relative variants of each. All presented in pretty bottles with clear markings on them as to the opacity. Meaning you don't need to remember each paint consistency – you have a gentle reminder on each bottle so you know what to expect from all of them once you've used a few. The older I get the more important this feature seems.
Then you have all the possible mediums available you could want.
The One-Coat colours aren't quite that, but if you get started with them you'll likely love them before long. And if you really do have an issue with the marketing term "One-Coat" Ask yourself if you have ever bought anything from Games Workshop. If you have then you are already buying into some mass marketing strategies – if not then…. well, fair enough, you can make a dig at the name.
I suppose what I'm saying is; if you don't have a "complete" collection of a paint brand already (or even if you do). Having all of these available to you will remove pretty much any paint limitation you may have as a miniature painter.
Our Affiliates / Hobby Stores
What did you think of this Review? Please let us know in the comments.
If you like what we're doing here you could really help encourage more content with a share on any social media platform.
Click the share links at the bottom of this screen (or on the left for computers and tablets)
Want to keep updated with the site? You can subscribe in the sidebar for RSS or by email below
(Sidebar is below the article on Mobile Devices)