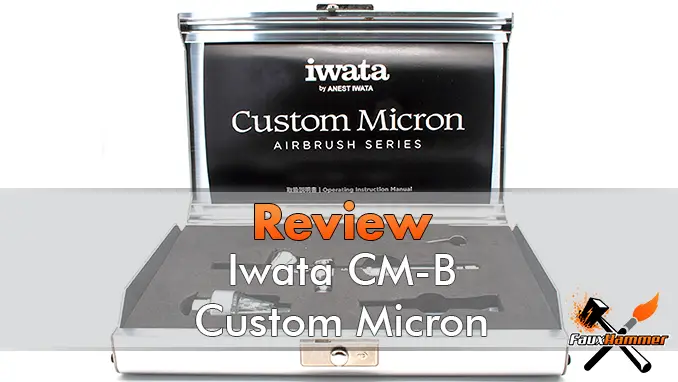 Last updated on September 16th, 2021 at 12:01 pm
Are you looking for absolute Precision when it comes to airbrushing? Come and see what we think of this incredibly accurate Airbrush with our Iwata Custom Micron CM-B Review.

Click this link & buy your hobby stuff from Element Games for the UK & Europe to support FauxHammer.com – Use Code "FAUX2768" at the checkout for double reward points.


15% off Phrozen with code: "22PRFHDP15"

Our Affiliates / Hobby Stores
This Review is part of our Best Airbrushes for Miniature Painters and Wargames models.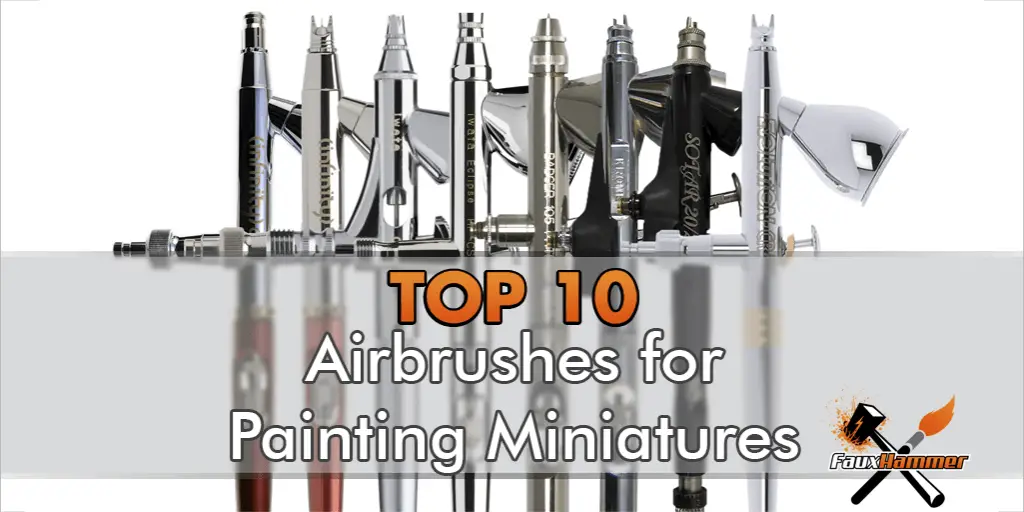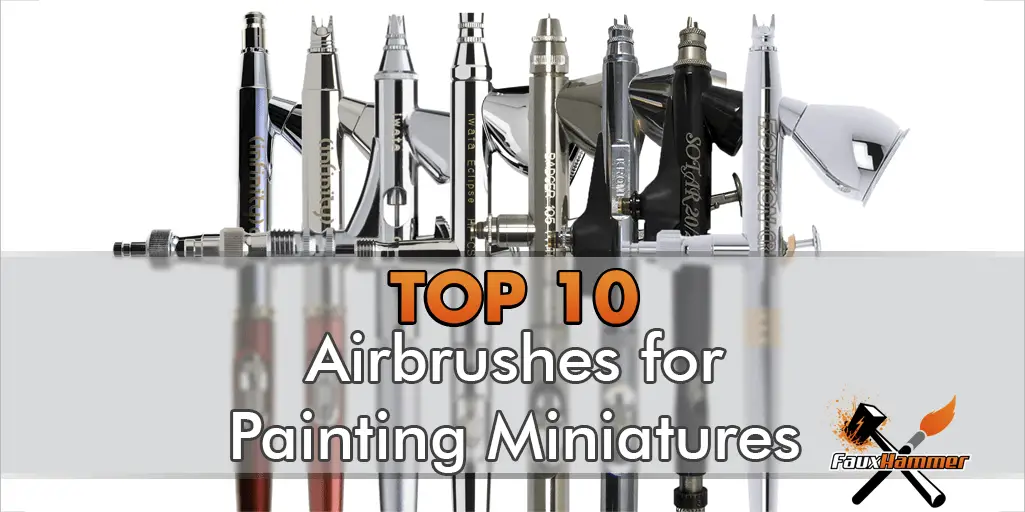 See our other reviews and the complete list of the best Airbrushes.
The best airbrush company in the UK, featuring top brands, courses, paints, accessories and servicing.

Having worked with Airbrushes.com for a while it's clear they know their stuff. They provided this airbrush and most of the technical details from the article below. Some of these details even strip the airbrush down to its manufacturing process! I felt I was pretty much speaking with Iwata directly. If you have "any" questions about selecting the best airbrush for your needs, have a look at Airbrushes.com
Iwata Custom Micron CM-B Review – Summary
The Iwata Custom Micron is an incredibly fine detail airbrush – With a 0.18mm needle, this airbrush can allow you to draw lines that are paper-thin – when you are using the right type of paint.
As a miniature painter, you first need to ask whether you need this level of detail because there are very few paints in this niche that will allow you to achieve it.
This is an incredible piece of kit – but it is more than a little overkill for all but the absolute pro miniature painter. Even then, it's only for the pro miniature airbrush painter – someone who knows they need this level of precision and exactly what paints/consistency to use.
If you are someone who knows you need this airbrush you probably aren't reading this review.
Iwata Custom Micron CM-B Review – Packaging
Just a quick look at what you get as it screams premium product.
Inside the box you get…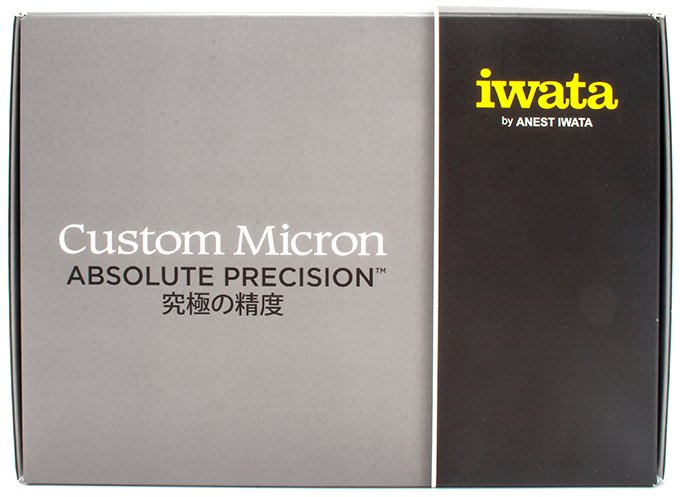 … Another box, wrapped in a microfibre towel.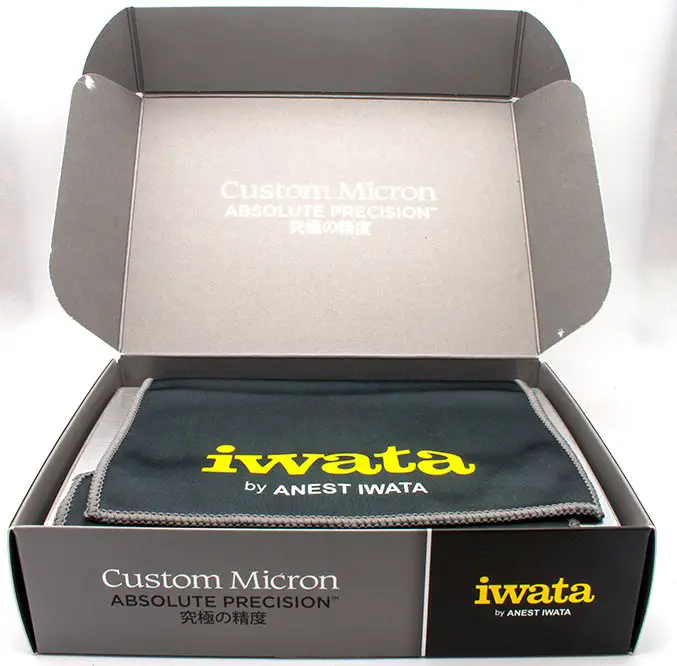 It is a really nice box though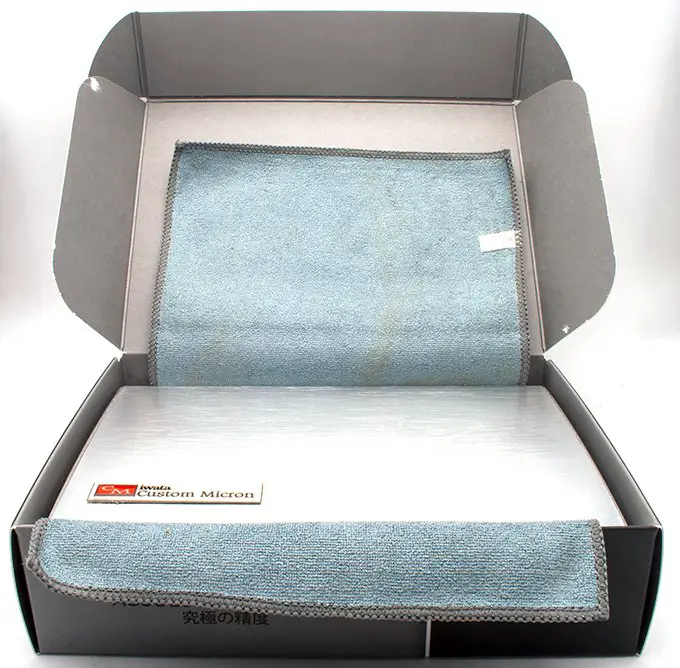 Like i said above this screams premium product – having a metal case to protect your airbrush is a really classy move.

Inside the box, there are cut-out recesses for the airbrush and it's main components along with the Manual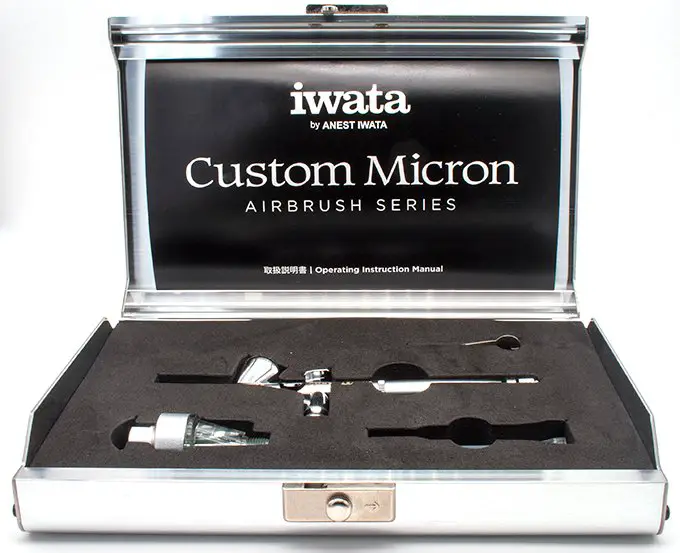 As for the parts themselves, that means the Airbrush, a wrench for loosening (never tightening) the airbrush nozzle, some oil for the mechanism and a Moisture Trap.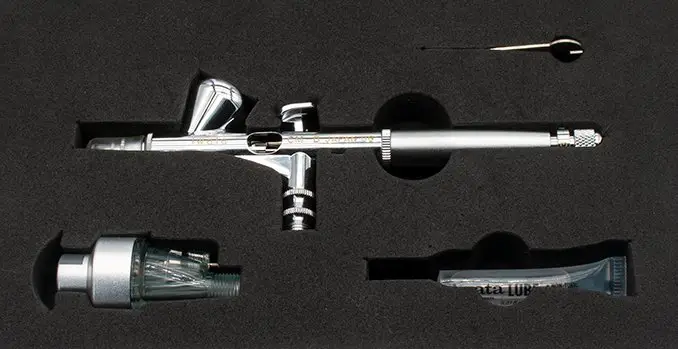 You also get a QA test in the box showing how fine this airbrush can spray – these lines are literally pencil-thin.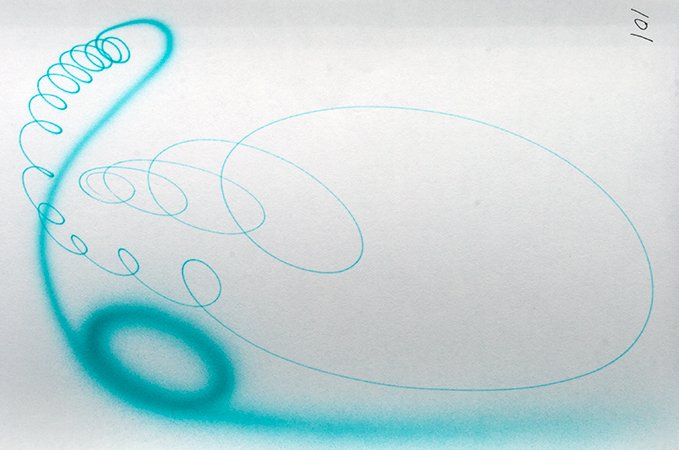 You also get a card showing the engineer who QA tested your Airbrush. I don't know who Kirk Lybecker is but one look at his beard and hair and I am 100% confident he knows how to test an Airbrush.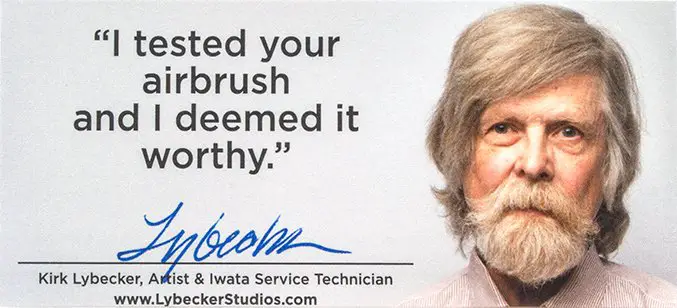 I decided to have my own shot at this using some Contrast Paints (IMHO – Essentially Inks) to see if I could repeat the success, and Honestly. Kind of, but no.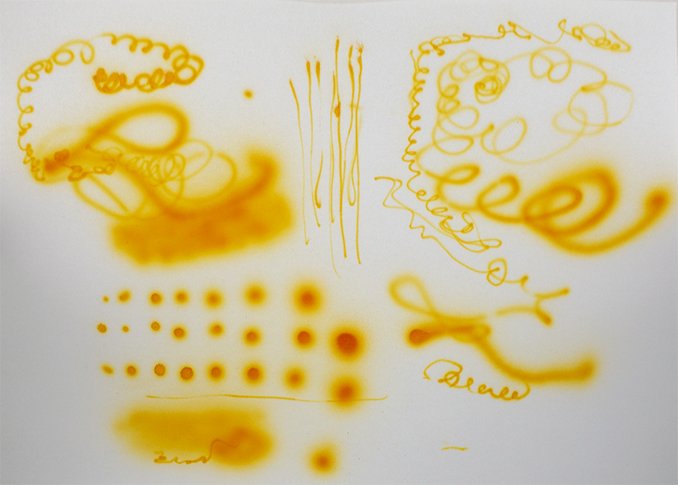 I added a direct comparison of theirs vs mine so you can see the difference in line thickness. Now the lack of smooth lines and swirls on mine is purely down to technique and experience.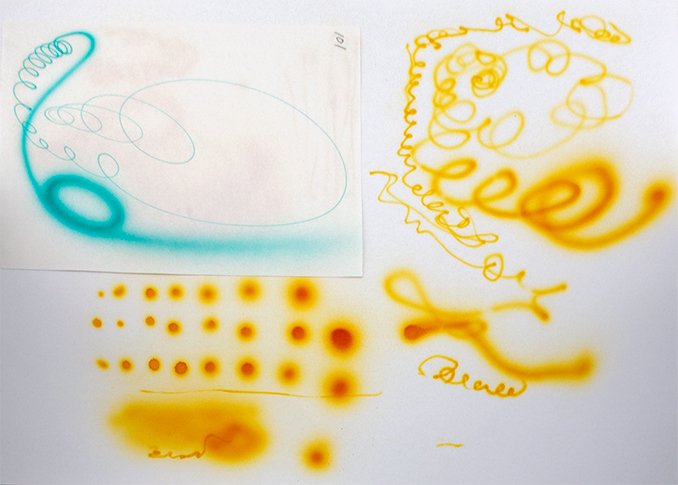 But the thinness of the lines is more to do with the thickness of the medium. here I've used Citadel Contrast Paint thinned with Vallejo Airbrush Thinner this was still too thick to even come out of the airbrush until you pull the trigger back far enough.
Iwata Custom Micron CM-B Review – Parts
The airbrush itself in it's complete form, A chrome-plated body and aluminium tail. It has a rather unique feature on the back which slows you to twist the dial, limiting how far you can pull back the trigger. This lets you control the spray.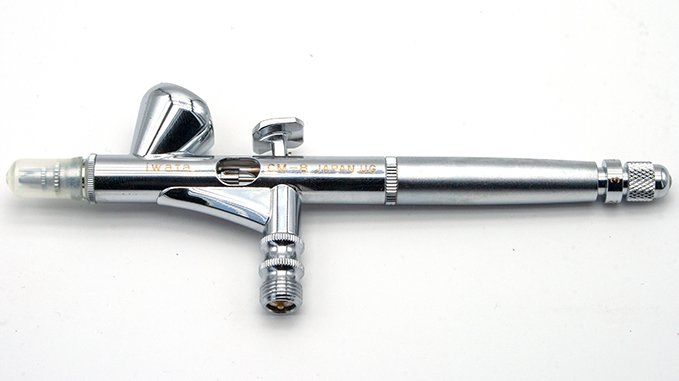 Unlike some other airbrushes with similar features, this is little more than a dial with numbers on it, there's no quick-release function as we've seen elsewhere. this is made specifically for precision and you will need to get used to how much to turn the dial exactly. Just like with any airbrush, learning how far to pull the trigger back exactly.
Components wise, I decided to take down the airbrush and got stuck halfway (check the back of the body in the picture below).

To get this off I had to use some lock-jaw pliers as it was on so tight. Annoyingly this damaged the part and chewed up the grip. Thankfully you can buy replacement components for almost everything shown above.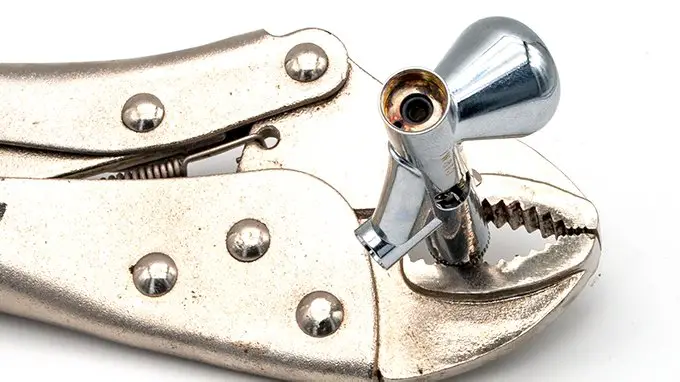 Finally getting this apart you can see there are quite a few components. Pretty much everything is screw fit, even the finest parts – just something to be aware of so that you don't damage the threads.

With great precision engineering – comes great ability to damage expensive things.
Included in the box is a moisture trap. as my compressor is tankless, I do tend to get a few issues with moisture in the airline. so I was super happy to see this included in the box. But here was another issue. No matter which of my airbrush hoses I used. I had air escaping from the plastic thread on the trap. This was strange considering a cheapo moisture trap I picked up on Amazon for about £6 ($10 USD) works flawlessly.
The great inclusion for me however was the Iwata Super Lube. I had heard of this before but never bought any to use. Thanks to this I was able to get my nads on some. It's fantastic stuff. adding a bead to all mechanical parts, threads and massaging some in down the length of the needle, keeps everything incredibly smooth. Including the paint-flow
Iwata Custom Micron CM-B Review – Application to Models
Partnered up with my Coat D'arms review I decided to use those paints through this airbrush along with the usual stynlrez primers for an initial Zenitah shade.
Straight off the bat, I found that I had some struggles with this airbrush. The black primer alone needed to be thinned as blockages were almost instant. which I attribute to just how fine this needle is.
I have never need to thin this primer with any other airbrush, but in this case, it was the only way to get the brush consistent/working.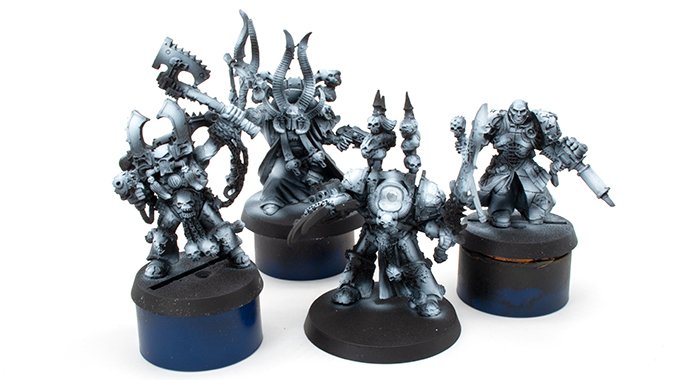 Additionally using white primer for a zenithal or spot highlight. I struggled with how thick it was. When it worked after thinning it worked well in regard to atomisation. the spray was fine which resulted in softer smoother blends between colours and after several passes, I was able to build up a solid bright white.
It's just a shame that it felt like a struggle the whole time.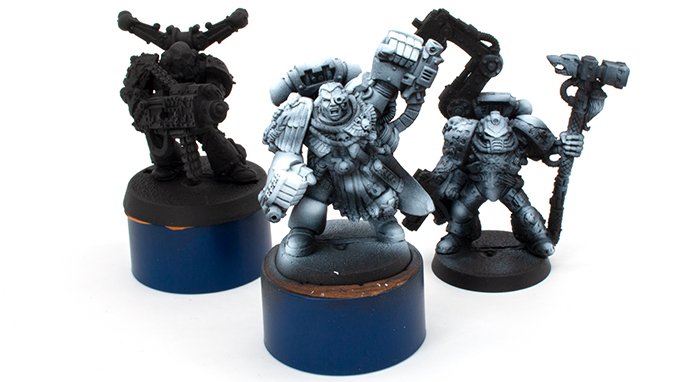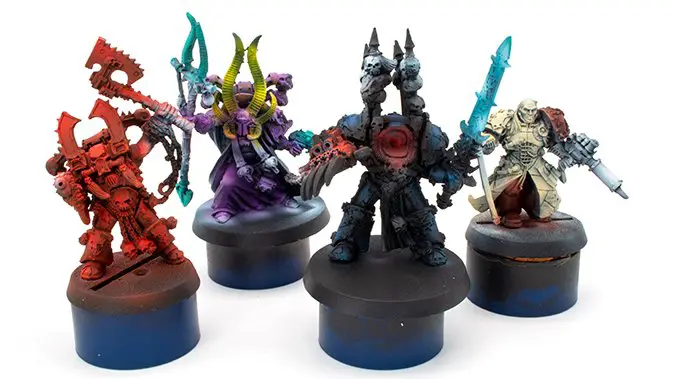 With colours it was slightly better, P3 paints are very similar to Citadel in their general consistency. With the added benefit that they use liquid pigments. The result here is a more consistent surface colour using a brush. but when used in an airbrush with thinner. The colour does not break apart
Still, this needed to be thinned right down for a consistent spray. Almost to the point of too much which would lead to the colours running rather than sticking to the surface.
After playing with airbrush pressure a bit I was able to get a consistency that applied a consistent, albeit thin coat. but again it was a battle to get this far.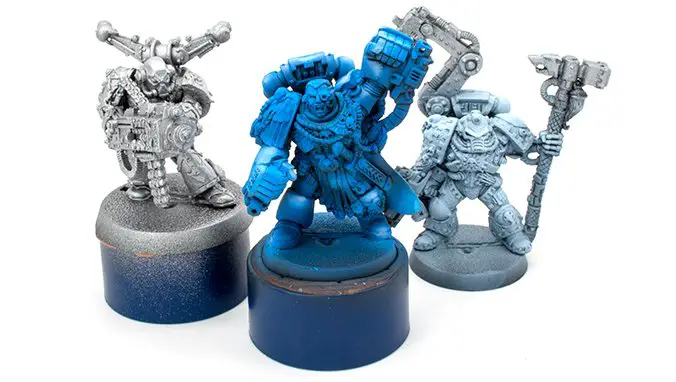 Perhaps I;m just spoiled with the other airbrushes tested which just seemed to work out of the box. with this one It was very much about dialling in my airbrush pressure and getting the amount of thinner just right to avoid blockages.
To get a consistent colour across surfaces, it needs several extremely thin coats. I would normally paint more here to test the brush out further, but I genuinely found it so slow to get this workable, that I simply didn't want to.
To be fair though, with the target audience of this airbrush being for ultimate precision, this is probably to be expected, It does not want to be used for huge and wise spray cones, or with paint that has relatively thick pigment. it wants to be used with thin paints or inks. Painting smooth and detailed lines. Unfortunately, line painting does not necessarily go hand-in-hand with Miniature painting. as much as you can really do with it is spot shades, transitions and highlights….
To really use this, you need to approach it like you are slowly glazing. but with an airbrush. However, since I can do that with any of my other airbrushes, I wonder why I am limiting myself by using this?
Iwata Custom Micron CM-B Review – Price & Availability
The most expensive airbrush we've reviewed. Retailing around £400 ($530 USD, 450€)
You can pick this up from multiple places. Amazon, eBay. but if you are going to spend this much money on an airbrush. You are best to go to an official retailer and ensure you are getting a legitimate product.
This article was sponsored by Airbrushes.com who provided the airbrush for an unbiased and impartial review. Check them out in the UK and Europe for all your Airbrush needs.

Will the Iwata Custom Micron CM-B Improve my Hobby?
Ummm, errrr…
If it will, I can't see how. Maybe it's the way I like to use my airbrush that makes it less beneficial for me.
If you are lucky enough to have one of these (considering the price), It is a fantastic airbrush. but it isn't made for miniature painters or directed at them.
When it works, it works great, but I just con;t recommend this for its price. There are airbrushes that are considerably easier to use at almost half the cost
Iwata Custom Micron CM-B Review – Final Thoughts
It's an incredibly precise piece of kit, almost too precise to use with miniature paints. With things like inks you can get more out of it and the line, it can produce is almost unrivalled.
But for me, Airbrushing on a miniature is more about getting base layers down with some shading and effects in certain spots. Filters and other effects.
there are things I like about this. specifically the trigger. there's no analogue level of control for air, it's just on which gives me a bit more control on the trigger to release paint. instead of trying to control both air and paint at the same time. but it's a minor benefit.
I am unable to and am yet to see any pro painters use an airbrush for detailed linework – so, whilst this is an incredible piece of kit. it's highly likely you will get from this everything it offers and are more likely to get frustrated with clogs and air pressure regulation to deal with how thin the paints need to be when working with this.

Click this link & buy your hobby stuff from Element Games for the UK & Europe to support FauxHammer.com – Use Code "FAUX2768" at the checkout for double reward points.


15% off Phrozen with code: "22PRFHDP15"

Our Affiliates / Hobby Stores
What did you think of this Review? please let us know in the comments.
If you like what we're doing here you could really help encourage more content with a share on any social media platform.
Click the share links at the bottom of this screen (or on the left for computers and tablets)
Want to keep updated with the site? You can subscribe in the sidebar for RSS or by email below
(Sidebar is below the article on Mobile Devices)
Summary
Reviewer
Review Date
Reviewed Item
Product Name