Boarding Patrol: T'au Empire Price, Value and Savings Breakdown
Last Updated on April 15, 2023 by FauxHammer
Ready to git gud with the Greater Good? Check out our Boarding Patrol: T'au Empire Price, Value and Savings Breakdown for all the info on this brand-new set, and for a first look at where you can get the fabulous new Commander Farsight miniature!
Click this link & buy your hobby stuff from Element Games for the UK & Europe to support FauxHammer.com – Use Code "FAUX2768" at the checkout for double reward points.




Our Affiliates / Hobby Stores
The new Boarding Patrol: T'au Empire set was announced as part of last week's Sunday preview, which means the release date for Boarding Patrol: T'au Empire is April 1st 2023.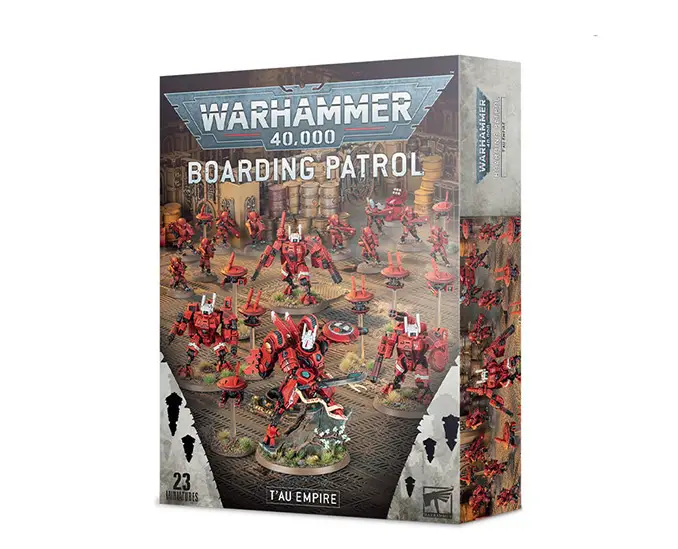 Pre-orders will go live at 10am on March 25th 2022.
Here's how much the Boarding Patrol: T'au Empire set will cost you straight from Games Workshop.
| | | | | | |
| --- | --- | --- | --- | --- | --- |
| | GBP | USD | CAD | EUR | AUD |
| Boarding Patrol: T'au Empire | £80.00 | $130.00* | $160.00* | €105.00* | $220.00* |
*Based on Boarding Patrol: Chaos Space Marines (same UK price)
Note that global prices have been estimated from similar-priced products.
Here's the breakdown of how much cash you look to save with this set.
*Value of Commander Farsight estimated at £37.50, based on current Commander Farsight/ T'au Empire Commander sets respectively
** Based on Boarding Patrol: Chaos Space Marines (same UK price)
On average, the general savings are around 35% for each currency – bar Australia. These are still decent savings, but GW aren't spoiling us like they did for Boarding Patrol: Chaos Space Marines. Regardless, you get a lot of plastic in this box to spoil us instead – and the currently exclusive Farsight too.
With a nice variety of units in the box, this is all the Greater Good you're ever gonna need.
1x Commander Farsight
3x XV8 Crisis Battlesuits
10x Fire Warriors
8x Drones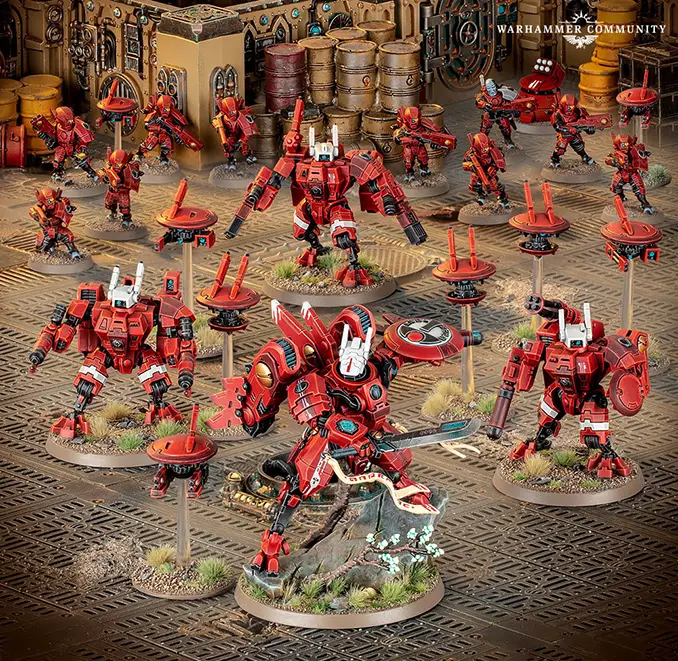 As someone who both owns T'au and has had the displeasure of being on the receiving end of a T'au army – this box looks like it's gonna sting with all that firepower – and with Farsight at the front, the memes of T'au being unable to melee can now be put to rest (at least partially!).
Speaking of Commander Farsight, this will be your first chance to get the all-new updated version of him, 20 years in the making – and he looks fantastic. They've really leaned into the Japanese aesthetic with the sakura-looking blooms on his base and Samurai accents on his armour – it's Rurouni Kenshin meets Gundam meets obligatory tactical hero rock. Despite it's age, I always liked the sculpt of the old Farsight – purely for its dynamically graceful pose, but this is an update that has done the iconic character much justice.
It'll come as no surprise to anyone who has been following these Boarding Patrol releases that Boarding Patrol: T'au Empire offers up some pretty decent savings.
*Estimated off current Commander Farsight/ T'au Empire Commander prices
Plus, as this is the first place you'll be able to get your hands on the Commander Farsight miniature, this set will be worth a great deal to some collectors. That you essentially get the Crisis Team for free, this one seems like a no-brainer.
At a base level, the T'au Boarding Patrol comes in at a little cheaper that some of the other Boarding Patrol sets we've looked at so far. However, there is reason for this. Take a look at the table below.
Points
Commander Farsight*
130pts*
XV8 Crisis Battlesuit Team
– Crisis Shas'vre
– Airbursting fragmentation projector
– Burst cannon
– Cyclic ion blaster
– Fusion blaster
– Missile pod
– Plasma rifle
– T'au flamer
– Iridium battlesuit
– Shield generator
– 1 Gun Drone
– 1 Marker Drone
– 1 Shield Drone
– Sensory Negation Countermeasures
– Alternating Fusion Blaster
– DW-02 Advanced Burst Cannon
– Novasurge Plasma Rifle
– Thermoneutronic Projector
– Dominator Fragmentation Launcher
– Internal Grenade Racks
– Resonator Warheads
– Stimm Injectors
– Wide-spectrum Scanners
135pts
+45pts
+10/15/20pts**
+5/10/20pts**
+10/20/25pts**
+10/15/25pts**
+10/15/20pts**
+10/15/20pts**
+5/10/15pts**
+10pts
+5pts
+10pts
+10pts
+15pts
+15pts
+25pts
+15pts
+20pts
+20pts
+25pts
+15pts
+30pts
+10pts
+20pts
Fire Warriors
– Support Turret
– Missile Pod
– Markerlight
– 1 Guardian Drone
– 1 Gun Drone
– 1 Marker Drone
– 1 Shield Drone
80pts
+10pts
+10pts
+5pts
+10pts
+10pts
+10pts
+15pts
Raw Total Value
345pts
*current points value, before new datasheet released
**cost depends on whether first, second or third option taken
From a tabletop perspective, a huge amount of the value in the T'au units in this Boarding Patrol lies in their upgrades. There are a vast amount of options available for the Crisis Battlesuit Team that will ensure you are able to up their value to around the 500 point mark that you need for a Boarding Patrol game.
Were it up to me, with 165 points to spare, I'd probably want to bring another unit of 10 Fire Warriors to pad the boarding force out with more firepower and then use the remaining 75 points to upgrade everything possible to the max – and there's such a cornucopia of guns, especially with the Battlesuits, to choose from – and they're all pretty valuable, despite their standard/ shorter range – but then again, that's what Boarding Actions is all about. There's too many walls to be sniping someone off the board with railguns – so sometimes the closer you can get, the better.
Furthermore, the Crisis Battlesuits have Overwatch – meaning any enemy unit that declares a charge, you can be that guy to say 'Halt thy dice rolls! And witness thine!' and roll off first to see if you get to damage or even kill the enemy before they plough into you with whatever nasty combat abilities they have. Again, extremely useful to have in a game mode where close combat can be literally around the corner. Plus with all the other wargear you can get, like Shield Generator and Iridium Battlesuit, you can get 4+ invulnerable save and Save of 2+ respectively.
And let's not forget the infamous T'au Drones, which, as part of Fire Warrior or Battlesuit units, can have hits/wounds allocated to them instead of what your opponent was really aiming for – which can be optimised further with Stratagems like Saviour Protocols. Though it ought to be noted, both the Drones and Battlesuits have the FLY keyword – but are still legal in Boarding Actions, as per page 9 of the Boarding Actions rules. It's my understanding that they cannot fly over the terrain – which makes sense really.
Finally, we should talk about Farsight. He does have a current datasheet, but with his new release, I would expect his rules to be tweaked, either majorly or barely, so at this point it's hard to say how he might play until we have his new stats in hand. He does have strong abilities, such as his Warlord Trait Exemplar of the Mont'ka, where any core unit with 9″ of Farsight can benefit from wound re-rolls should they be targeting someone within 9-12″. His ability Way of the Short Blade grants core units within 6″ an extra 1 to their hit rolls in the Fight Phase. As of now, Farsight's auras and abilities are made to brilliantly play into the melee aspect of the game – making him a top choice for a Boarding Patrol.
To finish off, you may have already made your mind up whether this boxset is worth it for you or not. You get decent savings, a large smattering of models, versatile and powerful units and an entirely new sculpt of a fan favourite, who will remain exclusive to this box for a while. I guarantee this box will be popular, so pre-order 10am this Saturday on the dot if you want to expand your own T'au Sphere.
Click this link & buy your hobby stuff from Element Games for the UK & Europe to support FauxHammer.com – Use Code "FAUX2768" at the checkout for double reward points.




Our Affiliates / Hobby Stores
What did you think of this Article? Please let us know in the comments.
If you like what we're doing here you could really help encourage more content with a share on any social media platform.
Click the share links at the bottom of this screen (or on the left for computers and tablets)
Want to keep updated with the blog? You can subscribe in the sidebar for RSS or by email below
(Sidebar is below the article on Mobile Devices)