DSPIAE ST-A 3.0 Single Bladed Nippers Review for Miniature Painters.
Ladies and gents, I want to dive in and take a close look at DSPIAE's new ST-A 3.0 single bladed nippers. At first, I honestly thought "aren't all nippers the same? What makes these so special?" I had no idea how wrong I could possibly be!
Click this link & buy your hobby stuff from Element Games for the UK & Europe to support FauxHammer.com – Use Code "FAUX2768" at the checkout for double reward points.




Our Affiliates / Hobby Stores
This article is part of our series looking into the best Sprue Cutters for Miniatures & Models.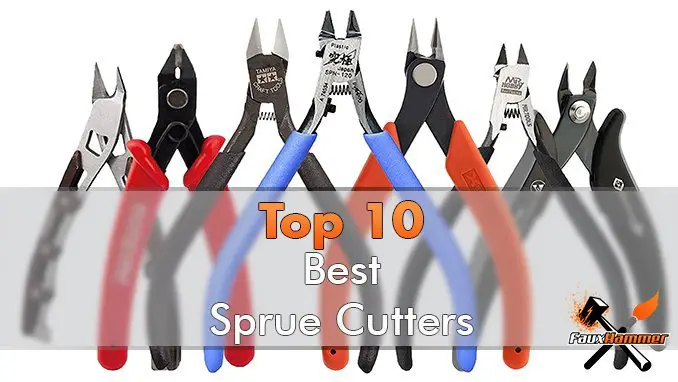 To see our up-to-date list of the best Sprue Cutters for your miniatures, just click the image above.
DSPIAE ST-A 3.0 Single Bladed Nippers Review – Summary
For those of us that are in the market for some new nippers, it's important to understand the sphere of possibility is so much more expansive than it ever has been. One of the more popular types of nippers sweeping the market by storm is a single blade cutting edge.
The single bladed-edge provides unparalleled cutting precision and capitalizes on only one side needing to be razor-sharp. The first time I was aware of using a single-bladed nipper was with the DSPIAE ST-A 3.0. I was sceptical at first, but was blown away.
You'll enjoy some of the cleanest, butter-smooth sprue snipping in your hobby experience. Saving you so much time on cleanup during your miniature assembly process
DSPIAE
I know we've heard about other big-name brands releasing their "Precision Nippers". But if you're anything like me, you've never heard of DSPIAE. Since I already had to do a bit of research about this Shanghai-based, CNC tool-forging company, you get to sit back while I introduce them to you.
As I said before, the company is based in Shanghai, and they got their start by making small pliers and other metal forged tools. DSPIAE isn't a random jumble of letters, it actually stands for the company's core values! Dream, Strive, Perfection, Innovation, Advance and Excellence are the principles driving the team of DSPIAE!
DSPIAE ST-A 3.0 Single Bladed Nippers Review – Introduction
At the onset of my hobby journey, I found myself a proud owner of the "complimentary" (aka SUPER CHEAP) Citadel nippers that came in the Games Workshop Paint and Tool set.
This toolset costs $40.00 (30.40 GBP) and it comes with 13 Citadel Paints, a Brush, Nippers and Mould line scraper. I was more than happy with everything in the kit, but looking back, I now attribute that to the whole "you don't know what you don't know" mentality.
Eventually, I needed to get a few more tools, and I found the BXQINLENX Pro 8 piece Gundam Tool Set (say that 5 times fast!) This set costs $9.99 (7.59 GBP) on Amazon, and it comes with Clippers, sanding boards, a file, two sets of tweezers, and a hobby knife.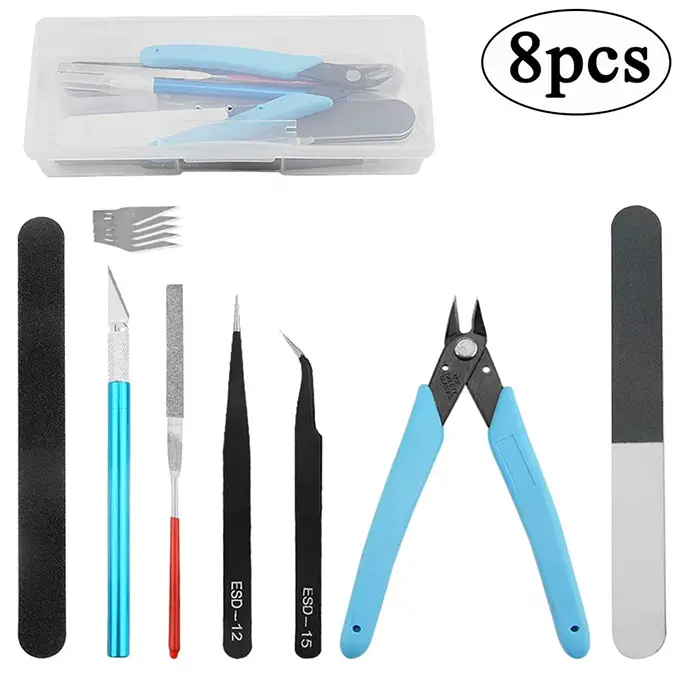 The difference between the cheap citadel nippers and these was like taking a breath of air, not realizing I had been holding it in. These were sharp, and thin, meaning I was able to get into way tighter spaces, and the cuts were WAY better. I immediately relegated the old nippers to cutting anything that wasn't plastic. The LENX clippers were my mainstay for almost 18 months.
Then one day, I decided I was fancy. I had enough commissions under my belt I could afford something nice….for the studio, of course. (business expense!) So I bought the Games Workshop Fine Detail Clippers. Now, these bad boys are supposed to be the Holy Grail of clippers. Well, that's what I thought anyway, having done literally no research. So, I dropped the $35 (26.59 GBP) and walked out of the store, feeling good about myself.
That feeling quickly dissipated when I put them to use however. They were significantly bulkier and not as sharp as the LENX nippers. The only pro these nippers had over the LENX the strength of the metal and the edge retention of the blades. I did notice due to the extra fine and low profile of the cutting edges of the LENX, they were a bit more susceptible to "cut-warping" (when the thickness of the item being cut requires more pressure than the cutting edge can maintain, sometimes it sends the blades on a little…journey.)
I still use the Games Workshop clippers because they are reliable. Although I can't get as close as I could with the previous clippers, that's ok, because now I spend more time with my hobby knife, cleanly removing lines or connection points, as opposed to getting as close as possible with the nippers. This way, I avoid pinching or pitting the model.
I continued walking down this hobby path until one day, FauxHammer asked "Have you ever tried the DSPIAE Single-Bladed nippers?
DSPIAE ST-A 3.0 Single Bladed Nippers Review – Usage
Single bladed nippers? How does that even work? Won't it be less accurate than the doubles? I had so many questions. So, in a form of an answer, FauxHammer bought a pair and had them delivered to my house. I had a pretty big commission I was working on, so I thought, "Might as well put them to the test".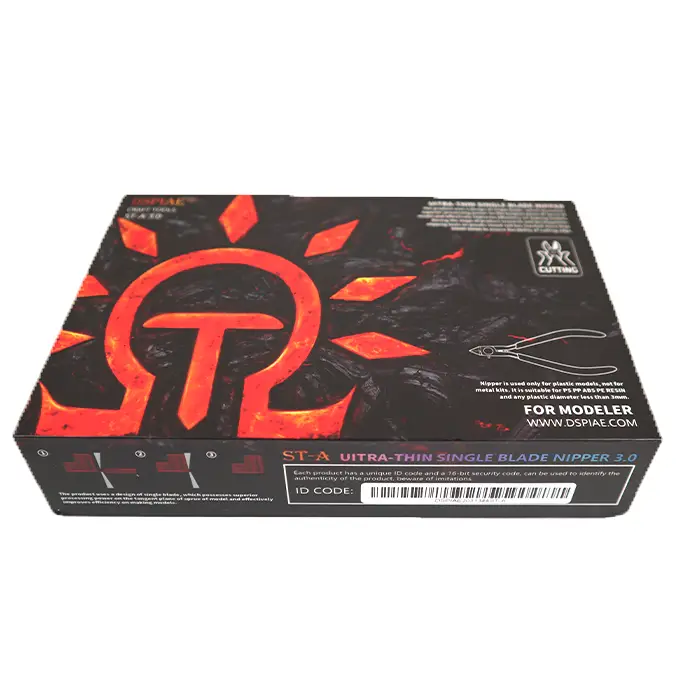 When it showed up, I tore open the box and was met with a surprisingly fancy display. As you'll see below, the nippers have their own leather pouch!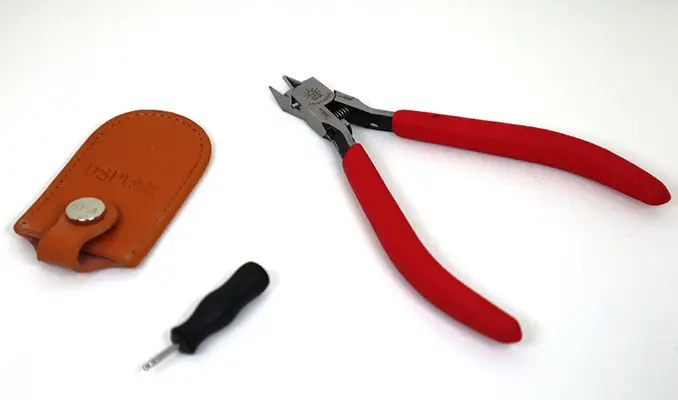 Along with the leather pouch, a small hand wrench is included. This is used to set the cut depth via a tiny set screw. IMPORTANT! Be sure to set this! If you don't, you'll apply too much pressure on the single blade and break the cutting edge….like I did. (photos later)
The first test I put it through was with the cutting out of three Primaris Impulsor Tanks. The cutting edge of these nippers is so sharp it was like cutting through butter. I was able to get significantly closer than the Games Workshop clippers, because the blade edge is quite a bit thinner.
This was a bit of a double-edged sword. Since I was able to get closer, I wasn't leaning on the need to be as careful as I normally am. If I matched the angle properly, this wasn't an issue, as it cut it beautifully. If I misjudged the angle, they behaved like any other pair of clippers.
Allow me to show some results of the three nippers mentioned above. I cut one piece of sprue with each of the nippers. I took my time with each cut, trying to ensure the same level of care went into the test.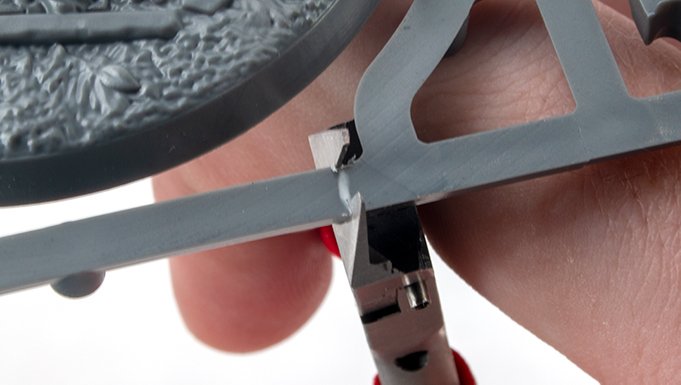 As per the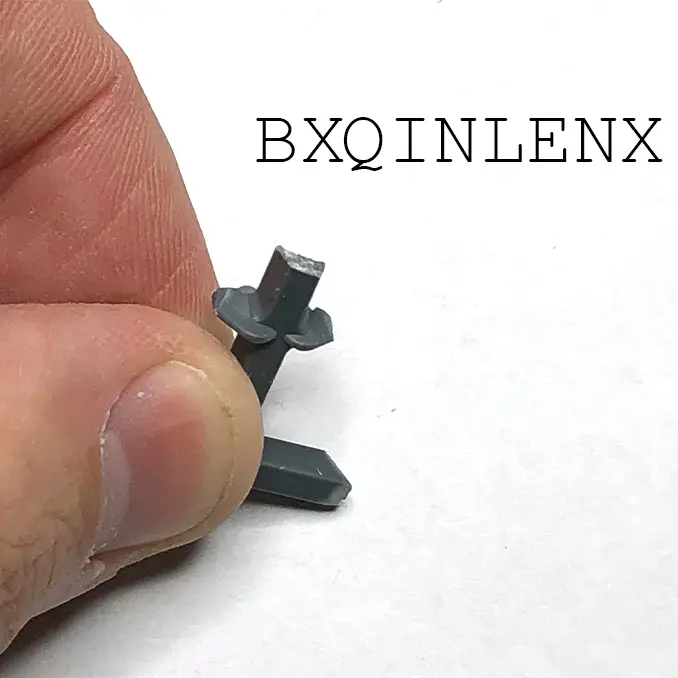 Let's start with the cheapest nippers on this comparison. When you look at the cut, it is straight, with minimal pinching and scarring. Keep in mind, this is also a 2-year-old pair of nippers, and these have become my Kitbash and conversion pair, so they've been subjected to a lot of abuse. When you pair the longevity of the blade effectiveness with the fact that the entire kit costs just under $10 US, (~7.60 GBP) these nippers are a great deal. They last long, and they are insanely inexpensive.
Next, we'll take a look at the Citadel Precision Nippers, retailing for around $35 US (~ 26.60 GBP).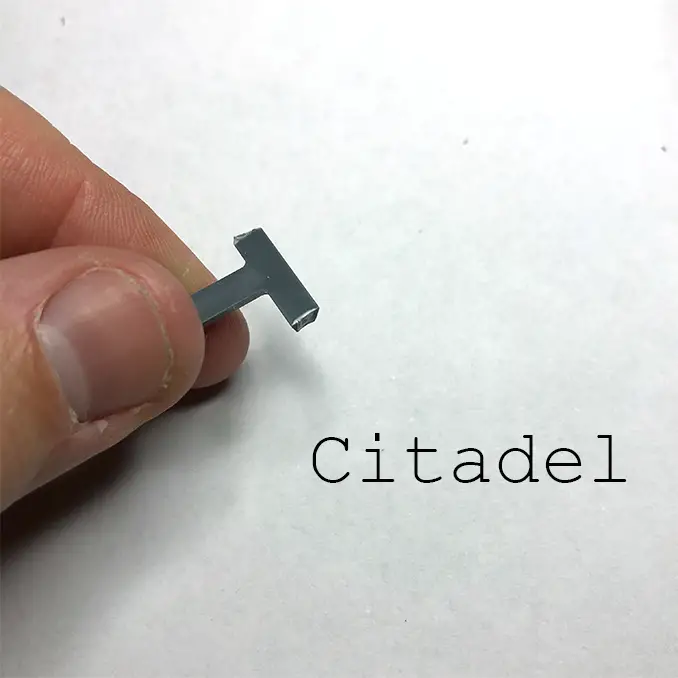 We immediately notice a drastic reduction in scarring. I attribute this to the sharpness relative to the newness of the nippers. Something we see here is a bit of pinching. Since the blades are a thicker, more durable build, they don't slice through as cleanly as the thinner bladed nippers. Remember, we are cutting through the gate, or the thickest part of a sprue. The majority of the pieces you're cutting through are significantly thinner, therefore the damage due to pinching is markedly less.
This does however present a potential for disaster. If you aren't paying extra close attention to the cut before you make it, you may pinch into the model, causing very noticeable damage. This can be averted by cutting a couple millimeters away, then using your hobby knife to clean up the remaining nub.
For the price/performance comparison, I would buy three pairs of the Lenx nippers and save $5 over splurging on the Citadel nippers, but alas, that is my personal opinion.
Finally, we take a look at the DSPIAE ST-A 3.0 Single Blade Nippers! Keep in mind the need to use our hobby knife to clean up scarring or remaining nubs left behind on the previous nippers?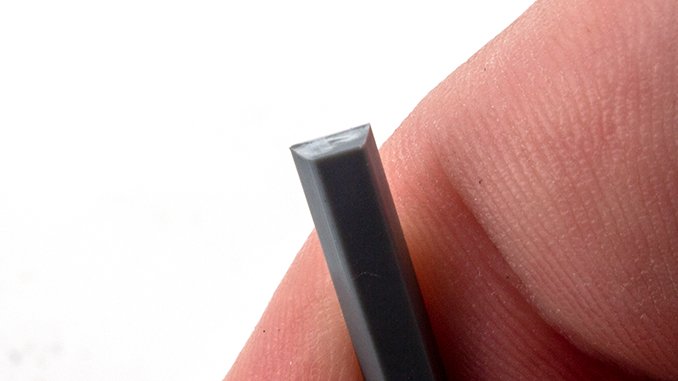 Nub No More! Look at that pristine cut!
"Now Papa" I can hear you saying, "That's the stock photo from their website….can we honestly expect to get the same results?"
Well it's not, FauxHammer took this shot with his DSPIAE ST-A clippers…
Just look at that cut! Straight, smooth, no scarring, no pinching.
I would like to take a pause and inform you of my single point of criticism/concern: the cut-depth set screw. I want to emphasize, painfully if necessary, how important it is to set the screw properly BEFORE you use the nippers. By not taking 15 seconds to lock in the desired depth, after nearly 30 hours of use, I broke the precision tip of my nippers and have now rendered them only effectively useful for easy to reach cuts.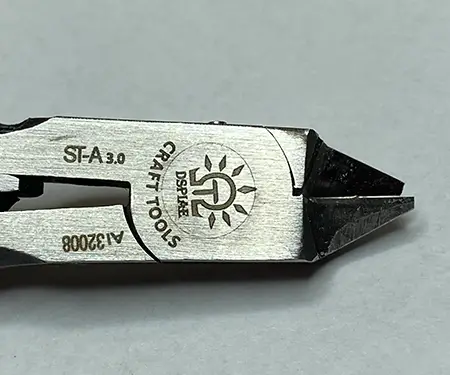 Gone are the days when I could whip into those tight spots, execute a crisp snip and a hasty withdrawal. Now that roughly 1/5 of my cutting edge is gone, I find them more annoying to use than the benefit they provide. Much like Andy from the US version of the Office, I wish I knew I was in the "Good 'ol Days" when I was actually in them, not the moment after I saw the tip slow-motion exploding off into the carpet of my office floor. Thank God for magnets!
It's not just me, FauxHammer broke his first set, not due to the screw, but by (as he says) being too heavy-handed with them and trying the bend them mid-cut. Knowing this now his second pair has lasted several months with no issue.
The blade is so fine and thin, you need to be gentle and perform smooth cuts, you are no longer waiting for that "snikt" sound you get as the blades meet and you tear away the remaining plastic. This will actually dull these blades, But you will feel the sprue loosen as the cut is made.
TLDR: RTFM and be gentle with them and they will reward you.
Back to the review, it is not only possible to get the crisp cuts as promised by the company, they will continue to deliver time and time again, even after being battered and "well-used".
DSPIAE ST-A 3.0 Single Bladed Nippers – Price & Availability
Being an eastern company, availability in the west can be a little off. The official store, like many eastern brands, is hosted on Ali Express where you can pick up a pair of the clippers for around £25 ($31 USD, 26€, AU$45, C$40) + shipping. Making them incredibly close to the price of a pair of Citadel Fine Detail Cutters. And about half the price of something like the Godhand SPN-120 which are directly comparable in terms of the cut quality
With AliExpress however comes long shipping times, So then I recommend checking your local everything stores.
Amazon has them available, they are often more expensive but can you get the benefit of faster shipping, it depends what this is worth to you.
eBay is another decent source for the US, UK and other regions. just check the listing, as many of the cheaper ones shop from China anyway, so you may as well just get them from Ali Express.
When buying from stores like these, you are always at risk of receiving knock-off's which is why it is so handy that DSPIAE have at least added an authenticty checker on their website to ensure you get the genuine article.
Honestly though, just deal with the shipping time from eBay or Ali Express (for me it's never been half as long as it suggests it will be) and pick them up at a bargain price. People are still very averse to Ali Express and I'll admit it's an odd storefront compared to what most of us westerners are used to. But it's as safe as the next amalgam store.
With AE, funds are not released to the seller until you confirm receipt of the product and that you are happy with it (or 30 days after the tracked delivery date). It's slowly becoming one of my go-to websites for hobby gear.
DSPIAE ST-A 3.0 Single Bladed Nippers – Final Thoughts
Takeaway – These nippers are an amazing tool. If the worst possible thing were to happen (misaligned cut angle or very thick plastic) it puts you at the same exact spot as any other clippers on the market. If your cut is well-placed and executed properly, it removes any need to clean it up at all.
The major advantage of these clippers is the fact they don't pit, pinch or otherwise damage the model during the cutting phase.
Pros
Cons
Incredibly precise and close cut
No model scarring
Tools and instructions for care and maintenance
Precision design
Performs even when damaged
Consistent cutting, when used to specifications
Use carefully to avoid damage
Availability is a bit sporadic

In my personal opinion, I love these nippers. The fluidity of the cut they provide is an absolute game-changer. Being able to get extremely close to the model without worrying about pitting or pinching it makes the cleanup stage significantly faster. I rarely have to worry about cleaning the sprue gates, and I get to focus on everyone's favourite thing…mould line cleanup!
Click this link & buy your hobby stuff from Element Games for the UK & Europe to support FauxHammer.com – Use Code "FAUX2768" at the checkout for double reward points.




Our Affiliates / Hobby Stores
What did you think of this Review? Please let us know in the comments.
If you like what we're doing here you could really help encourage more content with a share on any social media platform.
Click the share links at the bottom of this screen (or on the left for computers and tablets)
Want to keep updated with the site? You can subscribe in the sidebar for RSS or by email below
(Sidebar is below the article on Mobile Devices)
Summary
Reviewer
Review Date
Reviewed Item
DSPIAE ST-A 3.0 Single Bladed Nippers
Author Rating





Product Name
DSPIAE ST-A 3.0 Single Bladed Nippers