Warhammer 40,000 McFarlane Toys Series 2 + Bonus Figure
Last Updated on June 16, 2021 by FauxHammer
Did anyone know these were available to pre-order yet? Well, they are… I know there was a Warhammer Community post a good while back showcasing series 2 is coming out but Unless I'm dumb, nobody told me that Series 2 was available to order. at some pretty decent prices!
Click this link & buy your hobby stuff from Element Games for the UK & Europe to support FauxHammer.com – Use Code "FAUX2768" at the checkout for double reward points.



Our Affiliates / Hobby Stores
I know these toys are a hot commodity, The first series featuring a Necron Warrior, Ultramarine Intercessora and Plain Grey Plastic Assault Intercessor sold out in record time! Just like the Ban-Dai models which came before and have since had (a completely sold out) second series.
This New Series of McFarlane Toys now Features only 2 distinct sculpts, but each has an artists proof version which you can paint up in whatever faction colours you like!
This time we have a Blood Angels Hellblaster and an Adepta Sororitas Battle Sister.
Oh and there's also a third model which is not part of series 2 but part of McFarlane's Gold Label Series, which is an exclusive to certain places?
More Details below.
Warhammer 40,000 Mcfarlane Toys Series 2
The sculpt of this model has gone full Blood Angel – without about as much effort put in as GW put into their faction-specific upgrade sprues.
The Chest Aquilla appropriately has the blood drop icon specific to this chapter, the Left Shoulder pad has a sculpted Faction Logo and this guy also has a blood drop relic hanging from his belt.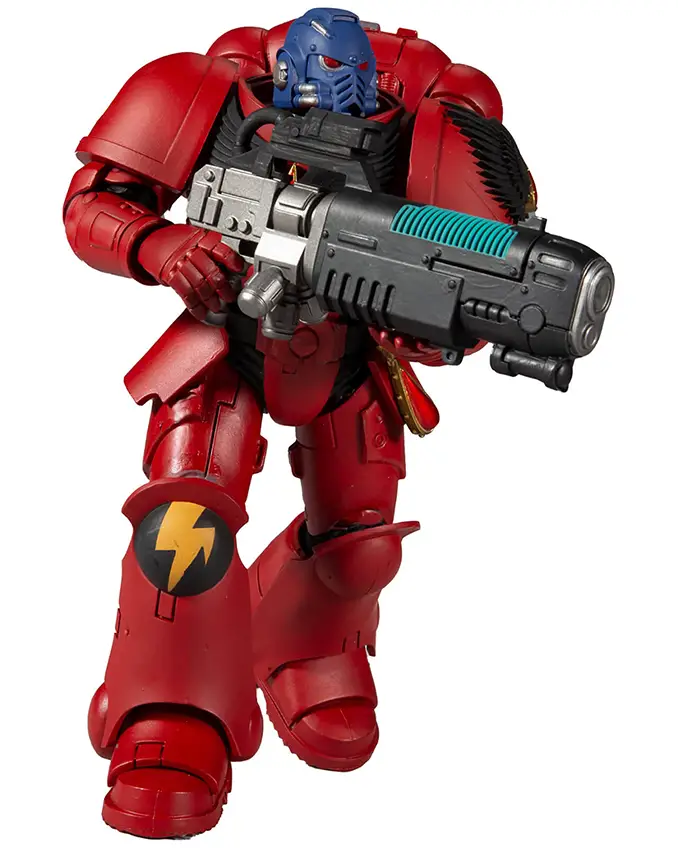 He Comes Equipped with a Plasma Rile as expected from a Hellblaster.
Another change for this model versus the marines in the previous series is the head sculpt – which to me just looks a little off. Thoughts?
Identical to the model above in regard to loadout, bit this model removed the Blood Angel Insignia from the shoulder pad along with replacing the chest Aquila with the one from the previous Ultramarine sculpt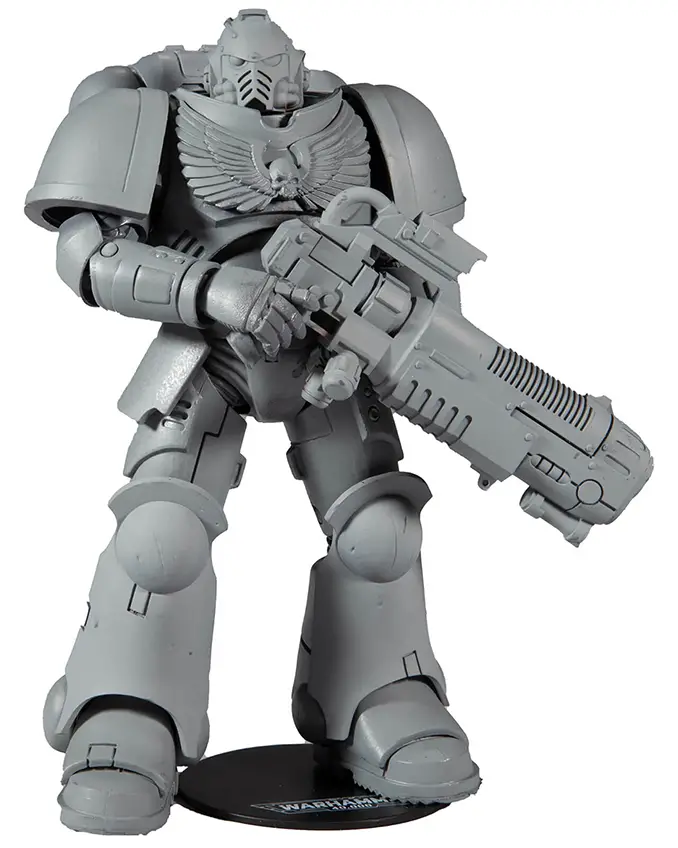 The blood drop relic has also been removed.
Awww yes!, this is awesome. An incredibly detailed sculpt. Remember just over a year or so ago when we were crying out for Plastic Sisters, and here they are now represented in cast resiny stuff and standing 7″ tall! awesome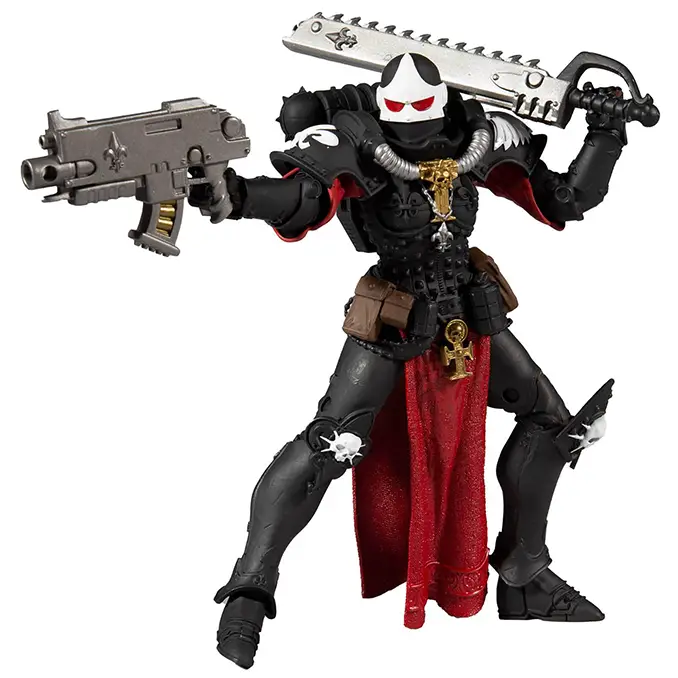 I have to admit though, the paint job on this leaves much to be desired. The Mcfarlane series I know from old Spawn figures would put a lot more detail into the models. But here it's all flat colour and when we are looking at a black model. It comes across a bit meh. As the colour hides a lot of its detail.
This model comes with a Classic Bolter and Chain Sword.
Unlike the Blood angel, I am unable to identify any sculpt difference with this Artists Proof. So, no matter which you buy, just prime it and paint it as you like. The Artist Proof versions seem to sell out quicker, for obvious reasons.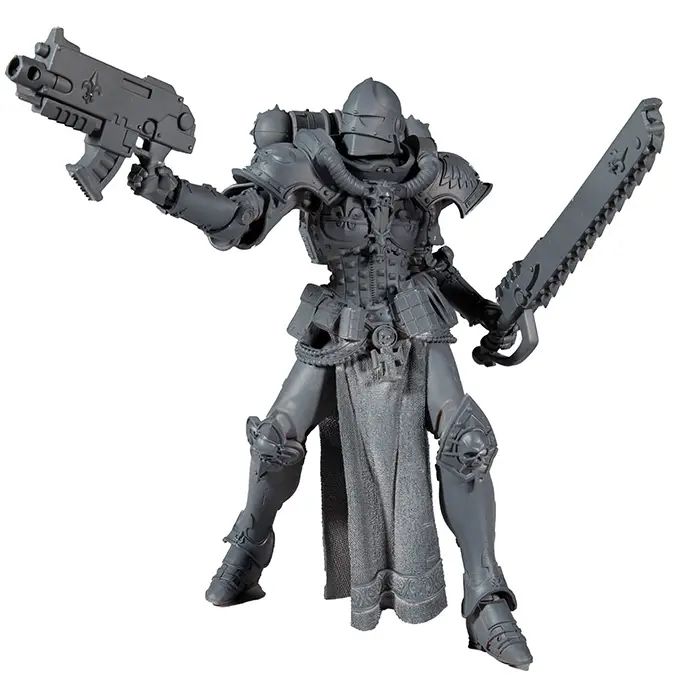 The same happened with the Pop Figures, Everyone was flocking to buy the Paint your Own Grey Ultramarine Pop, even paying over the odds on eBay. yet the Ultramarine Model was identical…
Due to the Tabbard, this sister does not look quite as posable as the Ultramarine, In Fact, the only real difference between the two promo shots is that one is pointing the Bolter up and the other is pointing it downward.
I think I'd really have liked to see this have a swappable head, one with an actual face. But hey, maybe that's just me?
McFarlane Gold Label Series
McFarlane's Gold Series is new for 2021 and basically, they are sets of models in "very limited" supply. On the Mcfarlane Website, the description of this series even reads "They will be limited, so the hunt will be intense, folks". How much of this is true and how much is marketing Hyperbole is yet to be seen.
In the US these models are exclusive to Wallmart. In the UK however, the Currently per-orderable models from the first Gold Label Series have popped up on numerous websites.
The only current place to pre-order this Blood Angel in the UK is from a place called Collectable Kingdoms. Who previously existed as an eBay store but now have their own website. They make you sign-up before pre-order and you are limited to ordering 1 per customer. But Since the transaction is PayPal protected and they have a decent eBay rating, I've taken a chance on them. (this was my choice, not an endorsement, they've yet to follow-through)
It's probably the pose here used in the marketing material but this just doesn't look so great to me. The pose makes it very top-heavy. and the colours just don't balance well, that gold is too gold!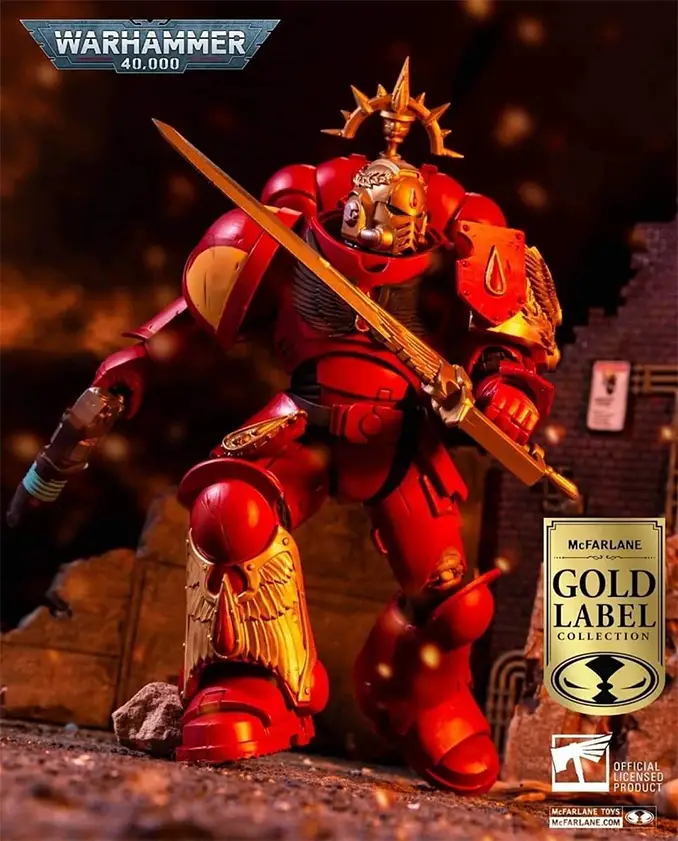 The notable changes to this model versus the others is firstly the loadout, we have a Plasma Pistol and Power Sword.
The Aquilla matches the above Hellblaster. The Blood Drop relic has been changed and has also switched sides.
The Left Shoulderpad features more ornamentation and is fully gold whilst featuring a campaing emblem sheild.
There is some cool ornamentation on the right leg too which I really like.
The helmet is now gold and has a sculpted laurel and blood-drop emblem (yes guys, you like blood drops, we get it)
The backpack contains a removable campaign ornament too.
The only other subtle difference I can see here is the body of the sculpt now has some physical battle damage on its surface, which is a nice change.
Warhammer 40,000 Mcfarlane Toys Series 2 – Price & Availability
As of right now you can pre-order Series 2 all over the Globe with the RRP at £24.99 ($19:99 USD) yep America gets models cheaper than the UK for once.
Shopping around I found that you can preorder these in the UK for as low as £20.99 from Forbidden Planet. and since that was where I preordered my last Mcfarlane Toys and they have never let me down yet with Warhammer Conquest and Mortal Realms Subscriptions. I've opted to put my money with them rather than miss out. (especially since they don't charge actually you until release. YAY!)
Strangely though I cannot find them on the site by Searching "McFarlane Warhammer " despite this being in the title of each model. So you can use this link and scroll through the Warhammer products until you see them (or any of the individual model links above).
The Gold Label Blood Angel, however, is only currently available to order in the UK from Collectible Kingdoms and they charge you upfront. It may come to Forbidden Planet in future (as the rest of the Gold label series is up there now). But remember, the stock is meant to be incredibly limited.
What do you think of the new models? let me know in the comments.
Click this link & buy your hobby stuff from Element Games for the UK & Europe to support FauxHammer.com – Use Code "FAUX2768" at the checkout for double reward points.



Our Affiliates / Hobby Stores
What did you think of this Article? Please let us know in the comments.
If you like what we're doing here you could really help encourage more content with a share on any social media platform.
Click the share links at the bottom of this screen (or on the left for computers and tablets)
Want to keep updated with the blog? You can subscribe in the sidebar for RSS or by email below
(Sidebar is below the article on Mobile Devices)