Last updated on January 23rd, 2021 at 10:20 am
At FauxHammer we want to build a site that is a rich hobby resource, and to do that we need to centre around you, the hobbyist.
The first thing we're looking to build a network of hobbyists, all in one place. Somewhere that everyone can see you and the contributions you make.
We are looking for everyone who has their own hobby blog or website to share their feed with us so we can add it to our blog-roll
If you want us to add your feed to our site all you need to do is follow a few simple steps.
Simply download the banner image below and save it somewhere prominent on your website. (We've made it to fit nicely on a sidebar) and have it link back to 'https://fauxhammer.com'
Once you've done that, simply comment below with your feed URL and so long as you are displaying our banner we will add you to our public feed.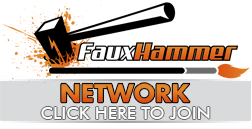 As soon as we've verified the banner on your site, we will add you to our network.
Our Current Members
FauxHammer Network Blogroll