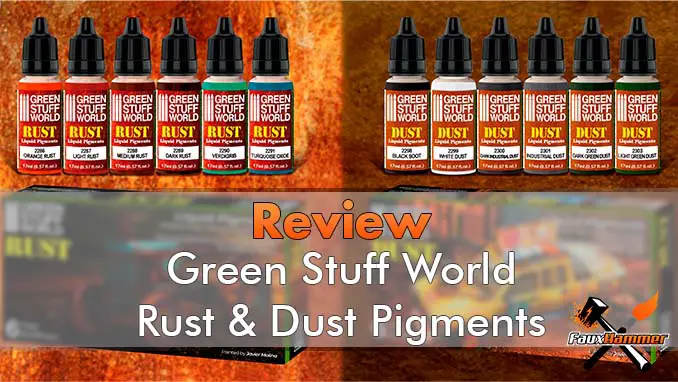 No matter the field of battle upon which your models may (or may not) be fighting, it's unlike that they will be returning from their campaigns without damage. Bullets, bombs, and blades take their toll on armour, no matter how small. As such, adding weathering to your figures is an excellent way of making them appear all the more realistic, no matter their setting.
Click this link & buy your hobby stuff from Element Games for the UK & Europe to support FauxHammer.com – Use Code "FAUX2768" at the checkout for double reward points.


15% off Phrozen with code: "22PRFHDP15"

Our Affiliates / Hobby Stores
The model is everything with Green Stuff World's Rust and Dust Liquid Pigments.
Optimal for adding environmental weathering to larger models, such as vehicles, buildings, and statues, you may struggle to control the Rust and Dust Liquid Pigments when using them at the level of detail that is required on miniatures.
Still on those larger areas with sculpted weathering, they perform admirably and can be used to add realistic and pleasing weathering to your figures.
Weathering is a great way to make your models look as if they've been through hell and back.
The majority of FauxHammer.com's readership comes to this site for tips and tricks for painting their Warhammer miniatures. Be they warriors of the 41st Millennium or taking to the myriad battlefields of the Mortal Realms, it's unlikely that your figures are going to come out of whatever scrap they've got themselves into completely unscathed.
It's understandable, then, that you may want to paint your figures in such a way that shows they've done their bit when it comes to holding the line. Luckily for you, there are plenty of products out there to help you make your figures look like they've been through the wars – or just stood outside in the rain for a bit.
Today, we're going to have a look at Green Stuff World's Rust Liquid Pigments and Dust Liquid Pigments sets.
Green Stuff World Rust and Dust Liquid Pigments Review – Contents
We'll be looking at two boxes today: one with the rust paints in, the other with the dust pigments.

Both boxes come with six liquid weathering pigments in them. The dust box has:
1 x Black Soot
1 x White Dust
1 x Dark Industrial Dust
1 x Industrial Dust
1 x Dark Green Dust
1 x Light Green Dust
The rust box contains the following:
1 x Orange Rust
1 x Light Rust
1 x Medium Rust
1 x Dark Rust
1 x Verdigris
1 x Turquoise Oxide
Green Stuff World's liquid pigments have been designed to create weathering effects similar to those achieved through the use of powdered pigments, but have the benefit of not requiring a pigment fixer to bind them.
In the Green Stuff World video where they showcase the use of their liquid pigments, they focus the liquid pigments around very textured surfaces, such as the bolts on the tank they are painting, as well as the recesses and hardest edges of the model. This is because the liquid pigment works almost like a shade paint: it settles very well into recesses and clings to the edges of stand-out details.
Here are the paints on a palette. We have the dusts along the top and the rusts underneath, running in the following orders: Black Soot, White Dust, Dark Industrial Dust, Industrial Dust, Dark Green Dust and Light Green Dust. Then, Orange Rust, Light Rust, Medium Rust, Dark Rust Verdigris and finally Turquoise Oxide.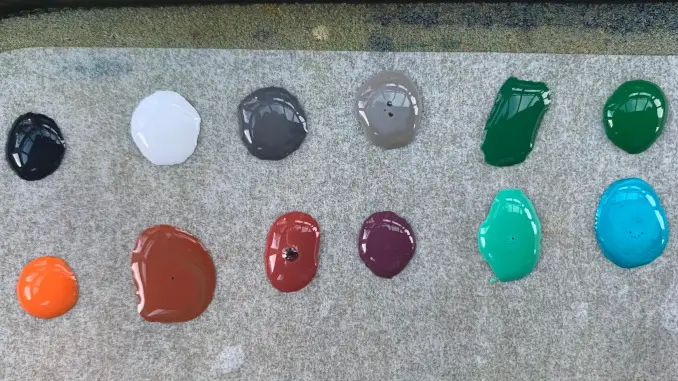 They sit somewhere between a Citadel Shade Paint and a Citadel Contrast Paint in their opacity, probably more similar in body to Nihilakh Oxide or Nighthaunt Gloom, so you may want to ensure these are watered down ever so slightly when using them.
Let's see how they perform on a miniature. For this, I dug out two figures with some obvious wear-and-tear: the Korthari Nightguard from the Cursed City box.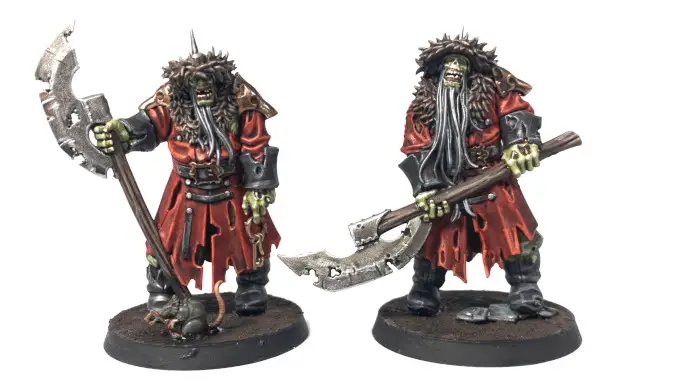 I painted them to near-completion before breaking out the rust and dust paints. You can see there's plenty of "damage" to these models – their axes are worn, their boots and cuffs are battered, and their coats are torn. These should be great candidates to test some weathering paints on.
I used various mixes and layers of Medium, Light and orange Rust in order to build up what I felt was an effective base to the rust texture. Because the pigments are so watery, I did struggle to control at times and occasionally found them pooling on flatter areas of the axe where I didn't necessarily want them. For the helmet, though, they worked great.
Once the two layers of Medium and Light Dust had dried, I focused some Orange Dust on the details, such as the nails and screws in the weapons and around the edges of the helmet spike and where the helmet itself met the fur.
Hindsight is a wonderful thing, and I wish I had first applied a little Typhus Corrosion to those areas that I applied rust to for two reasons. Firstly, the added texture would help make the lightest rust stand out as it settled into the texture. Secondly, the texture would have given the paint something to cling to and would have helped achieve a more vibrant effect.
In terms of colour, though, I think they're spot on. I'm a huge fan of the really vibrant Orange Dust colour and think it compliments the other rust shades really well. I decided not to use Dark Rust, as I felt the colour was too purple. I would have preferred a brown – again, something similar to Typhus Corrosion, or maybe Dryad Bark – as a base, but, as I said, hindsight is a wonderful thing.
I used a little of the Turquoise Oxide around the Nightguard's shoulders. Initially, I felt this went on far too thick. You can see in the image below where I've watered down subsequent applications of this paint.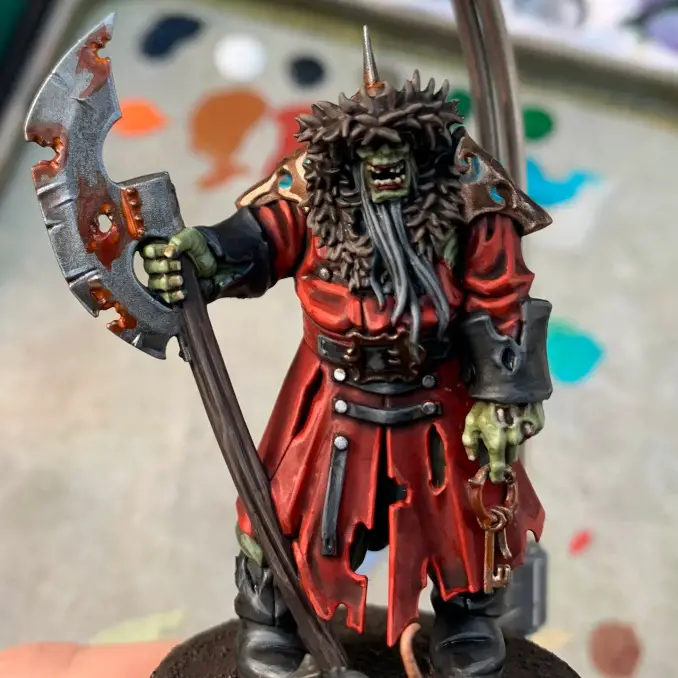 It's very similar to Ciatdel's Nihilakh Oxide, but perhaps a smidgen thicker. Be sure to water this one down before you apply it.
All in all, though, I'm quite pleased with these. There's a good spread of realistic colours across the set, and they provide an alternate way of painting dust. I still think I would prefer to see a darker brown in the set, and would definitely recommend using these paints over rusted areas with a far more pronounced texture than those exemplified on the Nightguard above.
Still, I can definitely see myself using these again.
The dust pigments aren't designed to work in quite the same way as the rust pigments. Whilst the rust pigments work in a way akin to a more opaque wash, the dust pigments are designed to leave a chalky, dust-like texture on the figure as they dry and thus imitate the texture of dust on a model.
That said, I struggled a bit more with the Dusts than I did the Rusts – not because the paints perform any differently, but because I found it quite difficult to pick out a good opportunity to use them on my figures.
The dust paints come in four colours: black, grey, white, and green. These weren't the colours I expected to find when I looked at the colour of the box, nor are they the colours that spring to mind when I think of dust. I had hoped for some deep browns or yellows that I could've used to add some really depth to the base of the miniature or life to the wood of the axe haft. I had hoped to be able to match a chalky brown colour to the base and have some splatter on the figure's boots, but it was not meant to be.
But because of the colours available, I really struggled to find an opportunity to use the Dust pigments on my figures. Between the colours of my Nightguard and those available in the dust box, I couldn't find many suitable areas on the figure to test them on.
Still, I made the best that I could of the situation. I used a little Industrial Dark Dust and Black Soot on the rocks underneath my Nightguard's feet, which were originally painted with Mechanicus Standard Grey and Dawnstone I also applied some Black Soot on the texture paint immediately around it to see if it made a discernible difference to the areas I had already applied Agrax Earthshade to.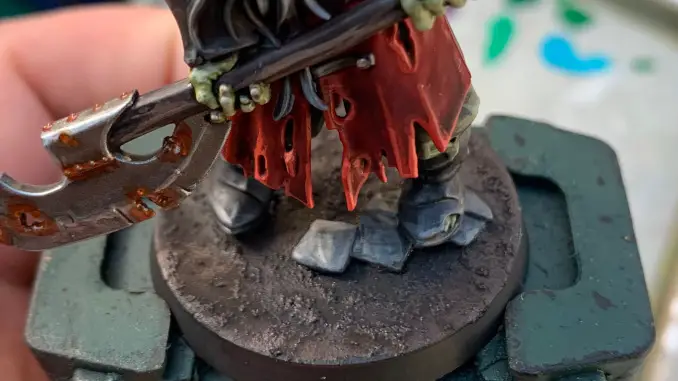 There's not a huge difference to be seen anywhere on the areas – only that I felt the Industrial Dark Dust went on very smeary. You can see some of the lines it left in the image above. It does leave something of a chalky texture behind, but it doesn't have quite the effect I had hoped it might.
A little dissatisfied, I decided to try the Black Soot out on some of the black leather areas on the Nightguard. Now, I hadn't originally used a true black paint on these dark leather areas, opting instead to mix a much cooler black/very dark grey with Incubi Darkness and Rhinox Hide. I had hoped the dark Black Soot might add some smeary, worn dullness to the leather and help the texture look all the more worn out and beaten up.
But, as you can see in the pictures below, I couldn't really notice much of a difference.
There's a little more darkness in those most obvious recesses where the Black Soot has pooled and dried – such as the damage on the cuffs – but the rest of the texture remains more or less as it was before the colour went on. This is most likely due to the fact that the shades are probably too close together to offer much in the way of colour depth when used together.
Not content to give up, I decided to use the same Black Soot on the axe haft for this miniature, bushing some into the largest cracks and around the top and bottom of the wooded areas to bring out the texture. This worked much better.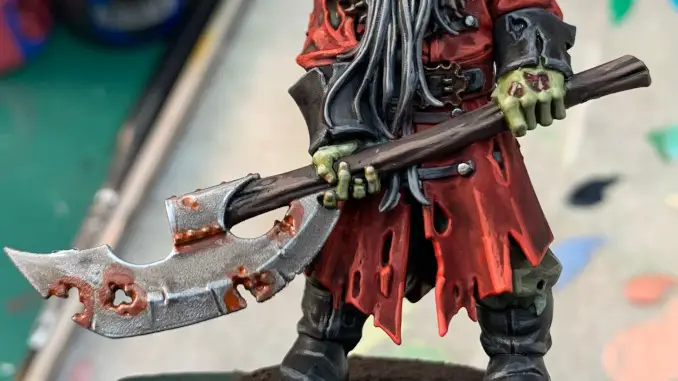 In all, I am a little disappointed with the Dusts. I don't feel like the colours on offer in the set are all that useful, adn the paints didn't quite perform in the way I had hoped they might.
I feel the biggest limitation to the Dust Liquid Pigments set are the colours included in it. More browns and yellows would have been excellent, and could have been used to add further depth to the pre-painted rust areas, bring out the texture of the base and rock better, or add muddy splatter to the hem of the character's coat or around his boots. But alas, it was not to be.
With everything dried, based, and finished off, the models were finished. Here's how they turned out: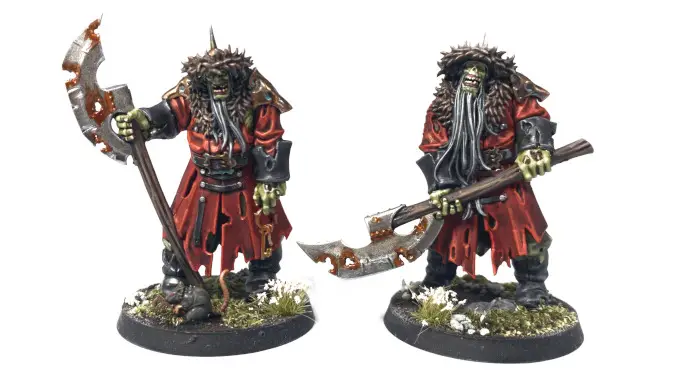 So, to summarise, the Rusts were great. Whilst they would benefit from being used on a model with a more obviously sculpted rust texture (or not, if you're after a dripping water-damage look, which I wasn't with these figures), the colours on offer in the rust set are vibrant and realistic, and you'll be able to get some really pleasing effect with them.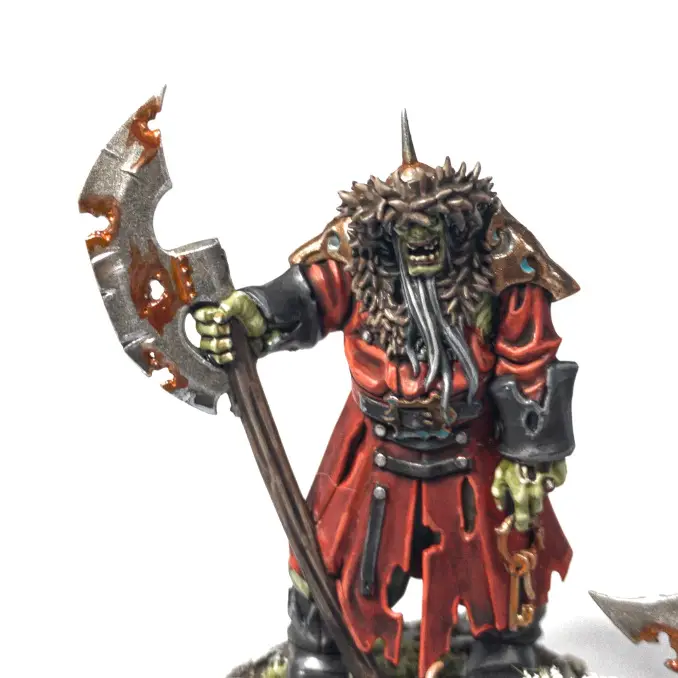 They aren't, perhaps, best suited to being used on individual miniatures as I have used them. On tanks or larger vehicles you need to add a little water damage too, these paints would be absolutely outstanding.
The Dusts, I am a bit disappointed with. As you can see in the image below, the areas I used the dust pigments on look almost no different to how they looked beforehand. there is a slight change in texture that you can just about make out on the Nightguard's cuffs, but you really have to look for it. There's also a subtle difference in shade on the black leather areas, and a slight depth to those most pronounced recesses on the axe haft, but I could've got the same effect with a thick coat of Nuln Oil.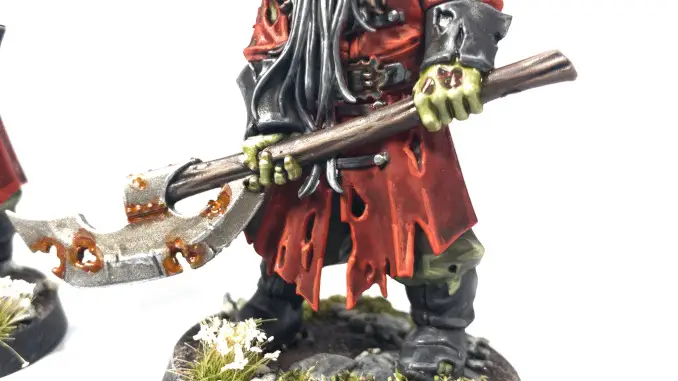 Again, I feel the colours in the set don't really help. As I said above, if I were to paint dust or other dirty weathering, my go to colours would not be black, grey, white or green. Whilst green would be good to add some mossy texture to a large piece of scenery designed to look as if it had water running over it, I'm not so sold on the others.
I also think that, again, with the right miniatures the dust pigments would be better. Scenery or vehicles would suit the Dusts – but that comes with the caveat that the models you are painting are being coloured in a scheme that will suit the fairly basic tones in the set.
You can buy both the Rust Liquid Pigments set and the Dust Liquid Pigments set straight from GSW themselves. They are currently both advertised at €17.52, which is about £15/$20USD without shipping or additional costs.
GSW are a great company that produce some awesome products, so if you're interested in buying either of these sets, make sure you check out the rest of their range.
Pros
Cons
Great range of colours across the sets
An alternate way to add weathering to your miniatures
Very realistic tones
Would be perfect for adding weathering to larger models, such as buildings or vehicles
Difficult to control
Dusts aren't the best colours
Not necessarily suited for use on small miniatures
A bit of a mixed bag.
The biggest takeaway from this review for me is that these liquid pigments would be great on the right model.
These paints would come into their own when adding weathering to large surfaces, such as walls, the sides of vehicles, and other environmentally-damaged surfaces. Unfortunately, the selection of miniatures I currently have on hand didn't allow for this, so we had to make do!
Still, the Rust Liquid Pigment set performed very well. It's clear that texture is key when using these boxes of paints. As they sit somewhere between your standard Citadel Shade Paint and Contrast Paints in their opacity, so are best when used to take full advantage of the peaks and troughs within the textured detail on a figure.
Whilst I'm a big fan of the colours in the Rust Liquid Pigments set, I'm not sure I'd use them again on a figure without previously adding some additional texture to it. As for the Dust Liquid Pigment set, I'm looking over my collection and struggling to figure out when I'd use it altogether. It's let down by the colours included: blacks, greys, a white and some greens aren't the first colours that pop into one's mind when they think of "dust". I'd have preferred a yellow, a deep brown, some colours with more earthy tones.
Still, all in all, not bad.
Click this link & buy your hobby stuff from Element Games for the UK & Europe to support FauxHammer.com – Use Code "FAUX2768" at the checkout for double reward points.


15% off Phrozen with code: "22PRFHDP15"

Our Affiliates / Hobby Stores
What did you think of this Review? please let us know in the comments.
If you like what we're doing here you could really help encourage more content with a share on any social media platform.
Click the share links at the bottom of this screen (or on the left for computers and tablets)
Want to keep updated with the site? You can subscribe in the sidebar for RSS or by email below
(Sidebar is below the article on Mobile Devices)