Warhammer Age of Sigmar Stormbringer Delivery 10: Issues 35-38 Review
Another month has rolled by which means we're back with a round-up of everything Stormbringer. Read on for a close-up look at the last few weeks' goodies!
Warhammer Age of Sigmar Stormbringer Delivery 10: Issues 35-38 Review – Introduction
With the year coming to an end, Age of Sigmar: Stormbinger – Hachette Partworks' current Warhammer collection – hits double digits with its 10th delivery. And what wonders await within! Issue 35, Issue 36, Issue 37, and Issue 38 are absolutely ram-packed with goodies: new factions, some returning models – and, if you forgot to (or didn't want to) opt out, a bonus miniature too.
Warhammer Age of Sigmar Stormbringer Delivery 10: Issues 35-38 Review – Contents
Issue 35, Issue 36, Issue 37, and Issue 38 come packed with all sorts of goodies for the Warhammer collector. Read on below for our overview of everything that's come out this month.
The Magazines
As ever, we'll kick off with a whistle-stop tour of this month's magazines.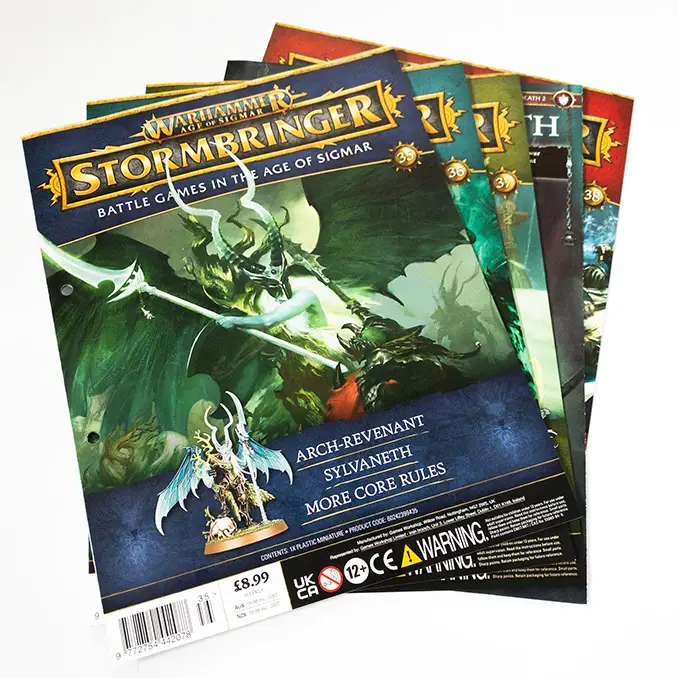 Issue 35 contains your introduction to the Sylvaneth faction, before taking a look at some other areas of the Mortal Realms. There's then all the info you need to build up and start painting your new Arch-revenant, followed by rules for using it in a battle. Issue 36 comes in hard with background on Kragnos, the End of Empires – one of the bigger, meaner baddies of the Age of Sigmar. This is all then followed with the building, painting, and gaming info you need to make full use of the Fungoid Cave-shaman that comes with this issue.
Issue 37 contains a story about the Sylvaneth to whet your appetite for the models with this magazine, once again followed by all the building and painting info currently for these miniatures, as well as new rules for your games. Halloween may be over, but there's also a particularly spooky Grand Alliance Death fold-out for your binders included in this issue too. Finally, Issue 38 sees this month's injection of written stuff out with info on Endless Spells and Ogor Mawtribes, before things bet all Stormcast Eternal again to facilitate the minis in this issue. Alongside the regular blue 'n' gold scheme, there's also a painting guide for the Iron Thanes Vindictors as well, so you're getting twice the guides this time around.
Miniatures
Issue 35 includes the spectacular Arch-Revenant – though he can be a bit of a nuisance to assemble at one point.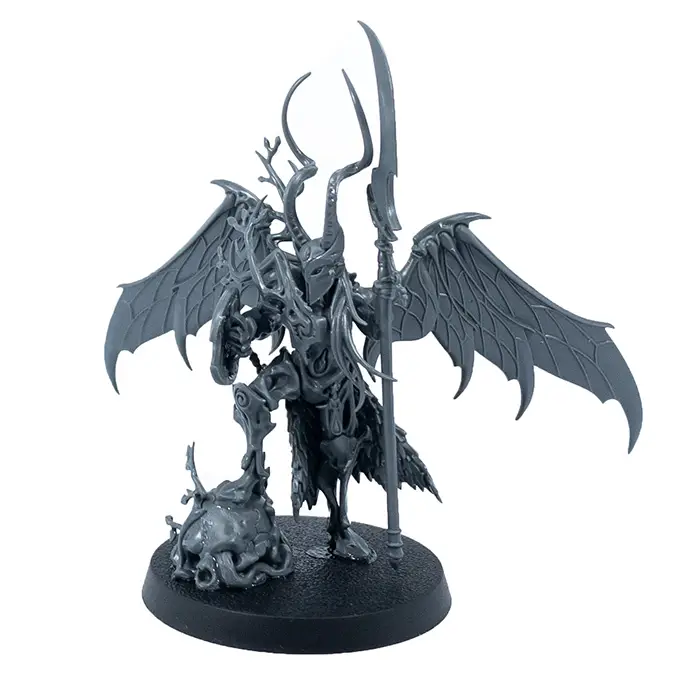 One of the last pieces you'll be instructed to glue on are some branches that extend from the model's chest and over their shield arm. This single component is a real pain to line up, as it's slotted into the space between his shield, chest and arm. It's very fiddly to do, so make sure the rest of the model is completely dry before you start trying to do this.
Issue 36 contains the kooky Fungoid Cave-Shaman. This mini is loads of fun and is covered in wonderful details.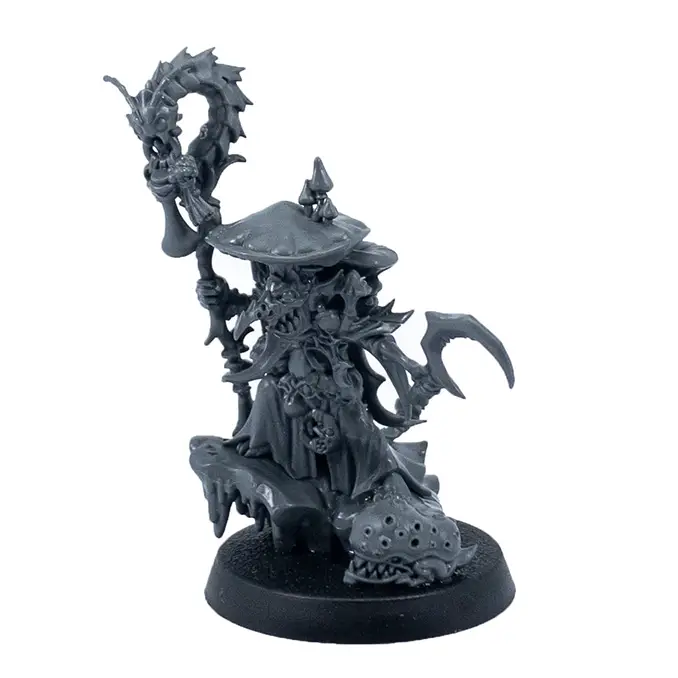 He's also a straightforward build. Before you glue him on his base, however, make sure you leave room for the little squig-like companion he has with him. The base for this guy isn't enormous, but they do both fit.
Issue 37 contains a set of Ylthari's Guardians. These models have been out of production for a while, so this'll be a really desirable issue.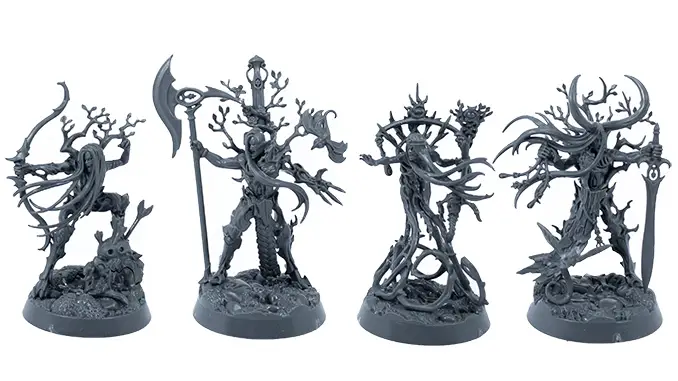 Originally an Underworlds Warband, as push-fit models, these miniatures do go together quite easily. There are some spindly bits on the models, however, so do be careful when applying pressure to the figure to get the parts to slot together – you wouldn't want to snap anything off by accident.
Finally, Issue 38 bags you another 5 Stormcast Eternal Vindictors.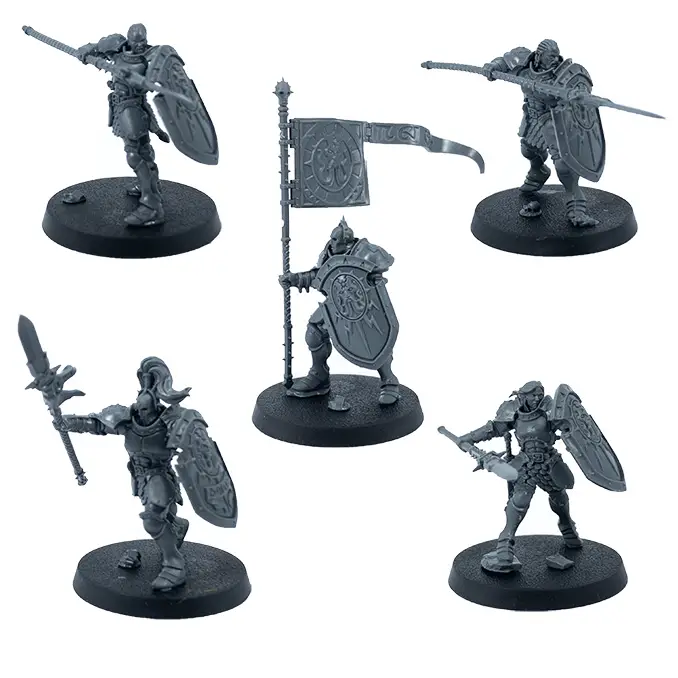 You're probably sick of seeing these guys by now. I know I am. The experience was worsened by one of these models – the one in the bottom-right corner – who I could not for the life of me get to fit together flush. Whilst all of the other models in this kit are fairly straightforward to build and caused no issues whatsoever, bottom right was determined to ruin my day. She's now affixed to her base with a rather unsightly gap running down the side of her torso where I haven't been able to get the components to go together quite right. Ugh.
On the whole, a fairly successful month (albeit one Stormcast Eternal that might have just been a me problem). It's nice to see the Sylvaneth make their debut – I'm sure there'll be lots of collectors out there glad to see something new.
Paints and Tools
Issue 37 nets you a Citadel STC Dry S brush – that's a small drybrush to you and me. Note I've nicked the below photo from Games Workshop's product listing for this item as photographing a completely white brush on a white background was beyond my capabilities today.

Of all the Citadel STC brushes we reviewed a coupe of years back, surprisingly it's the drybrushes that have both been used the most in the months since, but have also fared the best.
That this is a smaller – and, therefore a brush you're likely to sue a little more gently – brush when compared to the other STC dries, this does mean that if you look after this one, it'll likely look after you in reutrn.
Wargear
Finally, Issue 38 comes with your next gaming mat.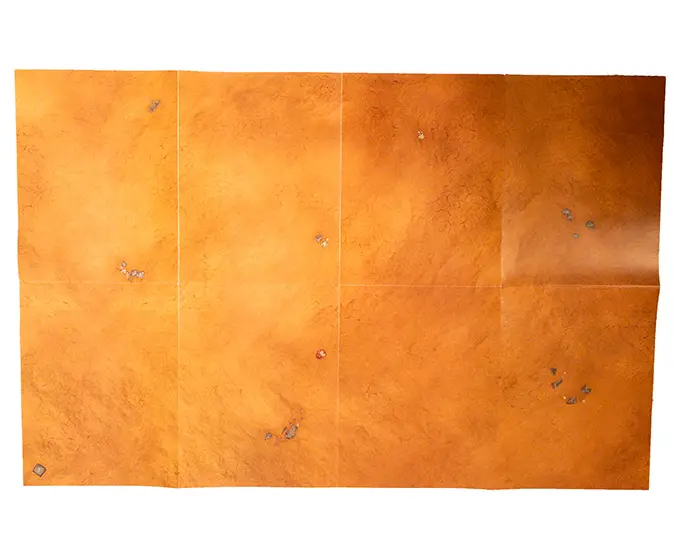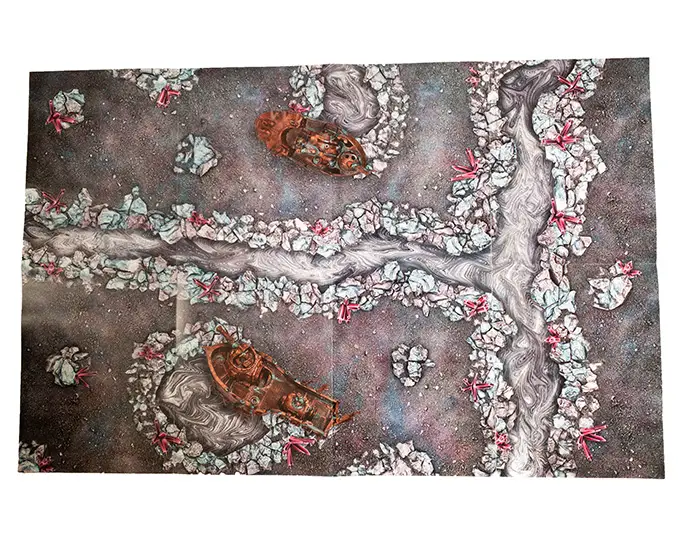 It's a simple paper affair (complete with beastly folds from being packaged with the magazine it was delivered with), but it'll see you through your next bunch of games. The reverse side – the one with the caves and ruins – is a lot of fun.
Warhammer Age of Sigmar Stormbringer Delivery 10: Issues 35-38 Review – Bonus Skaven Pack
If you're a Hachette subscriber and you didn't opt out of it, this month you'll also find your delivery comes with an extra magazine – the Skaven Warlock Bombardier Character Pack.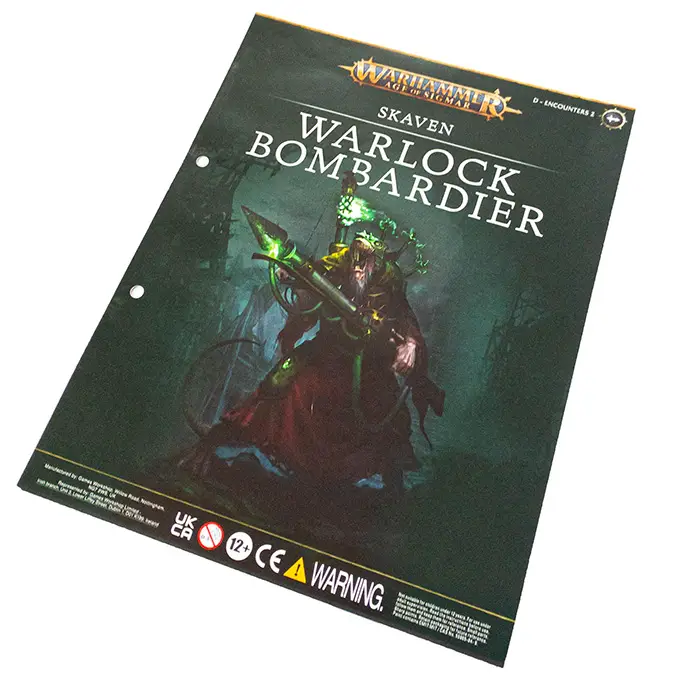 The magazine is packed with all sorts of information about the Skaven – so far absent from this collection, and as far as we know not likely to be featured. There's also a very brief build guide for this model (who is also not that hard to build) and a very thorough painting guide that'll get this miniature up to a more-than-acceptable standard.
Here's the little guy.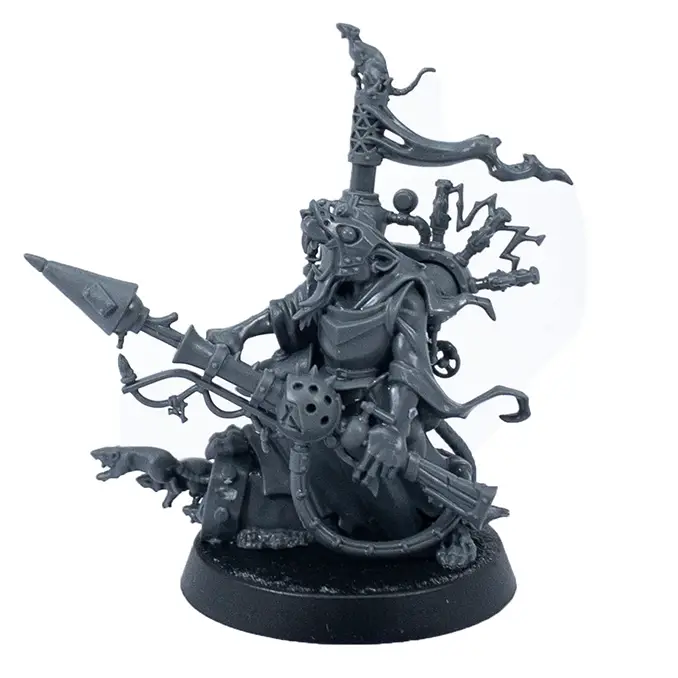 A fun miniature to round the month off with – and one that adds even more diversity to this round of deliveries.
Warhammer Age of Sigmar Stormbringer Delivery 10: Issues 35-38 Review – Price and Availability
As ever, here are some Traditional FauxHammer.com Price and Savings Breakdown Tables. We really need a better name for these.
| | | | |
| --- | --- | --- | --- |
| Issue no. | Issue Price (GBP) | Total Value (GBP) | Total Savings (GBP) |
| Issue 35 | £8.99 | £25.00 | £16.01 |
| Issue 36 | £8.99 | £25.00 | £16.01 |
| Issue 37 | £8.99 | £26.00 | £17.01 |
| Issue 38 | £8.99 | £17.50 | £8.51 |
| TOTALS | £35.96 | £93.50 | £57.54 |
And once again for our friends in the US.
| | | | |
| --- | --- | --- | --- |
| Issue no. | Issue Price (USD) | Total Value (USD) | Total Savings (USD) |
| Issue 35 | $13.95 | $40.00 | $26.05 |
| Issue 36 | $13.95 | $40.00 | $26.05 |
| Issue 37 | $13.95 | $42.00 | $28.05 |
| Issue 38 | $13.95 | $30.00 | $16.05 |
| TOTALS | $55.80 | $152.00 | $96.20 |
There are some hefty savings on offer this month across the miniatures alone, thanks to the fact that these are high-value models. The Warhammer Underworlds Warband in Issue 37 also complicates matters a little: whilst most Warbands are £26.00/$42.00, that these have been out of production for some time increases their value as this might be the only opportunity you get to grab them. Factor into this the cost of the STC Dry S (a further £4.55/$8.75), and the value increases again.
Warhammer Age of Sigmar Stormbringer Delivery 10: Issues 35-38 Review – Final Thoughts
The Good
The Bad
Loads of money off
Nice selection of minis
Some models are a faff to build
Delivery 10 is definitely a good 'un. All thriller and no filler, this is definitely one to keep an eye out for. Sure, there are a couple of fiddly bits on one of two of the models, but then again, whenever aren't there?
Also, be aware that Issue 39 (some paints), Issue 43 (Tree Revenants), Issue 44 (more paints and a synthetic Layer brush), Issue 45 (Gloomspite Gitz Fanatics) and Issue 46 (a Branchwych for your growing Sylvaneth collection) are currently available for pre-order – so if you're after these, grab 'em before they're gone. Looking for some other bits in the collection, or just wanting to grab a few extra models for your collection on the cheap? Check out the full range currently available at Forbidden Planet.
What did you think of this Article? Please let us know in the comments.
If you like what we're doing here you could really help encourage more content with a share on any social media platform.
Click the share links at the bottom of this screen (or on the left for computers and tablets)
Want to keep updated with the blog? You can subscribe in the sidebar for RSS or by email below
(Sidebar is below the article on Mobile Devices)
Summary
Reviewer
Review Date
Reviewed Item
Warhammer Age of Sigmar Stormbringer Delivery 10: Issues 35-38 Review
Author Rating





Product Name
Warhammer Age of Sigmar Stormbringer Delivery 10: Issues 35-38 Review