Artis Opus – Whole Range now Available from Element Games
Last Updated on October 29, 2019 by FauxHammer
So, this is a teeny tiny update from me. more of a quick announcement. If you have been following Artis Opus brushes for some time you'll know they have 3 series Available S M & D. All 3 series are now available from Element Games. Including the Series D, which are in Stock at Element even though they are still available for pre-order from Artis Opus Direct.
So order them now before the official release date (shhh, wink wink)
I found this as I'm currently reviewing the Harder and Steenbeck Infinity CR Plus, and, well, I broke it…
(I'll share more details on how in the review)
So like any typical UK Hobbyist, I went to Element Games to find some spare parts. AS I was there I picked up a few extra bits and realised that if I spent an extra £10, I'd get free shipping.
After an hour of looking around the site, I happened upon the Artis Opus section (which I've kept my eye on for a while) and noticed they have Artis Opus brush sets 'in stock'. Including Series D.
Of all the Sets they have available, the Series D has been the one to Pique my interest. as I missed the Kickstarter I've been waiting for them to become available. Now they are.
It's not Surprising Element Games stock the brushes. The guys who run Element are part of the Team who Run Artis Opus too.
Here's a rundown of the Artis Opus brushes.
The first Kickstarter run by Artis Opus was an astounding success, these are lauded as some of the best miniature paintbrushes you can buy. They certainly are the nicest looking IMHO.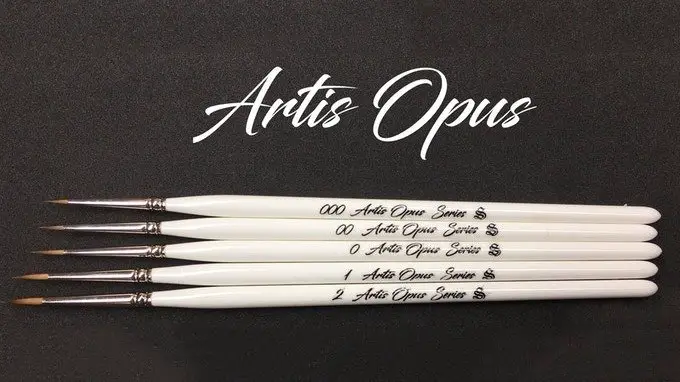 Series M was the follow-up Kickstarter. These brushes are very much like the Series S but with Shorter Bristles. These (like the Winsor & Newton Series 7 Miniature. are great for freehand detailed work as there is less flex in the bristles.
The Series D is by far the most appealing brushes. Many people know by now (bonus tip if you don't) the best Drybrushes (before these) are Cheap Makeup Brushes. But the Series D is something else entirely. It's not just a new type of drybrush it's a new way of drybrushing, with a damp brush? The results shown with these are simply beautiful.
I'm not sure what they are made of but I'm It's made from some white-haired animal in the UK (where they are made) Rabbit? Cat? Wolf? a Ghost?
Whatever it is, they are really soft.
I can't wait to get my hands on them and will share impressions soon.
What did you think of this article? please let me know in the comments. 
See our Existing TOP 10 Articles by following this link.
If you like what I'm doing here you could really help encourage more content with a share on any social media platform.
Want to keep updated with the blog? You can subscribe in the sidebar by email or RSS
(Sidebar is below the article on Mobile Devices)