Revue de la gamme de peinture Turbo Dork pour les modèles de figurines et de wargames
Last Updated on avril 23, 2021 by FauxHammer
The Turbo Dork range is a Totally Radical range of metallic paints and I use that word without an ounce of shame. Especially as this range's screams 80s neon. Cowabunga! (yeah, this is gonna keep happening). Let take a look at these paints in our Turbo Dork Metallics Range Review.
Pour résumer, ce sont des peintures Justes! S'il y avait un concours pour une gamme de peintures miniatures avec les meilleurs noms de couleurs. Torbodork obtiendrait la première, la deuxième et la troisième place. Ils ont une bonne couverture et sont assez faciles à utiliser lors de leur application avec un pinceau ou un aérographe.
Note, The colour shift paints are called Colorshift, I'll do my best to refer to the product as Colorshift. However as I'm in the UK, if I'm not referencing the product name directly I will revert to my natural method of spelling and refer to them as Colour shift.
Les meilleures peintures pour miniatures et modèles Wargames
Cet article fait partie de notre série sur Les meilleures peintures pour miniatures et modèles Wargames.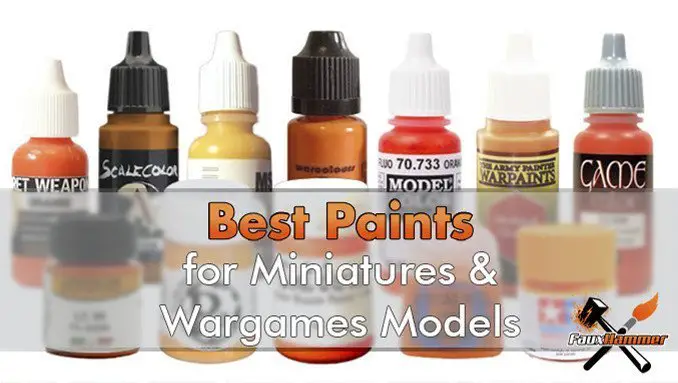 Si vous souhaitez découvrir quelles sont les meilleures peintures pour vos projets, consultez notre Article sur les meilleures peintures en cliquant sur l'image ci-dessus.
Turbodork Metallic Paints – Packaging and Unboxing
So, this is normally the part of the review where I show you the unboxing. But these didn't come in a box. Ok, well, they did come in a box. I just mean there was no "retail" branded box which they came in. All of these paints came loose in a shipping box. The only packaging was some push seal jiffy bags.
I like this, in 2019 there is no need to waste money on packaging when it's not necessary so until you see retail boxes on the shelves with the various Turbo Dork collections. you will be getting your bottles as plain as they can be. But they still look Bodacious.
Quant aux collections, Turbo Dork vend actuellement les bundles suivants;
Volume 1 Changement de couleur
Volume 1 Metallics
Lumière étincelantes – Paints which work well over white
Côtés B et raretés – Paints which didn't fit in the other categories
Chaque peinture acrylique
Bien qu'il n'y ait pas de déballage, les bouteilles méritent d'être mentionnées.
Tout d'abord, des flacons compte-gouttes. Cocher!.
Deuxièmement, l'agitateur déjà inclus dans le Tick.
20 ml de peinture par bouteille (certaines des plus grandes bouteilles standard de toute gamme de peintures modèles). Cocher!
All of the labels are printed on metallic film. This is great becasue there is a clear block on each label showing what the paint will look like once applied, shininess included. This is genuinely quite useful, especially for the colour shift paints. Is it's impossible to tell what some of these paints will look like by staring at the medium in the bottle. More on this later.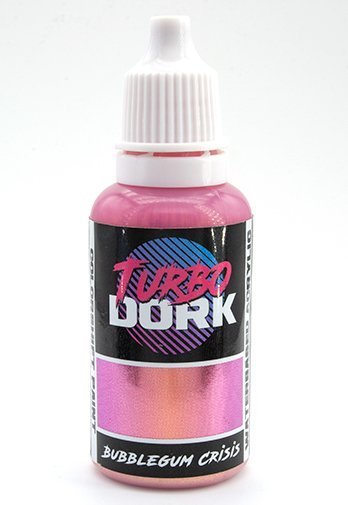 I do have one (teeny-tiny pathetic) gripe here. Due to the metallic film, as you squeeze the bottle you cause horrible creases in the label. This wouldn't matter is the labels themselves weren't so damn sexy. But because they are, these creases are pretty Bogus.
Les boules de mélange sont en acier inoxydable, mais elles sont assez petites, je pensais qu'elles étaient en plastique jusqu'à ce que Turbo Dork me donne les détails corrects. Je préfère les boules de métal plus lourdes (ne mettez pas ça sur ma pierre tombale). Les plus petits ont tendance à se coincer dans le milieu le plus épais. Une bonne claque sur une table les délogera généralement de toute façon. Et le fait que des agitateurs soient même inclus maintient cela dans la colonne des victoires. je know other manufacturers who "need" mixing balls et vous facturer un supplément pour eux.
Turbo Dork Metallic Paints – Colours
Avant de vous expliquer la sélection des couleurs, laissez-moi vous raconter à quel point ces peintures sont impressionnantes. Ci-dessous, pour tester les peintures, j'ai peint des cuillères. Une tonne de cuillères. J'ai posté une photo de ces cuillères sur Instagram, Facebook & Twitter with a simple caption "SPOOONS! At the time, this was the single most popular post I had ever had, people were liking commenting and sharing for days after the post. I genuinely asked people to stop but the community wanted more.
If that doesn't exemplify how awesome these colours are, maybe stop reading here. nah, don't be a Dweeb, keep reading.
Pour les échantillons de couleur ci-dessous, cuillères pulvérisées. avec apprêt noir à l'extérieur et apprêt blanc à l'intérieur. J'ai ensuite vaporisé doucement les couleurs Torbodork sur la surface jusqu'à ce qu'elles soient complètement opaques. C'était pour voir comment la couleur de l'apprêt affectait le métal et combien de couches j'avais besoin pour couvrir le pantalon.
I've also made sure the lighting was the same in every image to give a direct view of how they look
Toutes les peintures Turbo Dork sont métalliques et appartiennent à l'une des trois catégories. Métallisé, changement de couleur et s'épanouir.
Turbo Dork Metallic Paints – Reds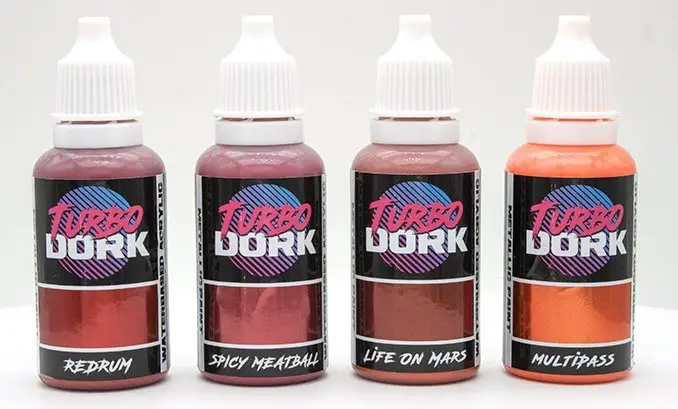 Voyez ce que je veux dire sur les noms

Ci-dessus, les couleurs sur un apprêt noir. chacun n'a pris que 3 couches légères pour donner les couleurs profondes et riches que vous voyez ici.

Les mêmes couleurs appliquées sur l'apprêt blanc sont aussi riches que celles ci-dessus. Ceux-ci ont cependant nécessité 5 couches.
Je veux juste dire ici que Multipass (l'orange à droite) est ma peinture préférée de cette série et le prochain article que j'écrirai à leur sujet présentera un Space Marine Bike orange vif (ou 3).
Turbo Dork Metallic Paints – Browns & Yellows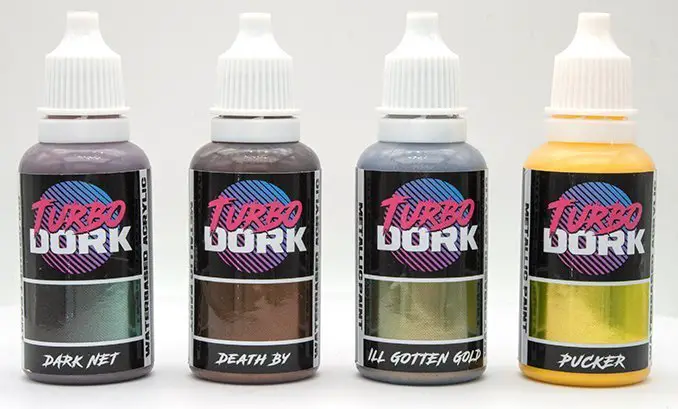 I'm gonna say right now. Dark Net should not be here. it's a colour shift paint and I didn't realise when I was grouping the colours for photos. By the time I realised I had already taken all the pics and balanced them out for showing 4 spoons per image. So I wasn't going back to take more images and rebuild the groupings.
We will look at Colour shift paints in their own section later, but I'll touch on this one now.

3 coats over black and we've got some really vibrant colours. You'd be forgiven for seeing Death By as a Bronze and Pucker as a Gold. And you can certainly use them as such But they really are more of a metallic brown and metallic yellow.
Dark Net est un changement de couleur gris-vert très subtil.

Dark Net has completely changed here over white and you'll see this more with the other colour shift paints later on. it's an interesting colour but I just can't think where I'd ever need a grey/dirty-salmon shift. If you can, I'd love to see it.
Ill-Gotten Gold has also changed, how to a silver. it's rather nice in all honesty and I can see where a Black/White zenithal pre shade will get you some cool effects with this. Again, I wonder why this happened as it is not a colour shift paint.
Turbo Dork Metallic Paints – Greens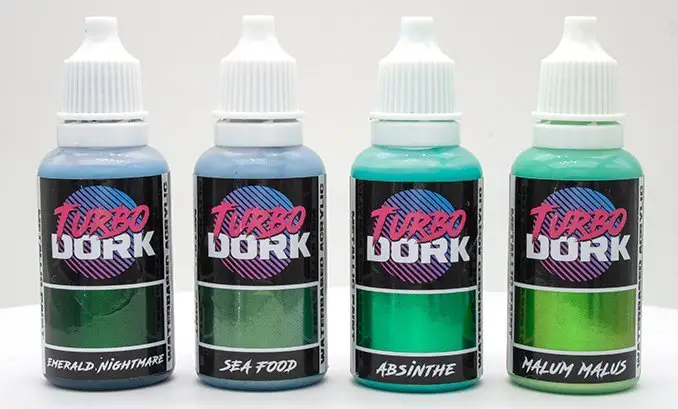 It's great to see a range of metallic greens. I have only 1 metallic mini from my childhood and it was painted metallic green. It's a rare colour to find amongst miniature paints (most of these colours are, to be honest).
Also, did you know that the human eye can see more shades of green than any other colour? If you didn't know that, go watch Fargo Season 1.

Again 3 coats. but look what's happened to Malum Malus on the right. this isn't green. it's more of a greenish-gold. I genuinely have no idea how or why this happened. It's not a colour shift paint. Let's see what it's like over white

Once again we have very similar colours over white, but this time it also took 5 coats. Malum Malus which was gold above is now closer to it's expected colour. although it's still not quite as rich as the bottle suggests. this was a bit of a pity as the colour on that bottle is one i'd really like to paint with.
Turbo Dork Metallic Paints – Purples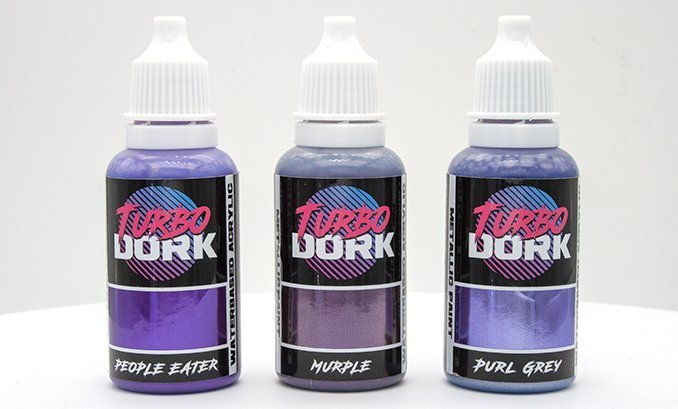 Encore des couleurs vraiment vives et éclatantes

3 couches, People eater est sorti juste un peu plus bleu que prévu, mais cela dépend vraiment de l'éclairage. ces images ont été prises sous des lumières assez puissantes, ce qui augmente certaines des teintes souterraines.

Manteaux parfaits sur blanc, encore une fois, 5 couches
Turbo Dork Metallic Paints – White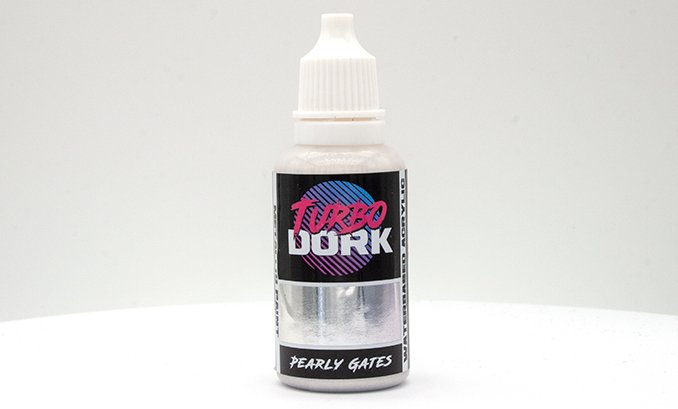 One is the loneliest number that you'll ever do. and there is only 1 argent Peinture métallisée blanche dans cette liste.
In all honesty, this is a silver, but you can tell that what Turbo Dork was going for was a metallic white and boy is it close. It doesn't quite have the chrome finish the bottle shows but a bright shiny white.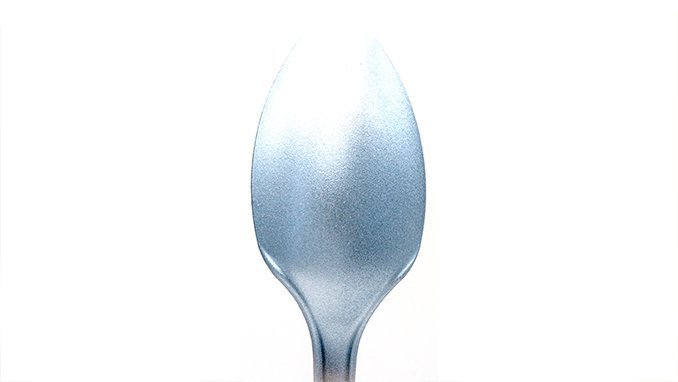 For example. remember how I said above I used the same lighting on all of these images. well I probably should have balanced the lighting against this colour first. Becasue I didn't this colour is so bright, I've lost a lot of the spoon due to overexposure. Genuinely though, this should show just how white this paint is. It just happens to be metallic too.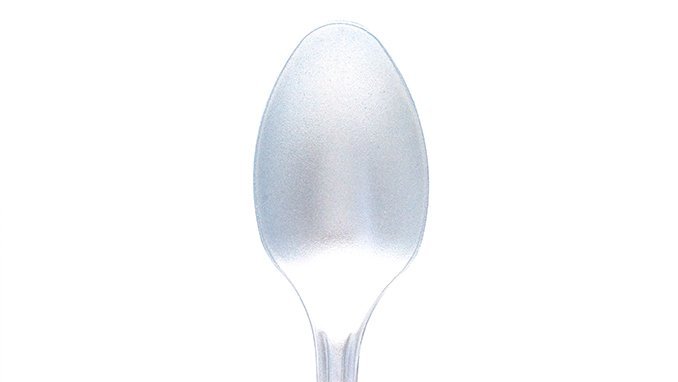 Over white, it's even lighter. yet it still managed to keep metallic properties.
Anyway, that's all the metallic paints covered.
Turbo Dork Flourish Paints – Colours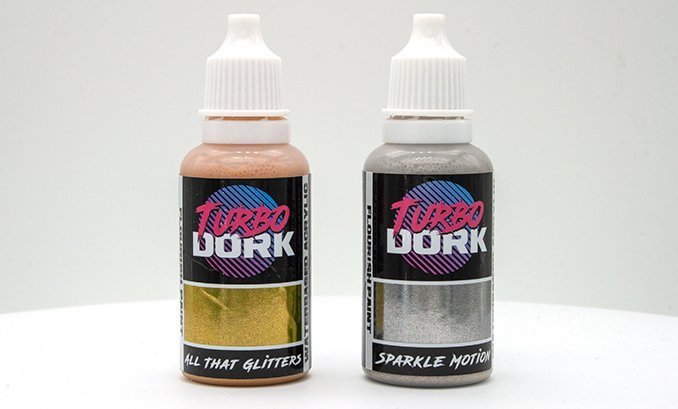 Turbo Dork a 2 peintures dans ce qu'elles appellent des peintures de fleur pour des cas d'utilisation spéciaux. Comme des pigments plus gros et plus brillants, ou des effets spéciaux.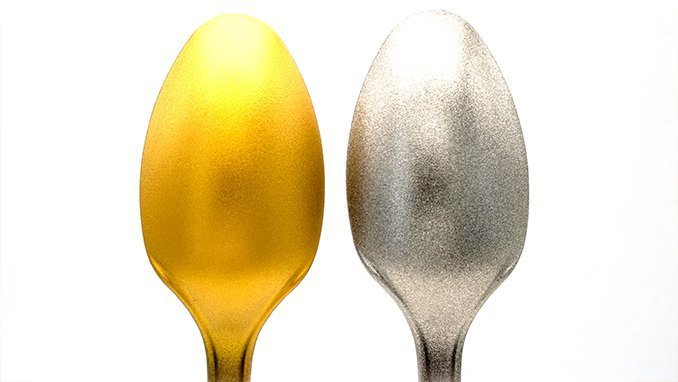 Je peux comprendre pourquoi l'argent est dans la liste des peintures Flourish car il est brillant et scintillant.
But unless I've used it wrong the gold paint, just looks like a normal bright gold. If you look at this now and go back to Pucker in the yellows section, you can really see why I said that one was metallic yellow. When put next to each other, Having All that Glitters in the Flourish category just makes me wish the gold was more glittery like the silver.
Tout ce qui brille est à peu près le même sur blanc, il faut juste plus de couches pour le mettre.
Sparkle Motion over white, we've lost a touch of that sparkliness in Sparkle Motion. this is just becasue you can't see the black through the pigment gaps so it doesn't. stand out as well. It's still got its pigment though.. ALmost like those Christmas Baubles you get. the ones with the glitter that goes everywhere when you touch them.
I'm going to mark Turbo Dork down here, only becasue Sparkle Motion is not called Disco Ball. – Come on guys, what are you playing at!
Turbo Dork Colorshift Paints – Colours A
Ces peintures vous feront briller. J'adore les peintures à changement de couleur. ils se démarquent vraiment comme rien d'autre. Cependant, j'ai constaté qu'ils se montrent mieux sur des surfaces plus grandes où vous pouvez voir une courbe progressive d'une couleur à l'autre.
I wouldn't overuse them either. They look good but painting every surface of your model with a colour shift of some kind can appear quite jarring. instead, try and swap out a mode's primary colour for a colour shifting paint and watch how it suddenly pops on the tabletop.

They work best over black however they took around 5 layers to fully apply. Gloss black apparently but from what I have seen all the gloss does is give them a glossier finish. it doesn't increase the colour shifting amount or make them brighter. These spoons were painted over matte black. No additional clear costs have been applied. This is neat Turbo Dork paint you are looking at.
Electrum crie Alpha Legion sur moi
When I said above they work best over a black coat, it's actually safe to say they hardly work at all over white. But this is on par with ce que j'ai vu avec d'autres peintures à couleurs changeantes. Seul Ground is Lava montre en fait une réelle similitude avec lui-même sur un manteau noir, cependant, même alors, le changement de couleur est gravement diminué.
I didn't count the layers over white as I gave up after several coats when I realised I'd never get the shift to work.
Turbo Dork Colorshift Paints – Colours B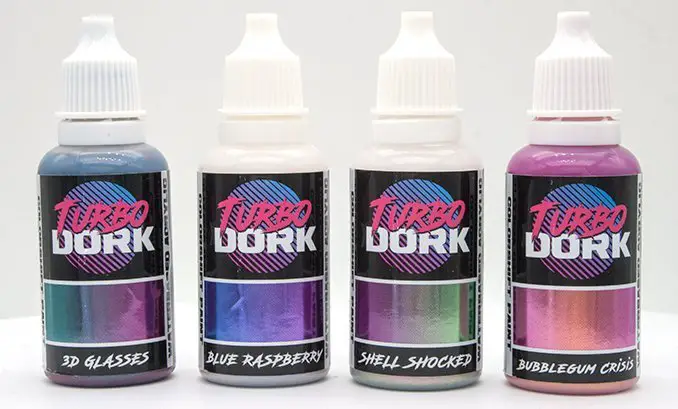 Les 4 dernières peintures à décalage de couleur sont également des couleurs psychédéliques en regardant les bouteilles.

However, after application, some of the colours don't quite have the same level of pop. 3D Glasses & Shell Shocked are awesome colours and I can't wait to apply them to models. Blue Rasberry is nice although the shift is rather subtle. I have no idea what happened with Bubblegum Crisis. It is just gold. even looking at the spoon now and bending it in the light, I can't see any pink.
(Mise à jour sur Bubblegum Crisis dans la section suivante)

Once again over white the colours simply don't pop and fermer à clé shift as they do over black. Blue Raspberry and Shell Shocked are essentially now just a metallic white, similar to how the medium in the bottle looks when it's neat. This isn't useless though, this pearlescent white does have some metallic species, similar to how metallic white cars look. BubbbleGum Crisis is now pink with only a slight shift to gold. perhaps this is one colour that should be applied over white. But nothing on the bottle indicates this, it says prime in black like all the others.
Mise à jour sur Bubblegum Crisis: Après avoir parlé avec turbo Dork, ils ont confirmé que cela était destiné à être utilisé sur une base blanche. Il y avait en fait une erreur sur les étiquettes d'origine où l'on dit premier en noir comme tous les autres. Sur les tirages plus récents, il a corrigé cela.
Turbo Dork Metallic Paints – Application to Models
The best thing about Turbo Dork isn't the paints themselves, and the paints are really good. The best thing is that you're never short for some Gnarly inspiration. Sur Instagram, they post their own examples and re-post some of the best models painted using their paints (So I guess my model below didn't make the cut, or maybe I'm just too much of a Wannabe).
It can be tricky to truly plan what models to paint with these wild colours. Overuse of them can be garish unless the model is intended to be fully metallic. For the models I paint, I found it's best to have a mix of Turbo Dork metallics with some flatter base colours. This suits my painting style.
Si vous avez du mal avec des idées sur l'endroit où vous les appliqueriez. Rendez-vous sur leur page Instagram pour voir ce que d'autres grands artistes ont fait.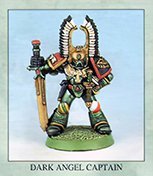 For me, there was only 1 model in mind. Repainting a Classic Dark Angel Model I painted Metallic Green, back when I was 13. This scheme of this model was from the pages of the 1993 'Eavy Metal Painting Guide. I think the model (as with all in this publication) is by Mike McVey but it is uncredited in the book.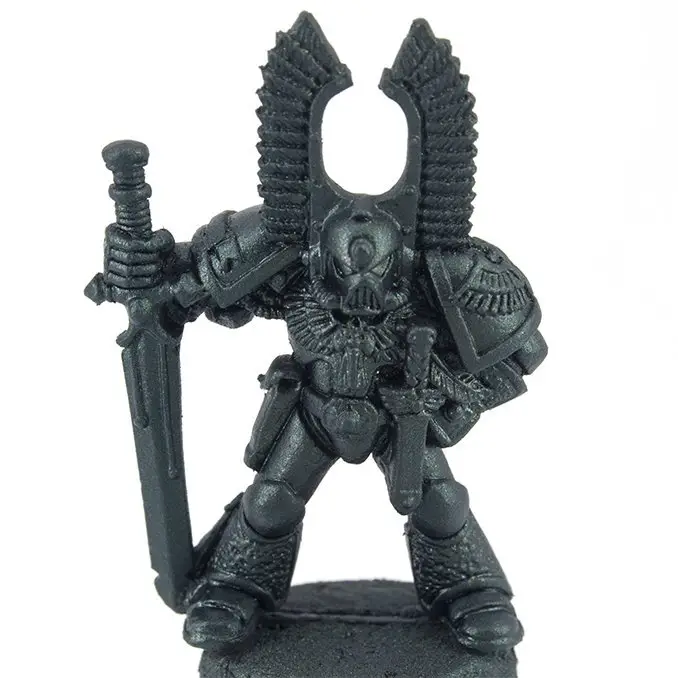 Sur un apprêt noir, j'ai appliqué seulement 2 couches minces d'Emerald Nightmare. Cela aurait dû être de 3 pour une couverture uniforme. mais j'ai ajouté les couches supplémentaires que j'appliquais et je voulais enregistrer certains détails de la surface. Cela donne une belle touche subtile de vert métallique.
We applied this with an airbrush as with the spoons above. one thing I'm not sure I mentioned is that these paints applied through the airbrush directly with no need for any thinner.
Depuis, Turbo Dork a (ils m'ont envoyé ces peintures) mis à jour leur formule de peinture afin qu'elles soient maintenant plus épaisses et nécessitent peut-être un peu de diluant à peinture. Les peintures dureront beaucoup plus longtemps maintenant, ce qui est assez Rad.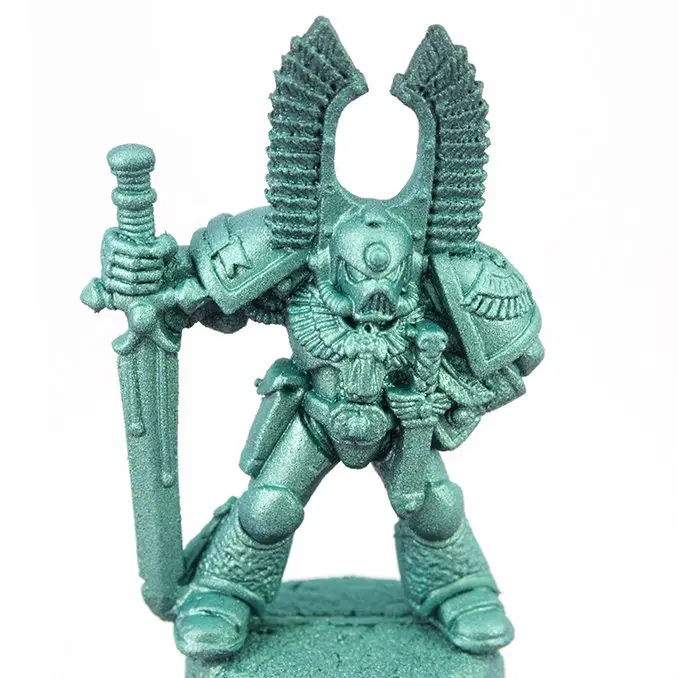 For the main base layer, I applied Absinthe. The intent was to have this as a zenithal highlight. but It just looked too stark against the dark green and with the heavy metallic pigment, I couldn't get the blend right. I ended up just recoating the model from the front to cover most of the Emerald Nightmare. It is still slightly visible under the Knees and the sword arm.
Après une inspection minutieuse, vous pouvez réellement voir les flocons métalliques individuels qui composent le pigment. Ceci est tout à fait compatible avec n'importe quelle peinture modèle métallique.
We've also had some detail loss, it's slight, but if you check the gem on the main sword and belt buckle with the image above. You can see we are losing the edge between the jewel and its socket. But we are about 7 layers in from the undercoat now.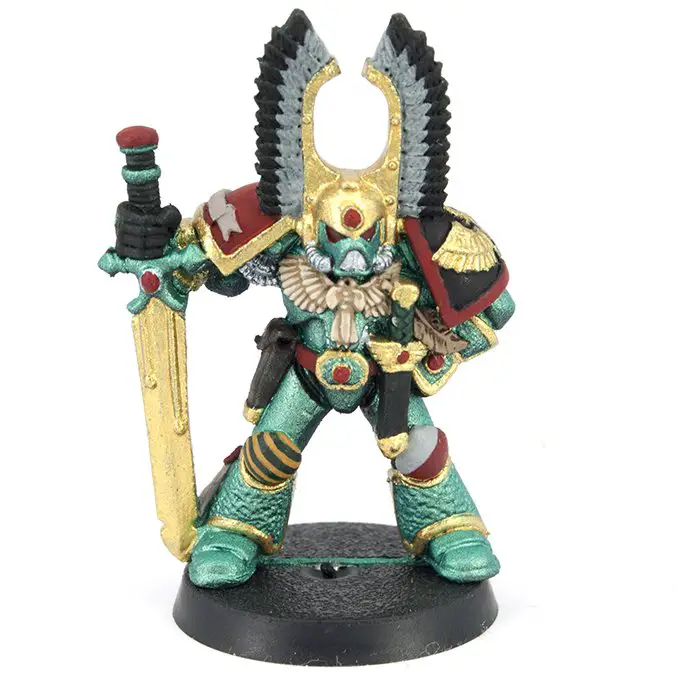 Ici, nous avons appliqué les couleurs de base. Les métaux utilisés étaient All That Glitters pour l'or et Pearly Gates pour l'argent. Les deux peintures ont été appliquées avec un pinceau. Tout ce que Glitters a été appliqué directement sur la base d'Absinthe. Pearly Gates a été appliqué sur les zones que nous avons repeintes en noir.
All that Glitters coverage was excellent, especially to say it was over the green directly. It's also left us with a really smooth almost mirror-like (for a model) gold colour. This is one of the best golds I have used outside of Enamel based metallic paints. Although, for its name, it is less "Glittery" than most of the other paints.
Les portes nacrées sont sorties plus foncées avec le sous-poil noir (comme attendu des cuillères) mais j'avais besoin d'un look argenté pour correspondre à mon ancien modèle. Cela s'est appliqué agréable et lisse après 3 couches.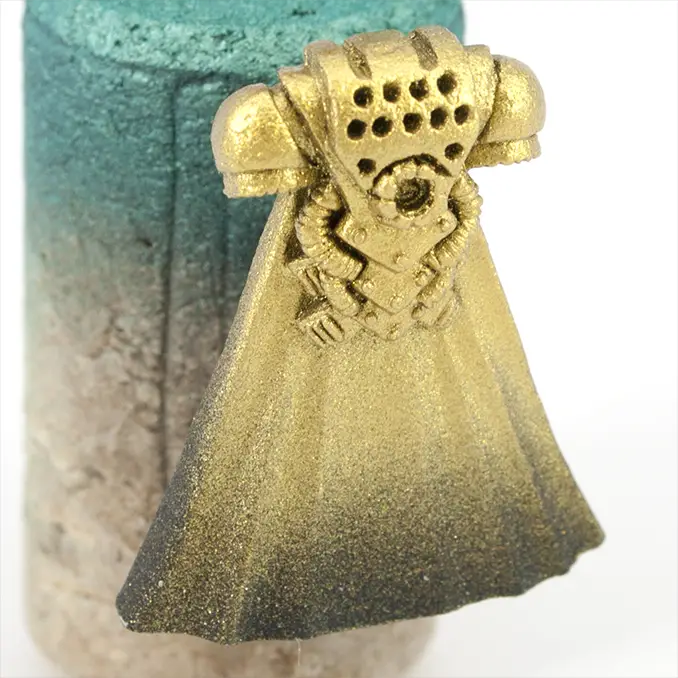 Nous avons également appliqué All that Glitters sur le sac à dos à l'aide d'un aérographe. Cela lui a donné une apparence plus scintillante. Vous pouvez également voir sur la partie inférieure de la cape comment le spray tache vraiment, c'est pourquoi j'ai eu du mal à créer des mélanges avec le vert ci-dessus.
Even though the example model in the shot and my old model don't have a cape. I actually wanted to use it on this updated guy as it comes with him.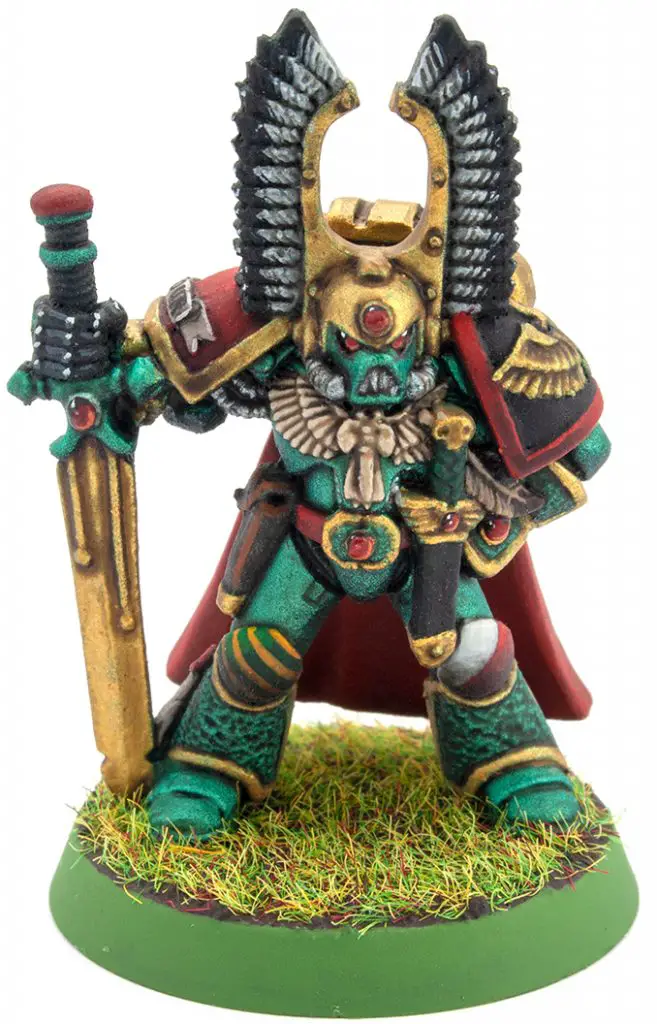 The model was completed by giving it a Gloss Clear Coat and a liberal wash before the highlights and details were added. It's great to see the metallics show through a solid shade coat and whilst it has toned down the shine (Which I like) the metallics still stand out as original and different.
I'm quite proud of this guy, even though he was a bit of a rush job, it shows off what a great range of paints these truly are.
Les peintures métallisées Turbo Dork amélioreront-elles mon passe-temps?
Si vous recherchez des peintures métalliques aux couleurs vives, alors oui, elles le seront. Bien qu'il y ait quelques bizarreries à les utiliser comme n'importe quelle peinture métallique. Ils sont toujours parmi les plus faciles à utiliser à l'aérographe ou même lors du brossage.
If you aren't looking for bright metallic paints, check out Turbo Dork's Instagram before dismissing them as you may suddenly get some Phat inspiration, like I have many times.
It's great that Turbo Dork shares lots of the work the community creates. This helps to showcase their range and opens viewers eyes to some of the great painters out there.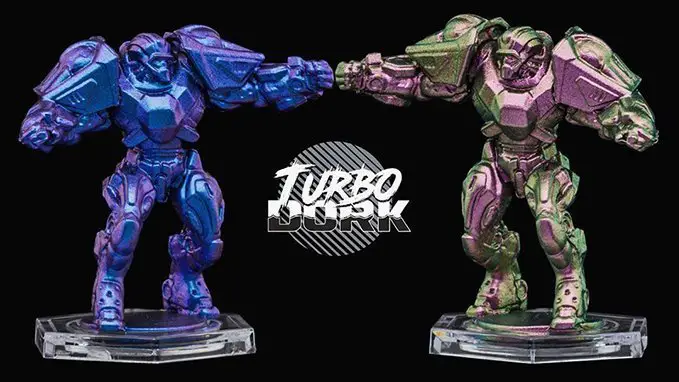 Si le changement de couleur des peintures vous intéresse. Comme avec toutes leurs peintures, vous pouvez également voir un exemple direct de leur application à un modèle sur chaque page de couleur individuelle Turbo Dork's website. Qui a récemment été relancé.
One thing I do miss from their old site is that the example pictures of models were much larger. You could see more detail. I'm sure they can tweak this and I hope they do.
Découvrez leur page de vidéos d'examen et de tutoriels aussi.
Turbo Dork Metallic Paints – Final Thoughts
Pour
Contre
Gamme lumineuse de métallisés colorés
Grande application grâce à l'aérographe
Grande application au pinceau
Bouteilles sexy
Excellentes ressources d'inspiration
Tutoriels et guides
Soutient / partage le travail communautaire
Les étiquettes se plissent lorsqu'elles sont pressées
Sparkle Motion ne s'appelle pas DiscoBall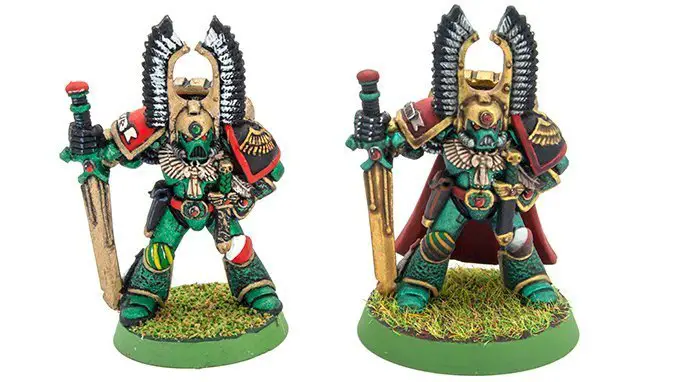 Si le seul inconvénient que je peux trouver, c'est que les étiquettes se plissent et que je pense (personnellement) qu'ils ont raté un tour avec l'un des noms. alors cela seul devrait vous montrer à quel point je pense que ces peintures sont géniales.
They aren't perfect, they aren't high-density pigments that cover in one coat, but very few paints are. When it comes to acrylic metallics, it's about a balance of getting the right volume for physical flecks of pigment with the right amount of medium to maintain a smooth flow.
They are however some of the best at what they offer – A Totaly Wicked range of bright shiny coloured metallics.
Qu'avez-vous pensé de cette revue? veuillez nous le faire savoir dans les commentaires.
If you like what we're doing here you could really help encourage more content with a share on any social media platform.
Cliquez sur les liens de partage en bas de cet écran (ou sur la gauche pour les ordinateurs et les tablettes)
Vous voulez rester à jour avec le blog? Vous pouvez vous abonner dans la barre latérale pour RSS ou par email ci-dessous
(La barre latérale se trouve sous l'article sur les appareils mobiles)
Sommaire
Critique
Date de révision
Élément examiné
Gamme de peinture métallisée TurboDork
Évaluation de l'auteur





Nom du produit