Recensione della gamma Turbo Dork Paint per modelli di miniature e wargames
Last Updated on Aprile 23, 2021 by FauxHammer
The Turbo Dork range is a Totally Radical range of metallic paints and I use that word without an ounce of shame. Especially as this range's screams 80s neon. Cowabunga! (yeah, this is gonna keep happening). Let take a look at these paints in our Turbo Dork Metallics Range Review.
Riassumendo, queste sono alcune vernici dei Giusti! Se ci fosse una competizione per una gamma di vernici in miniatura con i migliori nomi di colore. Torbodork otterrebbe il primo, il secondo e il terzo posto. Hanno una buona copertura sono abbastanza facili da usare quando vengono applicati con un pennello o un aerografo.
Note, The colour shift paints are called Colorshift, I'll do my best to refer to the product as Colorshift. However as I'm in the UK, if I'm not referencing the product name directly I will revert to my natural method of spelling and refer to them as Colour shift.
I migliori colori per modelli di miniature e wargames
Questo articolo fa parte della nostra serie I migliori colori per modelli di miniature e wargames.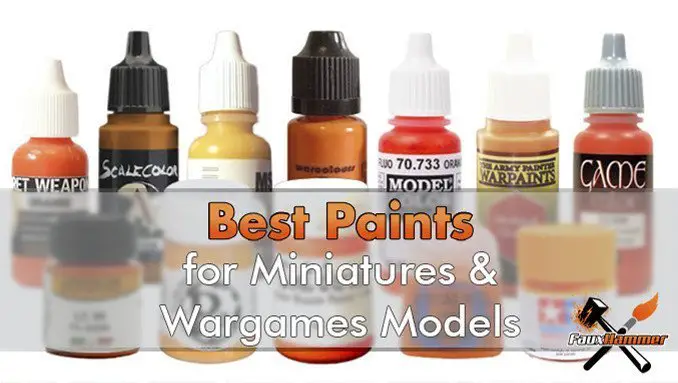 Se vuoi scoprire quali sono le vernici migliori per i tuoi progetti, controlla le nostre Articolo su Best Paints facendo clic sull'immagine sopra.
Turbodork Metallic Paints – Packaging and Unboxing
So, this is normally the part of the review where I show you the unboxing. But these didn't come in a box. Ok, well, they did come in a box. I just mean there was no "retail" branded box which they came in. All of these paints came loose in a shipping box. The only packaging was some push seal jiffy bags.
I like this, in 2019 there is no need to waste money on packaging when it's not necessary so until you see retail boxes on the shelves with the various Turbo Dork collections. you will be getting your bottles as plain as they can be. But they still look Bodacious.
Per quanto riguarda le collezioni, Turbo Dork attualmente vende i seguenti pacchetti;
Volume 1 Colorshift
Volume 1 Metallici
Luci brillanti – Paints which work well over white
B-lati e rarità – Paints which didn't fit in the other categories
Ogni vernice acrilica
Mentre non c'è unboxing, vale la pena menzionare le bottiglie.
Prima di tutto, flaconi contagocce. Tick !.
In secondo luogo, l'agitatore è già incluso nel segno di spunta.
20 ml di vernice per bottiglia (alcune delle più grandi bottiglie standard di qualsiasi gamma di vernici modello). Tick!
All of the labels are printed on metallic film. This is great becasue there is a clear block on each label showing what the paint will look like once applied, shininess included. This is genuinely quite useful, especially for the colour shift paints. Is it's impossible to tell what some of these paints will look like by staring at the medium in the bottle. More on this later.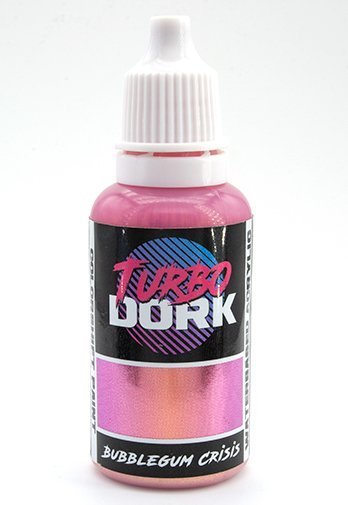 I do have one (teeny-tiny pathetic) gripe here. Due to the metallic film, as you squeeze the bottle you cause horrible creases in the label. This wouldn't matter is the labels themselves weren't so damn sexy. But because they are, these creases are pretty Bogus.
Le palline di miscelazione sono in acciaio inossidabile, ma sono piuttosto piccole, in realtà ho pensato che fossero in plastica fino a quando Turbo Dork non mi ha dato i dettagli corretti. Preferisco sfere di metallo più pesanti (non metterle sulla mia lapide). I più piccoli hanno la tendenza a rimanere bloccati nel mezzo più spesso stabilizzato. Un buon schiaffo su un tavolo di solito li rimuoverà comunque. E il fatto che anche gli agitatori siano inclusi lo mantiene ancora nella colonna delle vittorie. io know other manufacturers who "need" mixing balls e addebitarti un extra per loro.
Turbo Dork Metallic Paints – Colours
Prima di passare attraverso la selezione dei colori, lascia che ti racconti una storia su quanto siano fantastiche queste vernici. Sotto, per testare le vernici, ho dipinto dei cucchiai. Un sacco di cucchiai. Ho pubblicato una foto di questi cucchiai Instagram, Facebook & cinguettio with a simple caption "SPOOONS! At the time, this was the single most popular post I had ever had, people were liking commenting and sharing for days after the post. I genuinely asked people to stop but the community wanted more.
If that doesn't exemplify how awesome these colours are, maybe stop reading here. nah, don't be a Dweeb, keep reading.
Per i campioni di colore sottostanti spruzzato cucchiai. con Primer nero all'esterno e Primer bianco all'interno. Ho quindi appannato delicatamente i colori di Torbodork sulla superficie fino a renderla completamente opaca. Questo per vedere come il colore del primer ha influenzato il metallico e quanti strati avevo bisogno per coprire il pantalone.
I've also made sure the lighting was the same in every image to give a direct view of how they look
Tutte le vernici Turbo Dork sono metalliche e rientrano in una delle tre categorie. Metallico, cambia colore e fiorisce.
Turbo Dork Metallic Paints – Reds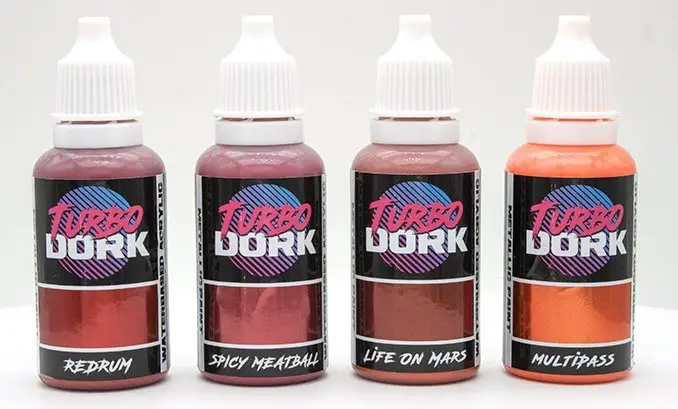 Vedi cosa intendo per i nomi

Sopra sono mostrati i colori sopra un primer nero. ognuno ha preso solo 3 mani leggere per dare i colori profondi e ricchi che vedi qui.

Gli stessi colori applicati su Primer bianco sono altrettanto ricchi di quelli sopra. Questi tuttavia hanno richiesto 5 mani.
Voglio solo dire qui, che Multipass (l'arancione a destra) è la mia vernice preferita di questa serie e il prossimo articolo che scrivo su di loro conterrà una Space Marine Bike arancione (o 3).
Turbo Dork Metallic Paints – Browns & Yellows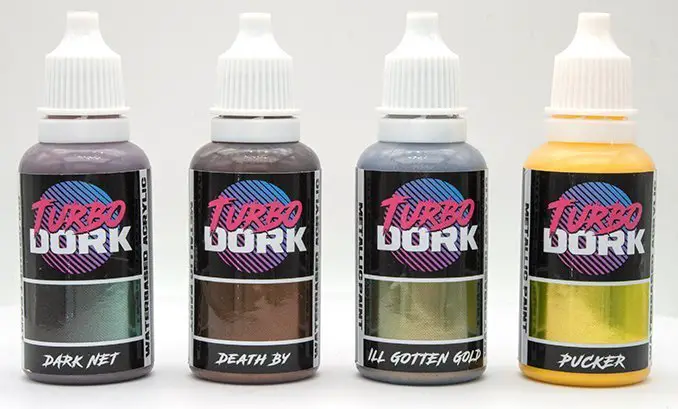 I'm gonna say right now. Dark Net should not be here. it's a colour shift paint and I didn't realise when I was grouping the colours for photos. By the time I realised I had already taken all the pics and balanced them out for showing 4 spoons per image. So I wasn't going back to take more images and rebuild the groupings.
We will look at Colour shift paints in their own section later, but I'll touch on this one now.

3 coats over black and we've got some really vibrant colours. You'd be forgiven for seeing Death By as a Bronze and Pucker as a Gold. And you can certainly use them as such But they really are more of a metallic brown and metallic yellow.
Dark Net è un sottile cambiamento di colore grigio-verde.

Dark Net has completely changed here over white and you'll see this more with the other colour shift paints later on. it's an interesting colour but I just can't think where I'd ever need a grey/dirty-salmon shift. If you can, I'd love to see it.
Ill-Gotten Gold has also changed, how to a silver. it's rather nice in all honesty and I can see where a Black/White zenithal pre shade will get you some cool effects with this. Again, I wonder why this happened as it is not a colour shift paint.
Turbo Dork Metallic Paints – Greens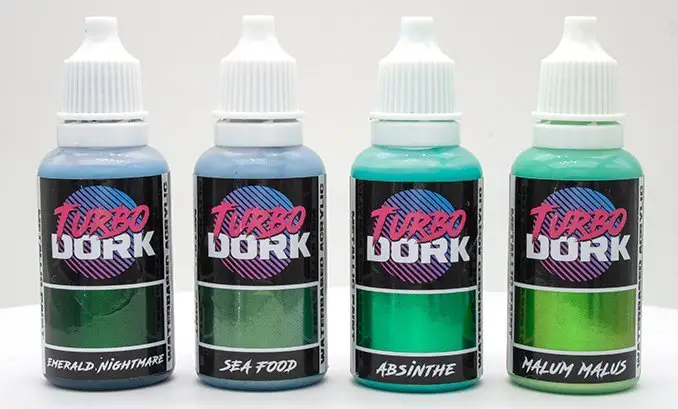 It's great to see a range of metallic greens. I have only 1 metallic mini from my childhood and it was painted metallic green. It's a rare colour to find amongst miniature paints (most of these colours are, to be honest).
Also, did you know that the human eye can see more shades of green than any other colour? If you didn't know that, go watch Fargo Season 1.

Again 3 coats. but look what's happened to Malum Malus on the right. this isn't green. it's more of a greenish-gold. I genuinely have no idea how or why this happened. It's not a colour shift paint. Let's see what it's like over white

Once again we have very similar colours over white, but this time it also took 5 coats. Malum Malus which was gold above is now closer to it's expected colour. although it's still not quite as rich as the bottle suggests. this was a bit of a pity as the colour on that bottle is one i'd really like to paint with.
Turbo Dork Metallic Paints – Purples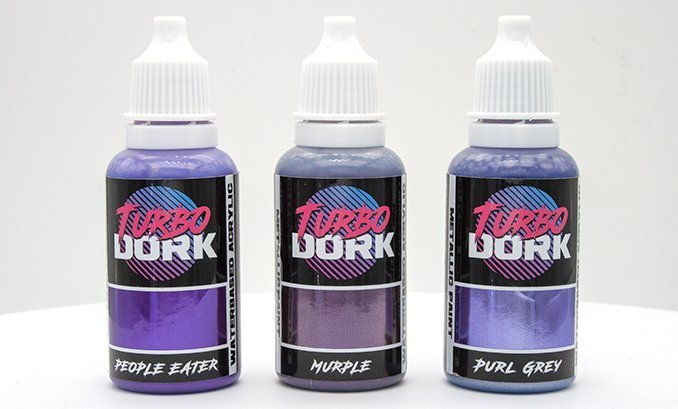 Ancora alcuni colori davvero brillanti e vibranti

3 mani, il mangiatore di persone è uscito solo un tocco più blu del previsto, ma dipende davvero dall'illuminazione. queste immagini sono state scattate sotto alcune luci piuttosto potenti che aumentano alcune tonalità del sottosuolo.

Cappotti perfetti su bianco, ancora una volta, 5 strati
Turbo Dork Metallic Paints – White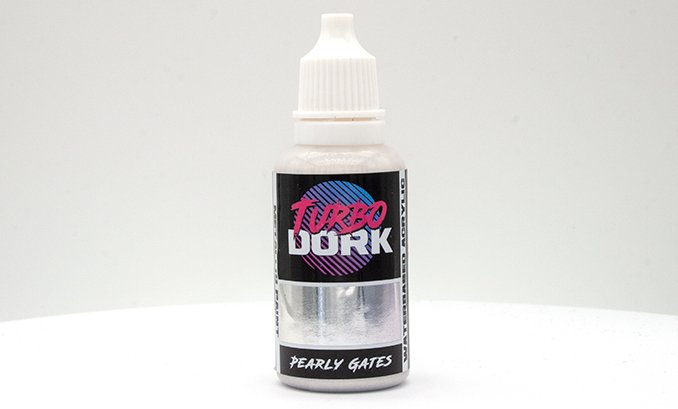 One is the loneliest number that you'll ever do. and there is only 1 argento Vernice metallizzata bianca in questo elenco.
In all honesty, this is a silver, but you can tell that what Turbo Dork was going for was a metallic white and boy is it close. It doesn't quite have the chrome finish the bottle shows but a bright shiny white.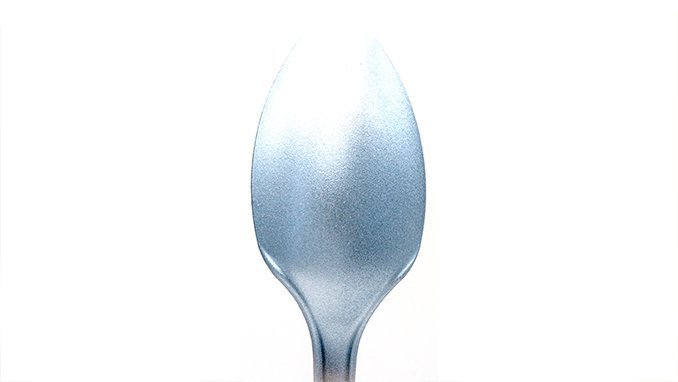 For example. remember how I said above I used the same lighting on all of these images. well I probably should have balanced the lighting against this colour first. Becasue I didn't this colour is so bright, I've lost a lot of the spoon due to overexposure. Genuinely though, this should show just how white this paint is. It just happens to be metallic too.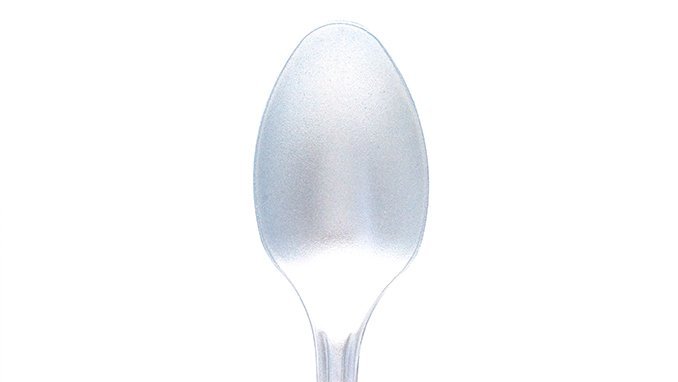 Over white, it's even lighter. yet it still managed to keep metallic properties.
Anyway, that's all the metallic paints covered.
Turbo Dork Flourish Paints – Colours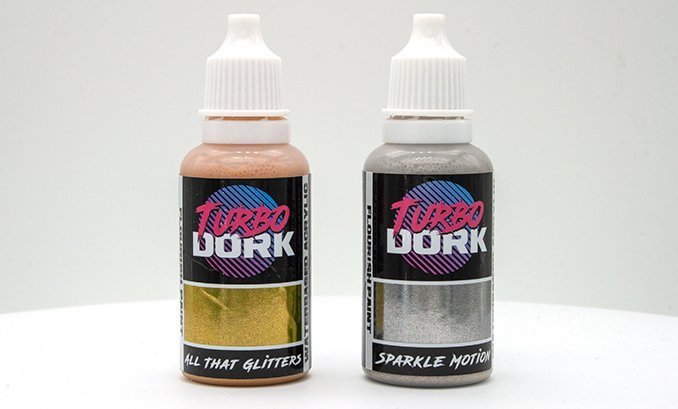 Turbo Dork ha 2 vernici in quelle che chiamano fioriture per casi d'uso speciali. Come più grandi pigmenti più scintillanti o effetti speciali.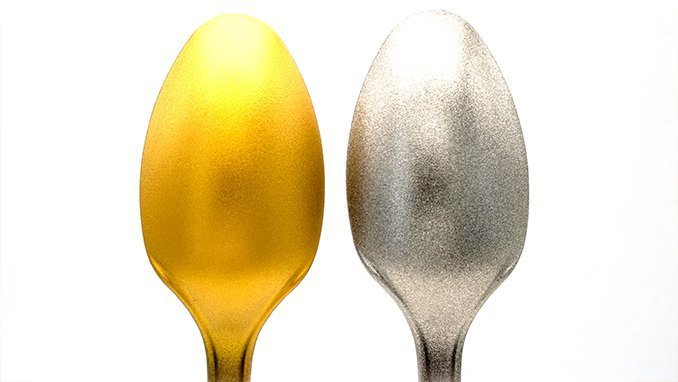 Posso capire perché l'Argento è nella lista delle pitture Flourish in quanto è lucido e scintillante.
But unless I've used it wrong the gold paint, just looks like a normal bright gold. If you look at this now and go back to Pucker in the yellows section, you can really see why I said that one was metallic yellow. When put next to each other, Having All that Glitters in the Flourish category just makes me wish the gold was more glittery like the silver.
Tutto ciò che luccica è praticamente lo stesso su bianco, ci vogliono solo più strati per farlo.
Sparkle Motion over white, we've lost a touch of that sparkliness in Sparkle Motion. this is just becasue you can't see the black through the pigment gaps so it doesn't. stand out as well. It's still got its pigment though.. ALmost like those Christmas Baubles you get. the ones with the glitter that goes everywhere when you touch them.
I'm going to mark Turbo Dork down here, only becasue Sparkle Motion is not called Disco Ball. – Come on guys, what are you playing at!
Turbo Dork Colorshift Paints – Colours A
Queste vernici ti faranno spazzare via. Adoro le vernici a cambiamento di colore. si distinguono davvero come nient'altro. tuttavia ho scoperto che si mostrano meglio su superfici più grandi dove è possibile vedere una curva graduale da un colore all'altro.
I wouldn't overuse them either. They look good but painting every surface of your model with a colour shift of some kind can appear quite jarring. instead, try and swap out a mode's primary colour for a colour shifting paint and watch how it suddenly pops on the tabletop.

They work best over black however they took around 5 layers to fully apply. Gloss black apparently but from what I have seen all the gloss does is give them a glossier finish. it doesn't increase the colour shifting amount or make them brighter. These spoons were painted over matte black. No additional clear costs have been applied. This is neat Turbo Dork paint you are looking at.
Electrum mi sta urlando contro Alpha Legion
When I said above they work best over a black coat, it's actually safe to say they hardly work at all over white. But this is on par with quello che ho visto con altri colori che cambiano colore. Solo Ground is Lava in realtà mostra una reale somiglianza con se stesso rispetto a un cappotto nero, tuttavia, anche in questo caso il cambiamento di colore è notevolmente ridotto.
I didn't count the layers over white as I gave up after several coats when I realised I'd never get the shift to work.
Turbo Dork Colorshift Paints – Colours B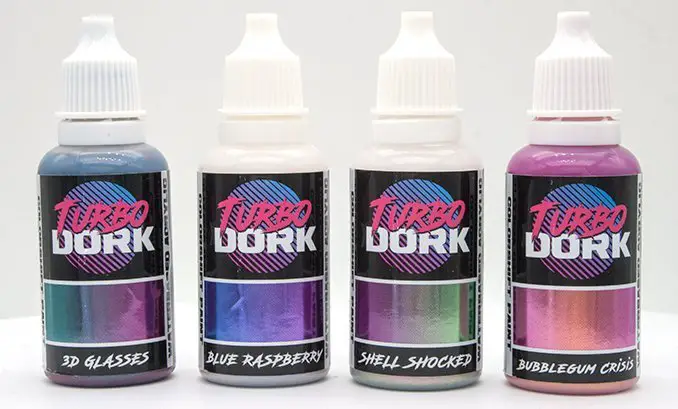 Le vernici finali a 4 colori sono ugualmente psichedeliche guardando le bottiglie.

However, after application, some of the colours don't quite have the same level of pop. 3D Glasses & Shell Shocked are awesome colours and I can't wait to apply them to models. Blue Rasberry is nice although the shift is rather subtle. I have no idea what happened with Bubblegum Crisis. It is just gold. even looking at the spoon now and bending it in the light, I can't see any pink.
(Aggiornamento sulla crisi Bubblegum nella prossima sezione)

Once again over white the colours simply don't pop and serratura shift as they do over black. Blue Raspberry and Shell Shocked are essentially now just a metallic white, similar to how the medium in the bottle looks when it's neat. This isn't useless though, this pearlescent white does have some metallic species, similar to how metallic white cars look. BubbbleGum Crisis is now pink with only a slight shift to gold. perhaps this is one colour that should be applied over white. But nothing on the bottle indicates this, it says prime in black like all the others.
Aggiornamento sulla crisi di Bubblegum: dopo aver parlato con il turbo Dork, hanno confermato che questo dovrebbe essere usato su una base bianca. Si è effettivamente verificato un errore sulle etichette originali in cui si dice primo in nero proprio come tutti gli altri. Nelle ultime tirature di stampa, è stato corretto.
Turbo Dork Metallic Paints – Application to Models
The best thing about Turbo Dork isn't the paints themselves, and the paints are really good. The best thing is that you're never short for some Gnarly inspiration. Su Instagram, they post their own examples and re-post some of the best models painted using their paints (So I guess my model below didn't make the cut, or maybe I'm just too much of a Wannabe).
It can be tricky to truly plan what models to paint with these wild colours. Overuse of them can be garish unless the model is intended to be fully metallic. For the models I paint, I found it's best to have a mix of Turbo Dork metallics with some flatter base colours. This suits my painting style.
Se stai lottando con idee su dove le applicheresti. Vai alla loro pagina Instagram per vedere cosa hanno fatto altri grandi artisti.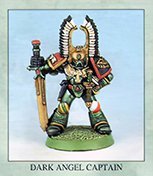 For me, there was only 1 model in mind. Repainting a Classic Dark Angel Model I painted Metallic Green, back when I was 13. This scheme of this model was from the pages of the 1993 'Eavy Metal Painting Guide. I think the model (as with all in this publication) is by Mike McVey but it is uncredited in the book.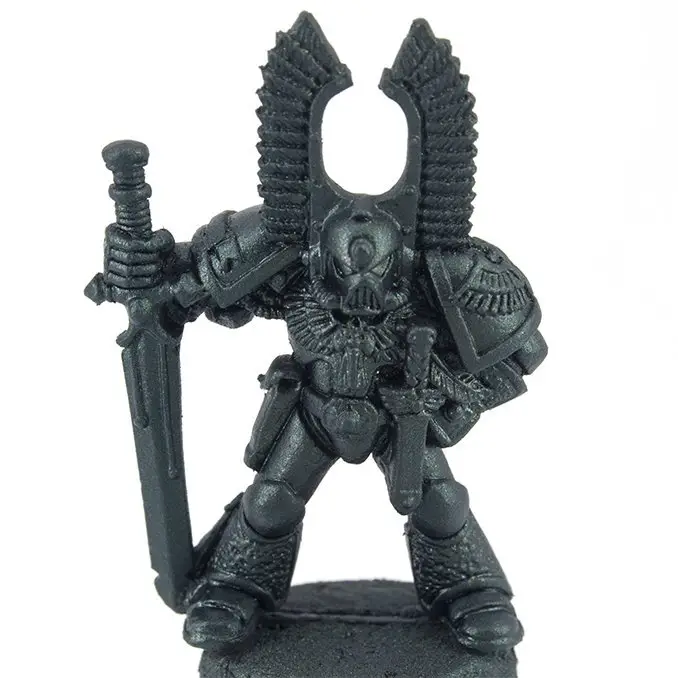 Su un Black Primer, ho applicato solo 2 strati sottili di Emerald Nightmare. Questo avrebbe dovuto essere 3 per una copertura uniforme. ma ho rinnovato i livelli aggiuntivi che stavo applicando e volevo salvare alcuni dettagli della superficie. Questo dà un bel tocco sottile di verde metallico.
We applied this with an airbrush as with the spoons above. one thing I'm not sure I mentioned is that these paints applied through the airbrush directly with no need for any thinner.
Da allora Turbo Dork (mi hanno inviato queste vernici) ha aggiornato la sua formula di vernice in modo che ora siano più spessi e potrebbero richiedere un po 'di diluente. Le vernici dureranno molto più a lungo ora che è piuttosto Rad.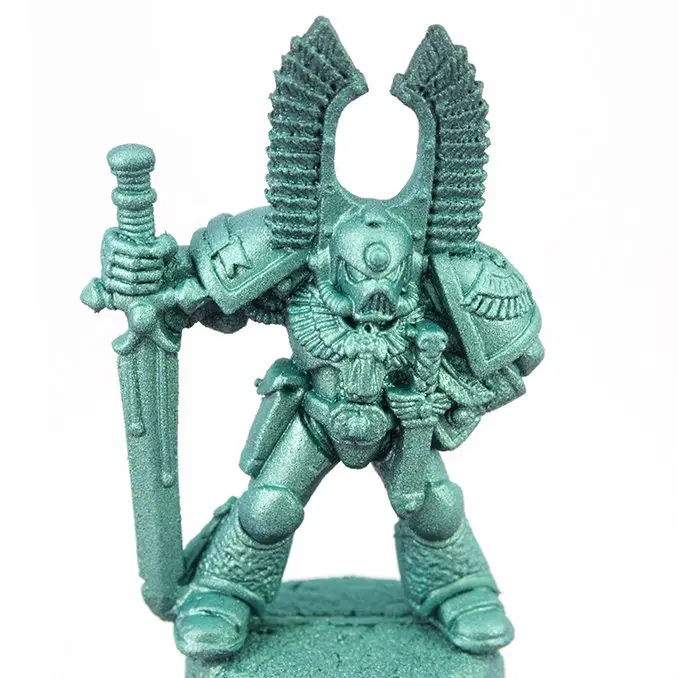 For the main base layer, I applied Absinthe. The intent was to have this as a zenithal highlight. but It just looked too stark against the dark green and with the heavy metallic pigment, I couldn't get the blend right. I ended up just recoating the model from the front to cover most of the Emerald Nightmare. It is still slightly visible under the Knees and the sword arm.
Ad un attento esame, puoi effettivamente vedere i singoli fiocchi metallici che compongono il pigmento. Questo è abbastanza coerente con qualsiasi modello di vernice metallizzata.
We've also had some detail loss, it's slight, but if you check the gem on the main sword and belt buckle with the image above. You can see we are losing the edge between the jewel and its socket. But we are about 7 layers in from the undercoat now.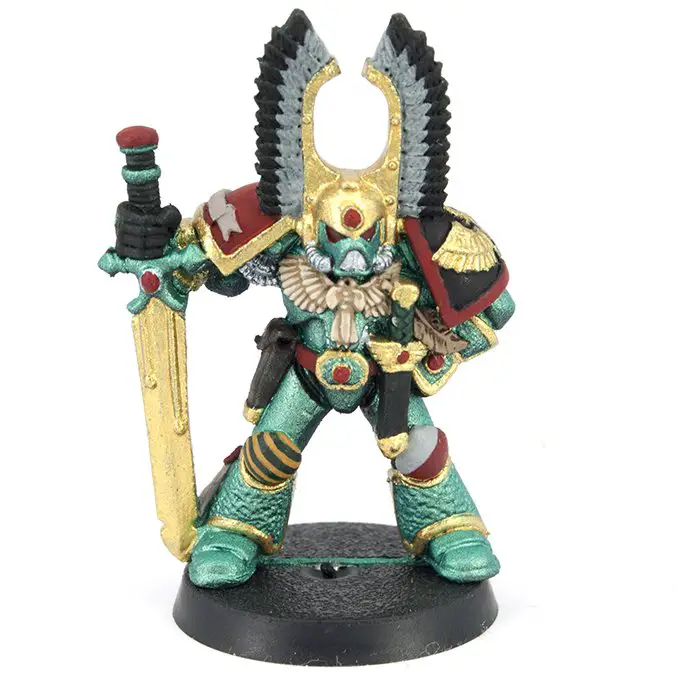 Qui abbiamo applicato i colori di base. I metalli usati erano All That Glitters per l'oro e Pearly Gates per l'argento. Entrambe le vernici sono state applicate con un pennello. Tutto ciò che luccica è stato applicato direttamente sulla base dell'assenzio. Pearly Gates è stato applicato su aree che abbiamo ridipinto di nero.
All that Glitters coverage was excellent, especially to say it was over the green directly. It's also left us with a really smooth almost mirror-like (for a model) gold colour. This is one of the best golds I have used outside of Enamel based metallic paints. Although, for its name, it is less "Glittery" than most of the other paints.
I cancelli perlati uscivano più scuri con il sottopelo nero (come previsto dai cucchiai) ma avevo bisogno di un aspetto argentato per abbinarmi al mio vecchio modello. Questo si applica bene e liscio dopo 3 mani.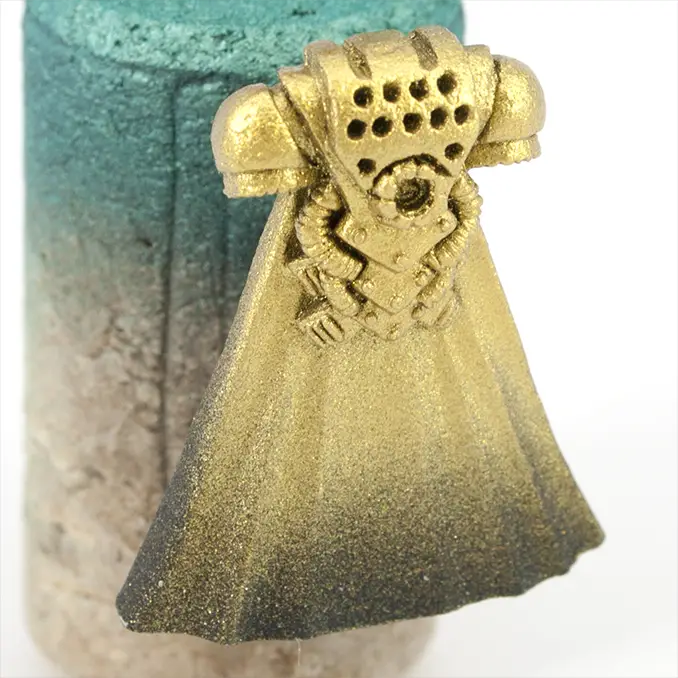 Abbiamo anche applicato tutto ciò che luccica sullo zaino usando un aerografo. Questo gli ha dato un aspetto più scintillante. Puoi anche vedere nella parte inferiore del mantello come lo spray punteggia davvero, ecco perché ho faticato a creare miscele con il verde sopra.
Even though the example model in the shot and my old model don't have a cape. I actually wanted to use it on this updated guy as it comes with him.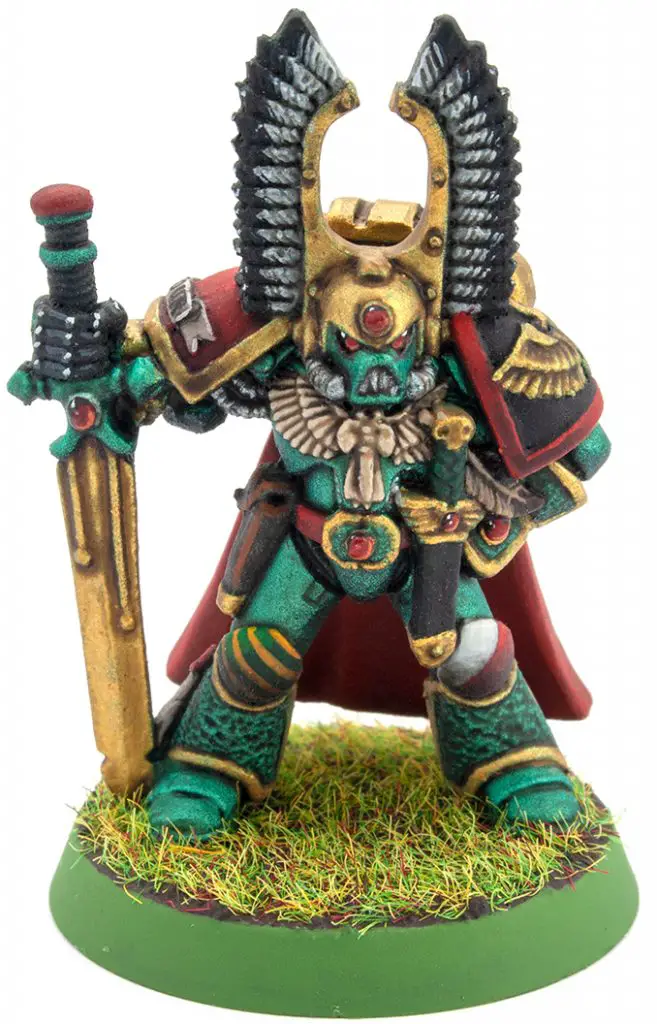 The model was completed by giving it a Gloss Clear Coat and a liberal wash before the highlights and details were added. It's great to see the metallics show through a solid shade coat and whilst it has toned down the shine (Which I like) the metallics still stand out as original and different.
I'm quite proud of this guy, even though he was a bit of a rush job, it shows off what a great range of paints these truly are.
Le vernici metallizzate Turbo Dork miglioreranno il mio hobby?
Se stai cercando vernici metalliche colorate, allora sì, sì lo faranno. Mentre ci sono alcune stranezze nell'usarli come qualsiasi vernice metallica. Sono ancora alcuni dei più facili da usare attraverso un aerografo o anche quando li spazzoli.
If you aren't looking for bright metallic paints, check out Turbo Dork's Instagram before dismissing them as you may suddenly get some Phat inspiration, like I have many times.
It's great that Turbo Dork shares lots of the work the community creates. This helps to showcase their range and opens viewers eyes to some of the great painters out there.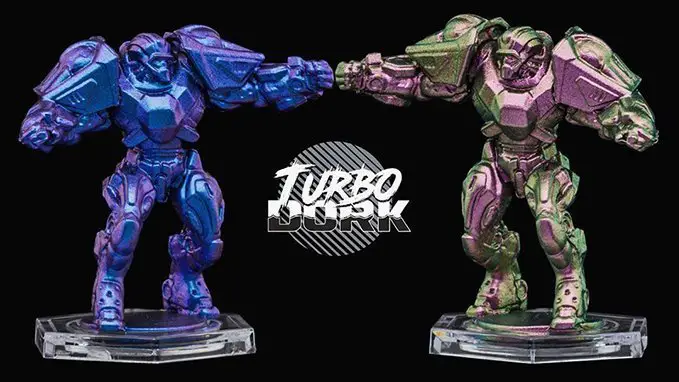 Se le variazioni di colore cambiano ti interessano. Proprio come con tutte le loro vernici, puoi anche vedere un esempio diretto della loro applicazione a un modello su ogni singola pagina di colore Turbo Dork's website. Che è stato recentemente rilanciato.
One thing I do miss from their old site is that the example pictures of models were much larger. You could see more detail. I'm sure they can tweak this and I hope they do.
Dai un'occhiata a loro pagina di video di revisione e tutorial pure.
Turbo Dork Metallic Paints – Final Thoughts
Professionisti
Contro
Gamma luminosa di colori metallici
Grande applicazione tramite aerografo
Ottima applicazione a pennello
Bottiglie sexy
Grandi risorse di ispirazione
Tutorial e guide
Supporta / condivide il lavoro della comunità
Le etichette si piegano quando vengono schiacciate
Sparkle Motion non chiamato DiscoBall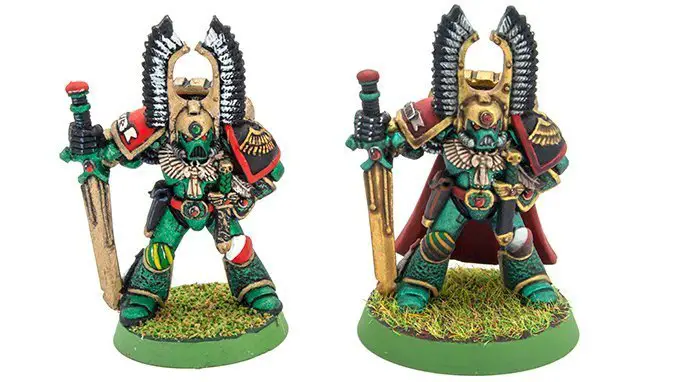 Se gli unici svantaggi che posso inventare sono che le etichette si piegano e che (personalmente) penso che abbiano perso un trucco con uno dei nomi. allora questo da solo dovrebbe mostrarti quanto siano fantastiche queste vernici.
They aren't perfect, they aren't high-density pigments that cover in one coat, but very few paints are. When it comes to acrylic metallics, it's about a balance of getting the right volume for physical flecks of pigment with the right amount of medium to maintain a smooth flow.
They are however some of the best at what they offer – A Totaly Wicked range of bright shiny coloured metallics.
Cosa ne pensi di questa recensione? Per favore fateci sapere nei commenti.
If you like what we're doing here you could really help encourage more content with a share on any social media platform.
Fai clic sui link di condivisione nella parte inferiore di questa schermata (o a sinistra per computer e tablet)
Vuoi essere aggiornato con il blog? Puoi iscriverti nella barra laterale per RSS o via e-mail qui sotto
(La barra laterale è sotto l'articolo sui dispositivi mobili)
Sommario
recensore
Data della recensione
Articolo recensito
Gamma di vernici metalliche TurboDork
Valutazione dell'autore





nome del prodotto