Warhammer Age of Sigmar Stormbringer Delivery 5: Issues 15-18 Review
Last Updated on Juli 11, 2023 by FauxHammer
This month's Stormbringer magazine has something big in store for premium subscribers. Take a look at all the details in our Warhammer Age of Sigmar Stormbringer Delivery 5: Issues 15-18 review and round up!
Wenn du FauxHammer.com unterstützen möchtest, klicke auf diesen Link und bestelle deine Hobbyartikel bei Element Games für Großbritannien und Europa. Verwende den Code "FAUX2768" an der Kasse, für doppelte Belohnungspunkte.




Unsere Partner / Hobby Stores
Warhammer Age of Sigmar Stormbringer Delivery 5: Issues 15-18 Review – Introduction
We're back with another look at Games-Workshop and Hachette Partworks' Age of Sigmar collection. We're well into the swing of things now, and the subscription is heating up with new and exciting models in each delivery.
This month is a good 'un all round – with a particularly huge bonus for those amongst you who are premium subscribers. Read on to find out more!
Warhammer Age of Sigmar Stormbringer Delivery 5: Issues 15-18 Review – Contents
So, here's everything regular subscribers can expect to receive in this month's Stormbringer delivery. We'll get on to what the Premium subscribers can expect a little later in this round up, but here's what everyone will be getting: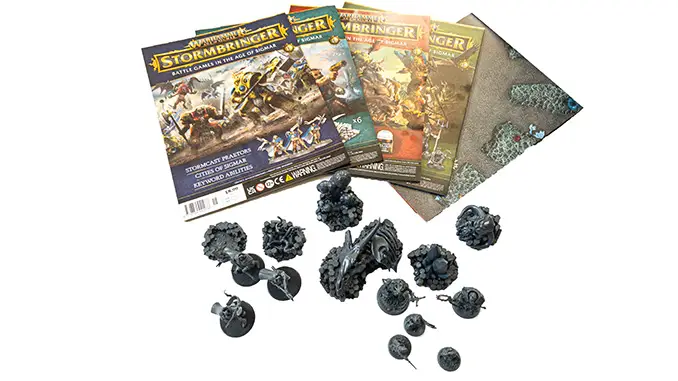 There's a reasonable amount of plastic up for grabs this month – as well as two pots of paint (which aren't pictured above – sorry!). We'll have a closer look at it all now.
The Magazines
First up, we'll take a quick, relatively spoiler-free look at the magazines on offer this month, starting with Issue 15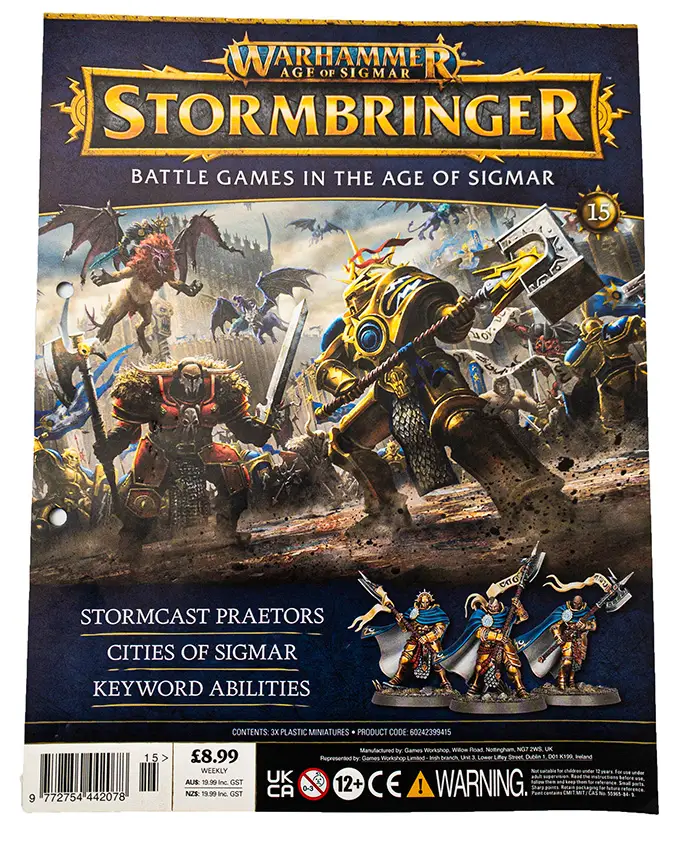 Issue 15 introduces the Cities of Sigmar (basically what happened to all the Old World Warhammer models when GW scrapped that setting a few years back) with a few sides of lore before launching into the practical side of the hobby with a building and painting guide for the miniatures in this set. The painting guide is not complete, but does guide you through basecoating all your current Stormcast Eternal Praetors.
For those of you interested in playing the game, the majority of the magazine is dedicated to warscrolls for your current collection, as well as tyutorials for each and a battle for you to have a go at!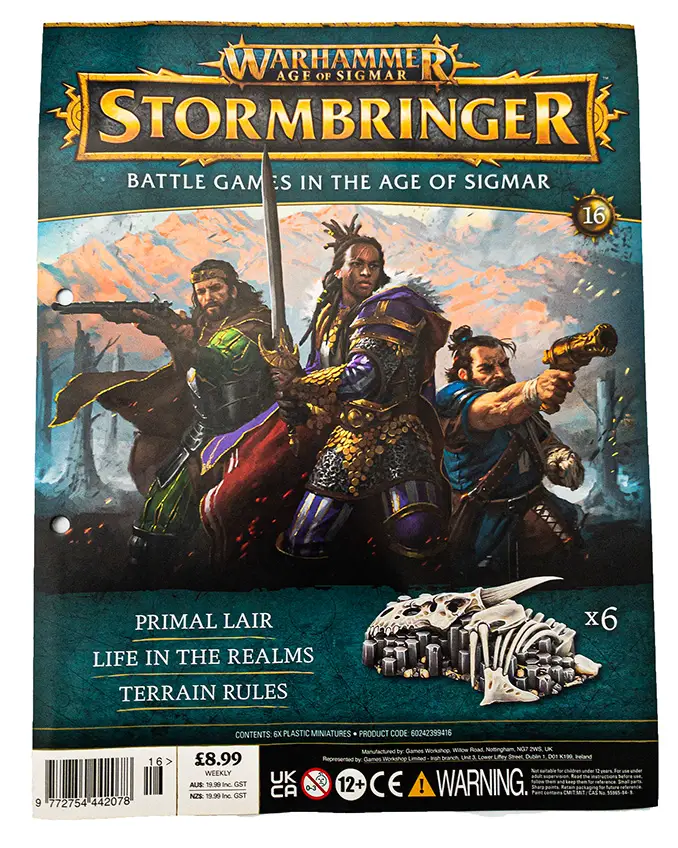 For those of you interested in setting and lore, Issue 16 will be a winner. There's plenty of info about life in the Mortal Realms, as well as a short story for you to sink your teeth into. The pages dedicated to building and painting your new terrain that comes with this issue are minimal,. sop there's loads of room at the back of the magazine for terrain tutorials and more warscrolls for your miniatures.
Issue 16 is all about painting. Furnishing you with both a pot of Abaddon Black und einige Agrax Erdschatten, this magazine also contains the most thorough painting guide to date, with most of the magazine dedicated to it.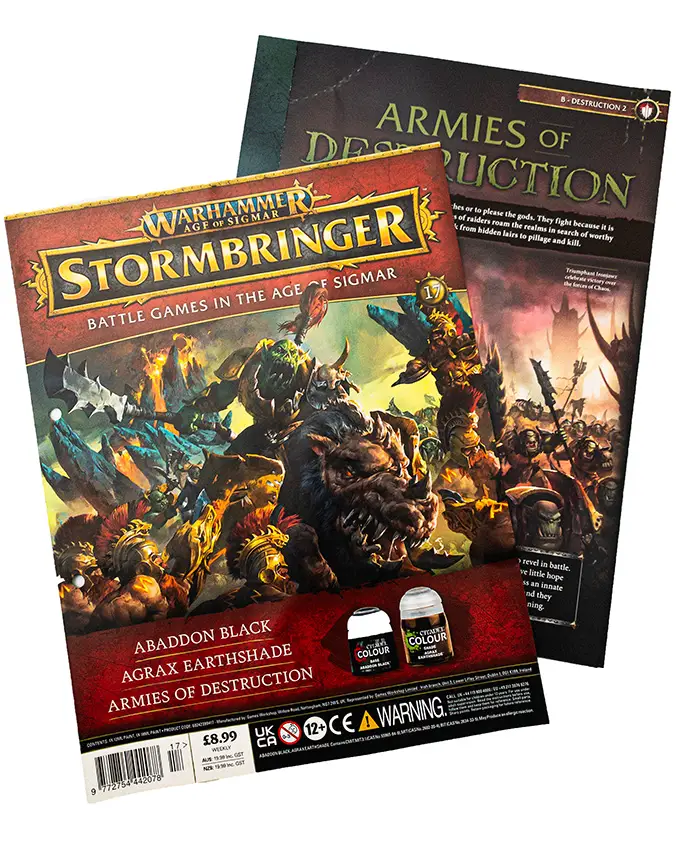 In case this may come as a disappointment, there are a few sides of lore dedicated to Chaos and Destruction factions – including a fold-out insert all about Orruks, Ogors, and Sons of Behemat.
Last but not least, Issue 18 puylls together several threads we've seen in the prior magazines, with some more information about Destruction armies and Stormcast Eternals, before focussing on the miniatures in this issue and their appropriate stats.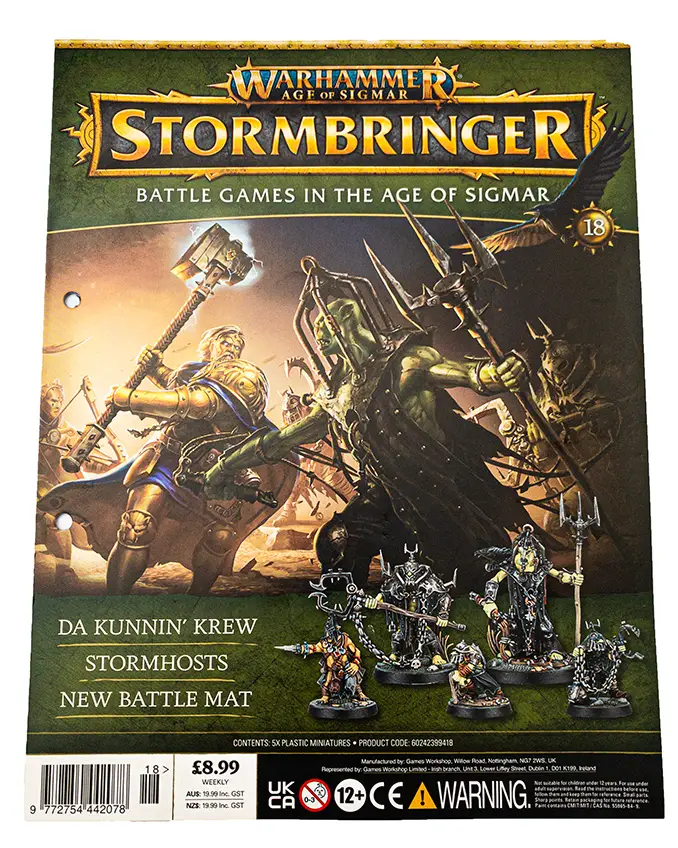 And that's all! Moving on, then, we get to the…
Miniaturen
There are quite a few models up for grabs across these issues. Starting with Issue 15, buyers will net themselves three Stormcast Eternal Praetors.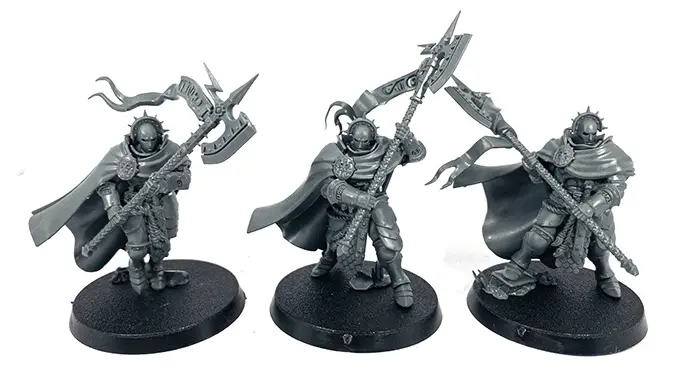 Now, Praetors look really cool but they do have a drawback: and it's those cloaks. As you can see on the left-most model I've put together, their cloaks, which are often made up of different components, are real suckers for not going together properly. If you've missed a bit of sprue gate, haven't cleaned a mould line up properly, or just aren't holding your parts together long enough as your glue dries, you will end up with some very, sehr obvious gaps and seams on these models. Even if you do glue these components together perfectly, the likelihood is that you will still have some gaps and seams on those cloaks. If this doesn't bother you, then great! If, however, you'd rather the cloaks be completely flat, have a look at our How to fill Gaps & Seams on Miniatures guide.
Next up, the surprise hit of the early Stormbringer collection: the Primal Lair.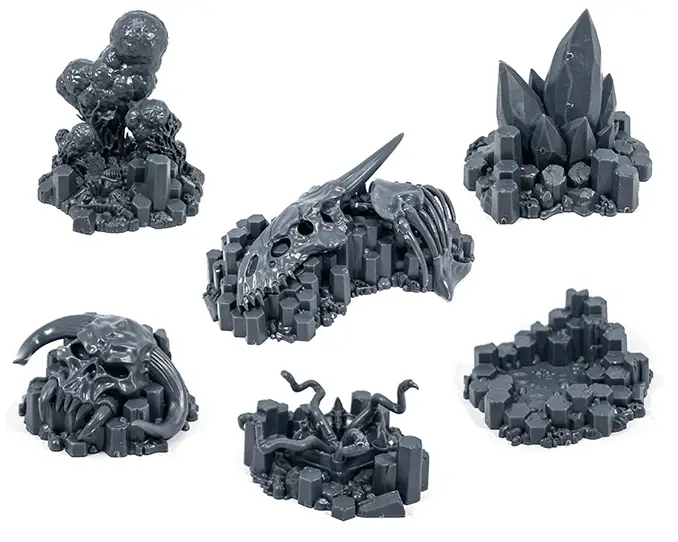 Originally available as Warhammer Underworlds: Beastgrave scenery, the Primal Lair has been a little bit difficult to get hold of for a while – which is a shame, as it makes both great objective terrain or scatter. When it was announced as part of the Stormbringer collection, we were shocked to see so many people excited about it – especially given the general attitude towards scenery for most hobbyists is one of indifference at best.
This is a nice kit, though. Very easy to assemble and not difficult to store, this one's definitely a winner.
Next up, also hailing from Underworlds, comes Da Kunnin' Krew.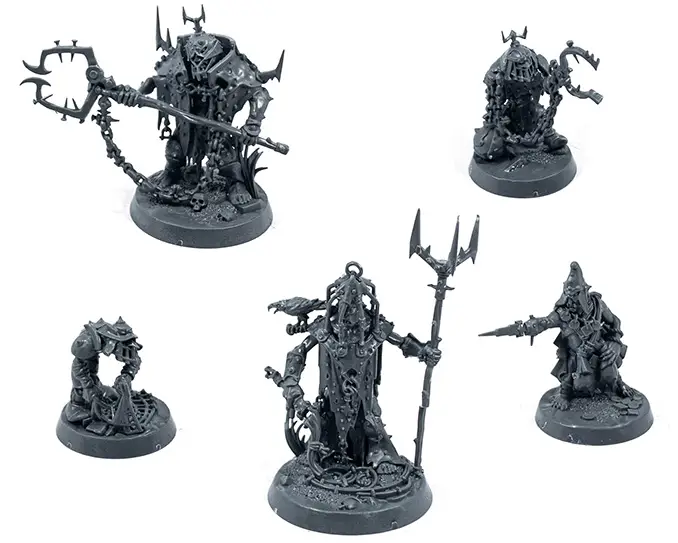 Originally released as part of Warhammer Underworlds: Harrowdeep, Da Kunnin Krew won over a lot of fans with their unique sculpts. However, when we recveived these miniatures for our Warhammer Underworlds: Harrowdeep-Rezension, we were a little disappointed with some of the detail on the smaller miniatures – particularly bottom left and top right, who seemed a little lacklustre compared to the other, slightly larger miniatures.
Another thinbg to be aware of, however, is damage. There are a lot of pointy bits on these guys, and as you can make out in the image above, some of my sprues in this magazine arrived a little worse for wear: Mannok (bottom centre) is both rather bent in places, and the haft of his weapon was snapped on the sprue. Watch out for this with your own miniatures.
Damage notwithstanding, Delivery 5 nets subscribers a rather nice little pile of miniatures. The Praetors – lovely figures with magnificent sculpts – do look a little plain next to the whacky weirdness of the Primal Lair, and the unique models in the Underworlds Warband are always going to take the cake – even if they are a bit bent.
Farben und Werkzeuge
Delivery 5 nets subscribers two pots of paint. First is Abaddon Black, the other is Agrax Erdschatten.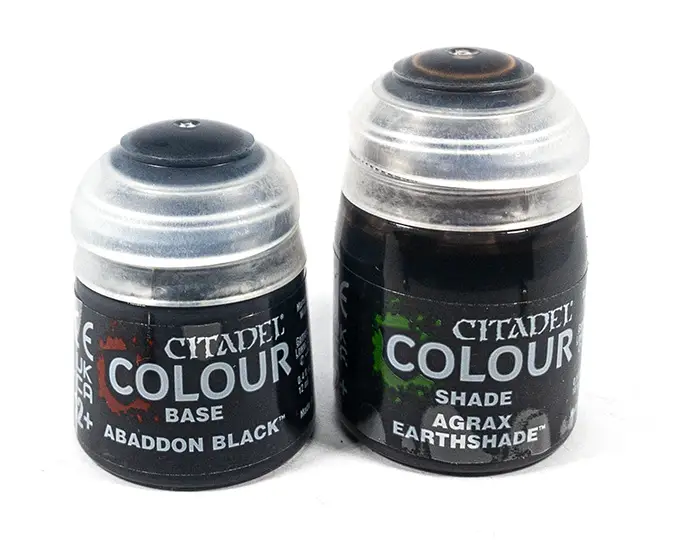 Bothy paints are used very differently. Abaddon Black is a thick base paint, whilst Agrax Earthsahde is, as the name suggests, a shade paint. Designed to be applied as a wash over sections of your miniature in order to add depth to the texture, Agrax Erdschatten is one of those paints that will find its way onto just about all your models. It's great for really grimy and dirty golds, for bits of rope, bandages and decomposing bone. I used both paints on the model below: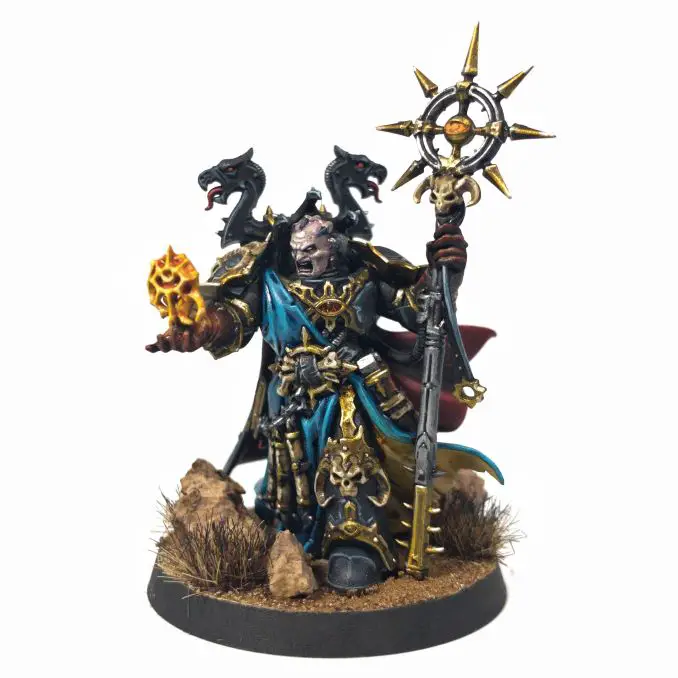 Whilst the Cursed Waffle-wielding Chaos Sorcerer's armour has been highlighted to a blue-black, it was originally basecoated with Abaddon Black, whilst the gold on his staff, as well as the bone bits, and armour was all washed with Agraxx Earthsahde.
Kriegsgerät
In oder to get you playing with your new miniatures, Delivery 5 comes with a double-sided mat. One side is that of an arid desert…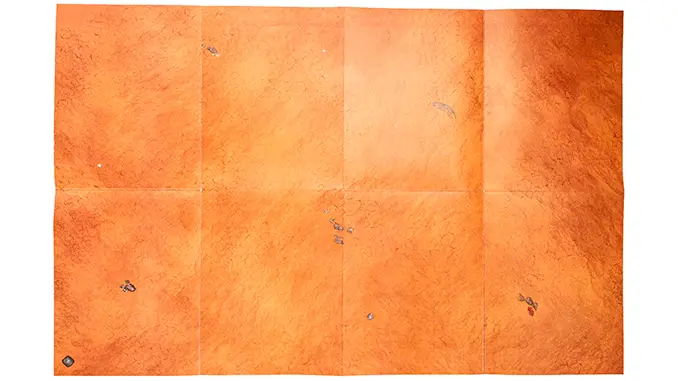 …whilst the other is the lair of a giant spider (complete with shed husk).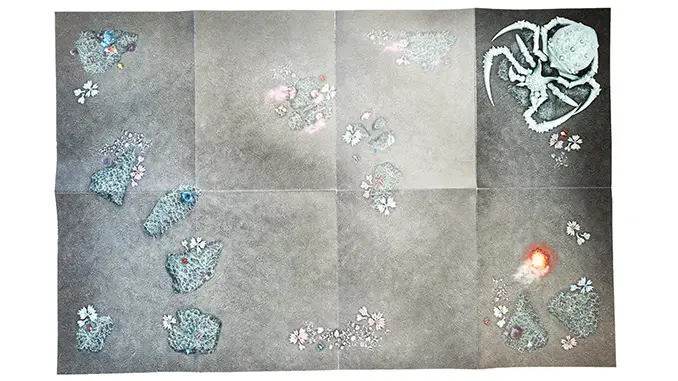 It's printed on paper, however, so those fold-lines are there to stay – as are any tears and rips that yours might have sustained during transit.
Premium-Kit 1
Delivery 5 also comes with the first of the premium kits that any premium subscribers can expect to receicve!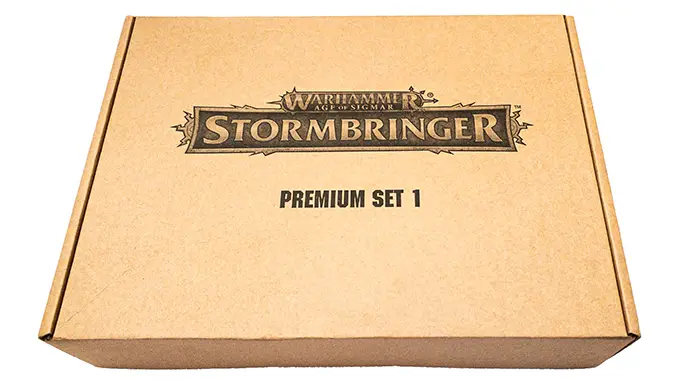 Each Premium Kit comes with a few added extras to justify your added cash. First of all, there's a bonus magazine. This one focusses on the Stormcast Eternals, and has my all-time favourite but of Warhammer art on the front of it: Yndrasta, the Celestial Spear, plunging into some Chaos-warped monstrosity.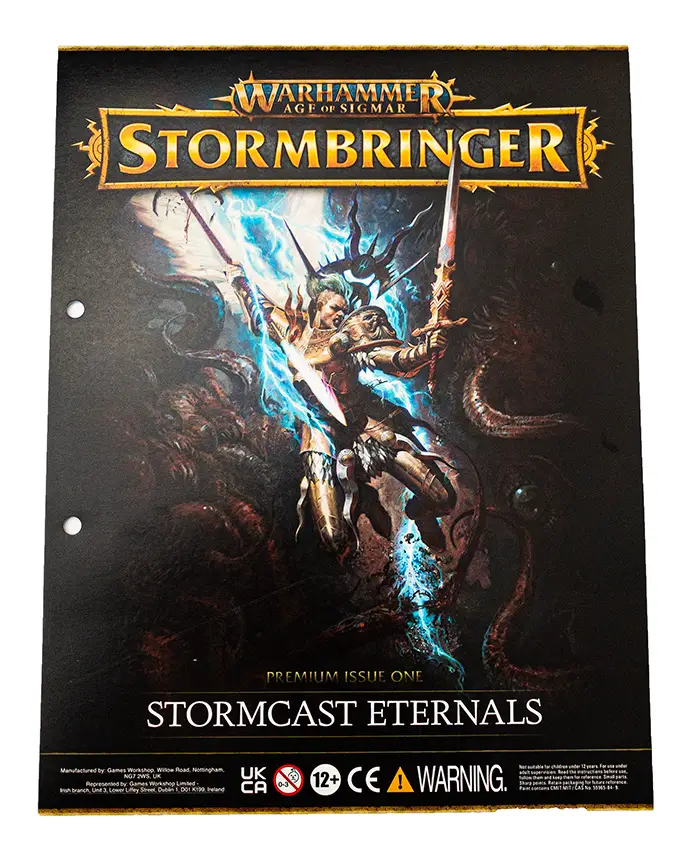 Inside are a few extra sheets of lore for the Stormcast Eternals, as well as a complete build, paint, and playing tutorial for this guy.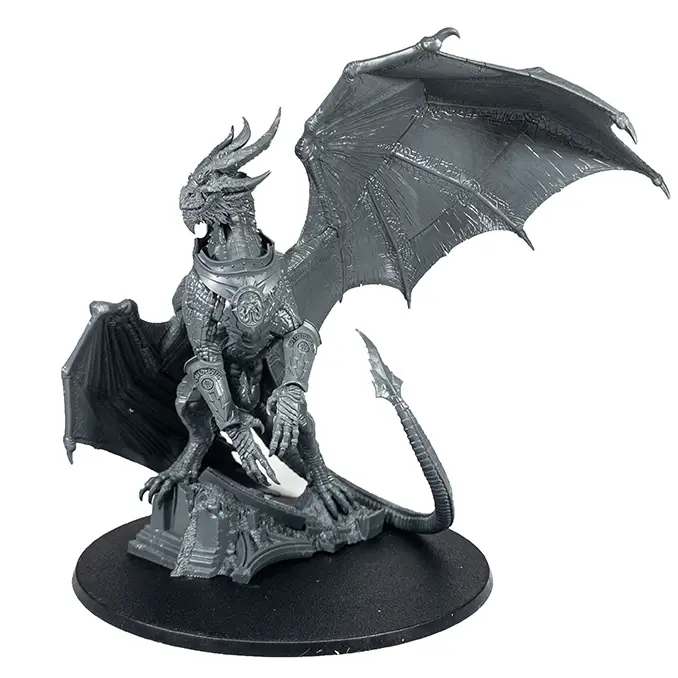 Krondys, the Son of Dracothian. This enormous miniature, measuring about 19cms high at the top point of his extended wing, is truly magnificent – and, I understand, a lot of people's primary reason for diving into Stormbringer with a premium subscription. He is truly magnificent and covered in wonderful details. An imposing and domineering miniature to paint, too, I imagine he'll sit proudly atop many piles of shame/potential for quite some time before his new owners are brave enough to try to paint him.
Krondys can also be built as his slightly more unhinged brother, Karazai – but the instructions for this chap haven't been included in the build guide, so you'll need to get these elsewhere.
Warhammer Age of Sigmar Stormbringer Delivery 5: Issues 15-18 Review – Price and Availability
Here are some FauxHammer.com price and saving tables for your price-justification pleasure:
| | | | |
| --- | --- | --- | --- |
| Ausgabe Nr. | Ausgabepreis (GBP) | Gesamtwert (GBP) | Gesamteinsparungen (GBP) |
| Ausgabe 15 | £ 8.99 | £ 32,50 | £23.51 |
| Ausgabe 16 | £ 8.99 | ??? | ??? |
| Ausgabe 17 | £ 8.99 | £ 7,50 | -£1,49 |
| Ausgabe 18 | £ 8.99 | £ 26.00 | £ 17.01 |
| SUMMEN | 35,96 € | £66,00 | £30.04 |
And once again for our friends in the US.
| | | | |
| --- | --- | --- | --- |
| Ausgabe Nr. | Ausgabepreis (USD) | Gesamtwert (USD) | Gesamtersparnis (USD) |
| Ausgabe 15 | $13.95 | $55.00 | $41.05 |
| Ausgabe 16 | $13.95 | ??? | ??? |
| Ausgabe 17 | $13.95 | $12.35 | -$1.60 |
| Ausgabe 18 | $13.95 | $42.00 | $28.05 |
| SUMMEN | $55.80 | $109.35 | $53.55 |
For the Premium Kit, Krondys is worth £100GBP/$170USD, so the savings at this stage for your premium sub are pretty huge.
The difficulty with this particular Delivery is that Primal Lair set. It's been out of print for quite some time, and whilst it was only worth around £20-£25 (we think…?) when it was first released, given that the price of Warhammer has increased exponentially over the last few years – and that the set is out of print – this makes it very desirable. As such, placing a value on this Delivery is hard – so it's a good job that even without the Primal Lair in the equation, there are some seriously decent savings up for grabs here.
Warhammer Age of Sigmar Stormbringer Delivery 5: Issues 15-18 Review – Final Thoughts
Vorteile
Nachteile
Excellent selection of miniatures
Intersting and rare terrain set
Premium kit contains a dragon
Nützliche Farben
Good savings.
Some of Da Kunnin Krew sculpts aren't so great
Praetors have some beastly gaps and seams
It's a shame not as many people are into Age of Sigmar as they are Warhammer 40,000 – well, at least looking at the info we have, it certainly doesn't appear as though they are. With Tenth Edition just crashing into the 40K universe, Age of Sigmar has been (somewhat necessarily) side-lined for the moment. But people are missing out.
So far, on the whole, I feel that Stormbringer has had a more consistently good selection of stuff in it that it's predecessor, Warhammer 40,000 Imperium did. Whilst Imperium had some staggering highes (Aggressors, Guilliman, that one month where we got an entire unit of Space Marines, a cannon, a buggy and some other stuff), it also had some serious lows -= largely thanks to the Necron side of the collection and the constant appearance of uninspired bits of terrain (storage containers, anyone?).
Stormbringer has, in my opinion at least, had a much more consistent degree of quality in its deliveries so far. There have been great miniatures and none-too-disappointing bits of scenery delivered over the last five months. Whilst nothing has made me super excited the same way a Redemptor Dreadnought, Roboute Guilliman, and a boatload of Adepta Sororitas miniatures did (discounting Krondys as he's a premium only miniature – but I was absolutely made up to see him arrive), I haven't felt the all-too-familiar touch of Necron-associated disappointment (Flayed Ones, irritating barges and floaty laser chairs) that I so frequently did with Imperium. I am also a huge fantasy fan, which likely skews my opinion a bit. We are also only about a quarter of the way through Stormbringer, so there's plenty of time for things to start going wrong!
But they do not go wrong with Delivery 5. In fact, Delivery 5 is a belter – especially if you're a premium subscriber.
Wenn du FauxHammer.com unterstützen möchtest, klicke auf diesen Link und bestelle deine Hobbyartikel bei Element Games für Großbritannien und Europa. Verwende den Code "FAUX2768" an der Kasse, für doppelte Belohnungspunkte.




Unsere Partner / Hobby Stores
Zusammenfassung
Gutachter
Prüfungsdatum
Überprüfter Artikel
Warhammer Age of Sigmar Stormbringer Delivery 5: Issues 15-18 Review
Autorenbewertung





Produktname
Warhammer Age of Sigmar Stormbringer Delivery 5: Issues 15-18 Review