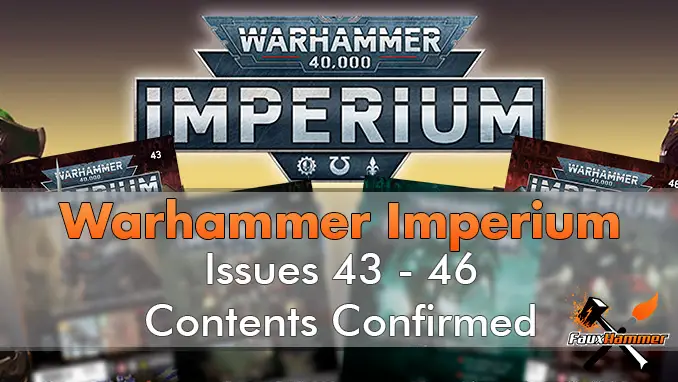 Here we are again guys, another 4 issues of the upcoming Warhammer Imperium magazines. And here, below, is what you're going to get. So let's dive in and confirm the contents of Warhammer Imperium issues 43-46
I nostri negozi affiliati / hobby
Quick Introduction
Why not support us on Patreon? We now have early access, exclusive Discord roles and exclusive content like our painting guide on the below Space Wolves. Best yet, it's for as little as £1 (or local equivalent) to support our work.
We also do a monthly Giveaway of our Artis Opus Brush Starter Set.
Warhammer Imperium Magazine Issues 43 – 46 Contents
We're finally getting into the meat of this series now. with some great content up front. we've had a good chunk of middle-of-the-road issues for a while and now we're back to getting excited about stuff.
But Sisters of Battle are always ones to turn heads and here we finally get into a bigger chunk of that faction.
Release Date: 29/06/22
A low value issue, but for a paint issue, we are at least making a slight saving on this one.
Release Date: 06/07/22
Once again we are back to Factorum pieces, Like from issues 31 & 34. If you haven't had enough of these, sorry. You're getting more. but this time in the reverse order of the last.
Below is the sprue you get in this issue, which matches the sprue from Numero 34
Release Date: 13/07/22
Like with other multi-unit boxed sets, it appears that the wraiths will come individually with the collection, which still gives us a decent saving per issue.
Like with other multi-unit boxed sets, it appears that the wraiths will also come individually with the Imperium collection, which still gives us a decent saving per issue.
FYI, this is the model and sprue you should get in issue 45
I say 'should', because people have noted problems with earlier issues where different sprues of things like which of the warriors were included over what was expected – Though I've not seen any report of this happening with the destroyers.
Release Date: 20/07/22
Finally our first real taste of the sisters. Those with experience will notice that this is one of the two sprues originally from the Sisters of Battle army box and now in the Combat Patrol box.
And consider this a fair warning, these issues will sell out – fast
Price is calculated by dividing the seven sprues in the start collecting box by the price of the box. Though the sprues are obviously weighted differently in that set, 3 large sprues are reserved for the included tank, 2 of these that are in this issue, one for the Canoness and. the huge upcoming sprue which includes numerous units and a penitent engine.
You will get the below sprue, expect another of these to come later
But even two of these will not finish the squad, there is also a much larger sprue still to come
Warhammer Imperium Magazine Contents Issues 47-80 – What's Left?
Le prossime due consegne sembrano essere molto promettenti. Con la maggior parte dei riempitivi – tutti quei Necron Warriors e Primaris Assault Intercessors, per esempio – bene e veramente in passato, ciò che rimane nella seconda metà dell'abbonamento a Imperium è davvero piuttosto allettante.
Warhammer Imperium Magazine Issues 43 – 46 Contents – Final Thoughts
Getting Excited now – as we look toward the final issues with a small layer brush in hand, it's now about getting our hands on the final awesome models and putting those final details on them.
I feel that like with the Mechanicus models we will have complete focus on the sisters before we return to the armies of the Imperium and see any more Space Marines.
This is quite Smart of Hachette, those of us who are subscribers are more likely to stay subscribed after all this investment, in order to get our hands on those remaining models. Whereas with the likes of Conquest, it was all legacy stuff toward the back end.
I nostri negozi affiliati / hobby
Cosa ne pensi di questo articolo? Per favore fateci sapere nei commenti.
Se ti piace quello che stiamo facendo qui, potresti davvero aiutare a incoraggiare più contenuti con una condivisione su qualsiasi piattaforma di social media.
Fai clic sui link di condivisione nella parte inferiore di questa schermata (o a sinistra per computer e tablet)
Vuoi essere aggiornato con il blog? Puoi iscriverti nella barra laterale per RSS o via e-mail qui sotto
(La barra laterale è sotto l'articolo sui dispositivi mobili)