Yup, you read that right! Having disappeared for the best part of a year, Hachette's Dungeons & Dragons collection is back for a full launch. Grab your swords, your spellbooks, and your twenty-sided dice, and prepare to journey into the Forgotten Realms!
Fare clic su questo collegamento e acquistare i propri hobby da Element Games per il Regno Unito e l'Europa supportare FauxHammer.com - Usa il codice "FAUX2768"Alla cassa per doppi punti premio.



I nostri negozi affiliati / hobby
D&D Adventurer is Back – Introduction
If you turn your minds back to January this year, you may remember that we wrote a First Look: Dungeons & Dragons Adventurer article. This piqued a lot of interest, but just as you were all starting to get excited about this product, D&D Adventurer seemed to just, well, vanish.
However, it brings us the utmost pleasure to reveal that D&D Adventurer is back, baby – and it's going to be hitting shelves in newsagents much sooner than you may think. Read on for all the info we have at this time.
D&D Adventurer is Back – What We Know So Far
We're still a little short on some of the nitty-gritty details at the moment, but here's everything we know so far – as well as some of our speculations and other things we think you'll need to be aware of.
General Information, Pricing and Content
So, first off, let's be completely classless and talk about money.
The first issue will cost just £1.99.
Issue 2 will clock in at £5.99
From Issue 3, individual issues will cost £8.99.
When we last checked in January, issues were going to be costing £7.99 a month – but the price of literally everything ever has increased exponentially since last January, it shouldn't come as a surprise that this magazine is also going to be a bit more expensive than we first thought. Some of the feedback we received when we wrote our First Look: Dungeons & Dragons Adventurer article was that people were unsure if the price justified the content of the magazine, so the increase in cost may be a bit of a red flag for some. However, let's remind ourselves ofg the content we can expect before jumping to any conclusions.
Across the magazines, information and resources will be split into four groups: Sage Advice, Character Creation, Lore and Exclusive Adventure content.
Issue 1 will come with everything you need to start playing: your first exclusive adventure (as these won't be available anywhere else), a combat rulebook, some pre-made character sheets, and your first full set of collector's dice.
…Yes, dice. So, last time around there was a bit of scepticism as to what was actually going to be in D&D Adventurer as many people speculated that it was going to be just different coloured sets of polyhedral dice every week for the entire run of the magazine. Now, for some people this will set their hearts racing: multicoloured click-clack cubes are a fabulous collector's item – but not, perhaps, the mainstay reason to be subscribing to a magazine.
Well, from the info we've been given, we know that throughout the course of the collection, included alongside the magazine content, we can expect to see:
Dice (including velvet pouches and storage tins)
miniature
Maps
Booklets
Inspiration tokens
If you've come here straight from any of the Warhammer subscription services (Conquest, Mortal Realms, Imperium and Stomrbringer) you might be scratching your head and struggling to see the value in this collection if all it's netting you is some dice, a handful of figures, and whatever else, but, as I said back in January this year: "by the time the magazine concludes it fa looks like you may need a dice bag to rival Laura Bailey's in order to stash the obscene amount offered across the collection, but the real meat of D&D Adventurer lies within the pages of the magazines themselves, in particular its charming magazine-exclusive adventures."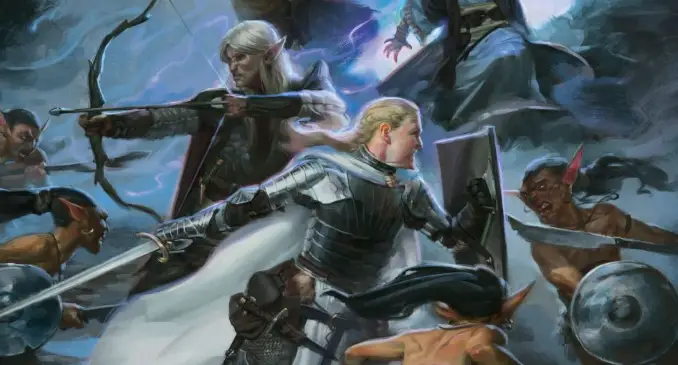 This isn't a Warhammer-style partwork, where you grab the sprue, skip to the build guide, and completely ignore the rest of the magazine before shoving it in your binder and never looking at it again (I know you're doing it). D&D is primarily a pen and paper-based game, so having all these resources available to you – from piles of adventures, reference materials, easy-to-use guides explaining rules and mechanics – is a godsend. As a DM/GM, it'll cut down on hours of prep time and give you access to resources you might not otherwise have, and for players both new and old, this'll furnish you with everything you need to jump into your first (or next) adventure.
Subscribing
In addition to everything in the magazine as you'd find it in a newsagents, subscribers will also receive:
A free issue with your first delivery (depending on where in the collection you choose to subscribe from.
A free dice tray with your first delivery.
A free binder with your third delivery.
A free Dungeon Master's Screen with your fifth delivery.
A free dice jail with your seventh delivery.
So, that's all this: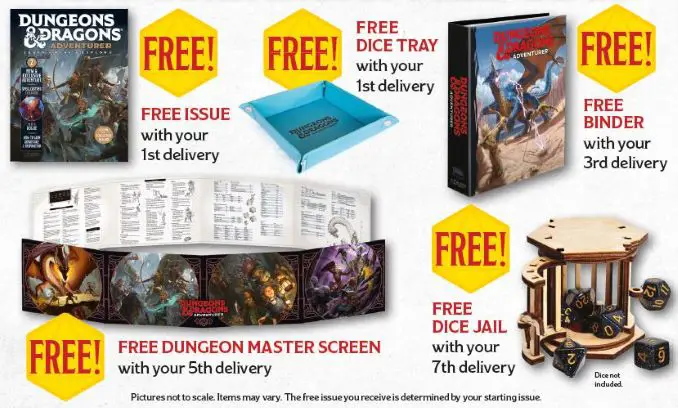 These are different to the contents we saw back in January: Delivery 1 previously promised a keyring, and Delivery 7 was set to include a dice tower. These now include a dice tray and a dice jail respectively.
We haven't been told an exact subscriber's price for the magazine, but we imagine it'll be in the region of £35.96 every month (£8.99 x 4).
Premium
As far as we know, there isn't any offer of a premium subscription.
As we said in our previous D&D Adventurer article, when D&D Adventurer first appeared on Hachette's website a year ago in September 2022, it was billed as coming with a premium subscription. However, by the time we got back to this in January, all mention of this had disappeared from Hachette's website – and I'm afraid to say that there's no mention of a premium subscription anywhere in the information we've been given. Of course, if this looks like it's going to change, we will update you.
How Many Issues?
If you're a FauxHammer.com reader, and you're familiar with Hachette's work, you're likely familiar with the Age of Sigmar and 40,000 partworks magazines we've extensively covered over the last few years. You're likely also aware, then, that these collections tent to run to about 80 issues across a two-and-a-half-year subscription.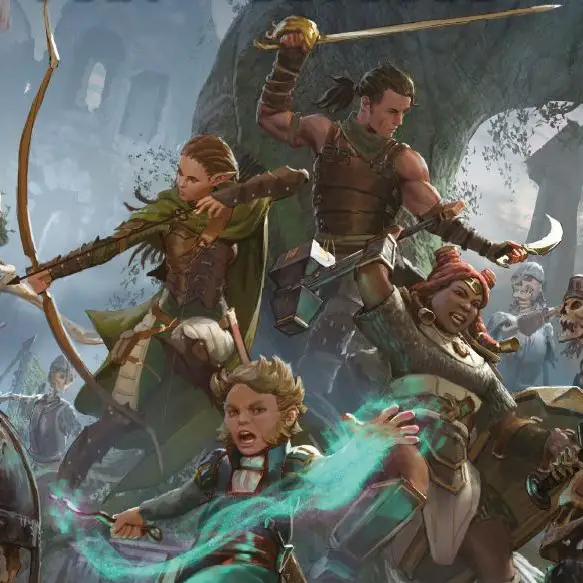 With D&D Adventurer, however, we don't actually know exactly how many issues we're going to see. It was noted when the collection was first teased and put out on its trial ion September last year that the information about premium subscription gifts stretched as far way as the 69th issue (nice). However, as we said above, this info disappeared months ago, so we can't use that as a basis for any conclusions about the collection in its current form.
There are some clues, however: we know we will be getting at least seven deliveries – as we can see in the subscriber gifts section above, there are free gifts accounted for up until Delivery 7. Provided Hachette are sticking with their four magazines per delivery model, we can expect at least 28 magazines.
Again, if this changes or we learn more, we'll let you know.
D&D Adventurer is Back – The Date for Your Diary
Right, you paying attention? Good.
The collection will be launching on Wednesday 13th September.
However, if you're aching for more information before you fully commit, Hachette's D&D Adventurer website will be launching on September 4th. Make sure you check in there for more information on subscribing.
D&D Adventurer is Back – Final Thoughts
This is definitely one to watch. Dungeons & Dragons, rather like Warhammer, can be an intimidating game to get into – but if we've learned anything, it's that the service provided via Hachette's weekly/monthly releases/supply drops are a sure-fire way of getting into these sorts of hobbies. The sheer success of the Warhammer partworks stands as testament to this – and hopefully D&D Adventurer will see at least a few of you hobbyheads trying out something new.
We will, of course, be watching this one as closely as we can and will keep you posted with any future updates we receive.
So, what do you think? Will you be subscribing to D&D Adventurer? Do you like the look of the magazine at this early stage? Or would you like to see more D&D-related content on FauxHammer.com? Let us know what your thoughts are – we'd love to hear them!
Fare clic su questo collegamento e acquistare i propri hobby da Element Games per il Regno Unito e l'Europa supportare FauxHammer.com - Usa il codice "FAUX2768"Alla cassa per doppi punti premio.



I nostri negozi affiliati / hobby