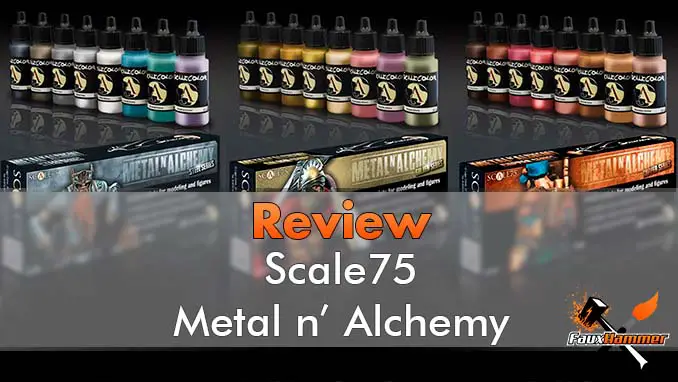 Want to know about some of the best Acrylic Metallics you can possibly buy? Then you're in the right place. Stay a while and read our Scale75 Metal n' Alchemy paint range review.
CLICK AQUÍ PARA VER EL MEJOR KIT HOBBY QUE 2021 TIENE PARA OFRECER
Haga clic en este enlace y compre sus cosas de hobby en Element Games para el Reino Unido y Europa para admitir FauxHammer.com - Use el código "FAUX2768"En la caja para obtener puntos de recompensa doble.

Nuestros afiliados / tiendas de hobby
Apoye FauxHammer.com en Patreon
Me gusta, comenta, toca la campana y suscríbete

Este artículo es parte de nuestra serie que analiza las mejores pinturas para miniaturas y modelos.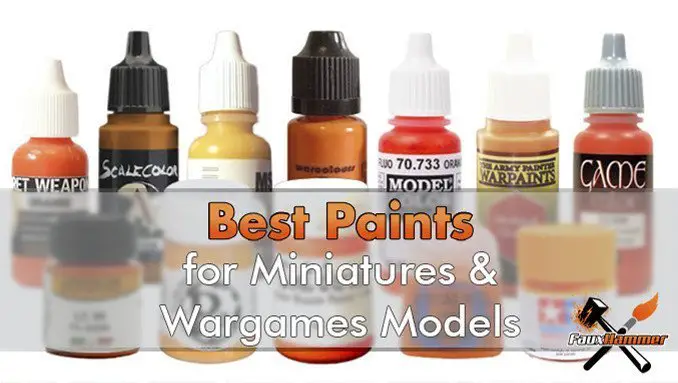 Para ver nuestra lista actualizada de las mejores pinturas para tus miniaturas, solo haz clic en la imagen de arriba.
Scale75 Scalecolour Collection: Metal 'n' Alchemy Review – Summary
They say the worth of a good craftsman is not found within their tools, but within the skill they possess. This may well be true, but any craftsman will assure you that having a decent kit makes their life a lot easier. Scale 75's Metal 'n' Alchemy paints are just those tools, and in the hand of someone who knows what they're doing with them, will be able to render wonders onto the sculpt of any miniature or bust they so wish.
Scale75 Scalecolour Collection: Metal 'n' Alchemy Review – Introduction
Based in Madrid, Scale75 are one of those companies that produce products synonymous with quality. Whilst you may not know it, the chances are that you've seen Scale75's paints in action on some of the best painted miniatures and busts you see bounced around the internet. Just glancing over the box art attached to their products is proof enough of that.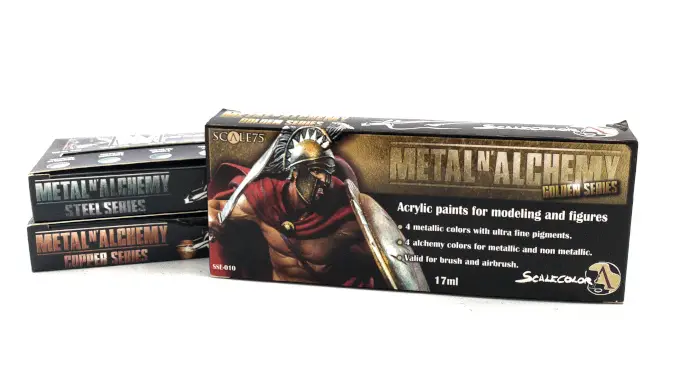 There are no two ways about it: Scale75's paints are for serious painters with serious talent.
And now they've arrived with me.
¡Ay!
Expectations – and the pressure – are high.
Scale75 Scalecolour Collection: Metal 'n' Alchemy Review – Contents
In this review, we'll be looking at three of the Metal 'n' Alchemy Paint sets produced by Scale75. These are:
Each set comes with eight paints in it, as follows:
| | | |
| --- | --- | --- |
| Copper Series | Steel Series | Gold Series |
| Decayed Metal | Black Metal | Necro Gold |
| Old Copper | Thrash Metal | Viking Gold |
| Garnet Alchemy | Metal pesado | Dwarven Gold |
| Ruby Alchemy | Speed Metal | Elven Gold |
| Pure Copper | White Alchemy | Citrine Alchemy |
| Victorian Brass | Cobalt Alchemy | Tourmaline Alchemy |
| Amber Alchemy | Emerald Alchemy | Kunzite Alchemy |
| Moonstone Alchemy | Amethyst Alchemy | Peridot Alchemy |
As you may be able to tell from glancing at these names, all three of these boxes feature a range of metallic and non metallic colours.
By design, the paints are intended to be durability, and, as as promised on the front of each box, each is suitable for use with either a brush or an airbrush. Each box also comes with a small guide with some straightforward step-by-step instructions on how to use the paints. I'll be basing my testing around this guide as far as I'm able to whilst simultaneously following the usual FauxHammer Testing criteria.
Scale75 Scalecolour Collection: Metal 'n' Alchemy Review – Testing
First off, the metallic paints included in each set are designed to take you through all the shades of colour that would naturally occur on a metallic surface, from the darker tones where less light is reaching, all the way up to the much brighter colours that are catching the most light.
But the really genius of the Metal n'n Alchemy collection lies in the Alchemy paints. These paints are designed to shift the tones of your standard gold, steel or copper-coloured metallic paints into a different hue, so you're not stuck painting sólo gold, steel or copper on a miniature. You will be able to give your golds rich, reddish tones, your steel colours some deep blue and purple hues, and some pinky-purples to your copper colours. The addition of even just a small amount of one of the Alchemy paints could really help spice up your colour scheme and make your figures really pop.
Aerografía
I picked out four figures to paint up for this review: a Lord-Imperatant from the Age of Sigmar Extremis Starter Set, and whom I'd be testing the golds on; Castellan Crowe and a Nemesis Dreadknight from the Fuego de maleficio box to test the Steel series on; and the Thrower Unicorn Ultimates from WePrintMiniatures, who I thought I'd test the copper colours on.
In order to see how the paints performed when put through an airbrush, I decided to put the darkest shade of the three Metal 'n' Alchemy sets and give them a blast onto each figure. This was Necro Gold for the Lord-Imperatant, Black Metal for the two Grey Knights, and Decayed Metal for the Thrower.
The first thing I noticed was the uniformity in the consistency of these darker paints. Aside from my heavy-handed application of airbrush thinner to the mixes, the overall density of the paints were extremely similar, with only a little variation between each.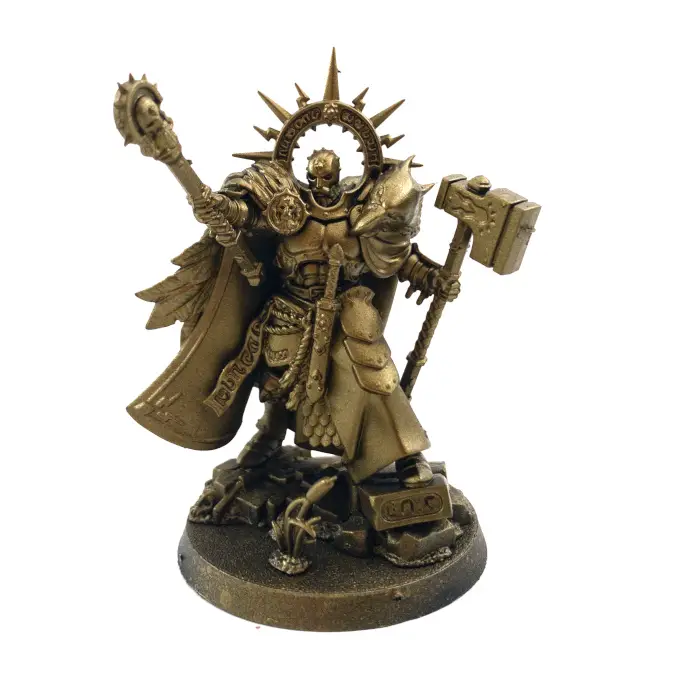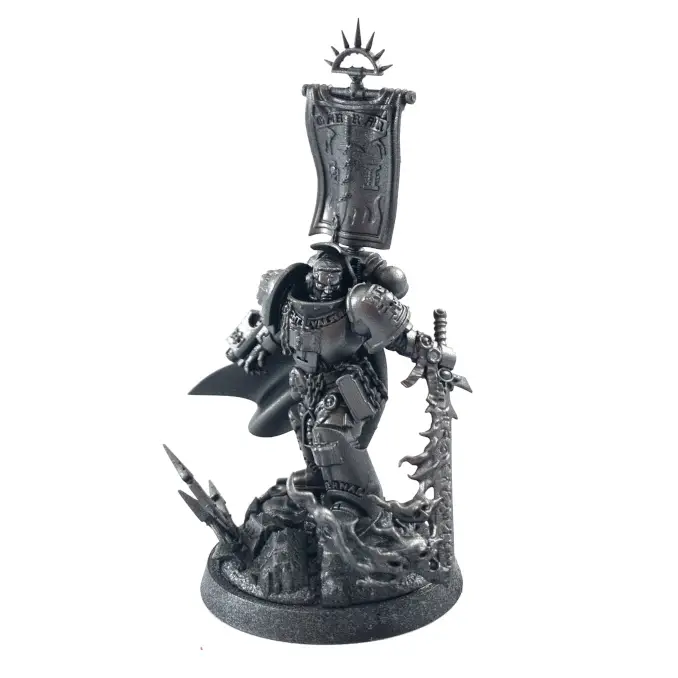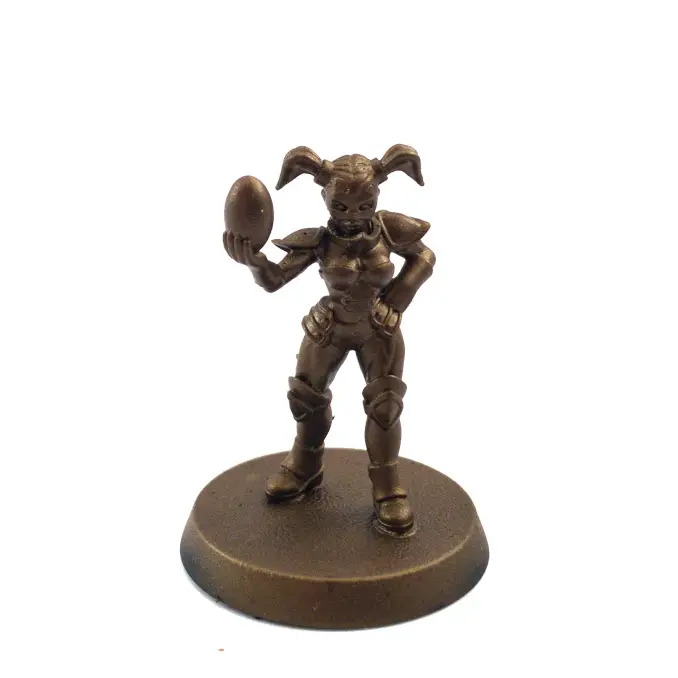 Having re-shaken the paint bottle, re-cleaned the airbrush several times, and re-tested this three times further on paper, card, and the figure again, this does just seem to be the composition of the paint. Decaying Metal just has a lot of gold in it. When compared to the Necro Gold on the Lord-Imperatant, however, the difference between the two is plain to see.
The deep coppery-bronze colour is gorgeous, but that it has so many gold tones in it is something that painters will want to be aware of.
I used the Nemesis Dreadknight to test how well the colours in the Steel Series blended across the model. For this, I used Black Metal, Thrash Metal and Heavy Metal, eschewing Speed Metal for the moment in order to keep it in reserve for some edge highlighting if deemed necessary.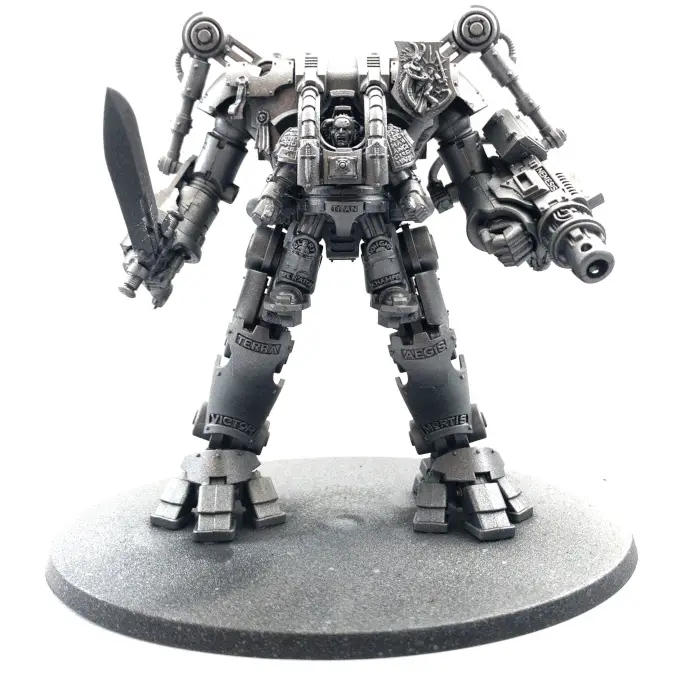 Even for a complete airbrushing novice like me, it was easy to build a quick colour highlight/transition across the figure using the paints in the Steel Series range.
Cepillado en seco
I struggled to get the Scale75 Metal 'n' Alchemy paints to drybrush. But, I suppose, that's not really what they're designed for.
Because the paints are quite watery straight out of the bottle, and because of their super fine pigments, they aren't the easiest to drybrush with.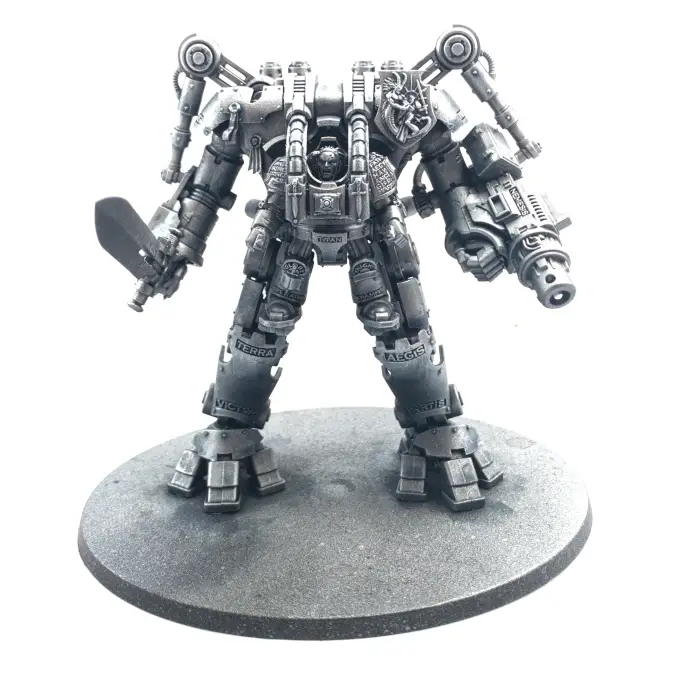 I put some thinned Sombra Nocturna Drakenhof over my Dreadknight in the hope that it would allow a subsequent drybrush of the almost white Speed Metal to really stand out, but the effect was far more subtle than I had expected. It has added the finest silver-white edge to some of the armour panels, but that's about it.
I had another go with some Scarab Occult Terminators (bet you can't guess which battlebox has been plundered for this review). First, I airbrushed on some Cobalt Alchemy – which went on like a dream – then a little Emerald Alchemy from the top. After a heavy wash of Sombra Nocturna Drakenhof, I drybrushed on some Emerald Alchemy again to try and build up the highlight.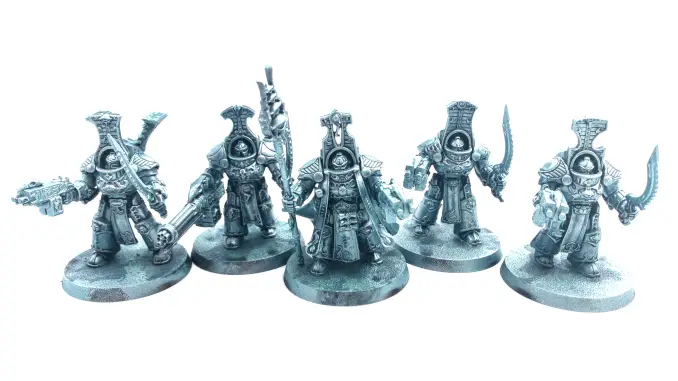 The effect is a little better this time around. Again, it's subtle, but it has smoothed out some of the rougher edges on the figures and helped gloss over one or two places on some of the larger armour panels where the shader had pooled.
So, sure, you lata drybrush with the Scale75 Metal 'n' Alchemy colours and given that this isn't the type of painting they're designed to be used for, they do a pretty good jb of it. But, humbly, you're probably better off saving them for layering, where you'll really be able to explore the range these paints can go to.
Recubrimiento base
I used Necro Gold on the edging of the Scarab Occult Terminator below to really get a good feel for how these paints went on as a base.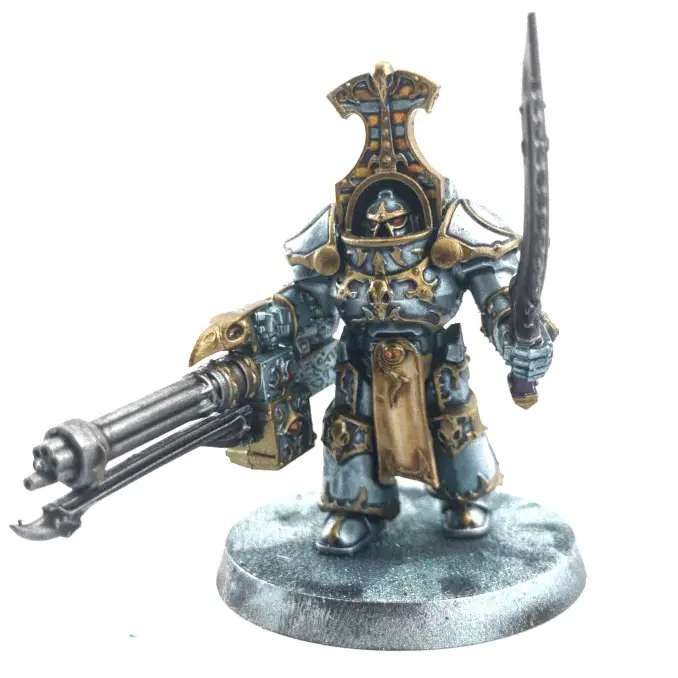 That the paints are as thin and as fine pigmented as they are means that, whilst they apply to the figure with the silky-smoothness of pouring cream, you will need to do more than one coat in order to ensure you build up an adequately opaque layer across all the texture of your miniature. But that's okay, you should be aiming to do that anyway.
If you're a beginner, you may find that these aren't necessarily the easiest paints to basecoat with given that they are, by design, thin. But That shouldn't put you off using them as such. Basecoating with the Scale75 Metal 'n' Alchemy paints is an exercise in patience as much as it is in brush control, but pass the test and you'll get some super results.
I used a selection of the other paints to base a few other areas across the other figures. Old Copper for the Thrower, Viking Gold for the Lord-Imperatant and Thrash Metal for Castellan Crowe.
These all behaved similarly to the Necro Gold. The paints are super thin, which means it took a couple of coats to build up a solid colour, so be prepared to be patient. Make sure you thin the paints carefully so they go on good and smooth – shouldn't be too difficult given how smooth these paints are straight out of the pot – and make sure your coats are good and dry before applying the next.
Capas
This is where the paints De Verdad come into their own.
Scale75's Metal 'n' Alchemy are all about layers. Lots and lots of small, thin layers to help build up a gradual and realistic transition of colour and to create realistic light textures on figures.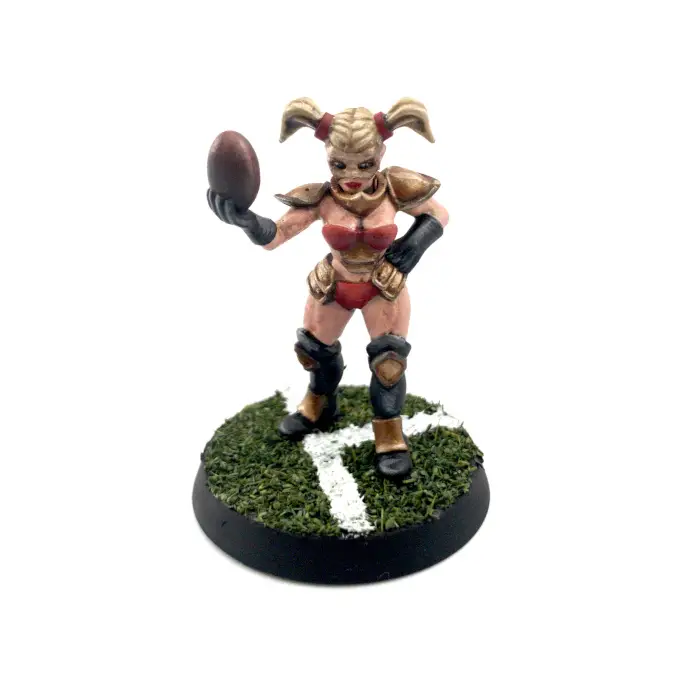 Of the three, I felt that the copper colours built up their intended effect the easiest. There's a good, steady transition in colour across the colours in the set, so this translates well onto building from a base coat up to a highlight onto a figure.
(The eagle-eyed amongst you will also notice that I've actually completely re-done the skin on the Thrower.)
They blend well thanks to their super fine pigments, and only need a little water to be thinned down to a good smooth texture, so getting a highlight on an edge or a raised surface is easy to do.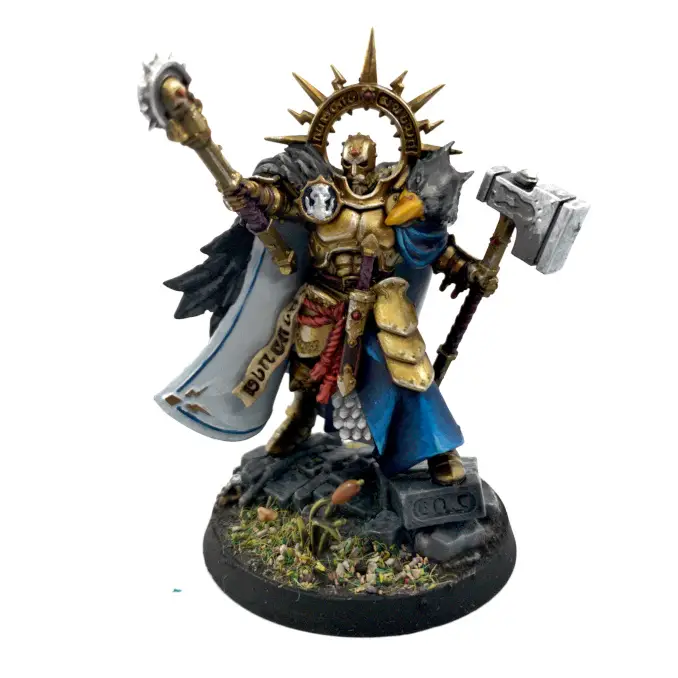 Of the three, I found that the golds were, perhaps, the paints that were the most difficult to use. The four gold colours are all actually quite close together in shade – which is great for building up a realistic golden texture. But the brighter Alchemy colours the set recommends using to supplement the golds with highlights, Peridot Alchemy and Citrine Alchemy, are respectively quite green and also very white, so need to be carefully worked into the layers as you go.
I found the silvers quite easy to use as well. Much like the copper colours, there's a good transition from dark to light across the colours in the set, and the colours blend extremely well with each other.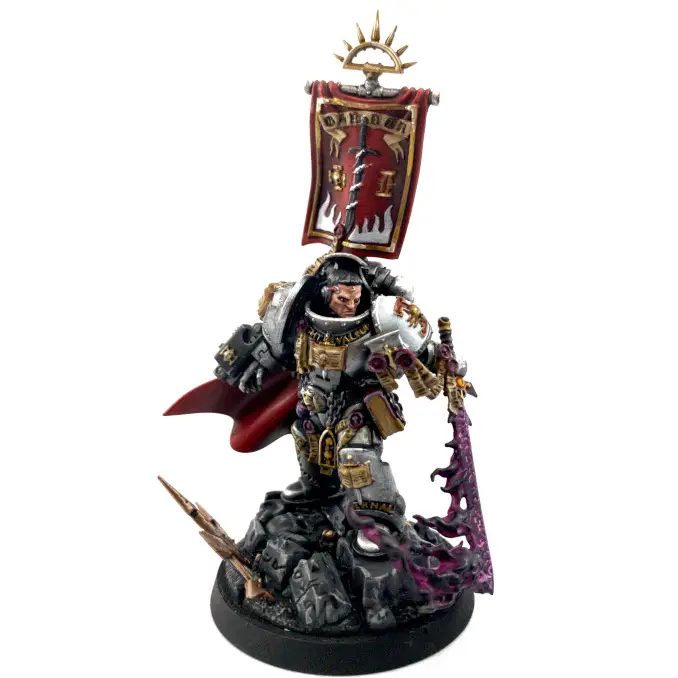 The brightest colours amidst the silvers – Speed Metal and White Alchemy – are a little bit more difficult to use. They clump quite easily, so be prepared to be patient and use your water carefully to ensure you thin these paints down to the smoothness you're after.
I've also used the Scale75 Metal 'n' Alchemy golds to do Castellan Crowe's golden bits for reference.
Scale75 Scalecolour Collection: Metal 'n' Alchemy Review – Price and Availability
Scale75's Metal 'n' Alchemy range are available from most good online hobby stores. They can be purchased either as individual paints or in boxes, such as those reviewed here. They usually clock in at around £25 for a box, which for eight superb paints is an absolute steal.
Scale75 Scalecolour Collection: Metal 'n' Alchemy Review – Final Thoughts
Pros
Contras
Easy to use…
Paints are as smooth as silk
Ultra-fine pigments and near-flawless consistencies
Realistic colour tones
…difficult to master
Some paints are easier to use than others

I think the major takeaway from these is that the Scale75 Metal 'n' Alchemy paints are, as my heavy-handed examples above show, easy to use but difficult to master. Whilst any rookie painter will be able to use these paints to follow their familiar base, layer, highlight painting technique, in the hands of someone who has both the know-how and the patience to really dedicate time to practising with these paints, the results will be absolutely beautiful.
Great paints.
CLICK AQUÍ PARA VER EL MEJOR KIT HOBBY QUE 2021 TIENE PARA OFRECER
Haga clic en este enlace y compre sus cosas de hobby en Element Games para el Reino Unido y Europa para admitir FauxHammer.com - Use el código "FAUX2768"En la caja para obtener puntos de recompensa doble.

Nuestros afiliados / tiendas de hobby
Apoye FauxHammer.com en Patreon
Me gusta, comenta, toca la campana y suscríbete

Que pensaste de esto revisión? Por favor, háganos saber en los comentarios.
Si le gusta lo que estamos haciendo aquí, realmente podría ayudar a fomentar más contenido con un recurso compartido en cualquier plataforma de redes sociales.
Haga clic en los enlaces para compartir en la parte inferior de esta pantalla (o en la izquierda para computadoras y tabletas)
¿Quiere mantenerse actualizado con el sitio? Puede suscribirse en la barra lateral para RSS o por correo electrónico a continuación
(La barra lateral está debajo del artículo sobre dispositivos móviles)