Kill Team: Gallowfall Review
Last Updated on mayo 6, 2023 by Jordán
The Leagues of Votann and the Chaos Beastmen clash amidst the collapsing corridors of Space Hulk Gallowdark as this season of Kill Team comes to its fierce and fiery conclusion. Read all about this new box in our Kill Team: Gallowfall Review.
Haga clic en este enlace y compre sus cosas de hobby en Element Games para el Reino Unido y Europa para admitir FauxHammer.com - Use el código "FAUX2768"En la caja para obtener puntos de recompensa doble.



Nuestros afiliados / tiendas de hobby
Warhammer 40,000 Kill Team: Gallowfall Review – Summary
Kill Team Gallowfall is a pleasing – if somewhat safe and unoriginal – new chapter in the ongoing Kill Team saga. It ascribes to the tried-and-tested formula of Kill Team releases we've seen over the past year, with one team of brand-new models and another of existing models partnered with an original upgrade sprue. Happily, the new Chaos Beastmen models are superb, and the new Leagues of Votann miniatures still look great – all the better for their fun upgrade sprue.
However, the regular buyers of Kill Team releases will be groaning at yet another set of the same walls they've seen in previous boxes, as well as a copy-pasted gaming board. Whilst both are of utmost quality, a little something new wouldn't have gone amiss in either department.
Warhammer 40,000 Kill Team: Gallowfall Review – Introduction
We're heading back into the cramped confines of a space hulk today. Grab your blasters, chainswords, and muster whatever warp-harnessing powers you can: it's going to be a brutal one as the stoic Leagues of Votann square off against the furious might of the Chaos Beastmen – foul mutants emboldened and strengthened by the might of the Ruinous Powers.
As with previous Kill Team releases, Gallowfall will get buyers two Kill Teams: one completely new, previously unreleased set of models, and another Kill Team made up of existing models augmented with a new upgrade sprue. There's plenty of other stuff in the box to get you playing with your new miniatures too, all of which we'll have a closer look at in a moment.
The current season of Kill Team comes to its conclusion this set . In Kill Team: Gallowfall, the Leagues of Votann clash and the Chaos Beastmen clash as they try to flee the collapsing Space Hulk Gallowfall as it plunges towards a planet, unable to sustain itself drifting through space any longer. Whether or not you've been a fan of this current season of Kill Team, this is perhaps the most exciting aspect of this release: that we'll be seeing something new very, very soon!
Warhammer 40,000 Kill Team: Gallowfall Review – Unboxing
Anyway, let's crack on. Here's the box: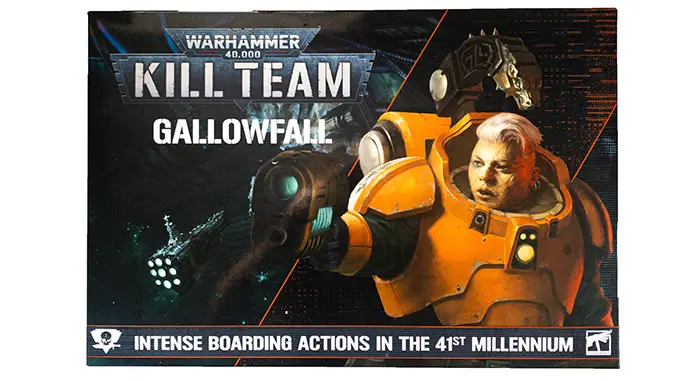 lifting the lid, we have our sprues.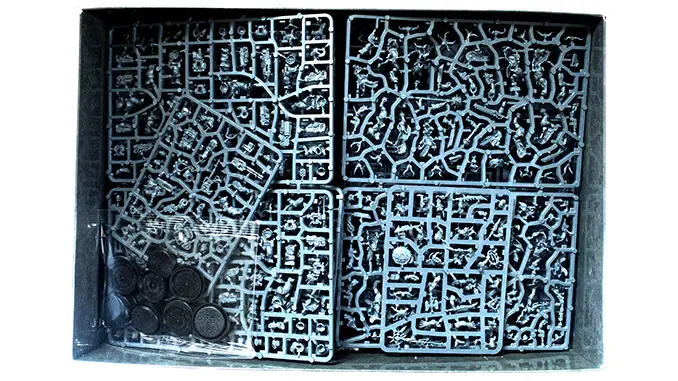 There are 13 sprues in total – 8 Gallowdark terrain sprues, 3 Leagues of Votann sprues, and 2 Beasts of Chaos sprues.
Beneath that, we have another boring divider. Seriously, whatever happened to the lovely box art dividers?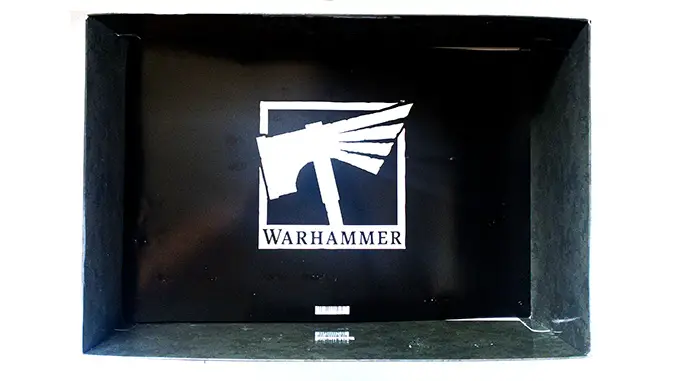 Last but not least, we have the books and the gaming board, all shrink-wrapped in plastic.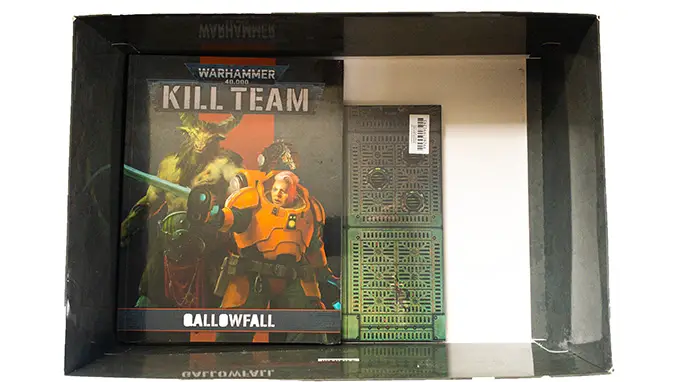 We'll have a closer look at all this now!
Warhammer 40,000 Kill Team: Gallowfall Review – Contents
Kill Team: Gallowfall contains:
20 miniaturas Citadel

10 x Leagues of Votann
10 x Beasts of Chaos

1 x Set of Gallowdark Terrain
1 x Double-sided Gaming Board
1 x Kill Team: Gallowdark War Manual
We'll have a look at all this in more detail now.
Warhammer 40,000 Kill Team: Gallowfall Review – Literature
There's only one book in the Gallowfall set – as is custom with these boxes. This is the…
Kill Team: Gallowfall War Manual
The Gallowfall War Manual is the text that ties this box in with the ongoing Gallowdark narrative.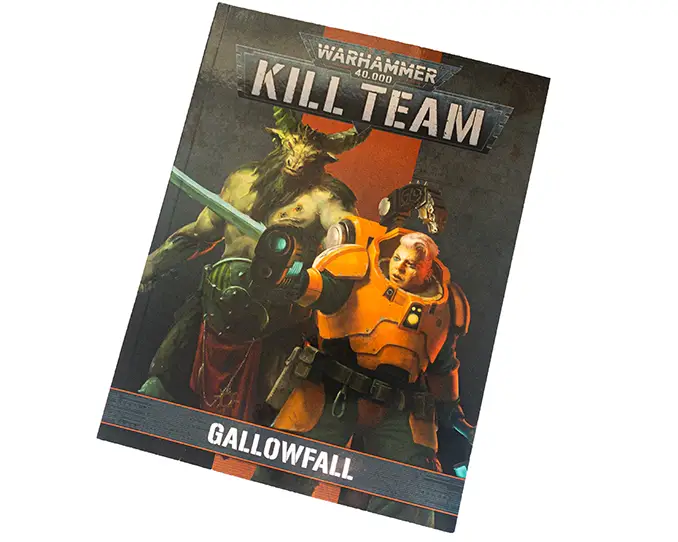 Alongside describing where the current box set sits within the ongoing Kill Team narrative, it also contains a selection of missions for you to play, as well as all the stats and rules for the two new teams in this box.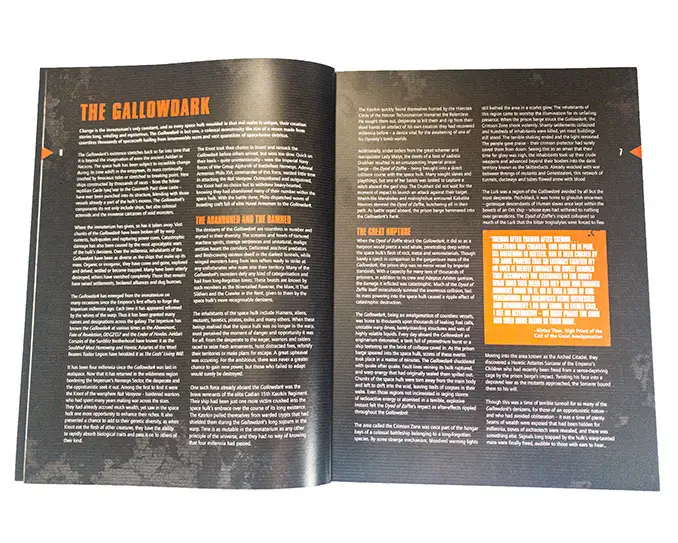 Anyone who has bought a Kill Team set since Octario dropped will know the layout of this book before they've even opened it. It's in a standard layout, with lore, setting, and guidance on naming the members of your Kill Team towards the front, and then onwards to the rules and setup for this particular box.
In spite of the vast amount of info in this book, everything is very well-indexed and formatted. It's an easy book to navigate and not so unwieldy as to be a burned during an actual game. Of course, this book isnt going to teach you how to play Kill Team – you'll need a copy of the Reglas básicas for that.
Warhammer 40,000 Kill Team: Gallowfall Review – Wargear
There one piece of Wargear – the name we here at FauxHammer give to all the gaming essentials in a box that are designed to facilitate you playing – in the Gallowfall box.
Tablero de juego de doble cara
Anyone who has purchased one of these Space Hulk Gallowdark-series Kill Team sets will recognise this board. Yup, it's the same one as there has been in the previous couple of releases.
Believe it or not, but these are two sides of the board. Can you spot the differences?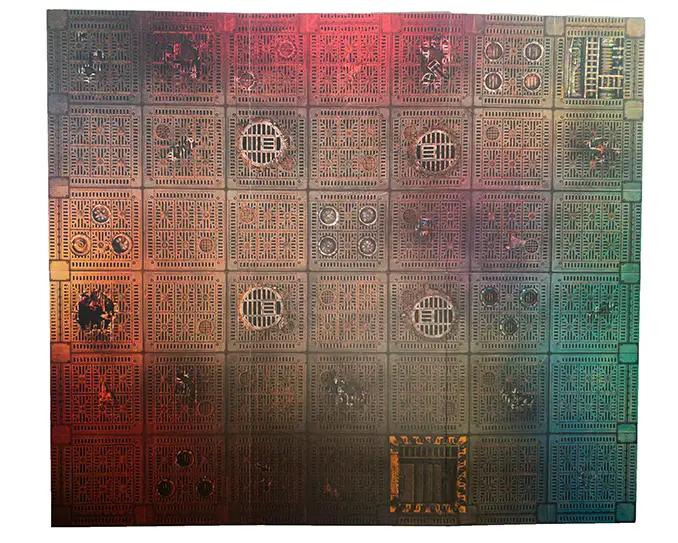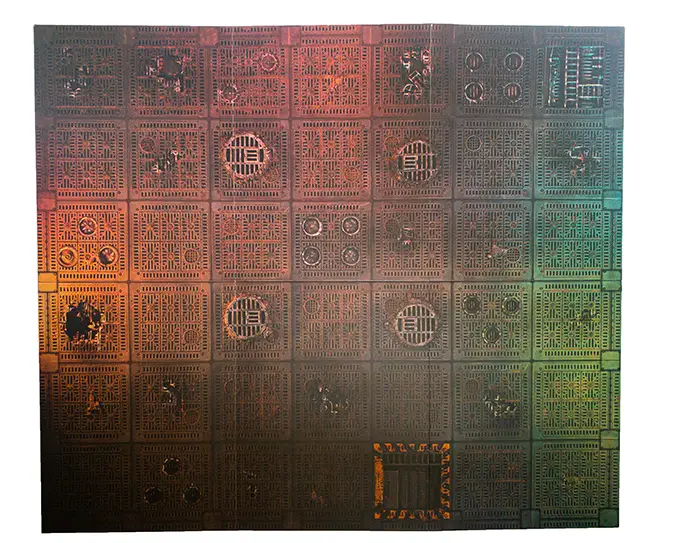 Yeah. The light effects are slightly different on each. Other than that, the images are all the same.
It's a little bit lazy, but the board is still good quality: the print is nice and clear and the board itself is made of good-quality card that will last you a good long while – provided you look after it.
Warhammer 40,000 Kill Team: Gallowfall Review – Models
There are a whole host of minis in the Gallowfall box as the Leagues of Votann take on the Chaos Beastmen. There are all sorts of new bits to have a look at, so let's get stuck in!
Hearthkyn Salvagers
I made no secret of it when we reviewed the Leagues of Votann Army Set – I am a big fan of Warhammer 40,000's newest faction. I love the look of them, and think they're bags of fun. There's also tons of diversity across the armies too, with faces representing a mix of ethnicities and genders. What's more, there are absolutely loads of build options too, so tons of opportunities to personalise your figures.
Happily, one of these super varied sprues forms the basis of the Hearthkyn Salvagers Kill Team.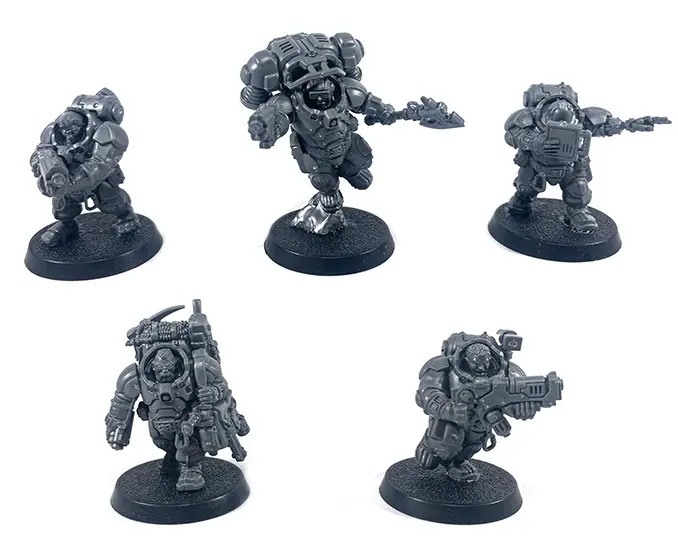 …And what's more, the upgrade sprue that comes with these guys ensures that even if you own a unit or regular Hearthkyn Warriors, you're unlikely to build the same model twice.
There are tons of new options, including a jump-pack, an autocannon, a grenadier, a brute with knuckledusters and even a guy carrying a ton of bags.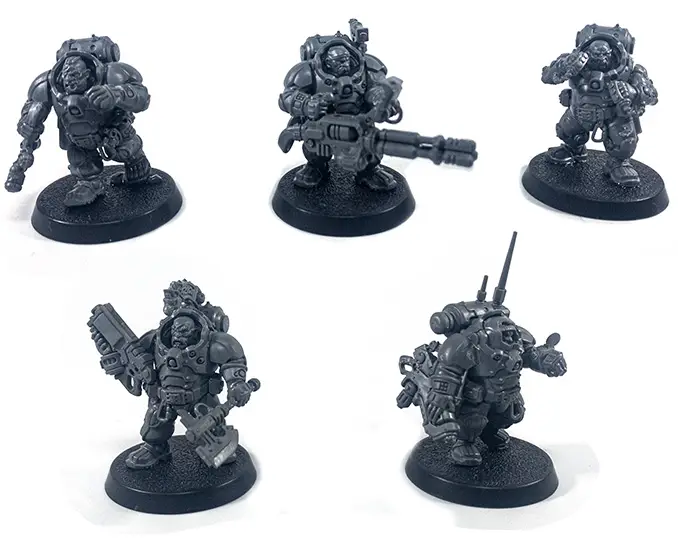 They're all also pretty easy to put together, following a fairly similar pattern each time. There are also a host of extra trinkets – pouches, grenades and so-on – that you can add if you so wish.
I actually managed to get mine painted up – here they are in my Doom 2016/Doom Eternal Doomslayer-inspired colours.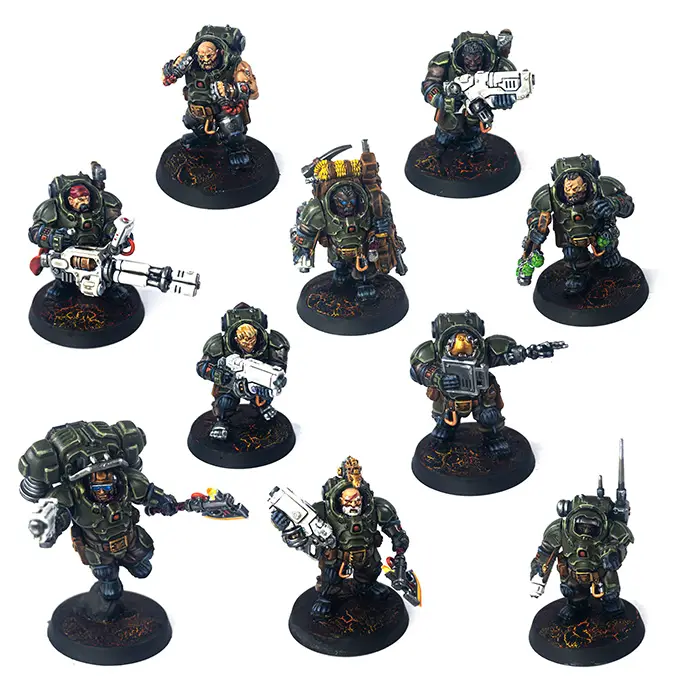 They're fun little figures to paint, and the added extras that come with both the Hearthkyn Warriors kit – as well as the upgrade sprue – do really help individualise these units. They're loads of fun to paint!
Fellgor Ravagers
The Fellgor Ravagers are the completely new kit in this chapter of Kill Team. Horned and hairy mutant humanoids brandishing an array of crude but deadly weapons, these meanies mean business.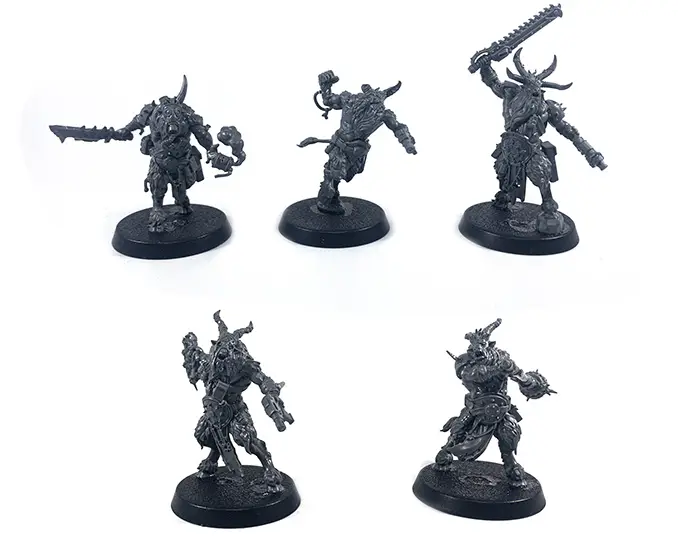 Again, there are tons of ways to build these guys – including the presence of an additional upgrade-style sprue that gives you even more build options. They're also extremely easy to put together and are very well designed. Pieces slot very neatly into slots and all beastmen are made up of only a few components. In spite of this, they're still super figures – no compromise has been made when posing them.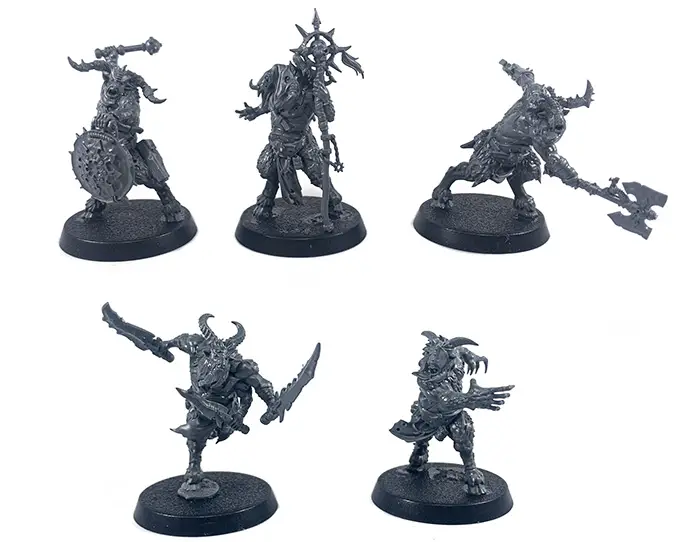 Individuality has been prioritised, and each figure is its own unique character. This is only exemplified further with the upgrade sprue, which allows you to build all sorts of different miniatures – all of which I've built above 'cos, well, they looked way cool.
There is, however, a mistake in the guide. The first beastman you're instructed to build tells you to use component 23. This is wrong – you want component 2.
Terreno
As with all Kill Team boxes that have been released this season, Gallowfall also comes with a huge selection of walls for you to construct on your board. Cutting all of this stuff off the 8 sprues it comes on and gluing it all together was hard work, and I have to admit I didn't enjoy doing it all that much. Whilst it's all very simple to do, there's just loads of scenery to get through and it takes forever.
Below, I've used all of the stuff I can in order to give you an impression of just what you can do with it. There are a few bits left over, which I've chucked into a pile in the top left corner.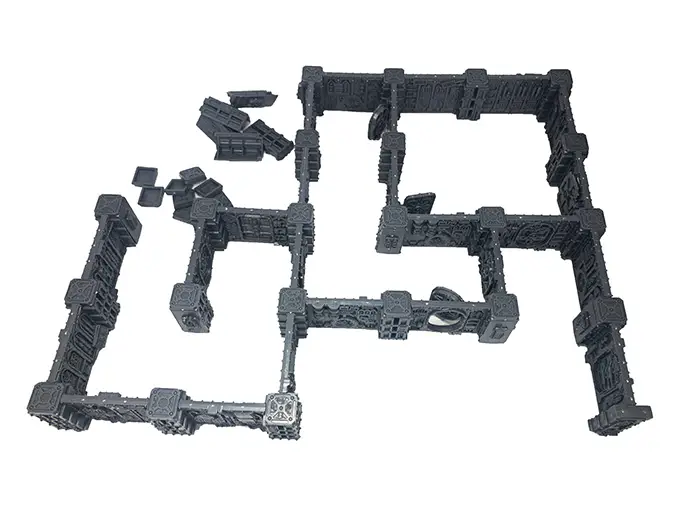 The set up pictured is completely random and can be disassembled fairly easily. A few components got wedged in quite firmly and were a bit more difficult to remove, but the walls themselves are all quite thick so don't parecer like they'd break so easily.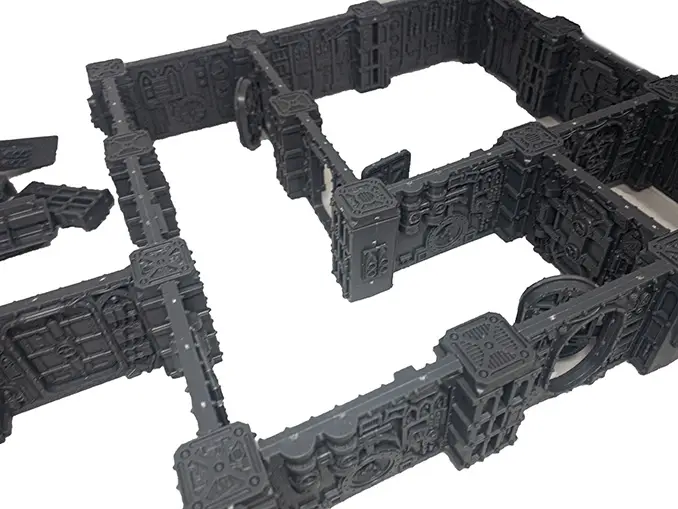 …Oh, and if you assemble them correctly, all the doors can be opened, which is a cool little touch.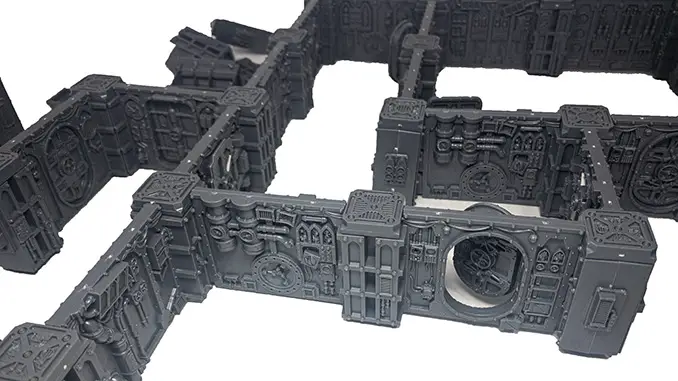 In addition to all this, there's also an absolute heap of obstacles and ground clutter for you to use – including medical stations and equipment, stasis pods, and drop pods.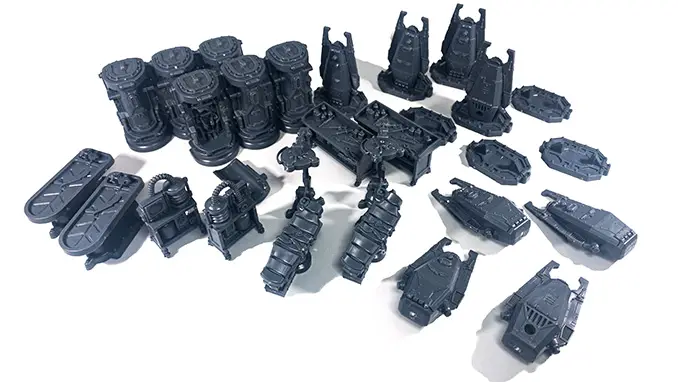 A lot of stuff. A lot of detail. An easy way to make your games of Kill Team and 40K Boarding Actions look swish as heck.
It's also a daunting mountain to paint.
Warhammer 40,000 Kill Team: Gallowfall Review – Price and Availability
Kill Team: Gallowfall will set you back £110.00GBP/$185.00USD/€145.00EUR. 
| | GBP | Dólar estadounidense | CANALLA | EUR | AUD |
| --- | --- | --- | --- | --- | --- |
| Hearthkyn Salvagers* | £ 35.00 | $60.00 | $70.00 | 45,00 € | $98.00 |
| Fellgor Ravagers* | £ 35.00 | $60.00 | $70.00 | 45,00 € | $98.00 |
| Scenery** | £ 67.50 | $112.00 | $135.00 | 87,50 € | $185.00 |
| Kill Team: Gallowfall War Manual | £ 27.50 | $45.00 | $55.00 | 35,00 € | $70.00 |
| Valor total | 165,00 £ | $277.00 | $330.00 | 212,50 € | $451.00 |
| Gallowfall Price*** | £ 110.00 | $185.00*** | $220.00*** | €145.00*** | $310.00*** |
| Ahorros totales | 55,00 £ | $92.00 | $110.00 | €67.5 | $141 |
| Percentage Savings | 33% | 33% | 33% | 31% | 31% |
* Based on the prices of the various current KIll Teams on sale via GHames Workshop's tienda virtual.
** Based on the prices of Kill Team: Killzone Moroch and Warhammer 40,000 Boarding Actions Terrain Set.
*** Based on the pricing of similar products, such as Warcry: Sundered Fate and Warcry: Blood Hunt, and Kill Team: Soulshackle.
You can find more details in our Price and Savings Breakdown.
Warhammer 40,000 Kill Team: Gallowfall Review – Where to Next?
Since Kill Team Second Edition made its way onto the scene with a stonking cinematic trailer y el Octario box set all the way back in 2021, Taller de juegos's Kill Team range has continued to expand. More recently, though, we've moved from the classic pitched battles where two teams faced themselves across a more "traditional" battlefield in favour of the confined of a Space Hulk – likely in reference to the 1989 classic that lots of people still pine for a remake of. As such, there are tons of kits for you to get stuck in with – the range is very much your oyster.
Be aware, however, that this set doesn't come with everything you need to start playing Kill Team. It's missing the Kill Team Range Rulers and tokens (which you'll need for distances as new Kill Team uses its own measures), the Libro básico (which you'll need for the overall rules), and the Compendio (which you'll need if you want to play your own, non-boxed Kill Team). You'll need to get hold of these elsewhere, and unfortunately they aren't cheap.
Warhammer 40,000 Kill Team: Gallowfall Review – Final Thoughts
Pros
Contras
Votann upgrade sprue is quite cool
New Chaos Beastmen are great
Lazy gaming board
Same ol' walls
Kill Team: Gallowfall is a dependable albeit very predictable release. Following in the formulaic footsteps of its predecessors, there's not much in here that's surprising or sparkles at surface level. The walls are the same, the board is the same, the book is pretty much the same sorta thing as we've seen previously, and even the way the teams are designed now ascribes to a pattern.
The models, however, are very nice. The Chaos Beastmen are a really weird and yet super pleasing kit that makes some spectacular models. They are expressive, menacing, and add another note in the book of Really Good 40K Chaos Releases From The Last Year Or So. The Leagues of Votann models, whilst not new figures, are built out of a very customisable sprue, and the augmentations with the upgrades make a huge difference too. There's a lot of ways to personalise these guys, which will appeal to painters and players the world over.
Sure, it's not the most exciting box in the world, but there is a lot here to like.
Haga clic en este enlace y compre sus cosas de hobby en Element Games para el Reino Unido y Europa para admitir FauxHammer.com - Use el código "FAUX2768"En la caja para obtener puntos de recompensa doble.



Nuestros afiliados / tiendas de hobby
Que pensaste de esto revisión? Por favor, háganos saber en los comentarios.
Si le gusta lo que estamos haciendo aquí, realmente podría ayudar a fomentar más contenido con un recurso compartido en cualquier plataforma de redes sociales.
Haga clic en los enlaces para compartir en la parte inferior de esta pantalla (o en la izquierda para computadoras y tabletas)
¿Quiere mantenerse actualizado con el sitio? Puede suscribirse en la barra lateral para RSS o por correo electrónico a continuación
(La barra lateral está debajo del artículo sobre dispositivos móviles)
Resumen
Crítico
Fecha de revisión
Artículo revisado
Warhammer 40,000 Kill Team: Gallowfall
Calificación del autor





nombre del producto
Warhammer 40,000 Kill Team: Gallowfall