Warhammer Age of Sigmar Stormbringer Delivery 7: Issues 23-26 Review
With August entering its final couple of weeks, we're back with another wrap-up of everything partworks. See what went down this month in our Warhammer Age of Sigmar Stormbringer Delivery 7: Issues 23-26 Review.
Warhammer Age of Sigmar Stormbringer Delivery 7: Issues 23-26 Review – Introduction
We're back with another monthly round-up of Hachette Partworks' current Warhammer subscription service, and August looks to be a good one. With a fair selection of good-value models sees Delivery 7 keeping the torch burning as Stormbringer continues to march through its first year. A good spread of miniatures – from a resplendent Lord-Aquilor to a cunning Loonboss – sees Stormbringer beginning to test the waters of new ranges and factions, and the (currently) exclusive Azyrite Fountain terrain will certainly turn some heads.
Warhammer Age of Sigmar Stormbringer Delivery 7: Issues 23-26 Review – Contents
As ever, we'll take you on a whistle-stop tour of everything available to subscribers this month, as well as a look at what's available in your local newsagents.
The Magazines
First off, we have the magazines for this month. Issues 23-26 take readers on a veritable world-tour of the Mortal Realms, going from Ulgu to the land of the Aelves, diving into the past to peek at the Necroquake and also stopping in to see what the Gloomspite Gitz along the way.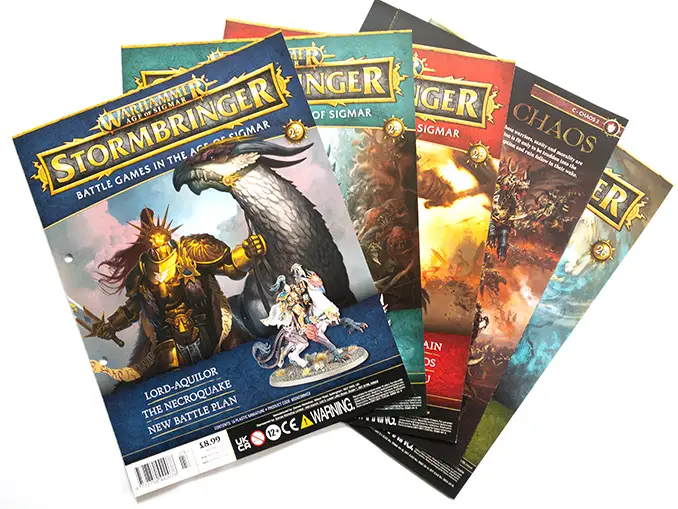 There are, as ever, new rules, new battleplans, and new ways to play with your new miniatures explored across the issue. As there are two new paints in this delivery too (more on those in a minute) there are also some painting guides to get your current selection of miniatures up to scratch.
Subscribers will also receive their second Stormbringer binder.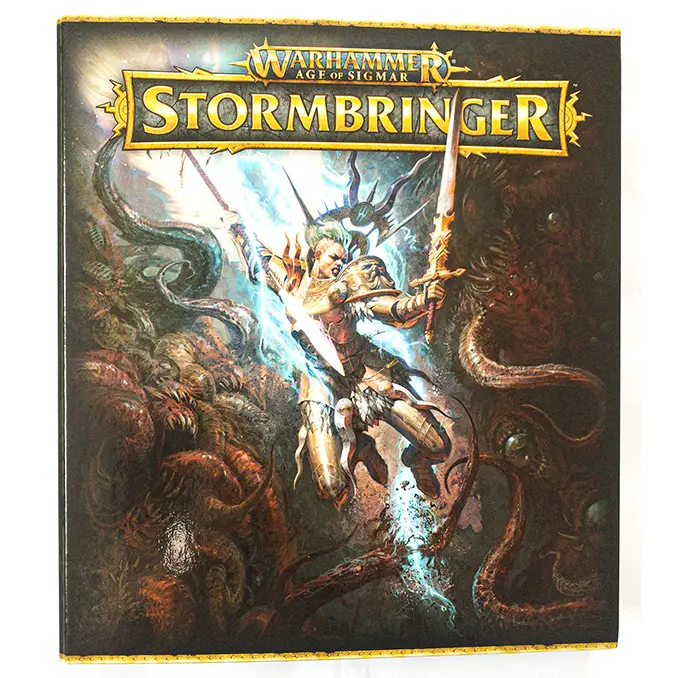 Emblazoned with Yndrasta, the Celestial Spear, fighting off against a surging mass of Chaos, these things do look the part – and will guard your magazines with the same fervour as Yndrasta does the Mortal Realms.
Miniaturas
Kicking off with Issue 23, the first of several new miniatures up for grabs this month is the stunning Lord-Aquilor.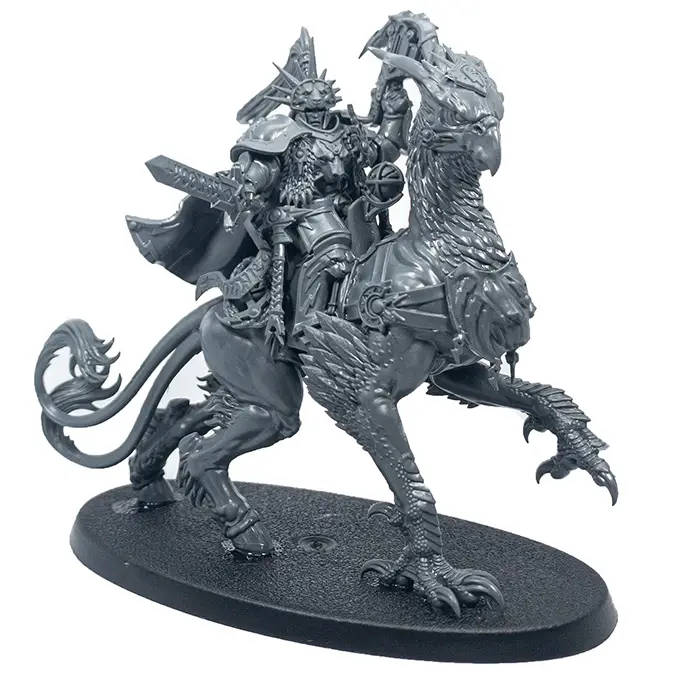 Sat astride his noble gryph-charger, this heroic scion of Sigmar makes for quite an impressive kit – though new builders beware: ensure you take appropriate time to remove all sprue gates and leftover bits of plastic from the various parts that constitute the mount. If you don't do this, you're liable to not have parts line up, which will result in your model sporting some unsightly gaps.
Next up, we have the Loonboss.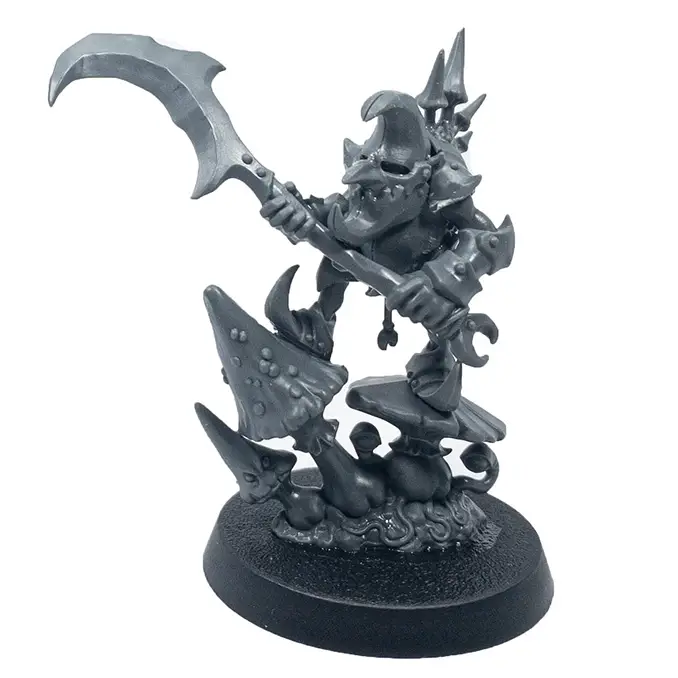 The Loonboss is quite a fun little figure: this heavily armoured little chap stands as proud atop his pile of mushrooms as the Lord-Aquilor does astride his mount. He's a fun model and fairly straightforward to build – but there is one sticking-point.
In fact, it's the opposite of a sticking point. It's the gap that runs down the middle of his head. You can clearly see it in the image above: a black seam right down the middle of his helmet. The odd thing is, this gap is apparently completely unavoidable – the instruction guide in the magazine even states that there voluntad (in no uncertain terms) be a gap there, and that you should fill it with a small amount of plastic glue.
That's all well and good – but we recommend you take a look at our How to fill Gaps & Seams on Miniatures guide before you do as you might find the method to be preferable.
Moving swiftly on, we come on to something rather exclusive: the Azyrite Fountain.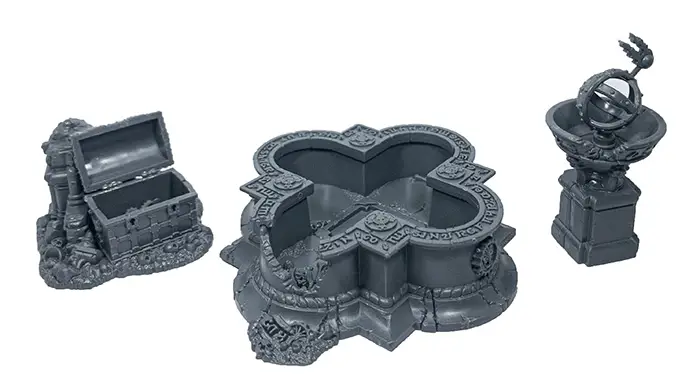 Now, as far as we're aware, this is a completely-new and currently-exclusive-to Stormbringer kit. We imagine it'll pop up as part of some Warcry terrain at some point, but for now the only place you can get this scenery kit is Issue 25 of Stormbringer. It's actually not a bad little sprue, either: these make wonderful objective markers – especially that treasure chest!
Lastly we have the Gutrippa Boss.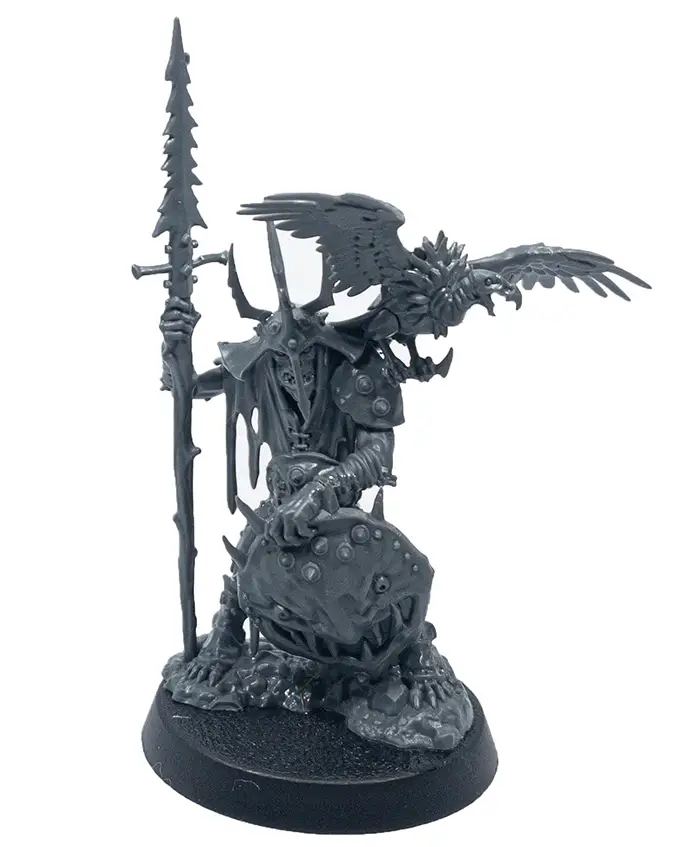 This chap is a subscriber exclusive, and was (as far as I was aware, at least!) only available as an in-store exclusive during 2022 and would have set you back £21 at the time. He doesn't come with any build instructions, but by your seventh Partworks delivery, I'm sure you can figure him out. Newer hobbyists might be put off by the absence of instructions, so if you're a little nervous to go in blind, perhaps set the sprue aside until you're feeling a bit more confident.
Pinturas y Herramientas
Delivery 7 comes with two new paints: Gryph-hound Orange and Khorne Red.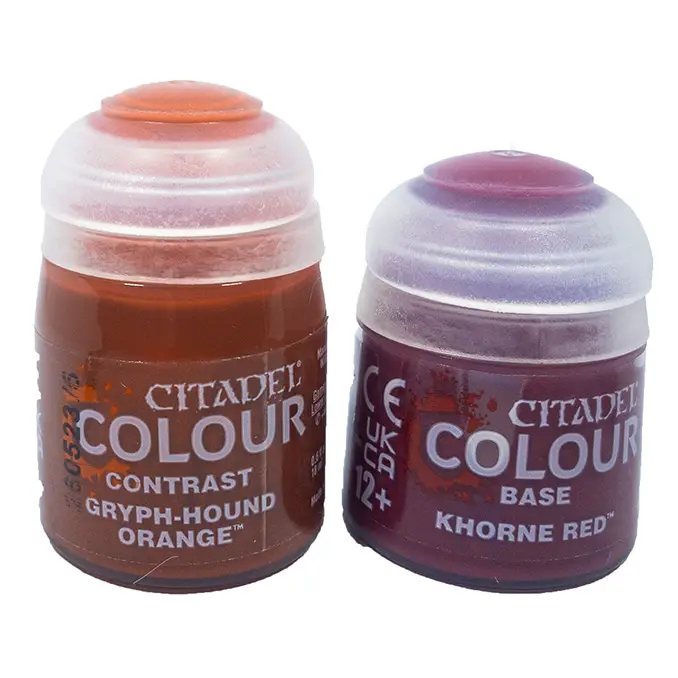 Whilst I can't claim to have ever used Gryph-hound Orange during my time as a painter, I've got through a couple of pots of Khorne Red. A deep, ruddy colour, it's perfect on any padded weapon handles, or being used as a basecoat for any really deep, fleshy, gorey parts of your miniatures.
Warhammer Age of Sigmar Stormbringer Delivery 7: Issues 23-26 Review – Price and Availability
Time for some tables!
| | | | |
| --- | --- | --- | --- |
| No problema. | Precio de emisión (GBP) | Valor total (GBP) | Ahorro total (GBP) |
| Número 23 | £ 8.99 | £ 27.50 | £18.51 |
| Número 24 | £ 8.99 | £ 19.00 | £10.01 |
| Número 25 | £ 8.99 | £30.00* | £21.01 |
| Número 26 | £ 8.99 | 7,00 £ | -£1.99 |
| TOTALES | £ 35.96 | £83.50 | £47.54 |
And once again for our friends in the US.
| | | | |
| --- | --- | --- | --- |
| No problema. | Precio de emisión (USD) | Valor total (USD) | Ahorros totales (USD) |
| Número 23 | $13.95 | $45.00 | $31.05 |
| Número 24 | $13.95 | $33.50 | $19.55 |
| Número 25 | $13.95 | $50.00* | $36.05 |
| Número 23 | $13.95 | $12.35 | -$1.60 |
| TOTALES | $55.80 | $140.85 | $85.05 |
*Based on Fane of Slaanesh, Magmic Battleforge, Great Mawpot, Skull Altar, Herd Stone, Charnel Throne etc. as the lowest-priced AoS scenery on the fewest sprues currently available.
Across the board, these are some difficult numbers to find fault with. Even with the loss on the paints (which are always a loss whenever they feature), we're looking at savings of over 50%. Consider as well, ye Premium Subscribers, these values with the £21/$35 that you need to add on to these savings values to account for your Gutrippa Boss – making the cash you keep in your pocket this month a tidy amount.
Warhammer Age of Sigmar Stormbringer Delivery 7: Issues 23-26 Review – Final Thoughts
The Good
The Bad
Nice collection of decent-value models
pinturas útiles
A few nice subscriber bits
buenos ahorros
Exclusive subscriber mini comes without instructions, which might put off more inexperienced collectors
Delivery 7 is another one that's quite hard to argue with. Sporting a nice selection of models and some hefty savings, this is definitely another month that ends on a big thumnvs-up from us here at FauxHammer.com. On the whole, Age of Sigmar: Stormbringer has thus far delivered month in, month out, with very few disappointments and hiccups along the way.
Though that may be about to change next month, given the contents of Issue 30.
Having built and painted somewhere in the region of 60 Hogbrot Slittaz, I'm not looking forward to receiving even more of these infernal little anklebiters next month. But that is future Rob's problem – and this month, we should all be basking in the glory of Delivery 7.
Haga clic en este enlace y compre sus cosas de hobby en Element Games para el Reino Unido y Europa para admitir FauxHammer.com - Use el código "FAUX2768"En la caja para obtener puntos de recompensa doble.




Nuestros afiliados / tiendas de hobby
Resumen
Crítico
Fecha de revisión
Artículo revisado
Warhammer Age of Sigmar Stormbringer Delivery 7: Issues 23-26 Review
Calificación del autor





nombre del producto
Warhammer Age of Sigmar Stormbringer Delivery 7: Issues 23-26 Review