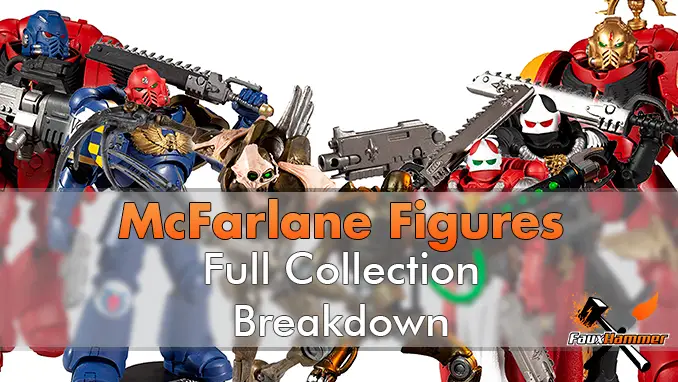 I seem to be getting into the swing of things with this site. It seems that the most popular articles are less of the "here's some news from somewhere else I threw my opinions on" and instead these collective articles helping people understand a particular series of releases. So here (since it's clearly ongoing) I'm going to do a full breakdown of the McFarlane Toys' Warhammer Collection. Hopefully, this stands the test of time and is a useful data repository to many of you out there.
CLICK AQUÍ PARA VER EL MEJOR KIT HOBBY QUE 2021 TIENE PARA OFRECER
Haga clic en este enlace y compre sus cosas de hobby en Element Games para el Reino Unido y Europa para admitir FauxHammer.com - Use el código "FAUX2768"En la caja para obtener puntos de recompensa doble.


Nuestros afiliados / tiendas de hobby
Apoye FauxHammer.com en Patreon
Me gusta, comenta, toca la campana y suscríbete
McFarlane Warhammer Figures
Hot on the heels of Taller de juegos's Bandai Space Marines. Gdubyas partnered up with Mcfarlane toys to create a line of Acton figures. These are far more affordable than the Bandai varients at 1/3rd the cost.
All models are dynamically poseable and feature multiple points of articulation. they also come with stands (though unfortunately not an equivalent size or the same shape as we get with our wee plastic models.
McFarlane Warhammer Figures – Artists Proof Variants
Several of the models (detailed below) come with Artists Prood variants – this essentially means it's the same as another model but is unpainted and delivered to you in primer (colour) plain grey plastic allowing you to add your own design as you see fit.
Though most of these are identical to an equivalent painted model, there are a couple with changes (essentially to de-faction) shown below.
When it comes to painting your models, the Artists proof versions matter very little. You can paint an already painted model just as easily.
McFarlane Warhammer Figures – Gold Label Collection
So What are the Warhammer McFarlane Gold Label figures?
As a separate line within the McFarlane ecosystem, they offer models under the branding – "Gold Label Collection". I could regurgitate all of Mcfarlane's mumbo-jumbo or you can just read it here.
It's billed to be a highly limited range of models spread amongst the existing lines. every so often an existing series may be accompanied by a Gold label model.
So what does this actually mean?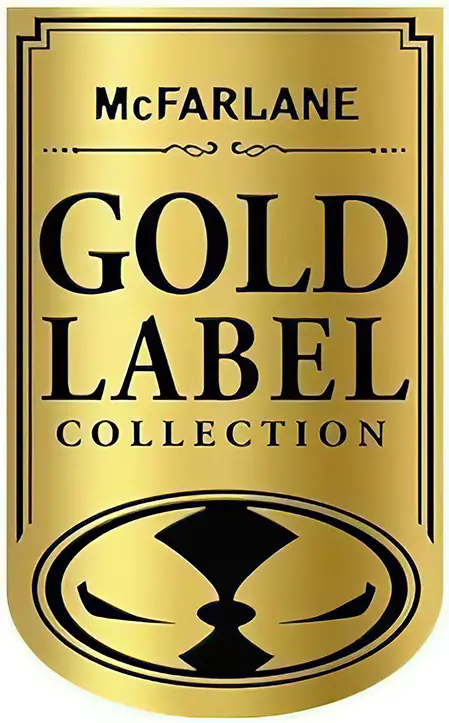 Well, as appears to be the case with the Warhammer models, not much…
As I walked into Warhammer Chesterfield last week, there were as many Gold Label Warhammer models available as there was everything else (on day of release).
Now to be fair, it may be the case that all those other models will be replenished and these Gold label ones won't. but so long as you know it's coming out, it doesn't seem difficult to just pre-order it. Walking into a Game (videogame store) in the Same town, I saw 3 Gold label Geralt of Rivia models on the shelf and that was one of the first Gold label models released.
They are no more expensive than the other models either.
In most lines, this Gold Label change is no more than a change in colourway for the figures.
But the box does come with a big shiny gold logo
McFarlane Warhammer Figures – Platinum Series
And now we're onto, What is the MdCarlane Platinum series?
Well this one actually is special…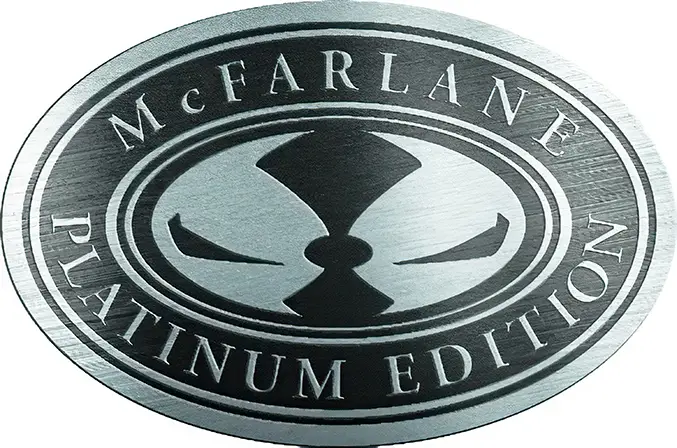 Firstly, this one actually is limited, but not only in availability, but also how you even get your hands on these models.
Mcfarlane Platinum series is a Special Edition Chase program. Chase manning you're meant to chase down the specific models. These figures aren't released in the traditional sense of the word. you can't go online and search for a Platinum edition of a specific model (unless you are buying second hand on eBay).
When it comes to getting these models, they are actually packed randomly by Mcfarlane when shipped out to retailers. So they will turn up online or at random shops if they just so happen to be shipped some. So if you order a specific model online or walk into a store, there a chance you could receive one or see one available for sale.
The box for these platinum models is identical to non-platinum, it even has the same barcode. the only difference is a small platinum sticker like the image above.
So Platinum chase is sort of like buying hundreds of bars of chocolate hoping to find a golden ticket. Except the bars are more expensive, there are more tickets and your prize is no more than the ticket itself.
So, whilst I kinda I like the idea behind this, it also baffles me.
As a collector. if I order a figure, I want that figure. annoyingly, the first platinum Warhammer figure is a Sister of battle. as before release, it was sold out everywhere for preorder, so you can't actually order it anymore. So if you get a platinum edition turn up, that's cool an all, but then you can't actually get the one you did want.
This programme is also subject to abuse and confusion. Sure most specialist toy stores probably get the newsletter from Mcfarlane explaining what this line is. But larger companies, how would they communicate this down to the staff.
Imagine a store like Forbidden Planet and the hundreds of product lines they sell. Someone in the warehouse gets a box of sisters in with a couple of these Platinum figures. The barcode is the same as the normal one, how many would think this was a stocking error and send them back to the warehouse.
How many smaller independent stores would see what these fetch on eBay and scalp them before they hit the shelves.
Imagine somebody who orders one of the normal models online and gets one. only to then complain to the company they bought it from for sending the wrong thing?
McFarlane doesn't even really do a very good job of explaining this programme on their website, they say there is a chase program, but explain nothing of this distribution method mentioned above.
So yay to those of you who ordered a model and got one you perhaps didn't want. Good luck getting the one you did want since this is now out of stock everywhere.
Is it just me that thinks this is a cool idea but also a bit daft?
McFarlane Warhammer Figures – Full Collection
Right so, below we detail the specific models you get in each wave of the Mcfarlane Series.
McFarlane Warhammer Figures – Wave 1
Aquí esta la Intersor de asalto ultramarino Primaris and his components. Please agree with me that you would have preferred a stand which is more in scale with the bases we are used to?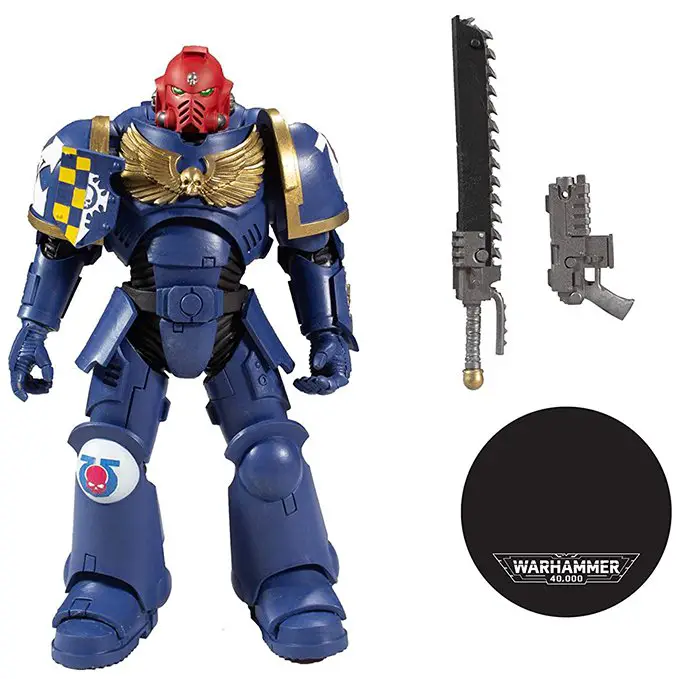 ¿Qué pasa con los terceros y Aquilas? (las alas del pecho). ¿Por qué nadie puede conseguir que coincidan con las dimensiones que ya tenemos? GW tiene el modelo 3d de un cofre de un marine espacial, solo úsalo. Esta es una parte del modelo que me desanima. ¿Por qué no podían simplemente hacerlo igual pero más grande?
¿Es una cosa de licencia?
Other than that the proportions of the marine look pretty spot on. Though the Pistol and the Chain Sword look a bit small they actually look good when he's holding them.
He looks fairly posable too even though he has fewer points of articulation than the Bandai version
The Necron Warrior comes with the new Gauss Flayer and a Scarab
I don't know about you, but I feel less inspired by Necron Sculpts in general, be they 7″ or 32mm, there's just not that much interesting detail on them.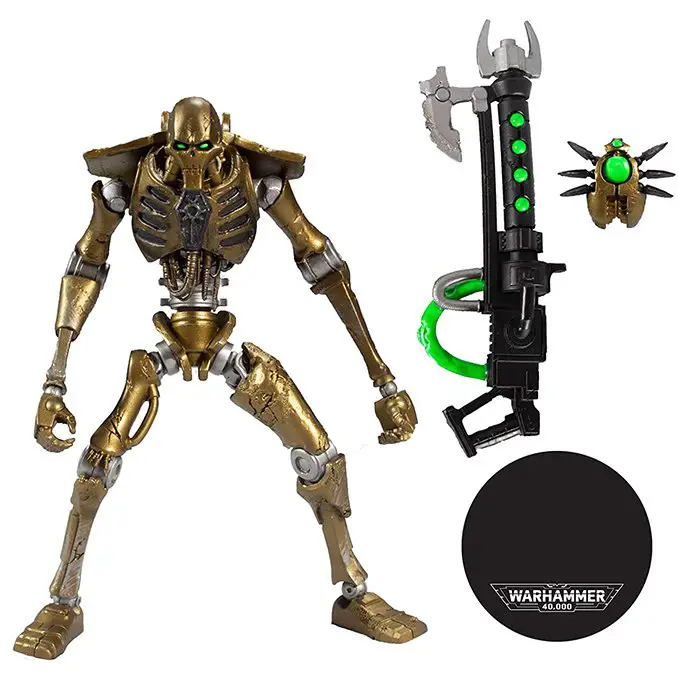 The Gauss Flayer looks like it has warped along the barrel, but this is something I'm used to with McFarlane Models as the plastic/resin is quite soft and bendy
As for posing, we've lost some dynamicism here when compared to the Primaris model. It looks like to can pose him with a narrow or wide stance, Gaus Flayer Pointing up or down. and turn the head a bit.
I admit, Necron just aren't my thing.
los Intercesor sin pintar will likely be the most popular of the whole range in Wave 1.
Again with the improperly proportioned Aquilla, not that I expected this to be different to the painted version – this is now standard going forward.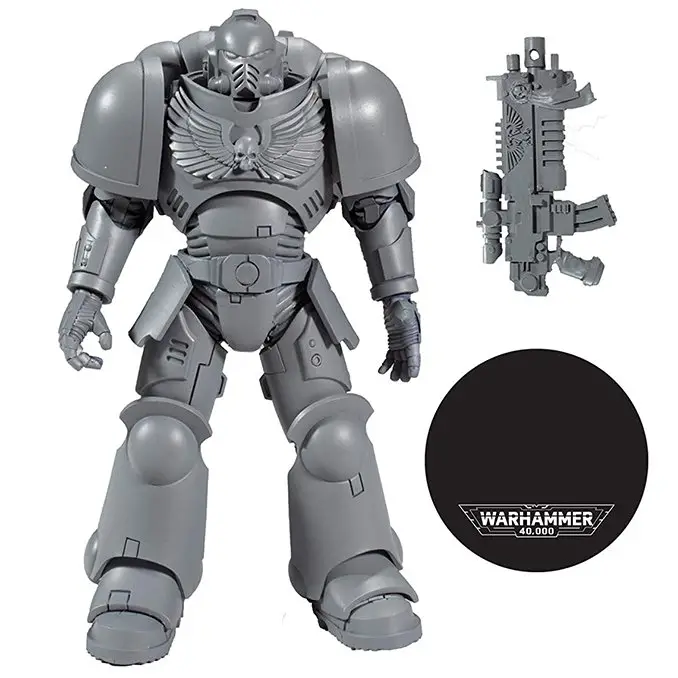 In my experience, McFarlane models do not come apart very easily so painting this chap could be tricky with parts flailing about. but there are numerous guides online that will help you out.
Again these guys are pretty posable and even parts like the toes will angle up for a dynamic pose.
Oye Siege Studios! ¿Podemos tener una categoría de Figura de acción en la próxima? años IronSkull? (Ayúdame a todos, ve y pídeles que lo hagan)
McFarlane Warhammer Figures – Wave 2
The sculpt of this model has gone full Blood Angel – with about as much effort put in as GW put into their faction-specific upgrade sprues.
The Aquilla appropriately has the blood drop icon specific to this chapter, the Left Shoulder pad has a sculpted Faction Logo and this guy also has a blood drop relic hanging from his belt.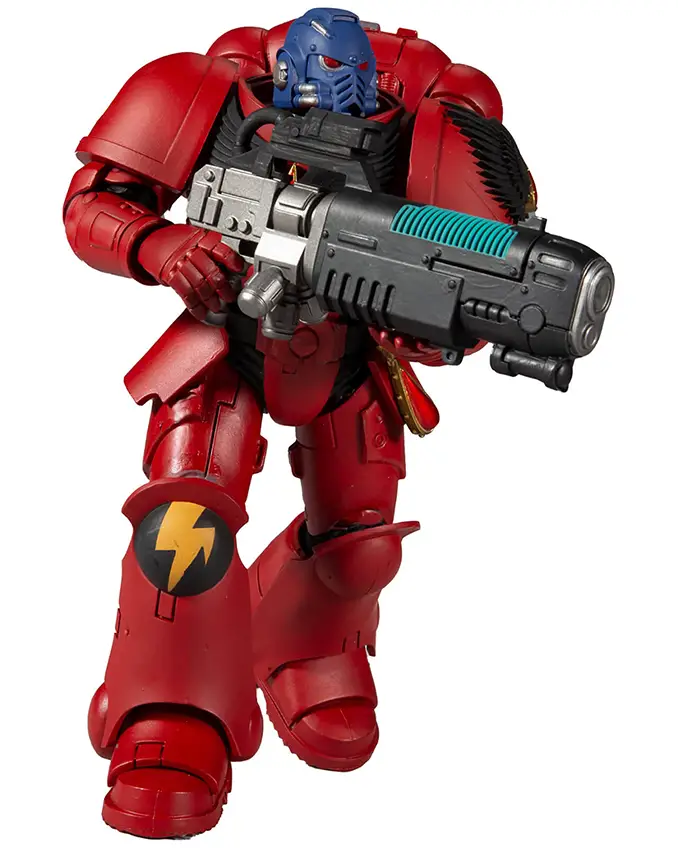 Viene equipado con un rifle de plasma como se esperaba de un Hellblaster.
Otro cambio para este modelo en comparación con los marines de la serie anterior es la escultura de la cabeza, que para mí parece un poco fuera de lugar. Pensamientos
Finally, the body now has sculpted battle damage on the surface, on the knees at least. It's hard to see in the image above as they are sculpted in but not accented with any paint to emphasize the armour distress. But you can see it more clearly on the Artist's Proof version below.
Identical to the model above in regard to loadout, but this model removes the Blood Angel Insignia from the shoulder pad along with replacing the chest Aquila with the one from the Wave 1 Ultramarine sculpt.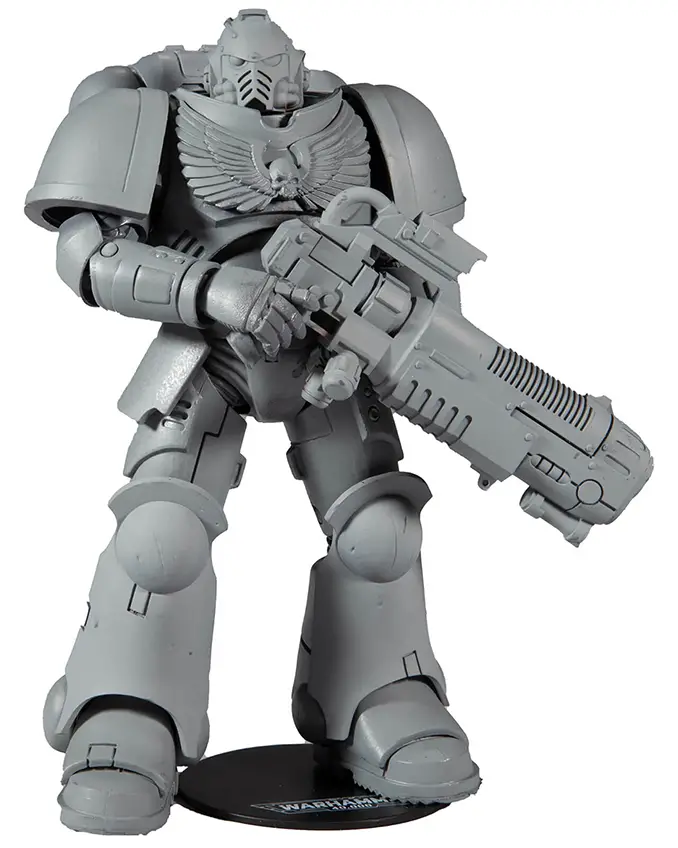 También se ha eliminado la reliquia de la gota de sangre.
Awww yes! This is awesome. An incredibly detailed sculpt. Remember just over a year or so ago when we were crying out for Plastic Sisters, and here they are now represented in cast resiny stuff and standing 7″ tall! awesome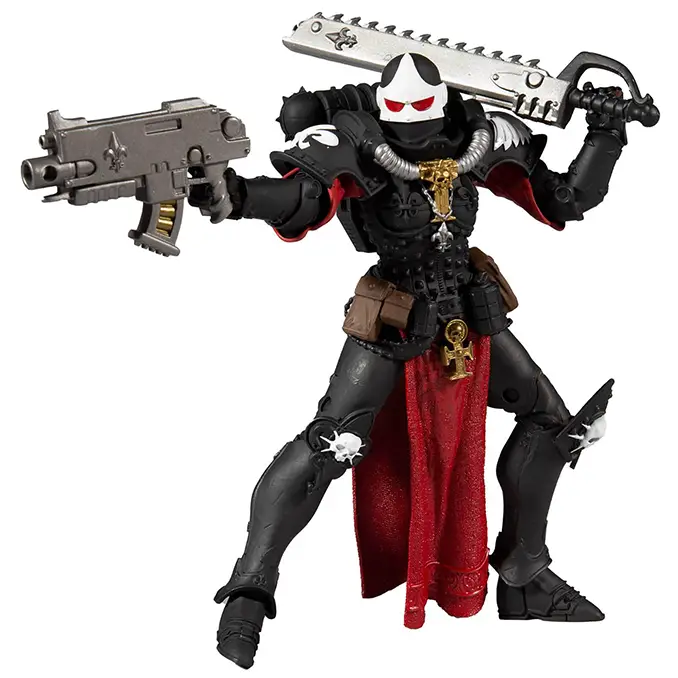 I have to admit though, the paint job on this leaves much to be desired. The Mcfarlane series I know from old Spawn figures would paint a lot more detail into the models. But here it's all flat colour and when we are looking at a black model. It comes across a bit meh. As the colour hides a lot of its detail.
Este modelo viene con un bólter clásico y una espada de cadena.
A diferencia del ángel de sangre, no puedo identificar ninguna diferencia de escultura con esta prueba de artista. Por lo tanto, no importa cuál compre, simplemente imprima y píntelo como desee. Las versiones Artist Proof parecen agotarse más rápido, por razones obvias.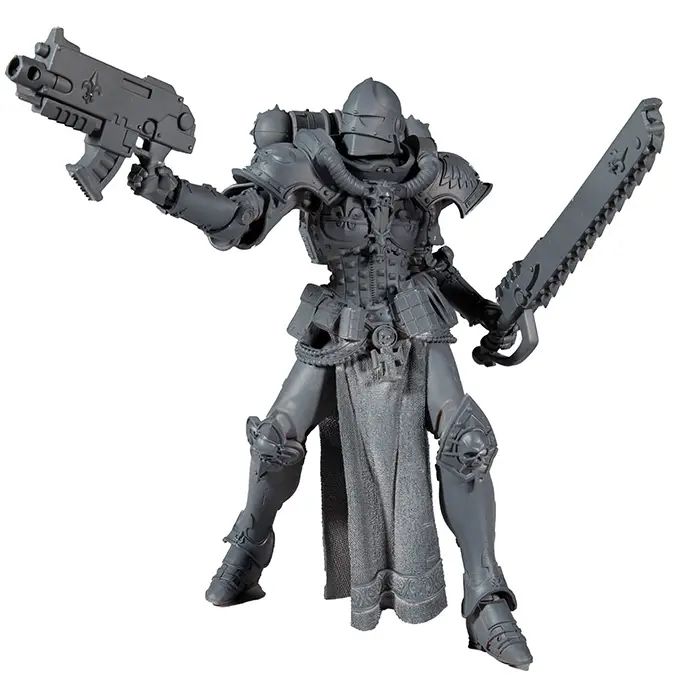 The same happened with the Pop Figures, Everyone was flocking to buy the Paint your Own Grey Ultramarine Pop, even paying over the odds on eBay. Yet the Ultramarine Model was identical…
Debido al Tabbard, esta hermana no se ve tan posable como el Ultramarine. De hecho, la única diferencia real entre las dos tomas promocionales es que una apunta el Bolter hacia arriba y la otra apunta hacia abajo.
Creo que realmente me hubiera gustado ver esto con una cabeza intercambiable, una con una cara real. Pero bueno, ¿tal vez soy solo yo?
It's probably the pose here used in the marketing material but this just doesn't look so great to me. The pose makes it very top-heavy. The colours just don't balance well, that gold just comes across as too much gold.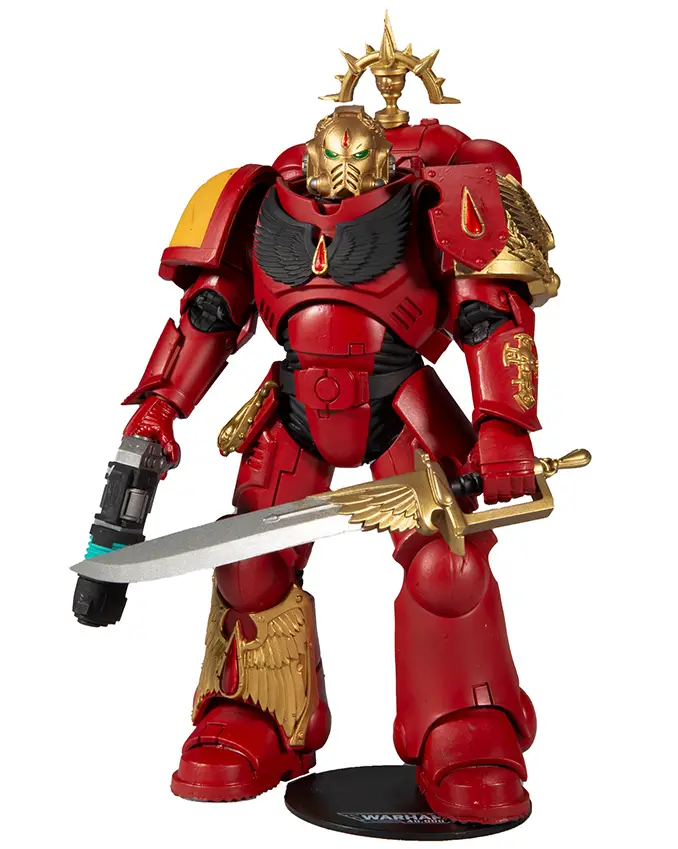 Los cambios notables en este modelo frente a los demás es, en primer lugar, el equipamiento, tenemos una pistola de plasma y una espada de poder.
El Aquilla coincide con el Hellblaster anterior. La reliquia Blood Drop ha cambiado y también ha cambiado de bando.
The Left Shoulderpad features more ornamentation and is fully gold whilst featuring a campaign emblem sheild.
There is some cool ornamentation on the right.
El casco ahora es dorado y tiene un laurel esculpido y un emblema de gota de sangre (sí, chicos, les gustan las gotas de sangre, lo entendemos)
La mochila también contiene un adorno de campaña extraíble.
In line with the body sculpt from Wave 2 is the body of the sculpt now has some physical battle damage on its surface, which is a nice change.
Yes, that's a mouthful. for more on the Platinum Collection see the top of this article in case you skipped it.
So, what's the difference between this Platinum Sister and the other variants? Well, there are 2 huge differences that will (may) make you want it!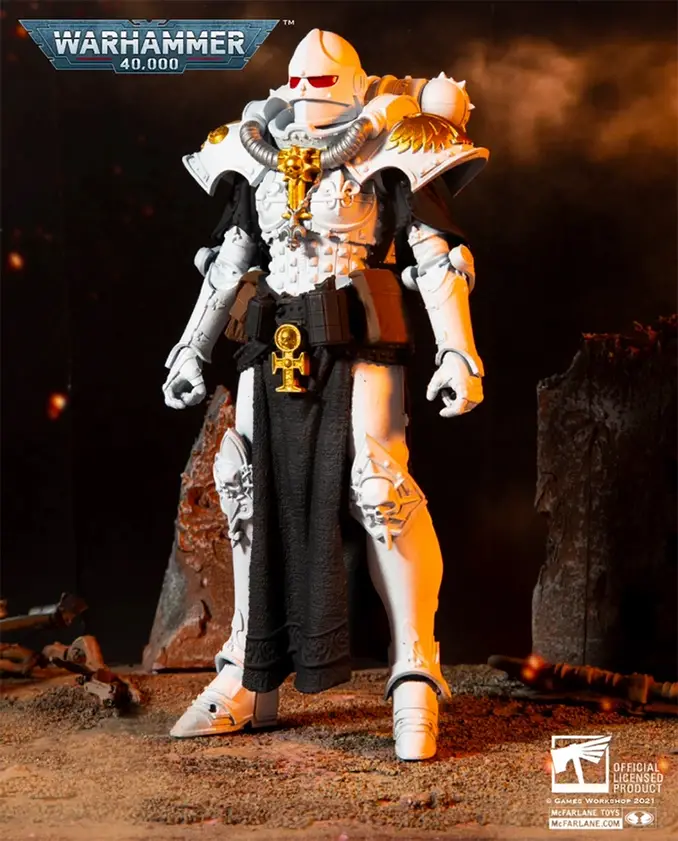 En lugar de ser negro y rojo, o rojo y blanco, o sin pintar ... Este es ... ¡Blanco y negro!
Este ... .. tiene ... .. una pequeña pegatina plateada en la caja que dice "McFarlane Platinum Collection"
Esa es literalmente la única diferencia en este recuadro frente al McFarlane Adepta Sororitas Battle Sister. En serio, incluso el código de barras es el mismo. Y ahora llega el momento en el que explico cómo se puede conseguir esta variante.
Me pregunto cuántas personas obtuvieron este y lo enviaron de vuelta diciendo que se equivocaron antes de darse cuenta de cuánto podrían haberse ahorrado vendiéndolo en eBay. Una vez más, no es como si el propio sitio web de Mcfarlane se hubiera molestado siquiera en explicar qué es esto. A menos que seas un fan acérrimo de Warhammer y McFarlane (o no hayas leído esta publicación), no sabrás qué es esto.
McFarlane Warhammer Figures – Wave 3
100% Idéntico a los lanzamientos anteriores en cuanto a escultura y accesorios, pero esta vez en Rojo y Blanco.
This is the Mcfarlane/Taller de juegos equivalent of issuing Nike Air Force Ones in a new colourway. If you like it, buy it. But despite all the Sisters fans out there, are there enough people into The Order of the Bloody Rose to make this one worthwhile?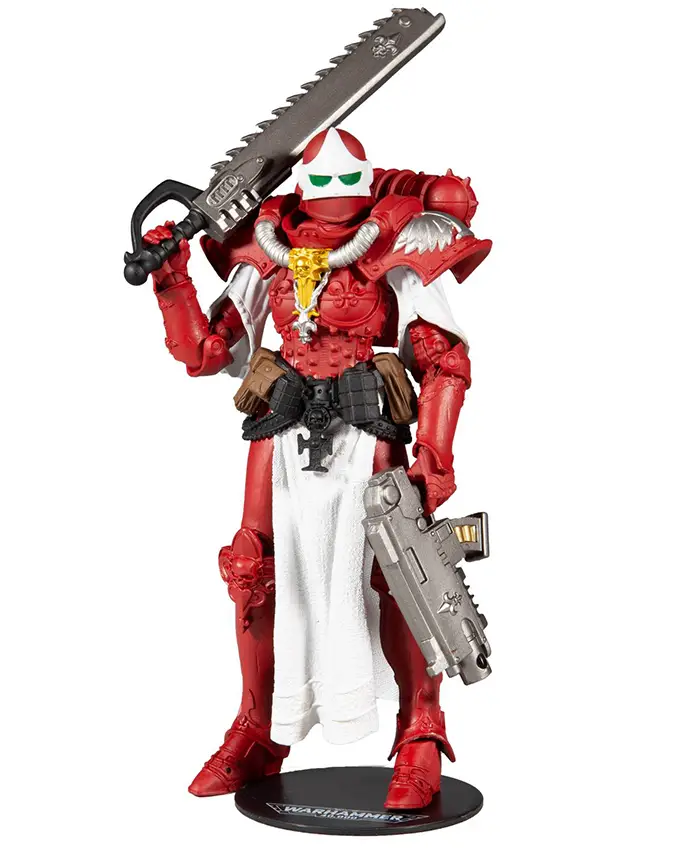 Yo diría que vote con sus billeteras, pero mi preocupación es que si las ventas se agotan para estas cifras debido a una decisión de marketing tonta, ¿se tomará como: nadie quiere figuras de acción de GW?
Porque los queremos. realmente realmente lo hacemos. Simplemente mezcle una nueva escultura de vez en cuando.
¿Por qué no hacernos una hermana con rostro? Es una de las partes más icónicas de ese ejército. Mujeres luchadoras sin casco. Sabemos que puedes hacer caras McFarlane
Con tantas facciones disponibles en el ecosistema de 40k, estoy seguro de que absolutamente nadie estaba mirando a este rango gritando, queremos más figuras de acción de Necron.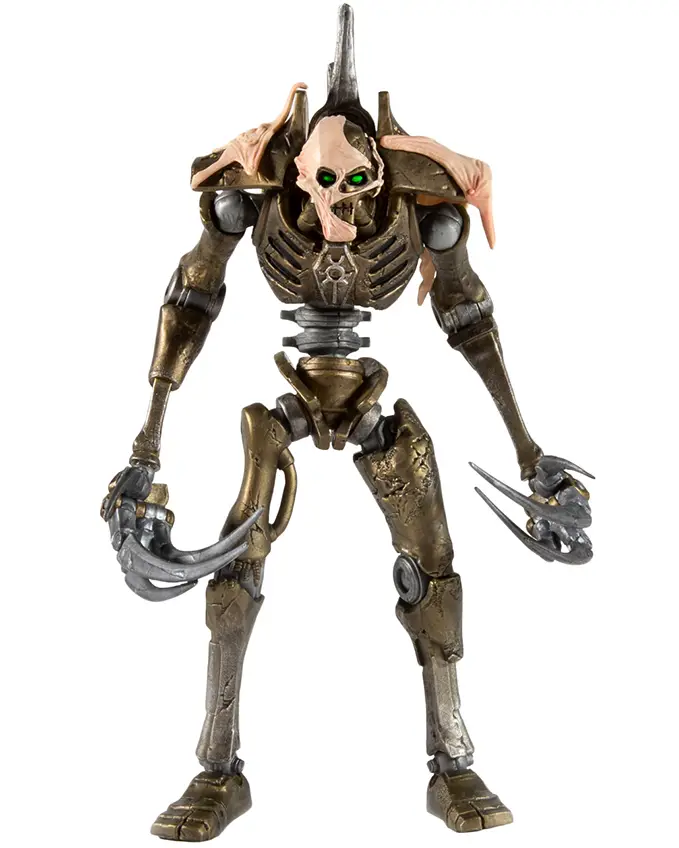 Sí, sé que desde que se lanzó Indomitus, Necron son los chicos de póster terciario de GW en este momento, pero cuando se lanzó esta línea, esperaba un poco más de alcance que esto.
¿Y si vamos a conseguir más modelos de Necrones, desollados? ¿De Verdad?
Este modelo en particular ni siquiera tiene la grotesca y lúgubre oscuridad del nuevos desollados de Pariah Nexus
It's more like the classic GW Flayed One sculpts which were, not great… It's a beaten up Necron with some flesh lazily hanging off the face and shoulders.
The Body sculpt is identical to the model used in Series 1. Just with the hands swapped out, the skin bits added and a spikey spine. All of the surface battle damage is identical to last years model.
Bizarrely the Artists proof version of a flayed one is actually a different sculpt to the painted version.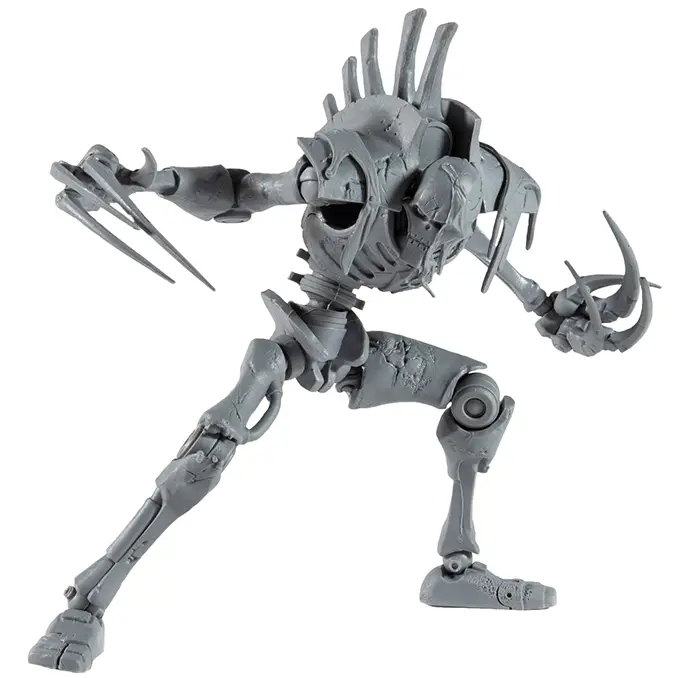 Y este, aunque evoca a Riff Raff del programa The Rocky Horror Picture, en realidad se ve mejor que la versión pintada y más al estilo Flayed One.
My heartfelt opinion at this stage is "meh", but again, I'm going to buy them all anyway and so are many of you.
McFarlane Warhammer Figures – Wave 4
Warhammer Mcfarlane Primaris Reiver
Absolutamente asombroso que estemos obteniendo estos. Han sido algunos de mis modelos favoritos desde los exploradores de los Marines Espaciales.
No puedo verlos haciendo esto sin un cambio significativo en la escultura, ya que estos tipos tienen una armadura Phobos en lugar de la armadura MkX de un Primaris Marine.
My hope is this will have a head, with a face and hair. but I expect this will be the more skull-like helmet.
Still, great having this option for painting and with an unpainted Artists Proof version available makes it extra wantable
Warhammer Mcfarlane Genestealer
Ooh really? When was the last time Taller de juegos lanzó un nuevo modelo de Tyranid? (Los cultos de Genestealer no cuentan)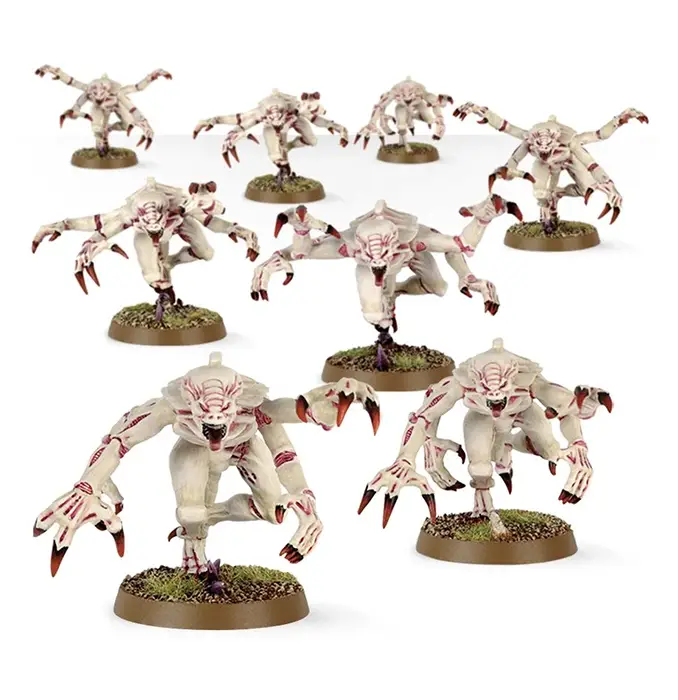 Estoy totalmente a favor de los Tiránidos. Como la única raza no humanoide en 40k, tienen un lugar bienvenido.
Realmente espero que la combinación de colores sea la de los clásicos Stealers, morado y rosa. Vea el arte de la caja de Space Hulk (el mejor juego de todos los tiempos) para más detalles.
Pero incluso si no es así, la versión de prueba de artistas sin pintar nos permitirá pintar de la forma que queramos.
Warhammer Mcfarlane Raven Guard Space Marine
Interesting. Though I would have expected Dark Angels, Space Wolves, Imperial Fists or Salamanders first.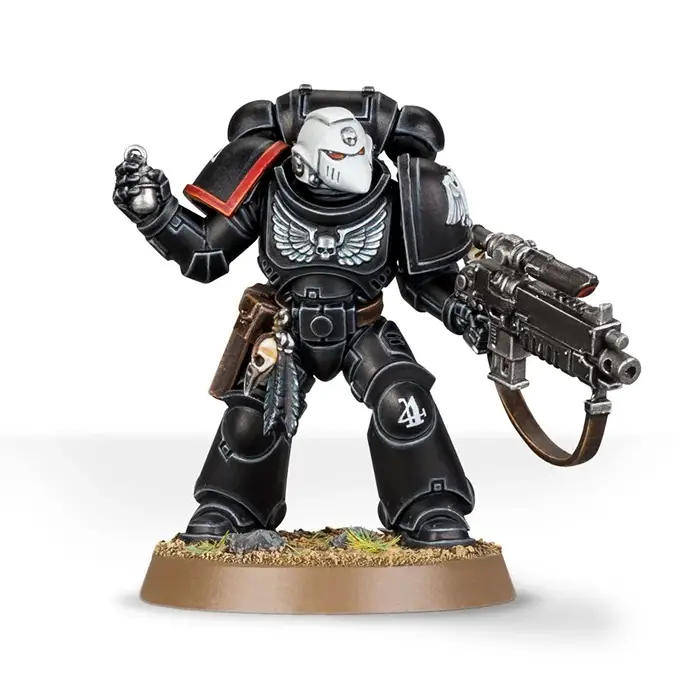 Cuando pienso en lo que es específico de Ravenuard, pienso en Cascos puntiagudos, Plumas y Mochilas de salto. Solo podemos esperar. Casi espero que esto sea poco más que un cambio de esquema de color de un modelo existente.
No hay indicios de si esto se basará en Primaris Sculpt o en el nuevo Reiver Sculpt. Como tiene una versión de prueba de artistas disponible, indica que al menos parte de esta escultura es diferente a las versiones anteriores.
Warhammer Mcfarlane Big Mek
A medida que nos adentramos en estos últimos 3 modelos. En primer lugar, "YAY ORKS", pero también, tenga en cuenta que Big Mek y Meganobz pueden fabricarse con el mismo kit cuando compra el conjunto de 3 modelos de GW.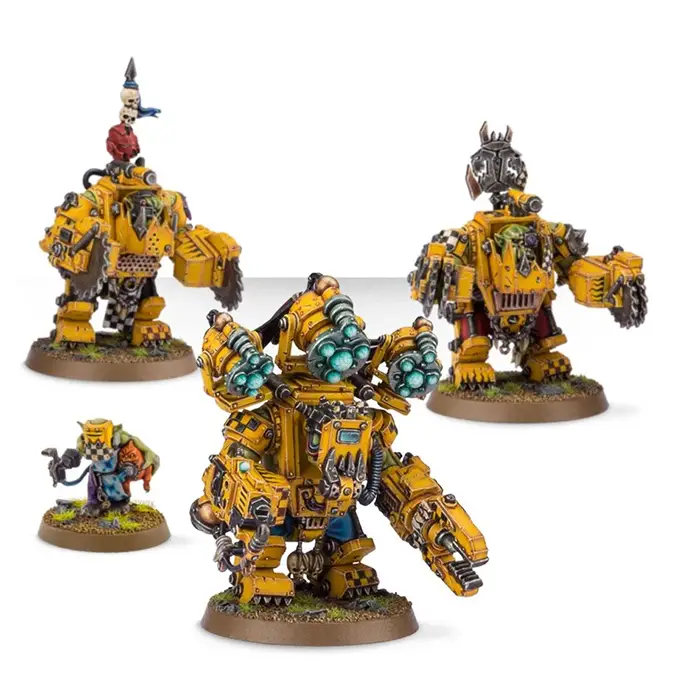 Arriba se muestran los 3 modelos Big Mek anunciados por GW. Este modelo de Mcfarlane también viene con una variante a prueba de artistas disponible. Por lo tanto, es, como mínimo, una escultura diferente a los modelos a continuación.
Lo que parece es que cualquiera lo adivine, pero sospecho que la mayoría del modelo será el mismo, solo que con algunos peros adicionales aquí y allá.
Como esto está clasificado como "Megafig", debería tener algo de volumen (léase: gastos)
Warhammer Mcfarlane Ork Meganob con sierra circular
A continuación se muestra (como en el sitio web de GW) un modelo Big Mek. pero este fue el único que exhibieron con una sierra circular, así que usé esta foto.
Nuevamente, espero que esto sea la mayoría; y el mismo esculpido que los modelos de arriba y de abajo. pero con otra mano.
Si bien esto también está clasificado por McFarlane como Megafig, no hay una variante de prueba de artistas para este. sugiriendo además que la variación entre este y los otros modelos no es tan grande.
Warhammer Mcfarlane Ork Meganob con Shoota
Finalmente, y se mostró como un Meganob (como tal, la foto que le corté a GW es este tipo con una gran garra y shoota.
Este modelo Megafig tiene una variante a prueba de artistas en camino, mi esperanza es que nos brinde las opciones de armas disponibles para los dos modelos pintados de Meganobz lanzados. Aunque para ser justos, nada nos impide pintar las versiones ya pintadas. Estoy seguro de que todos tenemos una cartilla después de todo.
CLICK AQUÍ PARA VER EL MEJOR KIT HOBBY QUE 2021 TIENE PARA OFRECER
Haga clic en este enlace y compre sus cosas de hobby en Element Games para el Reino Unido y Europa para admitir FauxHammer.com - Use el código "FAUX2768"En la caja para obtener puntos de recompensa doble.


Nuestros afiliados / tiendas de hobby
Apoye FauxHammer.com en Patreon
Me gusta, comenta, toca la campana y suscríbete
¿Qué te pareció este artículo? Por favor, háganos saber en los comentarios.
Si le gusta lo que estamos haciendo aquí, realmente podría ayudar a fomentar más contenido con un recurso compartido en cualquier plataforma de redes sociales.
Haga clic en los enlaces para compartir en la parte inferior de esta pantalla (o en la izquierda para computadoras y tabletas)
¿Quieres mantenerte actualizado con el blog? Puede suscribirse en la barra lateral para RSS o por correo electrónico a continuación
(La barra lateral está debajo del artículo sobre dispositivos móviles)