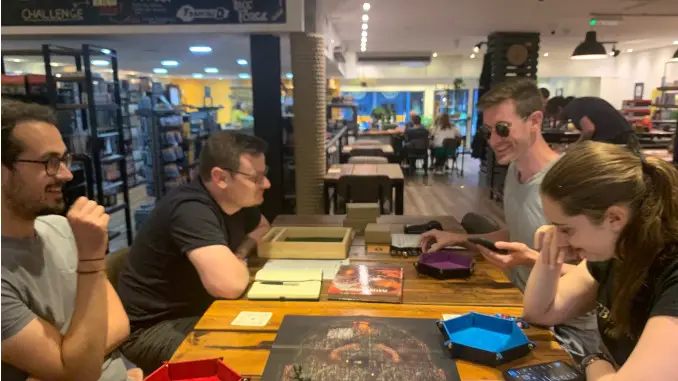 Unsere Gruppe unerschrockener D&Ders setzt ihre Suche nach Ruhm und Reichtum fort. Während die Lich-Kaiserin may have been defeated, other threats linger – and these ones have a taste for flesh and blood. What trials await both them and our Dungeon Master in our latest Epic Encounters How to Play? How easy is the set to use? And most of all, is it actually any fun? Read on to find out.
How to Play Epic Encounters: Hive of the Ghoul-kin – Introduction
We're back for another session of Dungeons and Dragons with the help of one of the latest Steamforged Games Epic Encounters box.
D&D can be a tough game to get into. There's a lot to it, and the scope and breadth of its system leaves would-be players at the whims of a thousand rulebooks and unsure where exactly to start their journey. Donning the mantle of Dungeon Master/Game Master, however, is an infinitely more daunting prospect – even the most experienced D&Der.
As such, products like Steamforged Games' Epic Encounters sets take some of the legwork out of both running and playing Dungeons and Dragons.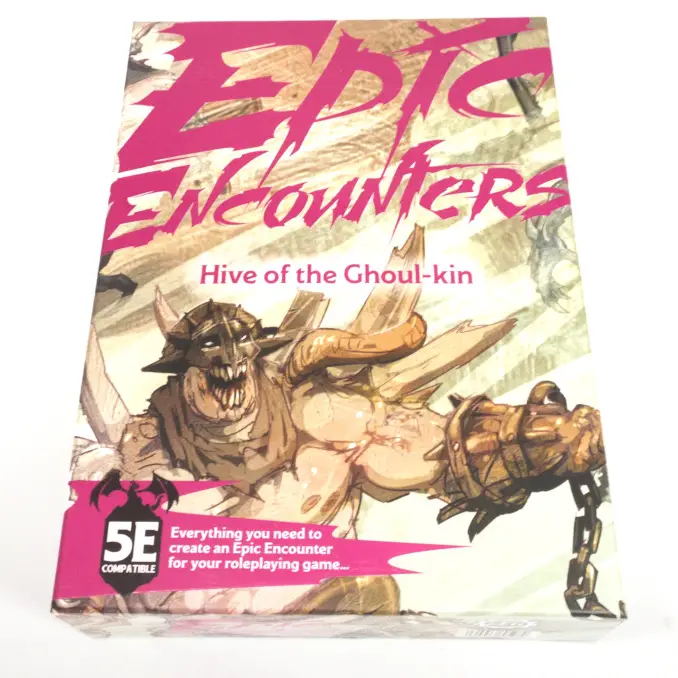 Designed to be an encounter in a box, SFG's Epic Encounters come in one of two flavours: Warband boxes, which come equipped with a number of different figures for larger, pack-style encounters, and Boss boxes, for dramatic showdowns against monstrous, er, monsters.
Today, we've re-assembled our Dungeons and Dragons players to have a look at SFG's latest Warband box. Having escaped the Arena der untoten Horde und stellten sich ihrem ersten wirklich unbezwingbaren Feind auf der Spitze Turm der Lichkaiserin, our players' next encounter will take place within the Hive of the Ghoul-kin.
If you haven't already done so, make sure you check out our full close-up review of the contents of this box in our Hive of the Ghoul-kin Rezension.
How to Play Epic Encounters: Hive of the Ghoul-kin – The Team
You've met them once before already, fumbling their way from the Arena of the Undead Horde to the Tower of the Lich Empress, but here they are again!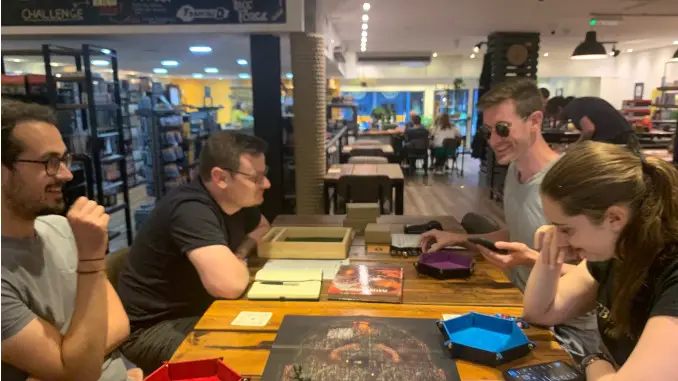 So, from left to right, we have Rich the Half-Elf Wizard, Ollie the Dwarf Barbarian, Dave the Wood Elf Druid (who would like everyone to know he doesn't normally wear sunnies indoors, he'd left his regular glasses at home and only has these!) and Lizzie the Aaracockra Rogue*.
As ever, the session will be organised and run by FauxHammer's own Rob…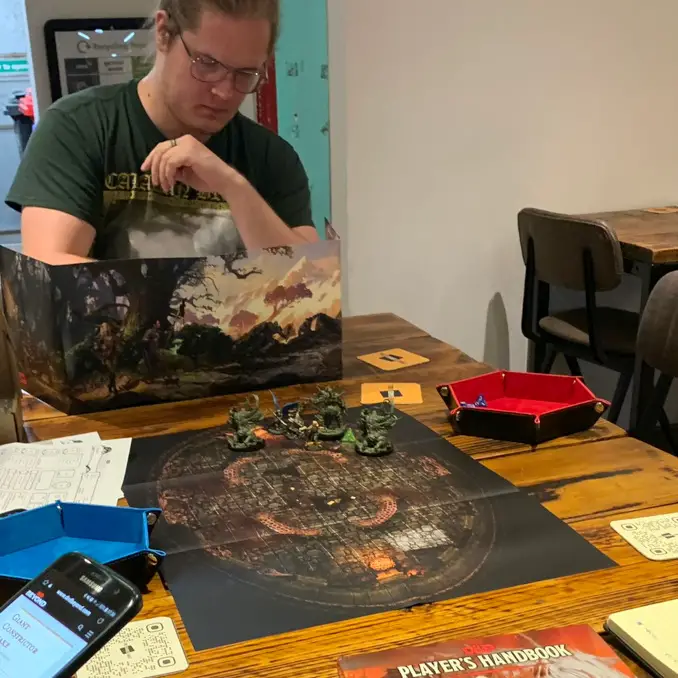 …who verzweifelt benötigt einen größeren DM-Bildschirm.
Since last time, we've also outfitted our D&Ders with their own custom minis, courtesy of Hero Forge benutzerdefinierte Miniaturen.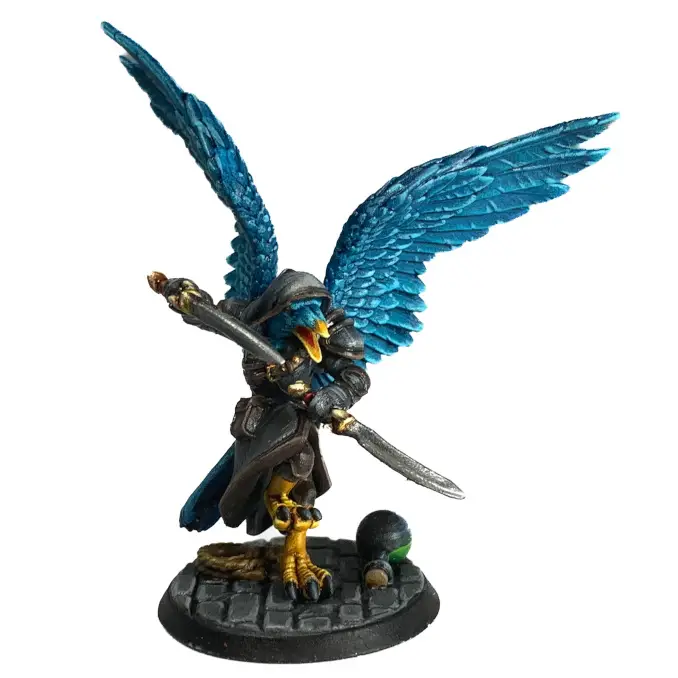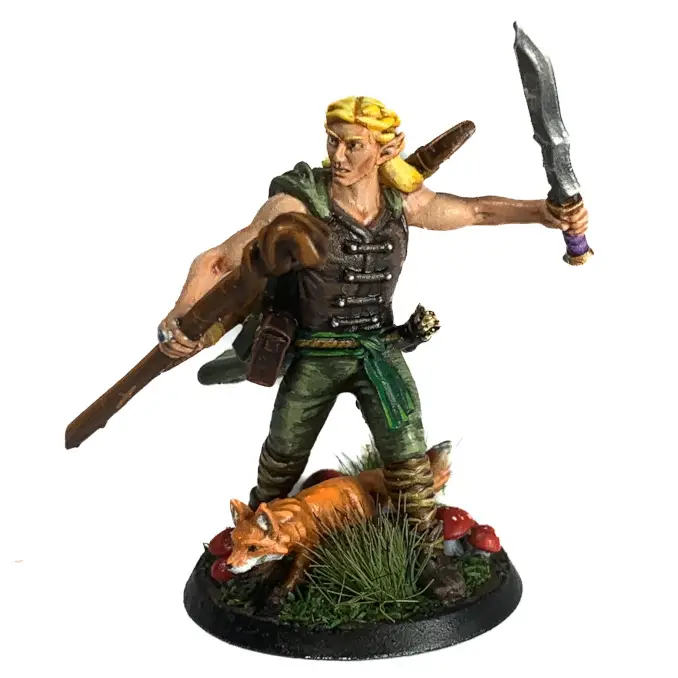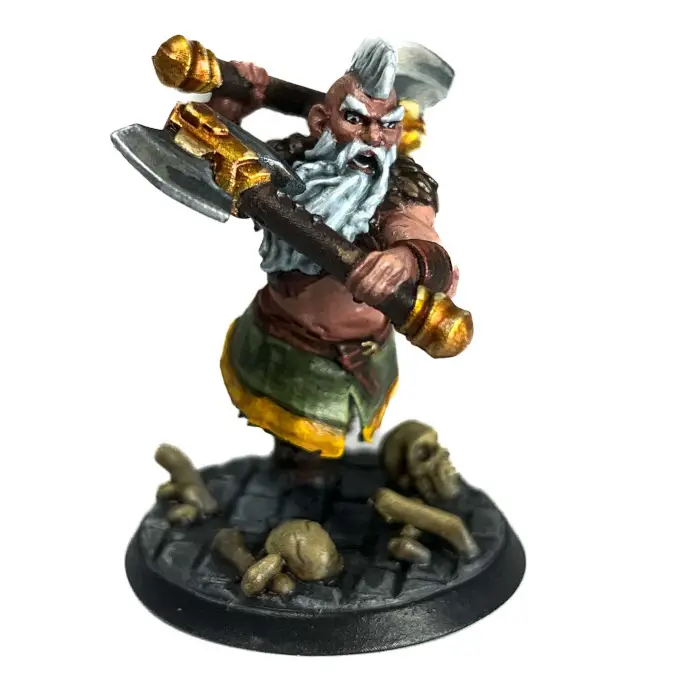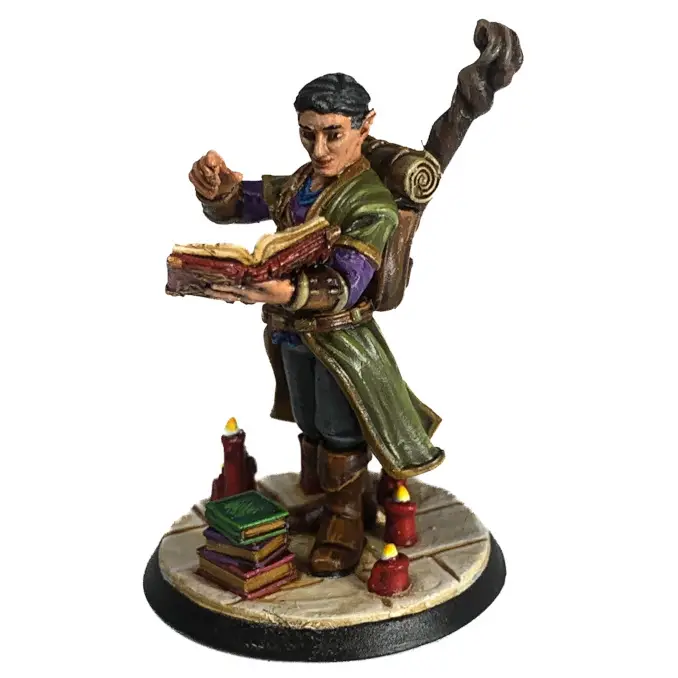 These were all 3D printed by Ross using his Photon Ultra and designed and painted by Rob using Citadel, Monument Hobbies, and Scale 75 paints (aside from Dave's druid, which he designed himself!).
*Zu beachten ist, dass Lizzie seit der letzten Sitzung ihren Aaracokra-Druiden in einen Aaracokra-Schurken verwandelt hat, um eine bessere Verteilung der Klassen in der Gruppe zu erreichen.
How to Play Epic Encounters: Hive of the Ghoul-kin – The Venue
As ever, we're back at The Games Table in Norwich for this week's adventure.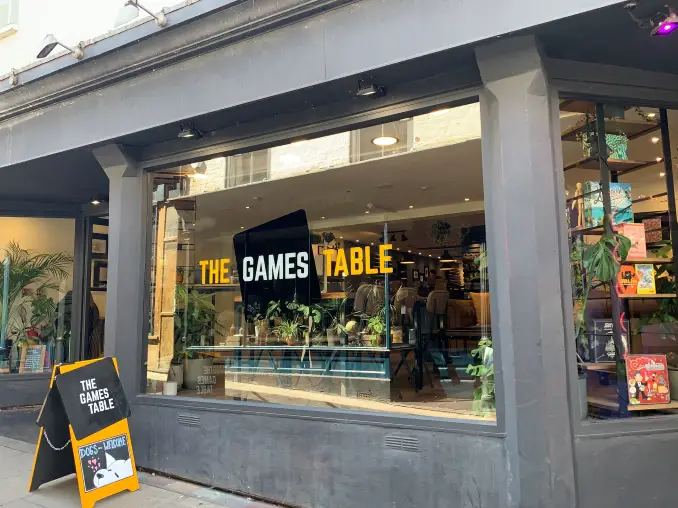 We could sing the praises about this place to the highest of heavens (and we frequently do), but today we'll suggest you head over to ihre Facebook-Seite and have a look through their recent posts and pictures for a good sense of what they're doing.
Wenn Sie in der Nähe von Norwich wohnen, ist The Games Table auf jeden Fall eine Reise wert. Sollten Sie von weiter her kommen, aber zu Besuch kommen, kommen Sie auf jeden Fall vorbei!
How to Play Epic Encounters: Hive of the Ghoul-kin – Playtesting
Jede D&D-Session hat zwei Seiten: den Aufbau und das Spielen. Beide erfordern sehr unterschiedliche Dinge von einer D&D-Gruppe und haben daher sehr unterschiedliche Anforderungen an alle zugehörigen Produkte. Daher sollten Sie sich mit den verschiedenen Teilen dieses Kastens vertraut machen, bevor Sie weiterlesen. Sie können dies tun, indem Sie einen Blick auf unsere werfen Hive of the Ghoul-kin Rezension.
Der erste Teil, das Setup, wird vom DM/GM erledigt. Daher müssen alle Ressourcen für sie einfach in ihre Spiele zu implementieren sein. Der zweite Teil, das eigentliche Spielen der Session, muss für den DM/GM einfach zu handhaben und vor Ort anzupassen sein und den Spielern auch jede Menge Spaß bereiten. Ob eine Sitzung Spaß macht oder nicht, hängt weitgehend davon ab, wie ein DM/GM sein Material und seine Ressourcen einsetzen kann, also schließt sich der Kreis wieder zu diesem ersten Punkt.
Also, wie messen sich die Ressourcen in der Hive of the Ghoul-kin-Box?
Playtesting – Set Up
If you're a DM/GM, you'll likely know that setting up for your D&D session comes in two parts.
First, there's the pre-session bit, where you make sure you've got everything you need to run your session ahead of time. Whether you do this five days before your session and spend hours and hours doing it, or you quickly glance over your source material five minutes beforehand depends entirely on your style.
Next, there's the on-the-day stuff: laying out maps, reading your miniatures, making sure you've got all your resources sequestered firmly away from your players' eyes behind your DM screen, and so on. We'll have a closer look at what Epic Encounters: Hive of the Ghoul-kin does for both these steps now.
I. Vorsitzung
Ein großer Teil jeder Dungeons and Dragons-Sitzung findet oft statt, bevor sich alle treffen und mit dem Würfeln beginnen. Der Dungeon Master oder Game Master, je nachdem, was Ihr bevorzugter Titel ist (im Folgenden DM/GM), muss sich zumindest ein wenig vorbereiten, bevor die Sitzung beginnt.
Depending on how you like to run your session will determine how you use the book. For those DMs/GMs who are comfortable turning up and ad-libbing the encounter, the Campaign Book has all the basic info you need. There are plenty of notes on setting, guides on using the maps in the box, and all the stats you need for the enemies. You'll find it easy to get from one part of the encounter to the next using just the info in the book. You could rock up to game night having glanced over the Campaign Book once and be ready to go with no prior planning necessary.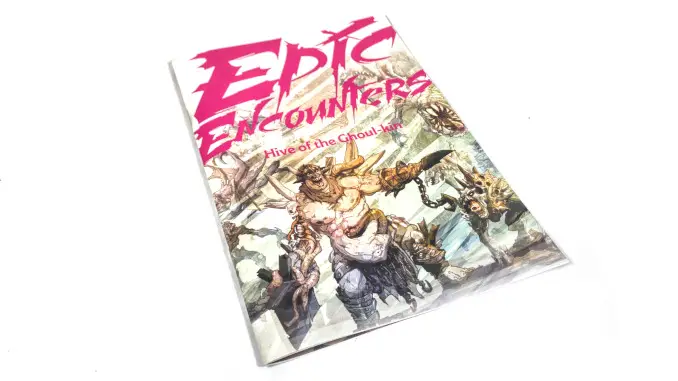 If, however, you're a bit more pedantisch of a perfectionist like I am, you'll likely want to have plenty of narrative fluff and other failsafes put in place in order to ensure your session goes off without a hitch. As such, I prepared a few sheets of notes to take with me, including some expanded loot (which on the day the party almost entirely missed all of). I also really wanted to give my players plenty of opportunities to really engage with their characters and build their personalities, which is, perhaps, the one thing that the Hive of the Ghoul-kin Epic Encounter doesn't facilitate so well.
But that's not necessarily a problem. Because the Campaign Book is so modular, it's very easy to fit in other stuff around what is already written – which is what I was able to do, facilitating travel and exploration elements before arrival at the encounter. It's pretty much a case of just plugging in the Campaign Book when you want it and unplugging it when you're done with it. Looking over the notes I wrote, I have a few sides of my own writing, and then just a note to "use the Campaign Book from pages X to Y for this bit".
II. An dem Tag
Da das Hive of the Ghoul-kin-Set mit allen Karten und Miniaturen geliefert wird, die Sie für Ihre Begegnung benötigen, müssen Sie beim Einrichten am Tag nur daran denken, die Schachtel zu packen und die Karte und die Minis im richtigen Moment herauszunehmen .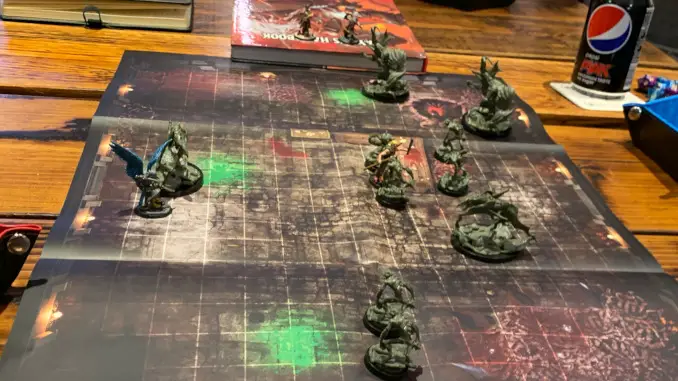 That the campaign booklet is quite small and slimline means it is easily tucked behind your DM screen, and can easily be kept open alongside your other notes. In addition to this, as we noted in our full product review, the Hive of the Ghoul-kin's packaging is excellent: the box isn't too large, and the clever packaging makes certain that everything is both safely stored yet easily accessible.
Playtesting – Playing the Encounter
Nachdem die vorläufigen Vorbereitungen für die Begegnung abgeschlossen waren und unsere D&Ders alle anwesend und abgerechnet waren, konnten wir die Sitzung beginnen und einige Dungeons and Dragons spielen. Wie würde die Sitzung verlaufen und was würden unsere Spieler von den Produkten halten?
I. Verlassen des Turms der Lichkaiserin und Betreten des Schwarms der Ghul-Verwandten
In order to ensure that our players had a sense of continuation from the last Epic Encounter they played – which was Turm der Lichkaiserin – we were keen to create a continuing story that took them from the setting we had established during the last session and on to the Hive of the Ghoul-kin.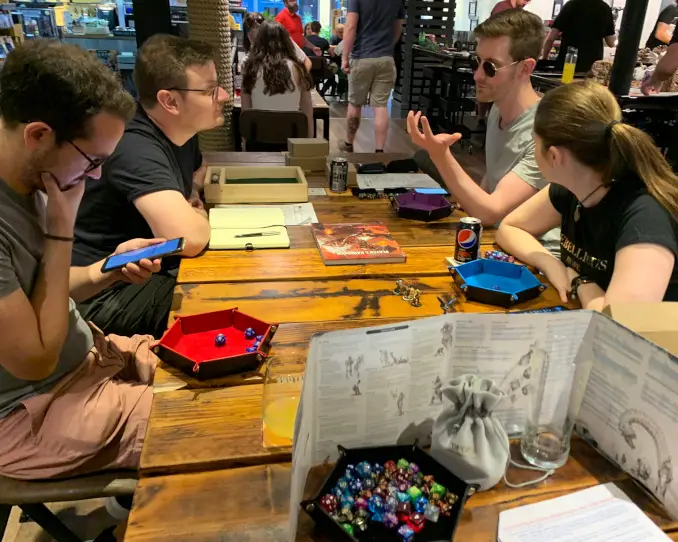 Laut dem Kampagnenheft von Hive of the Ghoul-kin essen die Ghoul-kin gerne Leichen. Da unsere Spieler gerade gegen den Erzschurken angetreten waren, der für eine ganze Armee von Untoten verantwortlich war, war es einfach genug, einen Grund dafür zu finden, warum ein Haufen leichenfressender Monster in der Nähe herumlungern würde.
"These ghouls have grown fat and strong on the corpses of the dead abducted by the Lich Empress' followers. A sick symbiosis has existed between the Lich Empress and the Ghoul-kin for centuries: powerful allies and savage killers, the Lich Empress has allowed the Ghoul-kin to take corpses – and even the occasional one of her followers – in order to keep themselves strong. The Lich Empress knew that should anything threaten her, the Ghoul-kin would come to her side to defend her home – as well as their own. But the Ghoul-kin know this balance has now been disrupted and are on the edge of a feeding frenzy. Suddenly afraid that their way of life is under threat, they are lashing out and taking what they can from the Old Kingdom whilst it is still plentiful."
It didn't take long for our players to stumble upon their first wandering ghoul, and shortly afterwards they found themselves at the entrance to the Ghoul-kin's lair.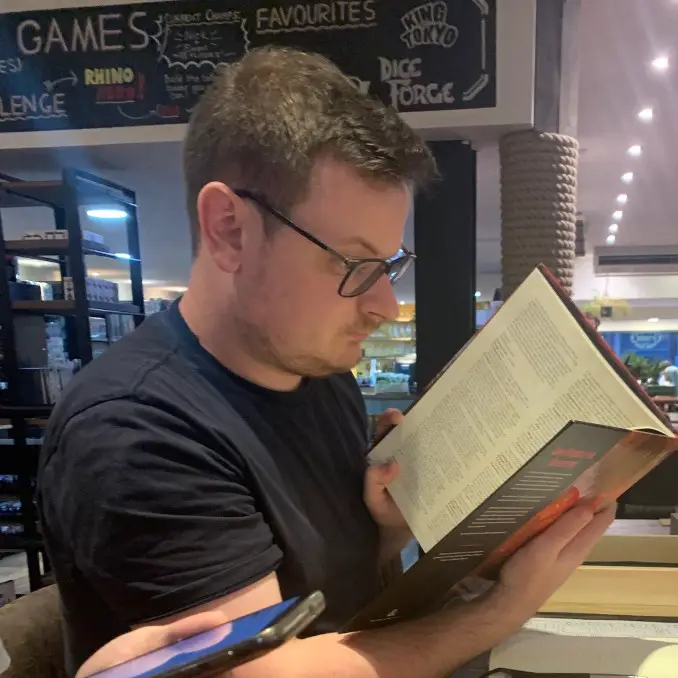 From a DM's perspective, linking our previous session to this one – literally a case of going from the Turm der Lichkaiserin box die Schar der Ghul-Sippe box – was actually very easy. Whilst there was no guide on how to do this in either box, neither set imposed any restrictions on what needed to come before or after each encounter. As such, putting one next to the other – and linking the two zones with a little travel and some roleplay – was very easy, and the players were none the wiser as to the disconnect between the two.
One thing I was sure to include, however, were a few tremors – earthquake-like movements beneath our players' feet, perhaps hinting at something to come…
II. Die Ghul-Verwandten Begegnungen
Nachdem wir die beiden Begegnungen mit ein paar Erzählungen und ein wenig Rollenspiel miteinander verbunden hatten, kamen wir zum Fleisch der Hive of the Ghoul-kin-Box.
The first part of the encounter begins with the players dropping face-first into the middle of the hive having happened upon an opening. The Campaign Booklet states players enter the chamber from a hole in its roof – that's all. No restrictions, no prerequisites. Just a hole to fall through.
"Das breite Loch im Boden gähnt, hat scharfe Kanten und einen Hauch von Feuerschein und blickt auf etwas hinab, das eine Krypta zu sein scheint. Sie können eine Handvoll erstickter Fackeln am Rand der breiten, rechteckigen Kammer entdecken, die Sie vielleicht vier Meter tiefer erwartet. Sie können einen Boden aus geschnittenem und bearbeitetem Stein erkennen, der einst sorgfältig verlegt wurde, aber jetzt nach unzähligen Jahrhunderten des Gebrauchs und Verfalls rissig und abgenutzt ist."
From a DM's perspective, this super basic, easily replaceable entry into the encounter is fantastic, as it afford you a great deal of flexibility. It's an easy part to remove and rework depending on your own campaign.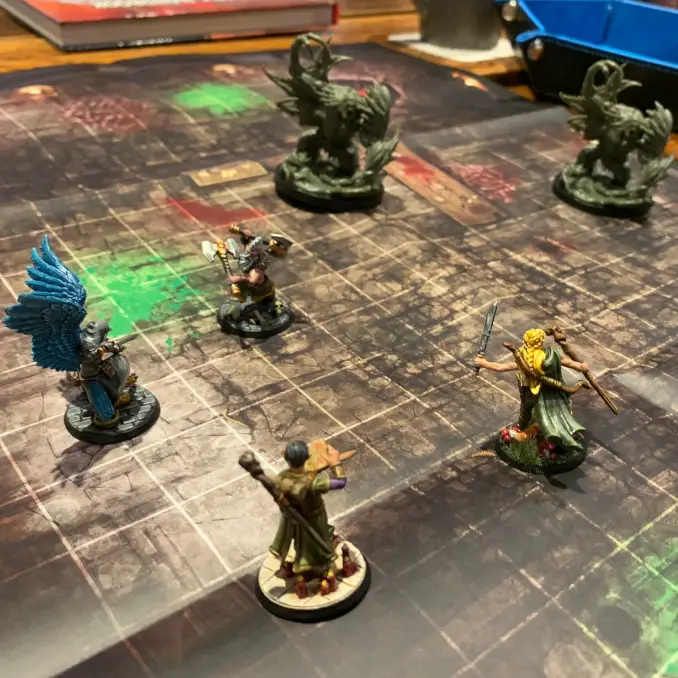 Mit dem Gesicht voran inmitten der Ghule zu landen, war es sogar exakt was mit dem armen Dave passiert ist. Mit einem spektakulären akrobatischen Check stürzte sich sein Waldelfen-Druide mit dem Gesicht voran in die Fänge der fleischhungrigen Ghul-Sippe, die beschloss, zu versuchen, ihm ihre neueste Mahlzeit zuzubereiten. Der Rest der Party folgte und die Begegnung konnte ernsthaft beginnen.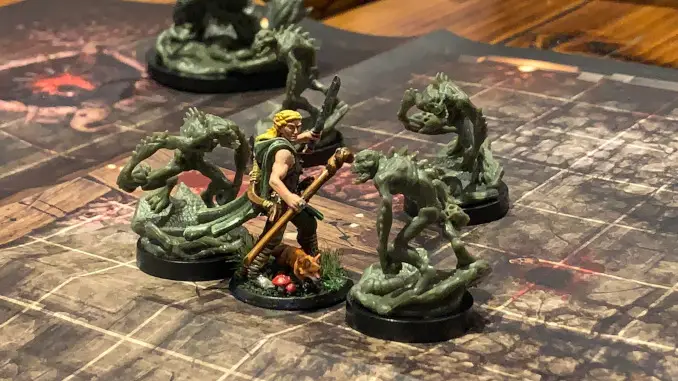 It's up to the DM/GM how to run the encounter: have the Ghoul-kin arrive in small, wave-like groups or hurl everything at the players at once. Because our party are all level 10, I decided to empty the majority of the miniatures onto the table at the start of the encounter, then reinforce the Ghoul-kin with the worm-riding Hive Wardens half-way through.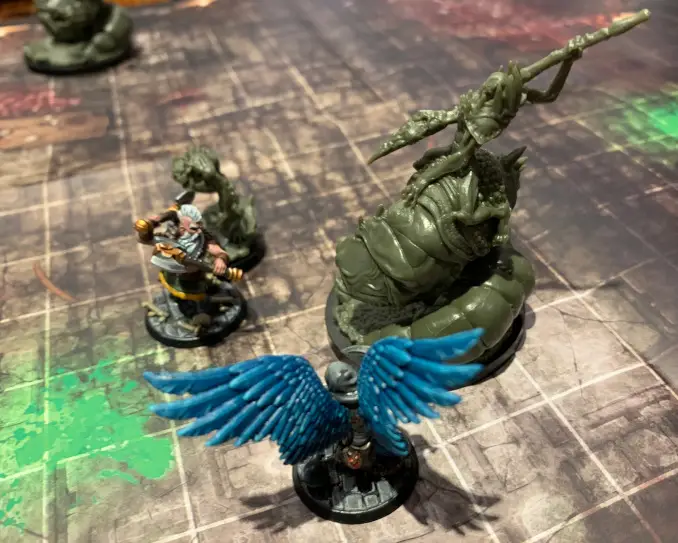 Don't be afraid to really hurl these enemies at your party – none of them are particularly beefy, and higher level characters will be able to one-shot the smaller ones. Also, DMs/GMs, keep a close eye on the Ghoul-kin's abilities: some have some dangerous (and very fun) things they can do to keep your party on their toes.
And don't forget the "pustules" table. This is viel aus Spaß.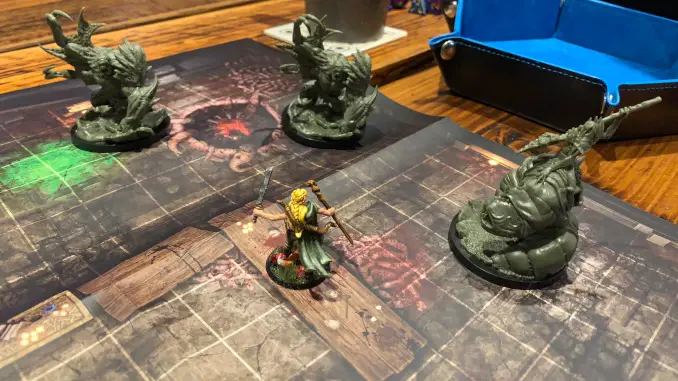 Es gibt auch viele entsprechend düstere Umweltfaktoren, die Sie ausnutzen können: Säurepools, Madenfarmen, Schlachtblöcke. Diese sind alle so konzipiert, dass sie die Spieler dazu ermutigen, wirklich über ihre Position auf dem Brett nachzudenken, anstatt einfach kopfüber in alles zu springen, was auftaucht. Ollie zum Beispiel fand sich fast mit dem Gesicht nach unten in einer Säurepfütze wieder, nachdem er mitten im Kampf auf den Rücken eines der Stalker der Ghoul-Verwandtschaft gesprungen war, um zu versuchen, ihn zu töten.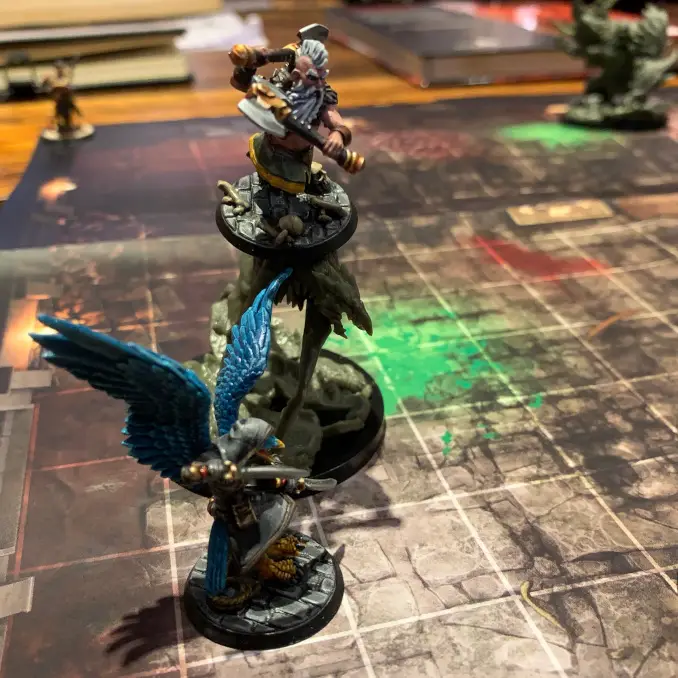 With the room cleared, the Campaign Book then suggests players encounter either or both the Corpse-Chewer Corral and the Tunnels. These smaller transitory zones don't have battlemaps like the first part of the encounter and the mini-boss that finishes it off. These are smaller, flexible additions to the module that can be inserted or left out as the DM/GM requires – depending on both how you may wish to run the encounter and any time constraints you have have.
Um zu versuchen, die Spieler zu beschleunigen, das verdächtiges, erdbebenartiges Grollen tauchte wieder auf, and as such they all fled into the Tunnels to avoid a rockfall. They then managed to silently sneak into the Brood-Sire's Demesne, the second mapped part of the encounter.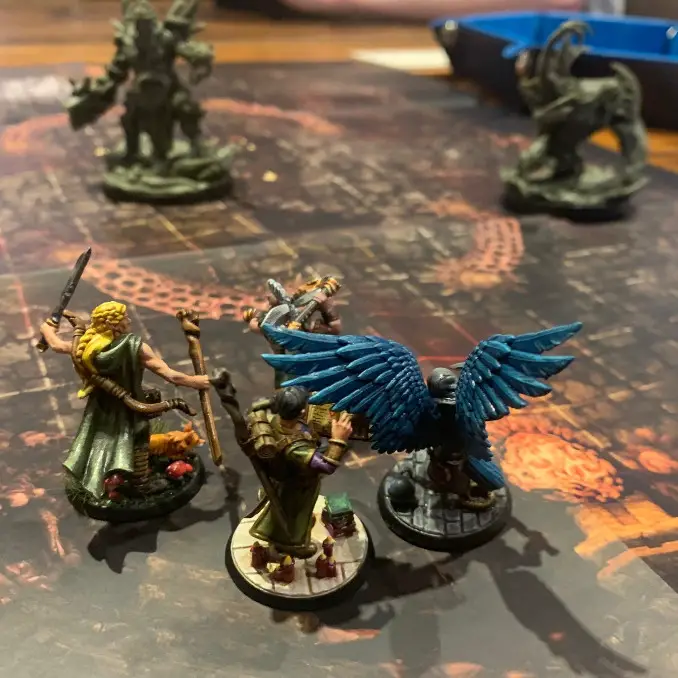 The Brood-Sire is a mini-boss. He's an intimidating foe, sure, especially when backed up by his ghouls, but he's not an impossible task for an experienced adventure party. He's also the perfect baddie to build some lore around, especially if you're running a longer campaign.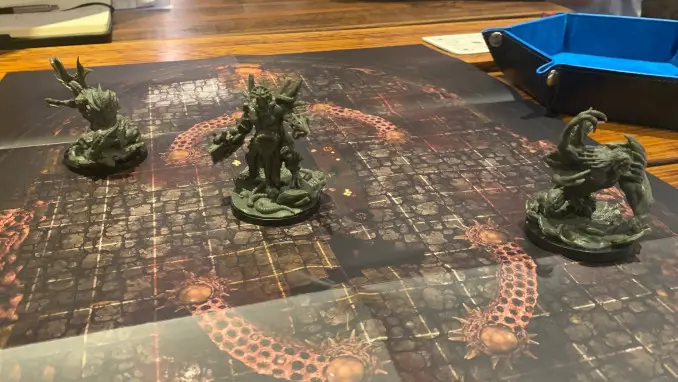 Without spoiling too much for would-be parties, the battle with the Brood-Sire is about strength and endurance. He's a monstrous, meaty meanie backed up by a near-infinite supply of smaller, but no less angry, minions.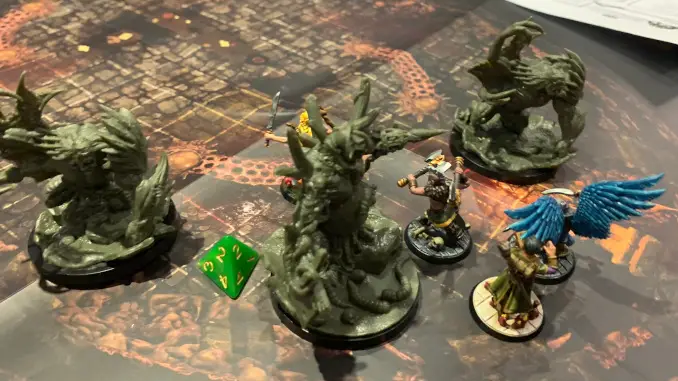 Die Gruppe muss mit ihrer Herangehensweise klug und mit ihren Zaubersprüchen wählerisch sein. Der Brutvater, selbst ein hoch aufragender Feind, der in der Lage ist, Klumpen aus der Spielergruppe zu reißen, wird von seinem nahezu unendlichen Vorrat an Kreationen der Ghul-Verwandtschaft unterstützt, die bis zum Letzten kämpfen werden, um ihn zu verteidigen.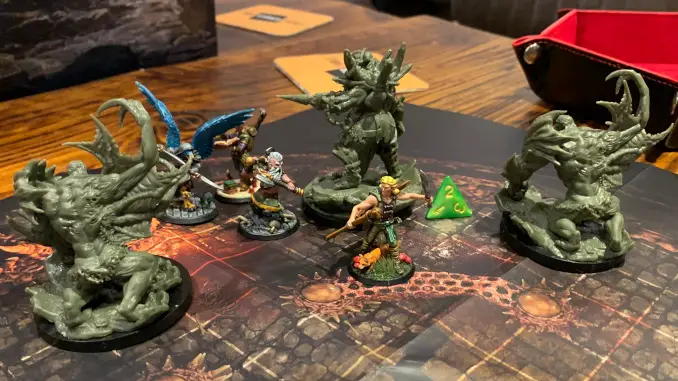 Wenn Sie richtig laufen, hat die Begegnung mit dem Brutvater das Potenzial, ein äußerst denkwürdiger Moment für jede Kampagne zu werden. Seine Laborkrypta voller Schrecken, das Geschwätz seiner üblen Ghule, seine eigene erschreckende Präsenz: Das ist der Stoff, aus dem D&D-Legenden gemacht sind.
Our players prevailed against the Brood-Sire – by the skins of their collective teeth. As testimony to how tough the encounter can be, both Rich and Lizzie were brought to the very brink and were only saved by several timely heals from Dave (and Ollie kicking the living snot out of everything).
"The laboratory falls still. The stench remains, as do the ghosts of the unspeakable horrors that took place here, but you finally have a way out. On the far side of the chamber is a heavy crypt door, slightly ajar, and beyond it a set of steps leading upwards. There is the faintest glimmer of light at the end of it – not weak, anaemic torchlight like that which fills the rest of the Ghoul-kin's hive, but starlight: distant, faint. The world above beckons – not the ink-black, storm-scarred sky of the Old Kingdom, but the clear heavens of the rest of the world."
Whatever awaits them next? Surely it couldn't be ein riesiger, wütender Wurm? Nö.
How to Play Epic Encounters: Hive of the Ghoul-kin – Summary
Wieder einmal war das Urteil der auf FauxHammer.com ansässigen D&Ders einstimmig: Hive of the Ghoul-kin macht verdammt viel Spaß. Die Miniaturen sind exzellent und wunderbar abwechslungsreich und waren brillant, um die Spannung auf dem Brett zu steigern.
Once the players were familiar with each type of monster, their appearances in later parts of the encounter elicited the appropriate reactions you'd want as a DM/GM. The small Reavers drew eye-rolls and cries "not these guys again", from the group. When the two hulking Ghoul-kin Bulwarks lumbered into view during the Brood-Sire fight, the colour visibly drained from some of the faces around the table. Ollie even described the sinewy, canine-like Ghoul-kin Stalker "truly cursed" for its twisted appearance. In fact, he hated the way it looked so much he made it his priority to kill them both when they first appeared.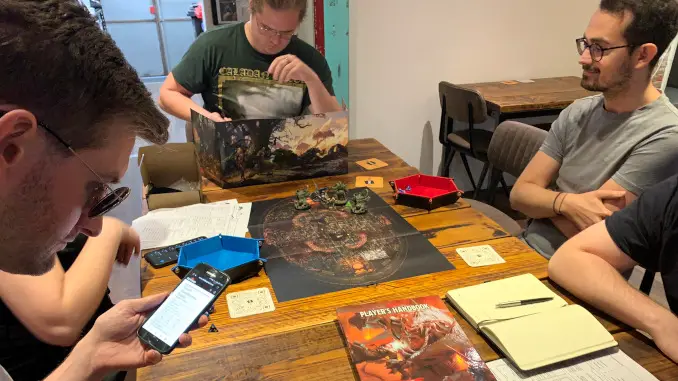 From a DM/GM perspective, Hive of the Ghoul-kin is a fantastic resource that really helps bring a D&D session to life. It's not restrictive in how it plays, and there's plenty of flexibility afforded across the entire encounter (for example, we didn't head to the Corpse-Chewer Corrals).
Sie könnten ganz einfach die gesamte Sitzung allein mit den Ressourcen in diesem Feld ausführen und müssen nichts anderes verwenden. Die Karten sind großartig, die Minis sind fantastisch und das Kampagnenheft enthält mehr als genug Ideen, um Sie am Laufen zu halten. Wir haben vier Stunden mit dieser Kiste gefüllt, und das war, als ich die Party punktuell vorangetrieben habe.
There's a lot here, and all of it to like. Tons of fun for players, and easy to implement for DMs/GMs, Hive of the Ghoul-kin is a no-brainer. Grab yourself a copy, and plunge your D&D party into a horrific body-horror nightmare at your next session.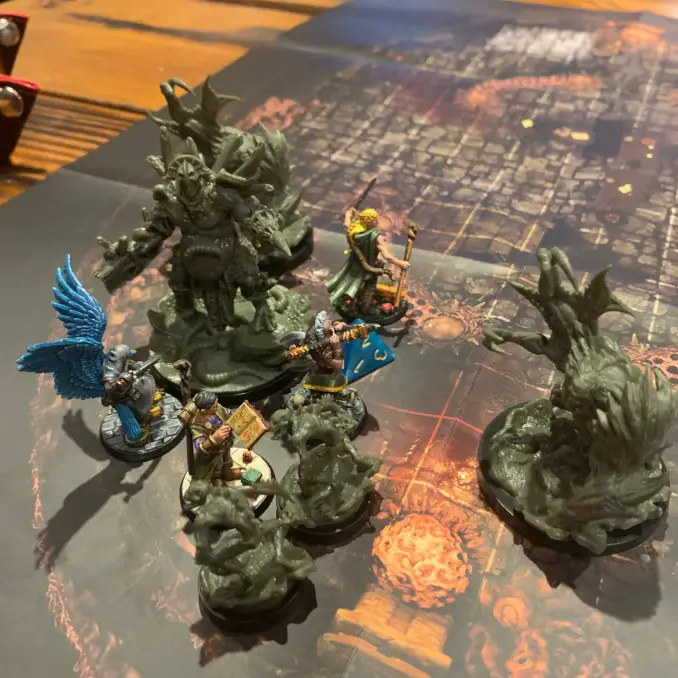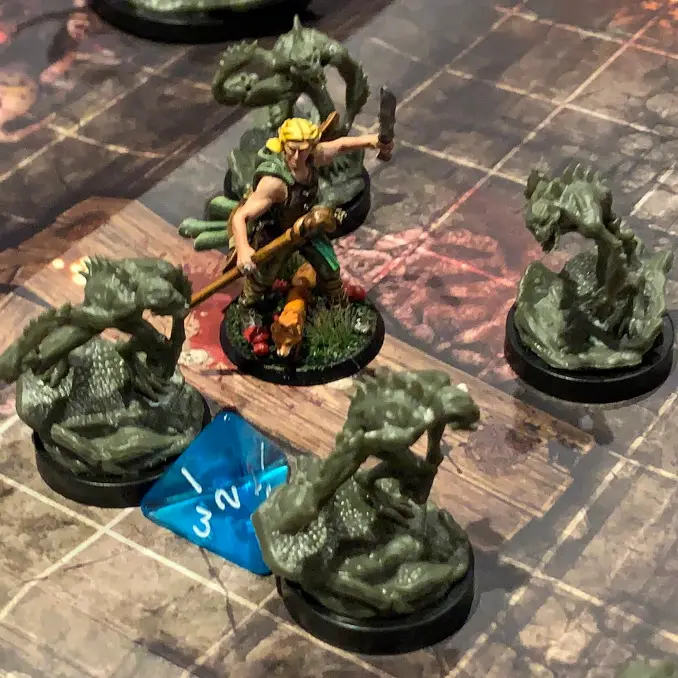 If you haven't already done so, now is the perfect time to check out our Hive of the Ghoul-kin Rezension for a close look at the rest of the box. You won't be disappointed.
Nochmals ein großes Dankeschön an Der Spieltisch dass Sie uns hosten!
Editor's note: the flavour text that has been inserted throughout this article does not originate from within the Hive of the Ghoul-kin Campaign Booklet. This was written by Rob as part of his planning and was used throughout the live session.