Boarding Patrol: Chaos Space Marines Price, Points, Value and Savings Breakdown
Last Updated on février 24, 2023 by Jordan
If you don't already have Abaddon, here's your best chance to pick him up. A seriously jam-packed valuable boxed set. So long as you're happy with more cultists. Come in and check out our price & savings breakdown for Boarding Patrol: Chaos Space Marines.
Cliquez sur ce lien et achetez vos articles de loisir sur Element Games pour le Royaume-Uni et l'Europe pour soutenir FauxHammer.com - Utilisez le code "FAUX2768" au moment du paiement pour obtenir des points de fidélité doublés.




Nos affiliés / magasins de loisirs
No guesses here, it was announced last week, and Boarding patrol: Chaos Space Marines will be released on Saturday March 4th. Preorders go live on Saturday February 25th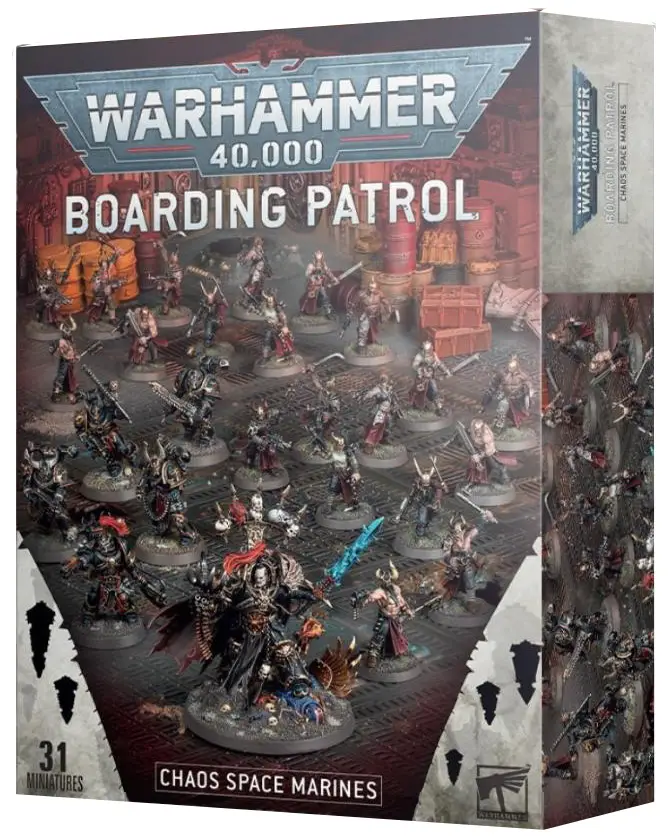 Preorders go live at 10:00 in your local time zone, so make sure you are ready and waiting outside your local GW stockist or clicking that refresh button online.
The price of the boxed set has been revealed to UK retailers
*Based on the Kratos Heavy Assault Tank (Same UK Price)
Worldwide prices have been inferred from similar-priced boxed sets.
For those who just want a quick summary of what the value of this box is.
Note: this article was written before the March 6th 2023 global price increase
*Based on the Kratos Heavy Assault Tank (Same UK Price)
That's one of the best savings we've seen, Now, Assuming the boxed set price is not included in the price hike (I doubt it is because the last set release, Boarding Patrol: Space Marines, was only £65, we could see the value of this set go up higher when the models inside increase in price.
The value of models in this set could end up being closer to £143, the savings are more like %48
31 models makes this a fairly chonky box
1 x Abaddon the Despoiler
10 x Chaos Space Marine – Kill Team: Legionaries (including Upgrades Sprue)
It's just a pity that 20 of them are Cultists, cultists are fine and all, but they are just so samey. the painter in me is not excited for them. Abaddon and some Chaos Marines with an upgrade sprue though! Hellz yeah!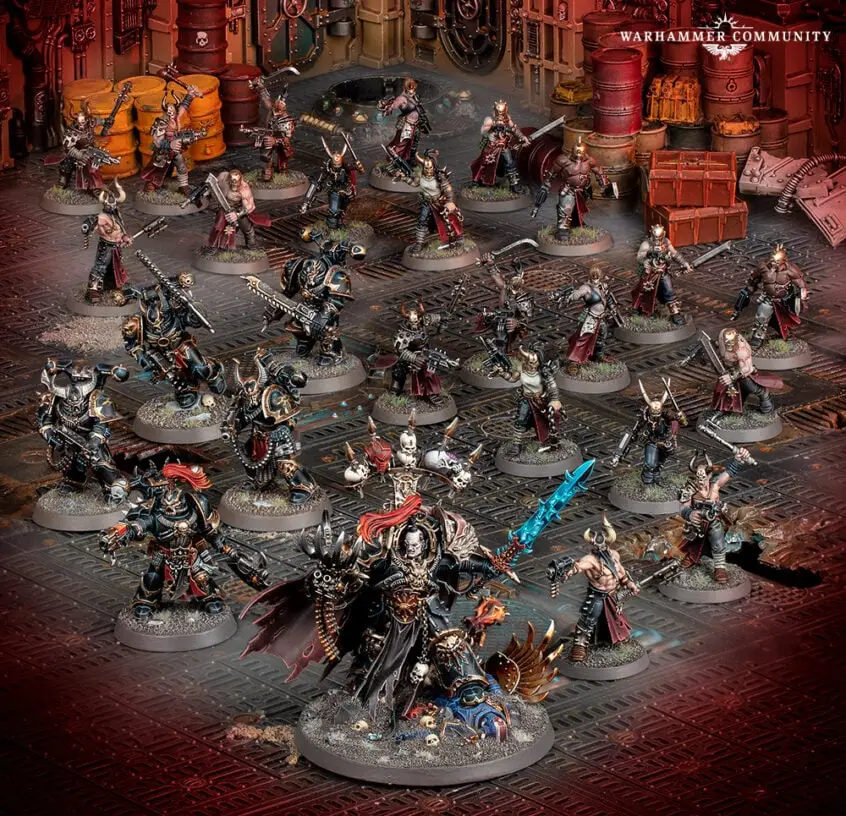 As we said above, this is already good value, even before the price rise.
Whether that price rise will be applied to the set and the figures is still anyone guess.
As mentioned in the Boarding Patrol: Tyranids breakdown, we are now including points in these articles. however, I'm a painter, never played the game, don't own a single codex and don't know loadout limitations. So Jordan will be looking over and correcting these in the coming weeks as we do more.
Points
Abaddon the Despoiler 
350pts
Kill Team: Legionaries
– w/ Balefire Tome
– w/ Mark of Khorne/ Slaanesh/ Nurgle/ Tzeentch
180pts
+20pts
+15pts
Cultistes du chaos 
100pts
Valeur totale
630pts
Points are taken from the MUNITORUM FIELD MANUAL.
Jordan: Now, let's be honest, this box caught your eye because of the main chaos man himself, Abaddon the Despoiler. His mere presence here along with 10 Legionaries and 20 Cultists will make this box very popular for the savings alone. Having Abaddon in your chaos boarding patrol not only fits the fluff of the Arks of Omen lore, but he will make you a force of nature on the board – especially since, per Boarding Actions rules, any unit with the keywords 'Monster' and 'Vehicle' cannot be played. Abaddon is definitely a monster (just ask any Guard fan) but he is not shackled with this keyword – making him fair game. Funnily enough, Roboute Guilliman has the keyword Monster (a bit harsh, the guy just woke up), so there aren't many leader models out there who can square up to Horus' favourite son in the Boarding Actions game mode, so having him puts you at an immediate advantage.
Abaddon is truly a nightmare on the board – with the Terminator keyword, he can go into reserve and deep strike wherever on the board in the next turn, so you have the option to place him next to a strategic point at a later point in the game. If there is an unclaimed objective too far for the opposing player to reach, Abaddon can be there in a hot minute. To maximise him properly, you may have to forego deep striking and keep him with the lads Legionaries to buff them up with hit re-rolls and wound re-rolls, buffs to charge rolls and a myriad of other abilities that justify his expense. He's also been given the Agents of Chaos keyword, meaning he can be dropped into a Death Guard, Thousands Sons or World Eaters army (though that may come at an expense of some abilities in those respective armies, be warned). And to top it off, he cannot lose more than 3 wounds in a given turn, and his statline is eye-watering. Games Workshop : have really despoiled us with this one.
At an expensive 350pts, including Abaddon in your boarding force will inevitably mean needing to shape your 500pts list around him. Hence, it's easy to see why the set has 20 Cultists – chaff that serve only to sit on objectives to distract your opponent and or to be thrown at them. Unfortunately, this means you cannot pit the 10 Legionaries in the box with Abaddon – as that would take you 30pts over the 500 mark (probably not a problem if you and your opponent have agreed to some leeway). That's the same issue if you wanted to have a 5-man Chaos Terminator Squad (not included in the Boarding Patrol box) alongside him – which is unfortunate, as Abaddon and Terminators go together like Black Fortresses and Cadia (sorry Guard fans).
In terms of optional extras for the Legionaries, you can give one a Balefire tome at an extra 20pts to make one a Psyker, giving you some extra things to do in the Psychic Phase. There's also the option to gain a Mark of Chaos for each of the chaos gods for an extra 15pts – each one will give you a different bonus to your dice rolls or buff a stat, but with the points limitation of Boarding Actions, you will have to consider carefully if it's worth the cost.
The box provides you with 630pts worth of models, which is over the 500pt limit of Boarding Actions – if using this box, you'll have to split the cultists and legionaries in order to trim down to 500 – so for example, have Abaddon, 5 Legionaries and 12 Cultists. It's a pretty small army in terms of models if you choose to have Abaddon – but that is the sacrifice one must make if you want to utilise the absolute unit he is.
Cliquez sur ce lien et achetez vos articles de loisir sur Element Games pour le Royaume-Uni et l'Europe pour soutenir FauxHammer.com - Utilisez le code "FAUX2768" au moment du paiement pour obtenir des points de fidélité doublés.




Nos affiliés / magasins de loisirs