One ring to rule them all, One ring to bind them, One ring to bring them all, and be stuck with blue-tack so you can paint minis on.
CLICK HERE TO CHECK OUT THE BEST HOBBY KIT 2021 HAS TO OFFER
Click this link & buy your hobby stuff from Element Games for the UK & Europe to support FauxHammer.com – Use Code "FAUX2768" at the checkout for double reward points.

Our Affiliates / Hobby Stores
Support FauxHammer.com on Patreon
Like, Comment, Hit the Bell & SUBSCRIBE

This article is part of our series looking into the best Hobby Handles for Miniatures & Models.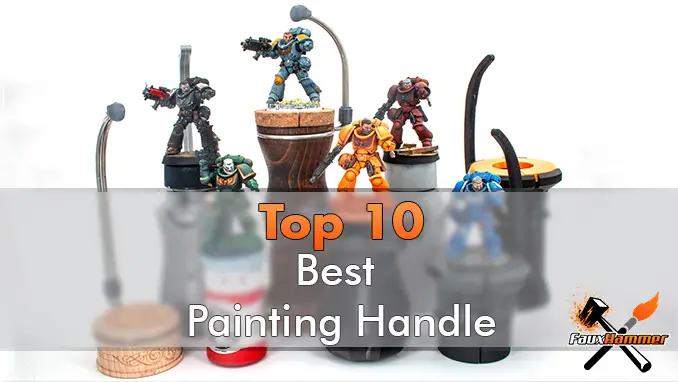 To see our up-to-date list of the best Hobby Handles for your miniatures, just click the image above.
The Ring Review – Summary
Whilst it's quite a clever little idea, in reality, The Ring is too small and, honestly, just a bit weird.
IScreamArt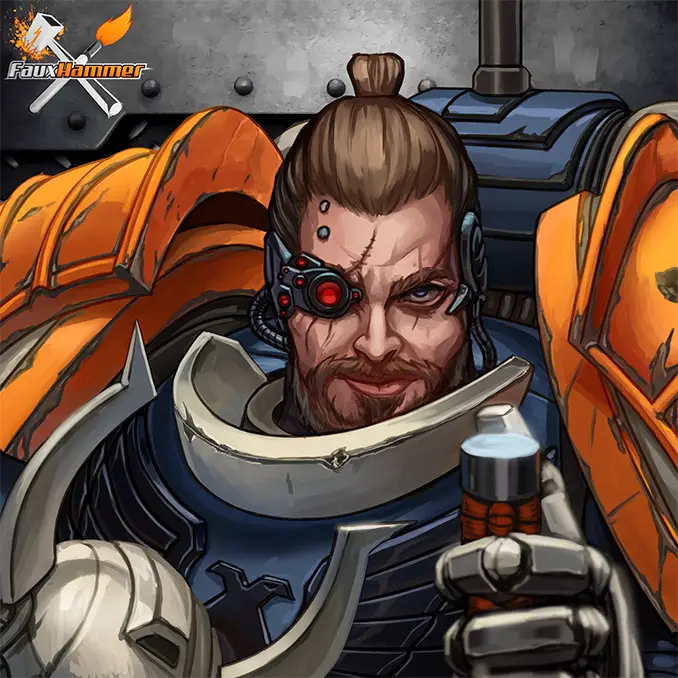 FauxHammer here hijacking another of Rob's articles.
Just as a preface, I covered this product in a preview months ago, before the Kickstarter even launched. I had a decent relationship with IScreamArt and I loved the concept of this. it truly was something different.
After speaking with IScreamArt, they agreed to send us a preview of the tool which we said we would cover unbiasedly.
However, on publication of that article, we were contacted again by IScreamArt demanding we take it down immediately! Why? Well, the reason given is that we compared it to the Redgrasss games holder. Specifically in the following sentence
"As shown above, the base strut can be turned upside down without worry of the magnets disconnecting. Just like the Redgrass Games RGG 360 you can also rotate the model by turning the base plate."
We were told that the products are incomparable becasue the RGG 360 handle is trash and that The Ring is a far superior product.
So, ummm, yeah…
Anyway Rob, back to you.
The Ring Review – Introduction
Funded to just over 100% of its £14,300 goal by just shy of 500 backers, The Ring is, well, a ring. It's a painting handle, except it isn't.
You wear it on your finger.
Created by I Scream Art, The Ring is designed to be a "small, efficient and unique" alternative to the standard painting handle. Fastened around the middle of a middle finger, inwards-facing, The Ring offers 360-degree horizontal and vertical rotation when painting your miniatures.
On the surface, it's a nifty and interesting little bit of kit, but is it really all that practical?
The Ring Review – Design
In theory, I quite like the design of this, it's quite nifty and very simple.
The black band, which has a strong magnet built into it, is designed to be fixed around the finger. It can be submerged in hot water to soften it so it can be resized, so it'll fix around even the chunkiest of sausage fingers.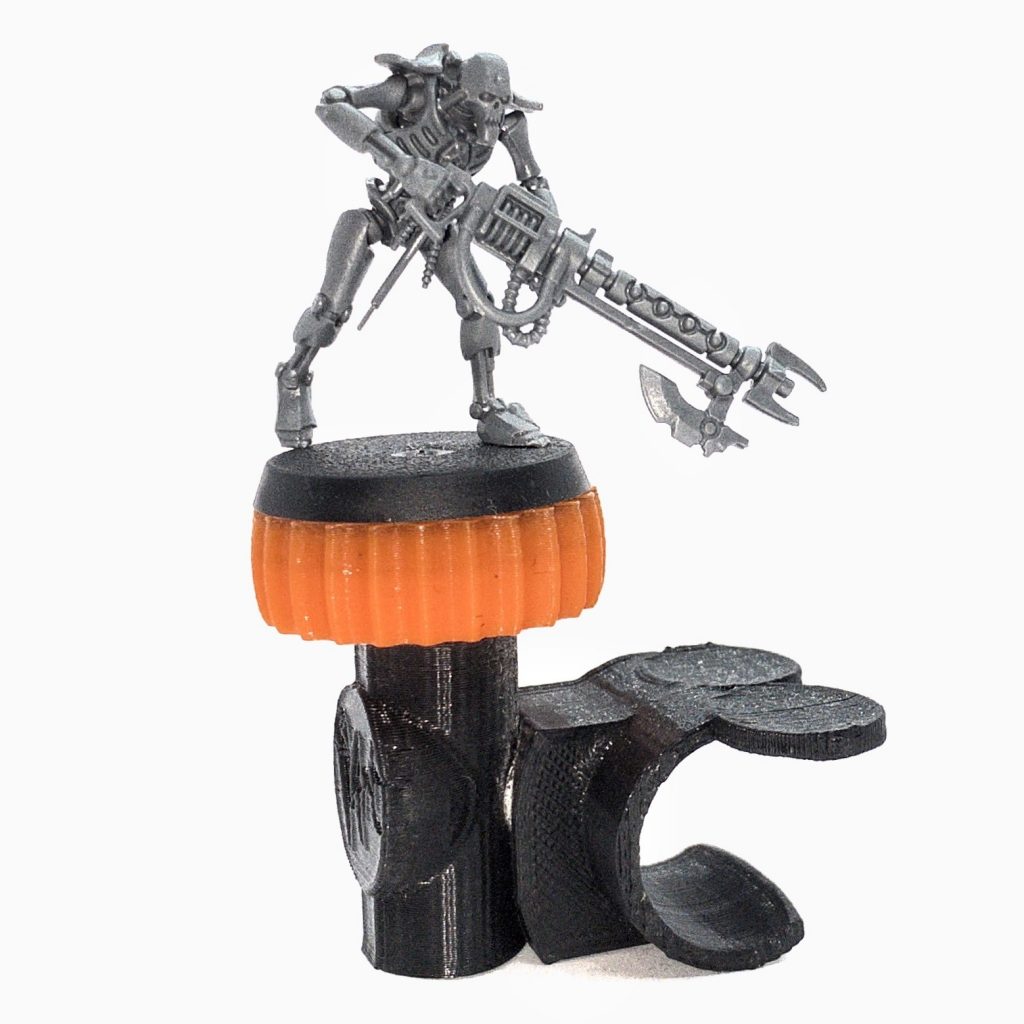 The small orange attachments are designed to be affixed to the ring by a magnet, and can thus be rotated so you can reach every angle of your mini. Some of the attachments also have cork in them, which is great for pinning if you're the sort of hobbyist who does that. The part of the ring the rotatable attachment is affixed to can also be flipped should you need to adjust the angle you're painting at.
And that is it.
It has to be one of the most basic and straightforward bits of kit I've seen, which works in its favour. Its simplicity makes it easy to understand, while the few components mean it won't take up too much space in your hobby area.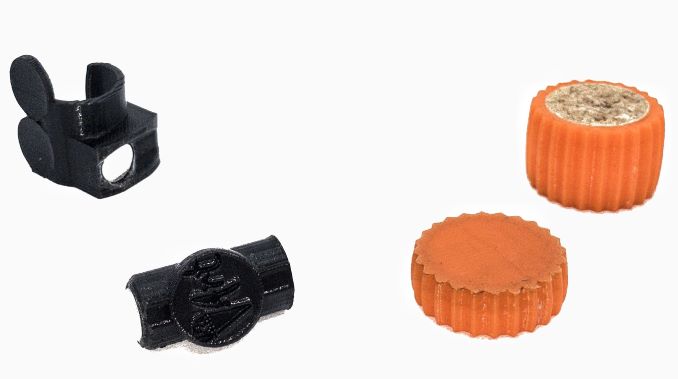 The strong magnets in the ring and the attachment are just that – strong. You'll be in little danger of accidentally knocking and rotating your figure whilst you're wearing The Ring.
The Ring Review – Testing
Here lies the issue. It's just too small.
Anything on a base larger than 25mm is going to be difficult to affix and pretty unwieldy. Even a 32mm base on the bottom of an Assault Intercessor was a bit tenuous and made the rotating part of The Ring difficult to reach. Anything larger than that and you're going to either struggle to attach it or find it difficult to properly manipulate the rotating part of the base. Imagine trying to paint a Skorpekh Destroyer on this thing. It's just not going to happen.
The cork variant is useful, and if you're into pinning parts of your miniatures in order to paint them, this may be something you want to consider, but that's about all it's good for. Again, it's too small, and the fact that the cork variant is taller means that your miniatures are more likely to cause the magnet to come unattached from overbalancing should you put too much weight on it.
Plus, its size also means there's nothing to brace your hand on. With the Citadel holder, all of Garfy's Get a Grips, or the Rathcore series – or even just a large cork, for god's sake – there's enough of it there for you to place your fingers on, even without the addition of an attachable finger rest. But with this, there's nothing. You'll be bracing your brush hand against the hand holding the holder, which is terrible. You certainly can't rest your fingers against the orange mounting base, as you'll just end up detaching it.
I don't feel confident with this thing. I don't like how it sits on my hand, and I don't feel like I have any real control over my figure. The whole thing feels a little tenuous, and I'm convinced something is going to get dropped sooner or later.
No.
Will The Ring Improve my Hobby?
Probably not, to be honest. It's a smart little thing and will be useful for pinning, but the likelihood is that if you're at a level with your painting where you're pinning, you're going to have a specialist handle or setup you're familiar with, and won't be willing to swap that out on account for this – which, I feel, is probably wise,
Still, in terms of actually using it to paint figures, it's just too small. There are no two ways about it.
I'd be interested to see version 2.0, but I won't be reaching for it in its current iteration.
The Ring Review – Price and Availability
The Ring is currently available through its Kickstarter, which I'd suggest heading over to if you want more of an idea of how this little gizmo works.
Backing options range from £12-£320 ($16-$415/€13-€355), the most basic pledge level netting you the holder in its most basic form as well as two mounting bases.
So it's not too expensive, but if I have to be honest, for £12 I'd rather have a few pots of paint over this. It's really not doing anything for me at all.
The Ring Review – Final Thoughts
Pros
Cons
Cheap(ish)
Interesting design
Not the most comfortable thing in the world to have on your hand
Nowhere to brace your brush hand
Not large enough to hold any larger miniatures
Sense of a lack of control when using
Does not feel secure
The Ring is an interesting idea, and quite a cleverly designed bit of kit, but it's just not big enough to be practical with the vast majority of miniatures. Anything larger than a 25mm base is going to be difficult to use with The Ring.
For pinning, though, I imagine it could be reasonably useful – that is, of course, provided you haven't already got a setup for pinning that you're familiar with. If you do, I'd suggest sticking with it instead of subbing it out on account of this.
It's a bit of a gimmick, really.
CLICK HERE TO CHECK OUT THE BEST HOBBY KIT 2021 HAS TO OFFER
Click this link & buy your hobby stuff from Element Games for the UK & Europe to support FauxHammer.com – Use Code "FAUX2768" at the checkout for double reward points.

Our Affiliates / Hobby Stores
Support FauxHammer.com on Patreon
Like, Comment, Hit the Bell & SUBSCRIBE

What did you think of this Review? please let us know in the comments.
If you like what we're doing here you could really help encourage more content with a share on any social media platform.
Click the share links at the bottom of this screen (or on the left for computers and tablets)
Want to keep updated with the site? You can subscribe in the sidebar for RSS or by email below
(Sidebar is below the article on Mobile Devices)
Summary
Reviewer
Review Date
Reviewed Item
Author Rating





Product Name