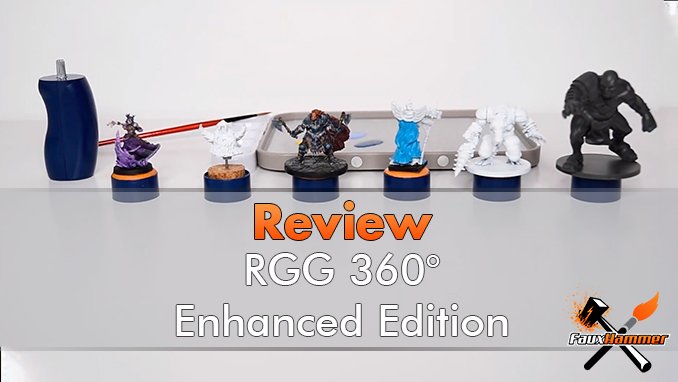 Here we are then guys – Check out what we think of the upcoming, upgraded Painting Handle from RedGrass Games.
Buy your hobby stuff from Element Games for the UK & Europe to support FauxHammer.com – Use Code "FAUX2768" at the checkout for double reward points.
This article is part of our series looking into The best Painting Handles for Miniatures & Models.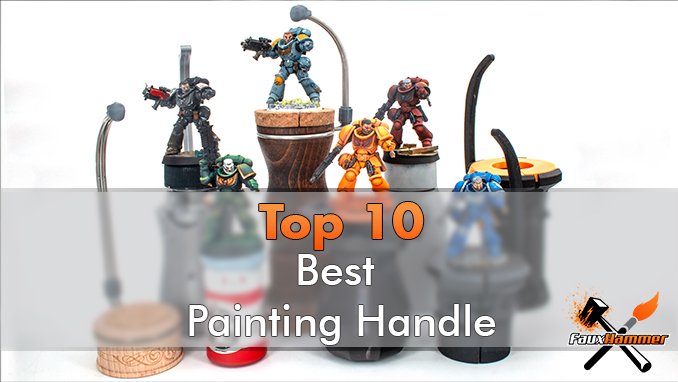 To see our up-to-date list of The Best Painting Handles for your Miniatures, just click the image above.
RGG 360° Enhanced Edition Painting Handle Review – Summary
A few weeks ago Redgrass Games got in touch with us to try out their new upgraded RGG 360° Painting Handle – suffice to say it is more impressive than the last.
I'll admit I had a few issues with the original handle when it was first released – but this new version fixes my main problem and then some.
The incredibly comfortable and ergonomic handle still provides it's 360-degree rotation. but now the base of the handle is weighted to prevent toppling. Better still, it's now a magnet you can attach to any metal surface. Including the Stick-on Metal Redgrass Games emblem, you get with it.
To further increase it's functionality, the head of the handle is now removable and interchangeable with spare heads – so you don't need to keep pulling and sticking models every time you want to move on to the next unit.
RGG 360° Enhanced Edition Painting Handle Review – Packaging
It's nice to see packaging which is nice and simple – Redgrass Games have gone from a Small team who exploded to Miniature Painting Fame with their Everlasting Wet Palette – Now their products come in packaging impressive enough to appear in any Friendly Local Game Store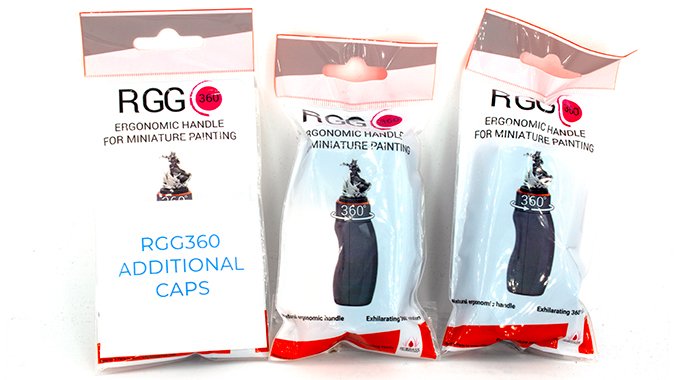 The RGG 360° Enhanced Edition Comes in various packs and each of them contains a block of Mounting Putty.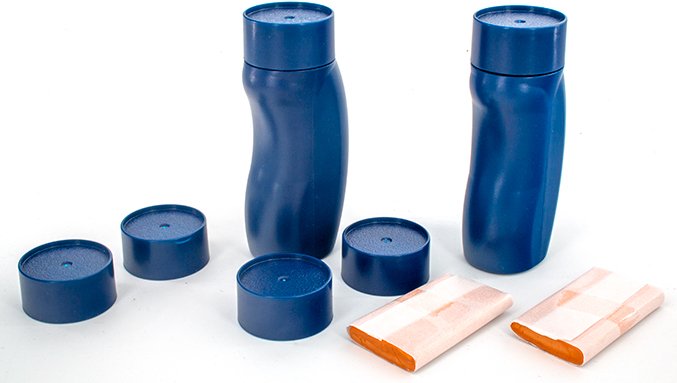 You can get the Holder with 1 spare top, 2 spare tops, or just 2 tops on their own.
RGG 360° Enhanced Edition Vs Original
When I wrote up the review for the initial product, I thought it was OK
Whilst the handle itself is one of the most comfortable of any holder – I found the 360° rotation a little more than a gimmick.
The main issue was the weight distribution, whilst it claims to hold up to 50mm bases (actually it comfortably holds even larger bases in many cases, or even tanks) It would easily topple over when you don't have the centre-of-balance just right.
This turned me off from the handle as I'm normally painting several models at once, I always felt nervous leaving one of these precariously balanced off to the side.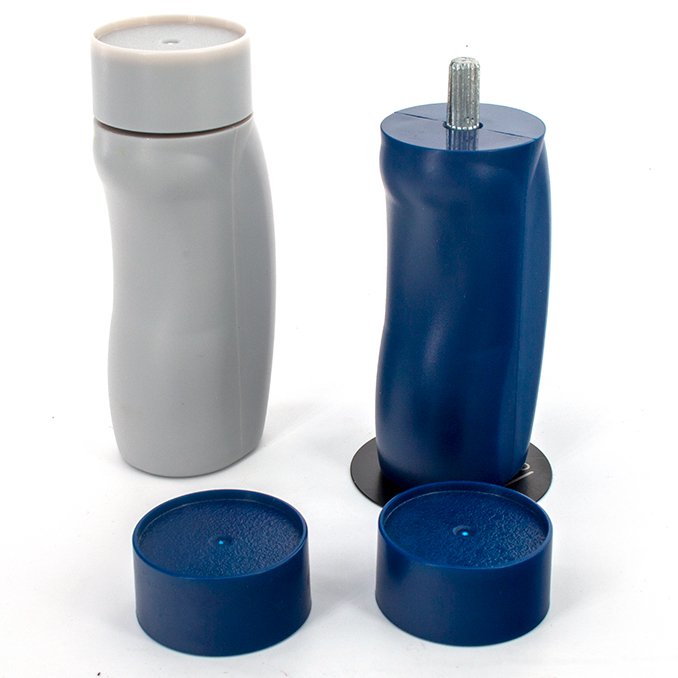 Now, however, the base is weighted at the bottom thanks to the included magnet. The weight alone makes it safer to stand these upright but even better now that you can set it on top of pretty much any metal surface and it will hold strong.
But when painting many models, you don't even need that, just pop the top off with the model staying attached and sit that to one side, with a lower centre of gravity the models are much less prone to falling over.
RGG 360° Enhanced Edition Painting Handle Review – Putty
Whilst many may see this as little more than orange blue-tack, it's actually much better.
First of all, it is firmer than blue-tack which prevents less wobble with the model simply stuck to the top.
With most plastic & resin models at least, once affixed you can shake them as much as you would want to and they aren't coming off. even with a fair amount of drybrushing, they stay fairly stable.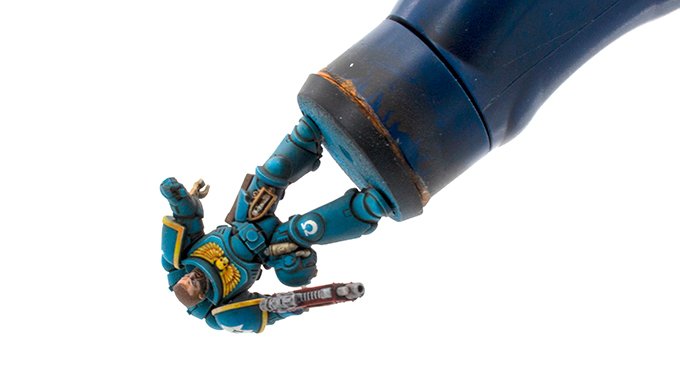 Whilst it is firmer, it"s also much less malleable than blue-tack. But if you rub it in your fingers and warm it up it becomes more pliable. You only need to do this once when you affix it to the top of the holder. After that, your model bases are pretty much push-fit. So long as your models are on their bases
RGG 360° Enhanced Edition Painting Handle Review – Removable Tops
This is one of the smartest enhancements to the RGG 360° holder. Most of us aren't painting single models – we're painting squads or armies.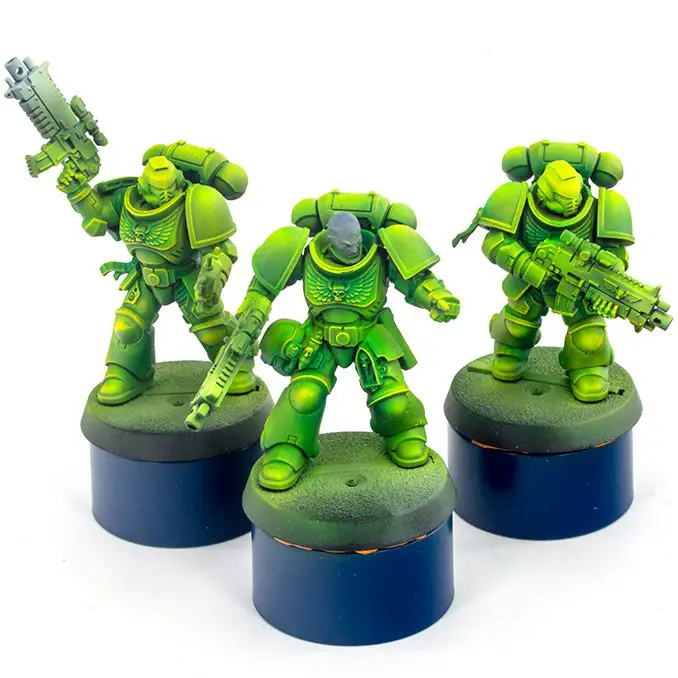 The tops themselves are just compression fit so I imagine after some time they will eventually wear down and need replacing – But nothing indicates this is anything you should worry about for a long long while.
If you like to pin your components (as I often do) the recess in the top isn't quite deep enough for you to grip a pin. Redgrass have suggested you can customise it by glueing a block of cork to one of the tops. Again, a good idea if you want to do this as you are only sacrificing a top to make the change, not a whole new handle.
Being able to quickly pop the tops off and swap them over is really useful and for airbrushing a squad this is a godsend. This is also where I find the 360° rotation the most useful feature of any handle – Not having to buy a whole new handle for each model you have in progress is going to save you a lot of money.
RGG 360° Enhanced Edition Painting Handle Review – Magnets
As noted above, the new holder comes with these little magnetic discs. I have a similar one stuck to the back of my phone to mount it in the car.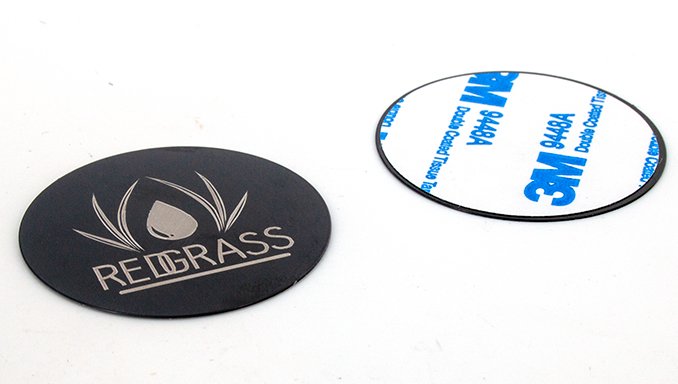 With the double-sided 3M Sticker, you just peel off the backing and stick it to any surface. Like the lid of the Red Grass Games Wet Palette.
The magnet is really strong, but not ridiculously so. It's enough to keep the handle with models on upright and even a gentle knock won't dislodge it.
But with a simple twist, it will pull away easily enough. Just beware what you stick it to – for example, the lid of the Wet palette will lift up from your desk from the most part, so just hold it down with your other hand.
Honestly though, it's best if it's attached to a fixed surface.
Even upside down, it hold's strong.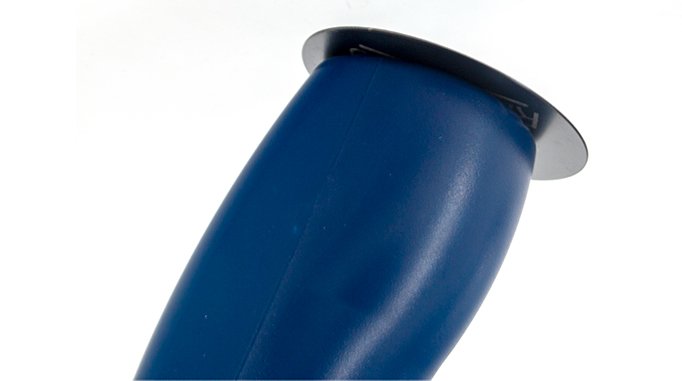 If you want really upskill your painting. Attach 2 holders end-to-end so you can dual-wield your paint projects all Darth Maul stylee.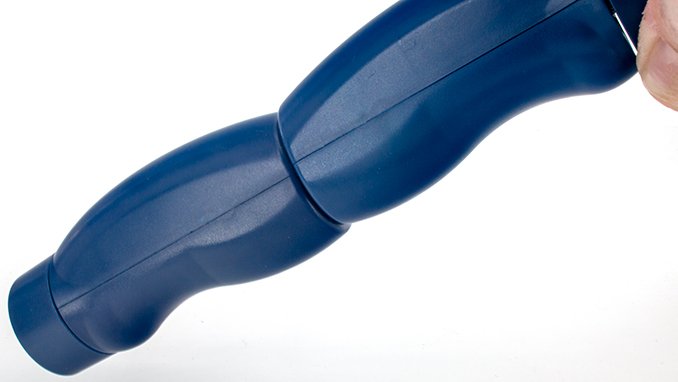 All in, the magnet is really strong and does the job without being too strong. If you have things like paperclips and such on your desk, it will pick them up from a few centimetres away.
RGG 360° Enhanced Edition Painting Handle Review – Availability
Launching first on Kickstarter from 5pm GMT on May 21st 2020 – the new holder replaces the old – if you check Redgrass Games Website, you will see the new holder only.
Though the old one is available whilst stocks last.
Ooooh, and if you are a Kickstarter backer – you get a free Physical copy of this incredible painting book written by the legendary Angel GiraldeZ. I've read it and it's really good
Or you can get a free PDF version now by just signing up to the Redgrass Games Mailing List.
Even though I already have 2 of these holders, I'll be backing the Kickstarter just to get a physical copy of this exclusive book – Because they didn't send me one (Sadface).
Expect to see this in any Friendly Local Games Stores which stock Redgrass Games Products
Buy your hobby stuff from Element Games for the UK & Europe to support FauxHammer.com – Use Code "FAUX2768" at the checkout for double reward points.
Will RGG 360° improve my Hobby?
It certainly has the potential to. As a holder, it is one of the most comfortable you can get. The 360° rotation is quite useful and now you can just swap the tops it becomes one of the most affordable options for those of you who paint multiple models on their bases in one go.
RGG 360° Enhanced Edition Painting Handle Review – Final Thoughts
Pros
Cons
Ergonomic Handle
Removable Caps
Magnetic base
Hold's Large Bases
Tough Putty
No Finger Rest
Putty, Not Clamp
I think this upgrade has really changed the RGG 360° from what we thought was just an Ok handle to a solid competitor for one of the Best Painting Handle's you can get. – Great, now I need to update that article!
Whilst I much prefer clamps to putty, it's solid enough that I much prefer airbrushing multiple mini's using these than any other handle.
My favourite painting handles have an upright finger rest so I can get a better hold of my models for brushwork. it helps me avoid getting my greasy paws all over the surface. If Redgrass Games ever add this feature, it's now just a modification to an existing top rather than a whole new handle – so I'm sure now that this revision is here to stay.
I hope it's available in different colours like the last one was.
The removable caps are my favourite feature, especially for squad painting as I can buy 10 or so tops, enough for a typical squad of minis – then quickly switch between them in one go.
The magnet is certainly useful when you want to place down the model you are working on, but for the most part, it's a case of just leaving them set on the caps.
Buy your hobby stuff from Element Games for the UK & Europe to support FauxHammer.com – Use Code "FAUX2768" at the checkout for double reward points.
What did you think of this Review? please let us know in the comments.
If you like what we're doing here you could really help encourage more content with a share on any social media platform.
Click the share links at the bottom of this screen (or on the left for computers and tablets)
Want to keep updated with the blog? You can subscribe in the sidebar for RSS or by email below
(Sidebar is below the article on Mobile Devices)
Summary
Reviewer
Review Date
Reviewed Item
RGG 360° Enhanced Edition
Author Rating





Product Name
RGG 360° Enhanced Edition