Game Envy Creations' Hobby Holder Review
Last Updated on February 1, 2022 by FauxHammer
Painting handles are a vital part of everyday hobby life. From allowing you to manipulate your miniature in such a way that allows you to get into all those hard-to-reach areas to just helping prevent you from dropping your latest project on the floor mid-paint sesh, they can improve your hobby exponentially. But with so many handles on the market, which is the best for you? Today, we take a look at Game Envy Creations' Hobby Holder.
Click this link & buy your hobby stuff from Element Games for the UK & Europe to support FauxHammer.com – Use Code "FAUX2768" at the checkout for double reward points.


15% off Phrozen with code: "22PRFHDP15"

Our Affiliates / Hobby Stores
This article is part of our series looking into the best Hobby Handles for Miniatures & Models.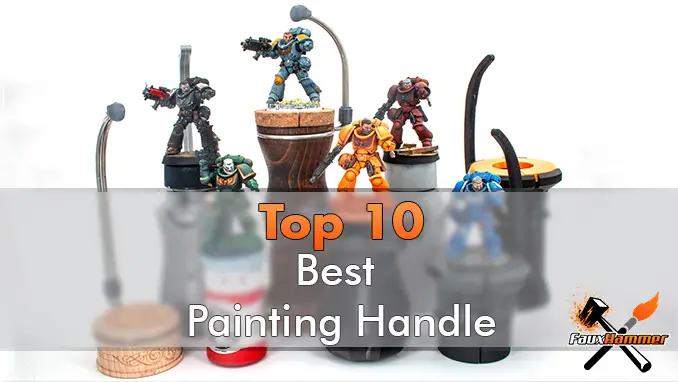 To see our up-to-date list of the best Hobby Handles for your miniatures, just click the image above.
Game Envy Creations' Hobby Holder Review – Summary
Game Envy creation's Hobby Holder takes inspiration from many other popular contemporary painting handles and figure holders. But whilst its thoughtful modular design supports a number of interesting hobby addons – from rotating components to finger rests – it struggles to truly master any of its attachments.
Given the price of the product and any further attachments consumers may want to buy in order to accentuate their painting experience, this Jack-of-all-trades-but-master-of-none painting handle will likely be overlooked by many hobbyists.
Game Envy Creations' Hobby Holder Review – Introduction
It's been a while since we've had a good look at a painting handle.
Painting handles are an important part of hobby development. If you paint a figure without a painting handle, you are far more likely to drop it or damage your paint job by flaking off the paint as you rotate the figure between your fingers. Not only can this undo hours of work, but it can also be extremely frustrating if you find yourself constantly having to repaint a particular corner or sticky-out bit of robe.
Using a paint handle not only offer you more surface area to grip – thus making it less likely for you to drop your figure and damage it – but also held keep your fingers way from your paint until it has fully dried, thus preserving all your hard work.
Sure, there are still those people who swear that the rotten old wine bottle cork and heap of hair- and dust-filled tack they use is the only way to go, but for those people who'd rather purchase something that's been designed to support your hobby, there's a host of stuff out there.
Over the last couple of years these have been getting more and more inventive and intuitive. It's now almost expected for a painting handle to be faultlessly ergonomic and designed to fit well into the palm. We expect them to come with interchangeable components. Some of the most popular handles also come with rotating parts in order to help keep your painting as easy as possible.Game Envy Creations' Hobby Holder aims to capitalise on some of these.
Game Envy Creations' Hobby Holder Review – Design
Before we begin, our example Hobby Holder has a bit of history.
Originally, this product was assigned to former FauxHamer writer Ben to review. Unfortunately, Ben ran out of time to finish his review of the Hobby Holder before he left the team (we still miss him!), so our test model does have a little airbrushed paint on it.
Anyway, here is the Hobby Holder in all its glory.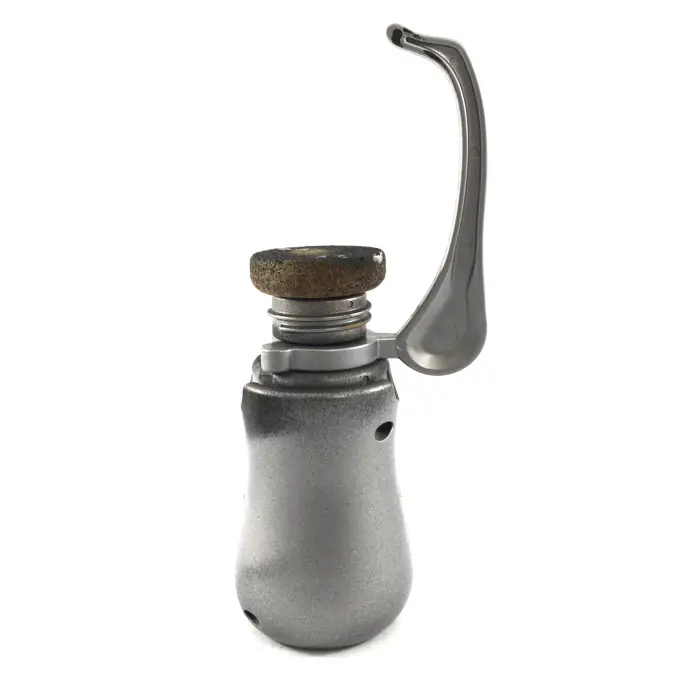 The design is completely modular, and just about every component can be swapped out for something else. The cork top, which is idea for pinning miniatures or smaller sub-assembles to the pai9nting handle, can be swapped out with a plastic cap should you prefer. This top, as it is harder and yields less to pressure, if far better for tacking the bases of fully- or partially-assembled miniatures to.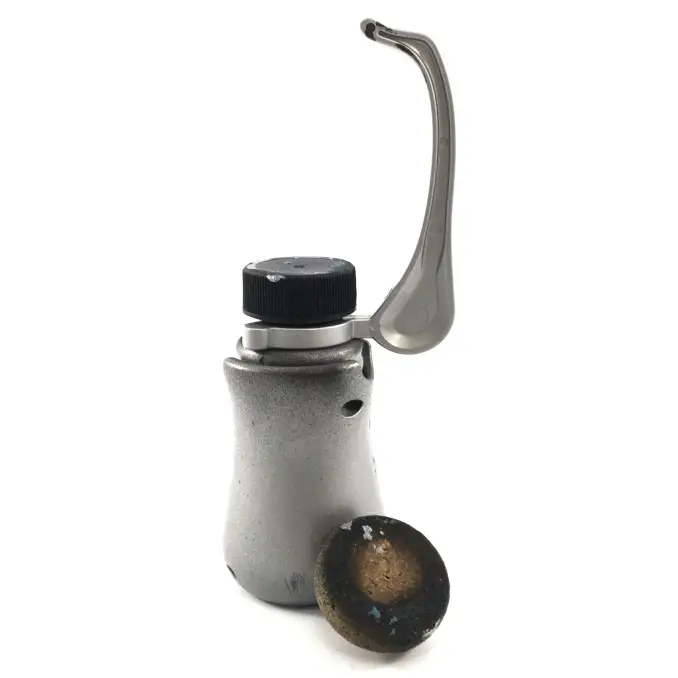 The handle comes apart into several parts, as you can see below. Most of these can be swapped for something else in the Hobby Holder range.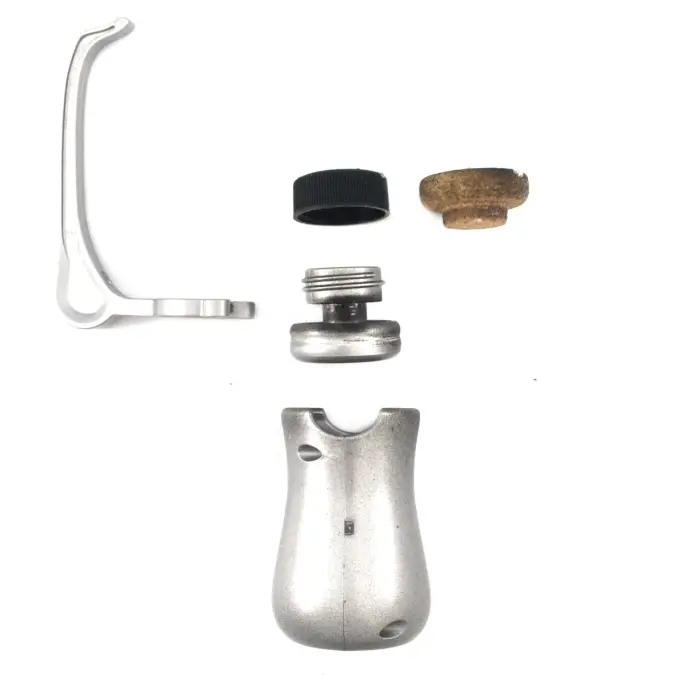 From the bottom up, you have first and foremost the handle component itself. The handle is noticeably larger than a lot of its competitors , but has a curved design to ensure it still sits comfortably in the hand. Next up, you have the spinny, screwy thing called a "Threaded Base" on Game Envy's website.
This is then most important component in the design, as it is to this that all over modules attach. It can be pushed into the top of the handle, has finger rests clipped to it, and has whichever top you desire either screwed or pushed into it. This component also rotates. The small cutaways in the top of the painting handle allow you to spin the part with your fingers.
Next to it, we have the finger rest (called Stability Bars on Game Envy's website). These are available in a number of shapes and sizes in order to accommodate how you like to grip your painting handle, and to account for larger miniatures.
Finally, we have the two toppers: the screw-cap and the cork plug, which can be screwed/unscrewed or pushed in a pulled out as you so require.
The Hobby Holder can actually be assembled in a couple of ways to suit you.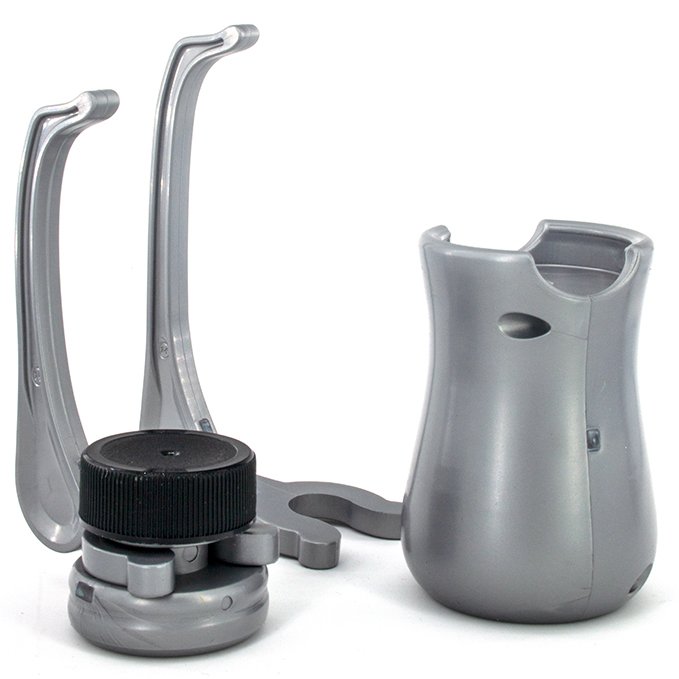 The larger handle is actually an optional add-on: the basic Hobby Holder itself features only the Threaded Base and a Support Bar, as you can see on the left. If you were using this set up, you'd actually hold on to the bottom of the Threaded Base component. This retains that removable twist-cap feature and the option to swap this out for the cork stopper.
It's a clever little thing, and the intuitive modular design will allow for you to chop and change parts of it to your heart's content, until you come up with a setup that suits you.
Game Envy Creations' Hobby Holder Review – Testing
For the sake of this review, we were furnished with a number of components to try out. These essentially boil down to:
The components come in a range of colours. Ours came in silver and a coppery bronze – not pictured in this review.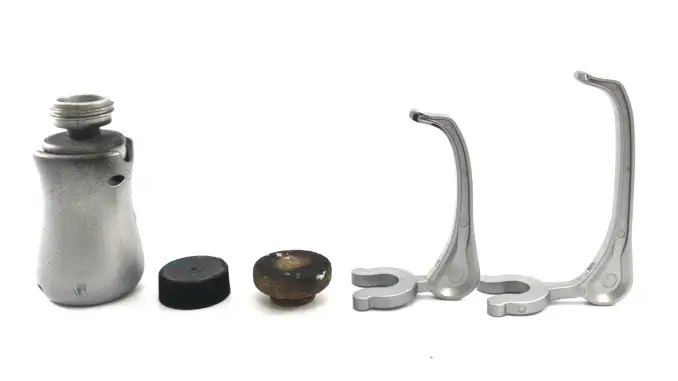 The first thing I decided I wanted to do was swap the shorter finger rest out for the larger one. On their website, Game envy claim you should be able to switch any of the modules out with any of the others quickly and easily using what they call their "QuickClick Connection". They even have a nice gif on this page of someone doing so.
I actually found it quite hard to separate the components from each other. I had to prise Threaded Base (that's the component to which all others attach) out of the handle and really hank on the finger rest in order to get them off the component. Not great, especially in the case of the finger rest, as the components are all made of plastic and could snap.
Getting things to go back together, though, was nice and easy. It didn't take a huge amount of effort to get the Threaded Base into the larger grip, nor the larger finger rest to clip on to the base.
Changing the toppers out is extremely easy. I simply had to pull the cork topper out of the Threaded Base and screw on the plastic bottle cap-style topper. With that done, I was ready to go.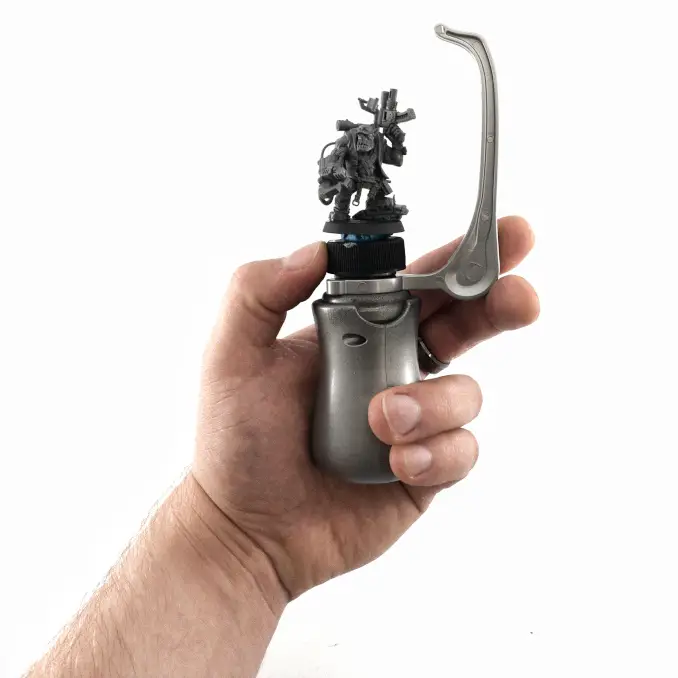 But as soon as I picked the Hobby Holder up, I felt that something was wrong. With barely any pressure applied to it at all, the finger rest began to rotate around the figure, as did the central Threaded Base. The individual components that are designed to rotate do not get enough resistance off the other components they are attached to in order to stop them from slipping around at even the slightest touch.
This is a bit o a disaster, really. You can barely brace your fingers on the finger rest without it slipping backwards and forwards, and even with the longer handle attachment, you'll find yourself having to grip the Threaded Base in order to ensure that doesn't start moving around too much as you paint as well.
Before I'd even lifted a brush to my figure, I was unsure if I wanted to keep using the Hobby Holder. I did not feel it gave me the level of support I would expect from a painting handle. Even one of the bog-standard Citadel paint handles with their spring-loaded brackets holds a figure more securely than this.
But the thing that really got me was the rotating components. Such a good idea in principle, and executed so well in particular by RedGrass Games, the Hobby Holder just doesn't get them quite right. The finger rest and the rotating Threaded Base just don't work together here, as very little pressure on one component makes them both spin in place.
For comparison, I picked up my Rathcore Miniature Grip V.3 Dark with a Medium Cork Adapter and a 50mm Finger Rest, which I reviewed along with several other Rathcore handles a few months back, and is also cheaper than the Hobby Holder Full 4-Piece Bundle. The Rathcore Miniature Grip V.3 also has a rotating finger rest on it, and I wanted to ensure I wasn't being unreasonable in my appraisal of the Hobby Holder. But the Rathcore's finger rest did not budge when I put pressure on it. I even gave the Rathcore's finger rest a whack and it didn't budge.
For me, that was the death-knell for the The Hobby Holder. Unfortunately, there are just a huge number of products ot there that are not only more affordable, but just do what the Hobby Holder tries to do, but does a better job of it. The Hobby Holder is a good idea, but it needs some more polishing and refinement.
Will the Game Envy Creations' Hobby Holder Improve my Hobby?
That very much depends.
Do you own a painting handle? Chances are, if you do you probably like the one you've already got, or have got used to using it. If you do own one that you're happy with and are comfortable uisng, stick with that one.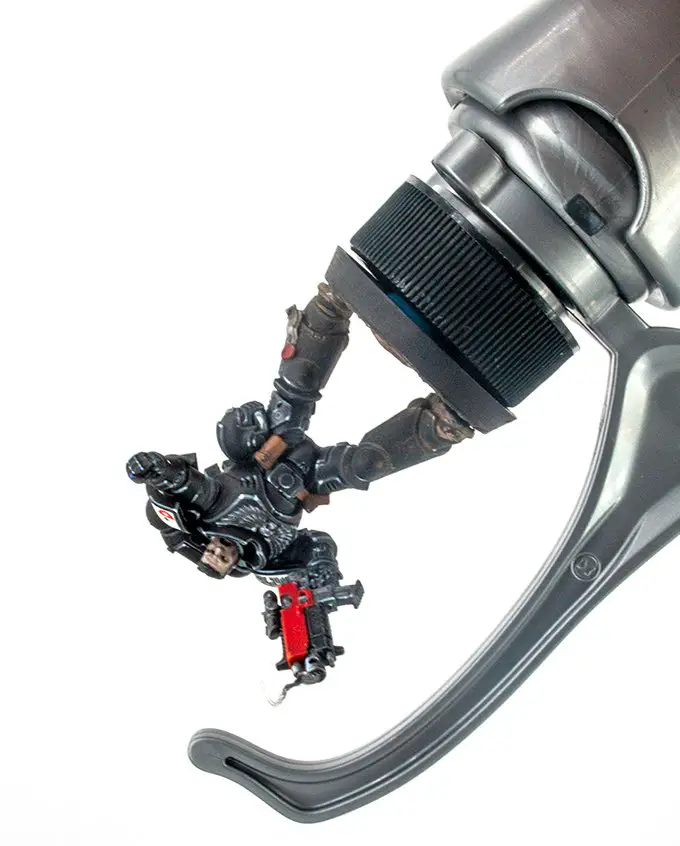 If, however, you don't own a painting handle, or you really don't like the one you've got, consider the Hobby Holder. Still, even then there are several other handles I'd recommend before we arrive at the Hobby Holder – such as a bog-standard Citadel one. It's far cheaper, and a Citadel holder won't start spinning of its own accord like something possessed.
Game Envy Creations' Hobby Holder Review – Price and Availability
Now, it gets uncomfortable.
So, a bog-standard Hobby Holder – that's a single painting handle, a Threaded Base and a bottle top – will set you back $19 USD. That's before shipping and anything else. That's about £14 GBP/€16EUR, which, as far as I'm concerned, is a little steep for what you get.
If the setup we tested here – that's an Ergonomic Grip, a Threaded Base, a Stability Bar and a Stability Bar XL – appeals to you, that'll cost you $38USD (about £27.50GBP/€32EUR). That doesn't even come with the corks stoppers or bottletop-style screw-on attachments that you affix your figures to, so you'll be buying 10 x Bottle Caps and 5 x Cork Inserts for an additional $8.25USD/£6GBP/€7EUR. That's a grand total of $46.25USD/£33.50 GBP/ €39EUR, which is far too much.
It's just not worth it. There are better products available for a fraction of the price.
Game Envy Creations' Hobby Holder Review – Final Thoughts
Pros
Cons
Good, solid handle
Modular design
Plenty of design choice to choose from
Easy to personalise and tailor to your style of painting
Might be a bit too bulky for people with smaller hands
Some of the components are difficult to separate from each other
The rotating parts move too easily
Expensive
I've reviewed quite a lot of painting handles since I started writing for FauxHammer.com: Garfy's interesting and affordable Get a Grips, the aforementioned Rathcore handles, as well as both the new and old iterations of Citadel's painting handle to name a few. Unfortunately, the Hobby Holder doesn't stack up well against any of these.
Credit where credit is due, what Game Envy have tried to do here is very clever. The way everything revolved around one small and simple component is inspired, and the general premise of the painting handle is excellent. It needs a lot more refinement.
But the Hobby Hodler's real issue is its price. It's an expensive product, but unfortunately, there are many similar, superior, and cheaper products available – such as the aforementioned Rathcore Miniature Grip V.3.
Still, the Hobby Holder isn't the worst painting handle I've ever used – that accolade still lies firmly with The Ring, and I imagine will do for quite some time yet.
All that said, though, I'd be very interested to see what Game Envy do with this handle next. With a couple of tweaks here and there, they could be on to something great.
One to watch.
Click this link & buy your hobby stuff from Element Games for the UK & Europe to support FauxHammer.com – Use Code "FAUX2768" at the checkout for double reward points.


15% off Phrozen with code: "22PRFHDP15"

Our Affiliates / Hobby Stores
What did you think of this Review? please let us know in the comments.
If you like what we're doing here you could really help encourage more content with a share on any social media platform.
Click the share links at the bottom of this screen (or on the left for computers and tablets)
Want to keep updated with the site? You can subscribe in the sidebar for RSS or by email below
(Sidebar is below the article on Mobile Devices)
Summary
Reviewer
Review Date
Reviewed Item
Game Envy Creations' Hobby Holder
Author Rating





Product Name
Game Envy Creations' Hobby Holder