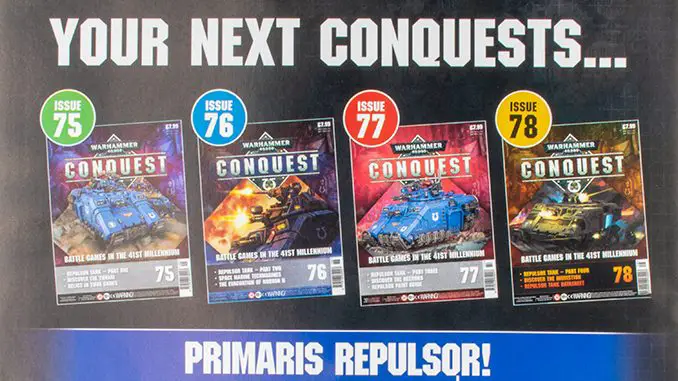 Wow, we are really getting to the end now. I was hoping for an extension to this series but it looks like this is really it. Did you want conquest to continue passed issue 80? What would you have wanted? Is Mortal Realms enough for you? Let me know in the comments. Right now, let's check out the contents of Issues 75, 76, 77 & 78.
Just a reminder to join our Facebook Group.
How is everyone getting on painting their armies? With only a tank and some terrain kit to go? I've finally managed to finish my Easy Build Space Marines – you know, from Issue 1!
Right, Let's take a look at the next 4 issues!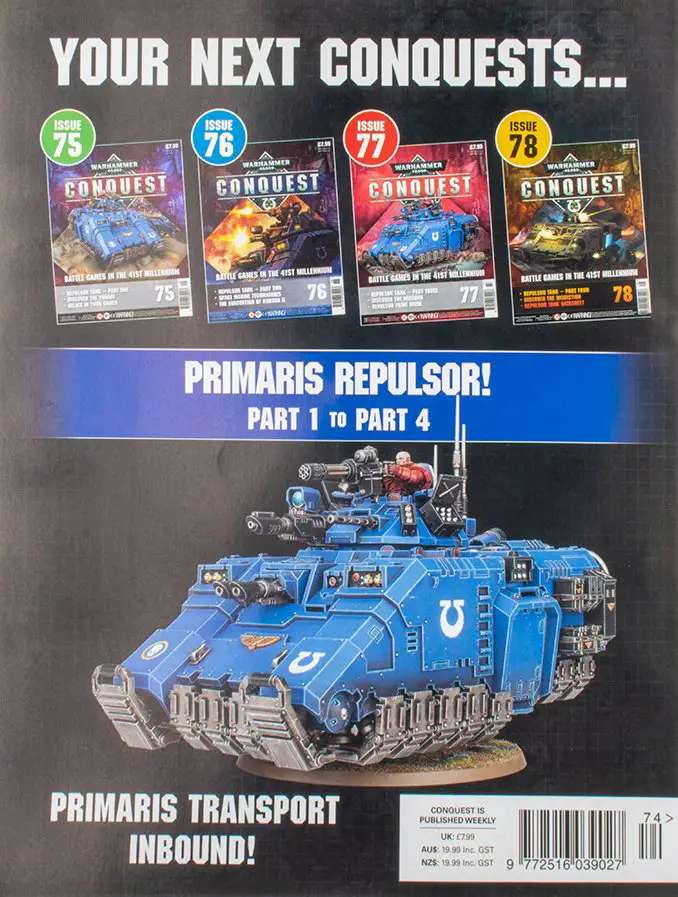 I'll cover the individual issues in a moment, but essentially what you are getting over these 4 issues is a Half-Price (roughly) Repulsor Tank! £50 Retail (but they are actually only £42.50 at your FLGS or online store like Element Games)
So the 4 Issues cost £7.99 each Retail (or £7.49 at Forbidden Planet) for a total of £31.96 (£29.96 Forbidden Planet).
You are still saving between £20.04 (Retail Tank – FP Conquest) & £10.96 (FLGS Tank – Retail Conquest) for the tank – depending on where you would usually shop. no matter what, this will still be the cheapest way to pick up a repulsor tank for a good while.
It is worth noting (though we covered this before) that the repulsor tank itself comes on only 3 sprues – so one of these issues is just the stand and a clear spacer ring which is what makes the repulsor look like it's floating. without this, it will topple over backwards.
You can always just avoid the issue with the base and build your own if you want to save more money. This brings the price down to £23.97 Retail or £22.47 with Forbidden Planet.
Based on the Spanish .pdf we expect the base to be in issue 78. Whilst we were told by Hachette this was subject to change – it's been pretty dead-on so far!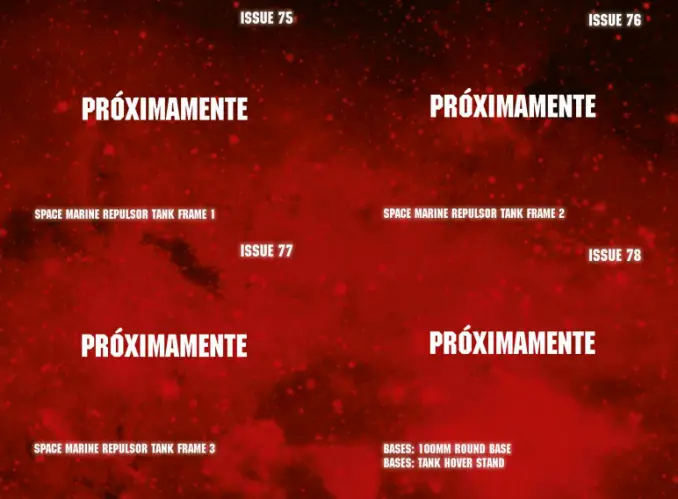 So there you have it.
This is one to grab or preorder ASAP as once again you will find scalpers all over these – again (affiliate plug) Forbidden Planet is the best way to get these- preorder them now to secure all 4 issues.
Warhammer Conquest Issue 75, 76, 77 & 78 Contents
Release Dates:
Issue Price £31.96
Total Value £50.00
Total Saving £18.04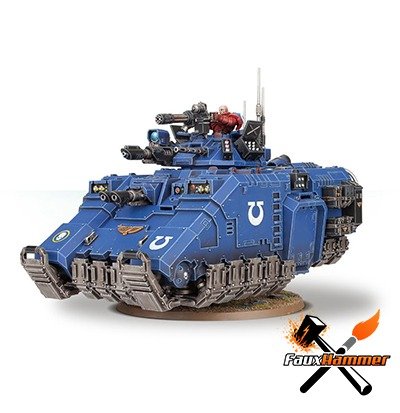 What did you think of this Article? please let us know in the comments.
If you like what we're doing here you could really help encourage more content with a share on any social media platform.
Click the share links at the bottom of this screen (or on the left for computers and tablets)
Want to keep updated with the blog? You can subscribe in the sidebar for RSS or by email below
(Sidebar is below the article on Mobile Devices)