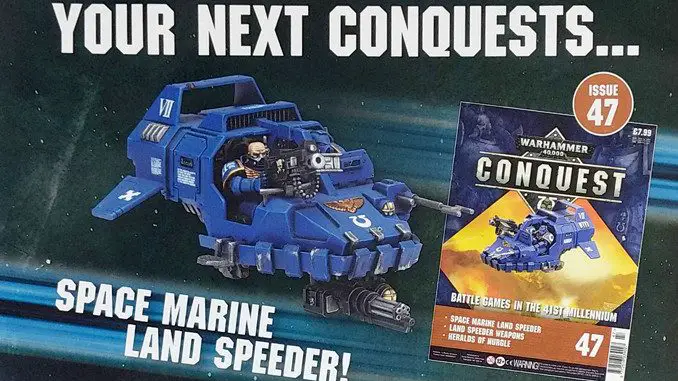 Ok So I messed up my routine last week and made a similar post too early, But see below for confirmation of the upcoming contents in Issues 47 & 48.
Here's a reminder that we have a growing Warhammer Conquest Facebook Group, so please come and join us. Show off your models, ask questions and get the latest news from the community itself.
Normally I do this once a month, twice if someone is kind enough to send me pictures of the issues halfway through. But last month, Conquest subscribers had our biggest delay yet.
I like to cover these as it does confirm the contents of the leaked issues list, which after all, I've said many times, is subject to change.
When this collection first started, you had 2 (unclear) options.
1. you could subscribe with your local newsagent and pick up the magazine weekly (I should have done that).
2. Subscribe via Hachette and get 4 issues in the mail every 4 weeks. Initially, this was great for mail subscribers who would get their 4 issues halfway between their availability in the shops.
So, Newsagent subscribers would end up 2 issues ahead for a couple of weeks, and Mail subscribers would be ahead for the other two.
Perfectly balanced, as all things should be.
But the mail subscribers got hit with a dealy over the 2018/2019 holiday season and ended up a week behind. the same thing happened around February 2019 and again in June, we got hit with a delay, this time Hachette even pre-alerted us to it. This put us about a week and then some behind the newsagents.
But today, unexpectedly, we got issues 43-46 only a couple of weeks after the last despatch. so we are back to being about 3 days ahead of Newsagents.
Anyway, I jumped the gun and got confused by the issue order and posted my usual Issue Contents Confirmation early. So to get back on track. here's the usual order of things. even though we've already covered Issue 47.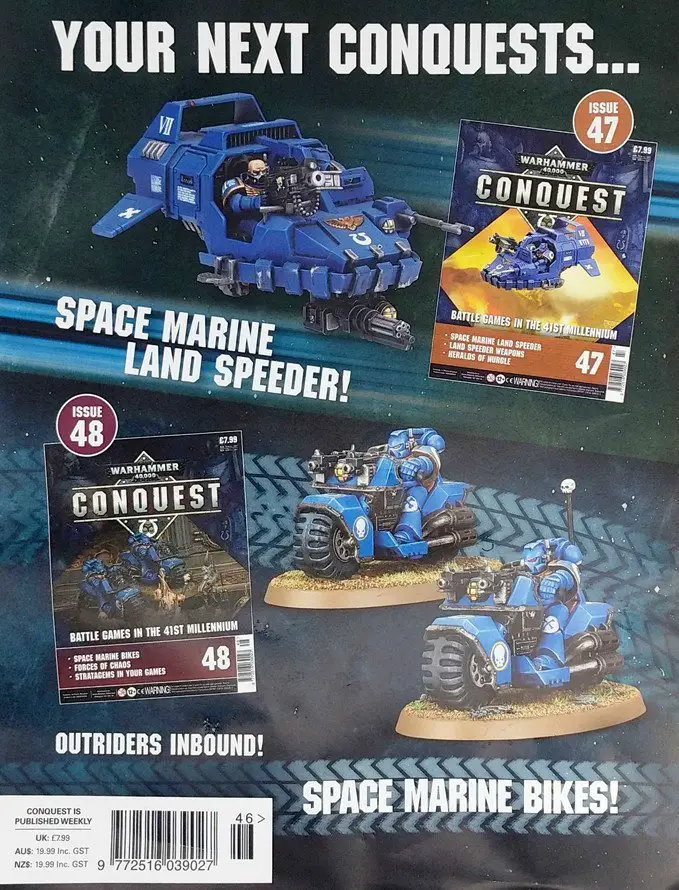 A Land Speeder will usually set you back about £20. So you're saving over half on this model. (depending on which variant you want to build).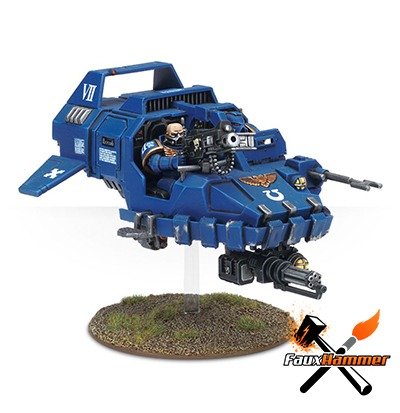 There have been 2 Land Speeder sprue kits. We expect this is the simple and fixed Land Speeder Tornado kit (from 40k 3rd edition) which does not give you the option to add the Twin-Linked missile launcher. The £20 retail box (shown above, and on the cover art, was an upgraded sprue released in 6th edition) allows you to also make the Land Speeder Typhoon. This has the side-mounted missile lunchers, a selection of front-mounted weapons and some chapter badges. But you can get the missile launchers & weapons etc on eBay if you wish to upgrade. But let's wait to see what we get,
If you like your Land Speeders, you can also pick up the classic Land Speeder Storm – a scout variant of the Land Speeder. or the Dark Angels Land Speeder Vengeance.
Issue Price £7.99
Total Value £20.00
Total Saving £12.01
Just to advise, the leak has confirmed that we will only get 2 of the usual 3 man bike squad in this issue. We are expecting the extra bike in Issue 53.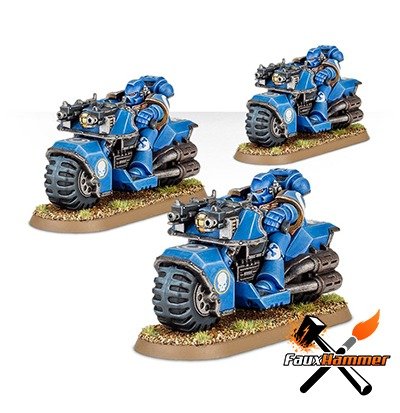 Like a lot of the collection after this point, the models are starting to show their age. It's still a good set, But splitting one bike into a separate issue seems a tad arbitrary. You're making almost a 50% saving on this issue but you will lose about 50p on Issue 53 . Unless it comes with paint or something else too, but we have had no suggestion of anything extra yet.
So if you are just picking up the issues you want and bikes pique your interest. Just grab 3 copies of this issue for a cheap way of getting 2 squads. (especially now the retail price of the squad has gone up to 22.50)
Issue Price £7.99
Total Value £15.00 (box set at (£22.50/3)x2)
Total Saving £7.01
We'll continue to provide updates as changes are identified. Keep an eye on the full lineup article for changes.
What are you looking forward to? I'm looking forward to getting some new land speeders, here's the last one I painted (when I was 13).
Follow FauxHammer by subscribing to the site (below). You can also follow on Twitter or Facebook for the latest updates.
What do you think of the upcoming goodies? let us know in the comments.