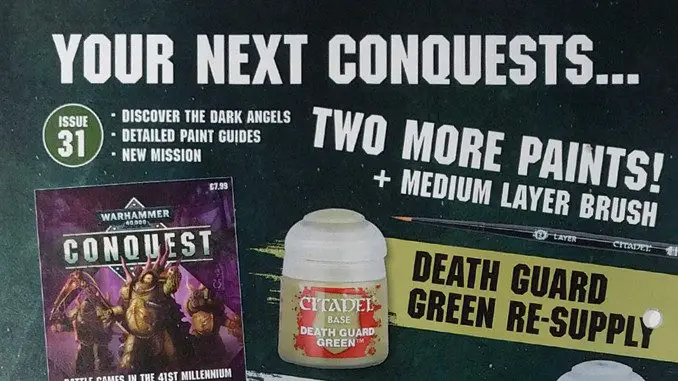 The Warhammer Conquest Issue 31 & 32 Contents shown below are the first major change since the full line-up, with contents broken down per all 80 issues was leaked back in January. We had our first heads up of this change from cover art release by forbidden planet last month.
Join us on Facebook to talk about Warhammer 40,000 Conquest. Discuss the latest news, issues and share pics of your models to get community advice.
Whilst th change itself is minor, the knock-on effect it has to several issues later could be quite significant.
Unfortunately, i don;t have my issue 30 yet, so I had to get the following image from a friend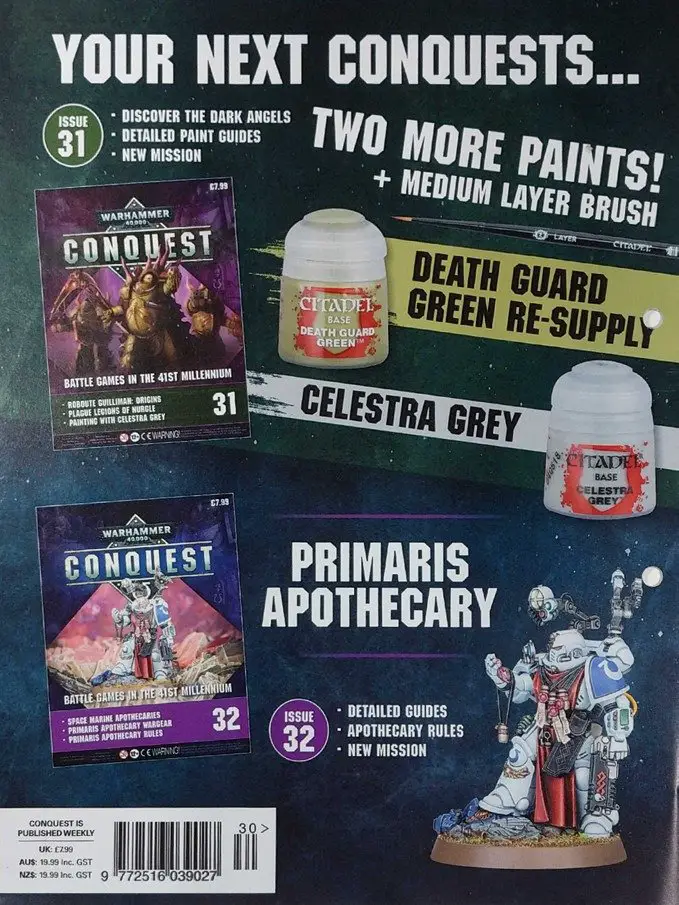 So for anyone who has been following the leaked list, you would know that the Apothecary was scheduled to come in issue 31 – This has now moved to Issue 32. Issue 31 is now (more sensibly) paints (for the aforementioned Apothecary) and a brush.
Issue Price £7.99
Total Value £10.25-7.99
Total Saving £2.26
Warhammer Conquest Issue 32 Contains
Issue Price £7.99
Total Value £22.50
Total Saving £14.51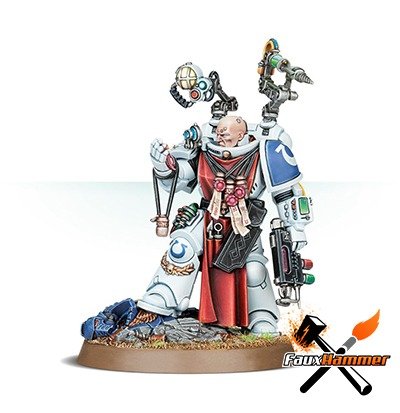 So, there's some good value here, but this messes up the order of issues now, at least until issue 35. Where it returns to the order we expected. Although, as Issue 31 has now butchered some of the contents from issues 34, 36 & 73 meaning we are likely to see different items in those sets now.
Also, whilst I have your attention. Whilst Warhammer Conquest is an excellent starting point for your hobby, it doesn't provide you with everything you need to get the most out of this hobby. Check out our Essential Tools for Miniatures & Wargames Models guide. Where you will find something that can improve your hobbying, without breaking the bank.
Let's look forward to Issue 34 so we can see what's coming in 35 & 36 According to the leak it should be a Primaris Chaplain, in Issue 35 and Macragge Blue, Leadbelcher & Death Guard Green in Issue 36. However as we have just seen, Death Guard Green is now in issue 31, so all we know for certain right now (based on the cover) is that it will be paints.
Follow FauxHammer by subscribing to the site (below). You can also follow on Twitter or Facebook for the latest updates.
What do you think of the upcoming goodies? let us know in the comments.