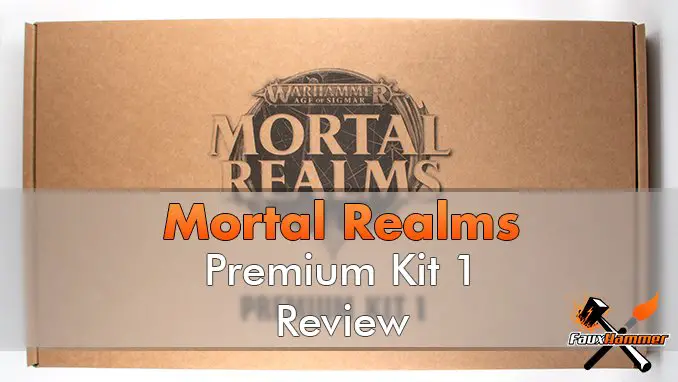 So it's finally here, for those of you who have subscribed directly with Hachette and paid the £2 extra per issue – you should now have received your first Premium Box – If not, come and check out what you get in our Mortal Realms Premium Kit 1 Mini Review.
Buy your hobby stuff from Element Games for the UK & Europe to support FauxHammer.com – Use Code "FAUX2768" at the checkout for double reward points.
Here's the usual reminder to follow our Facebook Group.
Also this week – in a completely self indulgent moment – I actually got published in White Dwarf and I'm telling everyone. Now I'm forcing this achievement of mine down your throats too.
I've wanted this since I was 11 years old and now I'm 36 it finally happened in White Dwarf Issue 454 – if you have it, flick to page 8.
Please if you can, help inflate my ego further by following me and liking this post on Instagram. If you aren't on Instagram – I promise you that you are missing out on a treasure trove on inspiration in your hobby. I used to hate Instagram until I realised just how many hobbyists are sharing their models on there. so many of them are willing to help you too!
Mortal Realms Premium Kit 1 Value
First up, let's just say that whilst this is an extra 50p per issue vs the premium subscription payment. for Warhammer Conquest – The value here is much better – since we are getting models. not just some cardboard tokens, a box and some dice.
At £2 extra an issue, That's £160 extra spent over the course of the subscription. Since there are 4 premium kits in total – I'm inferring that the price of each kit is £40. Though we get our last Premium Kit Issues 67 -70 (Delivery 18). So can we stop paying the £2 premium for the last 10 issues?
No Idea, let's just stick with the worst-case scenario, £160 in total, £40 per premium kit – If we can make a saving later Bonus
The following sets retail price is £77.25, So you're saving 37.25 on this set by being a premium subscriber – and you get a free magazine.
Though you lose the guides for some of the possible build options for the below sets – though you can find them online easy enough.
Mortal Realms Premium Kit 1 Packaging
Like the surprise, Silver Templars Kit that cam eat the end of Warhammer conquest – This premium kit comes in a branded cardboard box.
Everything is loose inside the box so your bases etc rattle but nothing was damaged. When I picked it up off the postie, I forgot I was expecting my Mortal Realms delivery and due to the bases rattling I thought someone had sent me some lego.
Mortal Realms Premium Kit 1 Magazine
The Premium kit comes with an extra Magazine Which is very similar in Format to the normal magazine you get. but it's a bit larger diue to all the extra models.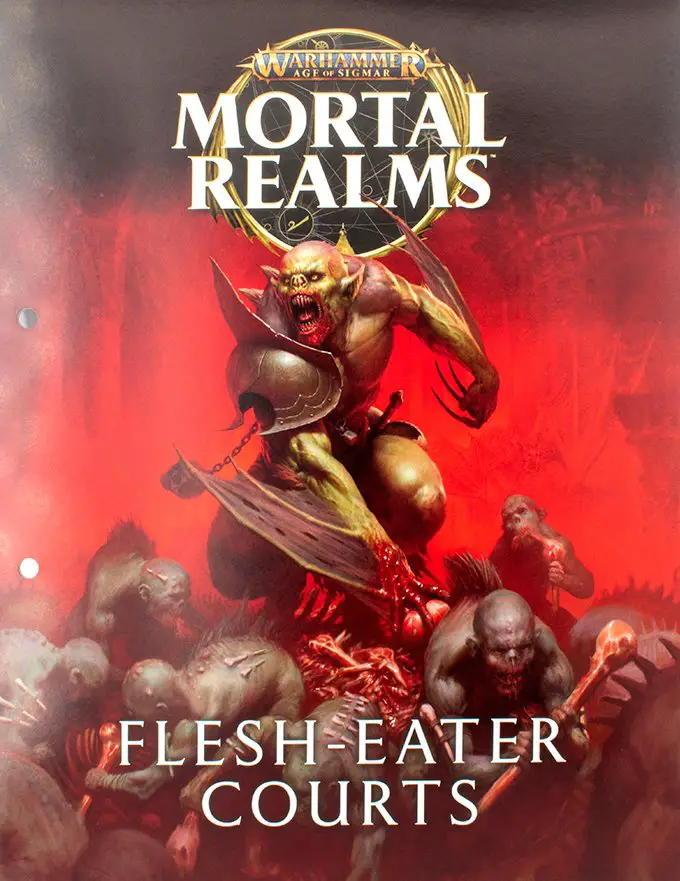 It also comes with the binder holes so you can add this extra issue to the rest of your collection.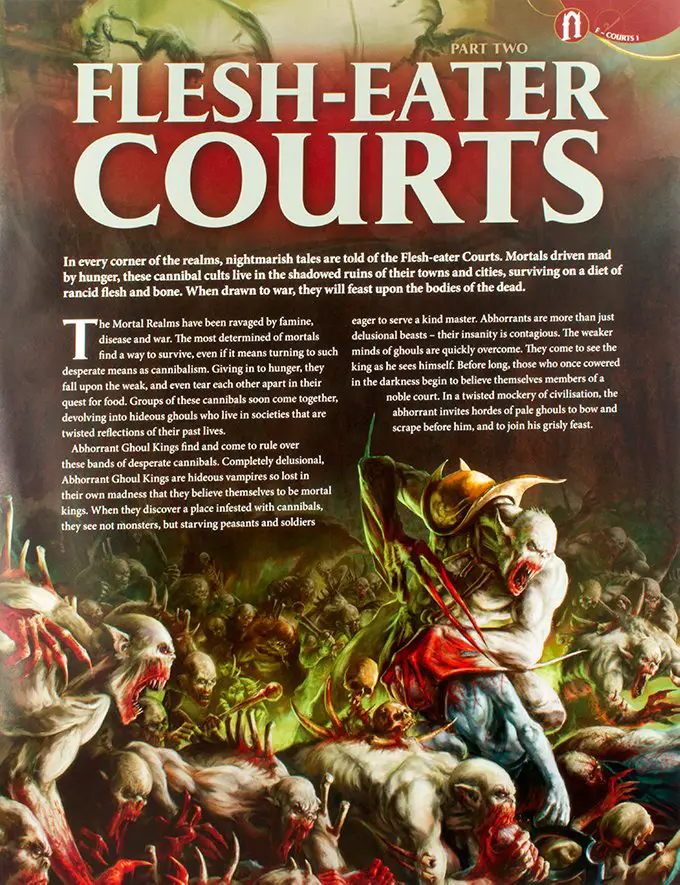 You get the usual Mortal Realms style lore about the Flesh-Eater Courts factions with some individual segments on the characters and units which come as part of the set.
Mortal Realms Premium Kit 1 – How to Build
You get a huge how to build section as there are 3 types of models spread over 5 different sprues.
You get the Abhorrant Archregent which retails at £17.50 and was previously exclusive to the (out of production) Carrion Empire Boxed Game.
This is Sprue A of the Crypt Flayers
This is sprue B of the Crypt Flayers
It's worth noting that with these sprues you could also make Crypt Horrors or Varghiests.
The sprues above and below come in the Flesh-Eater Courts Crypt Flayers / Horrors / Vargheists box and retail at £30 for the set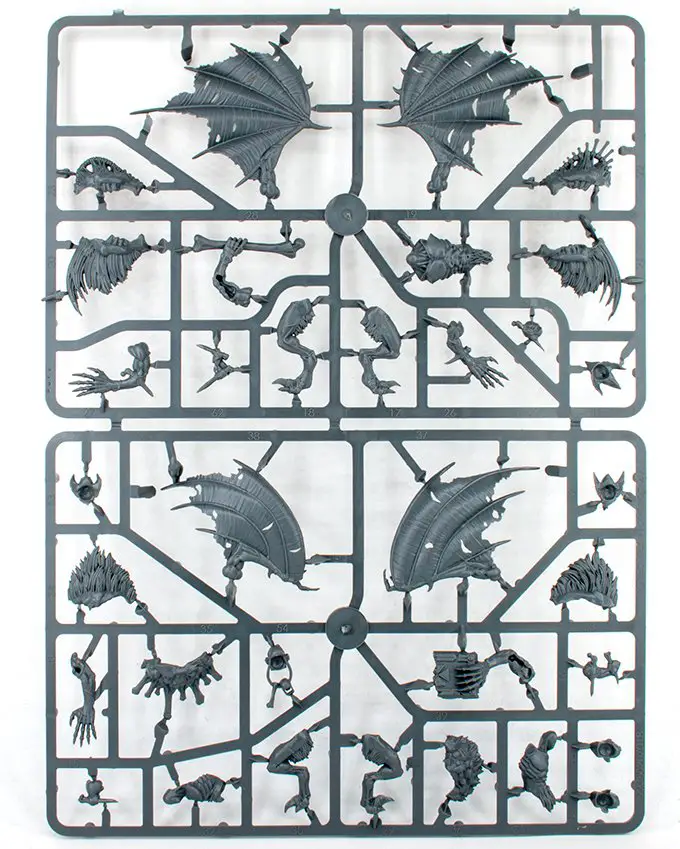 This is Spriue A from the Flesh-Eater Courts Crypt Ghouls Box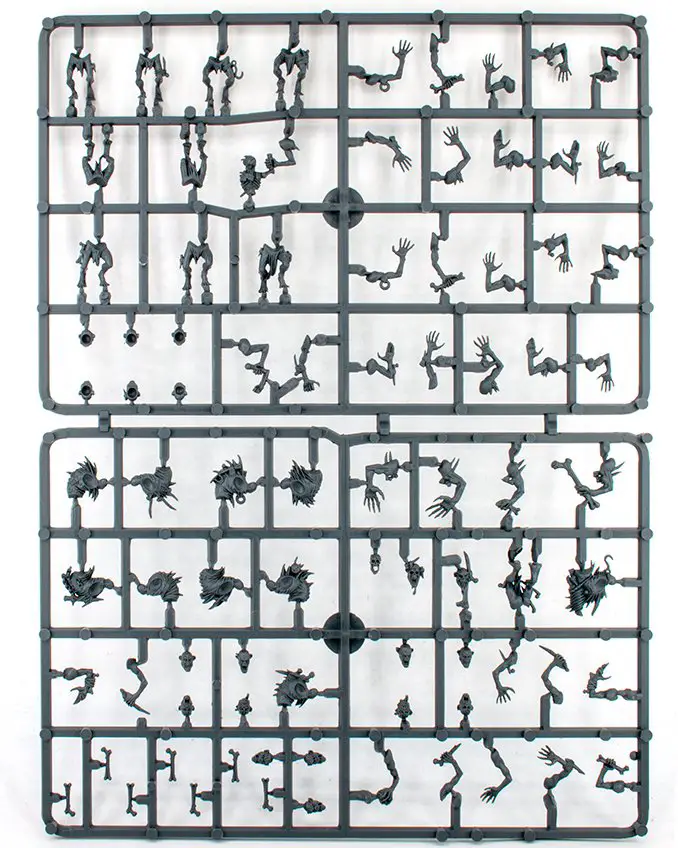 You'll find, as noted in the instructions, there are no numbers on these models. This is quite a classic set which is why it doesn't follow the more modern numbered approach, but it also gives you quite a bit of variety in how you build the ghouls.
It also leaves you plenty of extra pieces for making your bases look cooler
The Flesh-Eater Courts Crypt Ghouls Box retails at £25 for 20 ghouls (which you get here.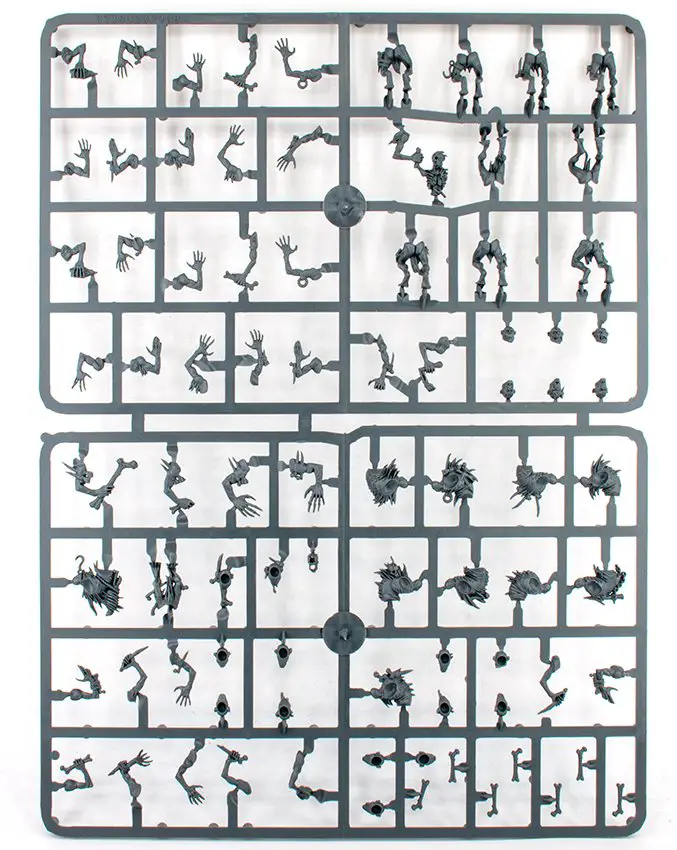 This whole set is pretty much the Flesh-Eater Courts portion of the Carrion Empire Boxed game, without the extra sprues of Crypt Flayers so you can also make Crypt Horrors or Vargheists (though it's meant to be Horrors in the Carrion Empire Game)
Buy your hobby stuff from Element Games for the UK & Europe to support FauxHammer.com – Use Code "FAUX2768" at the checkout for double reward points.
Mortal Realms Premium Kit 1 – How to Paint
You also get a large how to paint section aswell.
This isn't broken down by models but it does give you a thorough step by step which shows you how to paint all of these models to completion.
Yo get a Bottle of Athonian Camoshade with the Premium Kit which is not part of the rest of the Mortal Realms Collection and make up the main base flesh-tne for this guide.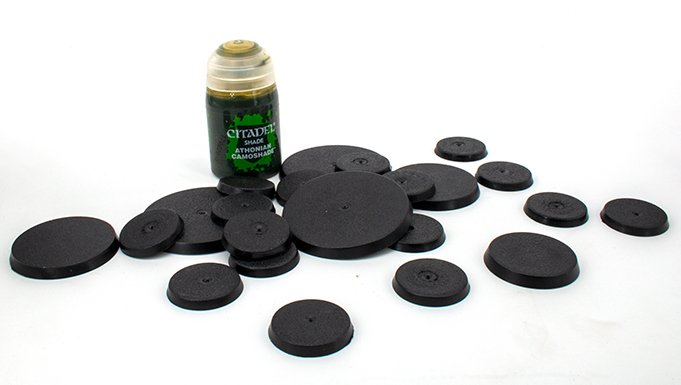 It is worth noting that with your collection you don;t have all the paints to complete thiis guide just yet, but you will get them throughout the magazine, or you can buy them early if you are so eager.
They've also advised that we will be getting a pack of Citadel Skulls in a future issue! yay. Since they retail at £17.50, that's a good saving on this terrain set when you can pick some up at the Mortal Realms issue price of £7.99.
Keep an eye on our Mortal Realms Contents list. As soon as we know what issue these will be in we will share. Remember you can always pick up extra copies of any issue at Forbidden Planet. – I know I'll be buying a few copies of that issue, when has anyone looked at a Warhammer model and thought "it needs fewer skulls?
The painting guide is a nice and simple approach to these models which brings them up to a decent tabletop standard.
Mortal Realms Premium Kit 1 – Warscrolls
The book also hots a page of Warscrolls for the Abhorrant Archregent, Crypt Ghouls & Crypt Flayers. But again – no options for the buildable Crypt Horrors or Varghiests.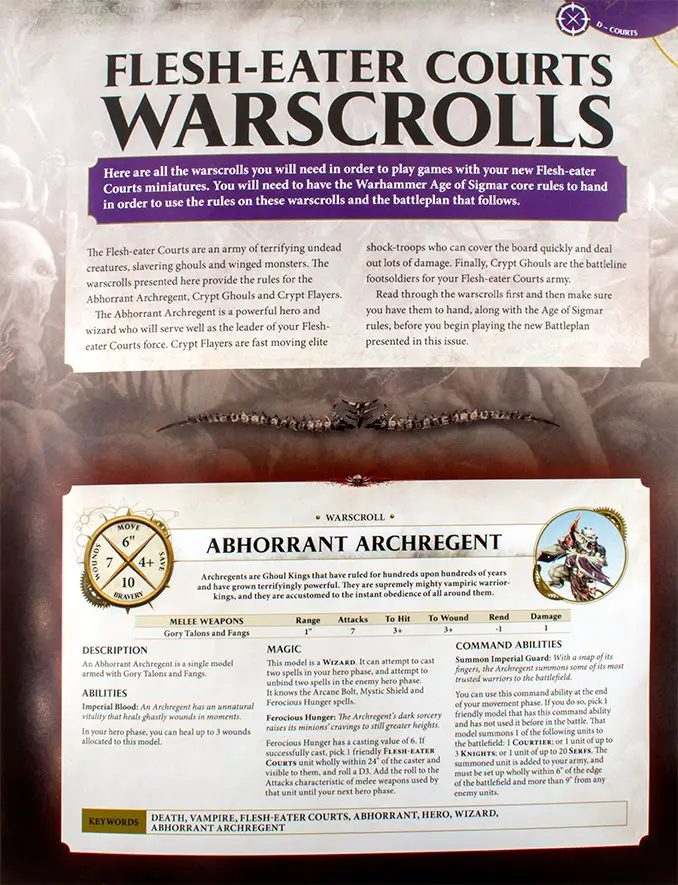 It's a very Decent Set and the Models and paint Alone Retail for £77.25, so at only £40, you're picking this lot up at almost half-price.
The book is a nice addition with some decent lore and typical build & paint guides. the book is noticeable larger than your usual Mortal Realms issue.
I think the only thing which would ahve been a nice addition would be nice to have included some additional battle scenarios in this mag – facing off against your existing Stormcast and Nicghtgaunt Forces. Even a 3 faction battle to introduce another friend to the game
Mortal Realms Premium Kit 2 – Sylvaneth
This is a really great set at incredible value so keep your eyes peeled for the next Mortal realms Premium Kit – Sylvaneth. Which is expected to come come with Issues 27 – 30 (Delivery 8).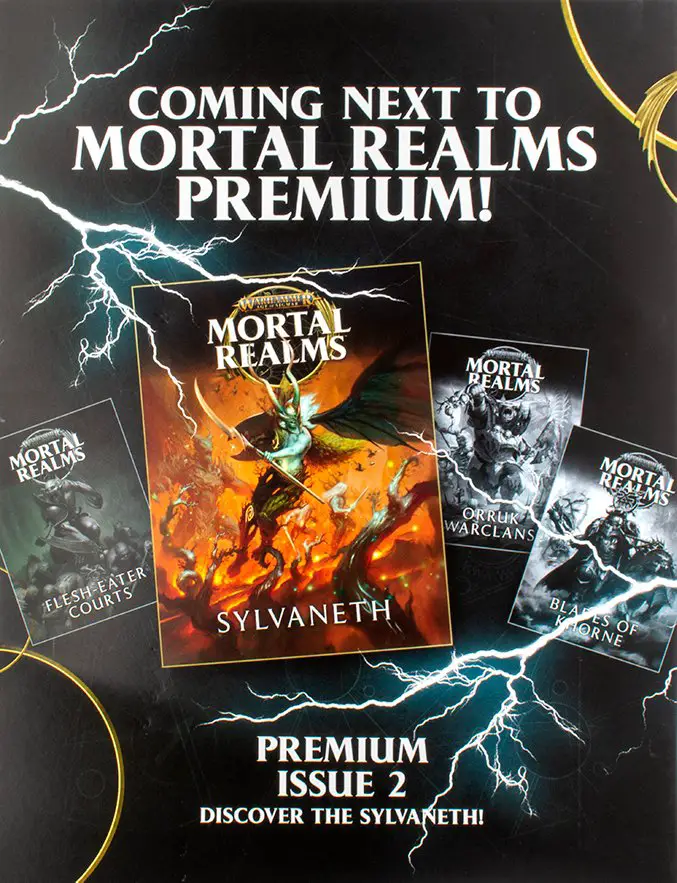 Buy your hobby stuff from Element Games for the UK & Europe to support FauxHammer.com – Use Code "FAUX2768" at the checkout for double reward points.
What did you think of this Review? please let us know in the comments.
If you like what we're doing here you could really help encourage more content with a share on any social media platform.
Click the share links at the bottom of this screen (or on the left for computers and tablets)
Want to keep updated with the blog? You can subscribe in the sidebar for RSS or by email below
(Sidebar is below the article on Mobile Devices)
Summary
Reviewer
Review Date
Reviewed Item
Mortal Realms - Premium Kit 1
Author Rating





Product Name
Mortal Realms - Premium Kit 1