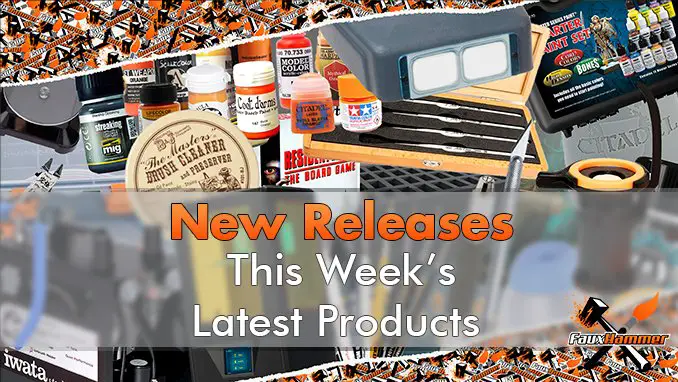 Welcome – one and all to a new round of New Releases – this week we are once again looking at the stuff coming out during the week commencing June 15th 2020 – having a quick nosey at what's coming soon! And I have some huge FauxHammer.com website updates for you too.
Click this link & buy your hobby stuff from Element Games for the UK & Europe to support FauxHammer.com – Use Code "FAUX2768" at the checkout for double reward points.

Our Affiliates / Hobby Stores
This is a big update so if you want sto skip to the New Releases – Click here.
FauxHammer.com Updates
So first, some updates about the site
If you are a regular visitor, I hope you have noticed that the site is loading pages nearly 1000% faster now than it did previously – if not, please tell me!
Lets explain where this all came from.
Back in April when all the COVID-19 stuff all kicked off, let's just say, it was a bad month. Just as it was for so many other people in the world.
How this affected FauxHammer.com was due to my site hosting needing to be renewed. When I properly started FauxHammer.com just over 2 years ago (which I moved from my own personal blog on Blogger). It cost me only £3 a month for a makeshift server and £9 a year for the Domain name. That was great for about 400 Monthly Visitors.
A year later (so, last year) the volume of traffic had gone up significantly so I moved to Siteground (who are absolute heroes). And the hosting for 1 year was just under £60 Which was fine for a few thousand visitors,
However, since the start of this year, the site has been seeing over 100,000 visitors per month and just last month it went over 150,000!
That's amazing, but to host a site with 100,000 monthly visits, it's £25 a month, which needs paying up-front. £300 for the year! Which is not money that many people have just laying around. Especially when you've just been put on Furlough and your website's affiliates (the sites we use to claim some money back from) decide to cut their commission rates by 60%, or in some cases, stop paying altogether! Oh, and my wife has taken over a portion of the office for work – something about having to pay bills or something, I'll be honest, I wasn't listening.
So, with no intention of letting FauxHammer.com die after more than 2 years of sleepless nights put in. I had no choice but to put the following cry for help! To say I am overwhelmed by the response would be an understatement.
Within days we hit £300 of this goal – FYI, it's still open if you want to help by either donating or at the least sharing the post above on social media platforms.
That was the site hosting paid for for the next year!!!
But there's still more top do.
Das, Le, El, Il FauxHammer
With the additional money from the above, I went to work on more improvements to the site. First trying to increase the visitors to FauxHammer.com. If I could get a 60% increase in traffic, it would make up for the 60% loss in affiliate revenue. So we paid £100 for a tool to translate all the pages of this site into German, French, Spanish & Italian and this will continue with each new post.
If you speak any of these languages, please check it out, there should be a button at the top right of this page where you can switch language. Let me know how these Translations are? bare in mind it is using Google Translate to do most of this stuff and it may be quite janky! If you want to help improve the translations – please get in touch.
So far this has not made it's monet back and i;ve had no increase in traffic from those terrirories – apparently it takes google a while to learn that these are translated pages and to rank the site in those localles. Bummer.
You may have also noticed Element Games ads all over the site too.
Click this link & buy your hobby stuff from Element Games for the UK & Europe to support FauxHammer.com – Use Code "FAUX2768" at the checkout for double reward points.

Our Affiliates / Hobby Stores
I have used Element Games for my hobby purchases for years, having tried out most of the companies in the UK at one time or another – I find the team here to be the most reliable (and fun) – so it works in our favour that they have an affiliate programme themselves.
Put simply, if you make any purchases after clicking on our Element Games links – we get a kick-back from them at no cost to you (don't click our link before purchase and we don't). You get up to 25% off your Warhammer stuff and more from them as standard.
Additionally, if you use our code "FAUX2768" you Get Double Reward Points on any purchase.
They Even Featured this site in their weekly newsletter!
We plan to do more with them and create some bundles on their site for our recomended tools.
If you want to support us, just bookmark the following link. But we will be pushing these guys heavily for the UK and Europe.
Just beware that right now, like many places, they are having some supply-line issues, just like everyone else in this industry. I'm still waiting on a couple of bits ordered from them back in February, which come from a German Manufacturer. Patience is needed thanks to COVID.
I feel the need…
With immediate thanks to Element Games, and to you for using our links to them, this gave us some seed money to make further improvements to the site, First up – speed!
Again, if you have used FauxHammer.com for a while you will have noticed how slow it has been. Some of our biggest (and most popular) pages like the Warhammer Conquest and Mortal Realms contents list took over 20 seconds to load! The ideal page load speed for even the largest pages on any site is less than 5 seconds. Homepage less than 2! Mine took 7.7! and that was from the local test server in London. Ouch!!!!
So we nipped over to Fiver and messaged a few people to get a quote for improving site speed.
We had the best response back from VisionVPro. I've used Fiver for a while and I've had varying experiences. This guy – wow!
Not only did he do what was promised and greatly increase my site speed overnight as I slept, but he explained every stage to me – before and after. Even helped me with a follow-up issue and it's now helping me build possibly 3 new Hobby sites (you'll see, I'm not ready to reveal details yet).
Now, all our pages load in less than 5 seconds, globally – and you should see the text first, long before it fully loads!
I had some other site issues as well as my host was telling me I was using to Much CPU processing time. I fixed these with thanks to my friend who reduced the server load time by about 2000%! (whatever that means).
But go-on, test it, click the links to all the other pages on the site – "Super Speed" as my son would say as he starts doing the fast-hands motion.
REVIEWS GALORE!
If Furlough time has given me anything, it's enough time to catch up on all the products I had to review. In many cases, I have pictures and notes but It's enough that I can now just sit and type words in the evenings, like some kind of modern-day author. Need to get me an armchair and some slippers – I already like Scotch.
You may have noticed that there have been reviews coming out each week now and I have no plan to stop this for the Foreseeable Future.
Oh, and did I forget to mention that we will be reviewing Warhammer 40,000 Indomitus and The Lumineth Realm-lords Army Set?
I'm not sure yet if we will get advanced copies, but when we get our hands-on we'll be reviewing this with a different spin to most other places.
The first thing I'll be doing is throwing the Rule Book in the bin (well, I'll eBay it) and I'll show the models from a painters point of view – how the sculpts are made, what considerations GW have taken and how to approach painting each model.
If it goes well, we'll be getting all the majpor release going forward.
There's gonna be a lot to go through in these two exclusive and "Limited" boxed sets, yay, even less sleep!!!
And Finally.
We launched a Patreon Page…
Become a Patron!
This was recommended by several people on our Facebook, Instagram and Twitter pages as a way to make up for the loss in affiliate revenue. It's really small at the mo and it is purely there to support me building the page for the cost of buying me a coffee each month.
However, I'm toying with the idea of unlocking new and possibly exclusive Fauxhammer.com articles to Patrons early – Just need to work out the technical quirks of doing this as an early share can break the site when the post goes live.
I have about 6 reviews scheduled and ready to go, and about 20 in draft so there's plenty content coming over the next few months!
I will be doing more YouTube work too, I just need to get these reviews out of the way – I've made commitments, I need to keep them. Oh, and on top of what I have already – Vallejo and Scale 75 are sending me massive portions of their paint range to review – so expect them coming too! (and that will be every main hobby paint brand reviewed – has any other site done that?).
If you want to support FauxHammer (for the cost of buying me a coffee each month) – become a FauxHammer Patron by clicking the link above or below.
Become a Patron!
Right, I'll shut up about me now and talk about new releases,
New Hobby Releases W/C June 15th – 2020
It's all about Fabius Bile this week with his new model finally out!
When I was a kid I collected the Chaos Models and this was actually the best model I ever painted at the time (because the face was done well and I got the eye dots in the right place). But one weekend when I took my models to Games Workshop in Sheffield Meadowhall – someone stole him. I didn't realise until I got to the food court later that day.
I went back to the store but they had not seen it. I cried all the way home that day. I'm not quite over it now.
I never even had any photos of him and I planned that when I grow up and time-travel is real, I will go back and find it. But I'll be the one who steals him so that I don't upset the timeline.
Now he's finally back, so I've bought 2
A little update for anyone into Blackstone Fortress – I still ned to build mine at some point.
Click this link & buy your hobby stuff from Element Games for the UK & Europe to support FauxHammer.com – Use Code "FAUX2768" at the checkout for double reward points.

Our Affiliates / Hobby Stores
What did you think of this Article? please let us know in the comments.
If you like what we're doing here you could really help encourage more content with a share on any social media platform.
Click the share links at the bottom of this screen (or on the left for computers and tablets)
Want to keep updated with the blog? You can subscribe in the sidebar for RSS or by email below
(Sidebar is below the article on Mobile Devices)