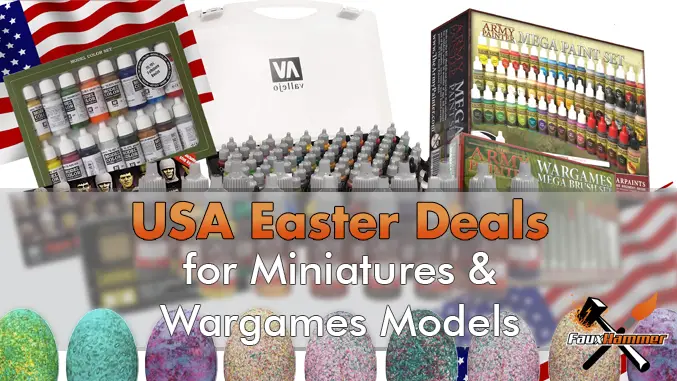 We wrote up a similar guide for UK deals and have now scoured the net to find some solid easter deals for USA Hobbyists too.
Easter is that time of year where many of us get extra days off work, and with extra days off work, it means we have extra time to paint minis. Easter in many industries also means sales. but mini hobbyists tend to get a bit short-changed, nobody has any significant easter deals on specifically for Wargames Hobbyists.
Hbelow are a few decent deals you can pick up to bolster your existing forces or even start up something new. TI mean why no, there;s no better time to buy something than when it's heavily discounted.
Check out the list below, which we'll be updating over the weekend. if you have any hobby deals to share, no matter f it's mini's games, paints or tools. let us (and everyone else) know in the comments.
Not a huge saving but still 10% off a Start Collecting Skeleton Hordes Boxed set.
Another Start Collecting Boxed set with 10% off. Grab the Skaven Pestilens box for Age of Sigmar.
A quick 10% off a Box of Orks for Warhammer Age of Sigmar
Get 15% off an incredible game, Warhammer Quest comes to 40k with some incredible models you can also use in your 40k games.
Get 15% off this Kill team add- on Theta-7 Acquisitus
get some additional units or talk a friend into playing with 15% off the Warhammer 40.000 First Strike Starter kit
Two of my personal favourite things, Deathwatch and Kill Team. now you can get both with 15% off
Bolster your Tau Forces with 15% off a Tau Pathfinder Team boxed
Another 15% off deal, add to your Space Marine arsenal with 10 Classic Marines, A Captain and a Dreadnought with 15% off
If you don't need the captain and dreadnought but still want to add some Tactical Marines, Grab this boxed set with 15% off. These are perfect or practise Space Marines to paint.
Another start collecting box with 15% off. grab some dead things with this Flesh-Eater Courts boxed set
Get another 15% off some dead things with this Start Collecting Slaves to Darkness boxed set
15% off this upgrade set for Nightvault
Finally, a more reasonable price what is essentially 3 terminators, but if this character set is something you've been keeping an eye out for. and with the Warhammer Conquest Magazine nowhere in sight for the USA as yet. grab 18% off this kit now
Another 15% off Character model with Alarielle The Everqueen for Age of Sigmar
Get a branded airbrush compressor with 15% off
If you fancy getting into Airbrushing, get 22% off this Iwata Neo CN. A discount on what is already one of the cheapest beginner branded airbrushes you can get. The Iwata Neo CN featured an Honourable Mention on our Best Airbrushes for Miniature Painters Guide.
An Airbrush Cleaning pot is one of the first essential tools listed on our Essential Airbrush Tools article. Now with 15% off this Iwata branded version.
Already have an airbrush, quickly grab 37% off this portable spray booth with built-in LED light and extractor tube.
Follow FauxHammer by subscribing to the site (below). You can also follow on Twitter or Facebook for the latest updates.
Do you know of any Hobby Deals? Let us know in the comments