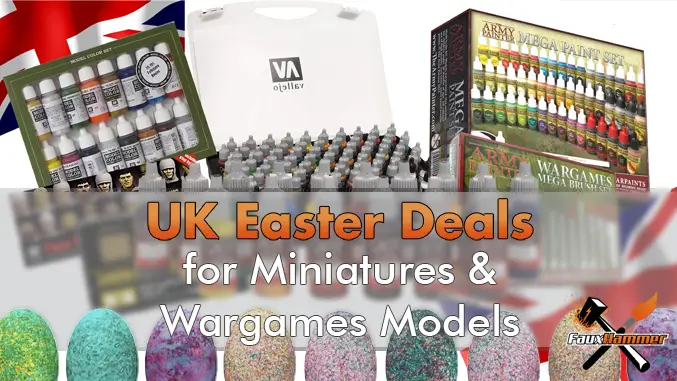 It's easter! in the UK that means we get 4 whole days off work and we can finally claim some time back to work on our painting backlog or start a new project. Easter means something else however, shopping deals!
If you're from the US, check out our sister article for the best Easter Hobby Deals in the USA
Hobbyists tend to get a bit shortchanged around these time of year, but with a bit of searching, you can find some solid deals on miniatures and tools this time of year. below we've compiled some of the best Easter deals to take advantage of over the next 4 days, and we'll continue to update this post as we find more over the weekend.
Spotted a good hobby deal? let us know in the comments
Whether your painting mini's or eggs this weekend check out the deals below for massive discounts on paints and tools. remember though. most of these items will be sold out quickly and the deals will only last until Monday at the latest.
Not the largest deal to start off with (they get better), but you can get 5% off a Vallejo Game Colour starter set. The Game Colour range is the set which is more akin to your typical GW colours.
This probably isn't an Easter Deal but it's still 6% off the best metallic paints I've ever used. Just make sure you have some synthetic brushes and some alcohol based thinner as these are Alcohol based paints. they do not mix well with water. but oh my word so shiny and chrome, you need to get some of these!
Here's 15% off a set of 8 Vallejo Metallic Paints, a great set of paints, Vallejo is well known for their excellent Metalic Paints.
Get 16% off this huge Vallejo set, not a bad deal when you consider the case alone costs £50. This set also contains 3 free brushes.
Like the above set but for Model Air paints, these are heavily lauded as the best paints you can buy for miniatures. once again this is 16% off.
With 17% off I'd certainly rather get one of these at easter than an egg, a set of vibrant Army Painter colours.
Finally nail the techniques of painting faces with 18% off this 8 colour skin tone set
Get 20% off this Leather & Metal Vallejo Game Colour Set Featuring a range of metals, flesh tones and inks.
Army painter has a decent 21% off this mega paint set featuring 50 bottles of paint and a brush. This is an excellent beginner set featuring a solid range of acrylic colours, metallics & washes
Get an incredible brush with 23% off, The Raphael 8404 set was the third most popular brush in our recent Best Brushes for miniature painters article. Whilst the third most "popular" the Raphael 8404 series is lauded by most painters as the best brushes you can use with incredible quality. Only the Size #1 is on sale at the moment. but it's still an incredible brush to pick up. Once you pick up a Kolinsky Sable brush, you won't go back.
Get 26% off this great Vallejo starter set. if you've considered trying out Vallejo Paints for a while, this is a great starter set. You get Black, White, Gold, Silver and all of your primary colour paints in this set.
All the Army Painter brushes you need including their Kolinsky Sable masterclass brush, now with 27% off.
Another great starter set for anyone interested in trying out Vallejo Colours, now with 28% off. a general set featuring your primary colours some metallics and skin tones
Get an incredible 34% off this huge Game Colour paint set with 3 free brushes – again, the case alone sells for £50.
A cheeky little extra here with 36% off this 237ml bottle of Liquitex Matte Medium. Great for thinning your paints and leaving a matte finish.
This is a great one to end with, get up to 44% off Tamiya Weathering Powders with an applicator brush. Tamiya's weathering powders are excellent for your after-effects on both minis and vehicles.
Follow FauxHammer by subscribing to the site (below). You can also follow on Twitter or Facebook for the latest updates.
Do you know of any Hobby Deals? Let us know in the comments