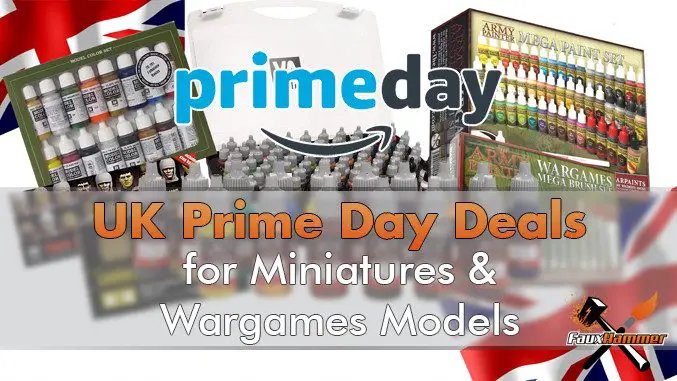 Prime day is here! (Today & Tomorrow) and with that out of the way, let me note that once again, like any sale day. Us hobbyists are kind of a second thought! Haven't companies realised how much money we all spend. Take advantage of us and give us better sales damn it!
With that said, there are quite a few deals in this sale which fall into our interest, so I've highlighted the best one below. No mini's in here guys, it's all hobby tools and sundries. But if you are looking to upgrade your armoury, there are some absolute diamonds below.
Prime Day Deals
In order of Lowest to Highest Saving. before you begin, let me note that to take advantage of these deals you must be an Amazon Prime member. (there are some none prime deals in the next section). You can sign up and pay monthly, they have a huge offer off a 1-year subscription. or you may still be able to take advantage of a free month (Or have a friend/family member who can).
Lighting, one of the least considered things by most hobbyists, yet one of the most important. If you need a better lamp here's one which is LED, and has a daylight hue. It should be a decent entry-level light. Maybe get 2. I always use 2 lamps, or, get this and the one below.
Note: There is a much better, but more expensive desk lamp in the non-prime day deals section below. check that out first.
Like the model above this one is also a daylight lamp, however, you can also set it to different colour temperatures. This model also features a 5x magnification window to help get those up-close details.
Note: There is a much better, but more expensive desk lamp in the non-prime day deals section below. check that out first.
This is a very basic beginner set, it is a cheap standalone compressor and crappy airbrush, but if all you want to do is a primer and quickly basecoat your miniatures, this is a bargain starter kit. I know several people who use these and they work generally fine. Are they good? No. But for the average Army Painter who just wants quickly painted models/ this is the cost of 4 bottles of spray primer. So after 5 bottles (even after buying airbrush primer) you're saving money.
If you actually want a half-decent airbrush set-up in the future, start with a decent compressor and get this kit.
Which comes with a crapy airbrush, which is enough to cut your teeth with, that's about it. Expect it to last about 3 months or less with heavy use. So for the Airbrush itself. you want something like this.
This goes hand in hand with the product below. if you want to take better pictures of your Miniatures. a tripod will go a long way. This model is perfect for a Camera, a tablet or a phone.
If you want to take better pictures of your miniatures, Pick up a portable photo studio. there are cheaper options available. I've used those and as soon as I got one I wished I'd gotten one of these. This is a fold away unit with built-in LED lighting & various background colour options. The interior is reflective which will balance the light across your models.
Another thing rarely considered by hobbyists is their seating posture. This Highly rated char offers great support for long painting sessions (just make sure you're getting up and moving around every hour). Available in Grey, Orange, Red & Blue. it has several adjustable options and ever reclines into a laying down position with leg support.
Even if not for hobbying, you've probably always wanted a Dremel becasue they are just cool. This starter kit is the exact one I have and I love it. brilliant for precision sanding, drilling and cutting.
None Prime Day Deals
Some other offers on Amazon which are too good, not t share.
The Vallejo range is a highly praised brand. this bumper set contains 72 of their Model Colour range, which is some of the more natural and realistic colours available.
You've likely heard of a lot of people praise the Vallejo range as a superior set. The Game Colour range are some of the brighter hues available in Vallejos signature formula. with 35% off this is a great way to dive in.
35% off – Professional LED Task Lamp
As I said with the lights above, lighting is one of the most under-considered yet most important tools in any hobbyists toolkit. This lamp is one of the best. if not the best hobby lamp. I used 2 IKEA desk lamps before this with 2000lm LED daylight bulbs. I've replaced it with 1 of these and have much better visibility across my whole desk. And here it is with 35% off!
Follow FauxHammer by subscribing to the site (below). You can also follow on Twitter or Facebook for the latest updates.
Do you know of any Hobby Deals? Let us know in the comments
Summary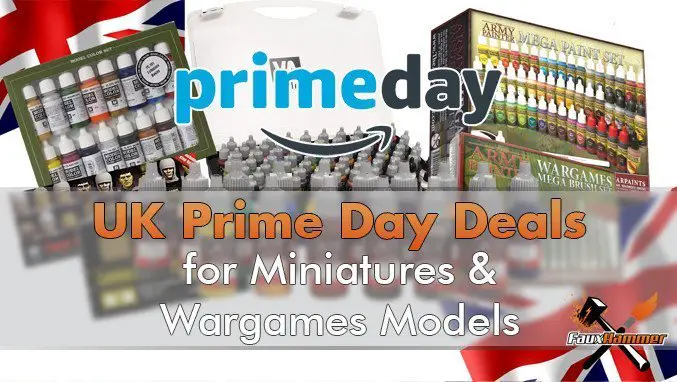 Article Name
UK Amazon Prime Day 2019 Deals for Miniature Painters and Wargames Models
Author
Publisher Name
Publisher Logo